International Women's Day 2023: Tiwa Savage, 6 Other Celebrities Who Have Proven To Be Stylish
Wednesday, March 8 marks International Women's Day and in this edition of style news, we celebrate some of Nigeria's fashionable female celebrities.
Whether born a true fashionista or finally found their style, these celebrities have continued to impress fans with their fashion game.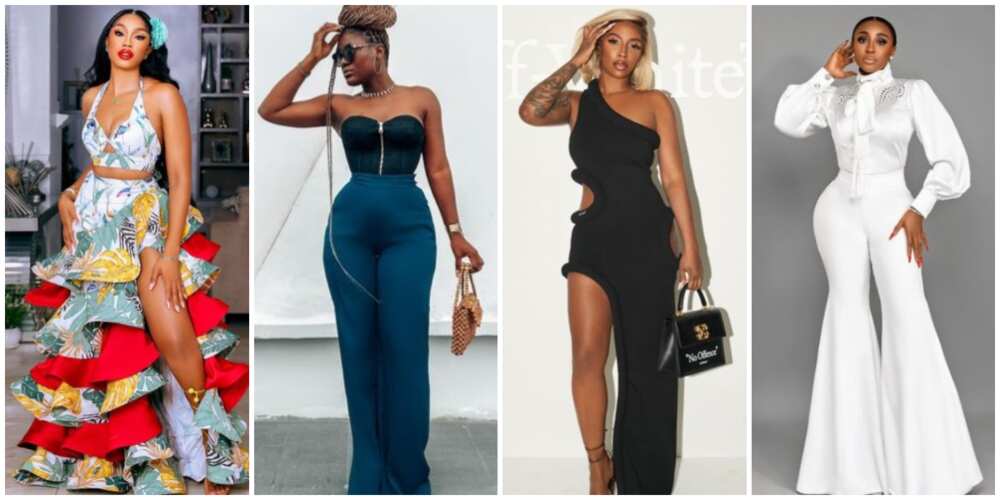 From BBNaija star, Alex Unusual to Tiwa Savage, the ladies are owning the spotlight through their sense of style.
In honour of Women's Day, here are seven fashionable female stars we love:
1. Tiwa Savage
Mostly known for her musical prowess, Tiwa Savage also has an eye for fashion that constantly keeps her fans wowed. The lovely singer is known for her quirky and urban style that is daring and fashionable.
Her clothes do not have a definitive source of inspiration as she plays around with a lot of patterns and designs that are culled from various sources.
The singer is way ahead of time when it comes to fashion, and she does it with so much grace and poise.
It would be right to say that her style is inspirational to women who are willing to take a leap of fate into the daring side of the fashion industry.
2. Sharon Ooja
As one of Nollywood's 'It Girls', Sharon Ooja is no stranger to the spotlight, and she is always a picture to behold in her stunning outfits.
With the recent trend of the 'clean girl' effect, it would be justifiable to say that Sharon Ooja fits the aesthetic. Her style of dressing gives off a gentle and cozy vibe that is often affiliated to feminine women.
Sharon Ooja has clearly embraced her feminity, and this is reflected in her choice of outfit that comes in different soft hues and designs. Also, this talented actress has a physique that can make anything look good on her.
She often uses this to her advantage by exploring rare and gorgeous pieces. If fashion was a weapon, then Sharon Ooja knows a thing or two about wielding it.
3. Ini Edo
Nollywood would not be the same without Ini Edo, and it also seems that the fashion industry can not get enough of her either.
The gorgeous actress has been blessed with an amazing body that can transform any outfit into a masterpiece. Ini Edo has an amazing eye for fashion, and that fact is clearly reflected in her choice of outfits.
There is no restrictive way to describe Ini Edo's style of dressing, as the actress is quite unpredictable when dishing out fashionable looks.
She can go from urban to native in a minute, and the end result is always fabulous. Ini Edo has constantly proven that she is an icon both on and off screen by sharing her classy fashion looks.
4. Chioma Goodhair
When it comes to beauty and fashion, Chioma Goodhair is one of the household names that can be echoed in recent times.
This lovely lawyer turned beauty entrepreneur has clearly hacked the code in the fashion industry because her outfits are always a step ahead. Chioma clearly covers the recent fashion trend that is corset dresses, and she always comes up with fresh designs that look amazing on her.
Always dressed to the nines, she is an epitome of class and composure whenever she steps out. A lot of attention is clearly put into designing her clothes because they are literal perfection.
Chioma Goodhair has an eye for anything fashion, and she always keeps the fashion industry on their toes with her mindblowing outfits.
5. Alex Unusual
At first, Alex Unusual was introduced into the limelight as a reality television star, but she has held her own by becoming one of the highly sought after fashionistas of her time.
This stunning reality TV star has a thing for surprising people with her style of dressing, and it works all the time.
There is clearly no structure as to how Alex dresses because, she can go from a tomboy look to a Country Club housewife at any minute.
Her clothes are not the only thing that she always switches up, because her hairstyles change as often as clothes, and she looks good either which way. Alex has been blessed the gift that allows her to explore all aspects of fashion, and she has taken full advantage of that fact.
6. Powede Awujo
Fashion has no singular description or category but it would be right to say that Poweda Awujo is on a lane of her own when it comes to fashion. She has carved out a unique niche for herself in fashion by constantly exploring various designs and styles, and she never disappoints.
Poweda Awujo always serves looks that should be on the cover of every fashion magazine.
Her ability to combine colors to a beautiful symphony is the main reason why her outfits stand out so well.
7. Idia Aisien
As a celebrity who spends a lot of time on screen and the public eye, Idia Aisien has clearly learnt the workings of the entertainment industry, which is mostly visuals.
This lovely actress has a personal style that can not be categorized into one aspect of fashion. She has embraced the influence of both modern and traditional fashion, and it works well for her.
There is no doubt that Idia Aisien is no stranger to making a fashionable appearance at any event she attends. The attention she gets on such occasions is culled from the fact that she always looks amazing and well kept.
Regina Daniel's co-wife Laila gushes over her look in yellow dress, calls herself 'real life Barbie'
A new video of Laila Charani Nwoko has surfaced online, earning her beautiful comments from her Instagram followers.
Following her husband's victory in the recent elections as a senator, Laila seems to be in high spirits.
She recently shared the video on her Instagram page in which she is seen wearing a beautiful yellow dress.
Source: Legit.ng