Workwear Fashion For Women: Powede Awujo Makes Case For Boss Chic Looks in 5 Photos
Looking good in workwear fashion is imperative if your job requires a lot of your physical presence. However, some women struggle to find their own style.
We know - it's the end of the work week, and everyone is gearing up to turn up and have a memorable weekend.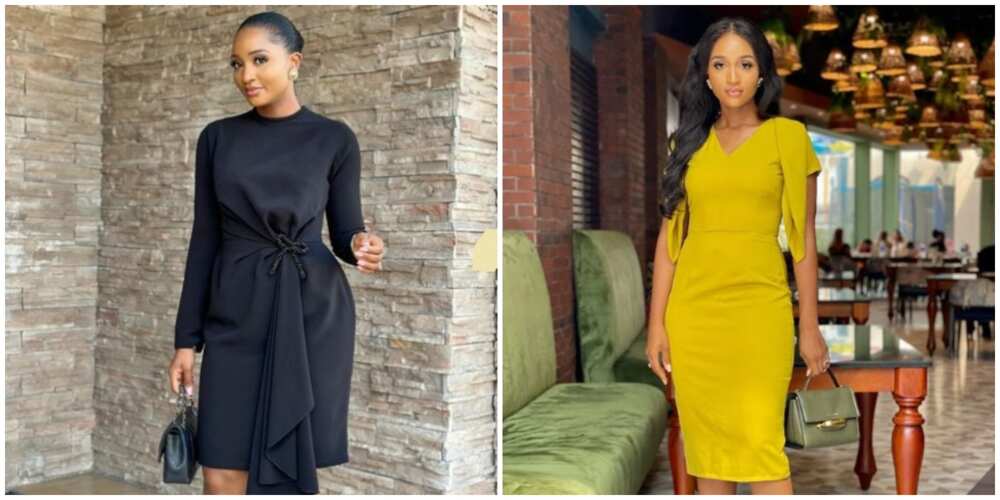 But, no matter how much we would all love for this to happen, Monday will always show up by the end of the weekend.
This is why it is important you curate your workwear looks ahead of time to make getting ready for the office a lot easier and less time-consuming.
In this article, Legit.ng spotlights fashion influencer, Powede Awujo and how she serves workwear fashion goals for every day of the work week.
Check them out below:
Look 1: Powede Awujo in black gown
At the start of the week, it is important that you pay a lot of attention to how you show up at work.
Here, the fashion influencer sports the classic black look. A beautiful long-sleeve dress with draping detailing in the front.
Look 2: Powede Awujo in beige outfit
This is certainly a look to for the boss who wants to appear simple yet classy.
This asymmetrical necklined short-sleeved dress is beautiful and a chic look to wear to the office.
Look 3: Powede Awujo in v-neck dress
This mustard number screams classy boss lady!
Everything from the fitting to the sleeves and cut embodies perfection, and it is certainly a look that is feminine and edgy.
Look 4: Powede Awujo in black/white
As the week gradually comes to an end, easing into semi-formal looks is always a fun option to try.
Here, Powede dons a beautiful white shirt dress with a black wrap-around, cinching her waist and flattering her feminine silhouette.
Look 5: Powede Awujo sports ankara look
Here, she sports a gorgeous ankara print dress that stops around the knees.
This is the perfect look to end the work week, as most organisations in Nigeria promote a casual/ankara dress code on Fridays.
For fashionable men: Fabric quality, 4 other tips to remember when shopping for trousers
Clothes are more than a necessity - it is a business. With the continued growth of eCommerce - which recorded over $300 billion in 2021, there has been an abundance of online vendors and clothing options.
However, it appears that despite the numerous options made available, some men still find it hard shopping clothing items that suit their style.
To the unassuming eyes, shopping pants shouldn't require much. But, real fashion enthusiasts know that there are some things to always remember when shopping.
Legit.ng earlier highlighted five tips that you should remember when next you go shopping.
Memorable times Tiwa Savage rocked luxruy brands
Popular Nigerian singer Tiwa Savage may have had a rough start fashion-wise when she shot into the limelight in Nigeria, but she has since cleaned up.
From rocking luxury designer pieces to attending high-end fashion events, Tiwa is a baddie, and it is not hard to see why.
In this article are six times the singer wowed fans with her impressive sense of style.
Source: Legit.ng