For Fashionable Men: Fabric Quality, 4 Other Tips to Remember When Shopping For Trousers
Clothes are more than a necessity - it is a business. With the continues growth of eCommerce - which recorded over $300 billion in 2021, there have been an abundance of online vendors and clothing options.
However, it appears that despite the numerous options made available, some men still find it hard shopping clothing items that suits their style.
To the unassuming eyes, shopping pants shouldn't require much. But, real fashion enthusiasts know that there are some things to always remember when shopping.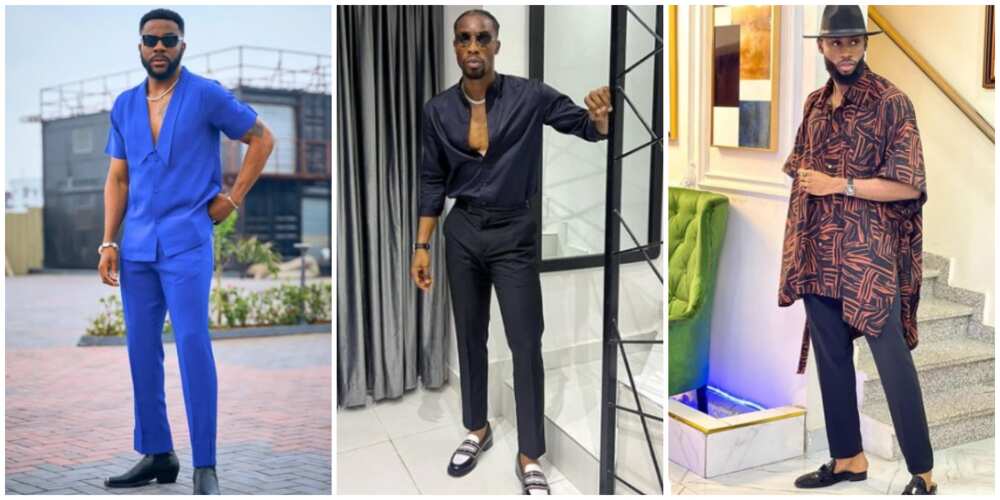 Fashion influencer Vincent Emeka shares important tips
Vincent Ebuka is a Nigerian fashion influencer who has gained prominence on social media for promoting affordable fashion in eco-friendly shopping hacks.
Speaking with Legit.ng's Kumashe Yaakugh, the blogger says that for him, there are only a few things he takes into consideration.
"I just check the texture of the fabrics and waist size so I don't have to use belt. If I'm using belt then it will be for aesthetics."
However, this does not apply to men struggling to understand their style.
In this article, Legit.ng has highlighted five tips that you should remember when next you go shopping.
Check them out
1. Make sure you know what you like
It is important you know and understand your personal style before buying trousers.
With different design options, figuring out if wool trousers, cropped trousers, or pleated trousers are your thing will help your decision making in shopping.
If you don't know the best trousers for you, then surf the internet and look for inspirational outfits.
2. Go for flexible options
Buying clothes that are wearable for both casual and proffessional settings is always a win.
A good trip for shopping such trousers is to first look into your wardrobe to see what best suits your clothes.
Most of the time, colours like white, black, beige, and gray are a good choice.
3. Check measurements
Asides being picky with colours, knowing your measurements is very important.
If you don't know your measurement, grab a measuring tape. Place the tape to parts of your body and get the number. If you're unsure, go to your tailor.
4. Pay attention to fabric
Quality over quantity should be your slogan when shopping clothes. While fabric will make your skin itch, others won't be as durable as you'd hope.
To know the type of fabric, check the tags as the material descriptions with the label are often written there. Some information includes the percentage of clothing material, proper washing, and others.
5. Get the length right
If you're short or stocky, you should be looking for a half break or full break in the trouser, so it hits the shoe perfectly.
Getting the right length lies in your understanding of your measurements as this will go a long way in helping you shop for the right pair of trousers.
Fashion tips: 6 ways to elevate your wardrobe in 2023 like a true style star
Almost everyone loves the feeling of getting complimented for how you dress. However, not everyone is blessed with the gift of styling.
If you've ever struggled or continue to struggle with your sense of style then you're in luck.
In this article are 6 ways to become your own stylist.
Source: Legit.ng