Knotless braids with curls: 30+ ideas to try on hair of any length
Knotless braids with curls have acquired appeal in the fashion industry. It is a trendy, natural-looking protective hairdo. It is also a versatile style suitable for any occasion. Discover some great ideas to try today.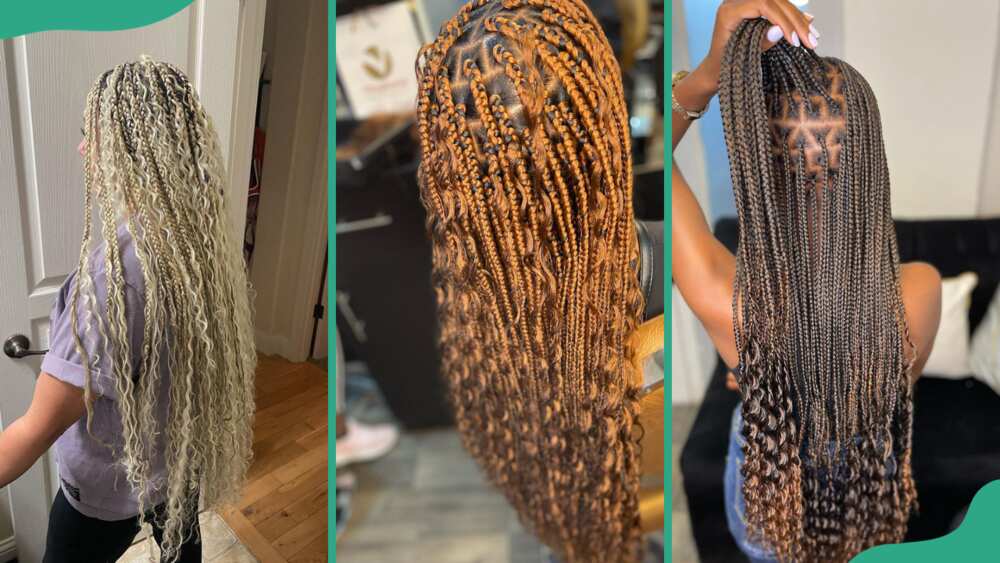 Knotless braids have become popular as they are easy to achieve and protect the hairline from damage. They are an excellent choice if you want to try something different—give your hair a break from its natural look.
Trendy knotless braids with curls ideas
You may have probably already done knotless braids, but adding curls gives it a more unique, stunning look. Here are some of the trendiest protective knotless braid styles to consider for your next hairstyle.
Small knotless braids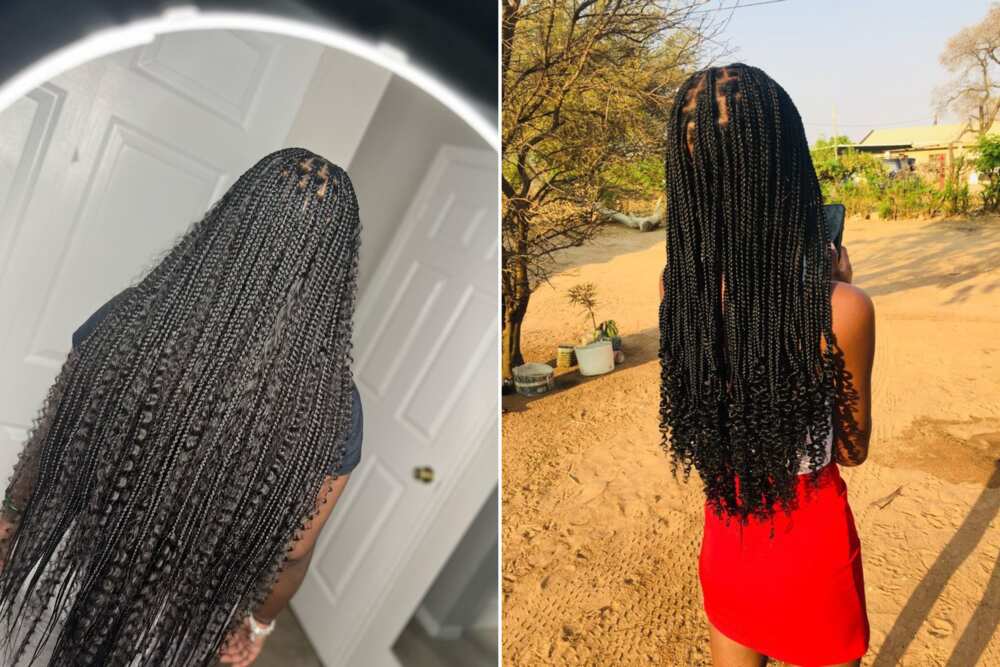 Small knotless braids are usually very neat, low maintenance, and long-lasting. You can never go out of style when you do small braids. The curls can be in the colour of your choice for the perfect look.
This is a classic defensive hairstyle that women can wear with natural hair. This style works amazingly for any hair, be it long or short. You will feel comfortable and relaxed in any environment. The good thing about the hairstyle is that it is light and highlights the attractiveness of your style.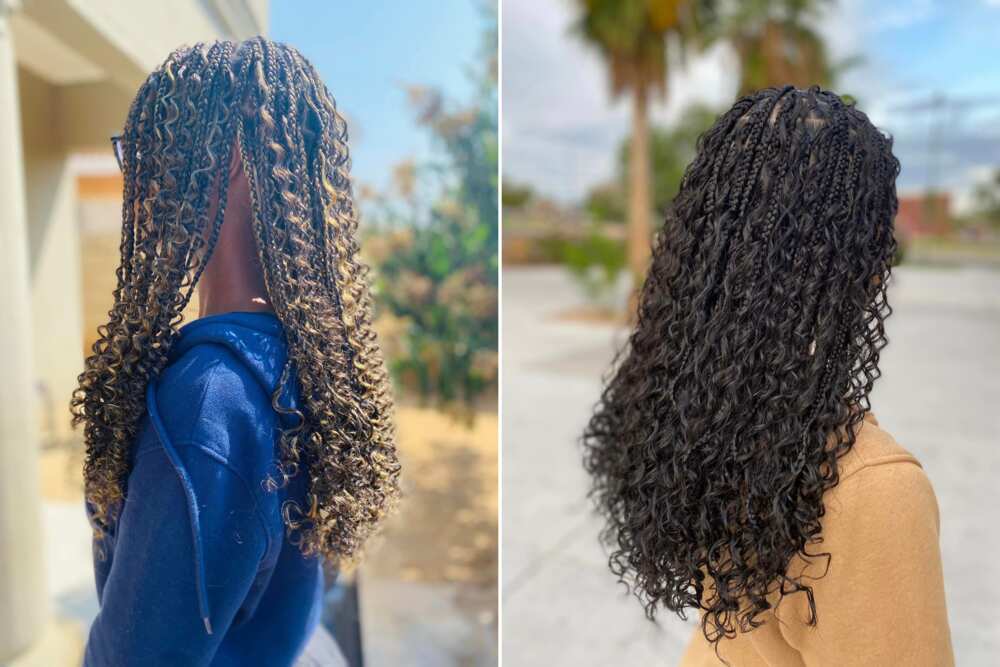 Despite their smaller size, these braids are still highly versatile. You can style them in various ways, including updos, ponytails, or wearing them down. They can suit a range of occasions from casual to formal.
Faux knotless box braids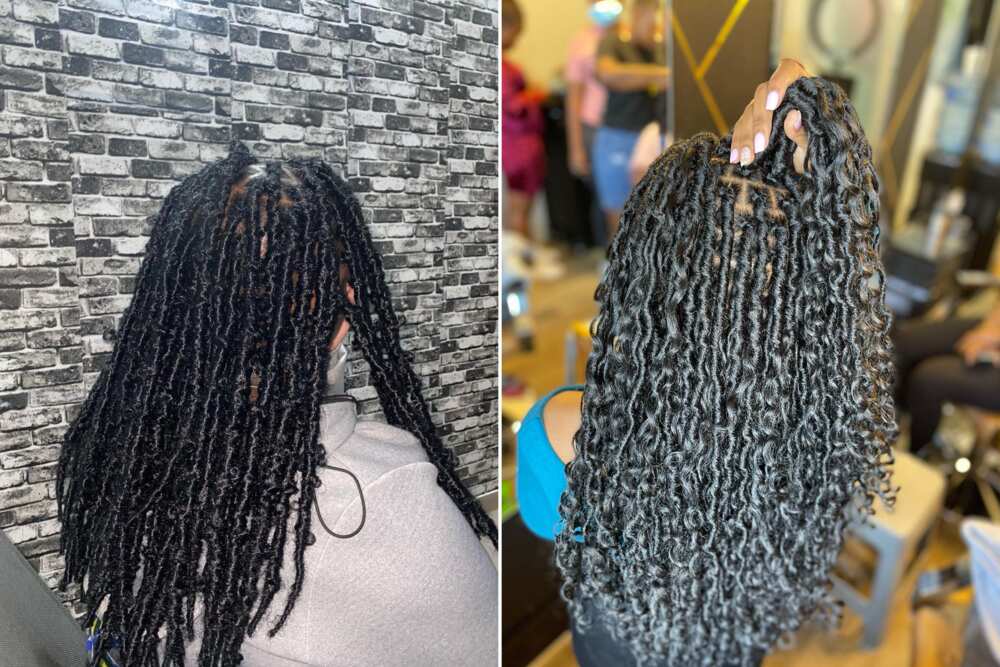 Faux braids are another popular protective design that comes in various lengths and sizes. It is simple to care for and can last for several weeks. This style is an excellent alternative for women who do not want to use normal ones.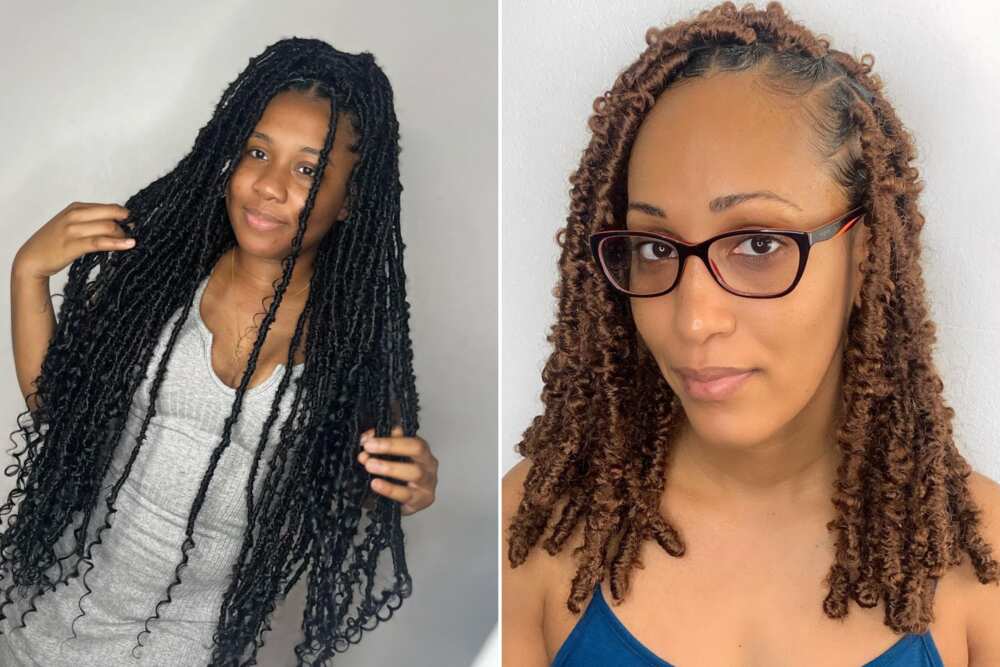 This style is ideal for work and social functions. You can play around with them by adding a dash of colour to make them pop. Faux knotless braids with curls allow individuals to showcase their unique style and creativity.
Large knotless braids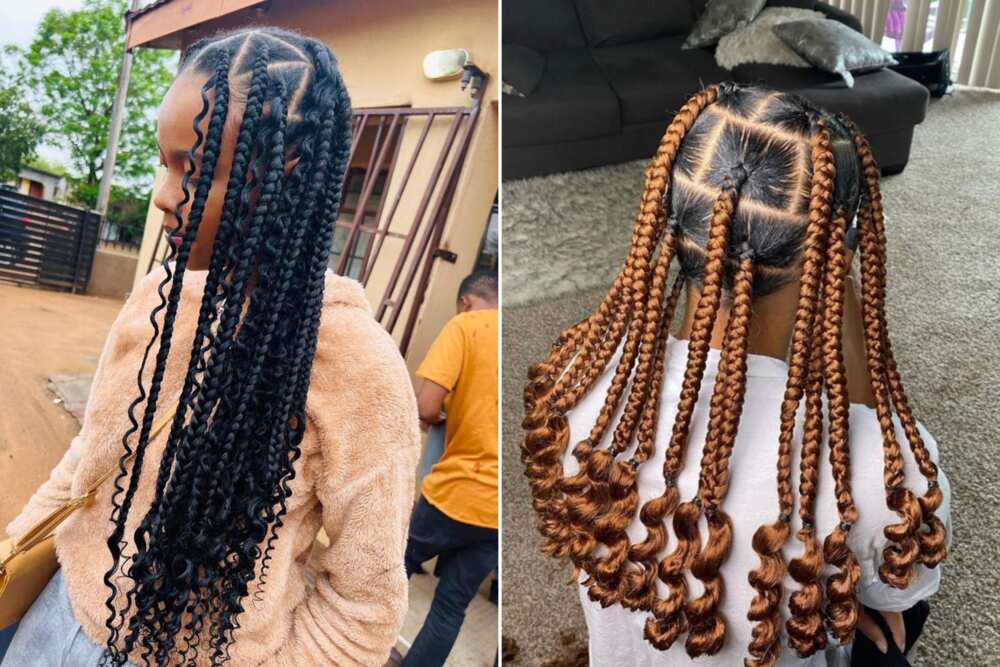 The popularity of big knotless braids has grown recently and is regarded as a contemporary and fashionable option. The braids are ideal for those who do not love spending hours at the salon. The style is simple and can be done in either long or short braids—it depends on what you want.
Jumbo knotless braids are not painful and can give you that chick look you want. Most ladies prefer doing long jump braids. This a perfect style for those who want to make a statement. They are boldly larger and can be worn in various colours.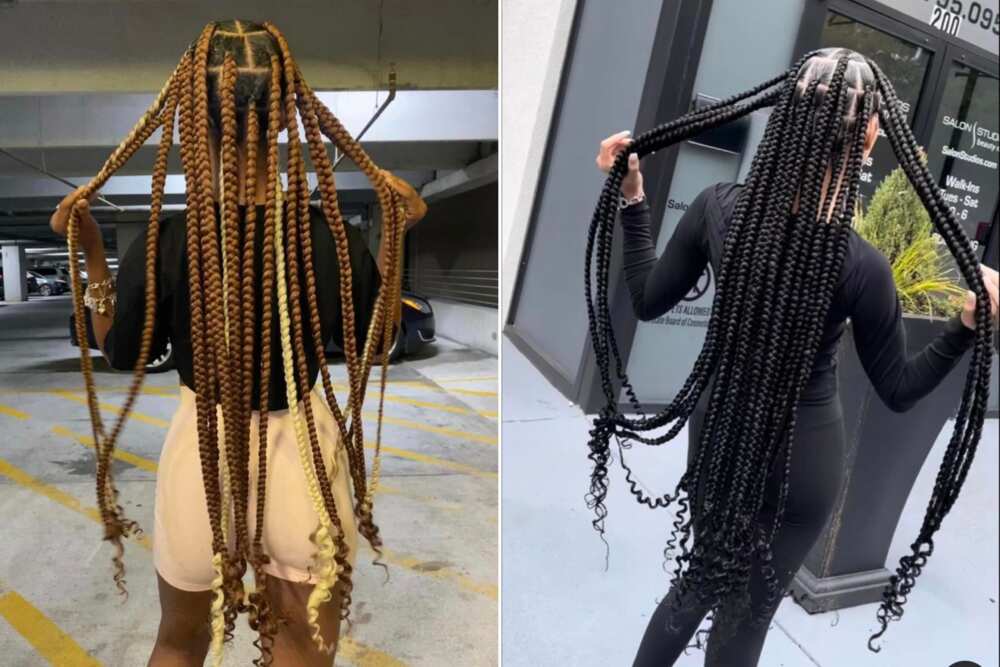 You can experiment with different styles and looks. You can wear them down, in a ponytail, bun, or half-up, half-down. Large knotless braids also offer protection to your natural hair. If you are looking for a protective hairstyle that requires minimal maintenance, this is the style to go for.
Gorgeous knotless goddess braids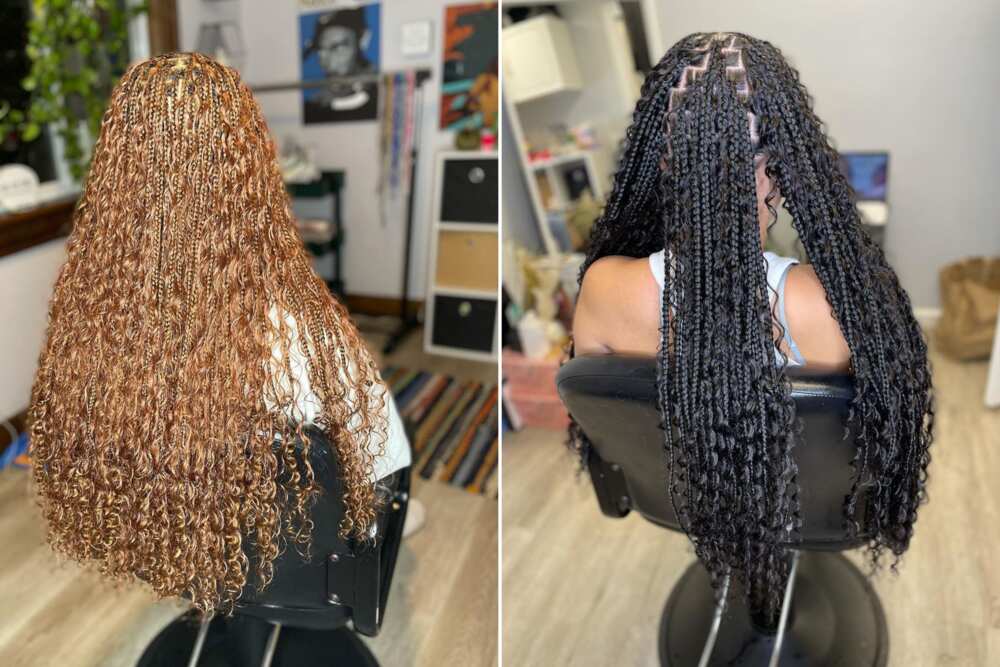 Goddess braids provide a distinctive and lasting look that can help you stand out in a crowd. You can experiment with a variety of knotless goddess braid hairstyles. These styles are effortless but will give you a spectacular and attractive appearance.
If you prefer simple looks, go for junk bold braids. You can accessorise it with beads and style it however you want. You can also experiment with height and choose a clean, elegant middle style.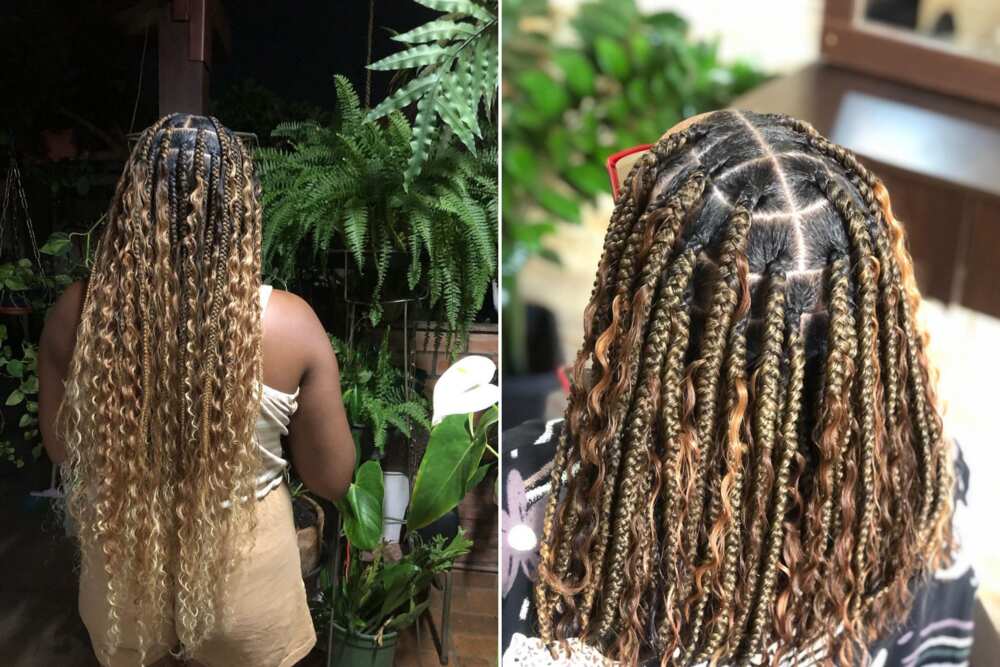 Goddess braids can give you a simple appearance that is easy to create and maintain. You can play with colours and try anything other than the standard black braids. When it comes to styling, it all comes down to personal preference. You can do an updo and let your them fall back.
Short knotless box braids with curls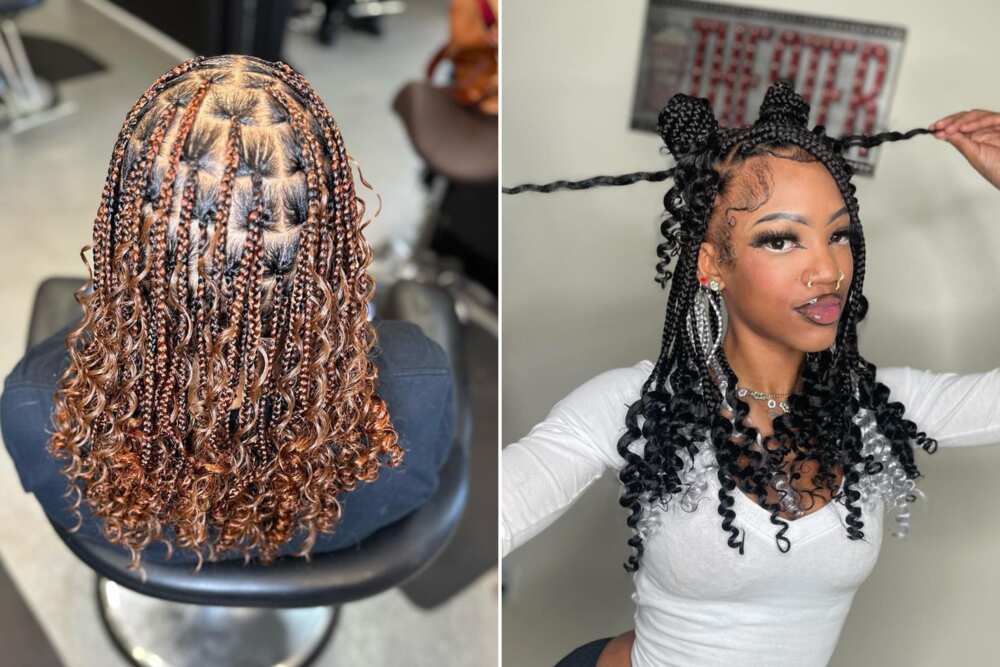 The style combines the classic appeal of box braids with a modern and youthful twist. The shorter length gives a chic and contemporary look. They are typically easier to manage than longer ones.
This hairstyle requires less time to achieve and is often more comfortable to wear, making it a convenient choice. While short, this style still offers versatility in styling. You can experiment with different curl sizes, colours, and parting styles to create unique looks that suit various occasions.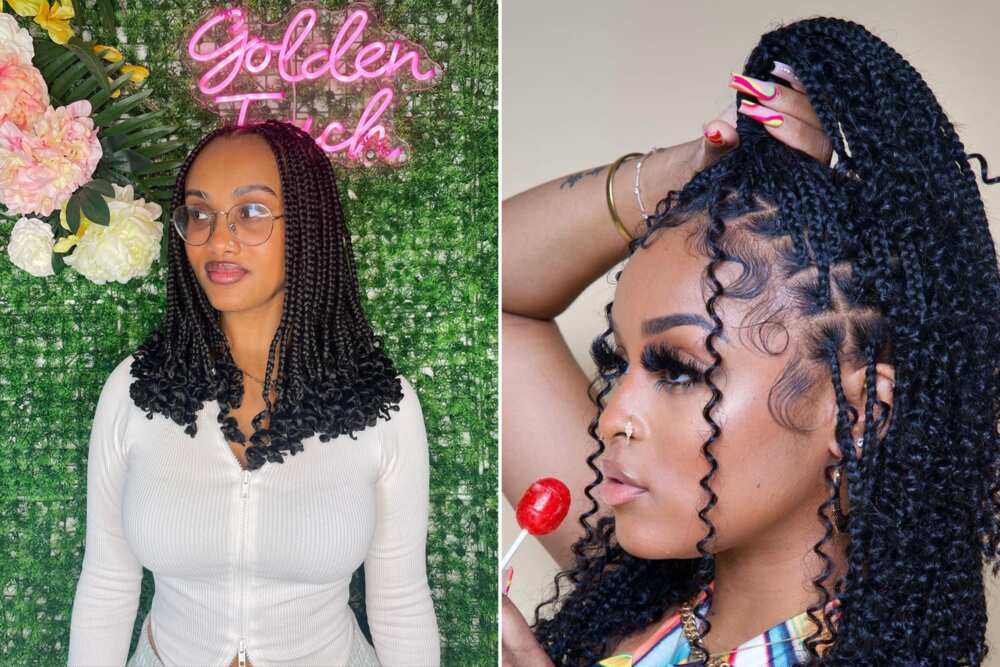 Knotless box braids can keep you feeling cool and comfortable, especially in hot weather. The short length allows for better airflow, reducing the heat that longer braids might trap.
They are a great way to express your individuality and style, whether you prefer a bold, voluminous look or a more understated appearance.
Knotless braids with colour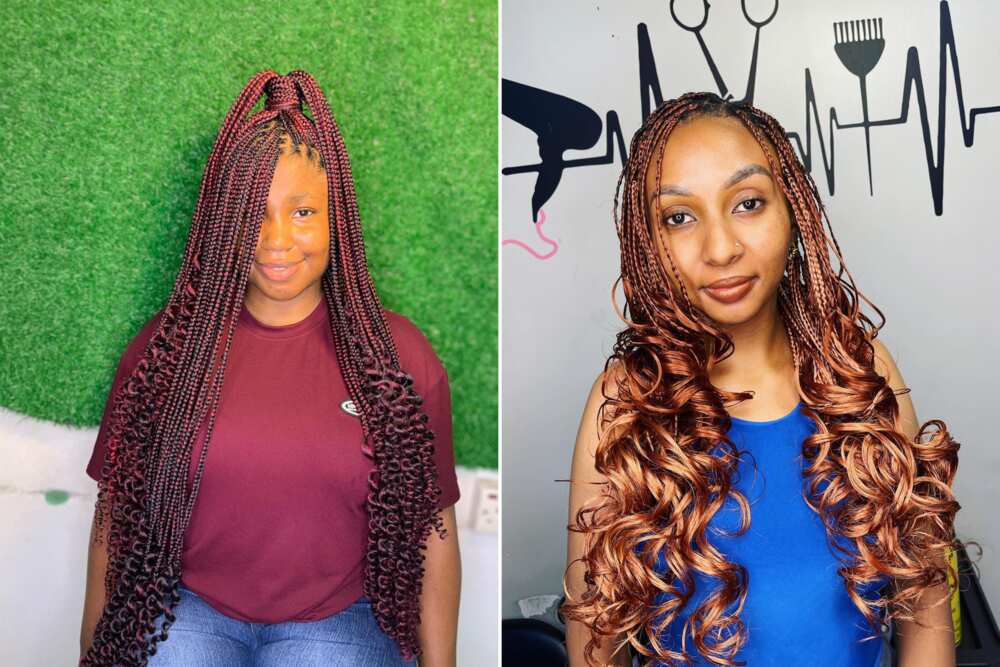 Coloured braids are an excellent way to add variety when you're used to having black braids. The braids come in various styles. You can combine multiple colours or have different colours braided in separate places.
Bold colours can appear dramatic and bold when added to black hair. These hairstyles also benefit from the gelled hairline. They can be fashioned in various ways, making you feel like a princess.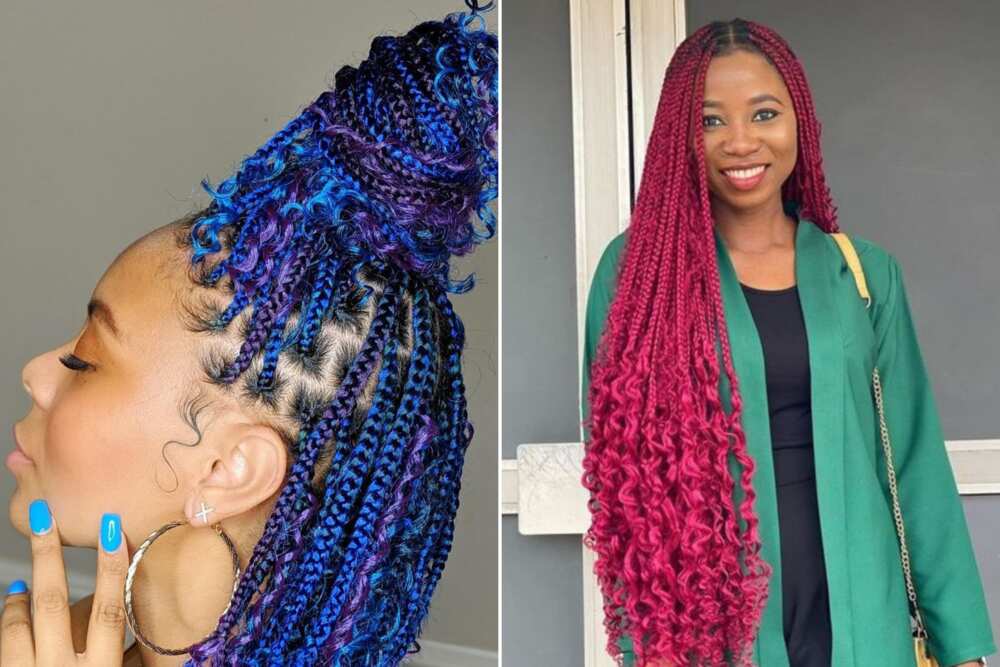 Knotless braids with colour offer a unique and eye-catching twist on classic knotless braids. It allows you to express your personality and creativity. You can choose from a wide range of colours, from subtle highlights to bold, vivid hues, making a statement with your hairstyle.
You can customise your look by selecting the colours that best match your style and preferences. Whether you want a natural look or something more dramatic, you can achieve it with coloured versions.
Versatile knotless braids with curls at the end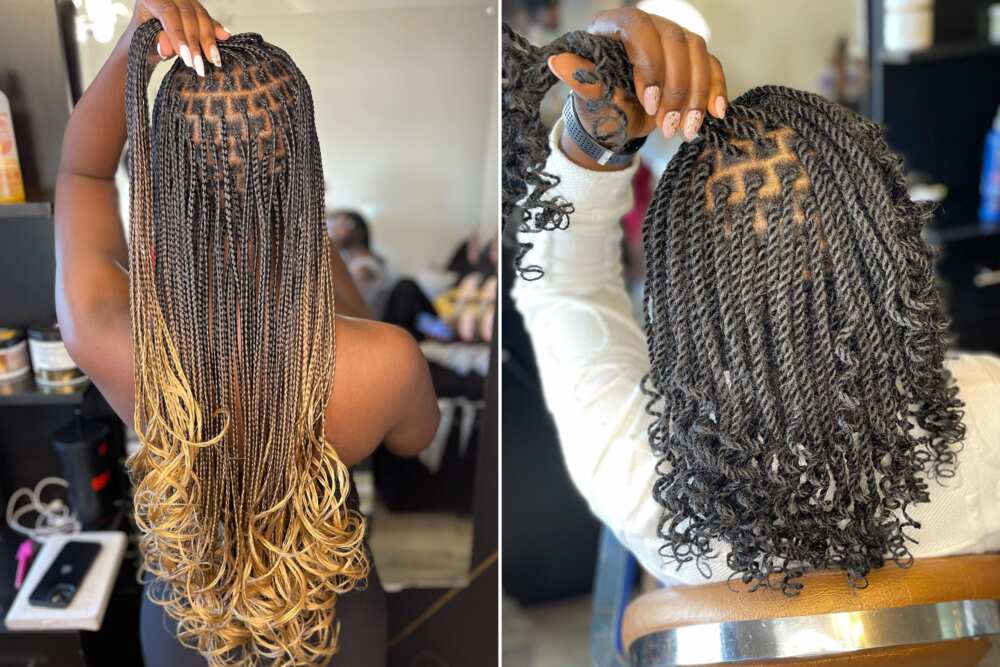 Knotless braids are highly fashionable right now among ladies of all ages with curly and wavy hair. Not only are they effortlessly attractive, but they are also versatile, appealing, and protective of your hair, causing less damage than other designs.
You can't go wrong with them because they have such a gentle, beautiful aesthetic that is both trendy and ageless. These braids are beautiful and bold, and they come in a variety of colours and lengths, providing you with limitless options for designing unique and striking hairstyles.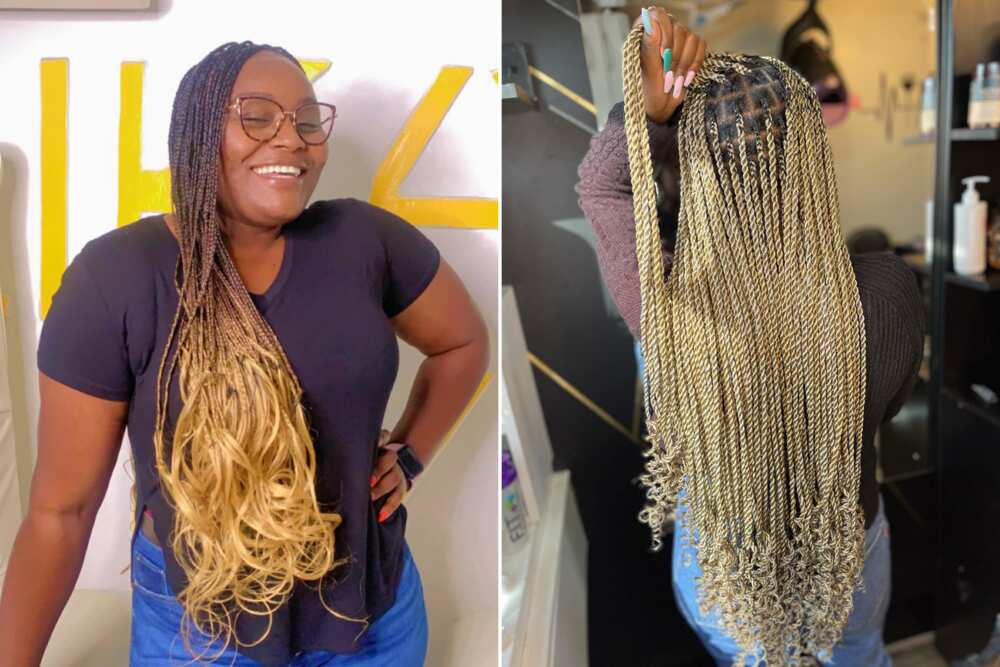 The curls at the end will give you a captivating look. They draw attention and make a bold fashion statement, helping you stand out in a crowd.
One great thing is that you can choose the size, the curl pattern, and even the length of the curls to achieve the different looks you want. These medium knotless braids have gained popularity as a modern and trendy option.
Unique styles for knotless braids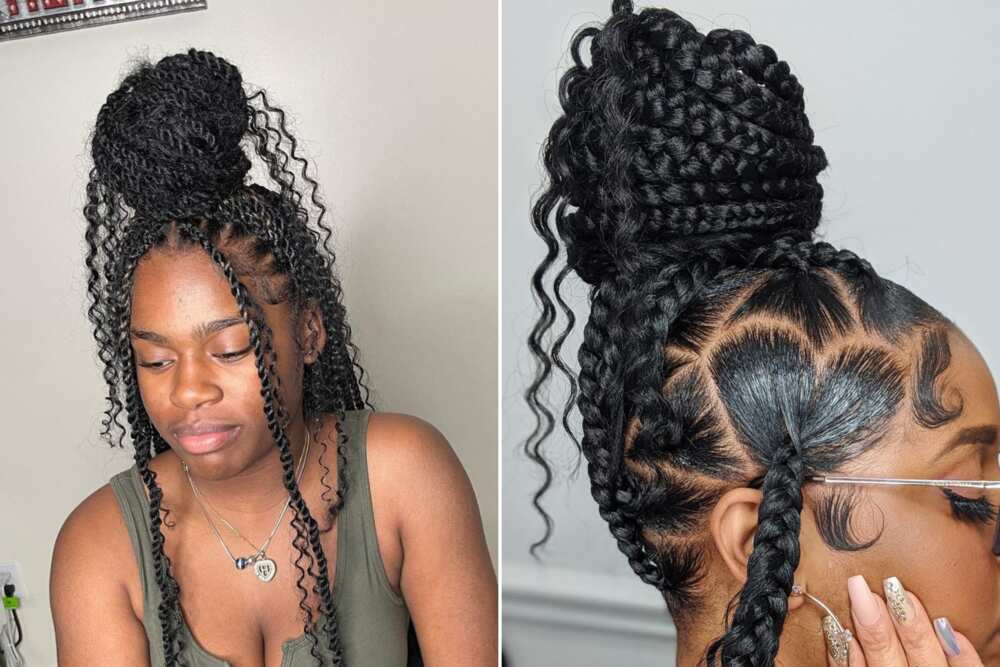 When doing your braids, what comes to your mind is the kind of style you want. There are numerous styling options you can go for. You can add small or large beads at the ends of your knotless box braids for a playful and eye-catching look.
You can also opt for shorter knotless braids that fall around chin-length or shorter for a trendy bob hairstyle. Decorate your braids with hair cuffs, thread, or other embellishments to add a unique and personalised touch to your style.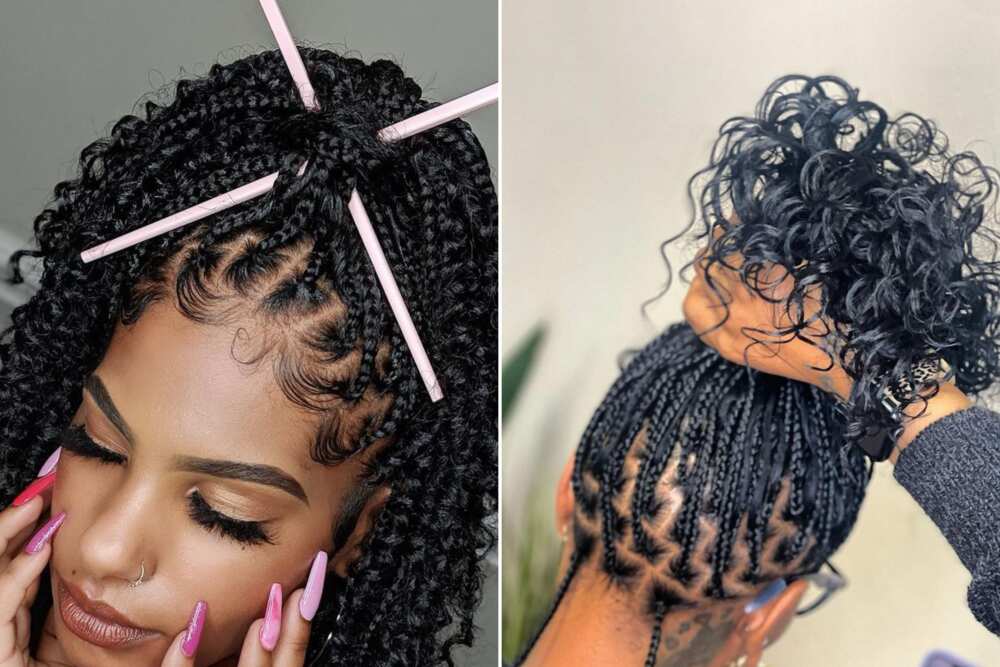 If you are in a formal environment and need to style your hair, you can do the normal laid-back style that is simple and gives you that presentable look. For other non-formal occasions, you can do the half-up, half-down, bun, or two ponytails.
Knotless braids with curls offer a natural and comfortable look. This versatile style is protective and low maintenance. It is a great design that can be adopted by any lady who wants to look trendy and stylish. The good thing with knotless braids is that you can always play around with length, colour and design.
Legit.ng recently published an article with the latest stunning Brazilian wool hairstyles trending in Nigeria. Brazilian wool hairstyles are ideal for women who want to emphasise their unique feminine characteristics.
The delicate texture of the wool allows the stylist to twist it into many contemporary designs. Unlike other pricey hair extensions, it is also inexpensive and simple to maintain, making it accessible to any woman who changes hairstyles frequently.
Source: Legit.ng