Hairstyle For The Weather: 6 Fashionable Looks Perfect For When It's Too Hot to Deal
The hot weather appears to be upon us and there is nothing quite like humidity to make the idea of cutting off one's hair very desirable. Well, that does not have to be your only option.
The heat can make dressing up not as fun. With the current weather situation, the last thing anyone wants is sweaty bangs stuck to their face or long hair draped down the back of their neck.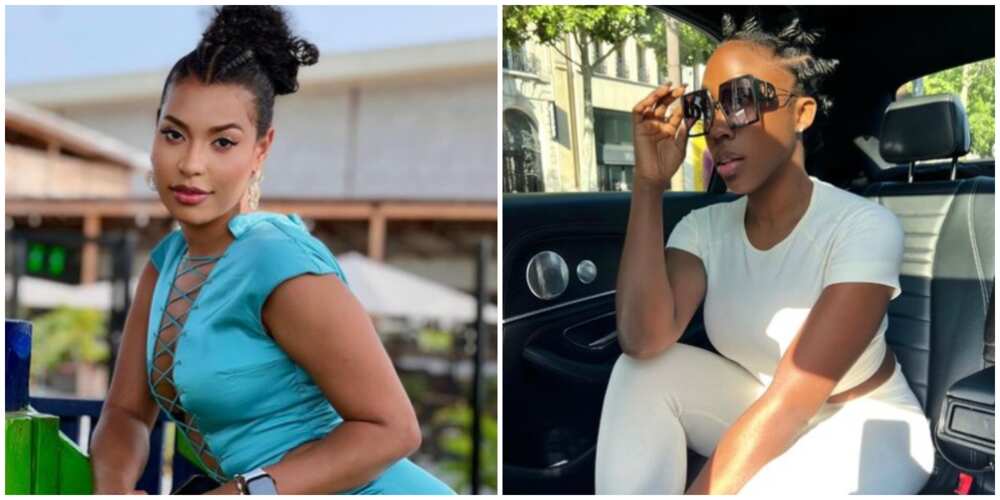 Well, it doesn't have to be so as there are many ways to keep that hair away from your face. It may be hot outside doesn't mean you can't look just as hot.
Check out these six looks below:
1. Be a naturalista like Bisola
Weaving your natural hair in protective styles can also help you brave the weather.
Here, Bisola wears her natural hair in cornrows and twists.
2. Nancy's short hair game
This is the obvious answer to dealing with hot weather but not so many ladies like this option.
However, if you're considering the big chop, try experimenting with colours and a stylish cut too.
3. Wrap it in Bantu knots like Beverly Naya
This is a classic look for African beauties!
Like Beverly, you can slay this Afrocentric style as it allows your scalp room to breathe and you don't have to deal with hair touching your face or nape
4. Dazzle like Nengi with a braid crown
Whether with natural hair or extensions, braid crowns are always a win!
While the BBNaiaj star may have used a lace frontal for this style, it is advisable to use your natural hair or add extensions so your scalp can breathe.
5. Twin with BBNaija Nini with this braided bun
This is also another way to keep your look chic without stressing because of the weather.
Unlike the regular bun, the BBNaija star glammed her look with two cornrows in the front.
6. Rock a low bun like Osas Ighodaro
This is the perfect look if you're going for that 'clean girl' aesthetics.
Like Osas, you can either keep it sleek or opt for the messy bun look. While high buns are just as good, the beauty of this style comes from its simplicty.
Edo varsity students reveal cost of their hairstyles, one lady rocks N355k human hair
Looking good is good business, and for some students of the Edo State University (EDSU), no amount of money is too much or too small.
TikTok page, @edsu_src, which is dedicated to information about the varsity, posted a video in which some students shared price details about their hairstyles.
The first lady was seen rocking a water curl wig with the price tag, N355k, attached to it. A number of ladies in wigs and braids followed with different and similar looks and their prices.
Source: Legit.ng