Braids for kids: cute hairstyles for children for every occasion
Children enjoy doing their hair as much as adults do. They like to experiment with different hair colours, lengths and textures. It is an easy hairdo for kids, as there are numerous ways to style them for any occasion. These are braids for kids you can try on your young ones for different events.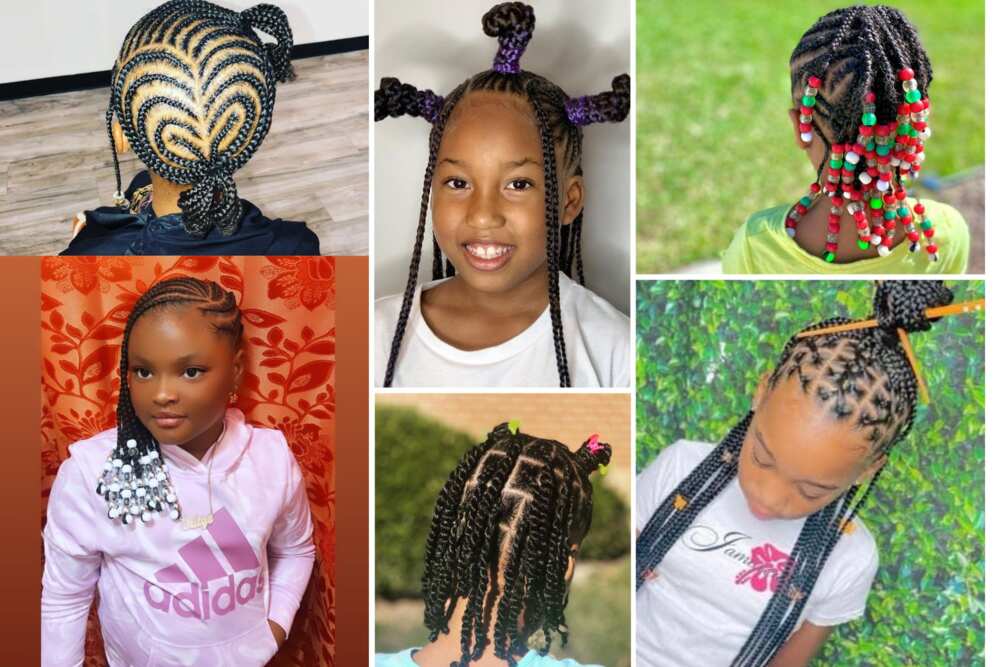 Braids come in handy for parents as they worry less about their kids' hair. Your little princes also get to catch a break from her natural hair and enjoy different hairstyles. The downside, however, is sometimes braiding takes time to wear and can be painful or uncomfortable if not done properly. This makes some children dread them. If you are wondering what to do with your child's hair, try simple and easy ones.
Cute braids for kids for every occasion
Making hair for children might be challenging if you are unsure what suits them. You want to ensure the style chosen fits the child's head; it's trendy and fits the occasion. Below are cute braid styles you can choose from for every occasion.
1. Mohawk braids for kids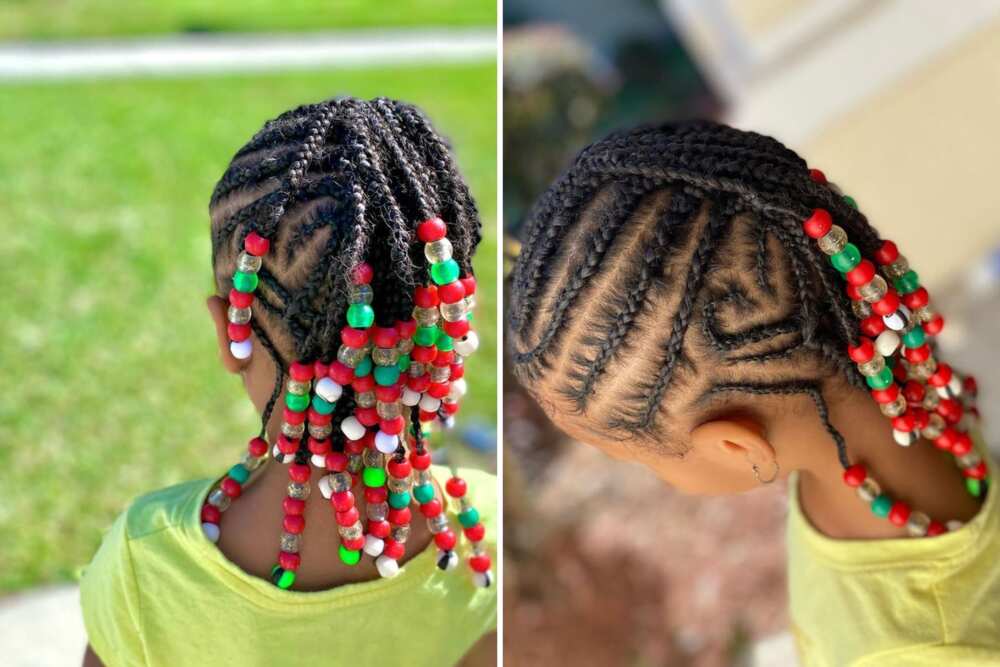 The Mowhawk braid hairstyle is one of the trendiest hair fashions for kids. You can let your child have this style on holiday as well as in school if its allowed. The child doesn't have to shave her hair on the side to achieve this look although it can be quite complex to do.
2. Box braids for kids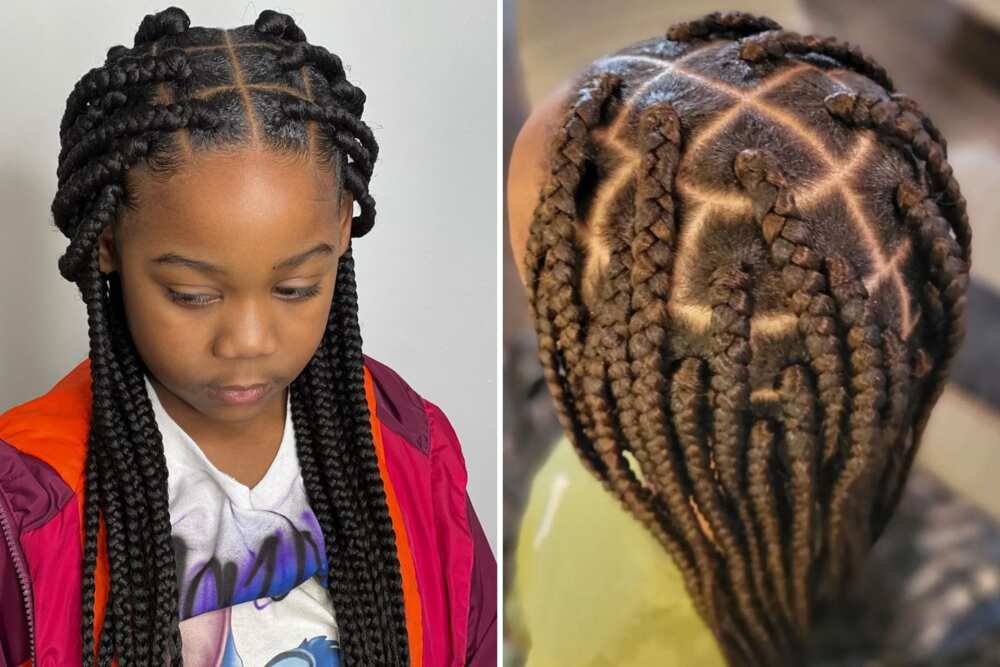 This is an excellent hairstyles for children especially older kids. The kids are mature enough to sit for long hours as they are being braided. They can also choose their favourite colours for the style.
3. Side-swept cornrow braids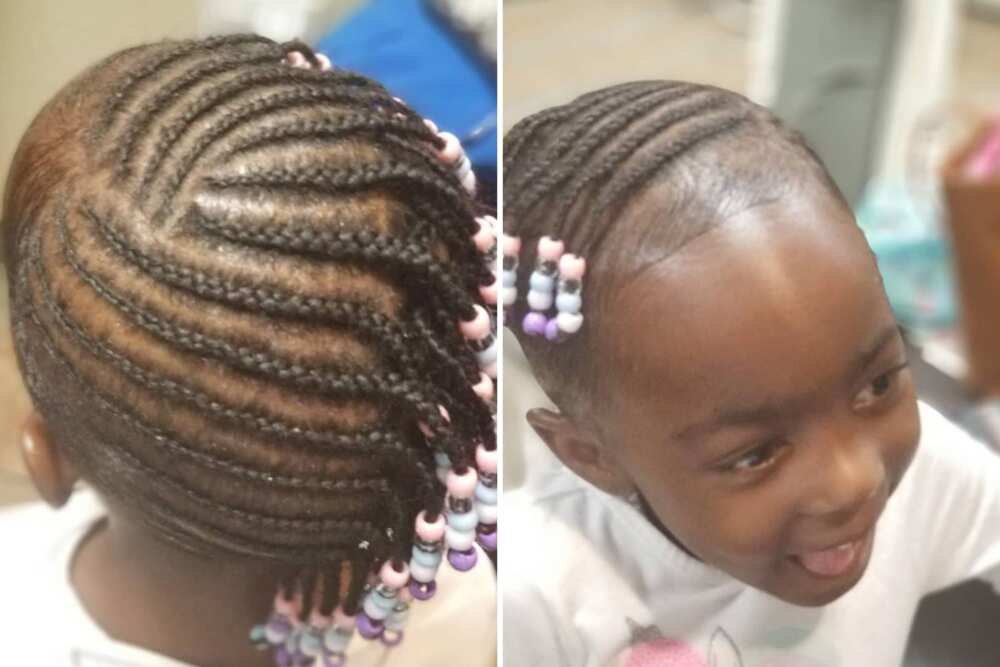 These side-swept cornrow braids for kids are chic and classy. The cornrows can be done in different patterns and styles. Adding beads gives the style a dramatic look for those looking to make a statement. For those who love simplicity, straight-braided cornrows will be perfect. Making them too tight may make kids uncomfortable because of pain.
4. Knotless braids for kids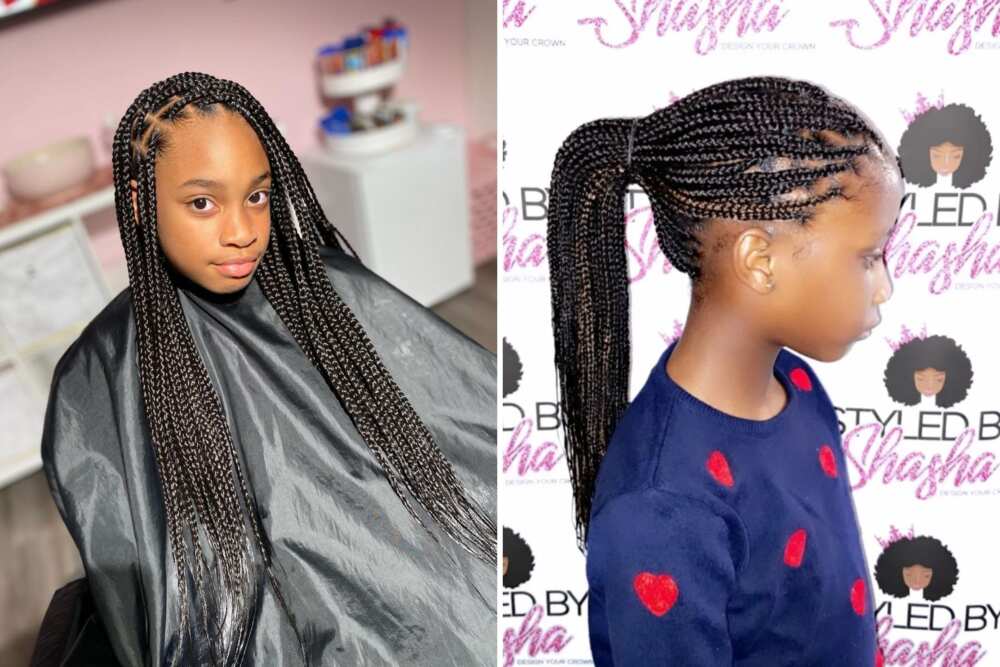 One of the latest hair trends is this one. They are easy to plait and less painful compared to other styles. They protect the hairline. They can be held into a bun or loose and can be done in any colour.
5. Bob braids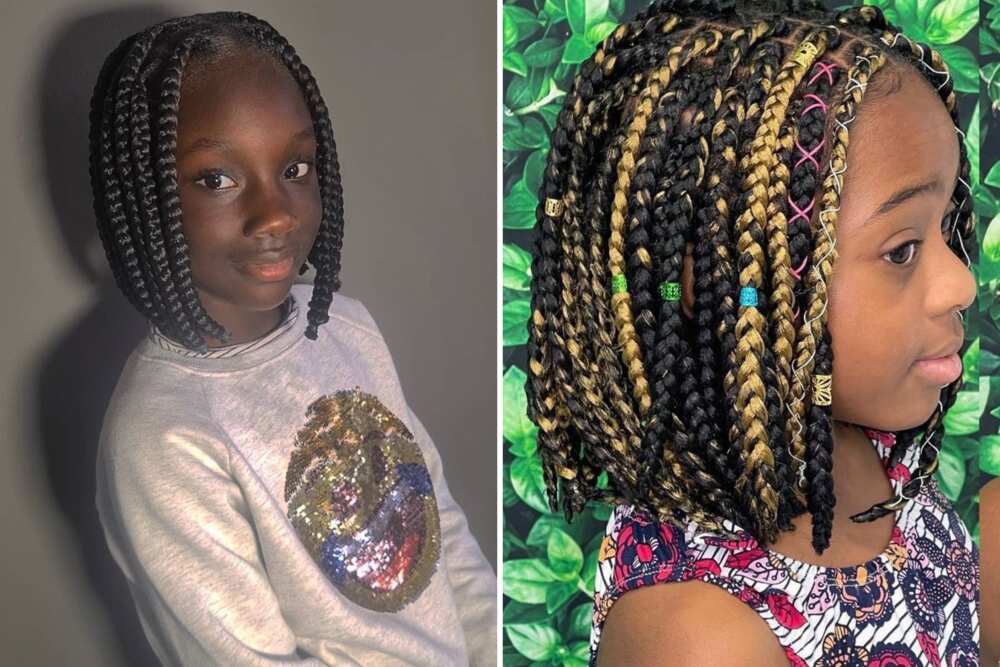 Bob is an excellent style for children and adults. It is one of the best protective styles that never goes out of fashion. They can be short or shoulder-length, and children can have fun without the hair coming to their faces. After sometimes the child can have repairs around the edges instead of undoing the whole hair, therefore lasting longer.
6. Lemonade braids with beads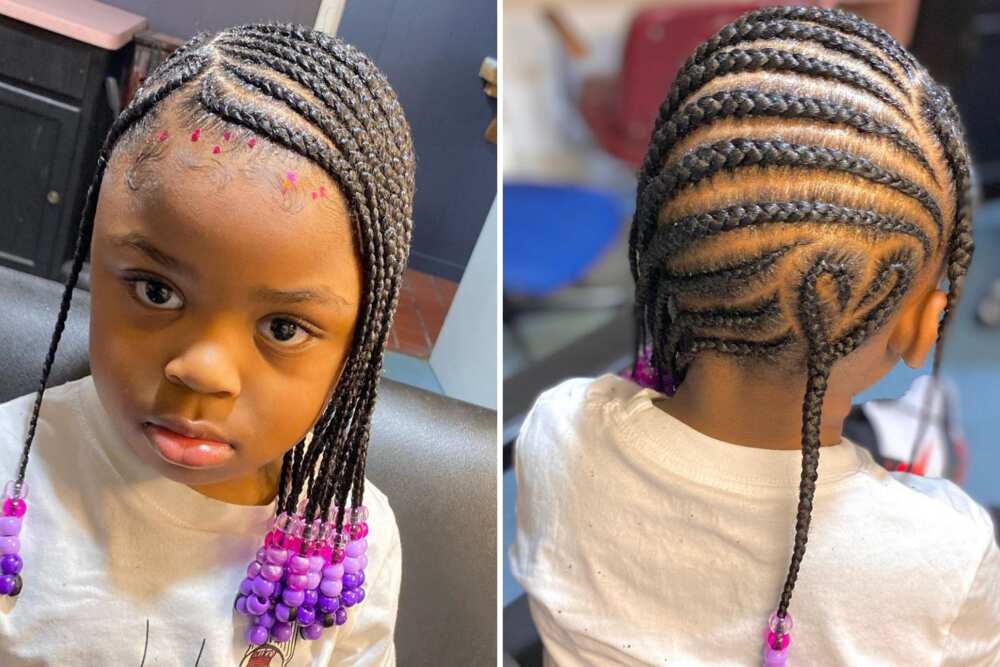 This is a cute hairstyle for your little princes, and the beads by the side adds a twist to the look. This makes it unique, and your child will love it.
7. Twin bun cornrow braids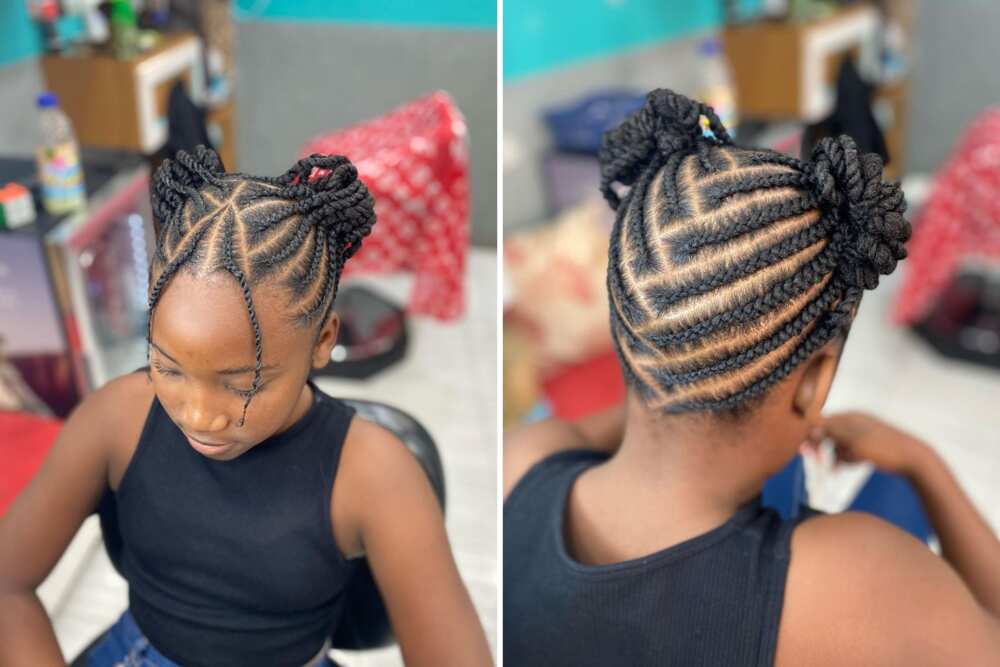 This hairstyle is popular with school-going children since they are simple and cute. These cornrows are styled into two buns on each side of the head. Children with short hair love it, as the style helps the hair to grow.
8. Jumbo braids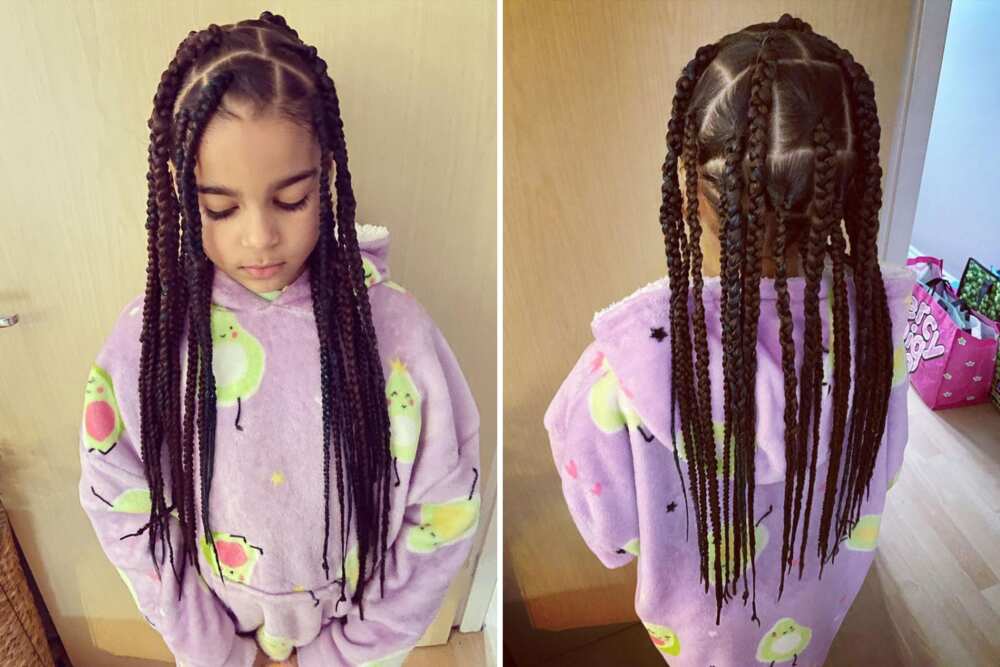 If your little one wants to make a statement and show off her hair, jumbo style is the way to go. Jumbo braids are large and are best suited to naturally thick hair. This style will give your kid a break from styling and grooming, as it is an excellent protective style.
9. Back cornrows with a swirl at the back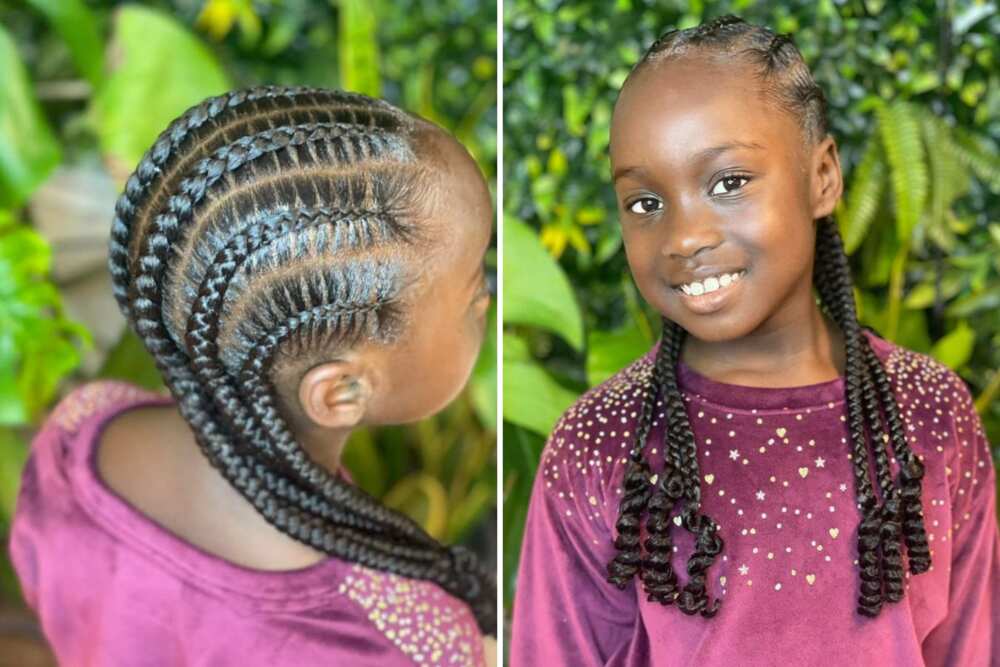 This style makes the child look cute. The swirls add volume at the back, and it's a great holiday style.
10. Single-burn cornrow braids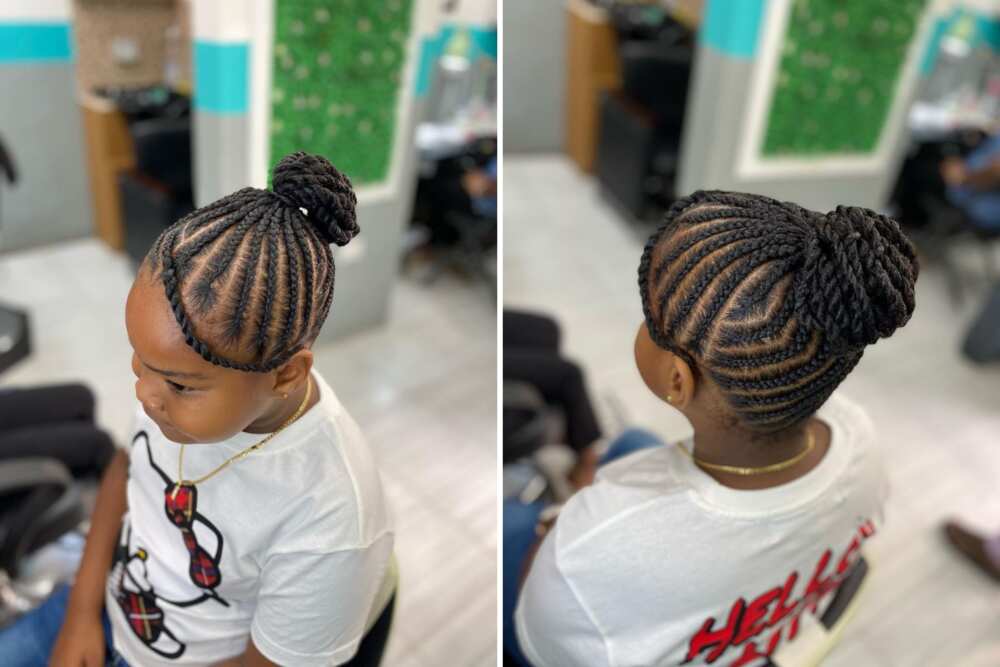 This is one of the oldest kid's styles. It's simple and easy to make, and kids love it. They can personalize this style by adding their best ribbon or band of their favourite colour at the burn.
11. Ponytail braids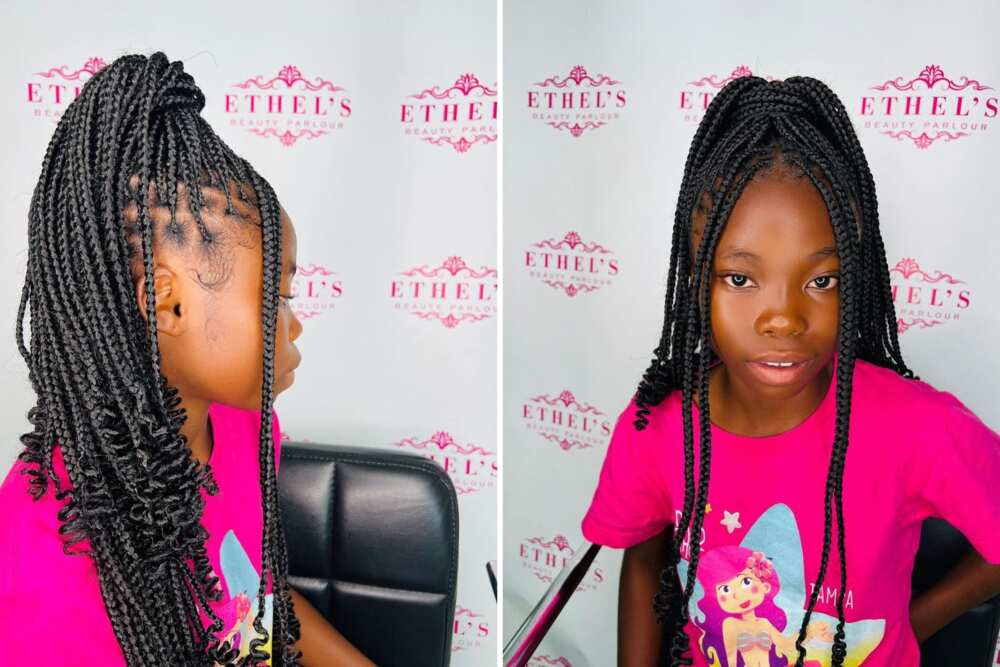 This hairstyle is great for older kids as it takes a lot of time. The style is also mature, as even adults do it. They come in different sizes and colours; kids can be creative with this style.
12. Boho kids braids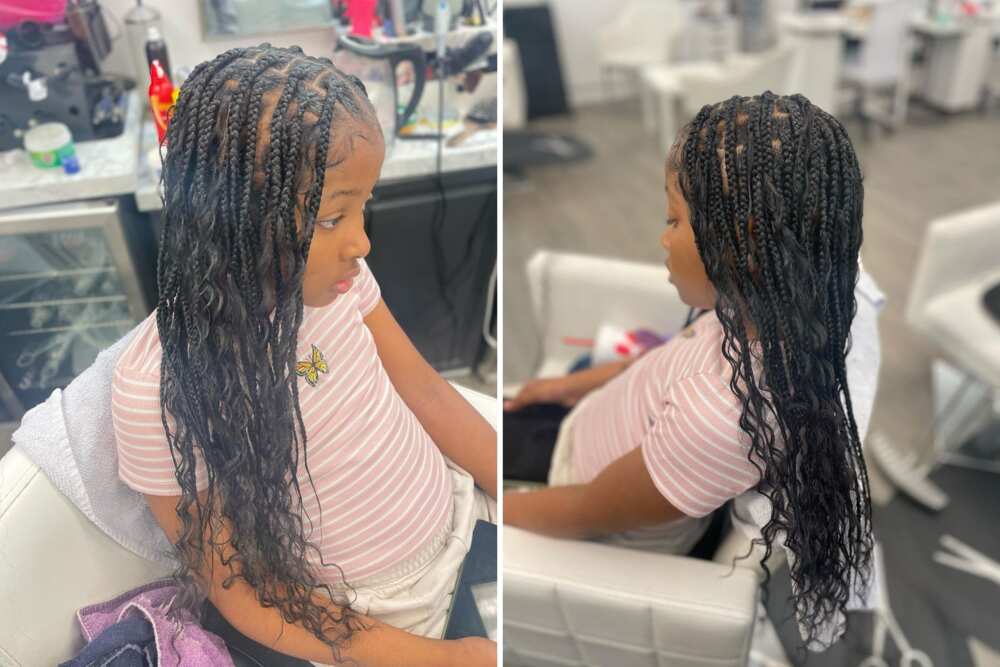 This style is done by bohemian hair that has curls .Kids can play with the hair colours and hold them up or just let them down. It is a great style for the holidays but if the school allows, you can have your daughter rock this style.
13. Back braid cornrows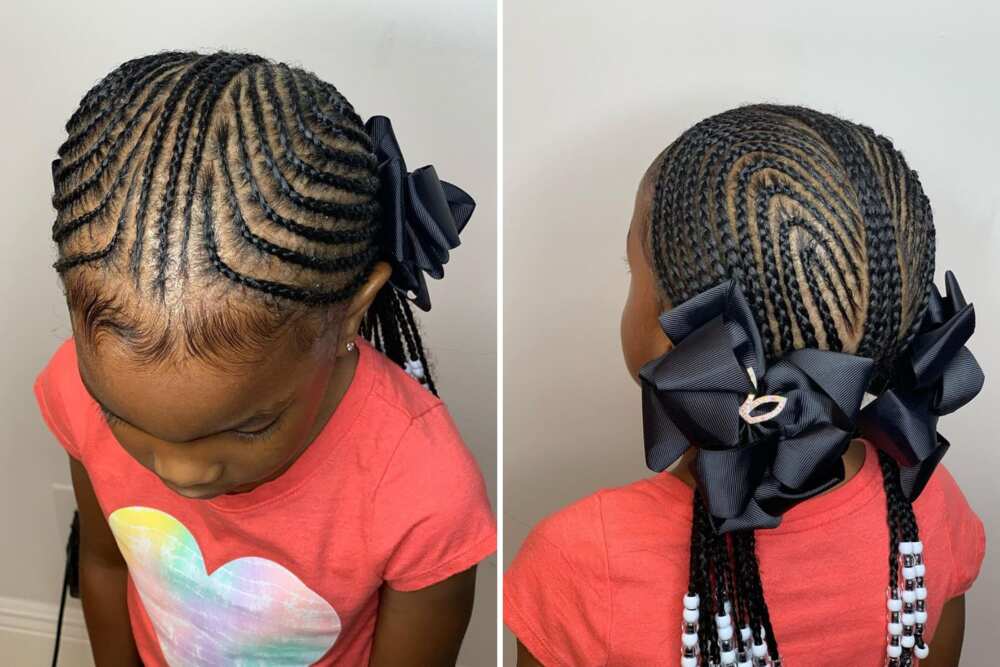 This is one of the oldest kids hairstyles that always stay in style. It is suitable for kids of all ages and is the best school hairstyle for children. It is simple and easy to do; therefore, kids love it. You can add any style to the cornrow if they go backwards such as waves.
14. Yarn braids hairstyle for kids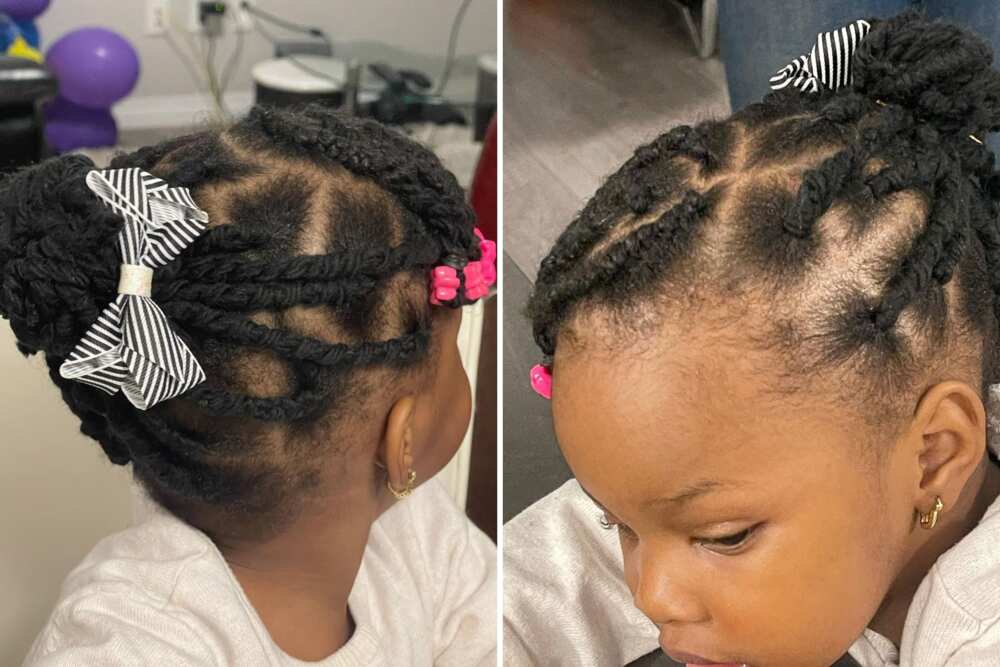 Yarn plaits are among children's hairstyles have been around for a long time. This style is unique and cute. Ensure the yarns are loosely done to protect fragile hair and make them less painful. They are as simple to maintain and can go for a long time without looking shabby.
15. Bantu knot braids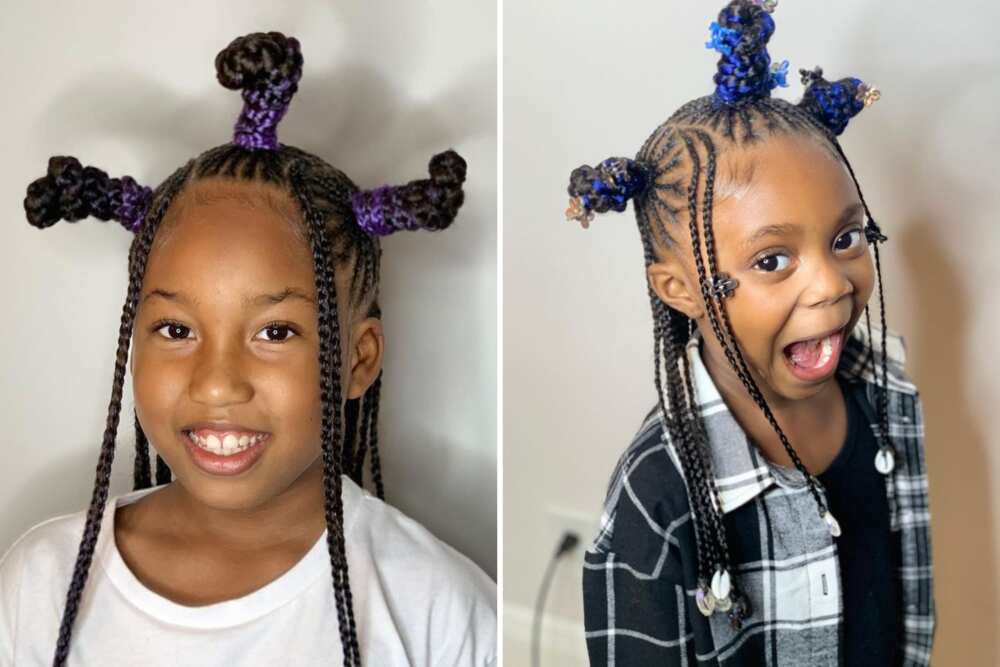 The Bantu knot style is great for both kids and adults. You can do them small or big depending on the child's preference. This style is easy to do, even for toddlers, giving African royalty vibes.
16. Love braids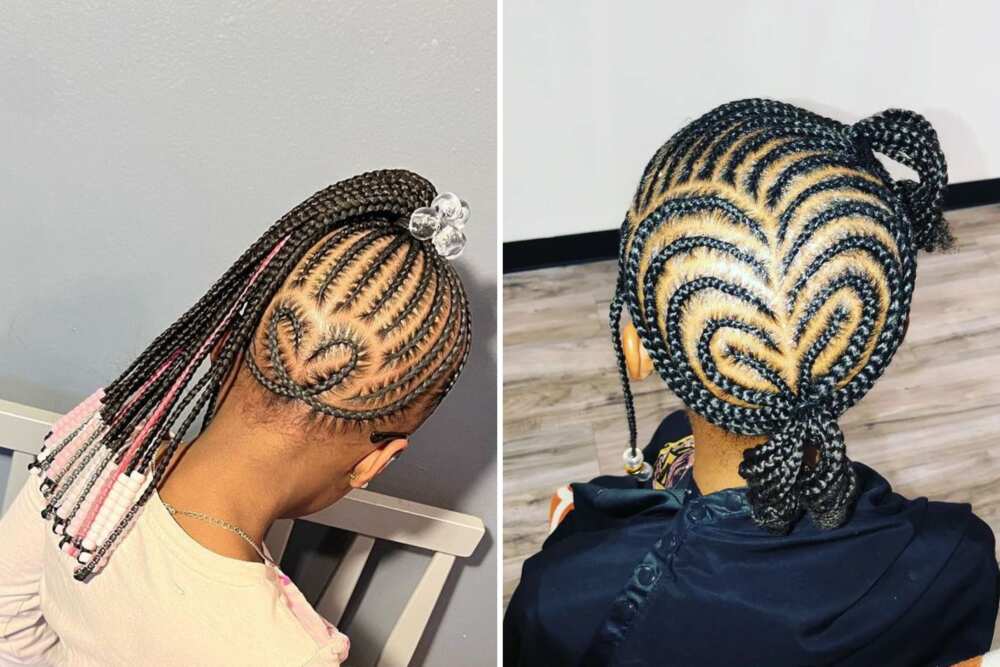 The love style is flattering and it looks good on either side of the head. The love shape is placed on the aside and the back. It is basically cornrow shaped into a love heart.
17. Afro kinky pigtails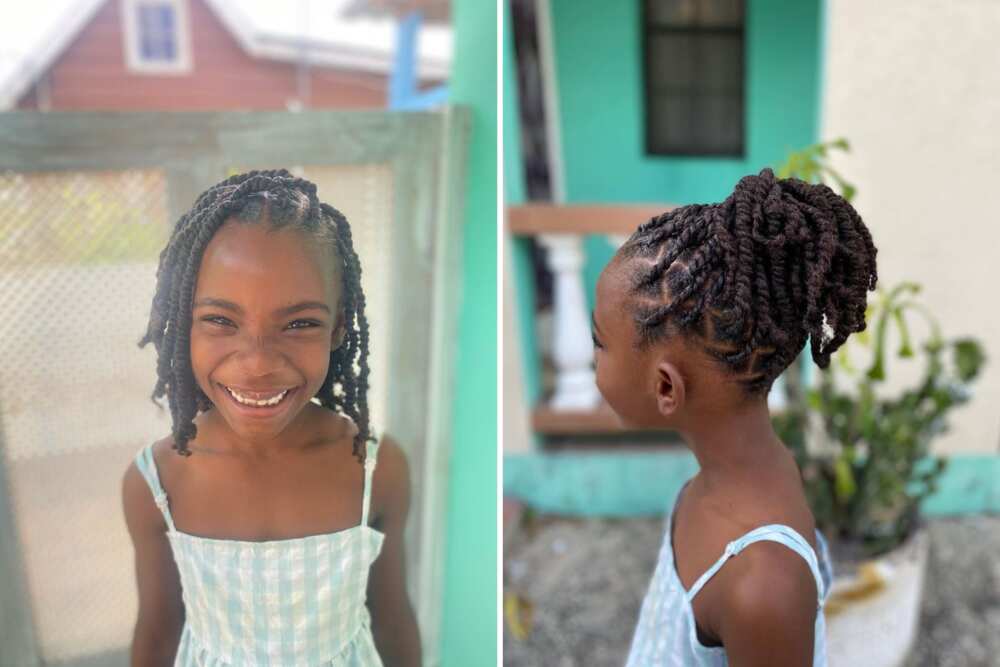 Afro kinky hairstyle is one of the latest hairstyles; kids haven't been left behind. These afro kinky can be plaited in pigtails or leave them hanging, making them unique. This style is amazing; the kids can experiment with different lengths and colours.
18. Twist braids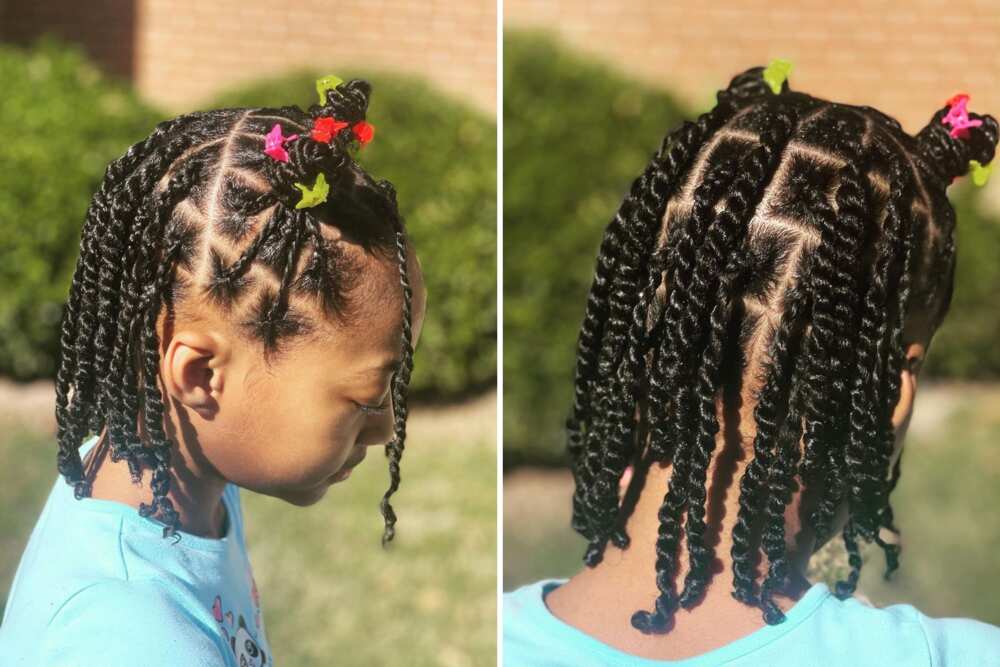 This style is unique from other braid as they are, just like the name suggests, twisted instead of plaiting. Kids can play around with the size, length and colour of the twists.
19. Spring twist braids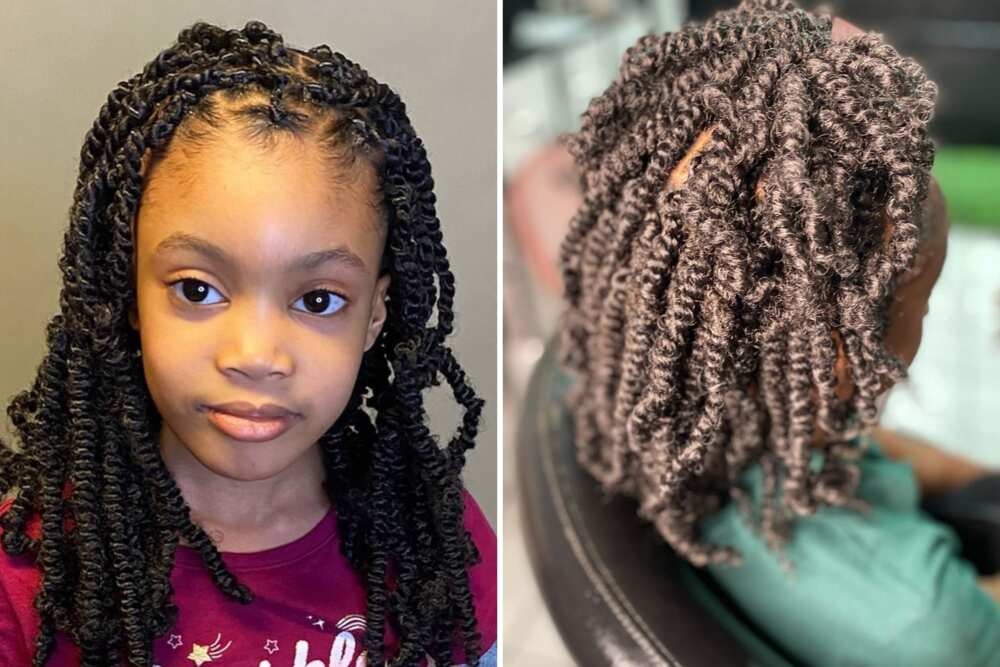 Spring twist are among the latest hair trends for kids and adults. This style is unique as it's done by crocheting the braid on the hair. The child can choose the colour they like, which is best done during school holidays.
20. French braids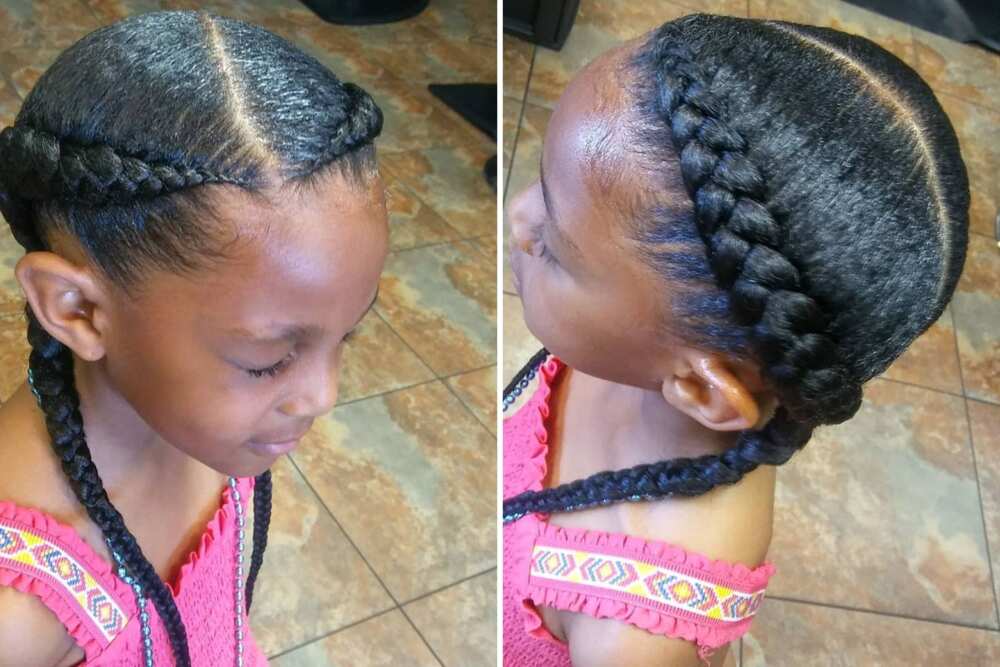 French braid is one of the simplest braid styles for kids. You have to add an extension if the hair is short, but if it's long, you braid it as it is. Although the style only lasts for a while, it's fun and cute and can be done for school or on holiday.
21. Crisscross braids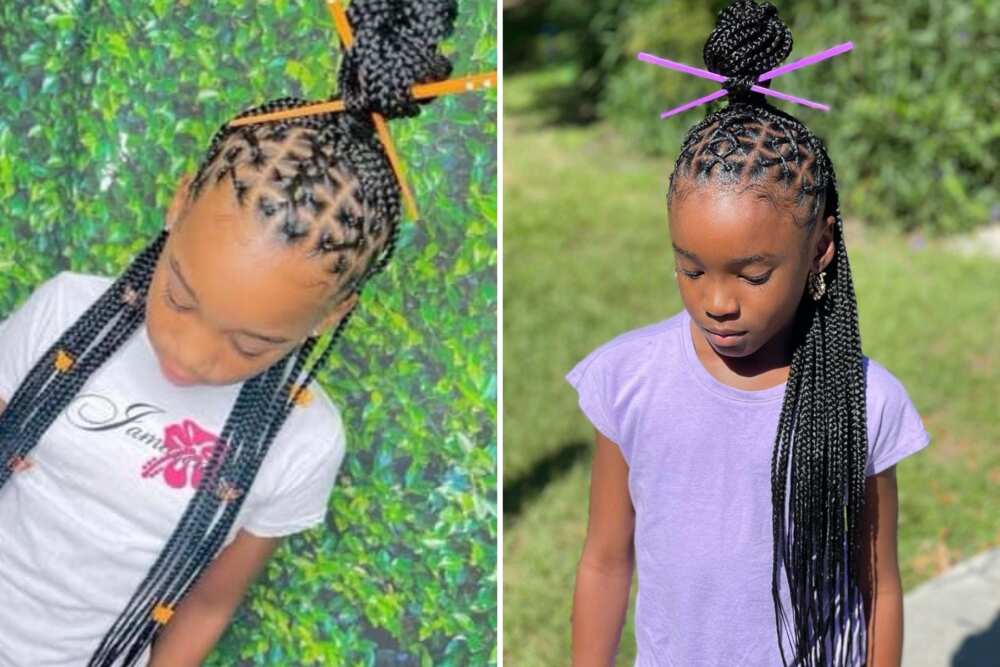 Just like the name, this style is characterized by hair crisscrossing each other. It is very unique and interesting making your girl want to show off. This is one of the looks to go for when you child wants to steal attention. Be careful not to have them too tight especially at the edges.
22. African braids for kids with curled ends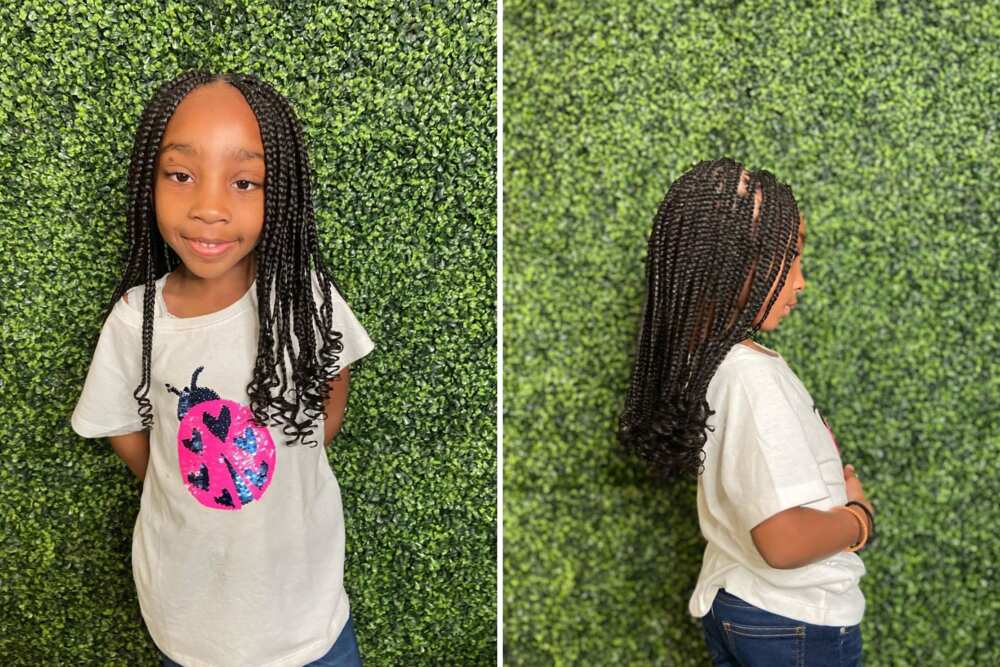 African braids provide a wide range of hairstyles for kids and adults. They are simple and some curls add character to them. The kids can play with colours and size to their liking.
23. Half back cornrow with curl extension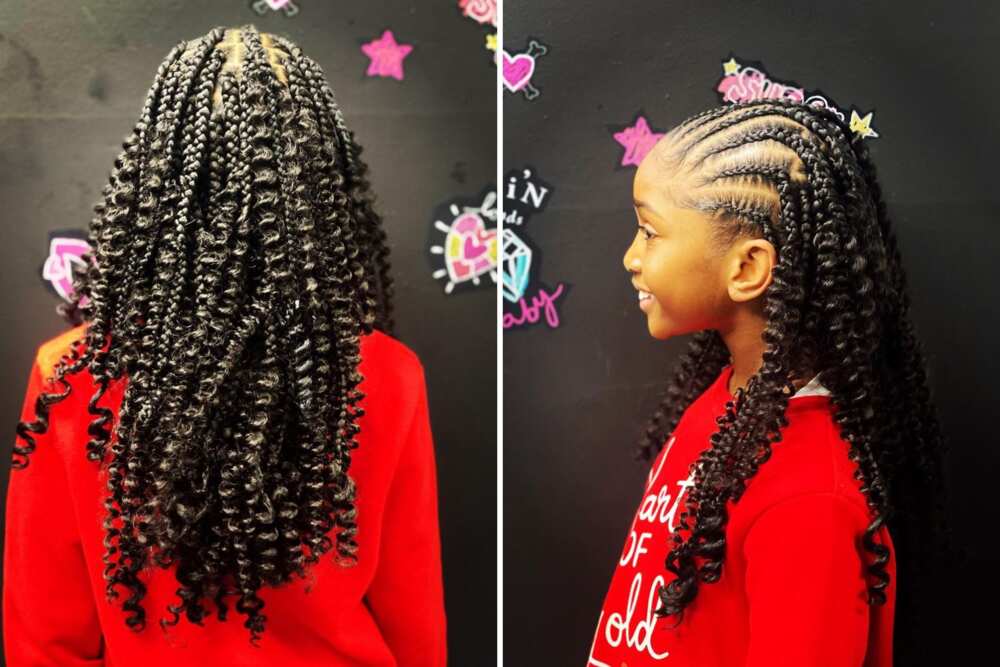 This style is popular with kids and adults alike. The cornrows are done halfway and then curly extensions are added at the back. The curls add volume and gives mature vibes. Its great for weddings or birthday parties.
24. Lemonade braids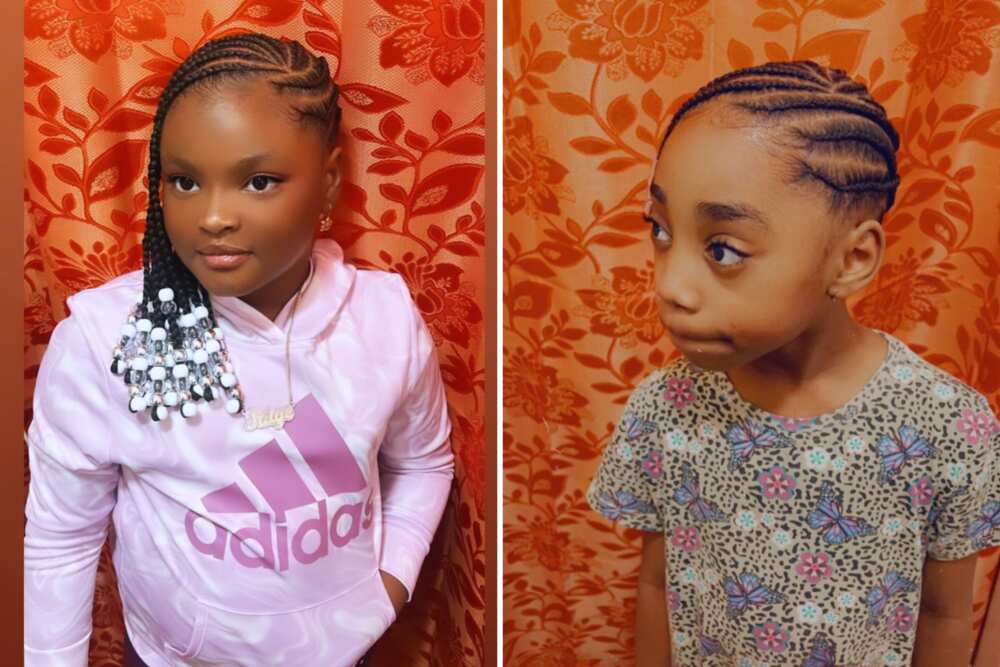 The Lemonade hairstyle was popularized by Beyoncé when she released her music album Lemonade and girls went wild. Since then the style has become popular and kids have been rocking it everywhere. You can accessorize with beads and colours to make it pop.
25. Flower braid style
There is hardly any little girl who doesn't like flowers. Its even more beautiful when the flower is styled on her hair. The flower can be accessorized with beads to accentuate the flower.
There are many hairstyle styles to choose from when it comes to braids for kids. These styles are easy to do, and they make your daughter beautiful. They also act as a protective style helping to seal the hair and prevent hair breakage. They also save you and the child time when getting ready in the morning.
READ ALSO: 50 all-back Ghana weaving hairstyles for trendy looks 2023
Legit.ng recently published a post on Ghana weaving hairstyles. All-back style from Ghana is popular with many African women. This is because the style is universal, and it's a good suit for both business and casual occasions. The style is also long-lasting, saving busy women money and time. Be sure to try these trendy all-back Ghana weaving styles in 2023.
This year has seen more all-back Ghana weaving hairstyles emerge as hairstylists invent new trends daily. The style is easy to do and suits all hair textures. If you are looking for the latest trends, check out these all-back Ghana weaving styles.
Source: Legit.ng