Long Fulani tribal braids: 30 beautiful styles to try out
Tribal braids are an integral part of the black culture that has been passed down for generations. It is believed that they originated from the Fulani tribe in West Africa. They come in different shapes, textures and designs to boost your confidence and give you a stunning look.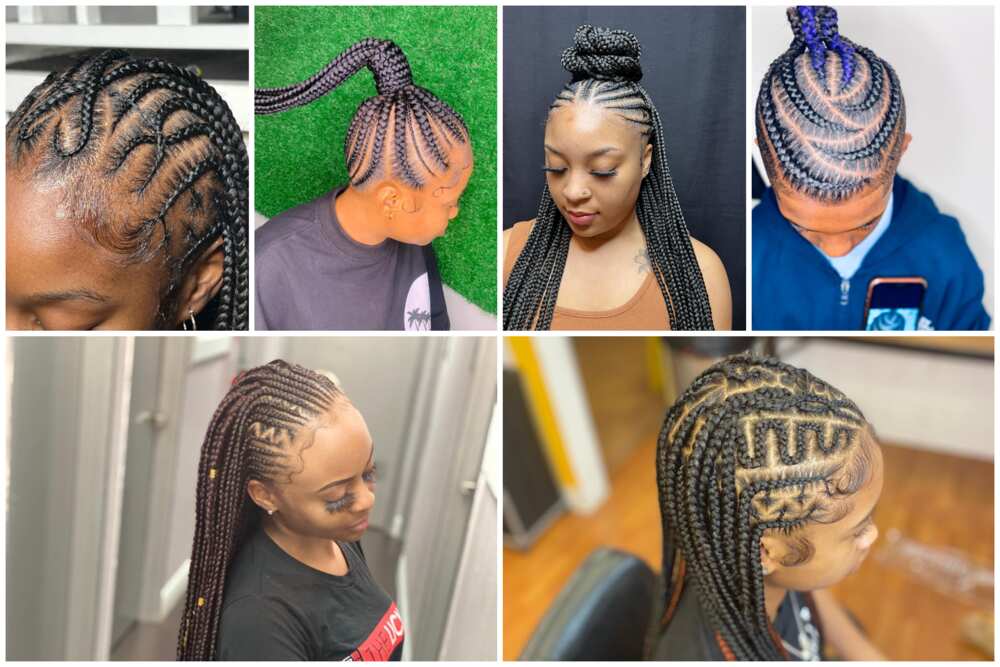 Tribal braids are and will always be in style, regardless of the year. They can incorporate braiding styles paired with additional accessories such as beads, shells and rings. They range from Fulani, cornrows and side part braids.
30 beautiful tribal braids styles
With advanced technology, you can find a lot of attractive, stunning tribal braiding styles on the internet. From these pictures, you can select your favourite and get options when changing your look.
1. Long Fulani braids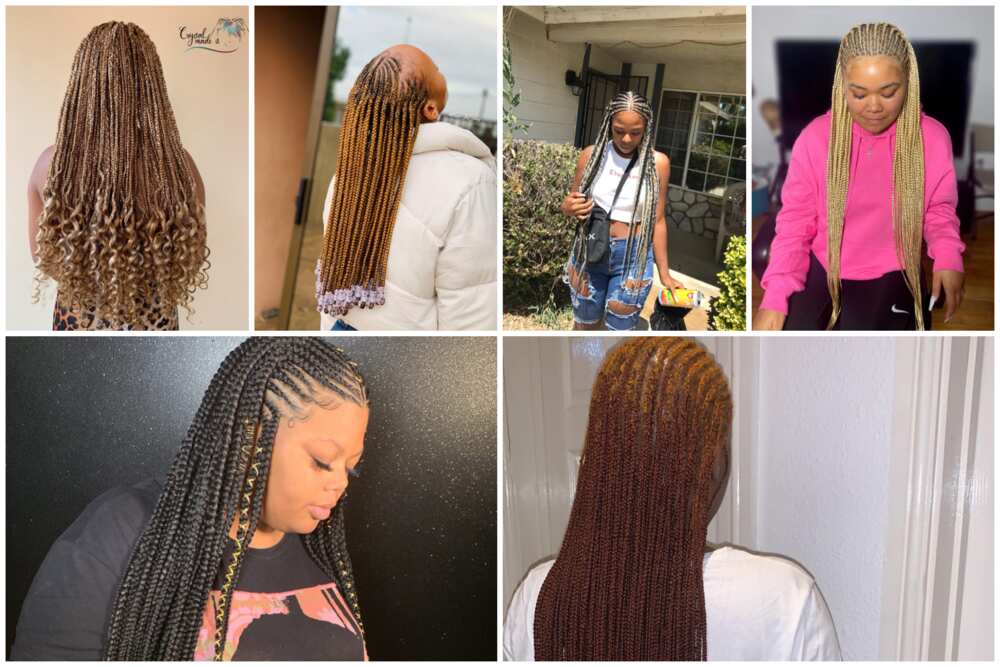 Fulani women are known for their Fulani braids styles incorporating beads, cowrie shells and other accessories. This style is popular because of its flexibility. A celebrity by the name of Alicia Keys is known for this style. If a star chooses to rock this style, why not try it?
2. Long tribal braids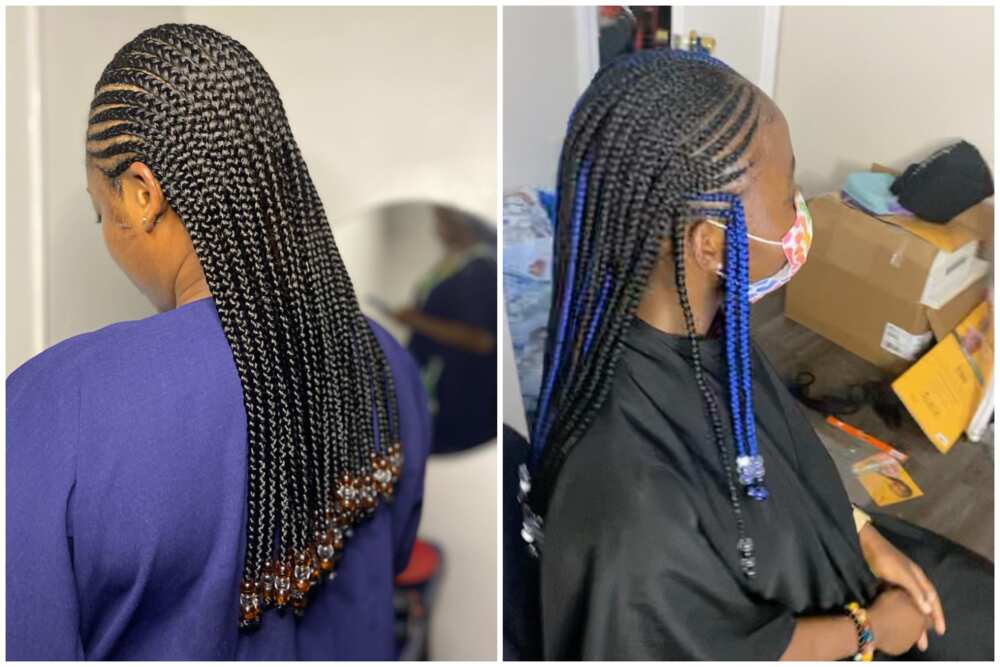 This hairstyle is considered simple and creates an original and fantastic look. You can decorate them with beads and cowrie shells. They can fit perfectly well on all occasions.
3. Short tribal braids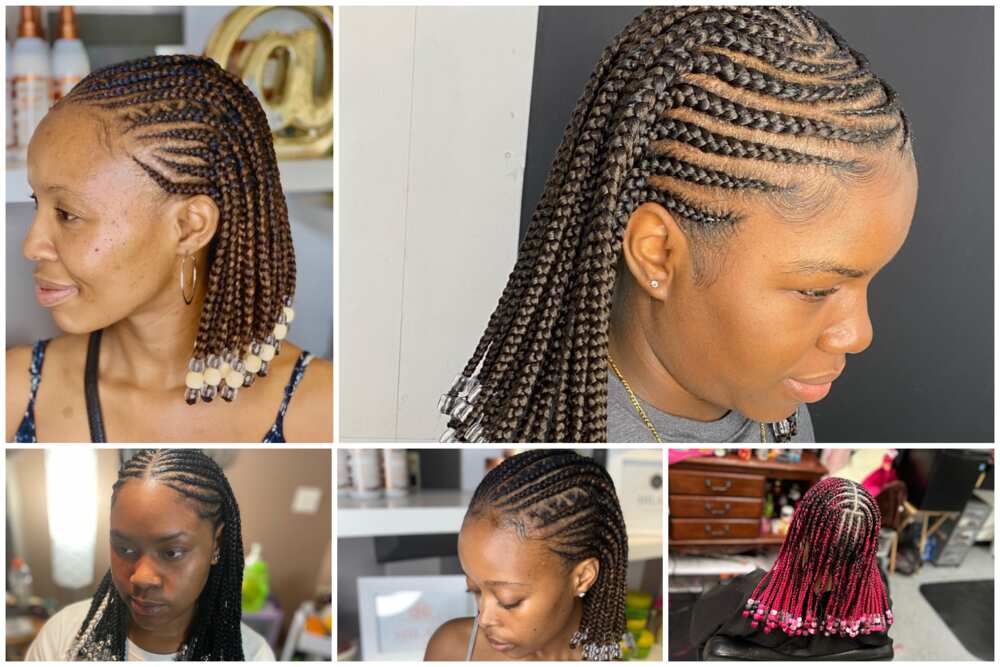 The best thing about this hairstyle is the ease of styling and maintenance. It is also easy to clean and remove, and you can play around with the extension colours for that elegant look.
4. Goddess tribal braids
Goddess tribal braids are an excellent choice for women who want to express their individuality and create an exclusive look. They are a mixture of box braids and cornrows with curly ends. Try it, and you will fall in love with this hairdo.
5. Middle part tribal braids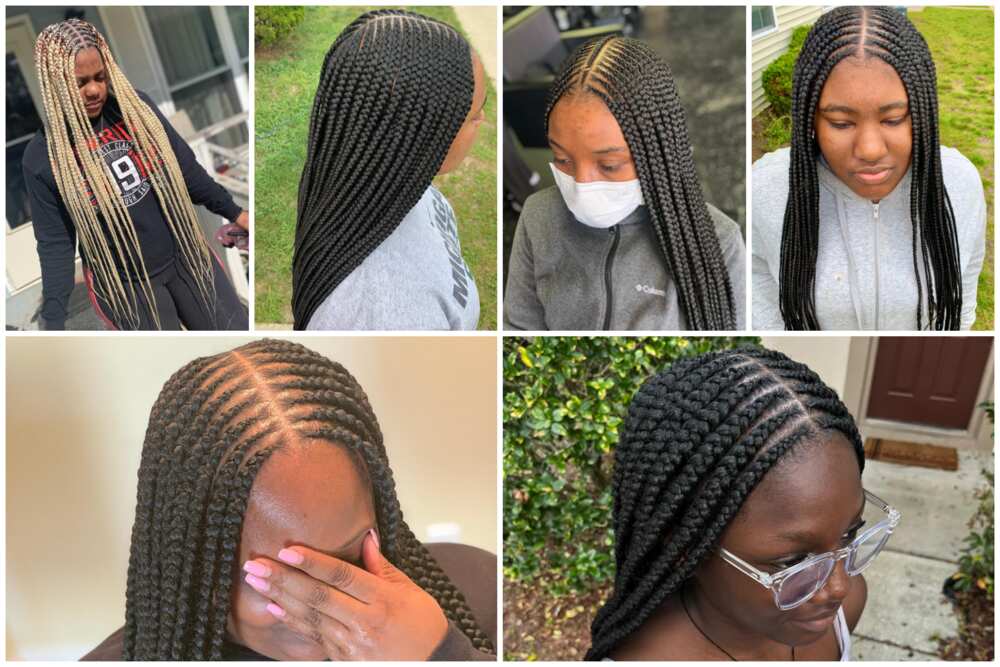 This is another timeless hairstyle that can be worn to work or other occasions. If you have an oval or round face shape, this is your best hairstyle, as the parting draws attention to the centre of your face.
6. Tribal braids with beads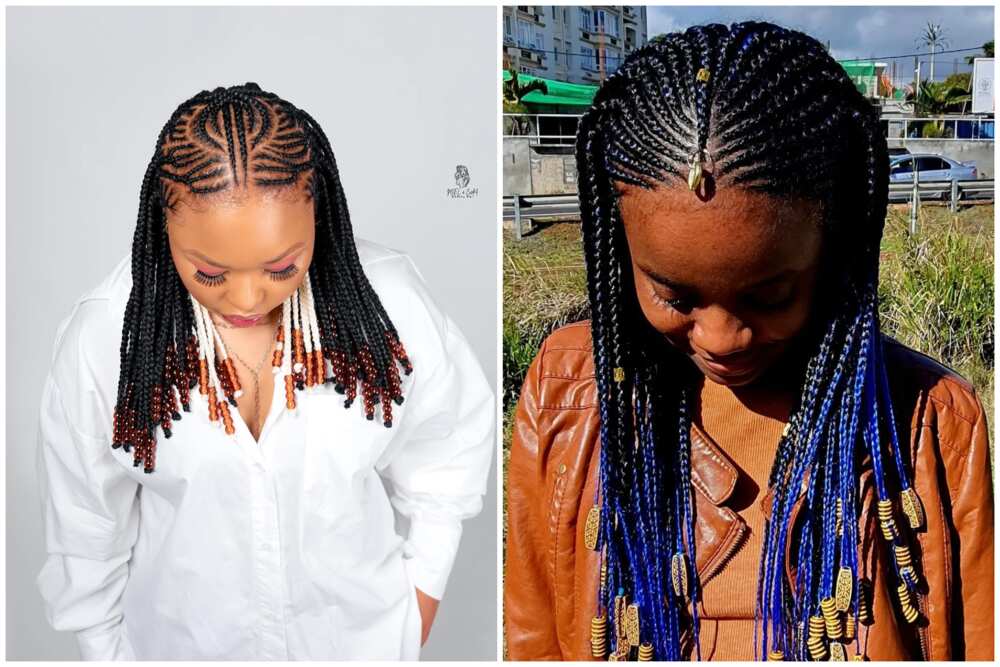 Adding some large beads is one of the ways to customize your hairstyle. The combination of brown and clear beads complements your natural beauty.
7. Side part tribal braids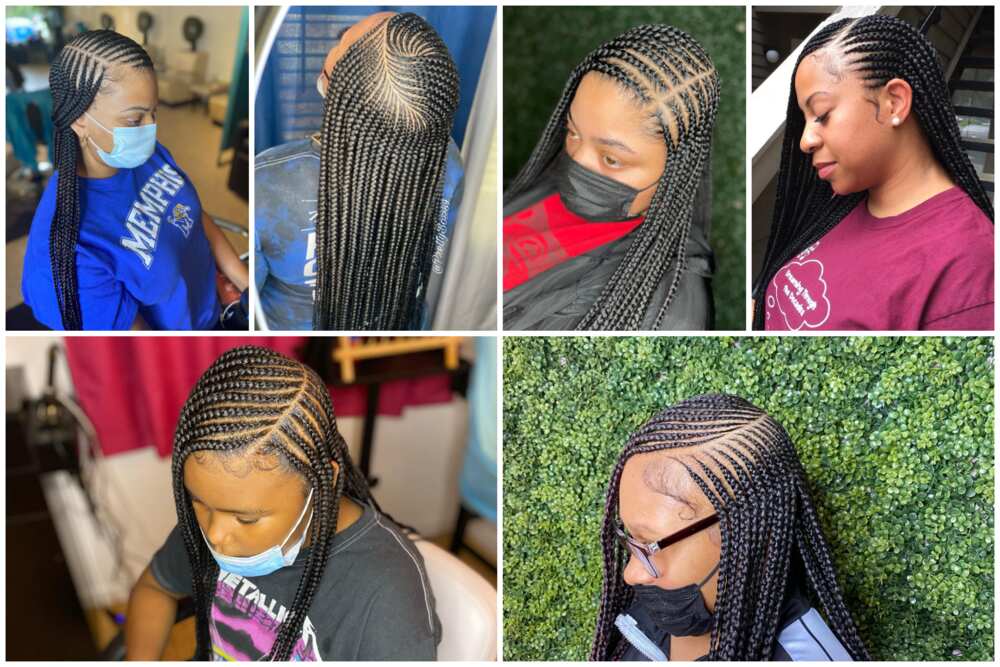 A side-parted style is fun to change your appearance without significant changes. This style suits square and diamond face shapes.
8. Curvy Ghana braids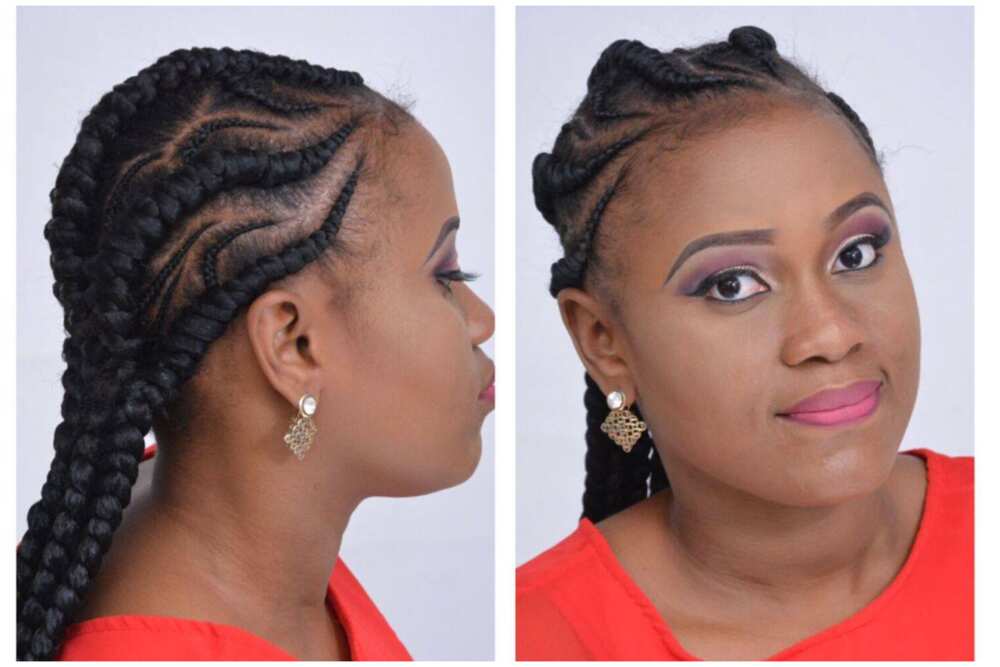 If you have never tried this before, Ghana braids are a new hairstyle that you will like to wear. It's a complicated and classic style! It's just a fantastic option for everyone, thanks to its intricate pattern.
9. Lemonade braids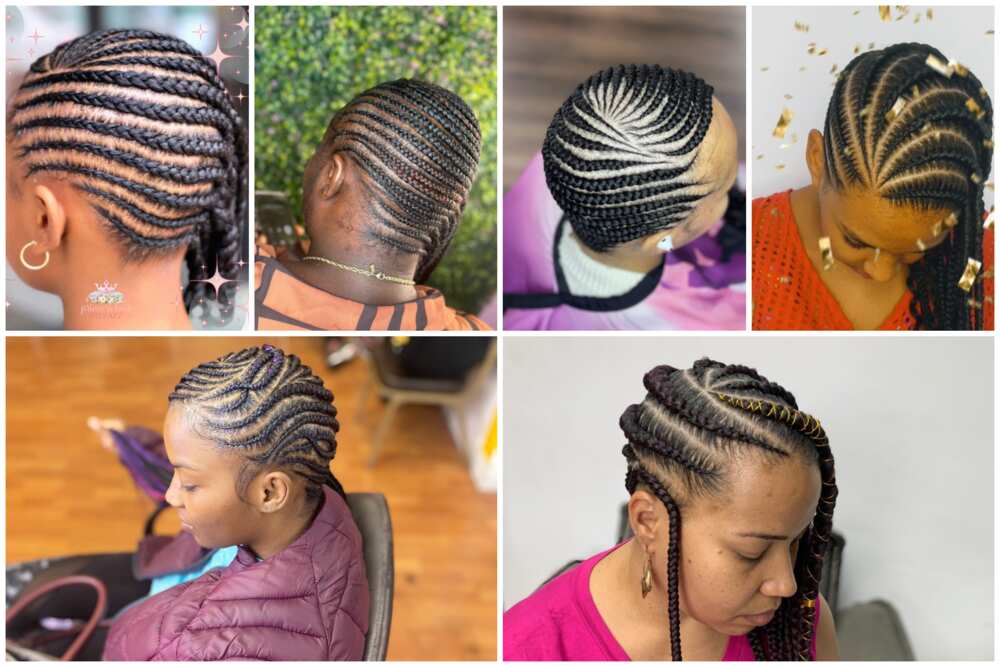 People regard Beyonce's hairstyles as one of the most iconic ones. This style happened after the release of the new album Lemonade in 2016. You can add a few small accessories of different colours to your cute plaits. The result will be stylish and perfect for any celebration.
10. Jumbo tribal braids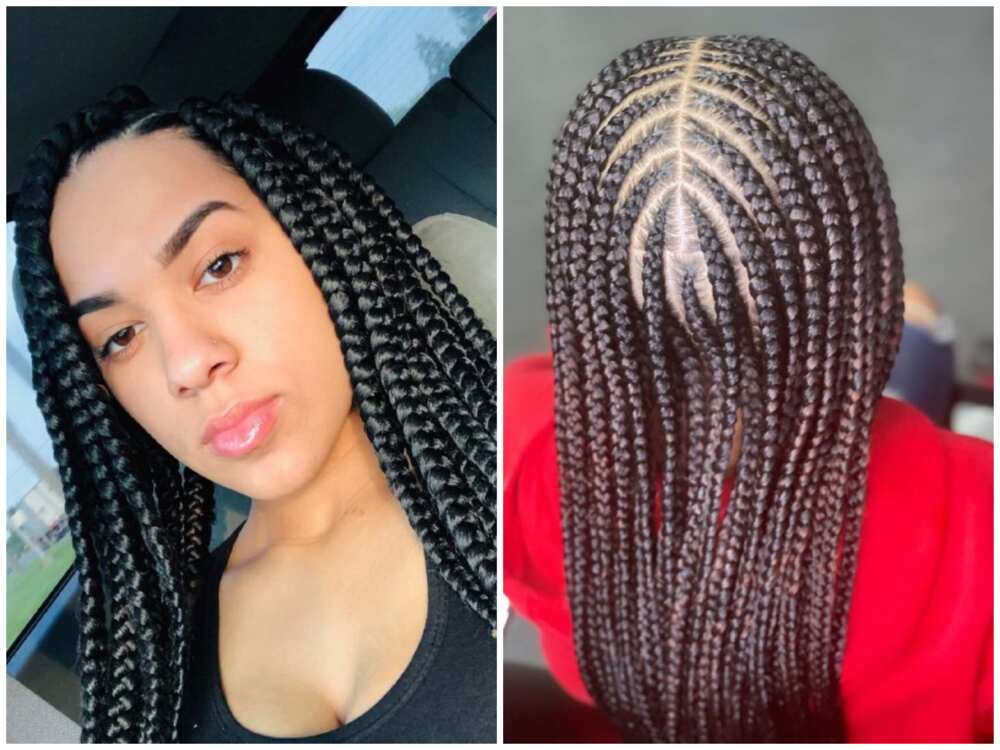 This hairstyle is far from the traditional one. With it, you can choose the size and a fun colour to give you a unique look. The head can covered with several patterns, braid rings and thicknesses.
11. Crisscross knotless braids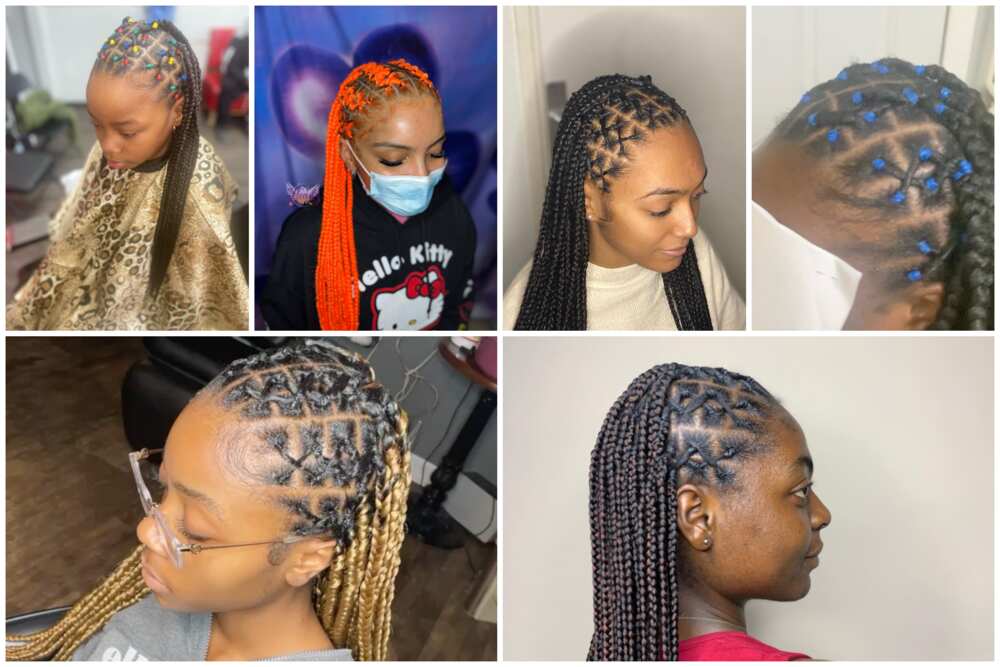 This kind of hairstyle will leave you more than satisfied. Moreover, it does not require much attention and is friendly to your scalp. You can use it for any occasion.
12. High ponytail look with beads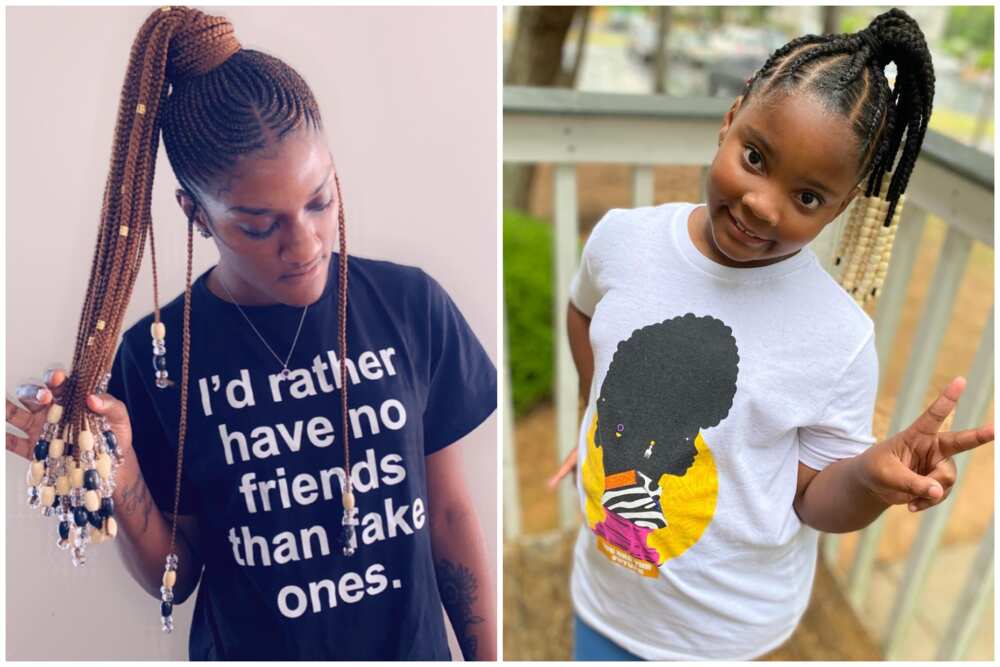 Classic ponytails can be modified into something unusual with bunches. The ideal setting for your beads will be created by wrapping your ponytail over the top of your head.
13. Classic tribal braids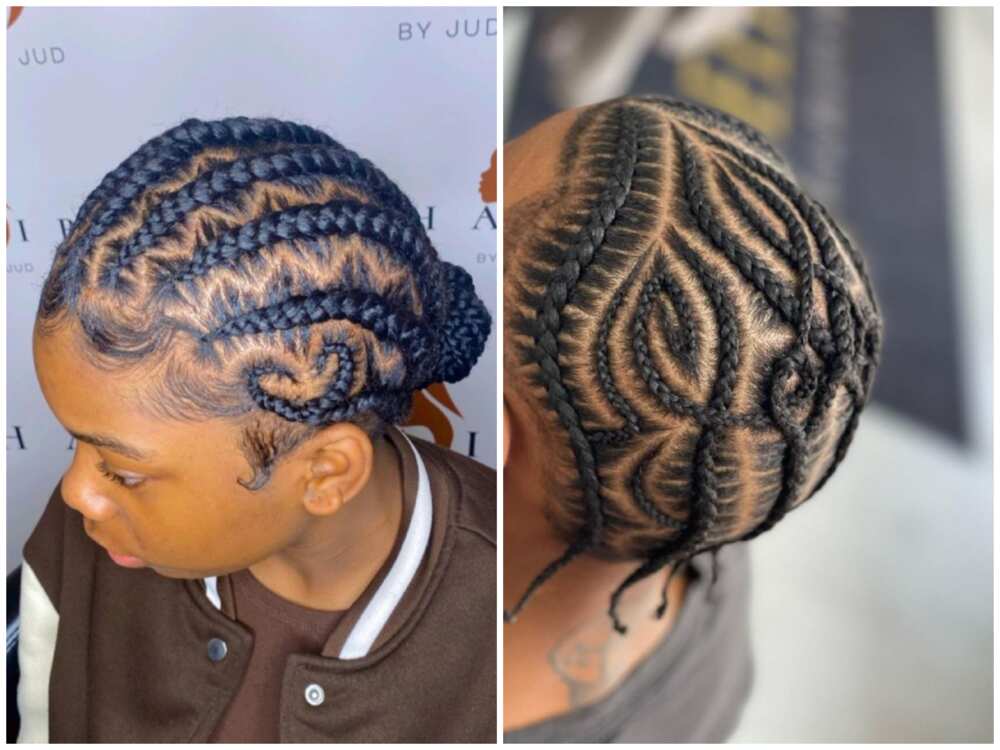 You won't believe how astonishing you will look if you choose this hairstyle. It's a beautiful hairstyle which can be highly beneficial to your hair. They are perfect for everyday and party nights.
14. Ombre tribal braids
Simple braiding is excellent, but ombre is better. You can create this hairstyle by using colourful artificial hair, wool or thread. Experiment with colours and invent your own combinations! Ombre hairstyle for ladies is a hit this season.
15. Blonde tribal braids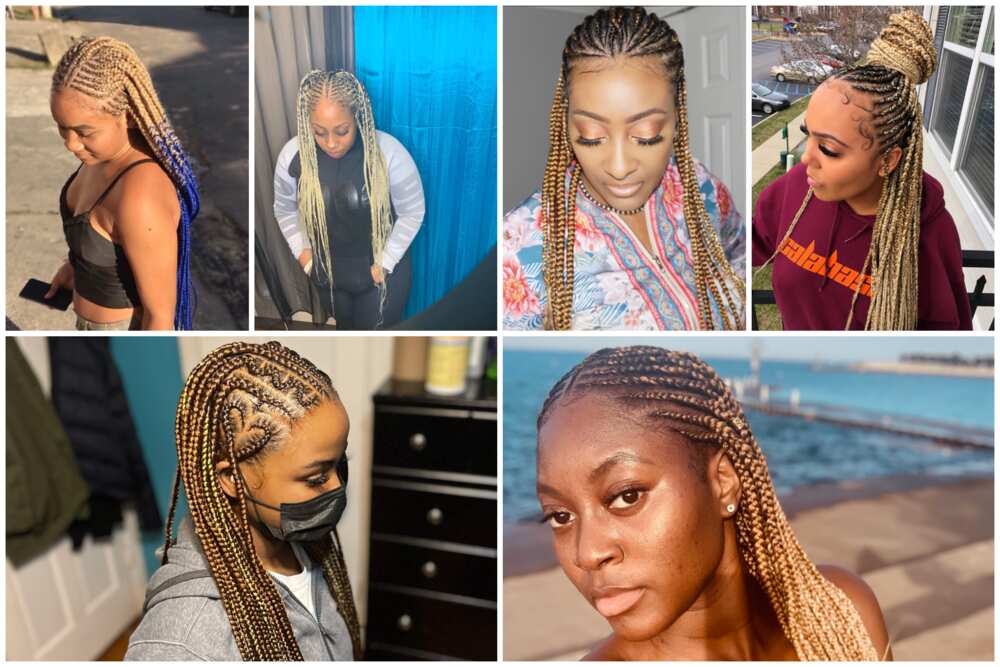 This style is for bold women. The contrast of the light hair looks beautiful against dark skin. If you want a more dramatic look, you can dye your hair blonde before having it plaited.
16. Shoulder-length braids with beads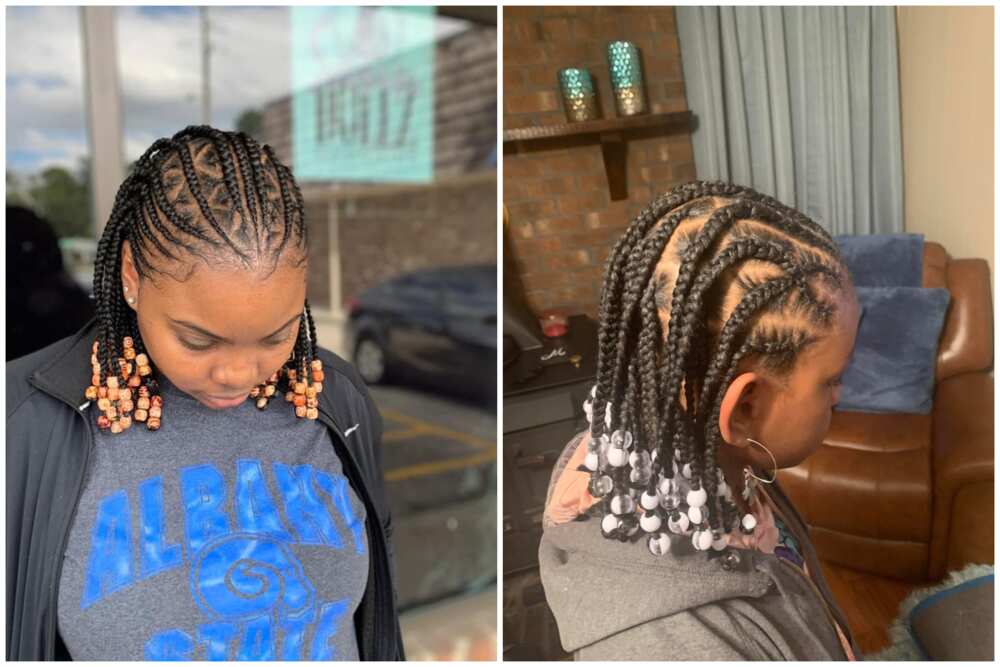 Sometimes the long and massive hairstyles can become quite stressful to wear and maintain. For those who went through this but are unwilling to say goodbye to the tribal braids fashion, this style is a simple solution for you.
17. Thick tribal braids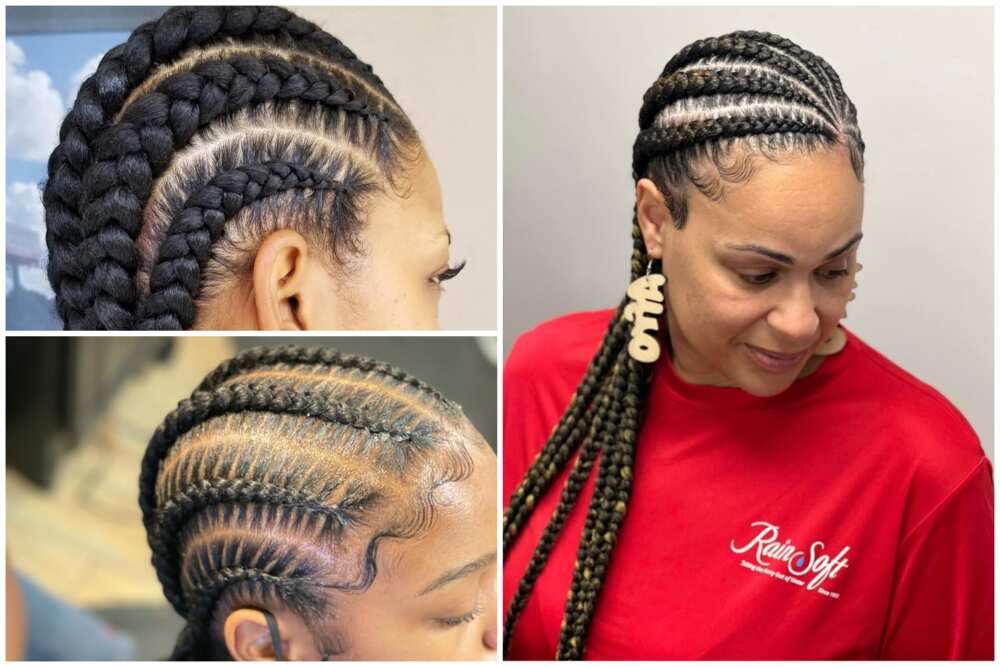 This can be your saviour if you are tired of the regular ones. They are very protective and stylish, which is why so many women worldwide have embraced them.
18. Long cornrows
Do you want a chic, memorable look that makes you feel like an A-class celebrity? These long pop smoke cornrows have an intricate pattern on the head and unique centre part, which are the best feature of both hairstyles combined in this design. If your hair is short, you can comfortably embrace this style.
19. 3-layered tribal braids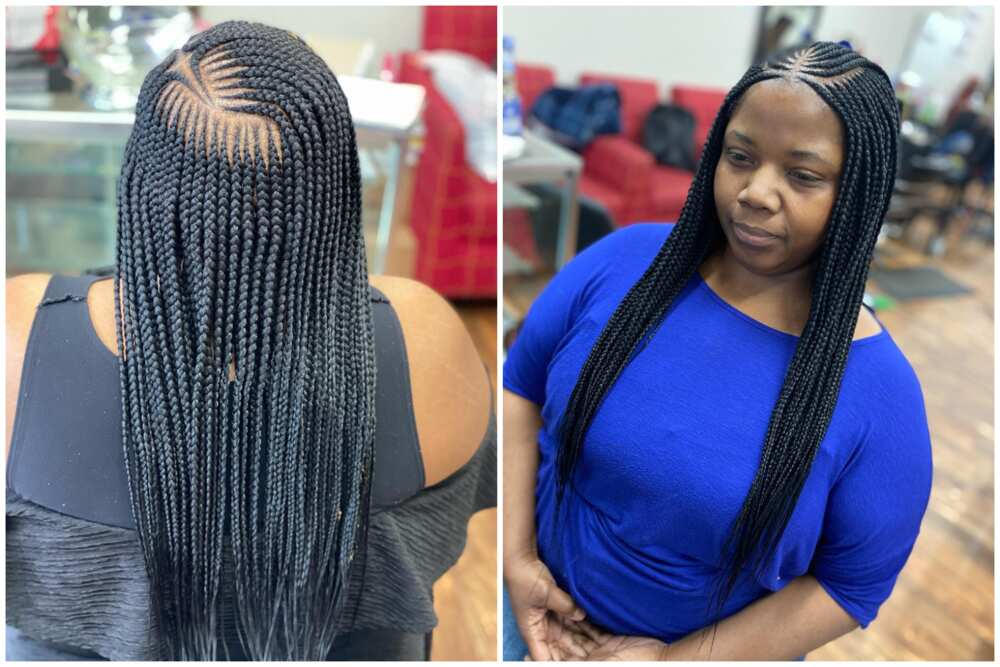 Hairstyles like this one are usually associated with something out of this world. If you aim for the extraterrestrial look and would like it to suit your quirky personality, it is possible to implement it.
20. Heart-shaped braids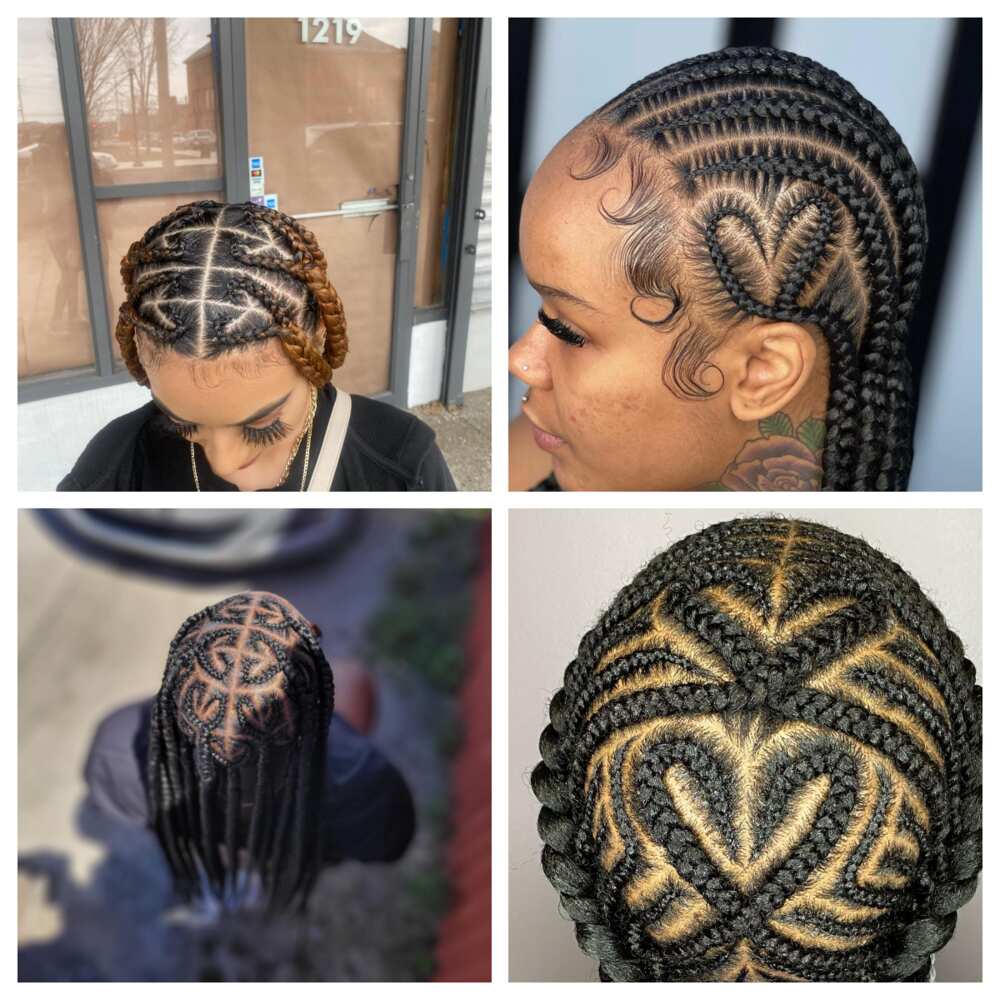 Here is another exciting type of braid, widely called heart-shaped braids. This fashionable design features a creative heart pattern that highlights your personality. It goes with any colour but the brighter, the better.
21. Faux locs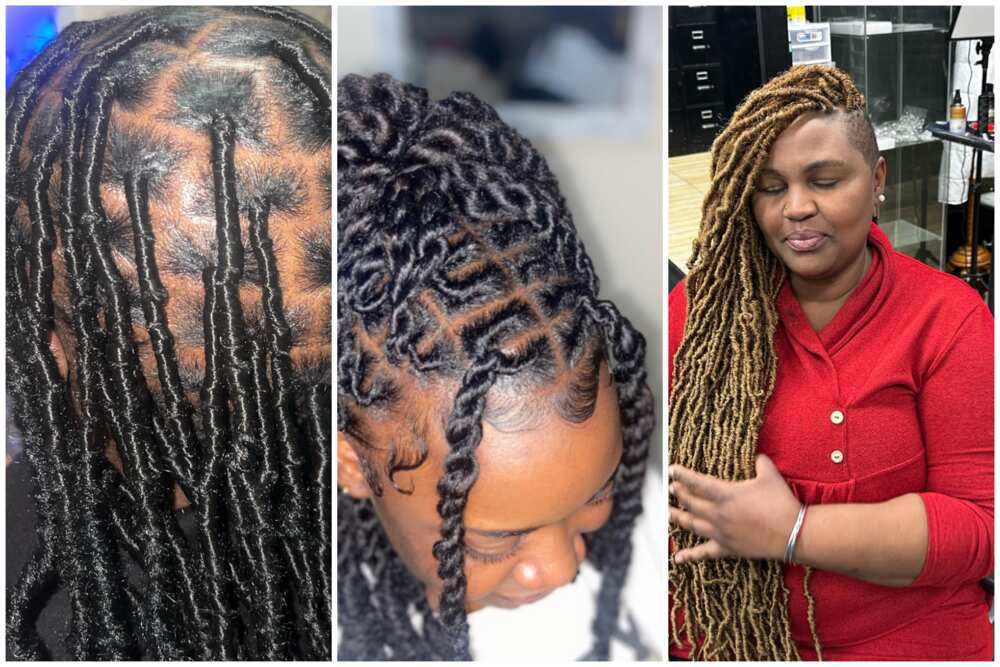 Faux locs hairstyles have been trending for a while now and are unlikely to go out of fashion. You will love how easy it is to maintain your faux locs because the ends are sealed to prevent fraying. This style is also ideal for any workplace or event.
22. Tribal braids with top bun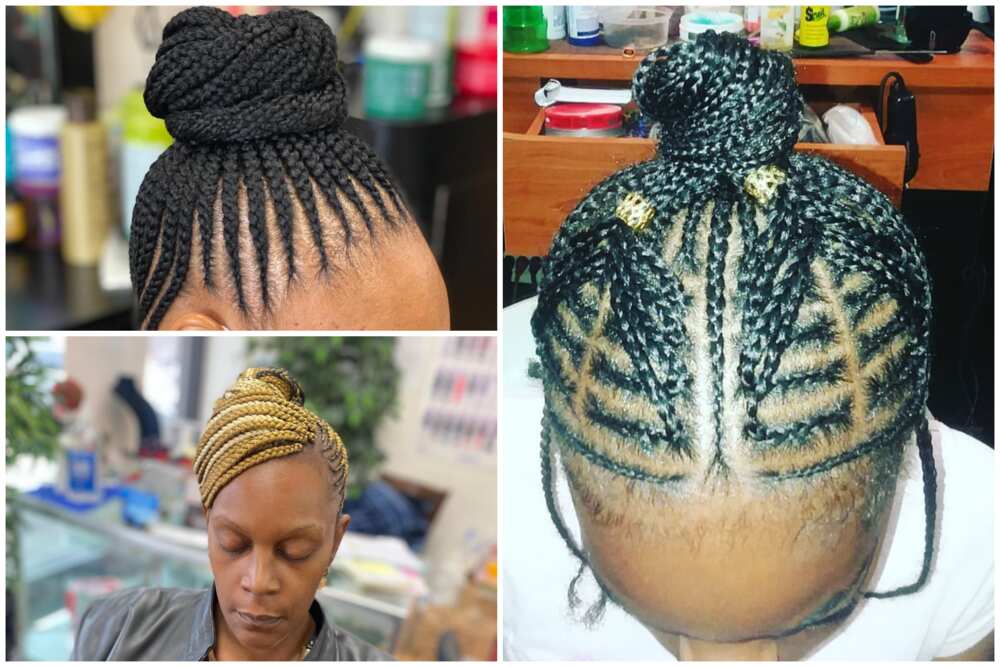 This kind of hairstyle is one of the most common tribal braids hairstyles because it requires minimal maintenance and styling. The cornrows can be made thick or thin. It is ideal for the office or any lady who does not like hair falling over her face.
23. Butterfly stitch design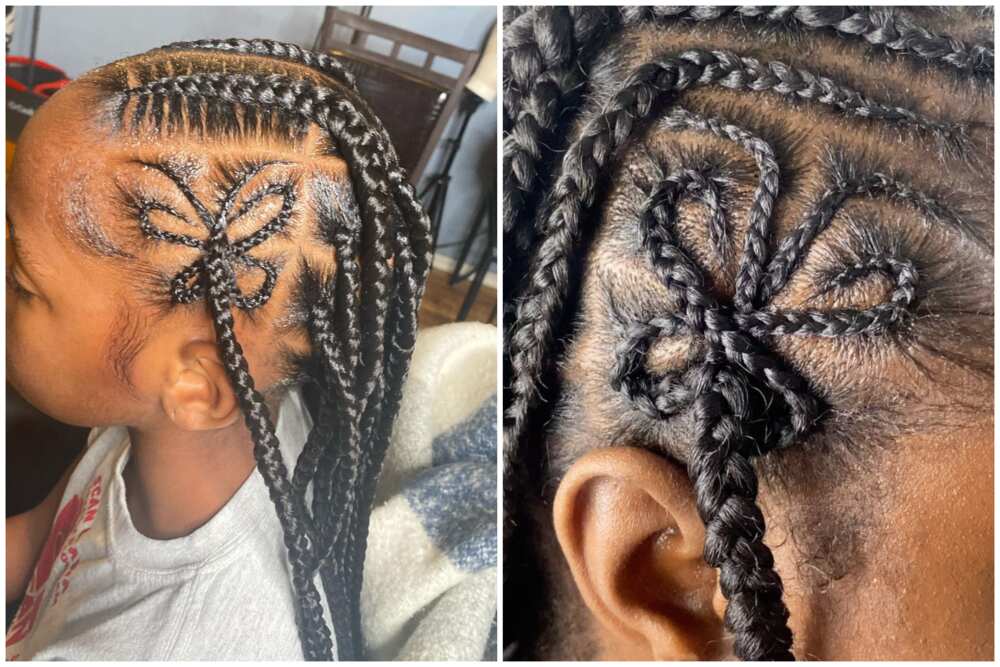 This is an excellent variation of the traditional tribal braid. Instead of hair being sectioned in straight lines, it is sectioned in a butterfly manner. The style is stylish because you can embellish it with Fulani beads, making it unique.
24. Weave design
Weave hairstyles are a surefire solution for people whose hair lacks volume or length. It brings some vibe of youth and rebellion and reminds you of these sunny days you spent on the beach with your closest friends. You can accentuate the style with unconventional parting or cool hair accessories.
25. Tribal feed-ins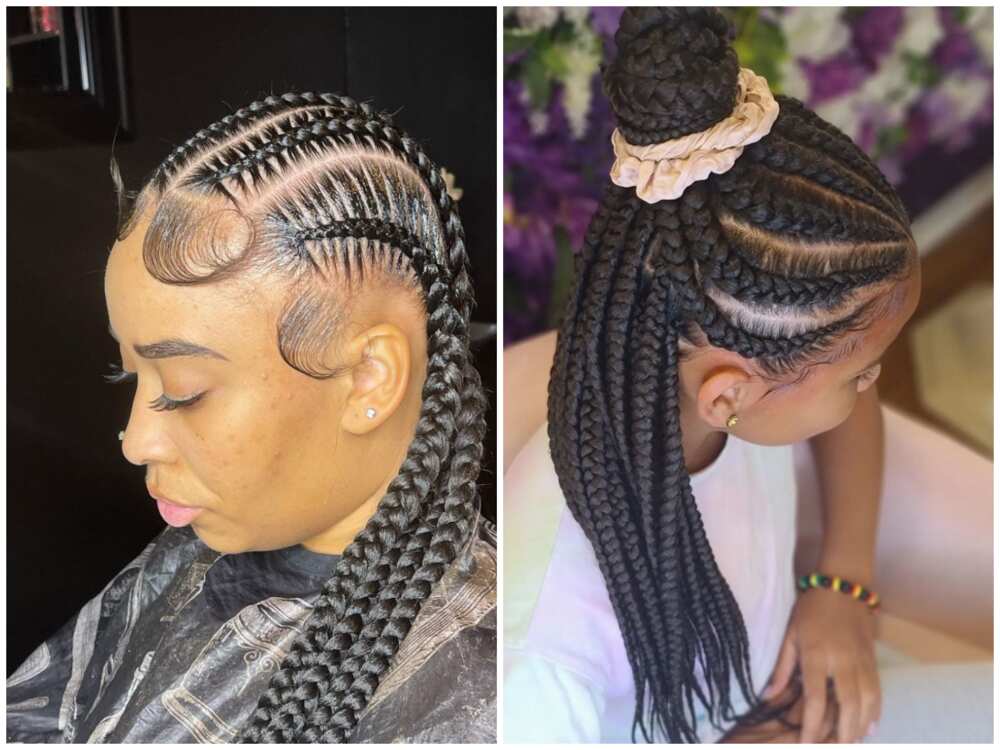 Tribal feed-in refers to a knotless style of doing hair that protects your edges from damage. Synthetic extensions are added to the natural hair beyond the start of your hairline to create an illusion of naturally thick braids.
26. Back bun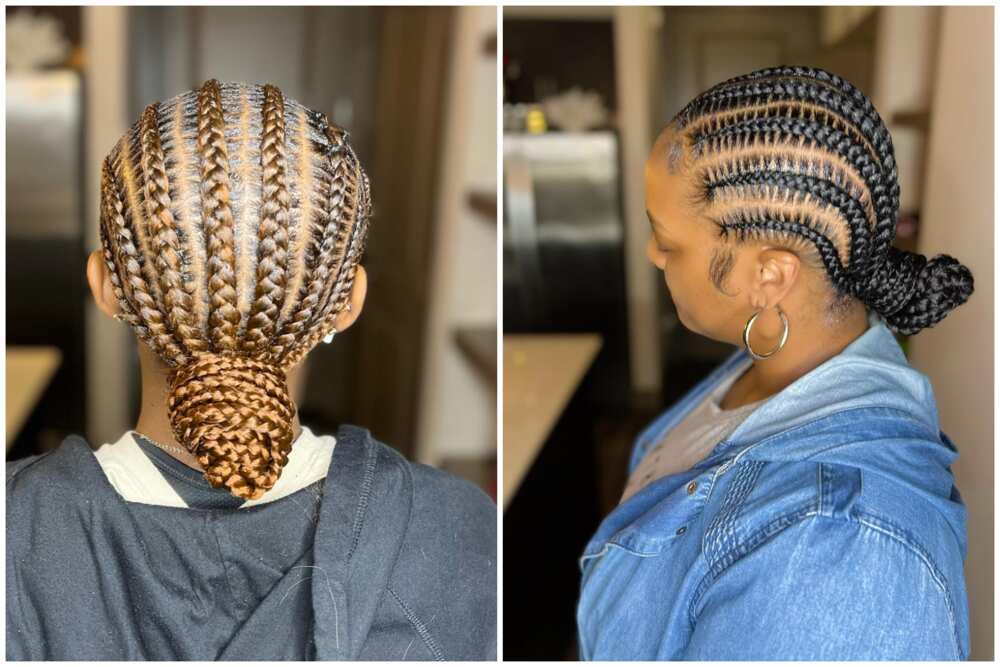 This simple look is a variation of the usual top bun. Cornrows are done in a back-swept design to form a bun at the back of the head.
27. Half up, half down style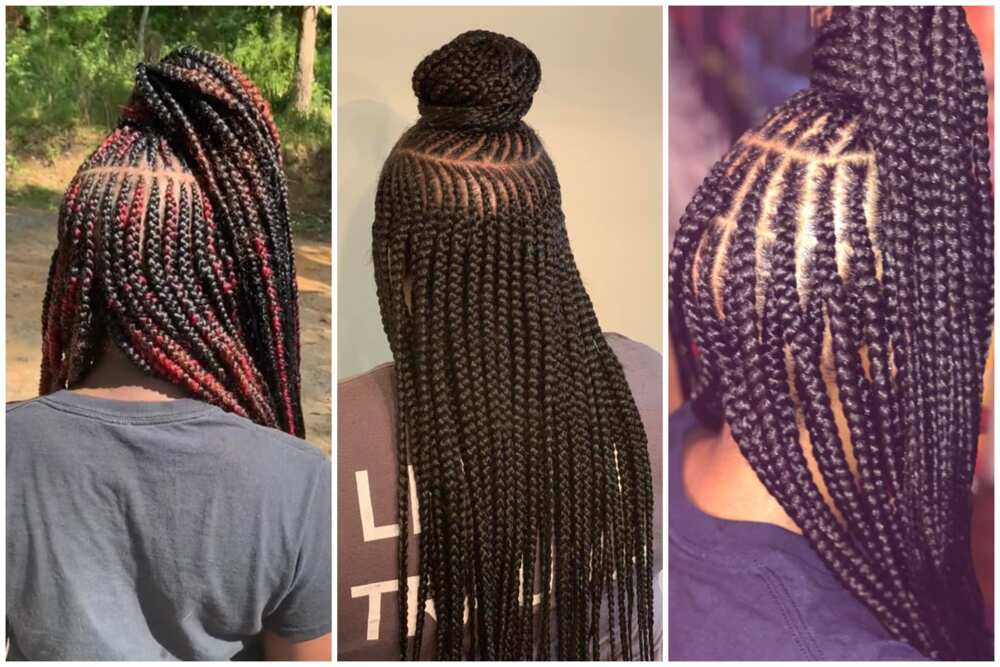 If you want to look bright and gorgeous as you have never glimpsed before, your choice should be this hairdo. It pays homage to your heritage by representing culture and style.
28. Thick and wavy
This excellent hairstyle starts at the top of the head and downwards. The twisted and wavy style makes it look more classy and ideal for the fashionable working-class woman.
29. Pop smoke dreads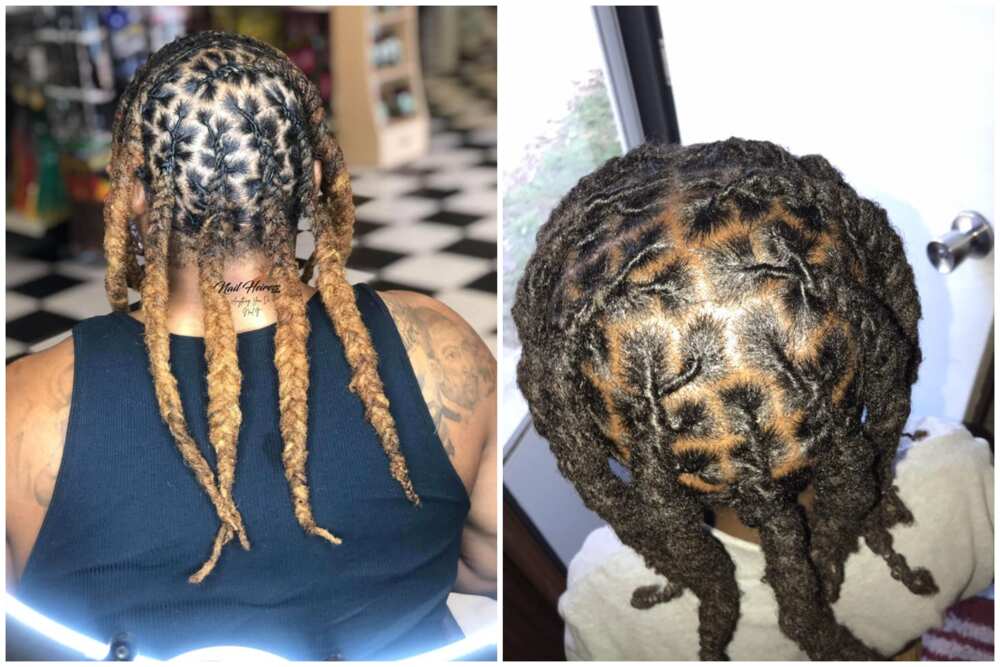 Pop smoke dreads are a cool hair choice for people. Pop smoke hairstyles bring a great combination of two protective hairstyles. The result is fantastic, stylish, and lasts significantly longer than each style alone.
30. Stitch lines design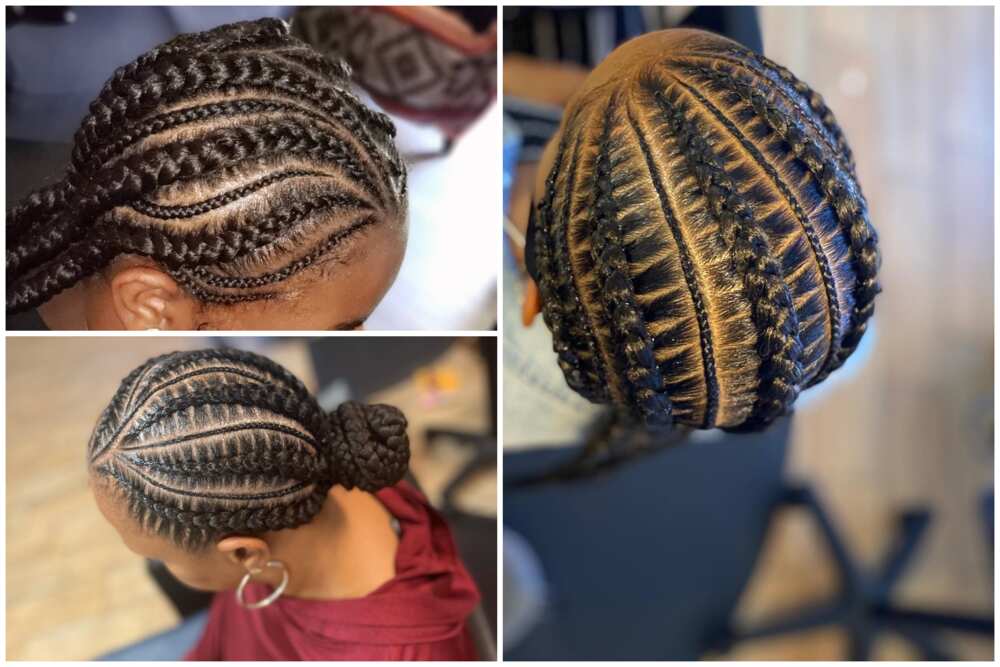 This style creates a magnificent look for the office, social gatherings or other events. The ends of the stitch lines can be left hanging or tied into a bun at the back, depending on your presence.
Tribal braids hairstyles are an excellent choice for all women, a business lady or even a child. They have existed for hundreds of years because of their attractiveness and versatility and can last up to 4-6 weeks, depending on the hairstyle. Brighten your locks and enjoy the new hairstyle every day!
READ ALSO: 50 all-back Ghana weaving hairstyles for trendy looks 2023
Legit.ng recently shared 50 all-back Ghana weaving hairstyles. Ghana-weaving hairstyles were initially treasured by African women, but today it's no longer the case. They have been embraced by other women of other races because they look beautiful to anyone.
Ghana weaving hairstyles last for 2-3 months if taken care of. You can wash them with warm water and shampoo and then dry them with a hair dryer.
Source: Legit.ng