Does Milo Manheim have a girlfriend? His relationships explored
Milo Manheim is an American actor. He is widely recognised for his role as Zed in the Disney Channel Original Movie Zombies. He began acting at seven, performing in 15 musicals with Liza Monjauze Productions. The actor has appeared in many other films, such as American Housewife and School Spirits. He has gained fame since he began appearing in the movie, Zombies 2, and now his fans are curious about his dating life. Does Milo Manheim have a girlfriend?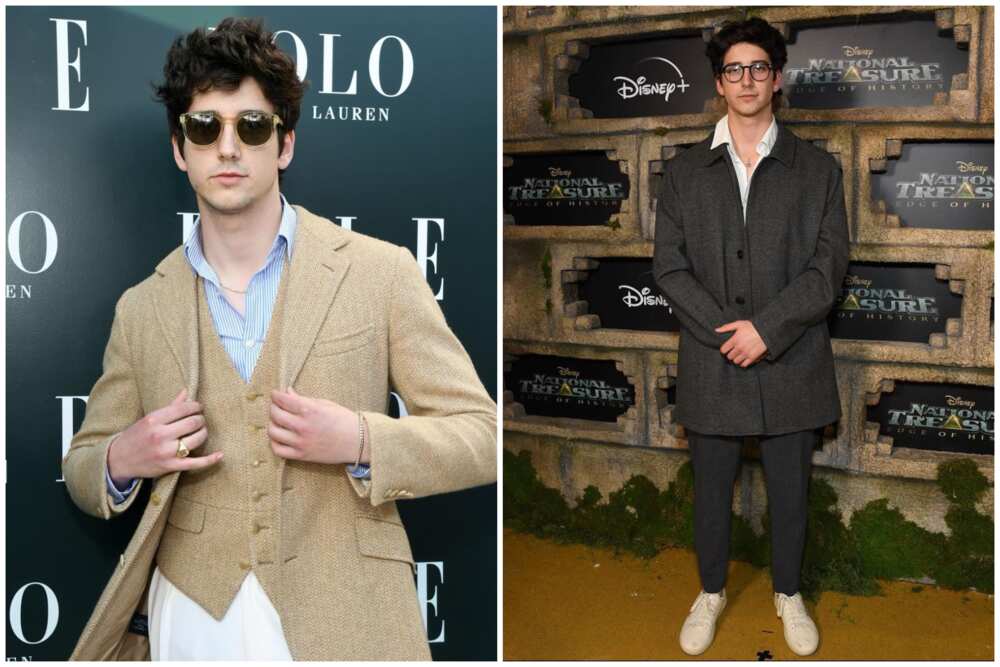 Milo Manheim was born in Los Angeles, California, United States of America. He landed his first onscreen role in 2009 in Ghost Whisper starring alongside his mother. The actor has gained recognition since his debut in the Disney film, Zombies. He is the son of actress Camryn Manheim and former model Jeffrey Brezovar.
Profile summary
| | |
| --- | --- |
| Full name | Milo Manheim |
| Gender | Male |
| Date of birth | 6 March 2001 |
| Age | 22 years (as of 2023) |
| Zodiac sign | Pisces |
| Place of birth | Los Angeles, California, United States of America |
| Current residence | Los Angeles, California, United States of America |
| Nationality | American |
| Ethnicity | Jewish |
| Religion | Christianity |
| Sexuality | Straight |
| Height in feet | 6'3'' |
| Height in centimetres | 191 |
| Weight in pounds | 154 |
| Weight in kilograms | 70 |
| Hair colour | Dark brown |
| Eye colour | Brown |
| Mother | Camryn Manheim |
| Father | Jeffrey Brezovar |
| Relationship status | Single |
| School | Crossroads School, Tisch School Of The Arts and French Woods Festival |
| Profession | Actor |
| Instagram | @milomanheim |
| TikTok | @milomanheim |
Does Milo Manheim have a girlfriend?
Who is Milo Manheim's girlfriend? The actor is not dating anyone at the moment. He has been rumoured to be in a relationship with celebrities like Peyton Elizabeth Lee and Alexis Ren. Here are the women the American actor has been romantically involved with.
Holiday Kriegel
Holiday Kriegel is an American model and social media influencer. She is represented by Eleven Talent Agency, owned by Kazembe Ajamu, Zendeya's father. She is also an aspiring singer and actress.
The model and Milo were allegedly dating in 2018. The two walked together on two red carpet events in July 2018. However, the two never confirmed to the public that they were in a relationship. In an interview in 2018, the actor said he was single, and his celebrity crush was Kendall Jenner.
Alexis Ren
Alexis Ren is an American social media personality and actress. She is also an advocate of mental health and empowerment. She is the founder of an online learning platform; We Are Warriors, aimed towards mental health and wellness.
Did Alexis Ren and Milo Manheim Date? The two were rumoured to be dating in 2019 when they were spotted together at Coachella. Milo posted a picture of the two having a good time at Coachella. Alexis Ren was leaning on his shoulder. The two never commented on these allegations.
Peyton Elizabeth Lee
There were speculations that Milo Manheim and Peyton Elizabeth Lee were in a relationship. Peyton Elizabeth Lee is an established actress known for films like Secret Society of Second Born Royals and Shameless. She was awarded the Best Young Ensemble in a Television Series in 2019. She was also nominated at the Peabody and British LGBT Awards in 2018.
The two were speculated to be dating when Peyton Elizabeth Lee posted a photo on Instagram with Milo's arms around her. The actress shared the photo on 27 May 2022, announcing that Milo was joining Doogie Kameāloha, M.D., season 2. Fans started asking whether they were dating after she posted that photo, but the two have never said anything about that.
On 6 March 2023, Peyton Elizabeth Lee posted another photo with arms around each other, wishing Milo Manheim a happy birthday. The picture was followed with the following caption,
Happy birthday, buddy. I hope your day is full of Michael Scott and flags and escape rooms and Howe streets and Evian and laughing and dancing and bobby flay and swuits. I love you crazy...
The photo was flooded with comments from others asking if they were dating or not. However, the actress's comments shows that the two are friends and nothing is going on between them. They star together in Prom Pact and Doogie Kamealoha, M.D. season 2.
Meg Donnelly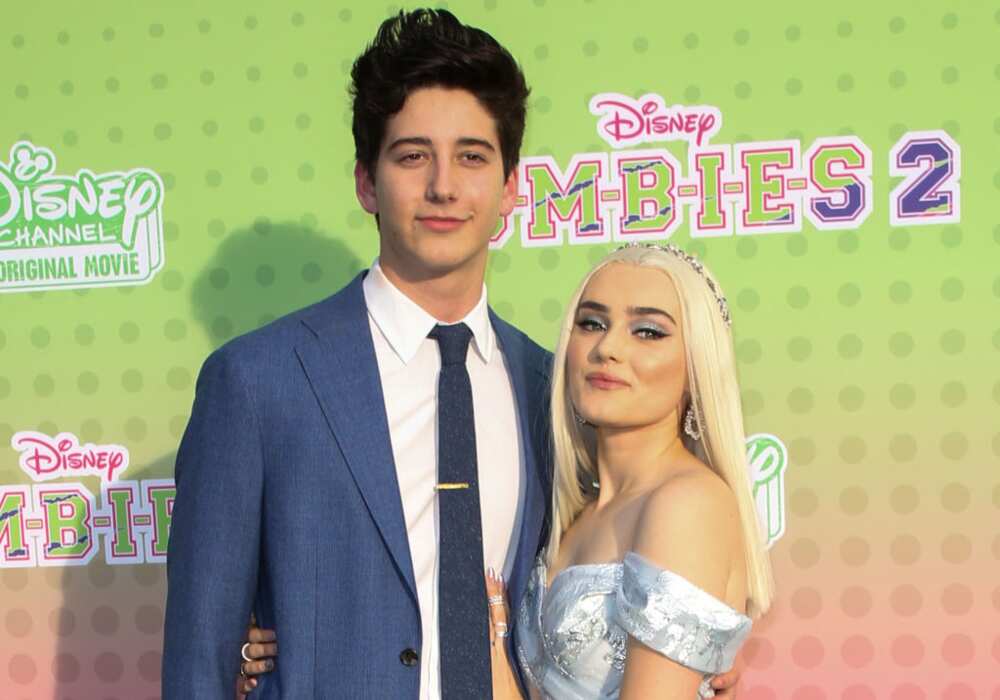 Are Meg Donnelly and Milo Manheim dating? No, they are not dating. The two are only a couple on screens, but they are just friends in real life. However, fans have been speculating that the actor and Meg Donelly are a couple because of their chemistry on Zombies. The other reason fans think they are dating is how close they seem and the kind of photos they post on social media.
In a YouTube video, the Zombies 2 co-stars addressed the rumours, clarifying that nothing is going on between them. When asked what to say to fans who think that they are dating, Milo said the following,
I mean, I get it; when I watch Zed and Addison, it is a match made in heaven. The relationship has gotten stronger, you know, of course, we hit it off in the beginning, but now Meg is one of my best friends. I get it. We're perfect. So it makes sense.
Meg Donelly is in a relationship with Noah Zulfikar, another co-star on Zombies 2. On 11 January 2022, she shared a picture with him holding hands on Instagram.
Who is Milo Manheim's wife?
Is Milo Manheim married? No, the actor is not married or dating anyone at the moment. In a TikTok video he shared on 5 April 2023, he confirmed that he is single.
What's up, you all? It is Milo here… I'm here to address some rumours; a lot of you guys have been wondering if I am dating anybody, and I am here to set that straight…am not dating anybody.
Although the actor said in a video that he was single, on 15 April 2023, he posted a photo of him with actress Nell Verlaque. The picture made his fans wonder whether they were an item because of how Milo captioned the photo. However, he has not said anything concerning the nature of his relationship with the actress.
FAQs
Who is Milo Manheim? He is a famous actor known for his role as Zed in Zomies 2.
Where is Milo Manheim from? He hails from Los Angeles, California, United States of America.
How old is Milo Manheim? He is 22 years old as of 2023.
What is Milo Manheim's zodiac sign? His zodiac sign is Pisces.
Is Milo Manheim single? Yes, the American actor is not dating anyone.
Did Milo and Meg ever date? The two have never been in a relationship. They are a couple in Zombies 2, but in real life, the two are friends.
How tall is Milo Manheim? The actor us 6 feet 3 inches or 191 centimetres tall.
Does Milo Manheim have a girlfriend? The actor is single now. However, she has been previously linked with Alexis Ren, Holiday Kriegel, and Meg Donnelly.
Legit.ng recently published an article about Emily Compagno's husband, Peter Riley. Peter Riley is an American real estate agent well-recognized as Emily Compagno's husband. He was born in Portland, Oregon, United States of America and graduated from Portland State University.
He is a real estate agent at Berkshire Hathaway NW Real Estate in Vancouver, United States of America. His wife, Emily Compagno, is an American attorney and television host known for The FOX True Crime Podcast and late-night talk show Gutfeld.
Source: Legit.ng