50 romantic crush quotes to help you express your secret love
Finding the right words to say to a crush is often a difficult task. Some people find themselves needing plenty of help to say the right thing at the right time and not mess everything up. Choosing the perfect words for one's secret love is no easy feat, which is why some well-thought romantic crush quotes might go a long way.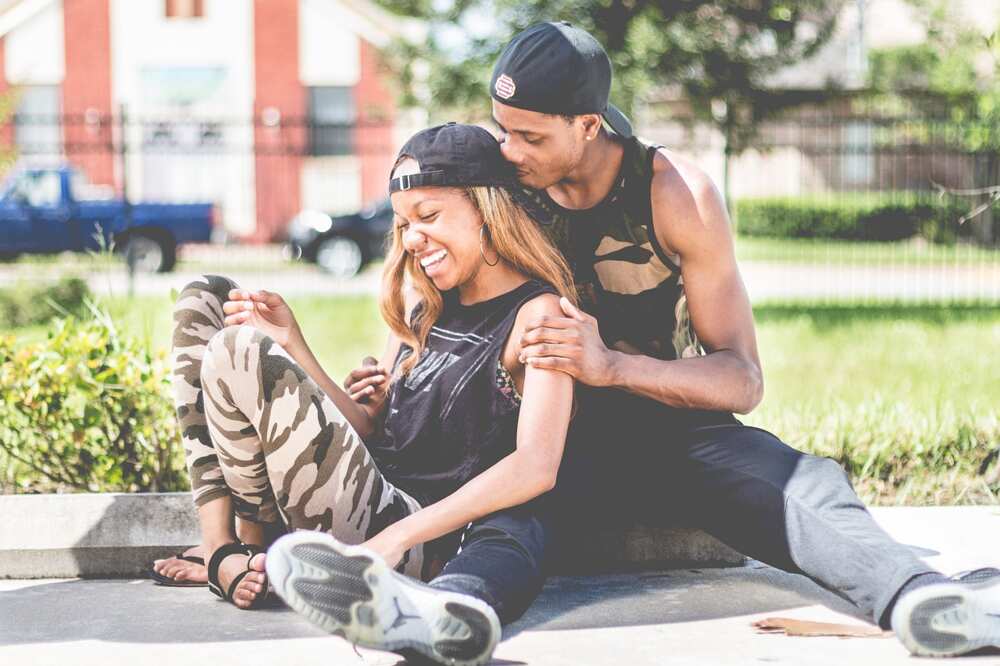 Saying the right thing to your crush is essential in order to make sure that you have a chance with that individual. Using a funny pick up line shows you have a sense of humor and also shows you are confident enough to use it. Use these profound crush quotes to drive your crush wild and keep them thinking about you day and night.
Which are some of the best secret crush quotes?
What do you say to your crush? This is probably one of the most common questions among people with a secret love. Are you looking for the perfect words to tell your crush? Here is a collection of profound quotes about crushes.
Cute crush quotes for him
Here are some excellent quotes about crush on a guy that can help you figure out what to say to that guy you like.
If in silence I can love you with no limit and if in the darkness I can see you clearly, I will not mind loving you even if you will never know how sweet it is.
It is funny how big of an impact you have on me. It is like when I see you, you do not even have to speak. All you can do is smile, and it can make my day, and then that is how I remember my reasons for loving you.
The only time I have realized I have secretly fallen for you is when everything around me reminds me of you, in the smallest things, and the most unexpected moments, and I cannot tell you a single thing about it.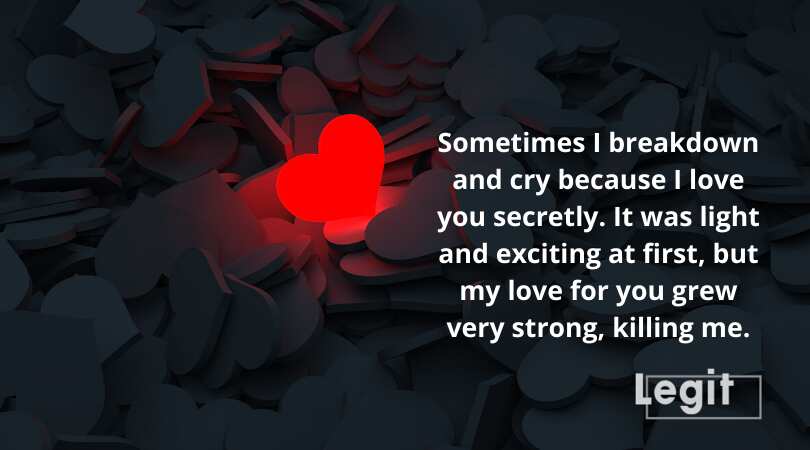 Before I met you, I never truly believed in love at first sight. I thought that Hollywood and little girls created this idea of instantaneous love as a beautiful, made-up story. From the moment my eyes connected with yours, I realized that love-at-first-sight was more than an illusion from movies. That moment changed my life and everything that I hoped for.
There will come a time when you will fall for someone you can only love from afar, who you can only wish from the stars above to be yours and who you can only tell 'I love you' when you are sure he cannot hear it.
You know, one day, you look at the person, and you see something more than you did the night before. Like a switch has been flicked somewhere. The person who was just a friend is suddenly the only person you can ever imagine yourself with.
When you look at me in the eyes and laugh together, it almost tears me apart from not telling you how much I love you.
Do not be surprised if I start choking and panting out of the blue. My heart skips a beat, and I miss a breath every time I see you.
I am thinking about breakfast right now, but nothing seems good enough. I could get a fresh cup of coffee, and it would not warm me up as I imagine you would. I could make a pillow from pancakes, and it would not be as soft as I imagine your lips to be. I could get a crepe filled with whip cream, strawberries, and powdered sugar, and it still would not be as sweet as I think you are.
If I can keep loving you in silence, it will not change anything that we have. I do not mind loving you in secret for the rest of my life.
Funny crush quotes
Here are some funny quotes for your crush that will definitely get them smiling.
I used to write things for friends. There was this girl I had a crush on, and she had a teacher she didn't like at school. I had a real crush on her, so almost every day, I would write her a little short story where she would kill him differently. - Stephen Colbert
I have learned that you cannot make someone love you. All you can do is stalk them and hope they panic and give in. Why do they call it a crush? Because that is how you will feel when they do not feel the same way in return.
Having a crush is like having a little rock stuck in your shoe, and you stop walking and shake it out, and you are pretty sure it is gone, but then a half-hour later, you feel it under your toe, and you are like, 'Oh no!'
Over the last few hours, I have read and reread hundreds of love quotes. Ever quote I see makes me think of you. Even the computer screen, the kitchen door, and the carpet manage to remind me of you strangely and inexplicably. Why this is so, I do not know. All I know is that the entire world makes me think of you.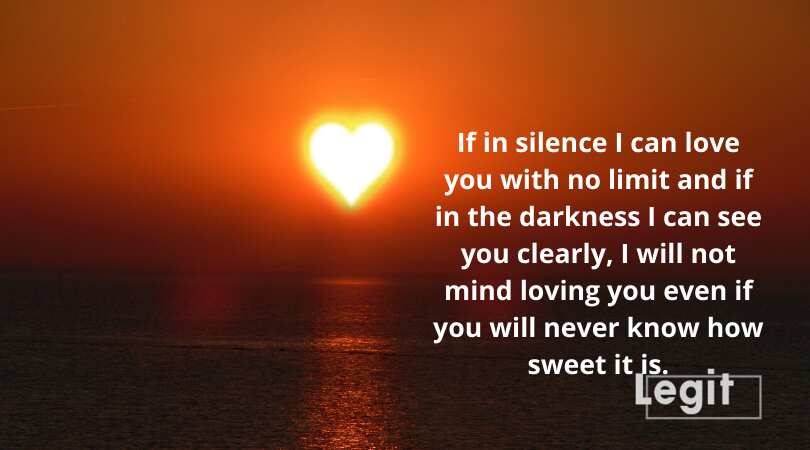 The most ironic thing of all is, I think this will be the most difficult breakup I ever go through, and we never even went out. I am in love with you, but you will never know.
I will be that shadow who will continuously watch over you. I will sweep off any harm that comes your way. As long as I can see you smiling, even if I remain unknown to you, I would not ask for more.
Each morning when I wake up, I begin counting down the minutes until nighttime. I spend my entire day waiting patiently for the moment when I can wrap my arms around you again in my dreams in a comfortable place that is miles from you.
When I am not with you, I think of you. When I am not thinking of you, I am dreaming of you. When I am not dreaming of you, I will be dead.
To get a drop of affection from that person, to be one of the reasons for his/her happiness, you will go out of your way to change yourself just to be the right one for him or her. Oh, the insanity of secret love!
A crush may fade off within a short time. But whenever you think about or see that person, even after ages, you will find those butterflies returning to your stomach. That is the impact a crush has. Enjoy it.
Sad crush quotes
Sometimes the person you have a crush on might never feel the same about you. Here are some sad secret love quotes for such times.
Do you know the agony of keeping your love hidden, hoping that one day he or she will realize it too? If someone would know my secret love, he will know how much pain I kept inside all these years.
Sometimes I breakdown and cry because I love you secretly. It was light and exciting at first, but my love for you grew very strong, killing me.
I hid it well inside my heart. I have locked it away and threw away the key. Now, it is threatening to burst inside me and fill you with all the love I can give. My grandest wish is to be loved by you the way I have loved you in silence all along.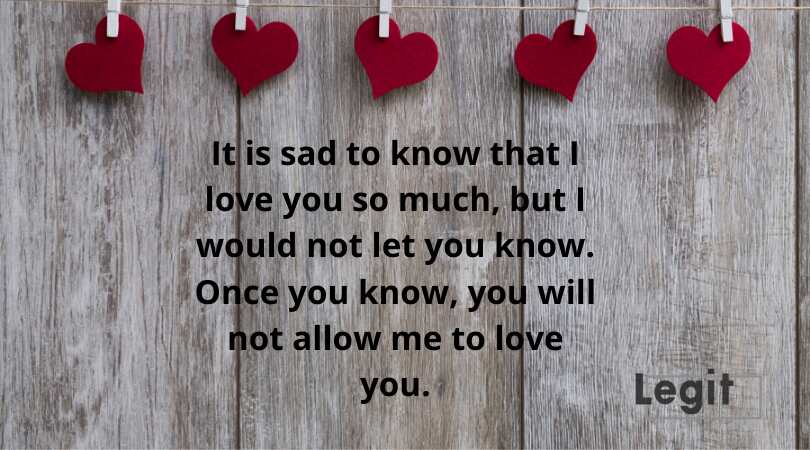 The day will come when the man I am secretly loving will love me as much as I do. I can only hope, for I know it is not even close to coming true. Inside the deep recesses of my soul, you will find an image of you laced in every strand of my love.
When you love someone secretly, the torture is when you have to be very careful with every word you speak and the actions you do when in front of them.
I am going to keep loving you. That is one promise I have made to myself. And my greatest wish is that you someday get to love me just as much.
Every time we have to say goodbye to each other, I die a little inside. It is like I want to shrink myself and stay with you forever.
I am hiding my life not because it is something that is not accepted by many. I am afraid that it is something not accepted by the one I love.
We take others' love lightly when we know that they love us in secret until we know how it feels like once we experience it ourselves.
It is sad to know that I love you so much, but I would not let you know. Once you know, you will not allow me to love you.
Cute crush quotes for her
Here are some amazing 'my crush quotes' for that girl you secretly love.
I dream of going to places with you. I hope to wake up with you each morning. I wish to hold your hand and never let it go. Someday, I hope all of these hopes and wishes would come true.
If you live to be a hundred, I want to live to be a hundred minus one day, so I never have to live without you.
The love I have for you is natural. There is no doubt in it, nothing that could make me stop loving you. You may never belong to me, but I will love you forever.
One look from you is enough to send me floating to the moon. One smile from you is enough to keep me asleep forever. One nod from you is enough to make me do things I could never do before.
I wish it were easier to explain to you why I like you so much. I guess I am not good with explanations. Let me show you my reasons with actions, not words.
I used to love daydreaming. I used to come up with all sorts of fantasies in my head and sometimes wish they were real. And then I met you. That is when I realized that I no longer needed my daydreams. Reality had become so much better seeing you around, even if you might never notice me.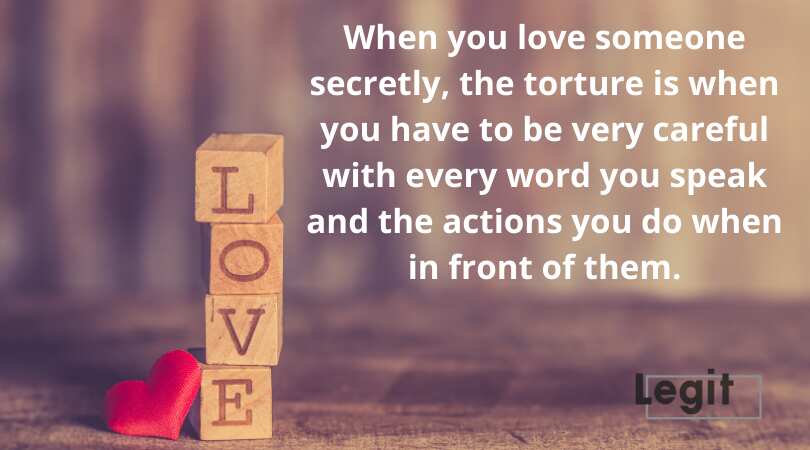 When I see you, my entire world comes to a stop. At that moment, the only thing that exists for me is you, and my eyes stare at you. As soon as you leave, the world stops moving again. I can live in this world, but I do not like it. I pass the days as I wait for you to reappear and wait for the world to stop again. This, beautiful, is why I stare at you and why I cannot help to follow your every moment. When you are around me, the only thing that exists is you.
I wish it were possible to explain how I feel about you. Too bad that you may never get to know this, in this lifetime or another.
I do not know what it is about you that makes me feel so alive. I do not know what it is about you that makes me look forward to each new day. I do not know what it is about you that makes me grin like an idiot all the time. I do not understand what it is that is happening to me every time you are around. I am so confused and puzzled. But at the same time, I am not complaining because I haven't felt this happy in such a long time.
Each time that I hear your voice, my heart skips a beat. I trip and fall from the distraction of seeing your face all of a sudden. You cause my world to stop and are the source of all the best feelings and sensations that I have ever felt.
Emotional quotes about a crush
Are you looking for the perfect quote about secret love? Here are some emotional, well-thought quotes for your crush.
During my existence, I have met so many different people. I have been everywhere and done everything. For the first time, I have met someone who actually makes me draw all of those ridiculous little hearts on my papers.
You will never be happy knowing that you are just his secret, and you will never grow together because his heart already belongs to someone else. It is hard enough to be in love with someone in the secret and even more challenging when the secret is revealed to everyone.
I always feel my strongest and most confident when I am in your presence.
How I wish you know how much I care about you. Though you do not realize how much your life has changed me for good, you are the best guy that has touched the surface of my heart. Since I first saw you, I felt something I have never felt before.
One of the easiest ways to realize that you are in love is by scrolling through love quotes. I have read through a thousand lists of cute things to say and quotes, but none perfectly describes how I feel for you.
Has anyone told you how wonderful you are lately? Has anyone noticed just how great it is to be around you? Has anyone mentioned how you make it so much easier to smile and laugh all the time? Has anyone reminded you of that beautiful face that complements your beautiful mind, or is everyone else loving you in secret as I do?
For me, the sun shines because it gets a chance to look down on you. When the rain plops on the pavement, it is the sky crying because you are not around. Every part of my world revolves around your existence and waits for you.
Every smile that leaves your lips is like the world's most brilliant sunrise. It sets the clouds aflame and brightens the entire day. For me, you are the sun, moon, and stars. Each breath that I take is because of you and in anticipation of seeing you again.
Every female needs her male. Just look at the cartoons! Minnie needs a Mickey-Mouse, Donald Duck needs Daisy Duck, and Barbie needs Ken doll. I think that I am in reasonably good company because I definitely need you!
The light of your handsome face mesmerizes my heart, and it gives me a comfort that suits the temper of a sweet lady like me. I know you cannot resist my charm too, but for some reason, I cannot bring myself to talk to you.
Whether you have talked to your crush before or are just trying to figure out how to, these romantic crush quotes can help you to express your feelings. Which quote did you find most interesting?
Source: Legit.ng