50 thank you replies for birthday wishes to show your gratitude
Birthdays are special days in everyone's life. Almost nothing is as fun and memorable as getting wishes and messages from friends and relatives. They send you their best through Facebook, Instagram, text or Twitter, making your day exciting and unique. You will do them no justice if you don't reciprocate by sending them thank you replies for birthday wishes to express your gratitude.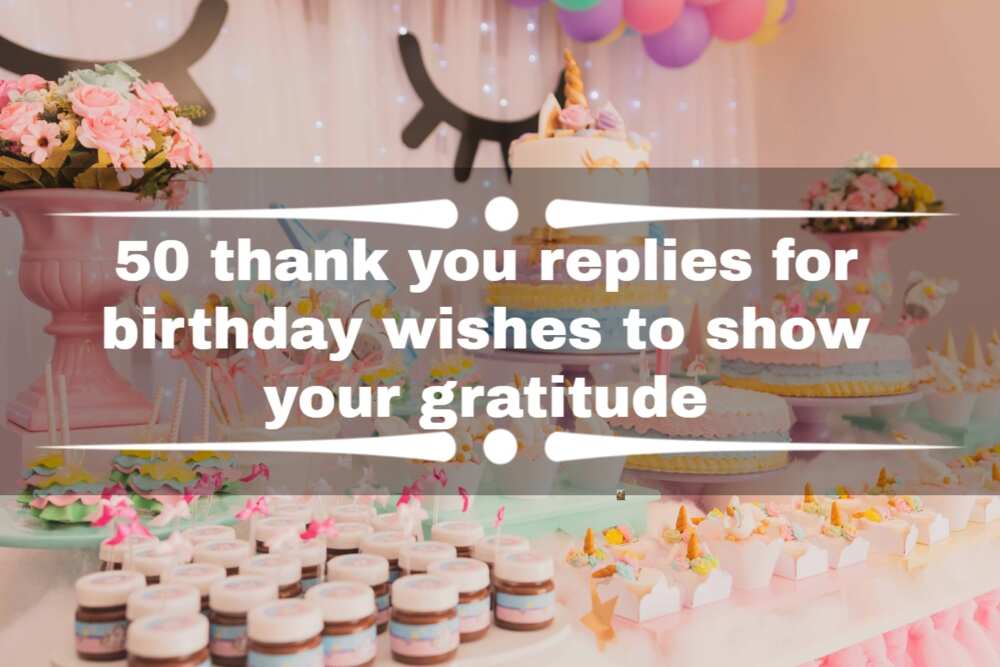 A simple thank you reply is a gesture of giving back respect and value to the person who made your special day enjoyable. Unfortunately, many forget to do the important thing — sending thank you replies for birthday wishes.
Best thank you replies for birthday wishes
People like to feel acknowledged for their efforts. If someone reached out to you during your special day, a thank you reply for birthday wishes will warm their hearts. Have a look at some unique thank you replies to send to your friends and loved ones:
Thanks, everyone, for the b-day wishes. I can't tell you how much I enjoyed hearing from so many friends.
Thank you to everyone who posted birthday messages on my Facebook wall. You made me feel like some kind of celeb!
My eyes are watery from the joy you brought on my birthday!
I don't know how I deserve such treatment. I am deeply thankful to all of you!
I'm beyond grateful for all your birthday greetings. Yes, another long year and another number added to my age, but it is still great to hear from all my favourite people on earth.
Cheers for all the kind birthday wishes! The best birthday gift is being reminded of what wonderful friends I have!
Thank you to all my friends for the b-day messages, gifts, laughs, weird birthday jokes, and everything.
It's a beautiful day for my birthday! It is an excellent reminder of how thankful I am for all the beauty I have in my life. Thanks for being part of this great feeling.
Wow! I appreciate you all very much for thinking of me today. I value every one of you very dearly.
My bday was excellent, and I really appreciate all the incredible people who took the time to send me birthday wishes.
A quick hello and kind regards to everyone! Your messages made my b-day the most amazing one yet.
I am so grateful for all the beautiful wishes. You made my day extra special.
Thank you for making me number one on your list on my special day. I am so thrilled by the amount of love you showed me!
Gosh, you all make me feel so special. Thank you for your kind bday messages!
It made my day to wake up to so many lovely messages. Much love to all my friends.
Words cannot express the joy of seeing your sweet wishes flooding my timeline. I feel special already!
Thank you for your love, and for making my day so positive.
Despite your busy schedules, you never forget my b-day. Thank you, my loves.
Cheers for the sweet congratulatory texts! They make my heart flutter. It is the best gift!
Thank you for all the nice words, you are so kind, and I genuinely appreciate it.
Emotional thanks for the birthday wishes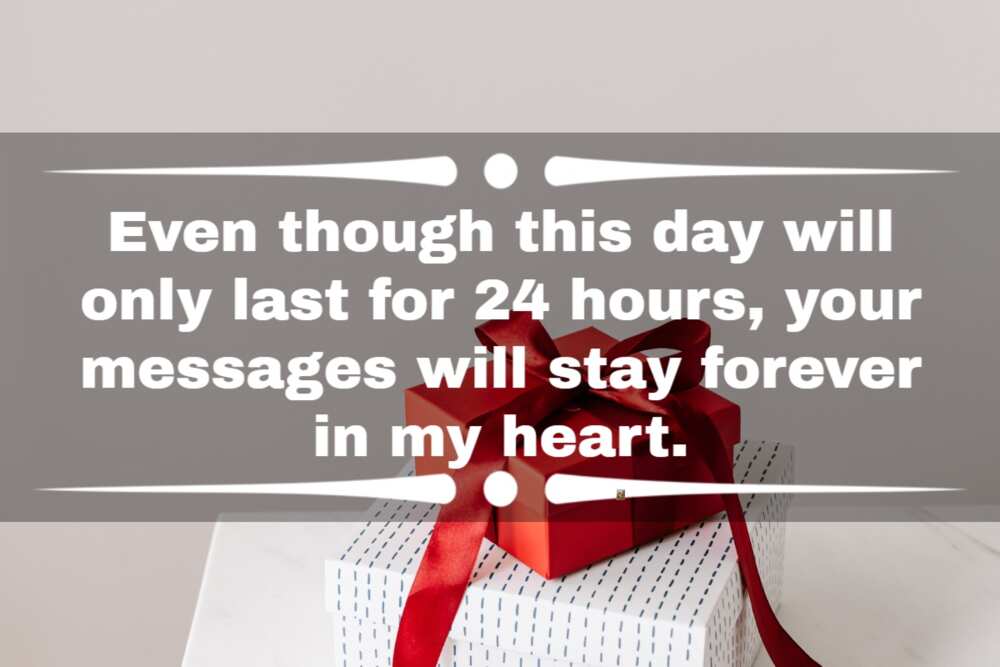 A thank you for the birthday wishes can arouse emotions and create memories. Here are some emotional appreciation messages that will evoke feelings:
I have celebrated birthdays with you guys for many years, and this year is no exception. However, this year your messages made me tear up. Thank you for the immense love.
Thank you all for making me feel like royalty on this day. Every single message was unique and a blessing to me.
Your efforts honestly humble me through the messages I received. This will forever be etched in my memory.
From the depth of my heart, I'd like to express my gratitude to everyone who took the time to wish me a happy bday and show me so much love.
You have made my day remarkable and exceptional in many ways. All the gifts and messages mean a lot to me.
I could never repay you for the joy you brought me on my special day. You are a constant reminder that true friends do exist. Let's all keep showing each other such support and love.
Having family and friends like you is indeed the best gift a person can have. I don't need anything in life except you guys and your blessings. I'm very grateful for such enticing messages.
Thanks for celebrating my birthday. Your lovely prayers and the generosity of your hearts are ethereal. I appreciate your love and blessings.
Your sweet messages are way more valuable and significant than gifts and surprises. I am so overwhelmed by your efforts.
I will never stop thanking and praising God for giving me friends like you. Whenever I am down, you are with me. Much obliged for your wishes.
I appreciate all the love and support you have shown me, not only on my special day but throughout the year.
Birthdays come and go, but good friends will always remain. Thanks for the nice words and gifts! I feel like the luckiest person in the world.
Even though this day will only last for 24 hours, your messages will stay forever in my heart.
I am genuinely touched by the sheer number of messages and phone calls I received for my birthday. I genuinely enjoyed reading your lovely comments; they almost moved me to tears!
Your fabulous wishes and greetings just lifted me to cloud nine!
Hilarious thank you for birthday messages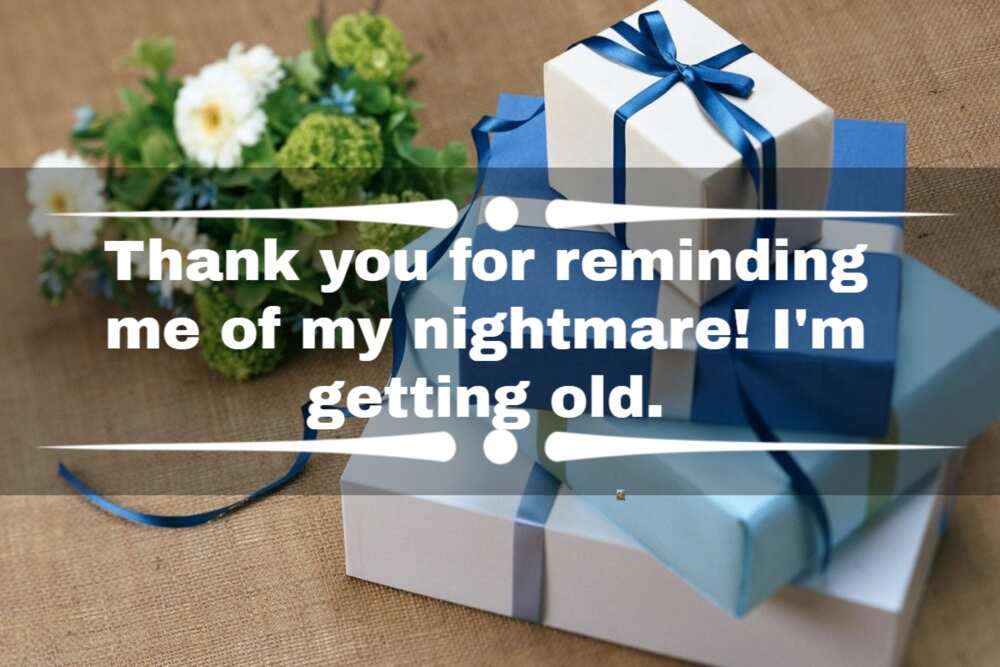 Some friends may send you funny birthday wishes making fun of how old you are getting. Sending them a humorous thank you message for birthday wishes is a great way to respond and give them a chuckle.
Thanks for the birthday wishes, everyone. Hearing from you slightly lessened my despair at turning a year older.
Seeing all these great wishes and messages overwhelms me. Not only because they are heartwarming but because you have improved your writing skills. Regards!
Thanks for all the wonderful birthday wishes, everyone. They almost made me forget that I'm speeding toward the grave.
I am familiar with your birthday wish. Did you repeat the one you sent me last year? Thanks a lot, bestie.
I appreciate your efforts in copying and pasting your wishes from Pinterest!
To everyone who wished me a happy birthday yesterday, thank you so much! To everyone else: I am in the process of unfriending you.
I know you are laughing at me getting older. It's okay! You are next. Thanks for celebrating my special day.
Since you guys sent b-day wishes on Facebook, I will also throw a larger-than-life party on Facebook. All of you are cordially invited.
I knew that you are the one who couldn't miss a chance to do something for free. Thanks for your wonderful message, dear.
Thank you for the warm wishes you have sent. I figured you weren't wasting the opportunity to do anything for free.
Thank you for reminding me of my nightmare! I'm getting old.
True friends travel over 10 miles to get free cake, food and drinks. Forever grateful for your efforts.
I gave you icy cold stares because you sent me cool birthday wishes. Where's my gift?
To those who posted bday wishes on my Facebook wall, thanks for making me look way more popular than I really am.
My thanks to everyone who wished me a happy birthday yesterday. The rest of you are dead to me.
Sending thank you replies for birthday wishes cultivates good relationships with those dear to you long after all the celebrations. It shows how you acknowledge their efforts. In return, they will always enjoy wishing you a happy birthday, knowing you will appreciate them for it.
READ ALSO: 50+ heart-touching birthday wishes for that special person
Legit.ng recently published an article about heart-touching birthday wishes for a special person. A special person is someone you hold dearly to your life. Celebrating your special person's birthday is paramount as they feel loved and cherished.
A heartfelt message for someone you cherish will do magic. Therefore, surprise them with these birthday wishes from the heart on their special day.
Source: Legit.ng