35 best Tinder openers nobody will ever dare to swipe left on
The first impression matters a lot on online dating sites. Using cute Tinder openers and pickup lines can make someone interested in knowing you. This post shows you how to express yourself adequately through your Tinder profile and pickup lines.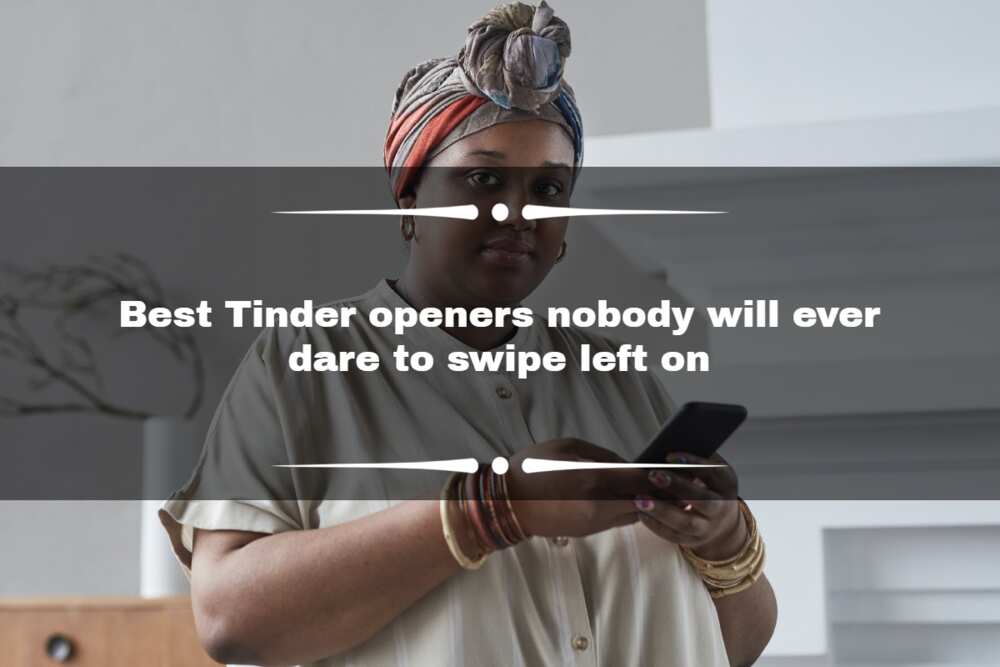 It is essential to work on more than just getting matches on Tinder. Creating a lasting connection by properly breaking the ice with the stranger you intend to attract is crucial.
Smooth Tinder openers
Using funny openers for your profile or striking descriptions of yourself is one of the easiest ways to capture the attention of potential mates in the Tinder world, where nothing is guaranteed. Here are some best opening lines for Tinder:
God, you're attractive, but I'm no Forest Gump.
Are you on a country road? Cause I'd like you to take me home.
Hello, fellow chocoholic! So, tell me, what's the best chocolate ever?
I'm the furthest thing from a "country boy," but I'm still down to tie you up and pretend you're my sister if you are.
Do you like wine?! So do I. So come on, impress me: tell me about your favorite wine!
Black ice isn't the only thing I'm falling for.
If I were the Grinch, I wouldn't steal Christmas. I'd steal you.
I bet I can make you share that ice cream…I can be very convincing…
If I win, you owe me a date.
Umm is…Is that your real name?
I love the hat. We must have a hat party. I call dibs on the sombrero.
You love spicy food. I know one of the best places in town. Please tell me a time and a date, and I'll make a reservation.
Anyone who can appreciate a good masquerade party is a friend of mine. Who do you plan to go to next time?
I'm a master criminal. I only partner up with the best. What's your crime specialty?
My name is Maria. Do you know how many songs there are about me?
Attractive Tinder dating app openers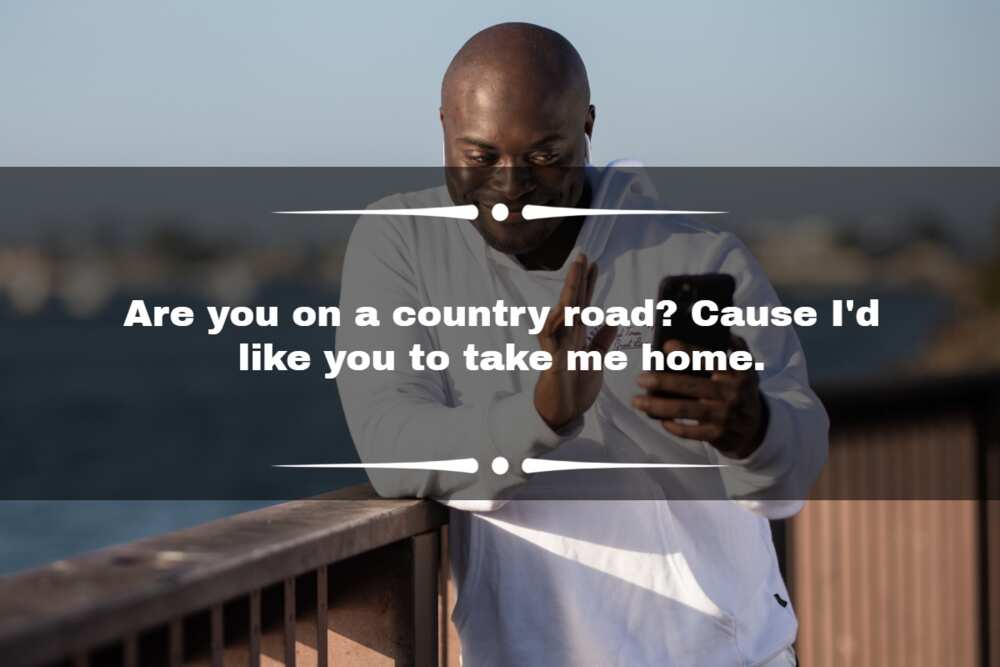 Your Tinder profile should have a simple, attractive, and honest opener. Most of your matches will be impressed when they learn your opener speaks the truth about your personality. Below are some beautiful Tinder dating app openers:
Hey, do you want to steal my comfiest hoodie?
I'm jealous of that dog of yours. It looks like he has some cute cuddling skills. Will he teach me a trick or two?
Clearly, you haven't met your match yet. I'd totally win the race. Or, at the very least, we'd hit the finish line even.
Let's be illiterate together.
Hello, fellow vegan. So, tell me: tabasco, sriracha sauce, or chipotle peppers? What kind of hot do you prefer?
Great cook, huh….so tell me, what would you cook me if you were to impress me?
You mention you love Rome. Great. I've never been there. So when do we start packing?
I need it to work out between us because you have to show me where the epic beach in your pictures is…
Hey AB, wanna C my D?
The food in that restaurant in your pictures looks epic. You'll have to take me there.
You love cocktails. I know a place. Let me know the time and the date, and we'll make a plan.
Hello, sweet tooth! So, what's your favorite sweet of choice? Chocolate truffles, pastries, or ice cream?
That horse of yours has some serious attitude. I like it. What's his/her name?
It's such a shame you don't like nightstands. I'm great at making furniture. I can even make you two nightstands and a table…if you're nice.
If turf is a sprain of your toe on a football field, could falling for you give me a Court-Knee?
Cute Tinder openers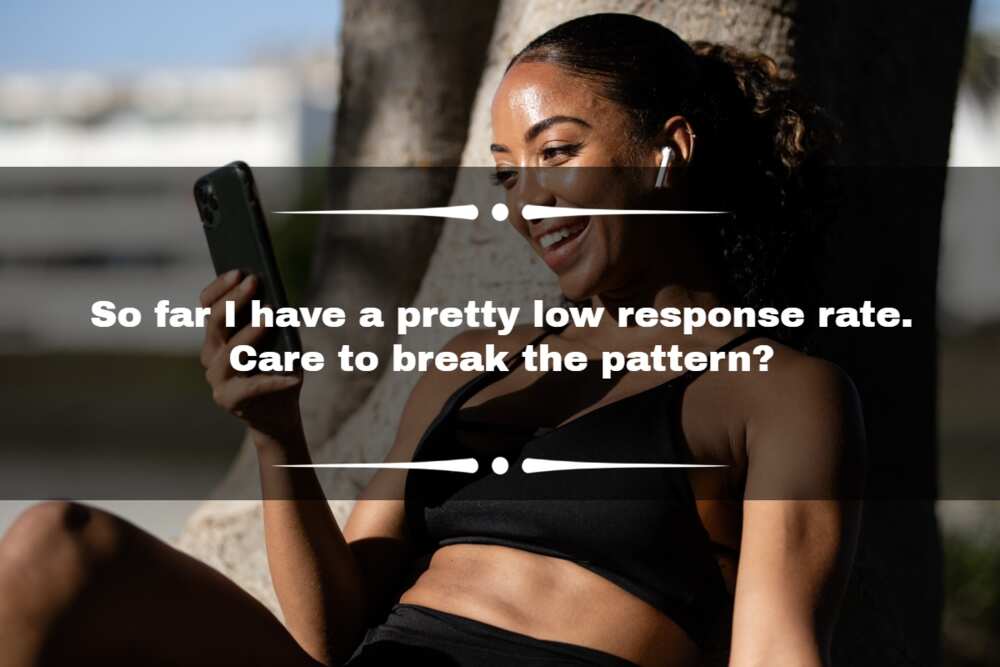 Tinder users want to connect with people who are intellectual, honest, funny, and easy to communicate with. You attracted many by using conversation openers that portray you possess these qualities. Below are some cute Tinder openers:
Roast my Tinder profile. If you make me laugh, I'll buy you dinner.
I like meeting new people and going on adventures. Will you join me?
Humor is a great way to get to know someone, so tell me a joke.
I am looking for a serious relationship, and this is the only way I know how
So far, I have a pretty low response rate. Care to break the pattern?
I'll make the first move if you plan the first date.
Hey, I just lost my phone number. Can I have yours?
Your Tinder bio says you love adventures. Do you want some company?
I have a good idea. Let's grab drinks and get to know each other.
Hi there. Tell me the best thing and worst thing about yourself.
Nice to meet you. Good luck finding someone with a more charming smile!
I'm all about first impressions, so tell me something interesting about yourself.
I like someone with a good sense of humor. The best way to my heart is through my funny bone. Can you make me laugh?
Where is the best place for dinner in your town?
Tell me something about yourself to impress me.
Good Tinder openers you should use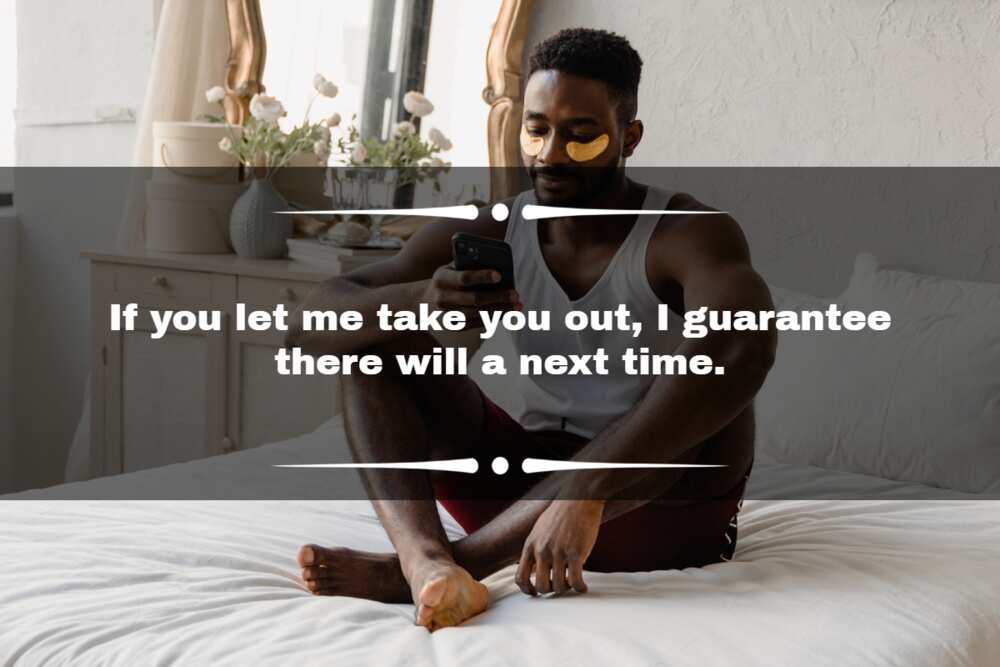 Using Tinder's most-swiped openers can get you more matches. It all begins with writing cute words on your profile to draw the attention of many. Below are some best Tinder openers for you:
The only thing standing between you and a delicious dinner is you saying yes.
Hello. Meet the cute dude next door. You will never come across someone so chic and in control. You can be sure that I will always have your back.
If you let me take you out, I guarantee there will be a next time.
Whoever said the beautiful ones are not born lied. Look at me, and you can be assured that you have the best in the world. I will rock your world.
I love a fun game, so let's play Truth or Dare.
You look like my perfect match. Let's get to know each other.
What does your typical weekend look like?
I am a queen in the world of those who shine — smartness, brilliance, and cuteness all in one package. If you want to know more, you know what to do.
There is a first time for everything, so let's go out!
Men brag about what they can do, but I choose to let you know that I will never hurt you or break your heart. You can count on that.
I'm not usually one to start conversations, but you are so beautiful I just had to let you know.
Where should we go if I were to take you out for the best quality dinner?
Yours is one of the most attractive dating profiles I've ever seen. Let's get to know each other.
I may not have much to offer, but I can guarantee that you will always have a sweet smile. I ensure my woman never frowns.
I have good news: We matched! So, can I take you out?
Tinder pickup lines you can never go wrong with
Use a bio opener and pickup lines that entice fellow Tinder users to want to know more about you. Mix humor to showcase your charming personality. Below are some unique and funny Tinder opening lines:
"Hola!" Often they'll be like, "Oh, are you Spanish?" and I'm like, "No..." It's worked every time. I am that kind of girl. Fresh and true to her roots. If you are looking for something like this, then here I am.
I am the kind of person who loves good food and good friends, but I am also looking for a life partner. Could that be you?
I always let them speak first because it is more gentlemanly. If you are interested in a man who will always treat you like a gentleman, open doors for you, and the whole deal, I am here to make this work. Hit me up.
The right way to my heart is a good dinner. What's yours?
Are you toilet paper? Because you look like everyone wants you.
I am shy and may not speak up as the first, but that is only when you do not know me. Give me your time, and I will surprise you beyond measure.
Look at us in the right place at the right time. Could this be fate?
I'm seeking a free-spirited person who can keep up with my energy.
Some have called me a player, while others think I am cunning. But the truth is that I love adventure and am cool with everyone. I have no control over being mistaken for who I am not, but you can be sure that when I love, I do it with all my heart.
How much does a polar bear weigh? Enough to break the ice!
I love your profile picture. You look like you know how to have fun!
Dating is a numbers game, but I've done the math, and we are made for each other.
What's your favorite show on Netflix right now?
The world is full of people who do things without remorse. I love the few who put their hearts and minds into everything they do.
I like to spend a lot of time outside walking on a long trail, and I'm looking for a companion, any interest?
Romantic Tinder openers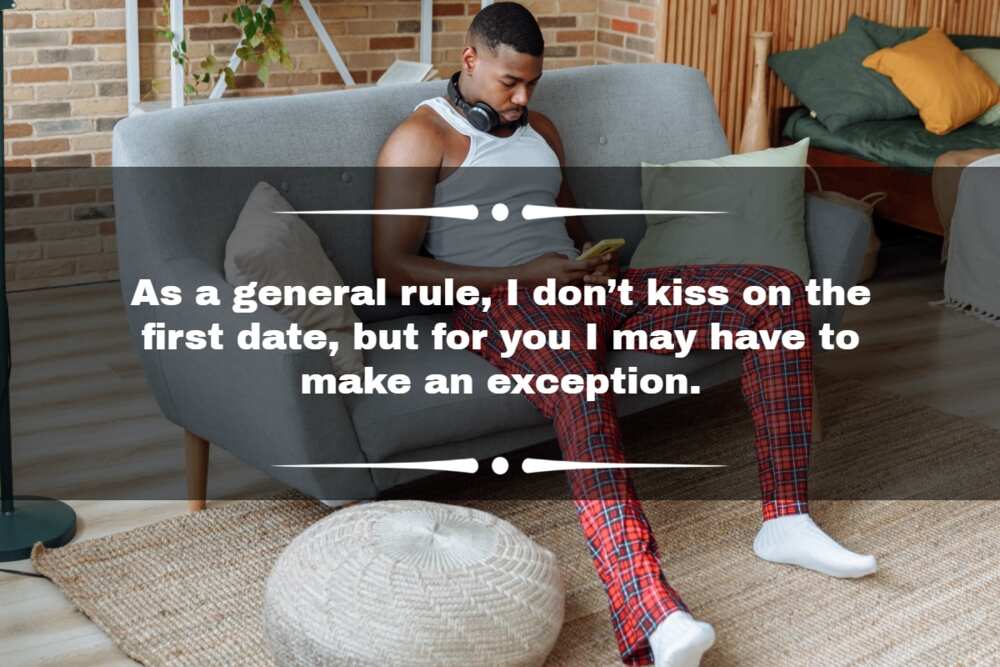 People on dating apps expect their matches to shower them with beautiful words. Therefore, your romantic words can make strangers fall in love with you and desire to meet you. If you want to start a conversation on Tinder, use these romantic openers to impress your match:
As a general rule, I don't kiss on the first date, but for you I may have to make an exception.
My favorite is spending time with those who mean the world to me. It is refreshing to know that there is someone out there meant for me. Please reach out if this is you.
You're stunning. Are you free Friday?
I am just looking for hot girls to take to dinner. Want to join me?
Tell me the last thing you Googled. No lying.
We are all just looking for someone to love. What do you look for in a partner?
Let's jump on a plane, and I promise we'll be in love when the plane lands.
How would your best friend describe you?
A lot of people tell me I look like Ryan Reynolds. Who is your celebrity look alike?
Who is the first person you think of when you think of the word 'Love?
What's the most important thing I should know about you?
If you want to experience a real soap opera in life, make a point of meeting me. I will kiss the breath out of you and make you weak at your knees.
Hey, we matched! I guess we both have good taste.
I prefer being known as the angel of good tidings. Once I walk into your life, everything will change forever. I will come with great peace and good tidings.
Funny Tinder pickup lines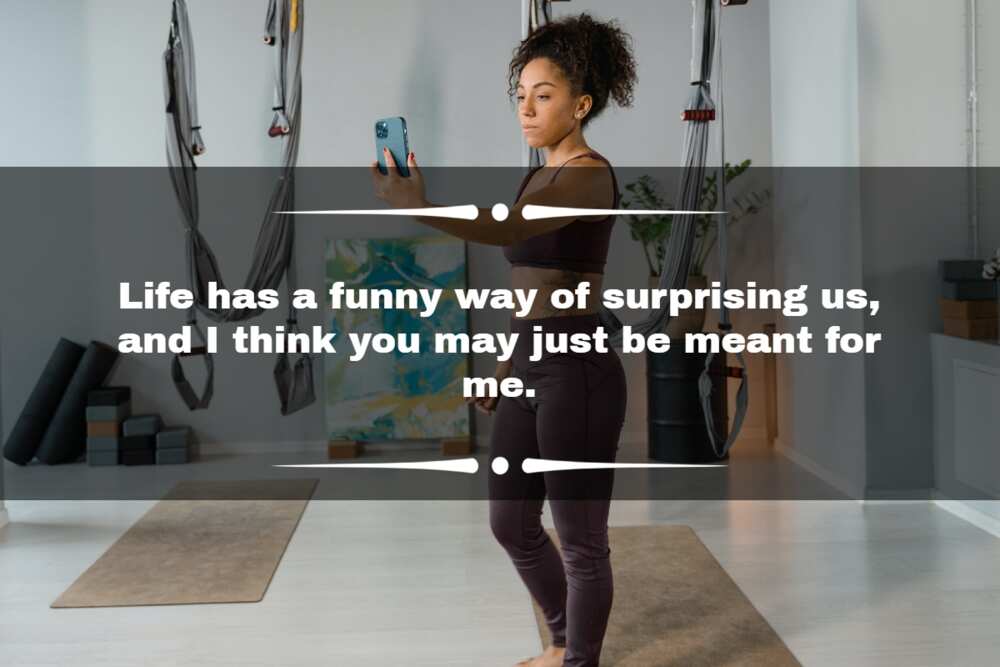 Your words should imply that you are approachable and trustworthy. Using respectful Tinder openers convinces people to chat with you via messages or video calls. These funny Tinder pickup lines can help you initiate beautiful conversations with strangers online:
The Roses are red. Violets are blue. We are a match on Tinder, so we should get this going already. I promise to make you laugh all the days of your life.
Please tell me a joke, and I will let you buy me dinner if you get a good laugh.
Do not worry about not liking me enough; I love the two of us enough. Every time we quarrel, you can also be sure I will have enough patience, forgiveness, and love to compensate for future fights. If this is not the real deal, I wonder if you will ever find one.
Life has a funny way of surprising us, and I think you may just be meant for me.
I have seen many beauties since I became old enough to recognize good things, but my eyes will be fixed on you. I am sure that any woman meant for me will stand out in the crowd.
I need a style makeover. How do I dress in an eye-catching way?
Since we matched, the next step must be going on a date. Are you free this weekend?
Things often get out of hand quickly, but I am grateful that I do all I want to show you, love. It starts with accepting me, and then I will go out of my way to embarrass you with so much love that you will beg me to stop.
I love a girl who isn't afraid to send the first Tinder message, but you are so gorgeous I couldn't resist.
I am the kind of person who loves dogs and animals. I will cross a river to save a drowning puppy. If I love an animal this much, don't you think I will go to the moon for you? The rest is left for you to answer and reach out in good time. All the best!
How do you start a conversation on Tinder?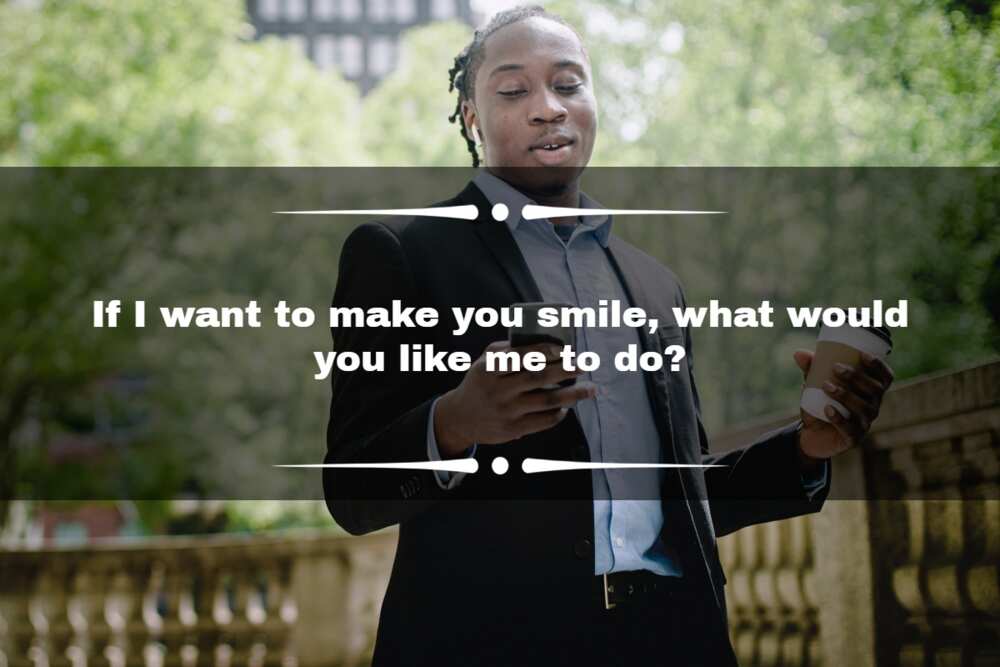 Sweet Tinder openers and pickup lines can convince your matches to want to date you. Below are some tips for writing the best openers and pickup lines for Tinder:
Be humorous - Romantic jokes capture people's attention. You can also joke about general topics to make your Tinder match feel at ease.
Talk about yourself - You should tell your match a few things about yourself to make them trust you and decide if they should date you. Allow them to also talk about themselves.
Show your intellectual side - People want to have meaningful conversations with you. Therefore, show your Tinder matches that you are brilliant but do not brag about it.
Use poetic lines - Use poetic love messages to appear exciting and mysterious. Poems make people think about what your words mean. Present your poetry cutely and articulately.
Talk about things people identify with - You should discuss things your match is interested in. The conversation gets boring if you discuss things the other needs help understanding.
Be honest with people - You feel nice when people like you for who you are. Therefore, avoid portraying any character that is not the real you. It would help if you were honest with the qualities you need in someone you want to date.
Be respectful - You should apply etiquette when chatting with people on Tinder. Your words and actions reflect your personality. They can draw people to you or chase them away.
Will Tinder show me someone who already swiped left?
Tinder shows you people you swiped left but not those who swiped you to the left. Swiping left means "No, you are not attracted to that person," while wiping right means "Yes, you like someone and would like to talk to them."
What to say on Tinder?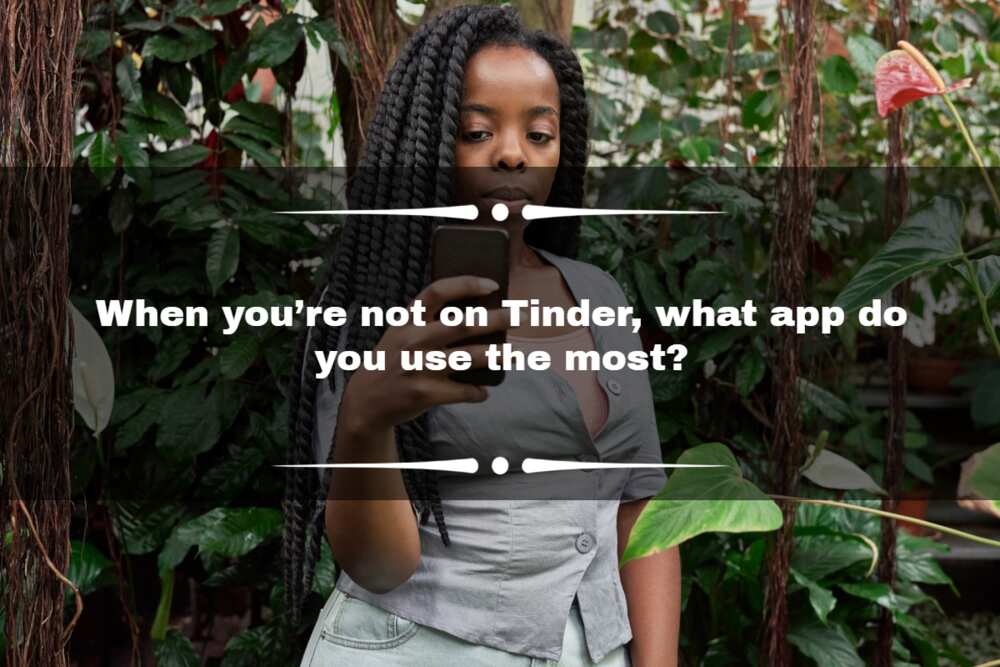 You should check someone's profile to know things like their age, location, profession, and hobbies. This information will help you start conversations about things that excite them. Here are some cute things to text someone on Tinder:
What's a simple thing that brings you a surprising amount of joy?
If I want to make you smile, what would you like me to do?
A nice walk and a cup of coffee is an excellent start to every day. Would you like that?
When you're not on Tinder, what app do you use the most?
I am looking for someone down-to-earth and easy to get along with. Is that you?
Tell me your guilty pleasure.
Is there a movie that critics hate that you secretly love?
Tell me the best joke you heard recently.
What's a fun way to spend time in your hometown?
I don't have a lot of good lines, but you look fabulous.
I am looking for someone willing to try new things. Are you up for it?
What are the funniest Tinder openers you've ever seen? I want to beat them.
You and I could have a lot in common. What do you think?
What is the best benefit of living in your hometown?
We could have a lot of fun together. What do you think?
What is a cute first message for Tinder?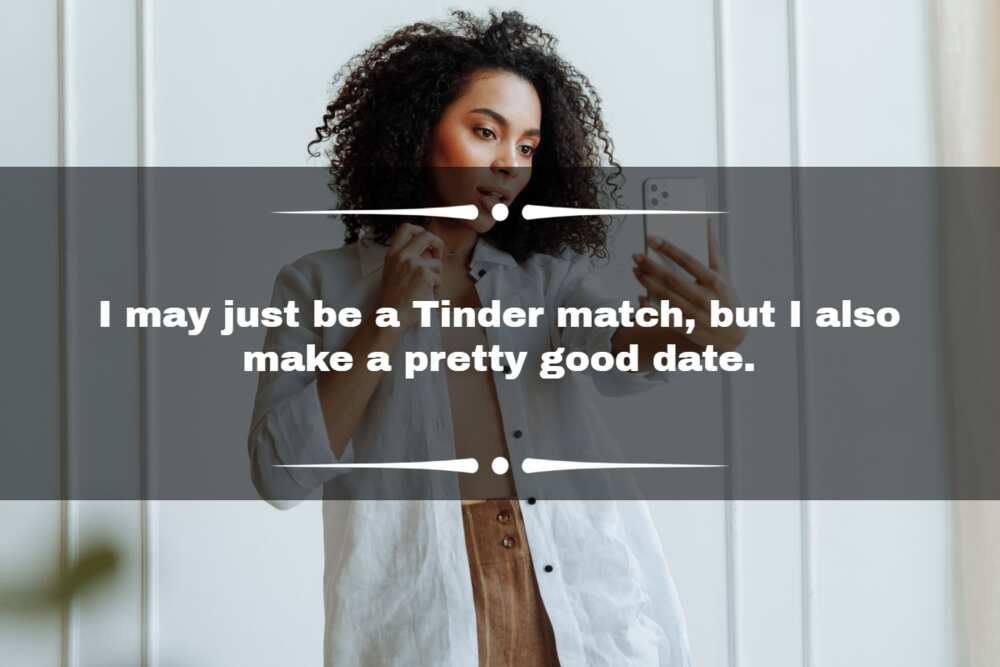 Your first message to anyone on an online dating platform should be respectful. You should not assume you are best friends. Please be careful with things you text someone to avoid going overboard. Here are some lovely texts to send someone online for the first time:
Since we matched on Tinder, meeting in person is only fair. What do you think?
I am looking for a fun-loving person who is up for anything. Does that sound like you?
I may be a Tinder match, but I also make a pretty good date.
I know just the place if you're looking for a simple and fun first date. Are you free this weekend?
I love trying different things on a first date. What would you like to do?
When it comes to dating, I am open-minded. What about you?
Can you imagine a simple and fun first date we could go on?
I can't wait to meet my true love and travel the world together. Is this something you're interested in?
I want to get to know you better. What are your favorite things to do?
Do you think you are more of an introvert or an extrovert?
Where are you from? I'm looking for someone to talk to about common interests.
What's an unpopular opinion you like to debate on?
What are you up to today? I'm looking for someone to talk to about common interests.
I am looking for a simple and fun first date. Any suggestions?
What do girls want from a Tinder opener?
Girls check men's Tinder profiles. They expect to find funny and honest descriptions of who these men are. They also love men who use romantic pickup lines to start conversations.
What do girls like as a first message on Tinder?
Girls on Tinder like light-hearted questions, funny pickup lines, flirty compliments, or a simple hello. You can try these to see what works for the woman you want.
What to say to a girl with no Tinder bio?
If a girl does not have a Tinder bio, you can start a conversation by complimenting her profile picture, commenting on her location, joking about her name, or playing games like "Would You Rather?" and "Truth or Dare."
How to attract someone on Tinder?
You can attract matches on Tinder by using clear and quality photos, smiling, avoiding posting many group photos, writing your profession, using a simple bio, and starting conversations with light-hearted romantic pickup lines.
Can you use Tinder without an app?
You can create an account on tinder.com and log in to chat with your matches. The Tinder website works just like the mobile app.
The best Tinder openers make it easy for anyone to chat with people on the platform. A good profile description and a funny pickup line can land you multiple dates.
Legit.ng shared 'I love you more than' quotes and sayings to express your feelings. It would help if you told someone you like how you genuinely feel.
If you delay expressing your feelings on time, someone else will and grab the love of your life right under your nose.
Source: Legit.ng