Britt Robertson bio: age, height, boyfriend, nominations, net worth
Britt Robertson is an American actress well known for her roles in Disney Channel's Avalon High, The CW's Life Unexpected, The Secret Circle, Under the Dome, Girlboss, and many other fantastic productions. The actress has been in the game since she was 14 years old, and trust me, the girl is going places!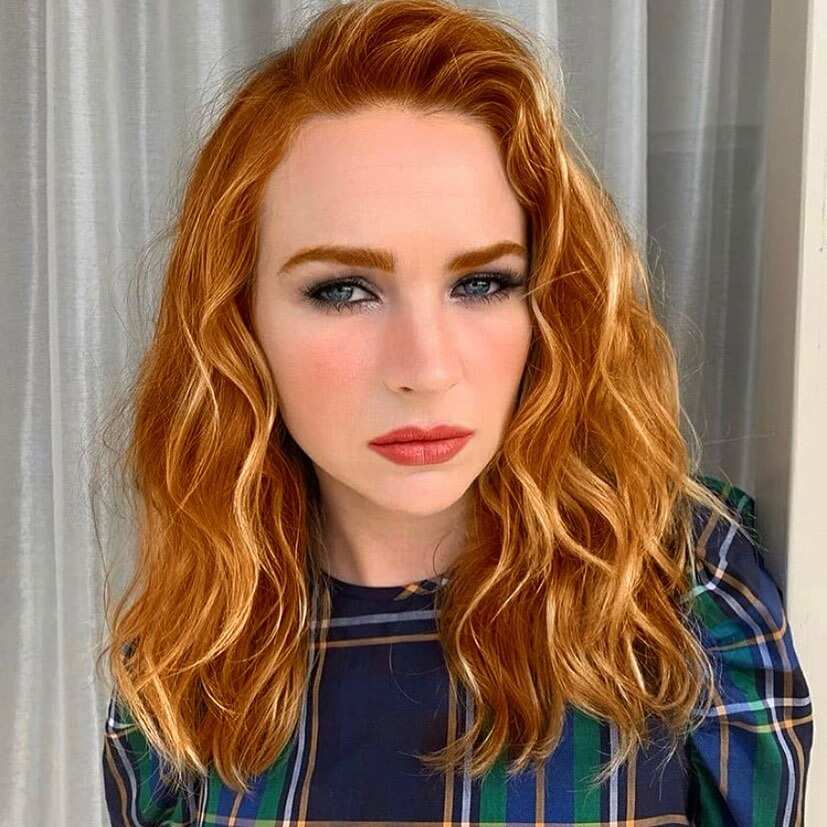 When you look at Britt Robertson, you will be forgiven to think that she is a teenager, or at least, in her early twenties. Her youthful looks, coupled with her excellent acting skills, have landed her some really diverse roles, from playing a 15-year-old to playing a married woman who has ovarian cancer - talk about range!
Profile summary
Full name: Brittany Leanna Robertson
Nickname: Bree, Bee, Britt
Date of birth: April 18th 1990
Birthplace: Charlotte, North Carolina, United States of America
Age: 30 years old
Zodiac sign: Aries
Nationality: American
Height: 5 feet 3 inches (1.60 metres or 160 centimetres)
Weight: 52 kilograms (115 lbs)
Body measurements: 32-25-32 inches
Bra size: 32C
Body type: Banana
Dress size: 6 (US)
Hair colour: Blonde
Eye colour: Blue
Net worth: $3 million
Occupation: Actress
Early life and family
Britt was born on April 18th in 1990 to Beverly Hayes and Ryan Robertson, a restaurateur. The actress was born in Charlotte, North Carolina, in the United States of America. At the moment, Britt Robertson age is 30 years.
Britt is the oldest of seven children; she has three younger brothers and three younger sisters as well.
The celebrated actress was raised in Greenville, South Carolina. She was homeschooled due to her mother's worries about the public school system.
Pretty Woman was the first movie the actress saw in theatres, and the film got her excited about acting. However, her choice to delve into the acting industry was fueled by watching soap operas, which eventually made her decide that she wanted to be an actress.
She began acting at the Greenville Little Theatre, where she performed plays and small shows.
When Britt was in elementary school, she was discovered by a Los Angeles talent agent during a convention at Hilton Head Island, South Carolina.
At 14 years old, Britt moved to Los Angeles with her grandmother to seek TV and film opportunities. Her parents were left back home to take care of her siblings.
When the actress was 16, her grandma moved back to North Carolina, and Britt started living on her own.
The actress revealed that although living alone would get lonely, she made a bunch of great friends, whom she would call 'faux family'. These friends made her stay in LA comfortable and even cooked dinner for her and did her laundry for her when needed to.
Another fun fact about the actress' early life in Hollywood is that while she was in LA, she lived at the Oakland Apartments, a notorious hub for child actors and their stage moms. For the first years that she lived there, Hilary Duff and Frankie Muniz frequented the place. She once revealed that,
I moved to L.A., and I lived in the Oakland Apartments, which is this notorious hub for actor children and their stage moms...For the first few years that I lived there, Hilary Duff and Frankie Muniz frequented the apartments. I was much younger than them at the time. I would follow them around and try to be their friends and they would have no interest in me whatsoever. I was just such a big fan of theirs. I wouldn't consider them really friends, but I definitely saw them and would stalk them like a weirdo.
In April 2017 The Hollywood Reporter interview promoting Girlboss, Britt talked about how growing up in the industry shaped her:
Being an actor you're constantly thrust into a world where you're giving people the license to talk about you and have opinions about you and your work...That alone creates a sense of success and failure and ups and downs. I've definitely had that. I've been lucky that I've been doing this for a really long time that it's all normal life to me now and I'm not greatly affected by it. But there was a point in time where I would feel if I failed, I would never be able to recover and it was the end. Whereas now what I've taken from the show is this idea that you don't have to be perfect. You can fail and you can s*ck. It takes a brave person to do that and to get up every day and still give it your best shot rather than just cowering with fear.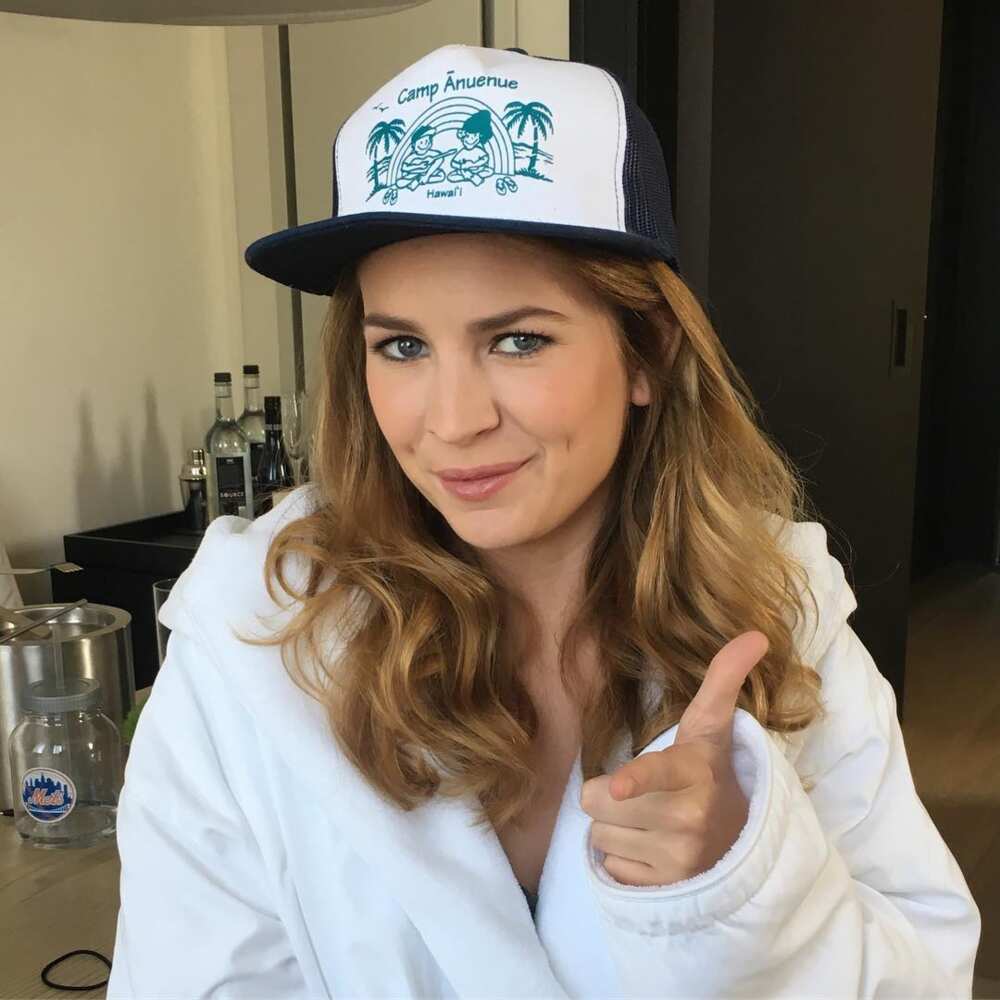 Body measurements
Britt Robertson hot body is quite a sight to behold. While she weighs 52 kilograms (which roughly translates to 115 lbs), Britt Robertson height is 5 feet 3 inches, which is approximately 1.6 metres or 160 centimetres.
The actress' body measures 32-25-32 inches while her bra size is 32C. Her dress size is 6 in US measurements. She has beautiful blonde hair and alluring blue eyes.
Career
Britt made her TV debut in 2000 with an appearance in Sheena as little Sheena. She appeared in the TV series' one-hour episode titled Buried Secrets. The episode was aired on November 11th 2000.
She then made her big-screen debut in The Last Summer, a drama film that was released on April 16th 2004.
Since her debut, Britt has gone on to feature in numerous films and TV shows, earning her over 50 acting credits.
Britt Robertson movies and TV shows
Here is a list of the movies and TV shows that she has starred in plus the roles she played in each.
Stowaway (pre-production) - Bella
Books of Blood (post-production)
A Mouthful of Air (post-production) - Rachel Davis
Little Fires Everywhere (2020) - Rachel
I Still Believe (2020) - Melissa Henning
For The People (2018-2019) - Sandra Bell
Little Fig (2019) - Valley Girl
Girlboss (2017) - Sophia Marlowe
The Space Between Us (2017) - Tulsa
A Dog's Purpose (2017) - Teen Hannah
Casual (2016) - Fallon
Mr. Church (2016) - Charlie
Mother's Day (2016) - Kristin
Jack Goes Home (2016) - Cleo
Tomorrowland (2015) - Casey Newton
The Longest Ride (2015) - Sophia Danko
Cake (2014) - Becky
Under the Dome (2013-2014) - Angie McAlister
Ask Me Anything (2014) - Katie Kampenfelt
Delivery Man (2013) - Kristen
White Rabbit (2013) - Julie
The Secret Circle (2011-2012) - Cassie Blake
The First Time (2012) - Aubrey Miller
Scream 4: Alternate Opening (2011) - Marnie Cooper
The Family Tree (2011) - Kelly Burnett
Video Girl (2011) - Video Girl
Scream 4 (2011) - Marnie Cooper
Life Unexpected (2010-2011) - Lux Cassidy
Avalon High (2010) - Allie Pennington
Triple Dog (2010) - Chapin Wright
Cherry (2010) - Beth
Three Rivers (2009) - Brenda Stark
Mother and Child (2009) - Violet
Law & Order: Criminal Intent (2009) - Kathy Devildis
The Alyson Stoner Project (2009) - DJ B-Rob
Law & Order: Special Victims Unit (2008) - Christina' Tina' Divola Bernardi
Swingtown (2008) - Samantha Saxton
The Tenth Circle (2008) - Trixie Stone
From Within (2008) - Claire
Frank (2007) - Anna York
Dan in Real Life (2007) - Cara
CSI: Crime Scene Investigation (2007) - Amy Macalino
The Winner (2007) - Vivica
Women of a Certain Age (2006) - Doria
Keeping Up with the Steins (2006) - Ashley Grunwald
Freddie (2005-2006) - Mandy
Jesse Stone: Night Passage (2006) - Michelle Genest
Tangled Up in Blue (2004) - Tula
Growing Pains: Return of the Seavers (2004) - Michelle Seaver
The Last Summer (2004) - Beth
One of Them (2003) - Young Elizabeth
The Ghost Club (2003) - Carrie
Power Rangers Time Force (2001) - Tammy
Sheena (2000) - Little Sheena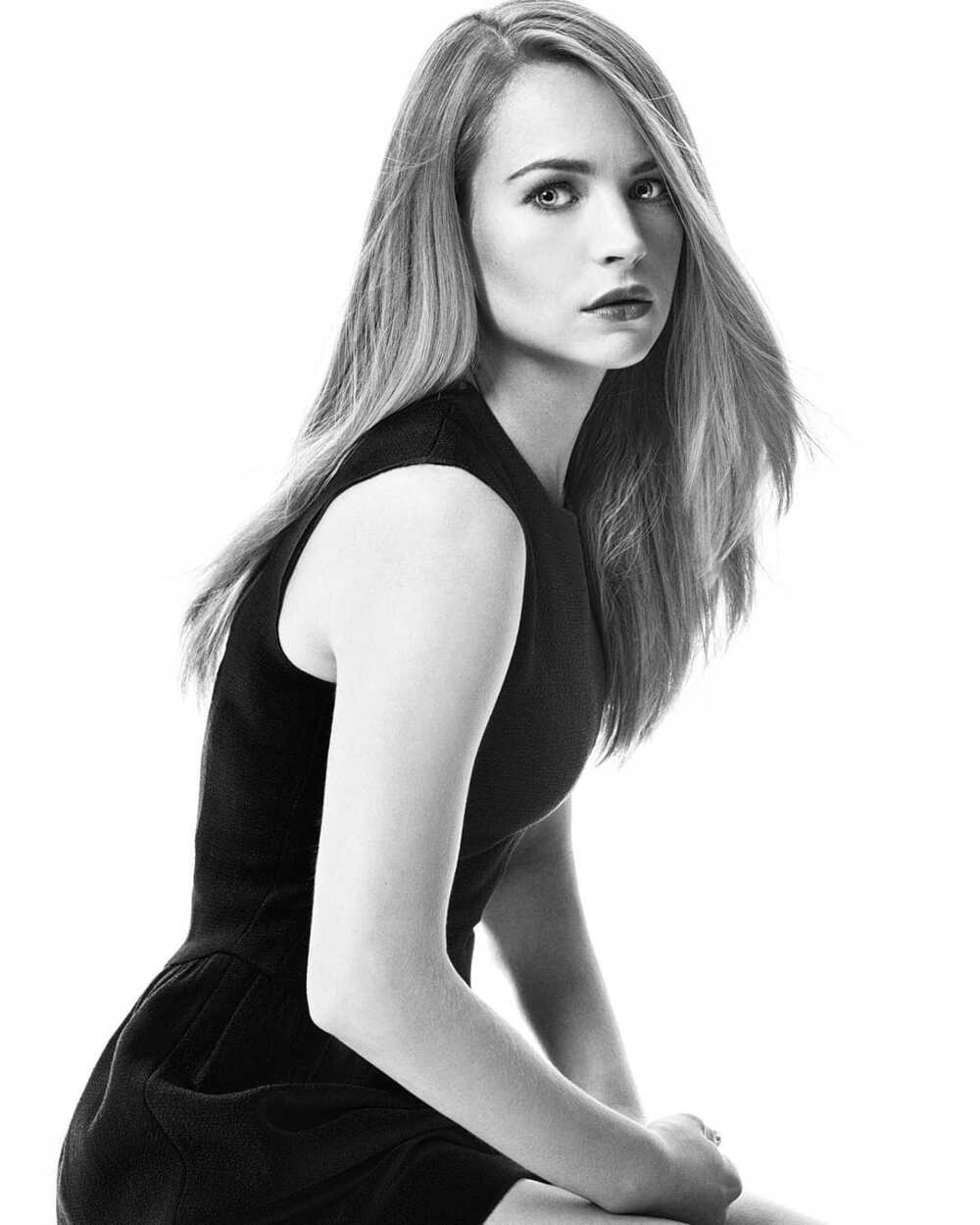 Appearance as herself
Britt has appeared as herself in these productions.
Made in Hollywood
Home & Family
Entertainment Tonight Canada
Entertainment Tonight
Camp Confessions
Rachael Ray
Good Morning America (TV Series)
A Dog's Purpose: A Writer's Purpose (Video short)
The Tonight Show Starring Jimmy Fallon (TV Series)
The Insider
Extra with Billy Bush
A Dog's Purpose: Lights, Camera, Woof
On the Scene with Lindalee
Clevver Now
The Talk
The Graham Norton Show
Special Look
Young Hollywood
Today
Last Call with Carson Daly
The Late Late Show with Craig Ferguson
Under the Dome: Inside Chester's Mill
Good Morning Portland: The Making of Life Unexpected
Lux, Cate, Baze, Ryan, & Math: The Casting of Life Unexpected
SXSW Flashback 2010
Just Like Family: The Making of 'Dan in Real Life'
Soundtrack credit
Girlboss - She performed in three episodes of this TV series:
In the episode titled Garbage Person, she performed the songs Hark The Herald Angels Sing and Joy To The World.
In the Motherf*ckin' Bar Graphs episode, she performed I'm Gonna Be (500 Miles).
In the Thank You, San Francisco episode, she performed Nasty Gal.
Awards
According to the Britt Robertson - IMDb awards page, the actress has three award wins and four nominations to her name.
Wins
In 2014, she won a Boston Film Festival - Festival Prize award under the Best Supporting Actress category for her role in White Rabbit (2013).
During the 2015 CinemaCon, USA, she won a CinemaCon Star of Tomorrow award.
In 2014, she won a Nashville Film Festival Best Actress award - Bridgestone Narrative Competition Award Winners for her role in Ask Me Anything (2014).
Britt Robertson nominations
In 2016, she received a Teen Choice Award nomination under the Choice Movie Actress: AnTEENcipated category for her role in The Space Between Us (2017).
In 2015, she received two Teen Choice Award nominations; one for Choice Movie Actress: Drama for her role in The Longest Ride (2015) and the other for Choice Movie Actress: Sci-Fi/Fantasy for her role in Tomorrowland (2015).
In 2004, Britt was nominated for a Young Artist Award under the Best Performance in a TV Movie, Miniseries or Special - Leading Young Actress category for her role in The Ghost Club (2003).
Britt Robertson net worth
According to Celebrity Net Worth, Britt has a net worth of $3 million.
Love life: Who is Britt Robertson dating?
At the moment, the actress is presumably single. Hence, no one currently uses the Britt Robertson boyfriend title.
However, the actress has been linked to various men in the past.
Dylan O'Brien
The Dylan O'Brien Britt Robertson relationship is the actress' most popular relationship to date. Fans who loved watching the two acting side by side in The First Time were quick to ship them, and soon enough, the two were confirmed to be an item.
Britt Robertson and Dylan O'Brien met on the set of The First Time, which was being filmed in 2011. They started dating a while later.
The two actors successfully managed to keep details of the Britt Robertson Dylan O'Brien relationship private, as not much about the couple was known to the public.
In June 2017, Britt's Instagram account was hacked, sparking engagement rumours after the hacker posted a picture of Dylan with the caption:
"Yes, we are officially engaged. #brylan is real confirmed by chikri."
Dylan was Britt Robertson boyfriend from 2012 to 2018. Although Dylan O'Brien and Britt Robertson did not officially announce the split, in August 2018, Dylan was spotted hanging out with Chloe Grace Moretz (whom he admitted to having a crush on seven years before).
Graham Rogers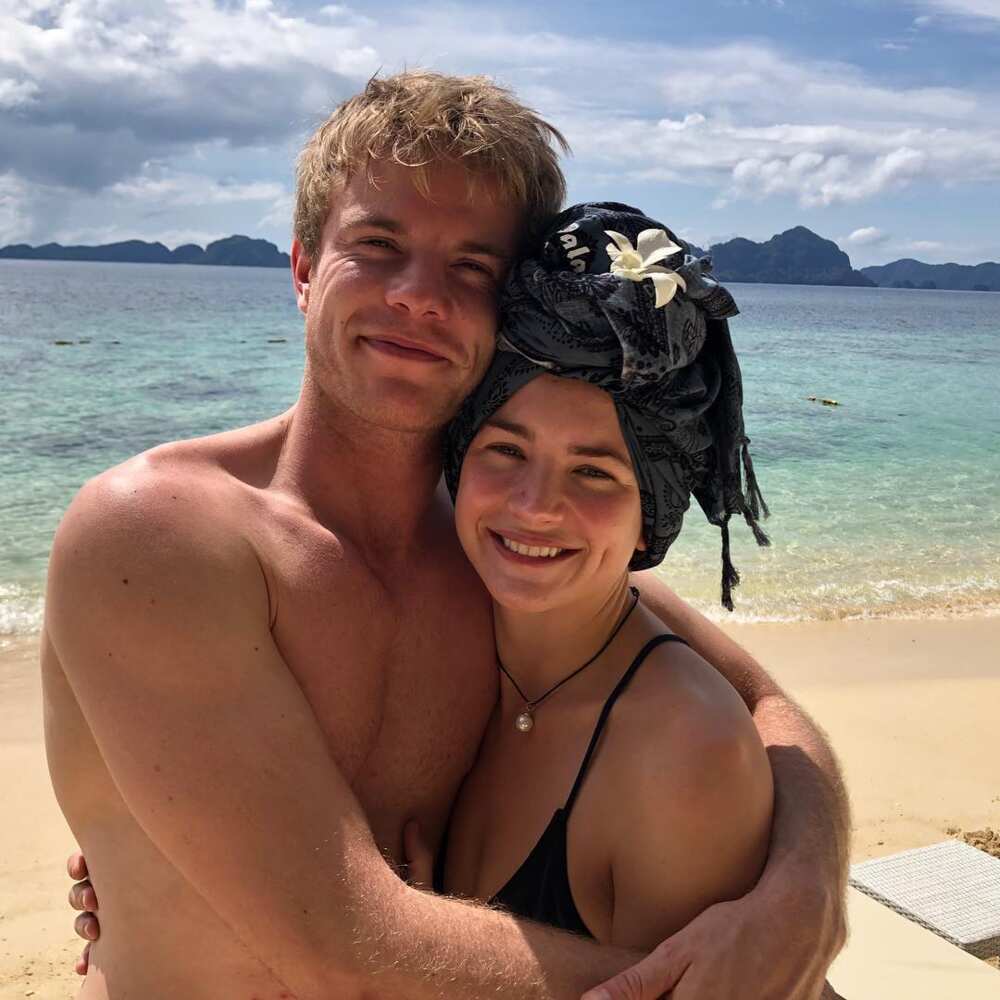 Britt and the Quantico star began dating in late October 2018. During the entire period of their relationship, the two posted a lot about each other on social media. When they romantically uncoupled, Rogers deleted all the pictures of Britt from his social media.
KJ Apa
KJ Apa and Britt Robertson were rumoured to be dating in July 2019 after they were seen holding hands and kissing during Entertainment Weekly's Comic-Con party.
KJ Apa and Britt Robertson were both part of the 2017 movie A Dog's Purpose. They also played love interests in I Still Believe, a film released on March 13th in 2020. In I Still Believe, Apa plays a Christian singer, Jeremy Camp, while Britt plays his wife, Melissa Henning.
Britt and Apa started regularly liking each other's posts in April 2019.
In February 2020, rumours that Britt and KJ Apa were dating were soon squashed when KJ Apa posted a photo on his Instagram, confirming that he was dating model Clara Berry. The photo, which he posted on February 3rd, was captioned "coup de foudre" which translates to "Love at first sight".
On February 7th, Clara posted a romantic pic of her and Apa in a pool in Indonesia. She captioned the photo "J'irai chercher ton coeur si tu l'emportes ailleurs." This translates to "I'll search for your heart if you take it somewhere else."
At the moment, Britt is presumably single. The last time she posted about her love life was in December 2018 when she posted a photo of her and Graham Rogers.
Social media
Britt has an Instagram account with 873k followers. She joined Twitter in November 2009 and to date, she has 203k followers on the platform. Her Twitter bio reads,
I like a lot of really bad television. Oh and I am an Actor.
Frequently Asked Questions about Britt
Here are answers to the most frequently asked questions about the actress.
1. How old is Britt Robertson?
Britt is 30 years old, as she was born on April 18th, 1990.
2. Are Dylan O'Brien and Britt Robertson still together?
No, they are not. They broke up in 2018.
3. Who is Britt Robertson married to?
The actress is not married.
4. Is Britt Robertson related to Sabrina carpenter?
No, they are not.
Britt Robertson quotes
I am the oldest of seven. Do my siblings think I'm super cool? I wish they thought I was super cool! A lot of them are pretty young, so they don't really get to watch a lot of the television and films that I've been in. The older ones, I think, think I'm pretty cool. Not because I'm an actor, because I'm an awesome big sister.
If I can play 15 when I am 25, I can play 35 when I'm 55.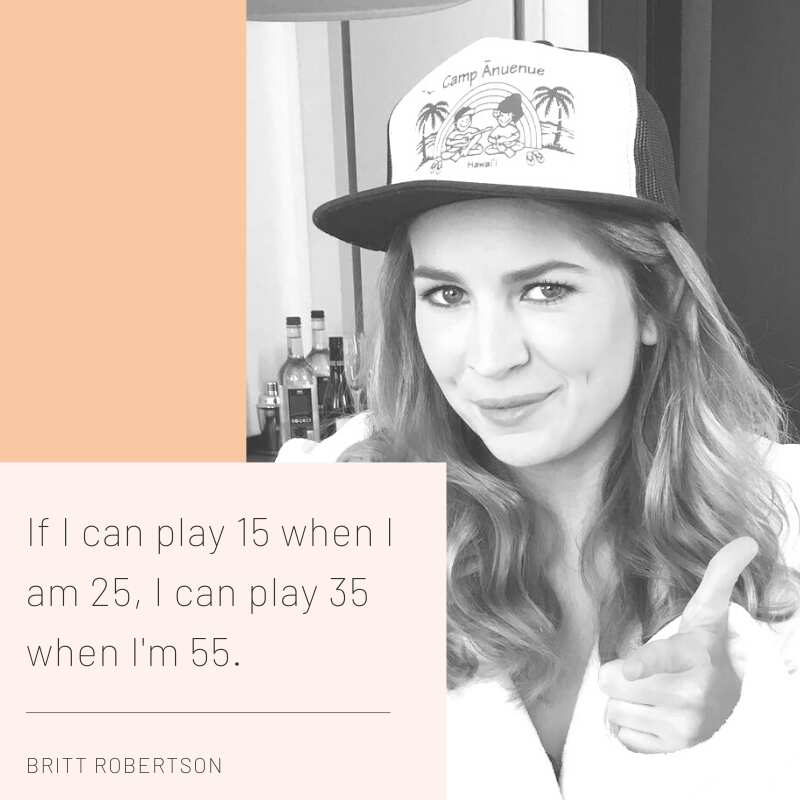 I eat like no other, it drives everyone crazy. I eat donuts three times a day and I probably go through four Mountain Dews a day. I'm on like a sugar high at all times, pretty much. Shiri Appleby, who plays my mother, is a vegan and works out every day for two hours before she goes to work. When she sees me with my Mountain Dew, eating chips and a donut at 4 in the morning, she's like, "Wow. Wait until you're 30".
I like really bad TV; it's a problem. Love me some reality. Would I ever be on a reality show? No, no, no, no, no, no, no. That would not be for me. My mom used to think it would be funny if I had a reality show: "It would be cute, we could call it Being B," because my family calls me "B." We're not doing that. We're not the Kardashians. I also love the Kardashians.
None of my friends really like to party. My best friend and I go to bed at 11 o'clock. We have such old lady schedules. Everyone's always like, "Let's go out!" And we're always like, "No, we don't want to". They call us the grandmas. L.A. can get really old really quickly if you waste your life away in a club all night.
My grandmother raised me for a good portion of my life. She moved to Los Angeles with me to be an actor, so I've always had a connection with an older generation.
Britt Robertson is an excellent actress with many accomplishments to be proud of. She is one of the greatest actresses the 90s produced.
Source: Legit.ng