Kate Walsh bio: age, height, net worth, movies and TV shows
Not only is Kate Walsh a wonderful American actress, but she is also quite funny and never takes herself too seriously. The beauty is mostly known for shows such as Grey's Anatomy, 13 Reasons Why, and Private Practice.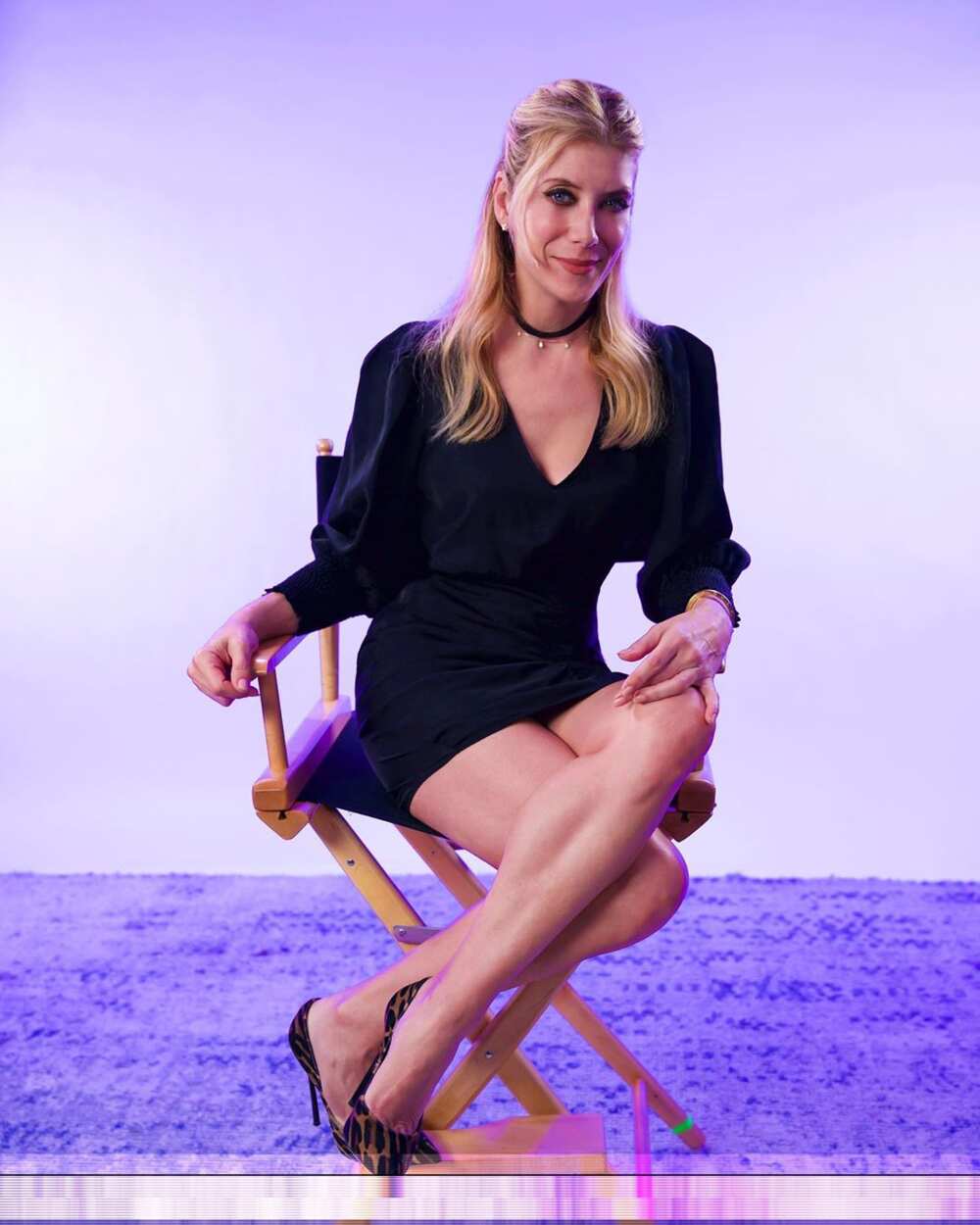 Here is all you need to know about the actress: movie and TV roles, family background, love life, and battle with illnesses.
Profile summary
Full name: Kathleen Erin Walsh
Nicknames: Katie, Katie Kat, K-Town
Date of birth: 13th October 1967
Age: 52 years old
Place of birth: San Jose, California, USA
Zodiac sign: Libra
Nationality: American
Ethnicity: Italian & Irish roots
Siblings: 2 brothers & 2 sisters
Marital status: Single
Religion: Christian (Catholic)
Height: 5 ft 8.5 in
Weight: 64 kgs
Eye colour: Green
Natural hair colour: Brown
Profession: Actress & Businesswoman
Net worth: $25 million
Family and background
The actress was born in San Jose, California, to an Italian mother, Angela C. Bochetto, and an Irish father, Joseph P. Walsh. She is the youngest of five children and was raised in Tucson, Arizona after her parents divorced when she was seven years old.
After the divorce, young Kate Walsh, her mother, and siblings had to move around a lot. According to the star, her mother had to go back to work and thus, she quickly learnt how to be independent.
Kate Walsh young attended Catalina Magnet High School, and after graduation, she enrolled in the University of Arizona.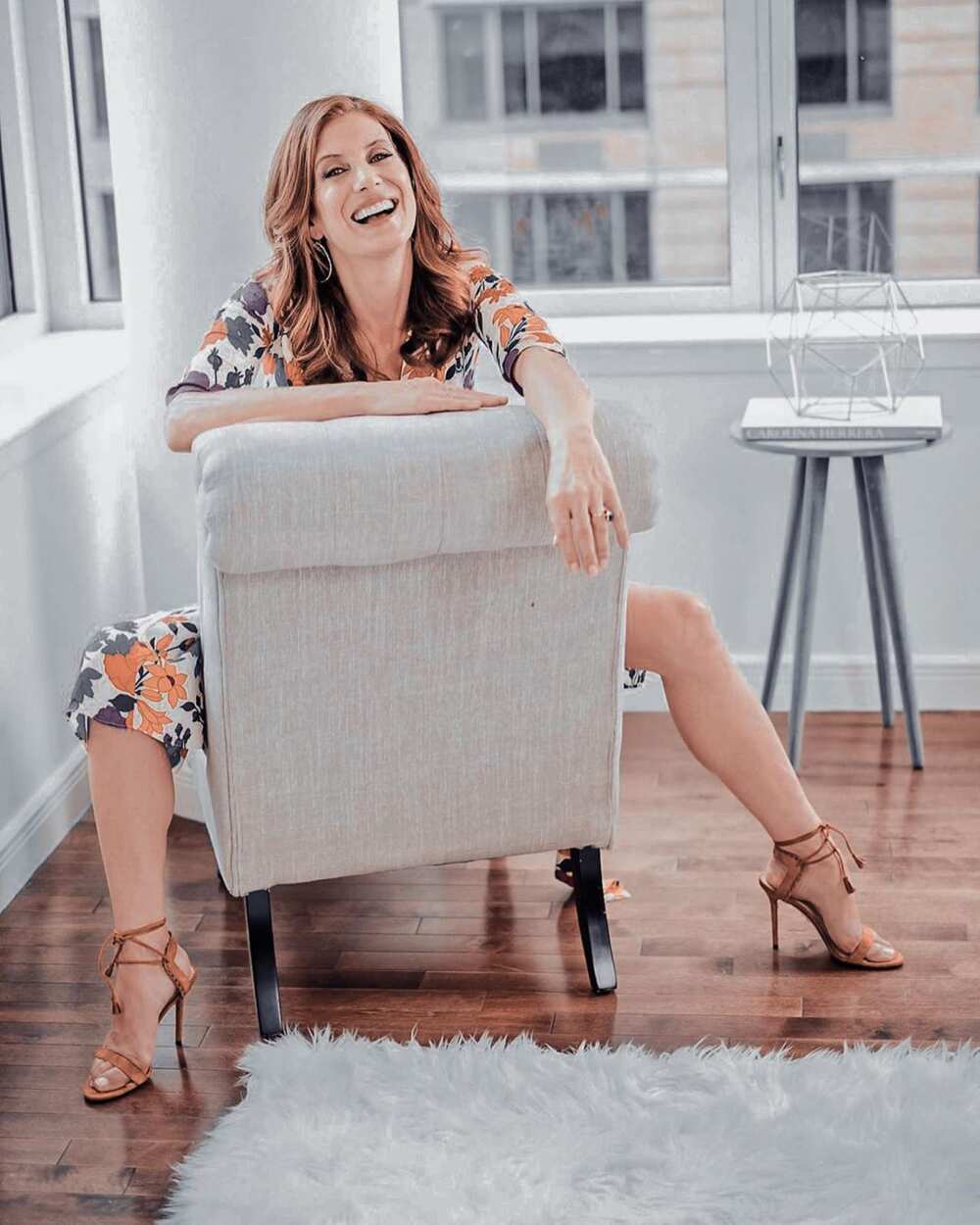 Quick facts about Kate Walsh
She was a very talkative student and would often act out in class.
Before she became a star actress, Walsh would always have three different waitressing jobs to support herself at any given time.
Her mother, Angela, is a breast cancer survivor. Due to her mother's battle with the disease, the actress has been getting mammograms once a year since she turned 30 years old.
She loves wine and potato chips.
The actress once confessed to being a worrywart and to second-guessing herself a lot.
In 2017, she revealed that two years prior, she had been diagnosed with a brain tumour. Luckily, the tumour, the size of a small lemon, was benign. Three days after the diagnosis, she underwent surgery and had it removed.
She has a YouTube channel that is more than ten years old. Her first video was posted on 14th September 2009.
In 2007, she was named among Maxim's Hot 100 women of the year.
How old is Kate Walsh?
Kate Walsh age is currently 52 years old. The Private Practice star was born on 13th October 1967 and will be turning 53 later this year (2020).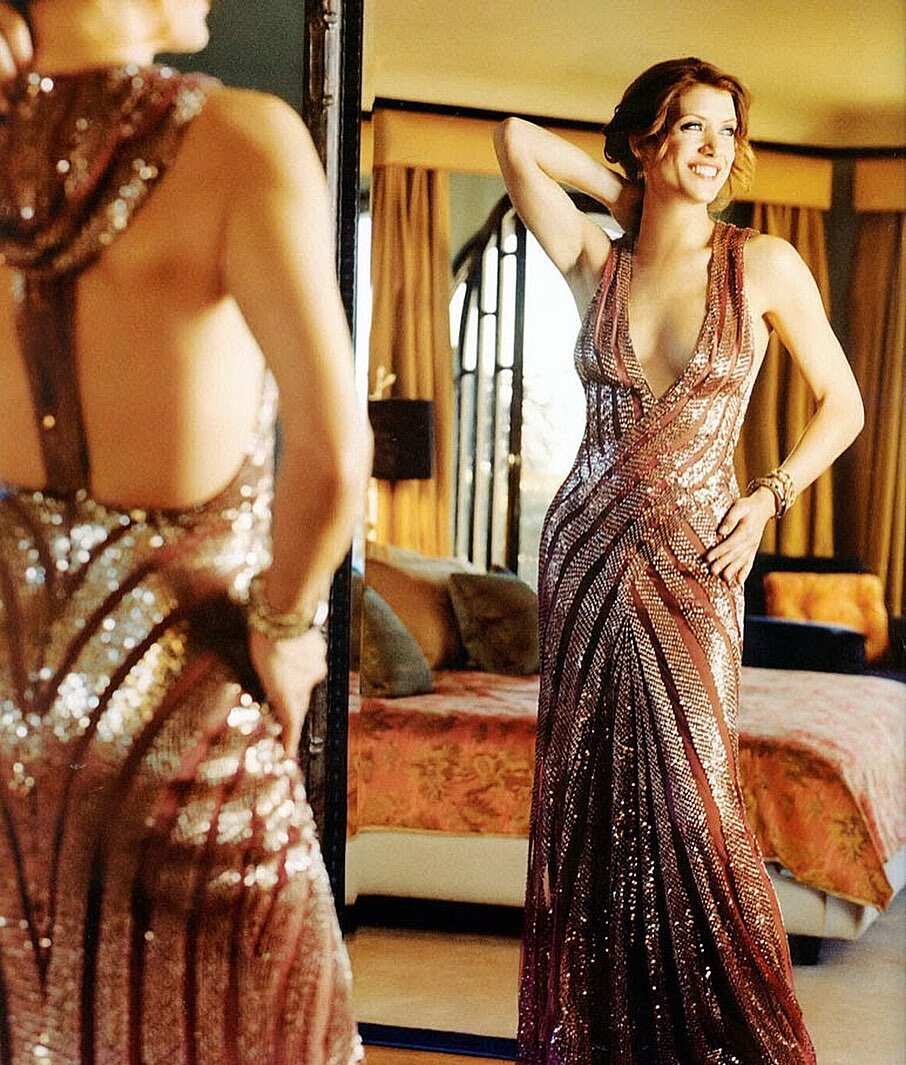 What is Kate Walsh height?
Kate Walsh actress is quite tall. She stands at 5 feet 8.5 inches.
If the star were just 0.5 inches taller, she would be the same height as famous supermodels such as Bella Hadid, Ashely Graham, Heidi Klum, and Cindy Crawford.
As for Kate Walsh hot body, she maintains her slim build through workouts such as Pilates, incorporating weights and strength training into her exercise regimen, and doing ballet-inspired workouts.
When it comes to her diet, she tries to eat healthy meals and makes sure she has a lot of protein. The actress loves to snack on almonds and drinks a lot of water throughout the day.
Kate Walsh movies and TV shows
The 52-year-old is a seasoned actress who has received several awards for her on-screen characters. With over 80 acting credits on her IMDb page, it is clear that she is not a stranger to the camera.
Kate Walsh movies
Unlike many Hollywood actors and actresses, Walsh had a late start in the acting world. The star made her debut in 1994 as a voice actor in the video game Club Dead.
She was 27 years old at the time. Two years later, at 29 years old, she had her on-screen debut as Cindy Anderson in Normal Life.
Here are some notable Kate Walsh movies that she has featured in since:
Henry: Portrait of a Serial Killer, Part 2 (1996) - Cricket
Night of the Lawyers (1997) - Pressie Brooks
Three Below Zero (1998) - Moriat Greenberg
The Family Man (2000) - Jeannie
Under the Tuscan Sun (2003) - Grace
After the Sunset (2004) - Sheila
Kicking & Screaming (2005) - Barbara Weston
Veritas, Prince of Truth (2007) - Nemisii
Straight on Till Morning (2008) - Sarah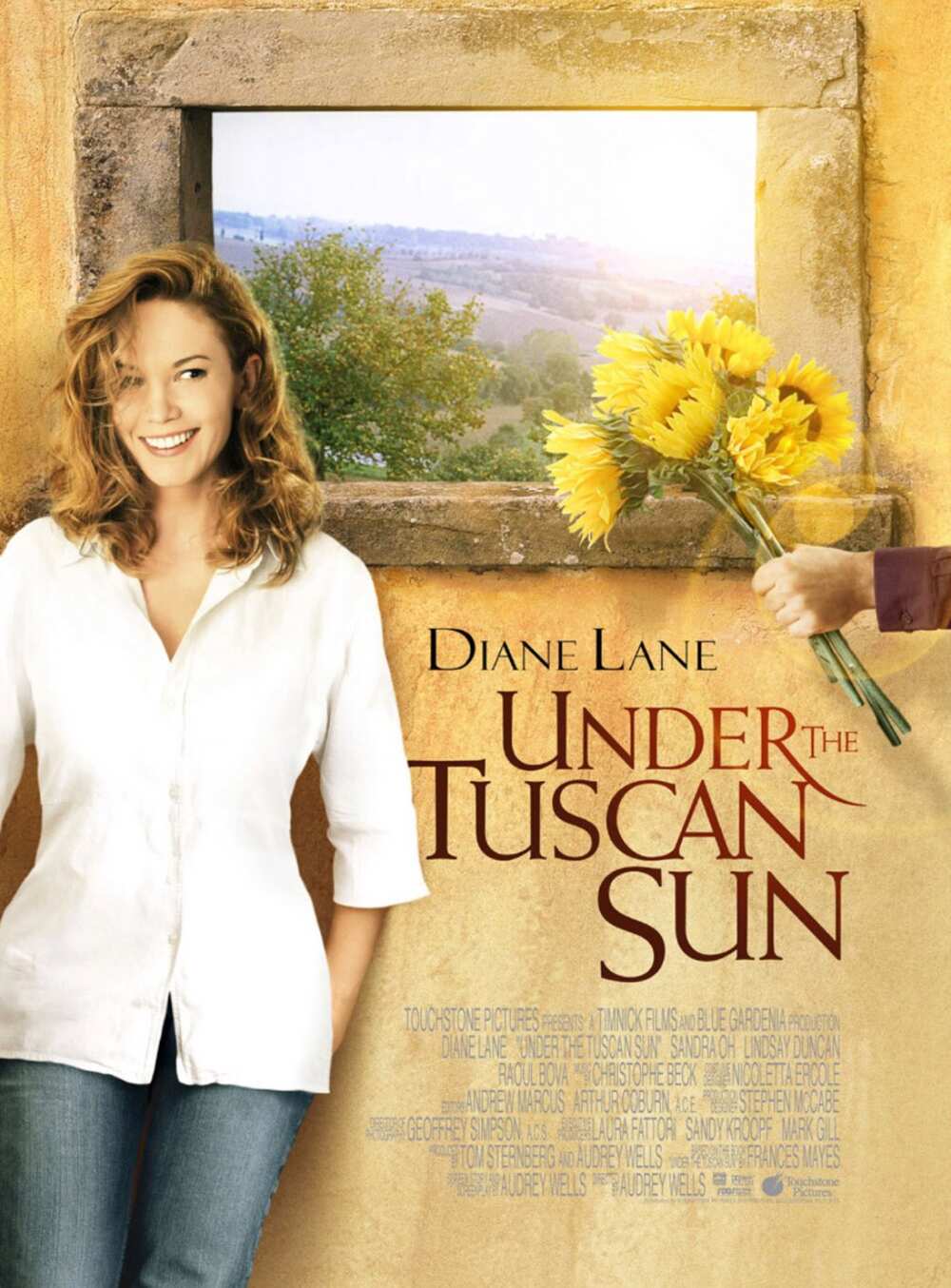 One Way to Valhalla (2009) - Raina
Legion (2010) - Sandra Anderson
Abandoned (2011) - Roxanne
Scary Movie 5 (2013) - Mal
Just Before I Go (2014) - Kathleen Morgan
Any Day (2015) - Bethley
Mark Felt: The Man Who Brought Down the White House (2017) - Pat Miller
Almost Love (2019) - Elizabeth
3022 (2019) - Kate
Kate Walsh TV shows
Some notable series that the star has been in include
Swift Justice - She played Paula 'Paulie' Goddard in the 11th episode of the first season.
Law & Order (1997) - In the season three episode Navy Blues, Walsh played the role of Lt. Kirstin Blair
Cupid (1998) - She portrayed the character, Heidi, in season one episode six.
The Mike O'Malley Show (1998) - Marcia in both the pilot and the second episode Out of Their League
The Weber Show (2000) - In the episode And Then He Had to Give a Thumbs Up, she portrayed Stace.
Norm - From 2000 to 2001, she featured in four episodes of this show.
The Fugitive (2001) - Agent Eve Hilliar in three episodes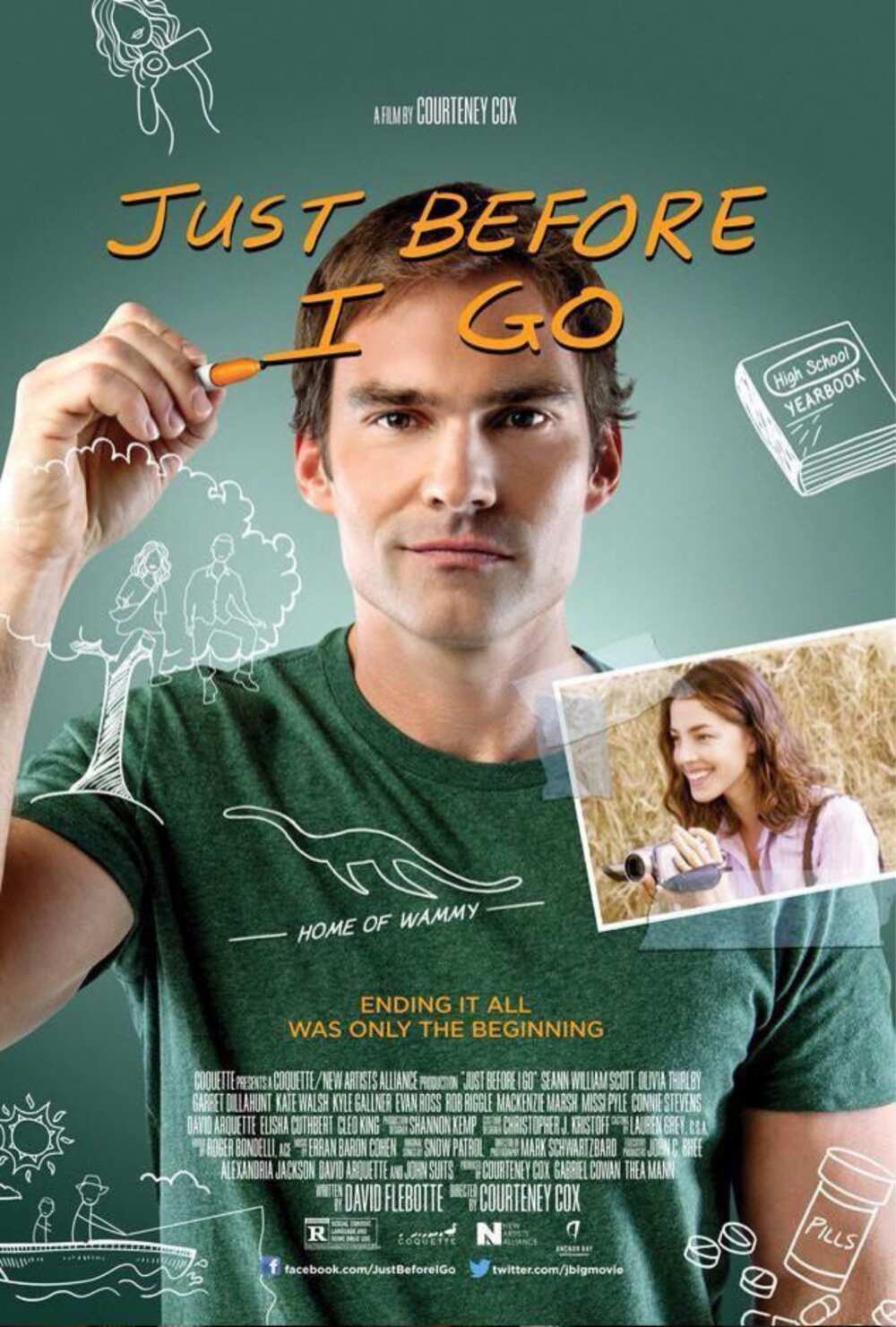 The Mind of the Married Man (2001) - Carol Nelson for three episodes
The Drew Carey Show - She joined the cast of this series in 1997 and for six years, until 2002, she featured in the show as Nicki Fifer for 22 episodes.
The Men's Room (2004) - Karen
CSI: Crime Scene Investigation (2004) - Mimosa in the season five episode Ch-Ch-Changes.
Cheap Seats: Without Ron Parker (2006) - Rochelle in the season three episode, Games with Animals: Horse Pulling, Bull Racing, Rattlesnake Challenge.
King of the Hill - In 2009, she voiced the character Katt Savage in the season 13 episode, Uncool Customer.
Funny or Die Presents... - In 2010, she portrayed Rodriguez in four episodes of this show's first season.
Full Circle (2014) - Trisha Campbell in three episodes.
Fargo (2014) - Gina Hess in four episodes in season one.
Bad Judge (2014 - 2015) -Rebecca Wright
The Umbrella Academy (2019) - The Handler for four episodes. As The Handler, she was the composed and confident leader of a mysterious bureaucratic company
13 Reasons Why (2017 - 2019) - For 27 episodes, the actress has played Olivia Baker in this very popular Netflix show.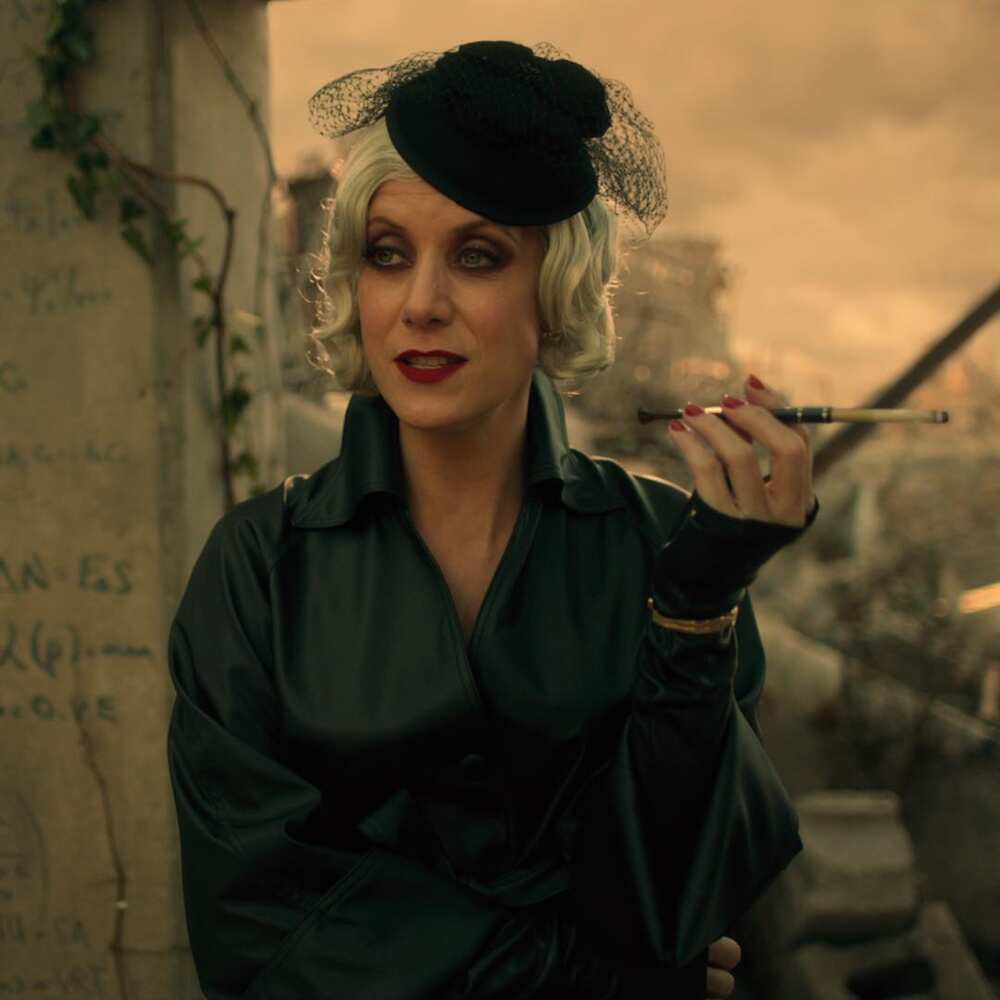 Other Kate Walsh Netflix movies and TV shows include
13 Reasons Why: Beyond the Reasons
3022
Grey's Anatomy
The Perks of Being a Wallflower
Private Practice
#realityhigh
Umbrella Academy
Kate Walsh Grey's Anatomy
From 2005 to 2012, the star played Dr. Addison Montgomery in the show for 59 episodes. Her departure from the show came as a shock to many of the show's fans.
As Addison, Kate quickly became a fan favourite as soon as she made her debut in season one episode nine, Who's Zoomin' Who? Her last episode in the show was in 2012 in the season eight episode If/Then.
Why did Kate Walsh leave Grey's Anatomy?
The actress left the show because she was offered an opportunity to play the lead in Grey's Anatomy's spinoff show, Private Practice.
Kate Walsh Private Practice
After leaving Grey's, Walsh reprised her role as the neonatal surgeon Dr. Addison Forbes Montgomery on this new series. Unlike Grey's Anatomy, this show was more centered on Addison's life and struggle with infertility.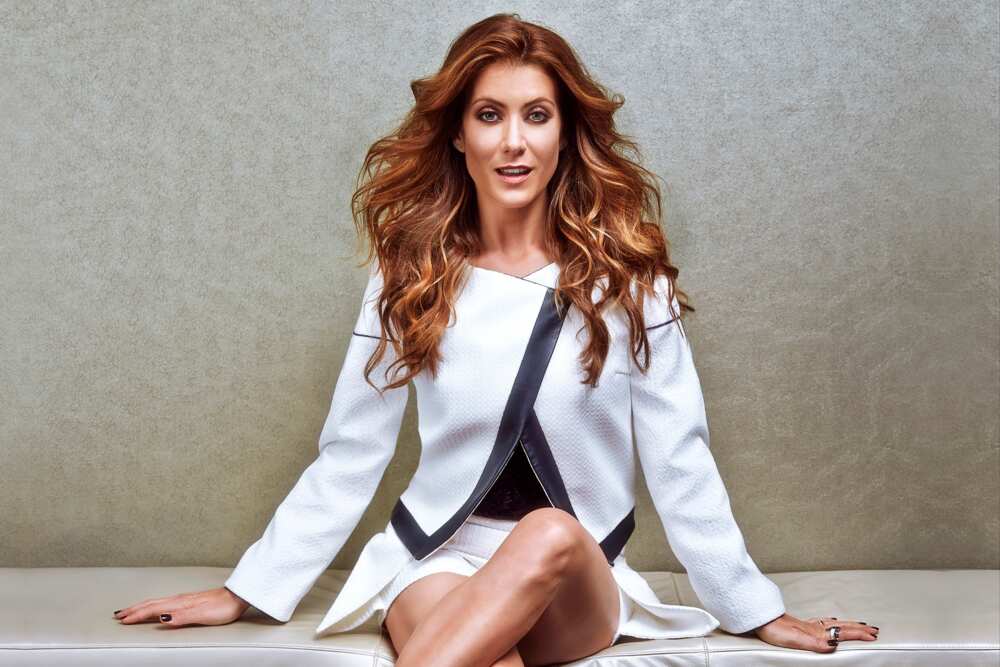 The show ran for six seasons (from 2007 to 2013), and aired for a total of 112 episodes. According to the actress, her transition from Grey's Anatomy to Private Practice was not as easy as fans might have thought.
Not only was she shooting for both shows at the same time, but she was also a newly married woman who discovered, to her shock, that she was going through early menopause at just 39 years old.
Kate Walsh Boyfriend perfume
More than ten years ago, Kate went through a break-up and she could not get her ex-boyfriend's cologne out of her mind. The actress then decided to go on a venture where she could create this same scent herself.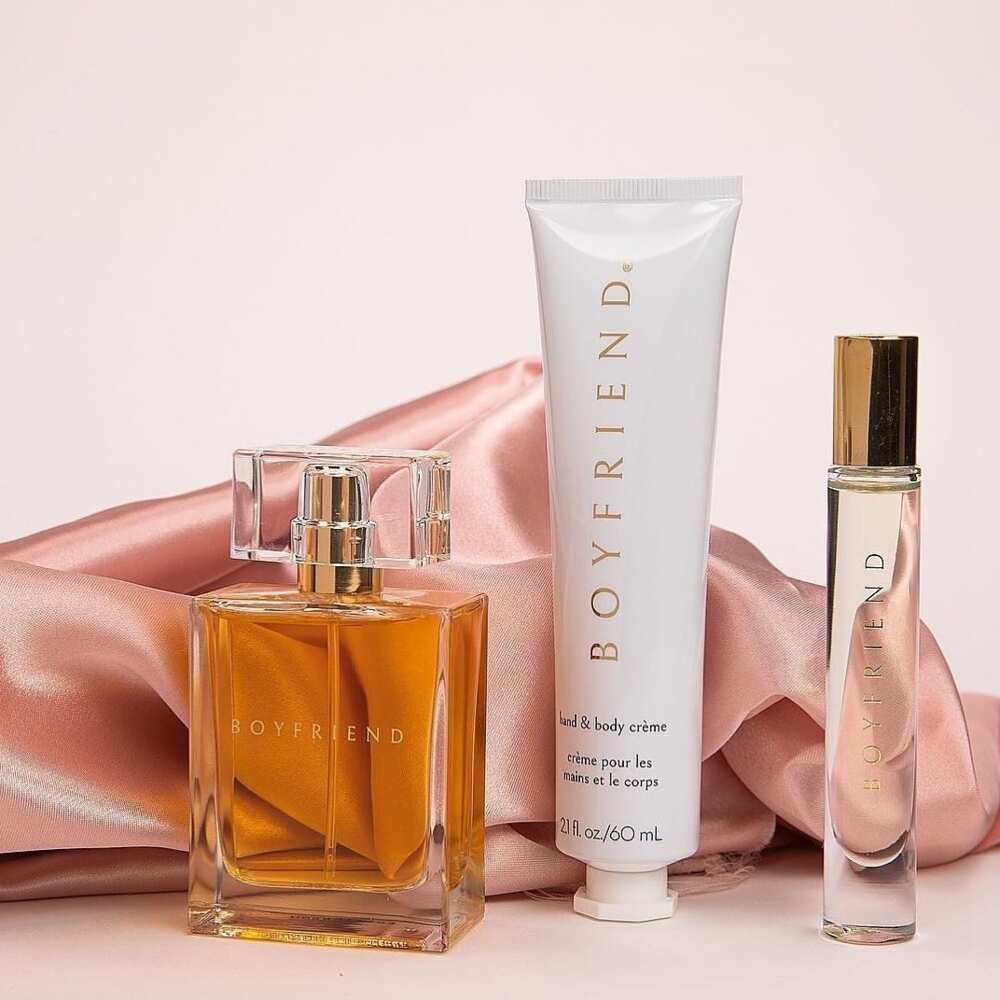 She partnered with an award-winning perfumer, got creative control over the scent, and in 2009, Boyfriend was launched. The fragrance sold out in 20 minutes.
The perfume's unique smell has been described as having 'juicy plum notes and night-blooming jasmine at the top, layered over amber, tears of benzoin, and a little bit of musk.'
It is also marketed as smelling like "cozy, love." Despite the perfume's popularity, Walsh took a break from its production and sales in 2015.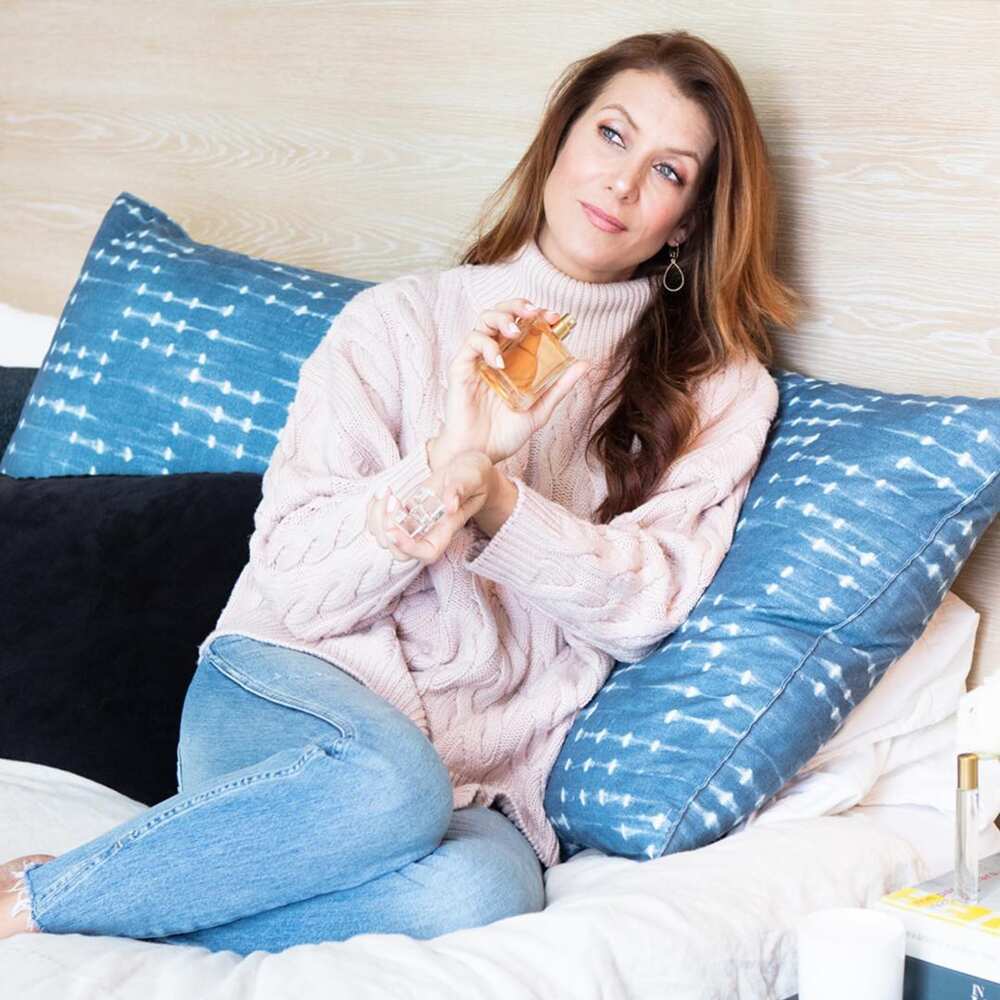 After a three-year hiatus, she relaunched the brand once more. Today, the company has grown and not only sells the fragrance alone, but has expanded to include car fresheners, room sprays, cosmetic bags, hand & body crèmes, rollerballs, and candles.
On the website, Kate Walsh Boyfriend fragrance retails for $65.
Kate Walsh dating history
Kate Walsh and Alex Young were first spotted together on 28th April 2007 in Los Angeles at a fund-raiser for Barack Obama. Less than a month later, the Private Practice star announced that Young proposed to her with a Neil Lane Jubilee-cut diamond ring while they were in San Francisco.
On 1st September 2007, Alex Young became Kate Walsh husband when the two tied the knot at Ojai Presbyterian Church in Ojai, Ventura County, California. For her wedding, the star wore a beautiful custom-made Monique Lhuillier gown.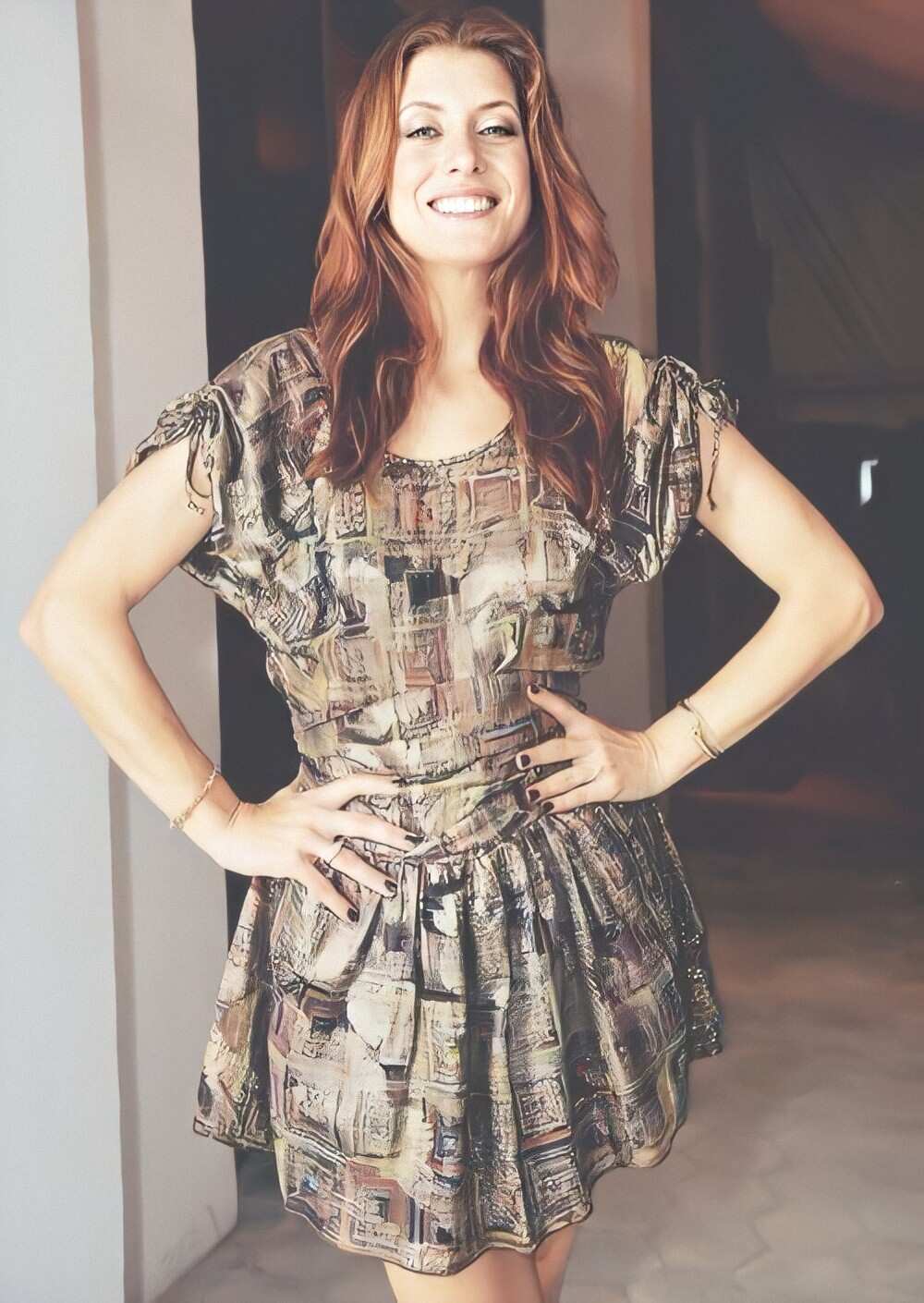 The lovebirds and their guests later went for the wedding reception at the lavish and exclusive Ojai Valley Inn & Spa's Casa Elar estate. Sadly, however, their marriage was not meant to last.
On 9th December 2008, after just 15 months of marriage, Kate Walsh husband filed for divorce in the Los Angeles County Superior Court. In the divorce papers, Alex cited irreconcilable differences as the reason for the request for the dissolution of their marriage.
Two weeks later, the actress countersued. After more than a year in court, their divorce was finalized on 5th February 2010.
Other men that have been romantically linked to the star include
Neil Andrea - After her divorce, she started dating Andrea in 2009. They broke up two years later in 2011.
Chris Chase - After her break-up with Neil, she and Chase dated for four years before breaking up in July 2015.
Trevor Davis - The actress reportedly broke-up with the actor-producer in 2017 after he revealed that he was not ready to have children
Since then, the actress has not revealed if she is dating someone else or not.
Kate Walsh kids
Does Kate Walsh have any children? Her and ex-husband Alex Young divorced before they could have children together.
What is more, the actress cannot have kids due to premature menopause. Her eggs are not viable, and thus, she will never be able to bear children.
The star realized that she had this condition after her sister, who was going through the same thing, called and asked her to get checked:
My older sister called and was like, 'By the way, you should go and get yourself checked because I am going through menopause early.' And I am like, 'You are just scaring me.' And then yeah, sure enough, I went, and they were like 'You have one egg, and there is a hairline fracture. So enjoy it.'
In spite of the heartbreaking diagnosis, the actress has not given up hope yet. She revealed that she would still love to have children and has considered adoption but would like to have a partner to do it with.
How much is Kate Walsh worth?
As of 2020, Kate Walsh net worth is estimated to be about $25 million. After being a celebrated actress for more than 25 years now, the star has amassed substantial wealth. In 2012, she was among Forbes' highest-paid actresses.
It was estimated that she would take home a cheque of about $275,000 per episode of Private Practice. In 2016, the actress rented out her Encino California rustic ranch style house for $15,000 a month before listing it for sale a year later in 2017.
The house had been bought in 2013 for $2.725 million and was sold to David Arquette for $4.6 million.
Not only does she earn money from real estate, acting, and several businesses, she has also partnered with brands such as Garnier and Equelle over the years.
In spite of multiple struggles with her health and love life, Kate Walsh is flourishing. She has various films and shows in the works, and her fragrance business is blossoming.
Source: Legit.ng