Allison Stokke bio: Age, net worth, husband, where is she now?
Women in athletics are not always easily identified by many people, but this is not the case for Allison Stokke. For a long time, her fans loved her pole vaulting skills, with many still following her career closely now that she is a sportswear and fitness model.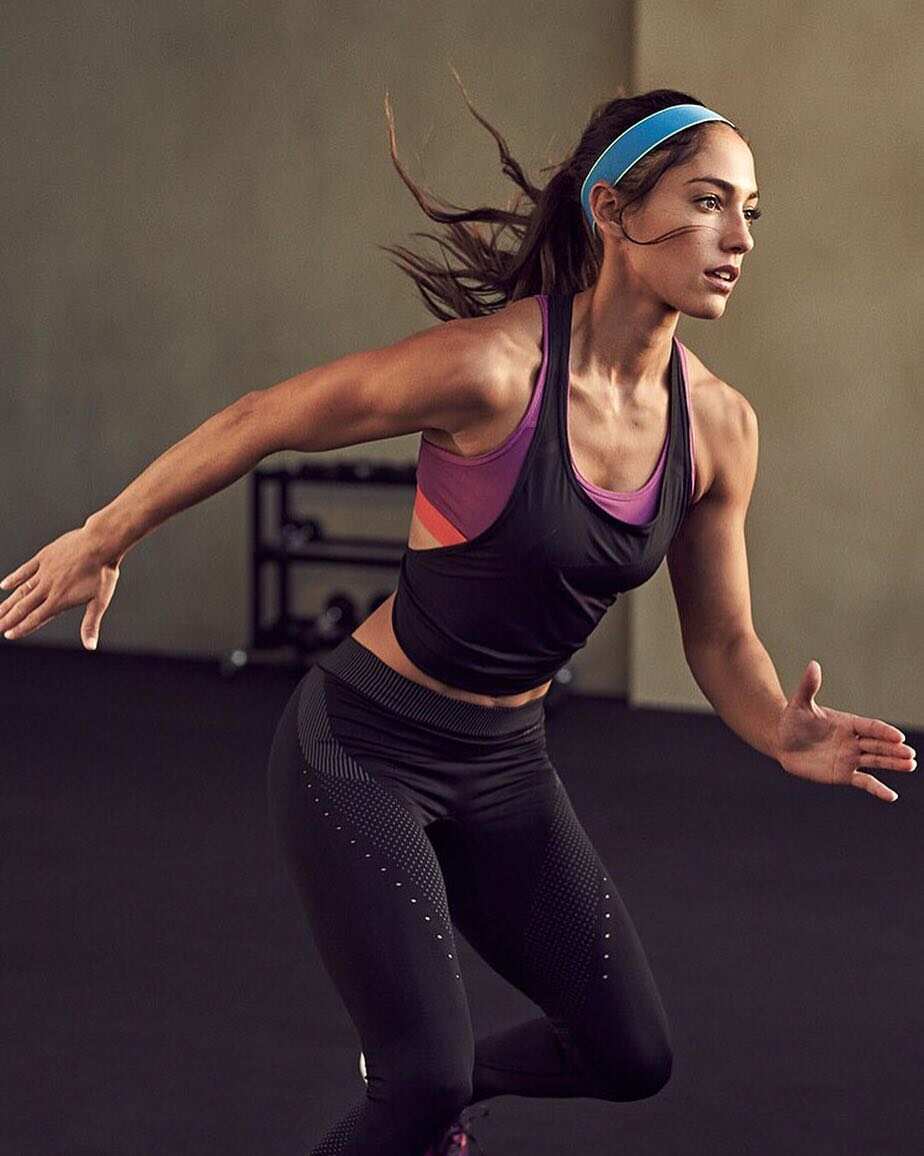 However, she has not been a sensation for her athletic skills alone since she was involuntarily portrayed as a female sex symbol when her pictures were shared online sometime back, portraying the rampant sexualization of sportswomen. She has worked with large companies such as Nike and Athleta.
Profile summary
Name: Allison Rebecca Stokke
Date of birth: 22nd March 1989
Age: 31 years
Place of birth: Newport Beach, California
Nationality: American
Ethnicity: White
Parents: Allan and Cindy Stokke
Sibling: David
Height: 5 feet 7 inches
Weight: 56.7kgs
Allison Stokke age and early life
How old is Allison Stokke? Allison was born on 22nd March 1989, which makes her 31 years old.
She was born and raised in Newport Beach, California. Her family comprises of her parents, Allan and Cindy Stokke, as well as an older brother by the name David.
What ethnicity is Allison Stokke? She is of white ethnicity and American nationality.
She pursued her education at Newport Habour High School before proceeding to the University of California. She excelled in sports at both schools, taking a special interest in pole vaulting.
Her track achievements include breaking the American record for a high school freshman with her 3.86-meter vault back in 2004. She went on to set a new record of 4.11 meters in 2005.
Career progression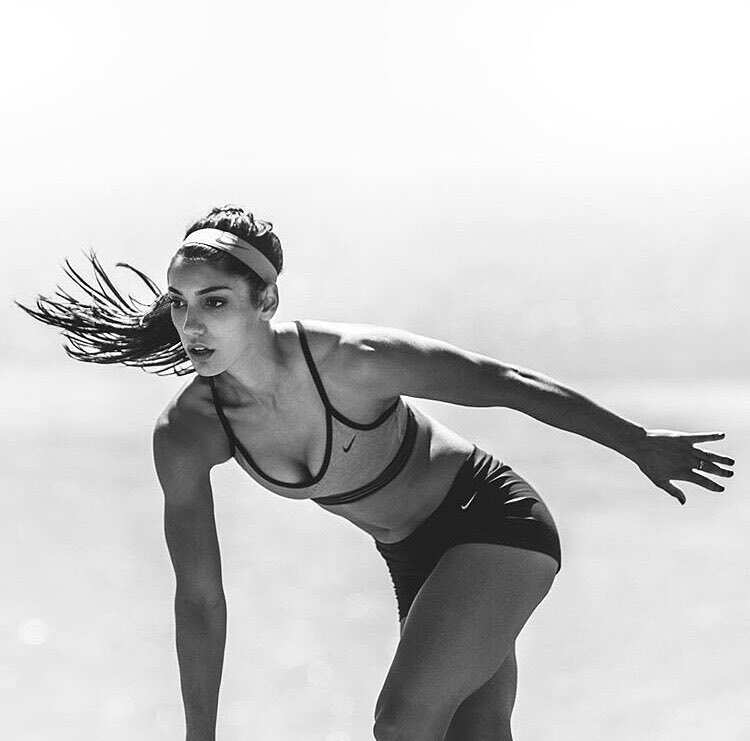 Most people know her as the pole vaulter Allison Stokke. However, she first started her career as a gymnast, following in the footsteps of her older brother David.
David competed at the national level. He was a successful gymnast at the time.
Pole vaulting career
Gymnastics seemed to be a great way to start her career since it opened doors to the athletic arena. Her interest in pole vaulting grew when she joined Newport Harbor High School.
She joined the pole vaulting group in her school. She quickly rose to become a nation-wide sensation, especially after winning 2004's 15/16 United States title at the age of 15 years.
She has been known to break and set new records throughout her young career. Even so, her great success did not come easy.
She broke her legs twice after missing landings. One of the injuries happened in 2005 during a practice session. She was trying out a new pole she had never used before when disaster struck when she failed to get a high enough vault to get her to the landing pad.
How did Allison break the internet?
Most people hardly know the names of athletes unless they are interested in the sport and the personalities involved. However, Stokke's case was different when she became a sensation online after her picture in the field was sexualized.
It happened that a journalist in New York took Allison's pic back in 2007. The picture was meant for a Californian track and field website which was not a problem.
However, things go out of hand when the pic, which was taken earlier in the year 2007, was later re-posted on a sports blog site, With Leather, months later. The blog is known to have a huge male fan-base whose comments on pics are not always polite.
The blogger wrote an article titled 'Pole Vaulting is Sexy, Barely Legal,' thus attracting comments from his fans. As usual, the fans went on to ravel about Allison's sexiness, not minding that she was only 17 years old when the picture was taken.
In fact, she had just turned 18 when the blogger shared it, thus portraying her as a sex symbol. The blogger's descriptions focused on Stokke's physical appearance rather than on her skills as an athlete.
Unsurprisingly, though, the blog was known to objectify women in sports. It was not a shock that the picture went viral after the blog owner shared it with his readers, adding his own suggestive comments and descriptions to the posted pic.
The photographer threatened to take Matt Ufford, the owner of the blog, to court if he failed to take the picture down. However, the damage was already done, and Allison Stokke infamous photo was already doing rounds online.
Many more websites had picked it up and posted it on their sites. Allison Stokke hot pics had gained a lot of attention, to the point where she was mentioned on national publications including The Washington Post, The New York Times, Los Angeles Times and on numerous online search engines.
She even got mentioned internationally by the Australian site, The Sydney Morning Herald, in addition to attracting the attention of German's daily Der Spiegel.
While most of what happened was not intentional, this specific Allison Stokke famous picture got her trending online for a while. She tried to get ahead of the story but was unable to stop the comments.
She resulted in seeking professional help when she hired a media consultant to handle the unwanted attention and publicity.
Allison Stokke photo that ruined her career
The picture continued to do rounds online to the point that her career was threatened. Nevertheless, she did not let this put her down.
A photo that had been innocently taken when she was on the field had been turned into a sexual symbol against her will. All of a sudden, she became the example of what could go wrong when a girl competed in athletics.
New websites and social media fan pages were created, all of which focused on circulating her pics. Sadly, the attention was not drawn to her achievements, but rather focused on how sexy she was.
While she continually gained unnecessary attention both on social and mainstream media, she kept her head high. She did not let the emails and countless friend requests she got, some of which came from grown men, dissuade her from working on a possible future career in pole vaulting.
Dad comes in to help
As a trained lawyer, Allison's dad, Allan Stokke, tried to help his daughter get ahead of the scandal that had already gotten out of hand. He combed through all the sexist comments being said about his daughter, trying to find out if there was a stalker, or if anyone had said anything illegal.
This was his own simple way of trying to ensure that no harm came to his daughter. However, he was well-aware of the fact that they would not be able to stop the internet.
A ray of hope
When everything seemed overwhelming and impossible to solve, CBS came in to offer a little hope for the family. It managed to turn the story around into an educative one, warning viewers about how easy it was to turn young people into public figures all for the wrong reasons.
The televised show was aimed at highlighting the plight of the people who were affected by such negative publicity such as Allison.
Career salvaged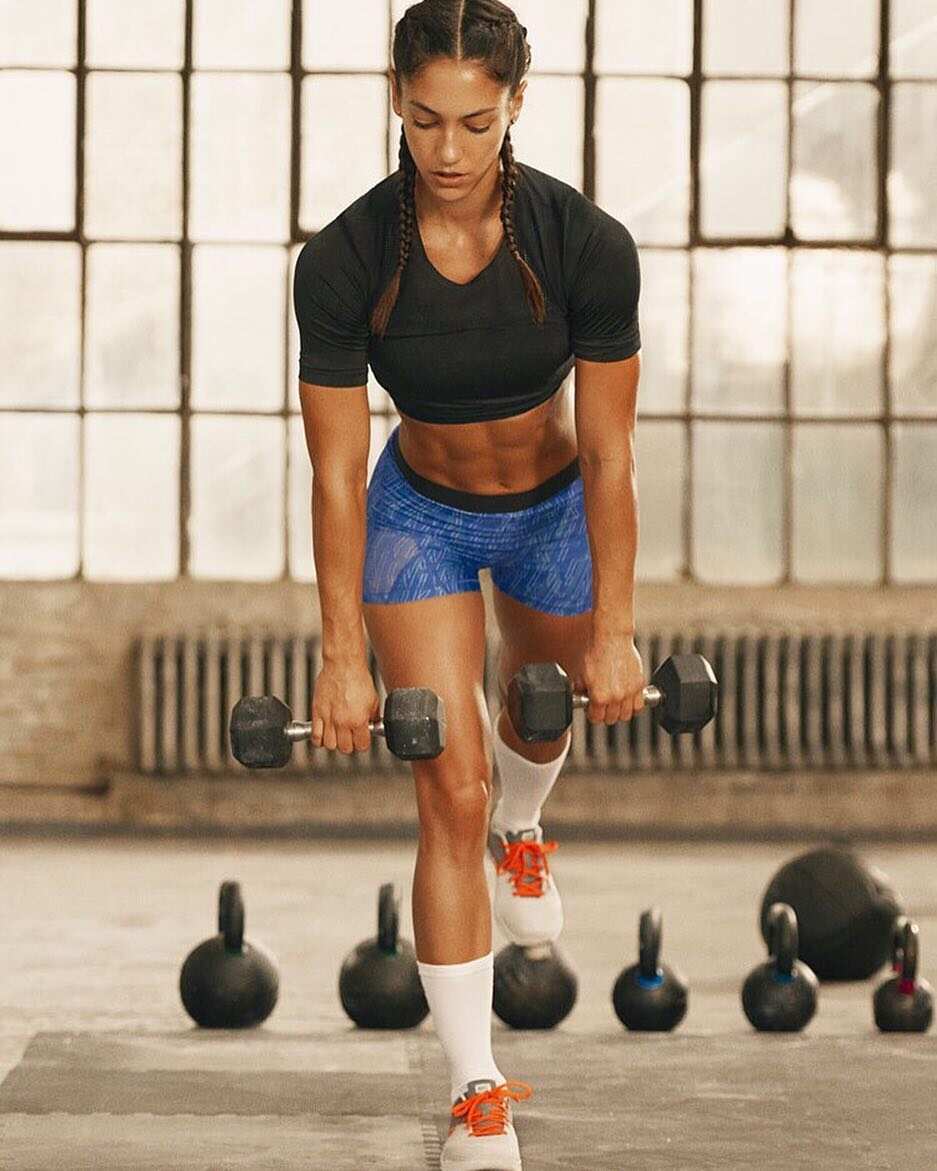 Not many people would have survived the pressure that came with the massive attention that Allison had to bear when her photos went completely viral. All attempts that she and her family made to keep strangers from invading her privacy only made them even more adamant as they became even more invasive.
She focused on getting through high school and getting a chance to move on. Not giving up on her dreams, Allison emerged eighth at the national junior championships in her final year of high school.
The results were pretty impressive and meant that she still had a shot at doing what she enjoyed most. However, it appeared as though she would have to wait to get offers to join a higher institution of learning of her choice.
Her decision to attend the University of California, Berkeley came after a long wait. She was awarded an athletic scholarship to compete as a pole vaulter for their track and field program.
What is more, she would be working with one of the most reputable trainers, coach Scott Slover, a previous five-time All-American at UCLA.
She trained hard to gain success in her college pole vaulting career. Allison registered early success in her first year at UC Berkeley when she broke the school's freshman record with a vault of 4.11 meters (13 feet, 5 ¾ inches).
One year later, she came eighth at the Pac-10 Championships in addition to emerging seventh at the MPSF Indoor Championships. Her continued success made her debut at the NCAA Women's Division I Outdoor Track and Field Championships, where she completed in the 19th position.
By the time she was a sophomore, it had appeared as though her pole vaulting career was receding. Despite adding 4 inches to her personal best pole, she emerged eighth at the Pac-10 Championships and seventh at the MPSF Indoor Championships, failing to appear among the top.
Her junior year saw her falter even more when she failed to make it for the NCAA Championships qualifications.
Trying for the 2012 Olympics
Despite her diminishing collegiate performance, she chose to concentrate on competing in the London Olympics. Her efforts began to pay off when in 2012, she registered a new lifetime best of 4.36 meters (14 feet, 3 ½ inches).
This was the redeeming chance proving that Stokke still had a strong chance to make it to the Olympics. All she had to do was to clear the height that mattered most.
She continued to put in work to increase the possibility of getting a spot at the 2012 Olympics. Unfortunately, she did not make it as she could not clear the opening height of 4.25 meters (13 feet, 11 ¼ inches).
Her professional career in pole-vaulting seemed to have come to an end.
Changing careers
While her prospects in pole vaulting seemed to have come to an end, her athletic nature opened up newer fronts to be conquered. She slowed down her life as a professional athlete but embraced a new path with open arms.
Sports modelling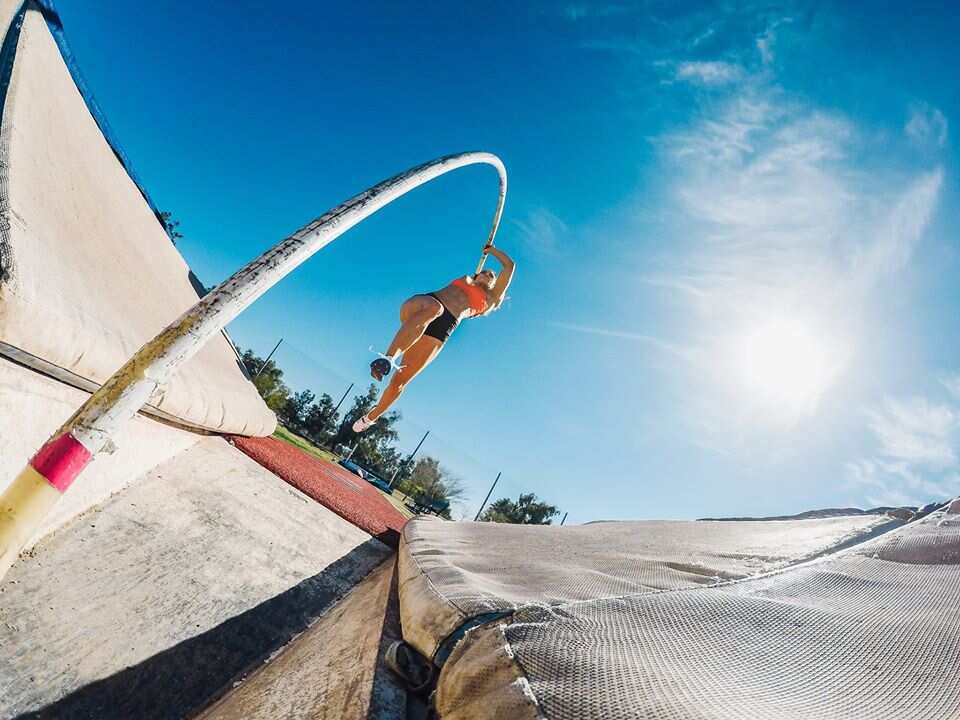 Allison changed careers and ventured into sportswear modelling and performance marketing. She found a way of merging her love for pole vaulting with her modelling career.
She got her first major deal in 2015, working with Nike. One year later, she also modelled for Uniqlo.
She then teamed up with GoPro, where she recorded several videos of herself pole vaulting with a camera attached to it. She advertised her skills, while at the same time portraying the unique abilities of the camera equipment.
The impressive performance of the video on YouTube marked a major success for both Allison and the company.
Her passion for pole vaulting continues
Despite her exit from national competitions, she is still a regular in national-level track meets. In fact, in 2016, she finished in eighth place at the Chula Vista OTC High-Performance meet.
In 2017, she performed better when she emerged in third place at the 2017 Austin Longhorn Invitational. This marked her zeal to improve and become better at pole vaulting.
Allison Stokke husband
Who is Allison Stokke married to? Allison is married to Rickie Fowler, a golfer. The relationship between Allison Stokke and Rickie Fowler started in 2017.
Just like her, Rickie Fowler was also a young athletic prodigy. The golfer is said to have spent 37 weeks as the number one amateur golfer in the world before he even turned 20 years old. He was a sensation at a young age. This is what makes the Rickie Fowler Allison Stokke couple combination outstanding.
A year after their meeting, Rickie popped the question. The couple got engaged in June 2018 and began planning their wedding.
They tied the knot in 2019 in a beach wedding. They shared a couple of pics of their wedding with Rickie in a blue suit and Allison was wearing a classic white gown.
Allison Stokke height
According to Greatest Physiques, Allison is 170 cm tall. She is also said to weigh 56.7 kg.
Her great body stats make her a worthy athlete and successful sportswear model.
Allison Stokke net worth
How much is Allison Stokke worth? According to Celebrity Net worth, Stokke has a net worth value of $500,000. Most of this amount has been accumulated over the years due to her earnings in the field as a pole vaulter.
Her career as a sportswear model has also contributed to her overall wealth. Her association with major brands such as Nike and Athleta in 2015, not forgetting Uniqlo in 2016, is not only a show of her career success but also proof that she receives significant pay.
Allison Stokke today
It is interesting to want to know the whereabouts of Allison Stokke now. Several years after she was a social media sensation, and after her exit from professional pole vaulting, a lot of her fans may be wondering where she is today.
Well, she is now a married woman. She got married to a golfer and fellow professional athlete, Rickie Fowler.
She utilized the once negative publicity to inform more people about pole vaulting as opposed to cashing in on her fame. Clearly, her love for the sport remains strong and steadfast despite having changed careers.
Speaking about the picture that made her famous, she referred to it as an alter ego. Her chosen response about the picture has always been either to ignore the issue or to use it as an encouraging factor.
She has learnt to differentiate herself from the picture over the years. She is still training and following her passion for pole vaulting.
In 2019, she was recorded saying that she still trains with a new coach in Phoenix. Her failure to make it to the Olympics did not discourage her from working on her dream of one day representing her country at the competition.
She continues to pursue her pole vaulting career and passion, even though not in national competitions. When she is not doing this, she is modelling for sports brands or hanging out with her husband.
Allison Stokke is one of the most encouraging female professional athletes, especially in pole vaulting. The fact that she did not allow a previous set-back hold her back makes her an admirable character for today's upcoming athletes.
Source: Legit.ng