Chanel West Coast bio: real name, songs, age, net worth, laugh, parents
Chanel West Coast is an accomplished recording artist with quite a number of releases under her name. The star, now 31 years old, is well known to many for her appearance in the MTV shows Rob Dyrdek's Fantasy Factory and Ridiculousness. How did she become so famous, and who is she behind the scenes?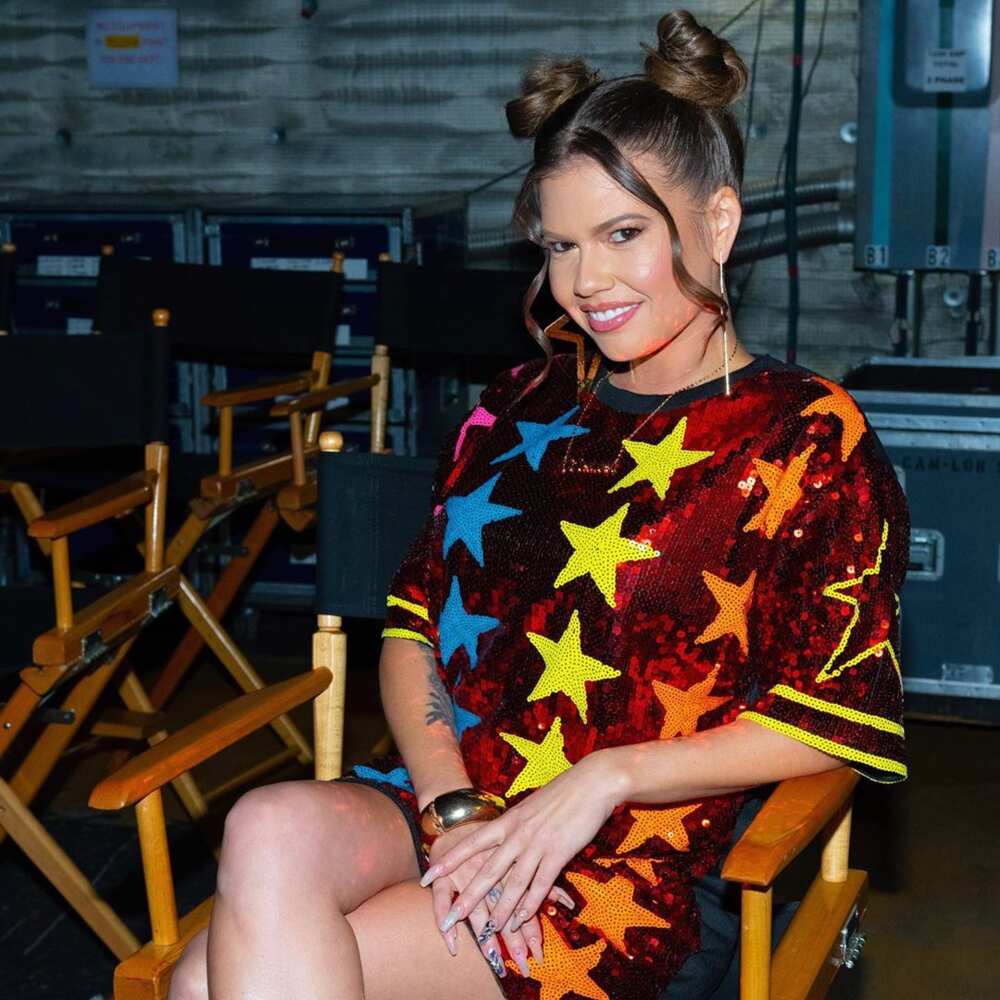 At just 31 years old, Chanel can boast of a number of titles: singer, songwriter, actress, and model. The rapper has forged her name in the highly competitive industry, managing to win the attention of fans worldwide. If her net worth is anything to go by, then Chanel West Coast is definitely one artist to watch out for.
Profile summary
Chanel west coast real name: Chelsea Chanel Dudley
Birthdate: 1st September 1988
Place of birth: Los Angeles, California, united states of America
Chanel West Coast age: 31 years old
Zodiac sign: Virgo
Occupation: Singer, songwriter, rapper, actress, model
Nationality: American
Ancestry: Mixed - Jewish and American
Hair color: Dyed blonde
Eye color: Dark brown
Shoe size: 5 US
Dress size: 6 US
Body measurements: 34-24-32 inches
Bra size: 34B
Height: 5 feet 2.5 inches
Weight: 50 kilograms
Early life and family
Chanel West Coast birthday is on 1st September. The artist was born in 1988 in Los Angeles, California, United States of America.
Chanel West Coast parents
While not much is known about her family, the following details are evident from her biography:
Her parents separated when she was young. Due to this, she had to alternate between living with her mom in North Hollywood and living with her dad in New York City.
Her father, Russian, was a local DJ who would take the then eight-year-old Chanel to night clubs throughout the city as he worked. Chanel reminisces that some of her fondest memories are those of her sitting under DJ booths so no one could see her.
Chanel West Coast mom was into the m*rijuana business. She cultivated m*rijuana and sold it to settle bills. This is how Chanel began smoking the drug when she was only 11 years old.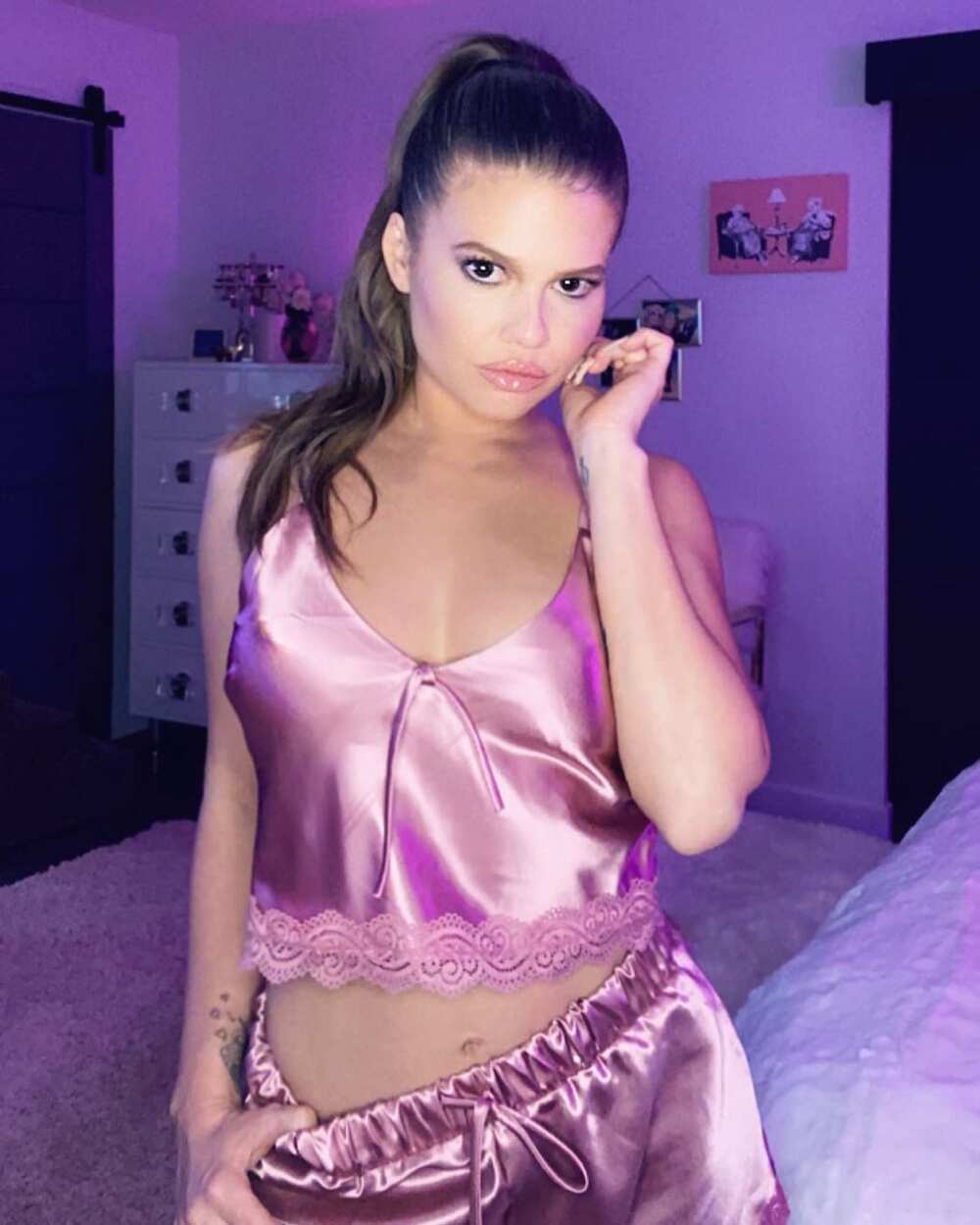 Education
Not much is known about the rapper's educational history. However, it is in the public domain that she went to Taft High School. However, she dropped out after two years and completed her education through homeschooling.
Body measurements
Chanel is quite a beauty. She stands at a height of five feet and three inches. Her current body weight is approximately 50 kilograms.
Her body measurements are 34-24-32 inches while her bra size is 34B.
Her dress size in US measurements is 6 while her shoe size in US measurements is 5.
Appearance
The rapper has dyed blonde hair and dark brown eyes.
Career in music
As a child, Chanel's interest in the entertainment industry was supported by her parents.
At just 14 years old, she had already begun rapping. She took singing and dancing lessons when she was young. As well, she took part in hip hop dance competitions, which she won.
Another exciting thing about her life as a young lady was that she also picked up skateboarding as a hobby.
As luck would have it, her rapping career led her to Marvin Gaye's Hollywood Hills studio.
When she was 17 years old, she launched her first MySpace music page under the name 'Chanel West Coast'.
In 2009, Chanel began recording music by collaborating with various artists. Some of her collaborations include:
Melting Like Ice Cream –with Tiffanie Anderson
Tramp – with Somaya Reece
PHAMOUS – with Midi Mafia
The year 2009 seemed to have big things in store for the rapper, as she also featured in Mike Posner's Cooler Than Me music video that same year
In 2011, she signed with Polow Da Don on their record label known as Zone 4. She later left the label without releasing anything.
In the year 2012, Lil Wayne invited her to his Miami studio to play him some of her music. Impressed by her music, Lil Wayne signed her to his label, Young Money.
In the year 2013, she released her first mixtape titled Now You Know. The mixtape featured some renowned artists such as Snoop Dogg, Evan Ross, and French Montana.
Her second mixtape, titled Waves, was released in the fall of 2015. Waves featured the single 'I Like New ft YG'.
She released another single titled 'Bass in the Trunk' in 2015.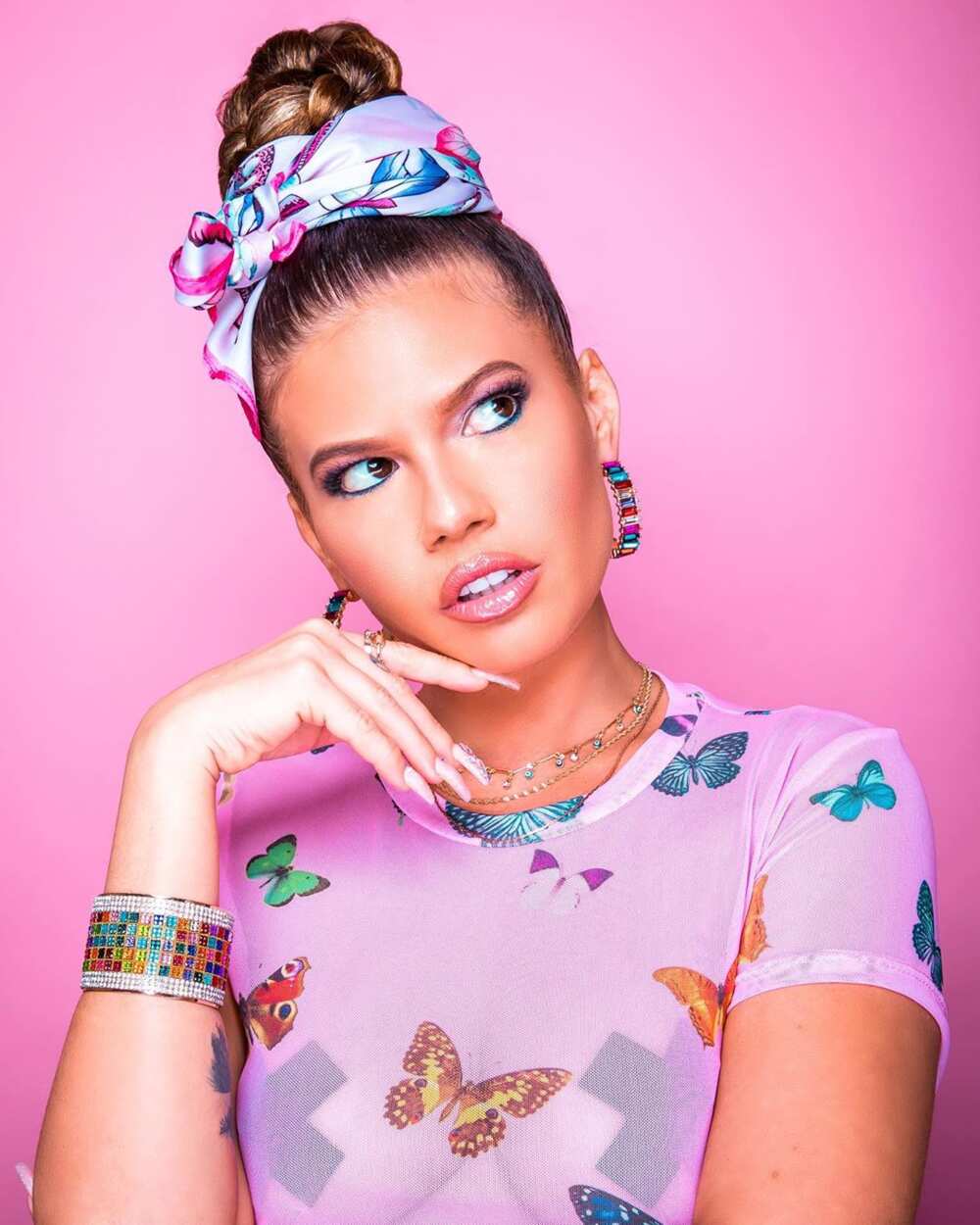 Chanel West Coast albums
Here is a list of all Chanel West Coast albums and the songs they contain:
1. Now You Know
KARL
Mazel Tov
Ain't Got to Worry
Alcoholic
Explosions
Punch Drunk Love
Without You
Greatest Hit
Bigger Than
Nada
Love You Down
One Night
2. Waves
This album was released on 25th August 2015. Its tracklist includes the following Chanel West Coast songs:
Looking Forward
I Like New
Tinted Windows
Let The Money Fall
She Love It
We Gone
Make 'Em Mad
Caliente
By Tonight
What You Know About That
Waves
Her other songs include:
The Middle
I Be Like (feat. Dax)
Quicksand
Creepin
Holiday
Own World
Countin
Notice
Everywhere We Go
Nobody
Anchors
Black Roses
Have It
C'est la vie
I Love Money
Bass In The Trunk
Miles and Miles
Sharon Stoned
Bad Things
Sinister
Anchors
Blueberry Chills (feat. Honey C*caine)
Cookie
New Bae (feat. Safaree)
The Life (feat. Rockie Fresh)
New Feeling
Career in television
In 2009, Chanel started starring as a model and receptionist in the MTV show Rob Dyrdek's Fantasy Factory. Speaking of how he met Chanel, Rob Dyrdek said:
"She had ... on MySpace, talked to my cousins and they were like, 'She's so dumb, she thinks she's a rapper.' And then when I met her, I was like, 'She doesn't just think it, she really believes it, and she's actually good at it.'" "
Chanel also starred in Ridiculousness, a show that elevated the popularity of the Chanel West Coast laugh.
Chanel West Coast Ridiculousness laugh has been described as being similar to a goat-like sound, just like Maria Menounos' laughter.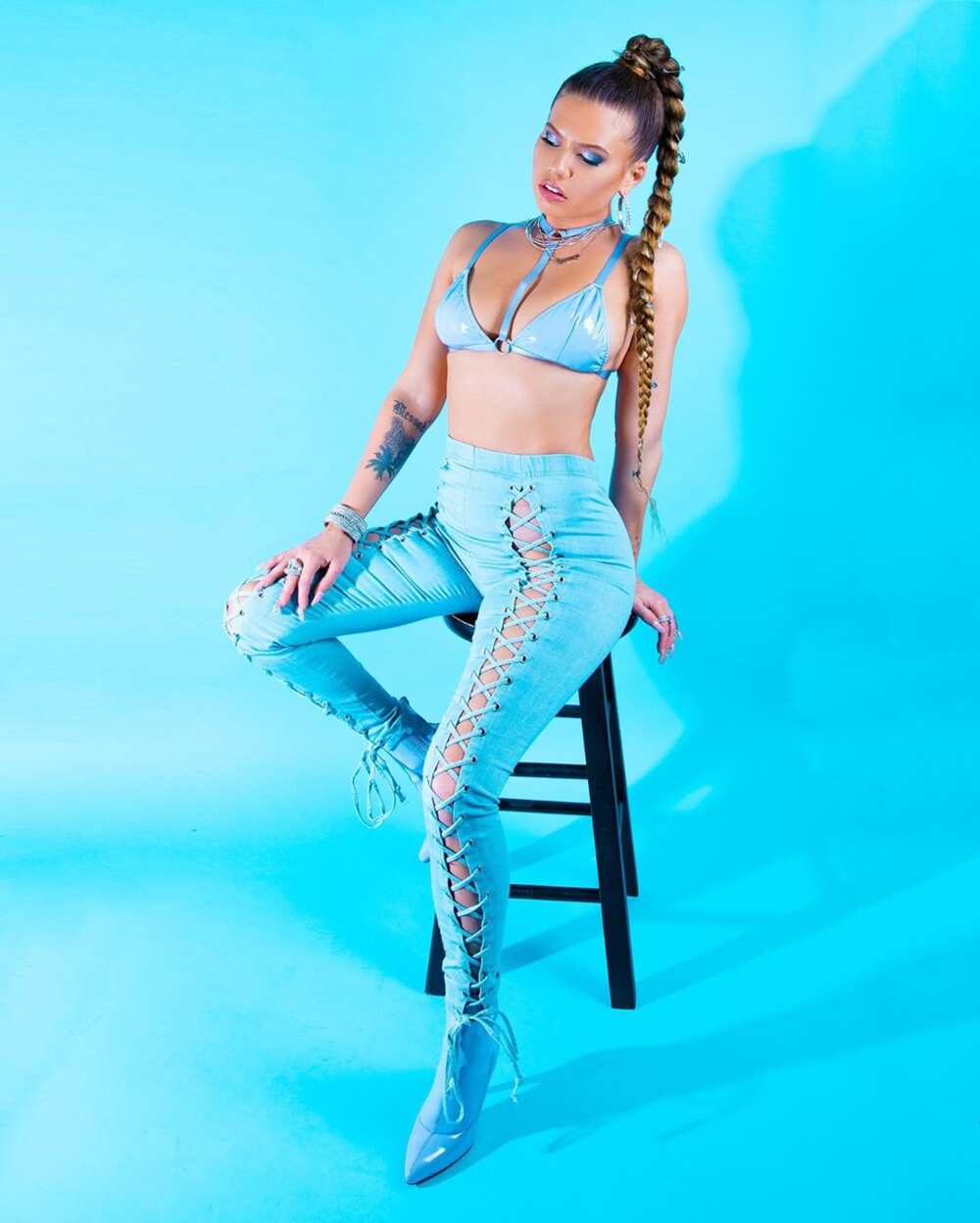 She has acted in the following:
Convenience Store Sessions (2017)
The Playboy Morning Show (2016)
Scream: Killer Party (2015)
Rob Dyrdek's Wild Grinders (2012-2015)
How to Bake It in Hollywood (2013)
Hollywood Saturday Night (2012)
The Hard Times of RJ Berger (2011) - she acted as Sheila in this TV show.
She has featured in the following productions as herself:
Italk (2020)
The Chuey Martinez Show (2019)
Ridiculousness (2011-2019)
iTalk Los Angeles (2019)
Pot Pie (2018)
Love & Hip Hop: Hollywood (2017)
Too Shorts Boombox (2017)
Aviator Nation Live from Vestal Village 2017 (2017)
The Domenick Nati Show (2016)
Rob Dyrdek's Fantasy Factory (2009 - 2015)
GGN: Snoop Dogg's Double G News Network (2013)
New Music Live (2010-2012)
Chanel West Coast net worth
According to Celebrity Net Worth, her current net worth is a whopping $6 million.
According to various sources, she received generous amounts as salaries from the multiple shows she was a part of. Her salary breakdown from various sources is as follows:
Wild Grinders – $174, 830. From 2012 to 2015, she lent her voice to Flipz on Wild Grinders.
Rob Dyrdek's Fantasy Factory - $81,170
New Music Live - $108,230
Ridiculousness - $142,050
In August 2019, it was estimated that she makes approximately 11,000 dollars a year from her YouTube channel.
With a massive following on Instagram (3.4 million followers), Chanel can make $6,532.50 to $10,887.40 per post.
Furthermore, Chanel has had brand endorsement deals with huge brands such as Fashion Nova, 310 Nutrition, Beach Bunny Swimwear, and Candy Jewelry Company. These endorsement deals have collectively earned her about $26,140.
She collaborated with Candy Jewelry Company to make and sell handmade Chanel West Coast branded jewelry.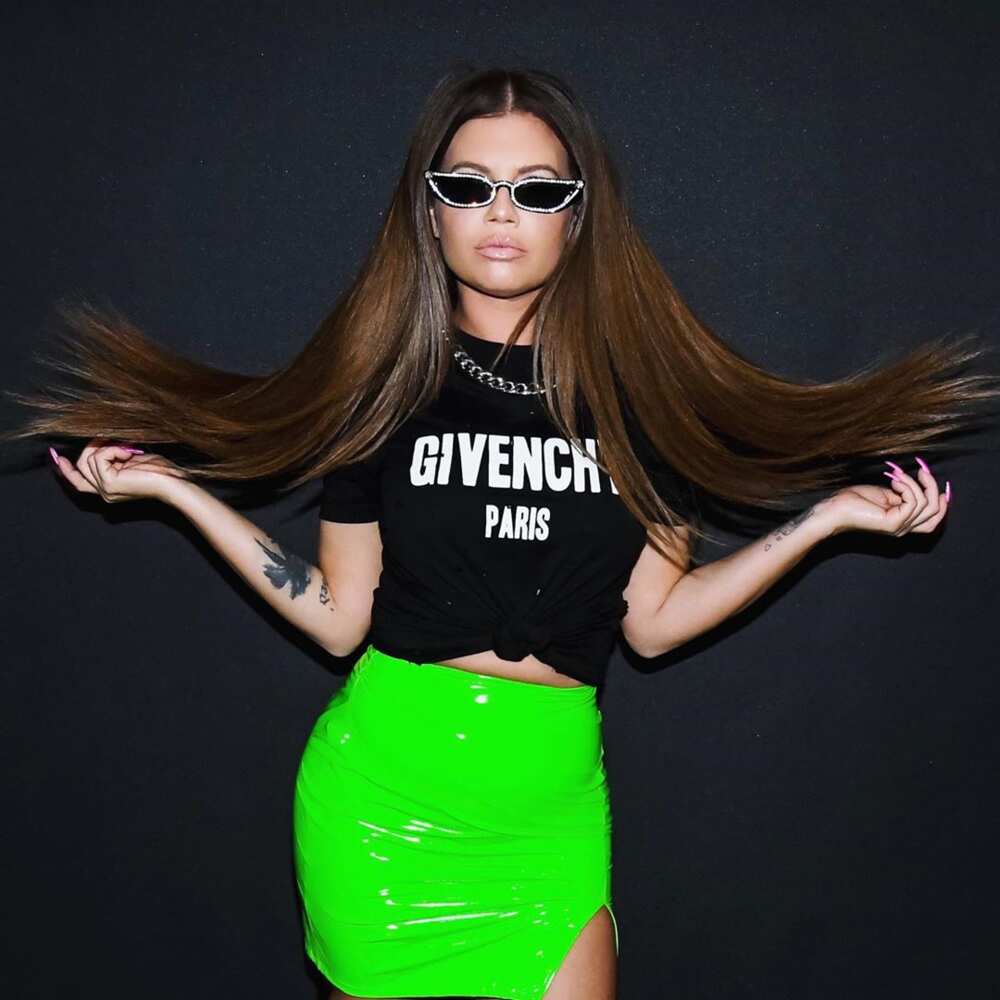 Cars
Chanel reportedly owns these cars:
A Mercedes SLK55AMG. The vehicle is reportedly worth $127,050- $146,080.
A Bugatti Veyron 16.4. This car costs approximately $1.7 million.
Chanel West Coast house
In 2019, Chanel bought a Hollywood Hills home in Los Angeles. The home cost her $1.65 million.
Although it was built in 1954, the home underwent major renovations in 2018. The 2,600 square fit home sits on 0.18 acres of land.
It has three bedrooms, 3.5 bathrooms, a private balcony attached to the master suite, a basement, sky-lit hallways, and a fully landscaped outdoor space.
Controversies
In 2015, Chanel was arrested at 1 OAK club in West Hollywood for allegedly fighting with security guards and beating the cops at the nightclub.
In April 2019, Chanel West Coast released the song 'Sharon Stoned' which led to her being sued by Sharon Stone who claimed that Chanel attempted to capitalize on her name and image. According to court documents:
"The song gratuitously and repeatedly uses the name 'Sharon Stone' in its lyrics....During the song, Defendant Dudley gratuitously repeats the name 'Sharon Stone' thirty-three times and the name 'Sharon' ninety-nine times"
The song's video, furthermore, includes Chanel reenacting scenes from a few of Stone's most popular movies, including Basic Instinct and The Disaster Artist.
The suit requested Chanel to:
...refrain from using Sharon Stone's name, likeness, image, identity, or persona for commercial purposes without her consent" in addition to punitive damages and profits Dudley may have made from the song and video.
Chanel responded to the suit claiming that she was in cooperation with Stone to create the song and its video.
This year, she released a song titled 'Black Roses' in honor of Kobe Bryant. The song elicited mixed reactions, with online trolls accusing her of profiting off the basketball star's death. She responded by saying:
"The song is about showing love to your loved ones before they are gone...It was Kobe's memorial today and my friend just died as well. This song ain't about me or you, it's about spreading LOVE...Wake up and get the message."
Chanel also went on a Snapchat rant this year. In the rant, she complains about her friends who don't like her posts on Instagram. In the video, she says:
"So, something I've realized is that being a friendly person makes less people f**k with you..Especially being in this industry... I am the most friendly motherf***er ever, I just like people I like everybody. Unless you give me a reason to not like you, I f***ing like you. And if I follow you, I'ma like your pictures, unless it's like a really ugly bad picture maybe I won't like it...For the most part I f**ing like everybody's s**t, and nobody likes my s**t...And I'm just like, b***h I'm f***ing famous on a million episodes of TV, and you got way less followers than me and I'm liking your s**t and you don't ever wanna like my s**t? Who the f**k do you think you are? You think I'm desperate because I'm friendly and liking your s**t? Ain't nobody f***ing desperate, I'm just being nice."
The video was roasted on various social media platforms.
Chanel West Coast boyfriend: Does she have one?
Speaking of Chanel's dating history, she has dated the following men before:
Liam Horne - They dated from April 2014 to July 2017. Liam Horne is a Scottish singer who was born on 4th July 1995 in Aberdeen, Scottland.
Solo Lucci - They dated from July 2017 to October that same year. Solo Lucci is an American rapper who was born on 14th May 1986 in Fort Worth, Texas.
For people asking 'Did Rob Dyrdek date Chanel West Coast?' the answer is no.
At the moment, Chanel is single.
Chanel West Coast photos
Here are some of her amazing photos: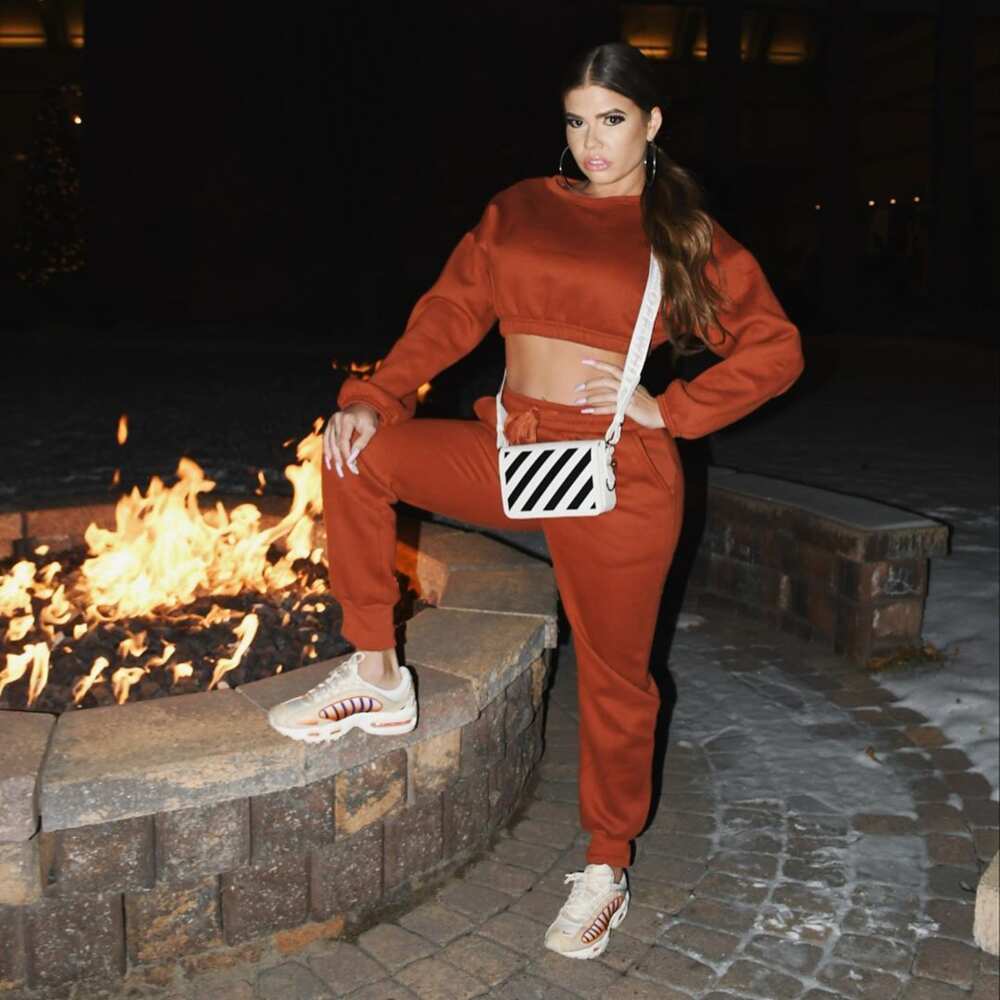 She always looks amazing:
Here is a picture of her looking hot during the holidays:
Yet another awesome pic:
Social media
The rapper is very active on social media. On the Chanel West Coast Instagram account, she boasts of 3.4 million followers and over 3,800 posts.
She joined Twitter in March 2009, and at the moment, she has 828k followers on the platform.
Her Facebook page is popular as well, with over 5 million followers and over 5 million likes.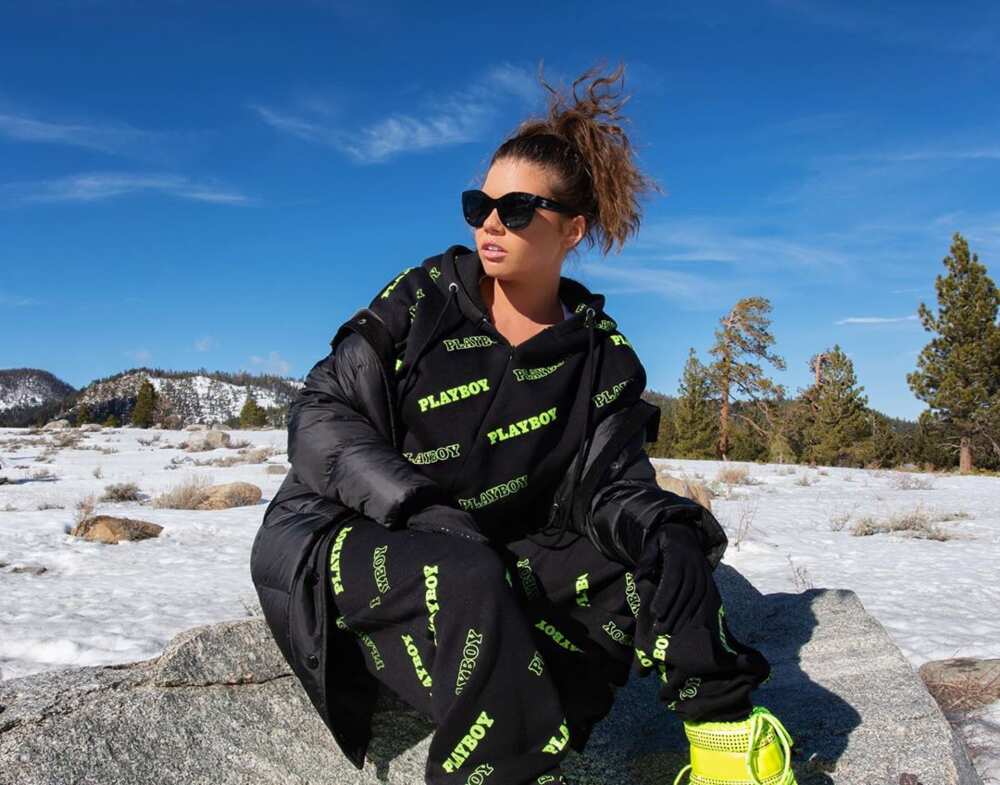 Chanel West Coast quotes
When I first started rapping, I was like, 'I'm gonna be, like, the female Eminem.'
I've been on shows that are very comedic and happy, and you really only get to see one side of my personality. They're not shows about my life or my music, or my struggle or anything like that. They're shows where you pretty much see me laughing and smiling all the time
Music is what I do pretty much all the time. I'm always in the studio. I'm always rehearsing for shows. Always doing shows.
You can have opinions, but it doesn't mean they're right.
I don't think a lot of people know what a real artist I am. I don't think they know I write my own music.
I would say Tupac influenced me the most to start rapping, but as far as a female icon that I've looked up to since I was six or seven is definitely Gwen Stefani.
I'd rather be busy, working non-stop, than being bored at home, you know?
My real, full name is Chelsea Chanel Dudley. In my opinion, Chelsea Dudley does not sound like a rapper. So I was like, 'You know what? Imma drop both of those names and just go by Chanel.'
I grew up listening to a lot of rap music. My dad's a DJ from Brooklyn, and he's a very soulful guy, so he always spun a lot of hip-hop, and that's where I get a lot of my hip-hop influence.
From Snoop, I've learned quite a bit. I learned that sometimes I need to keep my mouth shut. It's a long story, but definitely to sometimes keep my mouth shut. I also learned to always ignore the haters.
It's hard being a woman in this industry, period. A lot of the time, guys make you feel like you need to hook up with them - especially as an artist - producers and other artists trying to collaborate with them, they make you kinda feel sometimes you need to hook up with them or flirt with them just to make a song.
I know what it's like to have guys make you feel like you need to flirt with them or be s*xy or hook up with them or something, and you don't have to do those things. You just have to be strong and stand your ground.
Honestly, the biggest setback to my music career was people's perception that I was a reality TV star, not a rapper.
I always say that I want to be like 2Pac. If I were to die tomorrow, I want to know that I have enough music to put out for my fans for years to come.
Chanel West Coast is an artist worth her salt. She has steadily climbed the ladder to get to where she is right now, and her hard work and consistency is admirable.
Source: Legit.ng