Victoria Beckham bio: husband, kids, net worth, photos, age
Many people know Victoria Beckham as the wife of English footballer David Beckham. What some overlook is the fact that she is a hard-working woman who has established a successful brand in the beauty and fashion industry. Besides, she is a gifted singer and reality television star. She and her husband are also raising four adorable children.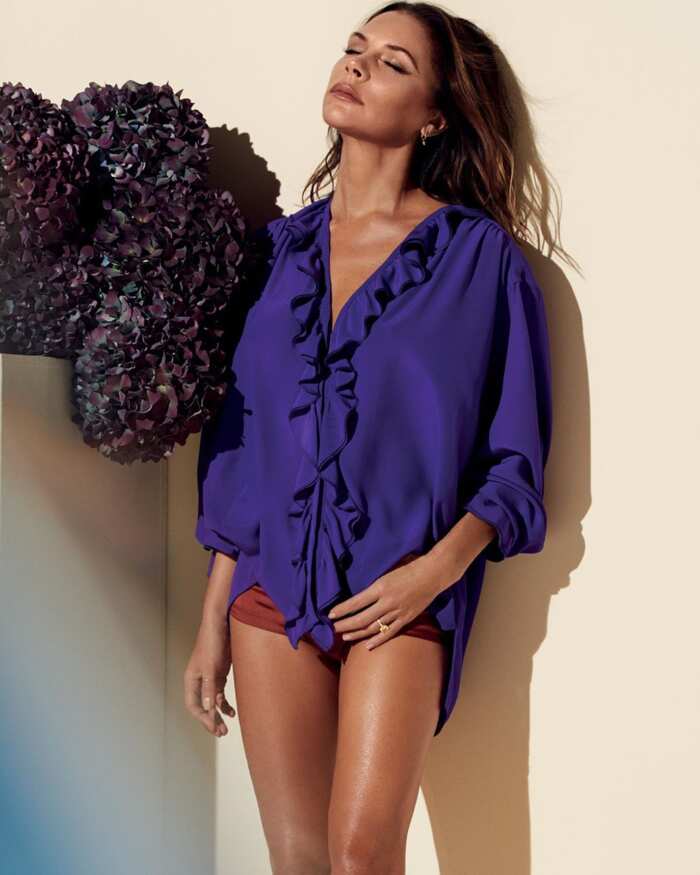 Victoria Beckham is a successful woman who inspires many people across the world. She first rose to fame as an actress and singer. Later, she featured in five reality television shows that revolved around her life.
Today, she is an icon and beauty industry, and she has collaborated with many big brands in the fashion world.
Profile summary
Name: Victoria Caroline Beckham (née Adams)
Nicknames: Posh Spice, Strickly Vicky, Vickly, Posh, Tor
Age: 45 years
Date of birth: 17th of April 1974
Place of birth: Harlow, Essex, England
Zodiac sign: Aries
Nationality: British
Height: 5 feet 4 inches (163 centimeters/ 1.63 meters)
Weight: 49 kilograms (108 pounds)
Hair color: Dark brown
Eye color: Brown
Measurements: 34-23-33 inches (87-58.5-84 centimeters)
Father: Anthony William Adams
Mother: Jacqueline Doreen
Sister: Louise Adams
Brother: Christian Adams
Spouse: David Beckham (m. 1999)
Sons: Brooklyn, Romeo and Cruz
Daughter: Harper Seven
Alma mater: Jason Theatre School, Laine Theatre Arts, and St. Mary's High School, Cheshunt
Profession: Fashion designer, singer, actress & reality television star
Victoria Beckham early life and family background
Victoria Beckham was born Victoria Caroline Adams on the 17th of April 1974 at Princess Alexandra Hospital in Harlow, Essex, England. Her nationality is British, and Aries is her Zodiac sign. Currently, Victoria Beckham age is 45 years.
On the upcoming Victoria Beckham birthday, which will be on the 17th of April 2020, the fashion mogul will turn 46 years of age.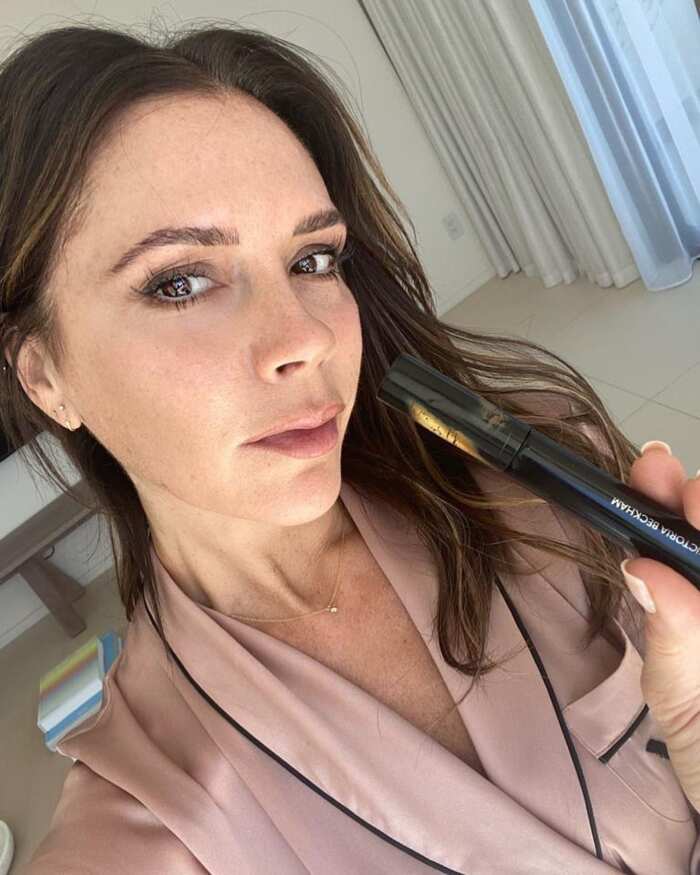 The fashion icon was raised in Goffs Oak, Hertfordshire, in a family of three children. She is the firstborn of Jacqueline Doreen, a hard-working woman who was a hairdresser and former insurance clerk.
Her father is Anthony William Adams, who worked as an electronics engineer. Anthony William Adams and his wife, Jacqueline Doreen, owned an electronics wholesale business that allowed them to raise their three children comfortably.
The beauty queen has a younger sister named Louise, and Christian Adams is the name of her younger brother. Their great-great-great-grandfather was Carl Heinrich Pfänder, a well-known German revolutionary and artist, and William Pfaender, a Minnesota politician, was their great-great granduncle.
In 1980, Victoria watched the musical film titled Fame, after which she decided that she would pursue a career in music. Her parents fully supported her ambitions and dreams.
Education background
After the fashion designer showed an interest in music, her supportive parents enrolled her at the Jason Theatre School. In 1991, she joined Laine Theatre Arts in Epsom, Surrey, where she studied modeling and dance.
She then joined St. Mary's High School in Cheshunt. In high school, she was embarrassed by the fact that she came from a well-to-do family. She often begged her father not to drop her to school in his Rolls Royce. In high school, she was a member of a music band named Persuasion.
Victoria Beckham height and body statistics
The fashion designer has a slim body build. How Much Does Victoria Beckham weigh? Her weight is about 49 kilograms (108 pounds,) and her height is 5 feet 4 inches (163 centimeters/ 1.63 meters.) She has dark brown hair and her eyes are brown.
Her bust, waist, and hip measurements are 34-23-33 inches (87-58.5-84 centimeters,) respectively.
From the many Victoria Beckham photos available online, there is no doubt that she has a to-die-for body. How does she maintain her sexy body? Well, she eats a balanced diet and often does cardio workouts and yoga.
She works out six times a week and enjoys doing yoga three to four days each week. She often combines yoga with skin toning exercises.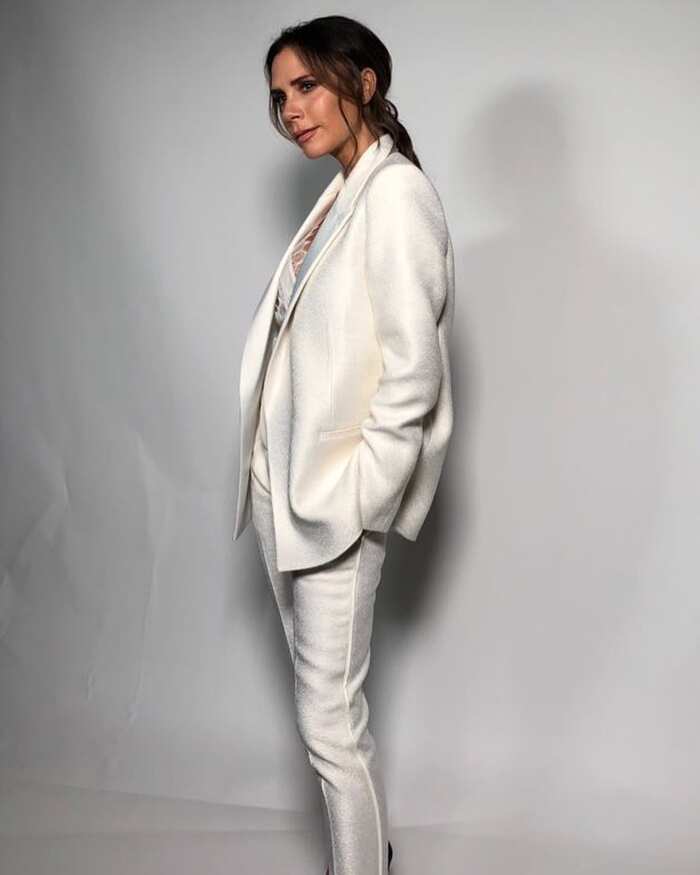 One of her best physical features is her flawless skin. Her secrets to glowing skin are drinking plenty of water and taking maximum rest. What does Victoria Beckham eat? Her daily diet typically contains a high level of proteins from meats, fish, organic poultry, egg whites, beans, lentils, nuts, and whole grains.
She often snacks on cucumber and does not consume a lot of salt in her meals. She chooses natural over-processed foods.
Career
Posh Spice's career is multi-faceted. She is a globally recognized fashion designer, beauty queen, singer, actress, reality television star, and a book author.
Music career
In 1994, there was an audition in The Stage for ladies who were extroverted, ambitious, street smart, and could dance and sing. The same year she joined the female crew dubbed Spice Girls. At the time, she was using her maiden name.
Spice Girls released the first single dubbed Wannabe in 1996. The other group members were Emma Bunton, Geri Halliwell, Melanie Chisholm, and Melanie Brown.
Wannabe ranked at position one in the United Kingdom, the United States of America, and other countries. The song was followed by eight other jams from their albums, Spice, Spiceworld and Forever.
After the girls became popular, each was given a nickname by the media, and Victoria's was Posh Spice. The girls' third album, Forever, did not perform as well as the previous two. After Forever, the girls decided to focus on their solo careers instead,
The first song Victoria Beckham Spice Girls released as a solo artist was Out of Your Mind on the 14th of August 2000. The single was done in collaboration with Truesteppers and Dane Bowers.
Slightly over a month before the release, Posh Spice had made her public debut as a solo artist at a concert in Hyde Park to raise money for Prince's Trust charity. She sang Out of Your Mind.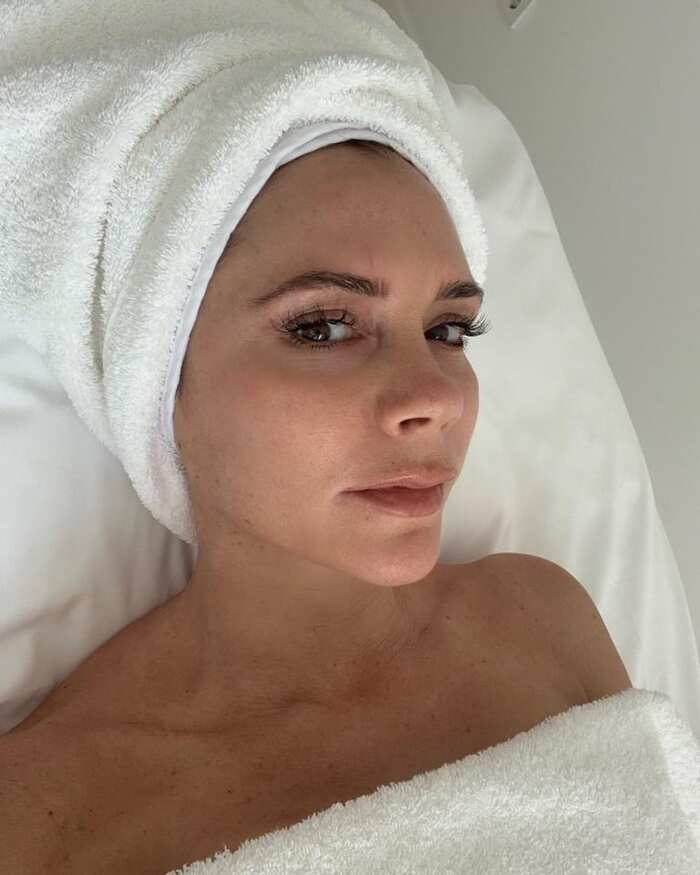 Shortly after the release, she signed a recording contract with Virgin Records. Her next single was Not Such An Innocent Girl in September 2001. Her eponymous debut album was released on the 1st of October 2001, and it cost her £5 million to produce. It sold about 50,000 copies, and the songs in this album were;
Not Such an Innocent Girl
A Mind of Its Own
That Kind of Girl
Like That
Girlfriend
Midnight Fantasy
I.O.U
No Trix, No Games
I Wish
Watcha Talkin' Bout
Unconditional Love
Every Part of Me
It was not long before Virgin Records, and Posh Spice ended their working relationship. In 2002, the singer signed a £1.5 million deal with 19 Management and Telstar Records. In 2003, she started working on the second album, Open Your Eyes, which was electropop-influenced.
She was not happy with the final outcome, so she went back to the studio to record new content.
She worked closely with producer Damon Dash on an R&B and hip hop style album, Come Together. The first single with Telstar was Let Your Head Go/ This Groove, and it made it to the third position in the United Kingdom.
The record company underwent a financial crisis, so her album release was postponed. In the summer of 2004, Posh Spice was to release the single My Love Is for Real. Unfortunately, Telstar Records announced bankruptcy, and Posh Spice decided to focus on fashion instead of music.
In 2007, the five Spice Girls reunited for a tour in which each earned about £10 million ($20 million.) The ladies released the album dubbed Greatest Hits in November 2007, and the tour began on the 2nd of December that year.
After the tour, an official film dubbed Spice Girls: Giving You Everything, which was directed by Bob Smeaton aired on Fox8 in Australia and later BBC One in the UK.
The girls then featured in Tesco advertisements from which each bagged £1 million in remuneration. In 2012, the girls starred in the reality show dubbed Viva Forever: The Musical. In August that year, they performed the songs Wannabe and Spice Up Your Life at the Olympics closing ceremony.
In 2019, the ladies were to reunite for another tour. Posh Spice chose not to participate in the trip because she did not feel like it was the right thing for her.
Fashion career
Posh Spice made her fashion debut as a model at the London Fashion Week. She then became the brand ambassador for Dolce and Gabbana and later the face of Rocawear in 2003. In 2004, she designed VB Rocks, a limited-edition fashion line for Rock & Republic. The line mainly consisted of high-end jeans.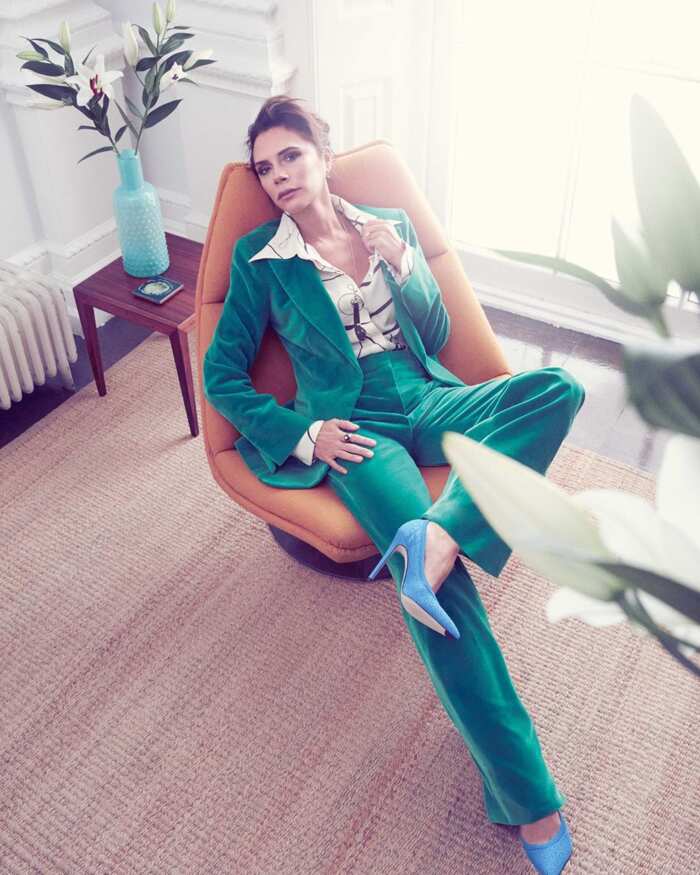 In 2006, Posh Spice walked the Milan Fashion Week runway for Roberto Cavalli and was dressed by Cavalli for social and red-carpet events for some time. In September 2006, she launched her denim label called dVb Style, which was followed by the launch of a dVb Style website that promoted her work in fashion.
On the 14th of June 2007, Posh Spice launched her dVb Denim collection at Saks Fifth Avenue in New York. She also unveiled her eyewear range on the same day. In June 2007, she appeared as the annual Graduate Fashion Week in London as a judge.
In August of the same year, she launched her perfume in the United States. In the spring of 2008, she was the dace of Marc Jacobs. As she grew in the fashion world, she graced the cover of many magazines including the following;
I-D in 2004
W in 2007
Vogue British edition in April 2008
Vogue India
Vogue Paris
Elle
Harper's Bazaar
What brand does Victoria Beckham own? In September 2008, Posh Spice launched the Victoria Beckham fashion label. In 2011, a lower-priced line was launched. The label was mainly known for its dresses, but it has since expanded to include luxury handbags.
The brand also includes eyewear, denim, and fragrance lines. At the 2011 British Fashion Awards, Posh Spice was awarded the Designer Brand of the Year.
In 2017, she launched a new women collection for Target that includes a wide range of sizes from XS to 3X. She also has a new fashion line for kids' wear. In 2018, she presented her collection at the London Fashion Week instead of her usual New York Fashion Week. Victoria Beckham Reebok collaboration was launched on the 17th of July 2018.
Victoria Beckham 2019 announced through her spokesperson that her fashion line would be fur-free, and no exotic skins would be used. Presently, the fashion line is experiencing difficulties. It seems to be making losses every year. The goal of the company is to attain profitability soon.
Victoria Beckham Beauty
In September 2019, the fashion icon launched her beauty line that provides the best quality beauty products. Victoria Beckham makeup line showcased at the London Fashion Week and the brand was co-founded with Sarah Creal.
Initially, the makeup products were mostly eye products, including the Satin Kajal Liner and eye shadow palettes. In October 2019, she ventured into lip products.
Television shows
Posh Spice has featured in a few television shows and documentaries.
Films
Spice World (1997): She appeared as herself in this film.
Manchester United: Beyond the Promised Land (2000): She was herself in this documentary film.
Zoolander (2001): She appeared as herself.
Giving You Everything (2007): She was herself in this documentary.
The Spice Girls Story: Viva Forever! (2012): She appeared as herself in this documentary.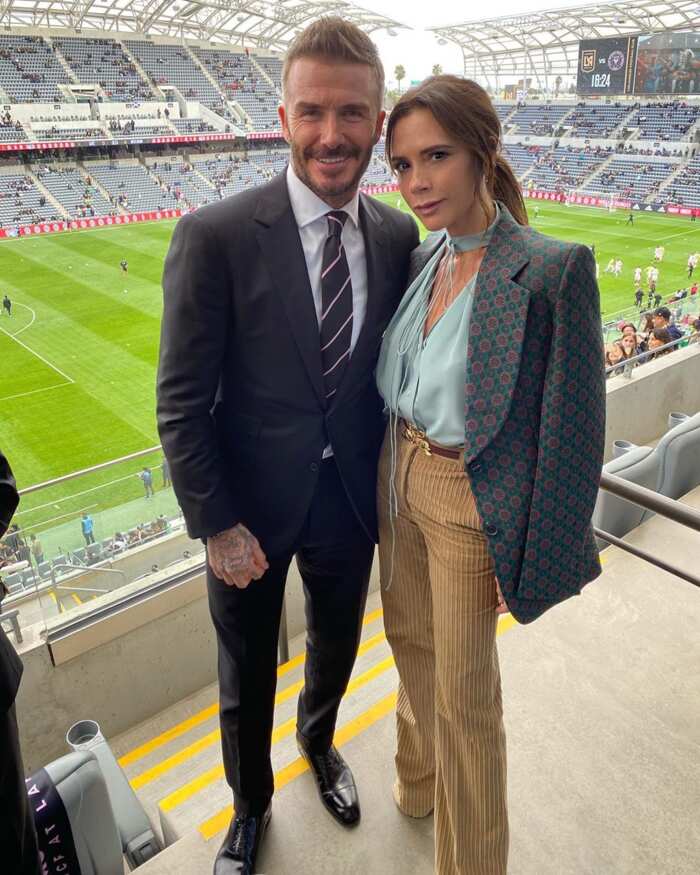 Television shows
The fashionista has starred in the following television shows;
Victoria's Secrets (2000): She was herself in this reality show that aired on Channel 4 in the United Kingdom. The show entailed Posh Spice being followed by cameras while discussing and interviewing British celebrities.
Being Victoria Beckham (2002): This was her second reality show, which started airing in March 2002. In it, she discussed her career as a solo artist and talked about the release of her first album. She was recorded in various photoshoots as well as during her studio recordings.
The Real Beckhams (2003): This was her third reality show, which started airing on the 24th of December on ITV1. It focused on Posh Spice's move from Madrid to London after her husband was signed to Real Madrid. It also centered on her attempt to re-launch her solo career.
Victoria: A Mile In Their Shoes (2004): She appeared as herself in this reality show.
Victoria Beckham: Coming to America (2007): This was her fifth reality show, and she appeared as herself. The documentary was about her move to America with her family. It aired on NBC on the 16th of July 2007.
Ugly Betty (2007): She made an appearance as herself in the episode dubbed A Nice Day for a Posh Wedding.
Project Runway (2008): She was a guest judge in the finale episode.
Germany's Next Topmodel (2008): She was a guest judge in the episode, Bed of Roses.
American Idol (2010): She was a guest judge in the episode dubbed Denver Audition.
SpongeBob SquarePants (2010): She voiced the character called Queen Amphitrite in the episode dubbed The Clash of Triton.
Books
The fashion designer turned author released her first book, Learning to Fly, on the 13th of September 2001. The book's title was taken from the musical Fame. It is an autobiography that gives details of her childhood, time with Spice Girls, marriage, family life, and career. The book sold numerous copies.
Her second book is a fashion advise guide. Its title is That Extra Half an Inch: Hair, Heels and Everything in Between and it was published on the 27th of October 2006. It mainly includes her tips on beauty, style, and fashion.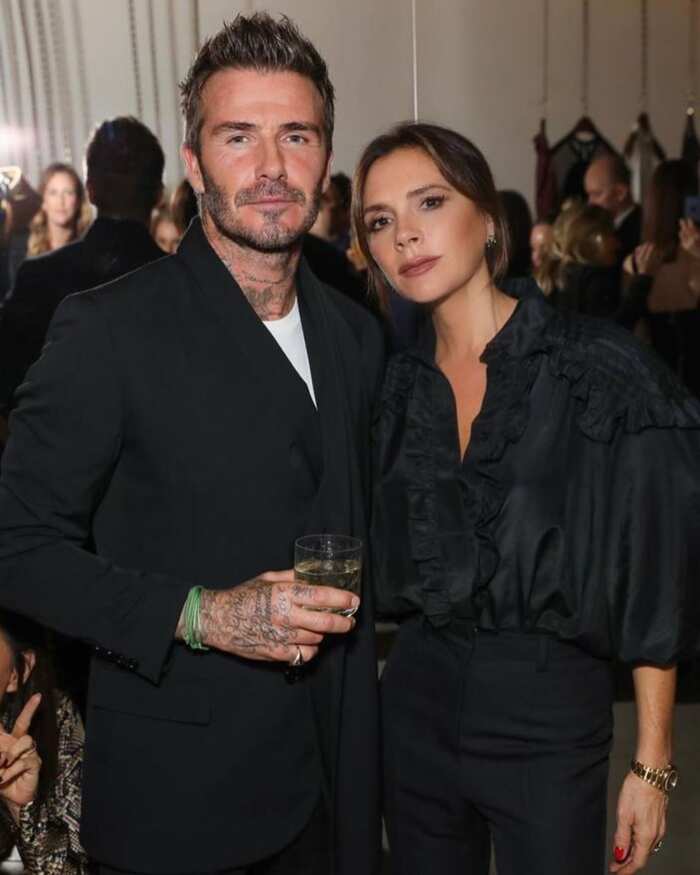 Love life
Before meeting and marrying her husband, the fashion icon dated Corey Haim in 1995. Their break up was after they mutually agreed to part ways. In 1997, she met David Beckham at a football match for charity, and the two started dating. The couple got engaged in 1998.
On the 4th of July 1999, David Beckham became Victoria Beckham husband. The lovebirds exchanged their vows in Luttrellstown Castle, Ireland, and the ceremony was officiated by Paul Colton, the Bishop of Cork. Gary Neville was the best man while their oldest child, then four months old, was the ring bearer.
The bride wore a diamond coronet that was designed and created by Slim Barrett. The cost of the wedding reception was estimated at £500,000 ($823,650.)
Victoria Beckham children
David and Victoria Beckham kids are four; three sons and one daughter. Their first son, Brooklyn Joseph, was born on the 4th of March 1999. Their second son was born on the 1st of September 2002 while the third son, Cruz David, was born on the 20th of February 2005.
The couple's only daughter, Harper Seven, was born on the 10th of July 2011.
How much is Victoria Beckham worth?
Presently, David and Victoria Beckham net worth is estimated at $450 million. With this amount, the power couple can afford many luxuries that the average person cannot. The lovebirds have invested in homes.
They bought their first house in 1999 for $3.3 million, and the home is built on a 24-acre property. After they purchased it, they renovated it for $4 million.
In 2007, they bought a house in Beverly Hills for $18.7 million. The property had six bedrooms and ten bathrooms. The couple sold it in 2018 for $33 million. The Beckham family also owns a $4 million home in France and a $41 million mansion in Holland Park, West London.
In 2016, the power couple bought an $8 million converted barn in Cotswolds area, which is about 2 hours outside London.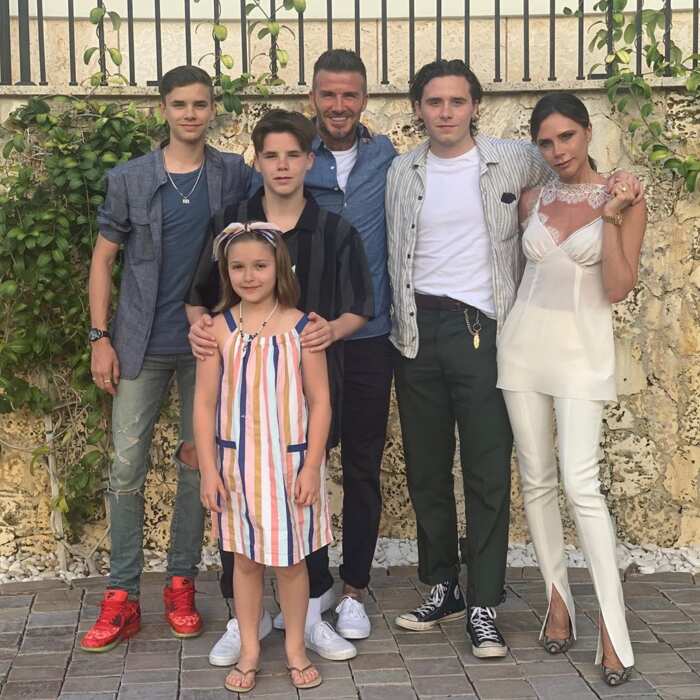 Charity work and influence
Posh Spice is, without a doubt, one of the most influential persons in the world today. She has worked with many charity organizations and organizations that push for good causes, including the following;
She has worked closely with Save the Children for years. In 2010, she was nominated for the Do Something With Style Award for her charity work with the organization.
She is a patron at the Elton John AIDS Foundation.
She supports the use of synthetic furs as opposed to real fur. She is supportive of animal rights organizations.
In 2014, she was part of the Ban Bossy campaign as a spokesperson who advocated for leadership roles for girls.
In the 2017 New Year Honours, she was appointed Officer of the Order of the British Empire (OBE) for her input and work in the fashion industry.
Kidnapping plot and death threats
In January 2010, Scotland Yard detectives unearthed a plan to kidnap Posh Spice and her firstborn, Brooklyn. The family was moved to a secret location for safety. In late March the same year, she received a death threat before performing with Spice Girls at the Brit Awards.
During rehearsals for the show, a red laser light on her chest was seen, so she was quickly taken off stage. In November 2002, five people were arrested for plotting to kidnap her. They were all released because the witness was considered unreliable.
Social media
Posh Spice has an official Instagram account with more than 28 million followers and a Twitter account with more than 12.5 million followers. She also has a Facebook account with over 3.1 million likes.
She often uses social media to update her fans about her personal life as well as to promote her fashion-related ventures.
Victoria Beckham is an iconic fashion singer, author, singer, and reality television star. She has been married to David Beckham, an English footballer, for over two decades now. Together, they have four children. The mom of three boys and one daughter continues to inspire and influence millions of women across the world to reach for success no matter what.
Source: Legit.ng