Merle Haggard's bio: Children, spouse, net worth, death
Merle Haggard was a highly influential American country music singer and songwriter. He is often regarded as one of the most significant figures in country music history. Merle is known for his distinctive voice and songwriting talent.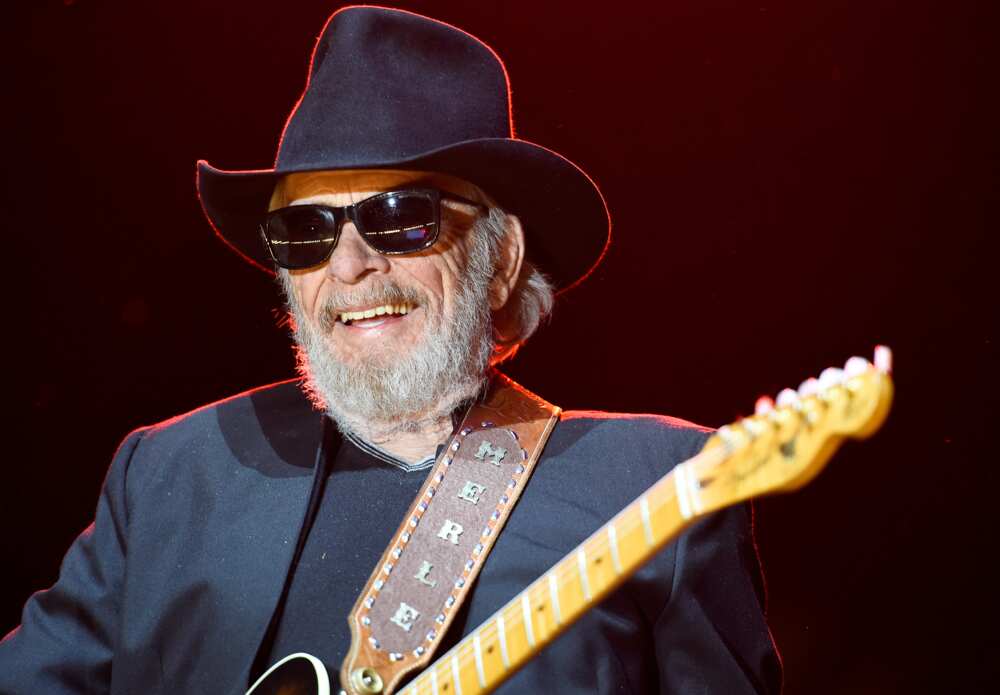 Merle Haggard was a country singer who won many awards. He released many albums throughout his singing career. Before he became famous, he was an ordinary young man with a troubled childhood. His ability to turn his life around for the better is admirable. His life story inspires people of all ages to transform their lives through behaviour modification.
Profile summary
| | |
| --- | --- |
| Real name | Merle Ronald Haggard |
| Gender | Male |
| Date of birth | 6 April, 1937 |
| Died | 6 April 2016 (aged 79) |
| Zodiac sign | Aries |
| Place of birth | Oildale, California, USA |
| Place of death | Palo Cedro, California, USA |
| Nationality | American |
| Ethnicity | Scottish |
| Religion | Christianity |
| Sexuality | Straight |
| Height | 5'9" (175 cm) |
| Weight | 172 lbs ( 78 kg) |
| Hair colour | Grey |
| Eye colour | Blue |
| Mother | Flossie Mae Harp |
| Father | James Francis Haggard |
| Siblings | 2 |
| Spouses | 5 |
| Children | 6 |
| Profession | Songwriter, singer, fiddler, guitarist |
| Net worth | $5 million |
Merle Haggard's bio
The musician was given the name Merle Ronald Haggard at birth. He had a long and illustrious career in country music that spanned several decades. Despite having a rough start in life, he transformed his behaviour and became one of the country's top country songwriters, singers, fiddlers, and guitarists.
Where was Merle Haggard from?
Merle Haggard was born on 6 April 1937 in Oildale, California, United States of America. The family had relocated from Checotah, Oklahoma, to California following the torching down of their barn in 1934. The fire occurred during the Great Depression.
Who are Merle Haggard's parents
His father's name was James Francis Haggard, while his mother's was Flossie Mae Harp. Both his parents were of Scottish ancestry.
After moving to California, his father secured a job at the Santa Fe Railroad. He remodelled an old car into a house where the country music icon was born. Merle has two older siblings, Lilian and the late Lowell. In 1945, his father, James, died from a brain haemorrhage.
Following the demise of her husband, Flossie Mae became the family's breadwinner. She got employed as a bookkeeper to sustain her family. When Merle Haggard was 12 years old, he received an old guitar from his older brother, Lowell. He learned how to play the instrument by himself.
Merle's behaviour became uncontrollable since his mother was almost always away from home. He became rebellious and indisciplined, so his mother took him to a detention centre for children as punishment. Instead of changing his behaviour, Merle became even more rebellious.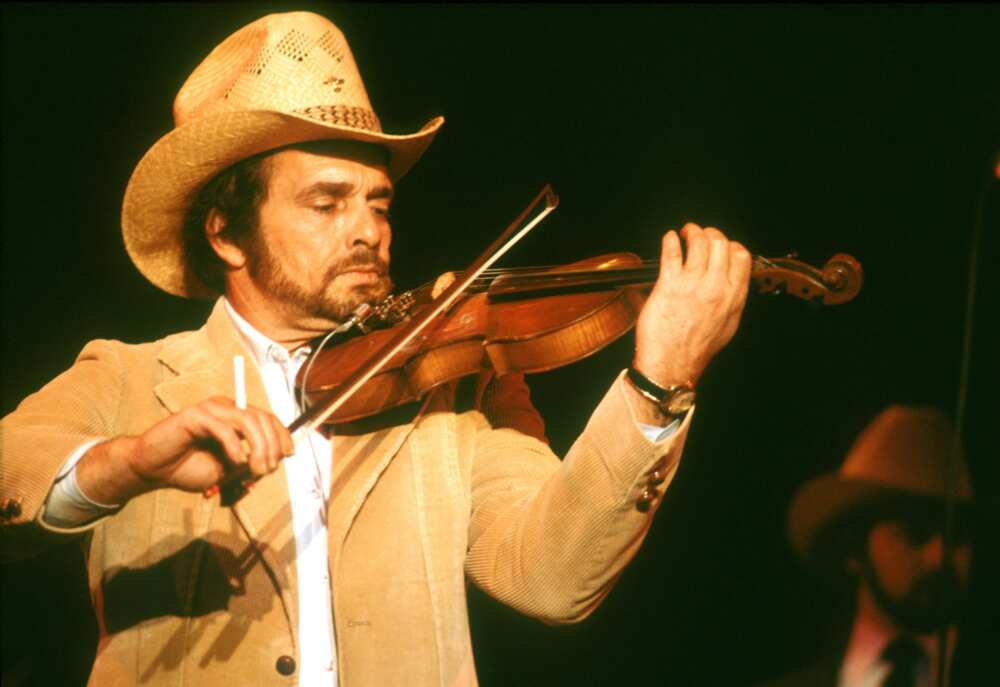 Early troubled years
The musician had a troubled youth, with numerous run-ins with the law, including shoplifting, theft, and even escaping from detention centres. He eventually found his way to Modesto, California, where he started singing at a local bar.
His passion for music was encouraged by Lefty Frizzell, who refused to perform unless the young musician was given a chance to sing. He turned his life around despite facing financial challenges and multiple arrests, including a stint in San Quentin Prison.
He earned his high school diploma in prison, joined a prison band, and, upon release, pursued a successful career in country music.
Did Ronald Reagan pardon Merle Haggard?
In 1972, following Merle Haggard's rise to prominence as a country music icon, the governor of California at the time, Ronald Reagan, issued him a complete and unconditional pardon for his prior offences.
Chart-topping success
After his release from prison in the early 1960s, Merle Haggard embarked on a successful music career. He released a string of hit songs and albums, becoming a prominent figure in the country music scene.
His songs drew from his life experiences, making them relatable to his audience. His music often explored love, heartbreak, working-class struggles, and the American experience. Here is a compilation of several of his studio albums.
| | |
| --- | --- |
| Year | Album |
| 2015 | Timeless |
| 2015 | Django and Jimmie |
| 2011 | Working in Tennessee |
| 2010 | I Am What I Am |
| 2007 | The Bluegrass Sessions |
| 2007 | Last of the Breed |
| 2006 | Kickin' Out the Footlights...Again |
| 2005 | Chicago Wind |
| 2004 | Unforgettable |
| 2004 | I Wish I Was Santa Claus |
| 2003 | Like Never Before |
| 2002 | The Peer Sessions |
| 2001 | Roots, Volume 1 |
| 2001 | Cabin in the Hills |
| 2000 | If I Could Only Fly |
| 1999 | Two Old Friends |
| 1996 | 1996 |
| 1994 | 1994 |
| 1990 | Blue Jungle |
| 1989 | 5:01 Blues |
| 1987 | Chill Factor |
| 1987 | Seashores of Old Mexico |
| 1986 | Out Among the Stars |
| 1986 | A Friend in California |
| 1985 | Kern River |
| 1984 | It's All in the Game |
| 1983 | That's the Way Love Goes |
| 1983 | Heart to Heart |
| 1983 | Pancho & Lefty |
Collaborations
Like many other music stars, Mighty Merle collaborated with other artists. In the 1960s, he did several duets with Bonnie Owens.
He also worked closely with Bob Wills, George Jones, Willie Nelson, Chester Smith, Gretchen Wilson, Blaine Larsen, Don Henley, and Willie Nelson.
Merle Haggard's greatest hits
There are numerous Merle Haggard's songs for fans to listen to and enjoy. The inspiration for each song varied depending on what the artist was experiencing at the time. Some of those that are considered to be his greatest hits and their year of release are:
| | |
| --- | --- |
| Year | Song |
| 1966 | I'm A Lonesome Fugitive |
| 1967 | Branded Man |
| 1968 | The Legend Of Bonnie And Clyde |
| 1969 | Hungry Eyes |
| 1969 | Okie From Muskogee |
| 1970 | The Fightin' Side of Me |
| 1971 | Carolyn |
| 1971 | Daddy Frank (The Guitar Man) |
| 1972 | I Wonder if They Ever Think of Me |
| 1972 | Grandma Harp |
| 1973 | Everybody's Had The Blues |
| 1974 | xzsdr66Kentucky Gambler |
| 1974 | Things Aren't Funny Anymore |
| 1975 | Movin' On |
| 1975 | The Roots Of My Raising |
| 1975 | It's All In The Movies |
| 1976 | Cherokee Maiden |
| 1980 | I Think I'll Just Stay Here And Drink |
| 1981 | Big City |
| 1981 | My Favorite Memory |
| 1982 | Yesterday's Wine |
| 1982 | You Take Me For Granted |
| 1983 | That's The Way Love Goes |
| 1983 | Pancho And Lefty |
| 1984 | Someday When Things Are Good |
| 1984 | A Place to Fall Apart |
| 1984 | Let's Chase Each Other Around The Room |
| 1984 | Natural High |
| 1987 | Twinkle, Twinkle, Lucky Star |
Awards and recognitions
Merle Haggard received numerous awards and honours during his career, including:
Academy of Country Music Award
Country Music Association Award
BMI Awards
Country Music Hall of Fame and Museum
Grammy Awards
Kennedy Center Honors
Nashville Songwriters Hall of Fame
Oklahoma Music Hall of Fame
Acting stint
Although the musician was not a professional actor, he once featured in the episode, The Comeback, in the television show The Waltons. He portrayed the character of a local musician named Red Turner. Red was depressed and withdrawn following the demise of his son.
What was Merle Haggard's net worth?
At the time of his death, he had an estimated net worth of $5 million. Throughout his music career, Haggard experienced a massive transformation in his financial status. Most of his music albums performed well and earned him substantial amounts of money in sales and revenues.
Who was Merle Haggard's spouse?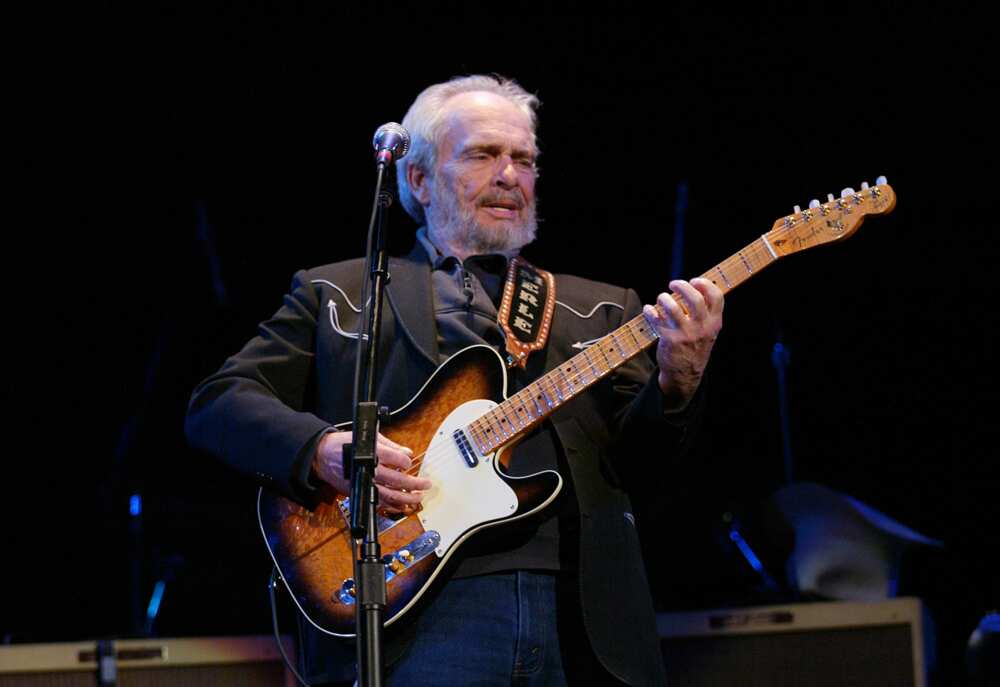 The country music star got married five times in his life and got divorced four times. His first wife was Leona Hobbs. The marriage lasted from 1956 until 1964 when the couple was blessed with four children. Merle Haggard's children with Leona were Marty, Dana, Noel, and Kelli.
A short while after divorcing Leona, the singer married fellow singer Bonnie Owens. According to the musician, Bonnie was the person who helped him to make his big breakthrough in the music industry. The two wrote songs together. In one of his songs, Today I Started Loving You Again, he expressed his profound romantic feelings for Bonnie. They divorced in 1978.
In 1978, the country musician married his third wife, Leona Williams. He and Williams got divorced in 1984. One year later, he married his fourth wife, Debbie Parret, but the two annulled their marriage in 1991.
Afterwards, he married his fifth spouse, Theresa Ann Lane. The lovebirds exchanged their vows on 11 September 1993. They bore two children, Ben and Jenessa. They were together until the country music singer died.
One of Merle Haggard's sons, Marty, is a country musician like his father. So far, he has released six studio albums. In 2010, he honoured his father by releasing the album A Tribute to Merle Haggard, My Dad. The following year, he released A Tribute to Merle Haggard, My Dad, Volume Two.
Who was Merle Haggard's favourite wife?
Bonnie was very special to Merle. In addition to singing with him, she assisted him in raising the four children he had with his first wife.
The relationship between the two remained cordial and friendly even after getting divorced. Bonnie was the maid of honour at Merle Haggard's third wedding. The two musicians were good friends until the demise of Bonnie in 2006.
When did Merle Haggard die?
He passed away on the morning of 6 April 2016. Before his death, he struggled with poor health. In 1995, he underwent an angioplasty procedure to clear his clogged arteries.
In early November 2008, an announcement that he had been diagnosed with lung cancer was made. A few days earlier, he had undergone a surgical procedure to remove part of the infected lung.
The country musician continued his normal life and even made several music tours. In December 2015, he was diagnosed with pneumonia and was treated in California. Sadly, he was hospitalised again in March 2016.
What caused Merle Haggard's death?
Merle Haggard's passing was attributed to complications arising from pneumonia, which was part of a series of health challenges he had been facing.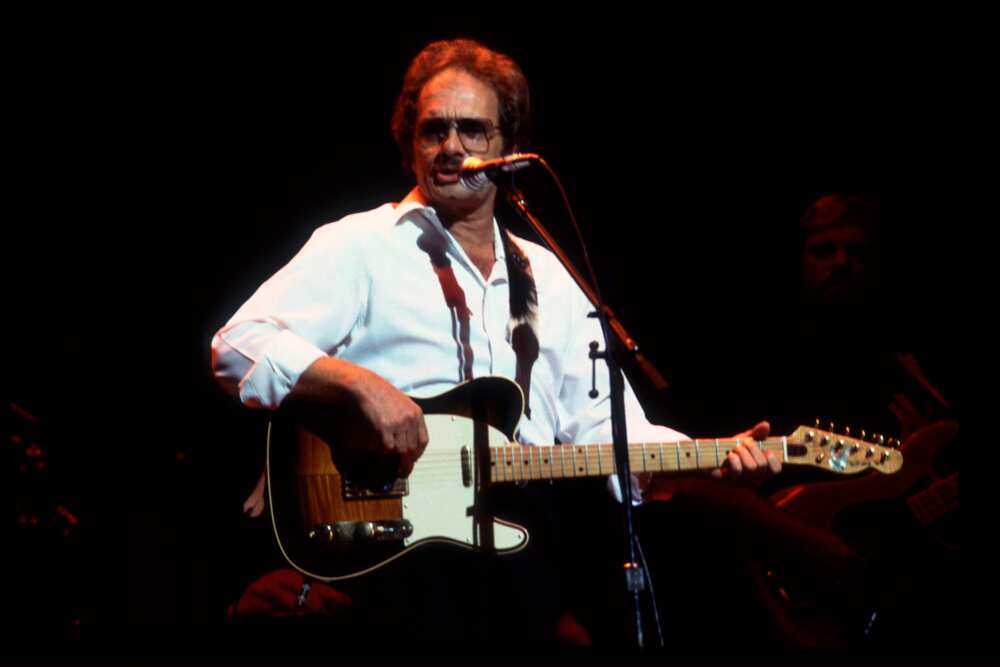 How old was Merle Haggard when he died?
The music icon passed away on the morning of 6 April 2016, his 79th birthday, at his home in Palo Cedro, California. His exact time of demise was 9:20 AM. His body was interred at his ranch on 9 April 2016 in a private ceremony.
How tall was Merle Haggard?
The American singer was 5 feet 9 inches or 175 centimetres tall.
Is Merle Haggard the greatest country singer of all time?
Merle Haggard is certainly considered one of the most significant and influential figures in the history of country music. He had a long and successful career, contributed numerous classic songs to the genre, and left a lasting legacy.
Quick interesting facts about Merle Haggard
He died the same day he was born, which is 6 April.
He was deeply affected by the loss of his father.
He played for the prison's country music band.
In 1981, he published an autobiography, Sing Me Back Home.
In 2023, Rolling Stone ranked him at number 138 on its list of the 200 Greatest Singers of All Time.
He was talented at guitar playing.
Merle Haggard was a country music icon. Initially, he was a young rebel arrested and jailed for small offences. However, his ugly past did not deter him from becoming a great singer who was recognised and honoured globally. He released hundreds of songs before his demise.
Legit.ng recently published Vera Dijkman's biography. She is a Dutch Instagram model and digital content creator. She gained prominence on social media by sharing her modelling shots, lip-syncs, and funny videos.
Born on 19 January 1997 in The Hague, Netherlands, Vera has amassed a sizable following on Instagram, where she regularly shares her stunning modelling photos and collaborates with various brands for endorsements. Additionally, she maintains a YouTube channel, although she hasn't posted any recent content there.
Source: Legit.ng