Long braids hairstyles trendy in 2019
African women are in love with the braided hairstyles. Braiding, especially, in African cultures has a long tradition. The rich braided hairstyles culture symbolises the spirit and uniqueness of African women. Beautiful braids hairstyles are reinvented all the time. Today, a lot of women opt for braid hairstyles for long hair. There are so many exciting ideas for braids styles to rock in 2019, and this is not surprising. Here, we have gathered the trendiest of the long braids hairstyles for black women that can be used in everyday life.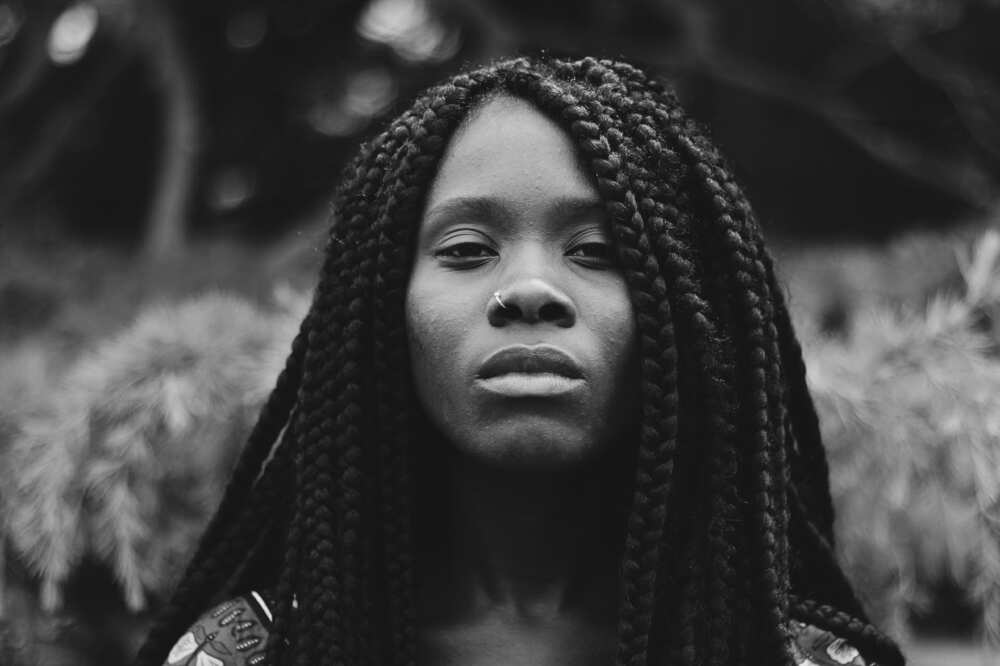 In this post, you will find stunning braided hairstyles for African ladies including buns, twists, cornrows, pigtails, ponytails, colourful braids, braids adorned with thread, cuffs and so on. The options are endless. Choosing the best black braided hairstyle is not an easy task, but we are here to help you with your problem of determining the best braids hairstyle. Each of the ideas listed below can give your look a stylish update and help to achieve ultimate hairstyle goals.
Top long braids hairstyles
Among the whole range of braid hairstyles, we have gathered the most beautiful and stylish and hope that you will find a variant that suits your vision of beauty.
Classic braids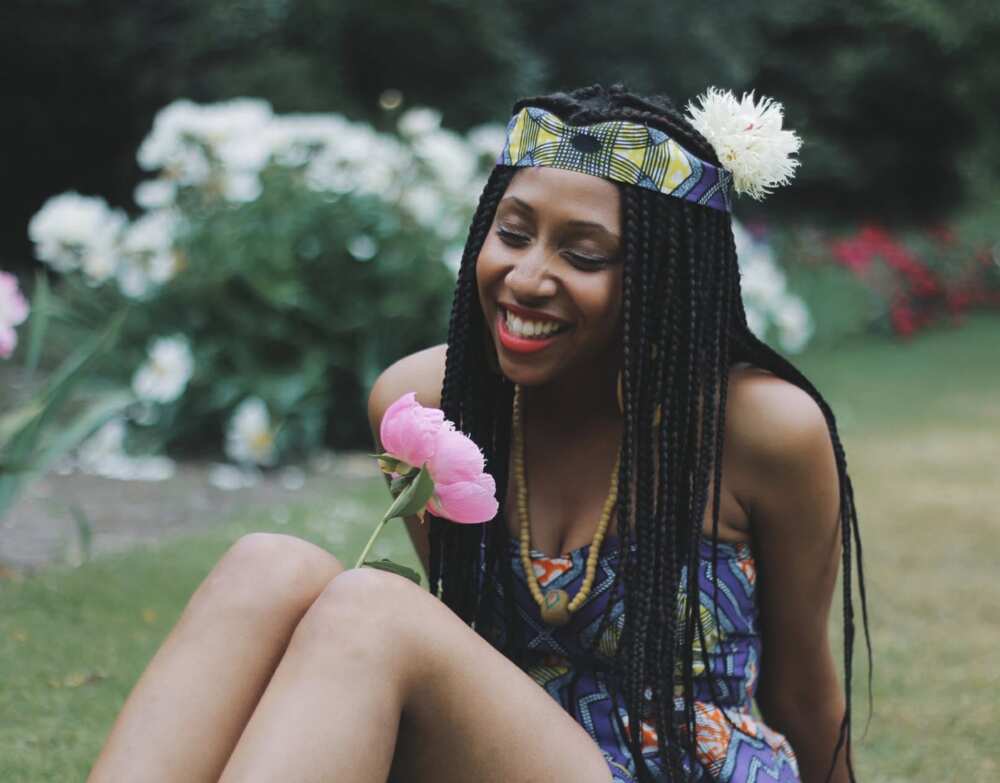 When talking about the braided hairstyles, classic braids is the first thing that comes to your mind. You can go for classic African braid hairstyles if you want something more traditional.
Neat classic braid hairstyles can give an effect of volume demonstrating the spirit of Africa. You can add anything you want to them, but they will still look beautiful. You can also leave them intact, and they will also look charming.
The thing is classic hairstyles fulfil two main functions. On the one hand, they help you to gather your long hair into thick or thin braids. On the other, they fit for every occasion, even for some of the most official ones. They are also appropriate for everyday life creating a gentle and natural look. You can wear any clothes you wish with classic braid hairstyles, beginning with dresses and ending with sweaters. If needed, you can wrap them into buns and ponytails for a more stylish look.
Long kinky braids hairstyles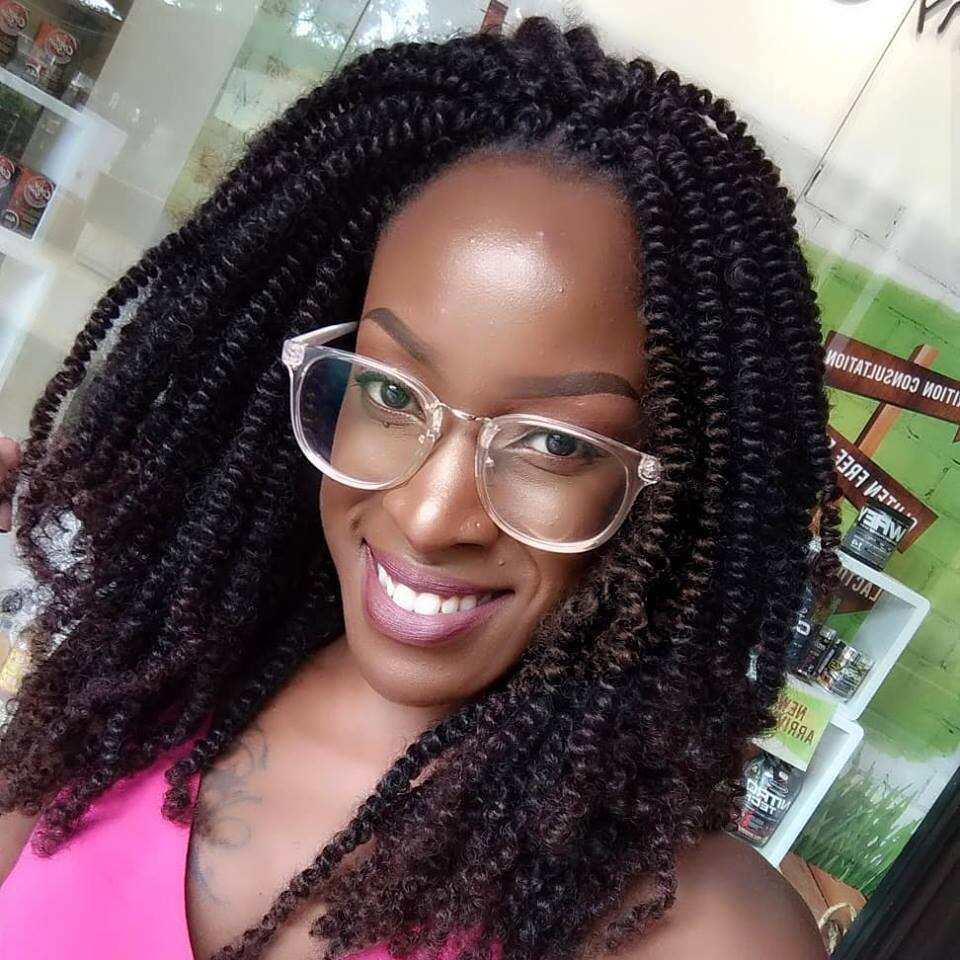 We all get a little wild sometimes. This fantastic hairstyle is for positive and funny women. To rock in 2019, you can mix your strands and curls. Play a little with your natural braided hair shaping it in a kinky way. The curly braids hairstyles look exceptionally beautiful on the confident and funny middle- or long-haired African ladies and women. Curls can easily make everyone around smile. That is why they are so popular.
Twist braids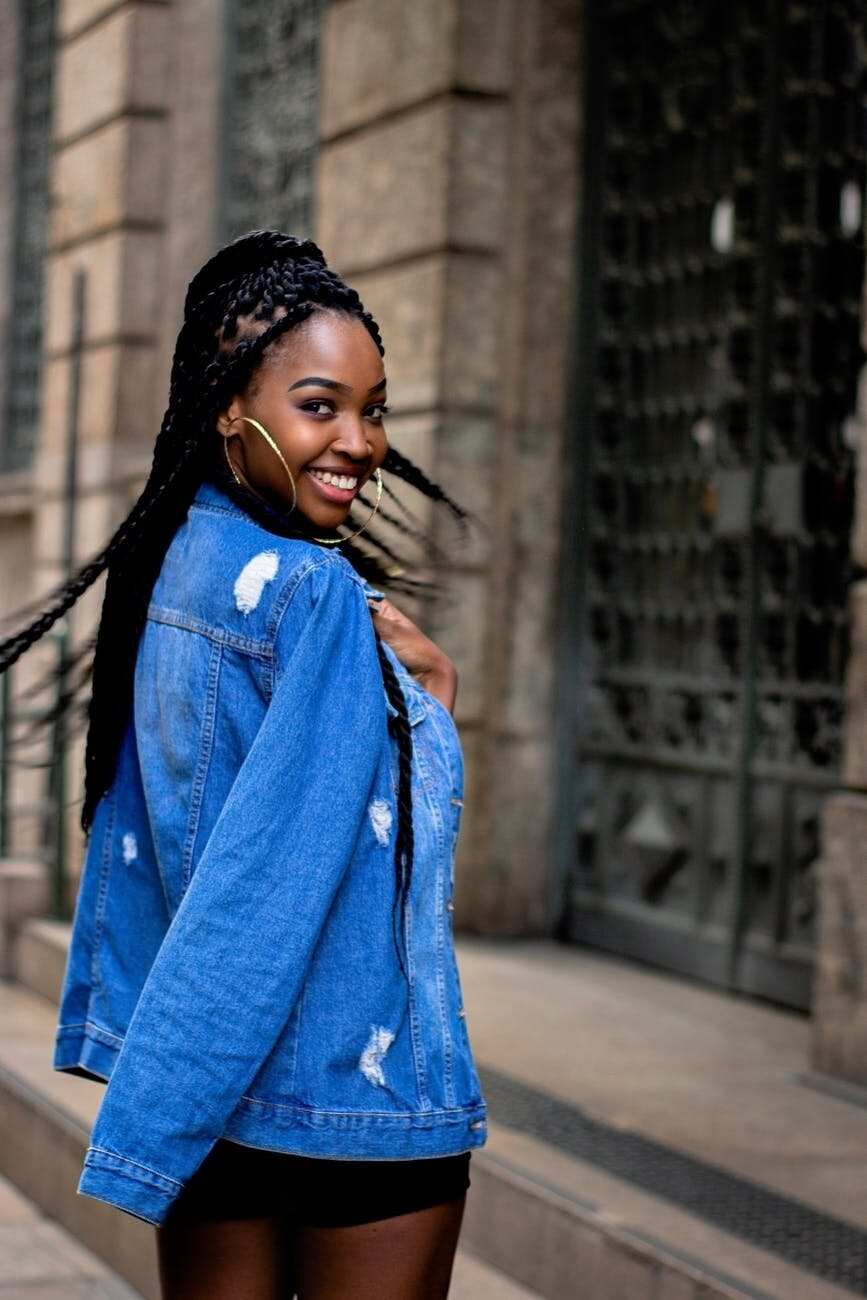 If classic braids seem too simple, you might want to add a new tone to your hair. Usual braids look very extraordinary, but this unique style can be changed a little into twisted braids which can give you a stunning goddess look. This hairstyle is not as typical as traditional braids hairstyles. So, you have a great chance to look stylish and fresh. Twisted braids can go in many variations like long two-toned twist, braided rope twist, twists with cornrows and so on. An exciting solution is braids of different colours, for example, a few light braids can add some colour and freshness to your look.
There are many examples of simple, but still exciting things to do with twisted braids. To look stunning, you can complement your twisted braids with trendy makeup and clothes. The twist braid hairstyle can surely emphasise the beauty of your hair and add some volume.
Such hairstyles as Havana twists with cornrows, twisted zig-zag braid hairstyles are some of the trendiest hairstyles for long hair. They communicate power, fierceness, and determination of African women. This hairstyle helps to look adventurous, striking and stylish at the same time.
Cornrow braids
It is not that easy to make cornrows, but it is worth the efforts because the final look is great. While this hairstyle looks beautiful, it requires some hair extensions. The braid begins on the scalp, goes across the head, and flows downwards. A cornrow braid hairstyle will suit every event you would like to attend and can help to capture everyone's attention.
Cornrow braids are protective to natural hair. This hairstyle might look simple but there many ways to make it unique and stunning. Some of the trendiest cornrow braid hairstyles include a French cornrow braid hairstyle, multi-braided cornrows, curved, double cornrows and many more. While this hairstyle seems to be not easy to make by one's own, it is possible to make one even at home.
French cornrow braids look just stunning, especially, with natural makeup. This hairstyle can catch everyone's attention at the party, at work and so on. One must say that French cornrow braid hairstyle is one of the gorgeous hairstyles for African women.
Multi braided cornrows look stylish and creative on everyone. This hairstyle implies mixing multiple braiding styles. You can mix the centre braid with double side strands in many various ways. This awesome hairstyle can be worn for every season.
Two braid cornrow hairstyle is another trendy hairstyle. It shows two thin or thick braids which creates a little childish but cute look. You can even make a double cornrow hairstyle putting together not two but four strands. It looks simply gorgeous. It is considered one of the most trendy braided hairstyles for this summer.
If you want something especially unique and creative, consider curved cornrows hairstyle. This hairstyle consists of large and small strands. You need to curve them across each other. For example, four bigger lines are separated by two smaller lines. The curved cornrows hairstyle looks like a loop that does not end. It communicates eternal beauty these braids can give you.
Braided crown
Every woman or girl can adorn herself with a braid crown to leave everybody around breathless and speechless. A braid crown hairstyle can bring you to the next level creating a stylish look. To make a braid crown, you need to connect two long thick strands (with threads) as well as a thin braid split along the hairline. You can also complement this hairstyle topping it off with an actual crown.
Another option is a braid crown made of tiny cornrows braided around the head. The truth is you can make any design you want working around your creativity to find your favourite braided crown hairstyle.
READ ALSO: Toddler braided hairstyles with beads for girls
Braids and buns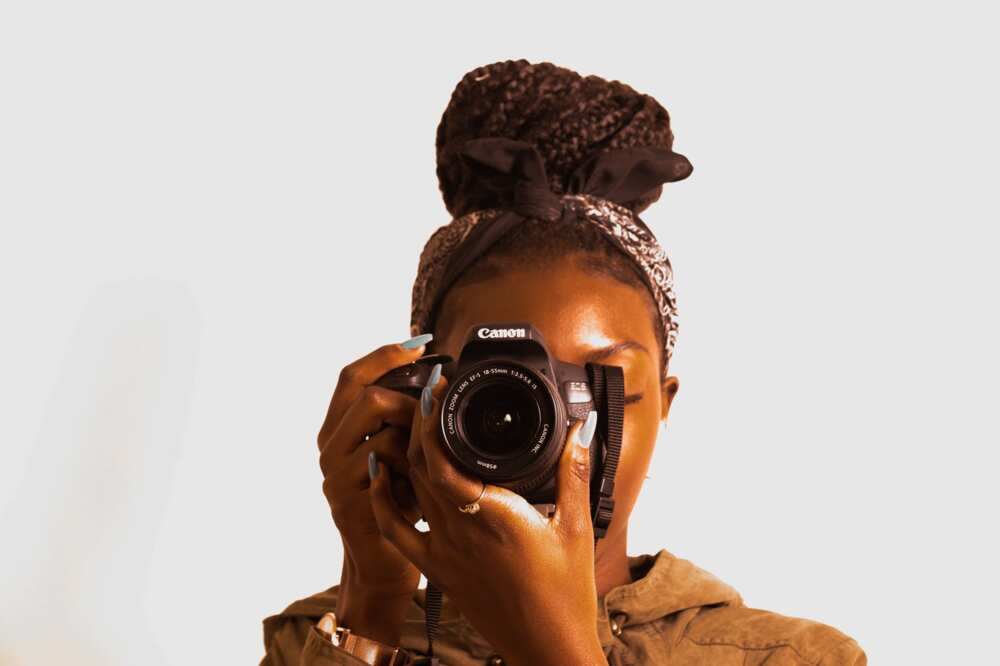 Do you want something cute and unusual? Then, you can get the neat lines into the sweet bun shape. Braided buns look just gorgeous fitting every look and event. Braided side or centre bun create a stunning look. A braided bun always looks fresh whether it is worn for a business meeting, birthday, school dance, formal ball, summer party or any other event. This style should not always be neat and elegant as it allows mixing various stylish elements. By the way, a tip number one on how to wear the braided bun stylishly is by complementing it with interesting earrings and other accessories. So, if you are looking for some elegant design that will last for a long time, the braided bun is a great idea for you to try.
Fulani inspired braids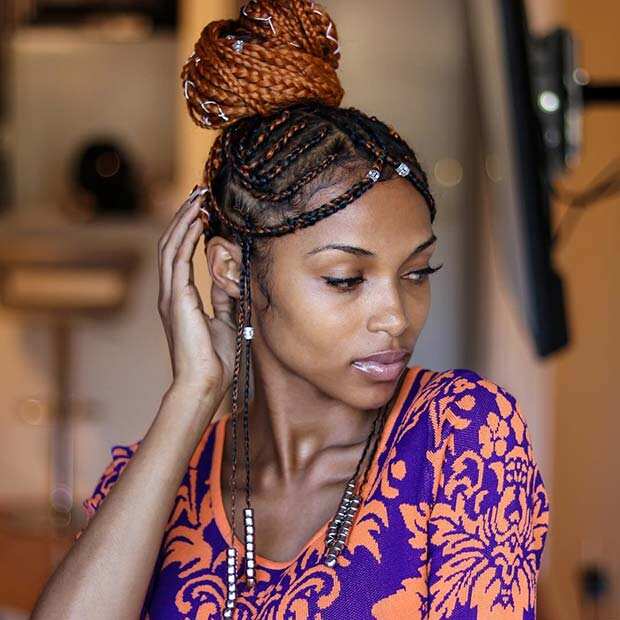 Fulani braid hairstyle is one of the trendy styles in 2019. There are numerous ways of how to wear the Fulani braid hairstyle. You can also create stunning looks with beads for every Fulani braid length. If you add beads in various sorts of shapes, sizes and colours to your hair, you get unique hairstyles that are perfect for parties, walking with friends. Also, this is a way to show off your personal style.
Ponytail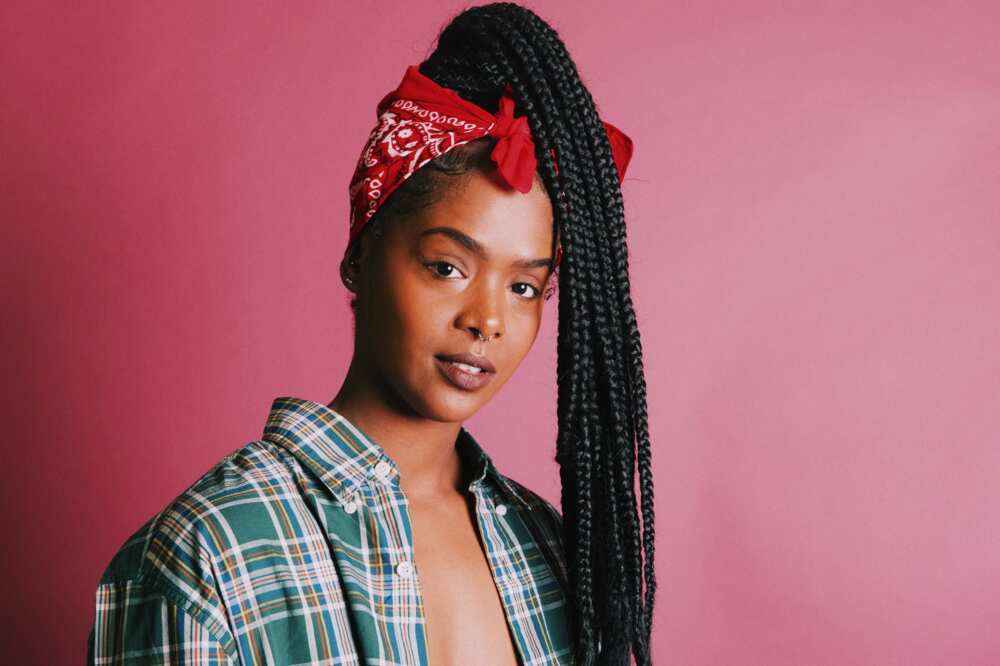 Choosing a suitable hairstyle is not an easy task. Strands pulled up into a ponytail come in varying sizes and shapes. While it is quite a casual hairstyle, you can wear your simple ponytail even to work or for any casual event. Braided ponytails always look cute and stylish regardless of whether they are long, middle or short. Braided ponytails add volume to the hair. Ponytails look indeed versatile.
By the way, braided ponytails on coloured hair, like brown, blonde, green, red add additional charm. Complement the look by a bright lipstick, and you are ready to do big things.
Box braids
If you prefer not complicated but still stylish hairstyles, then box braid hairstyle is for you. This hairstyle will probably not suit everyone, but it is just perfect for young people. The style differs from classic braid hairstyle as to make box braids you need to divide the hair on the scalp into small squares. The box braids form a box-like shape. This hairstyle is timeless as it is one of the oldest African hairstyles that gained enormous popularity. While many people think that the box braids belong to the past reminding of the 80s, there is nothing wrong about it – some hairstyles remain popular forever. Even today many African and African-American women choose the box braids as the hairstyle number one for everyday life and special occasions.
There are so many various ways of how you can style your box braids, and they are all stunning. The thing is you need to pick different hairstyles, try them out and choose those you love the most. So, why not try box braid hairstyle?
Twisted updo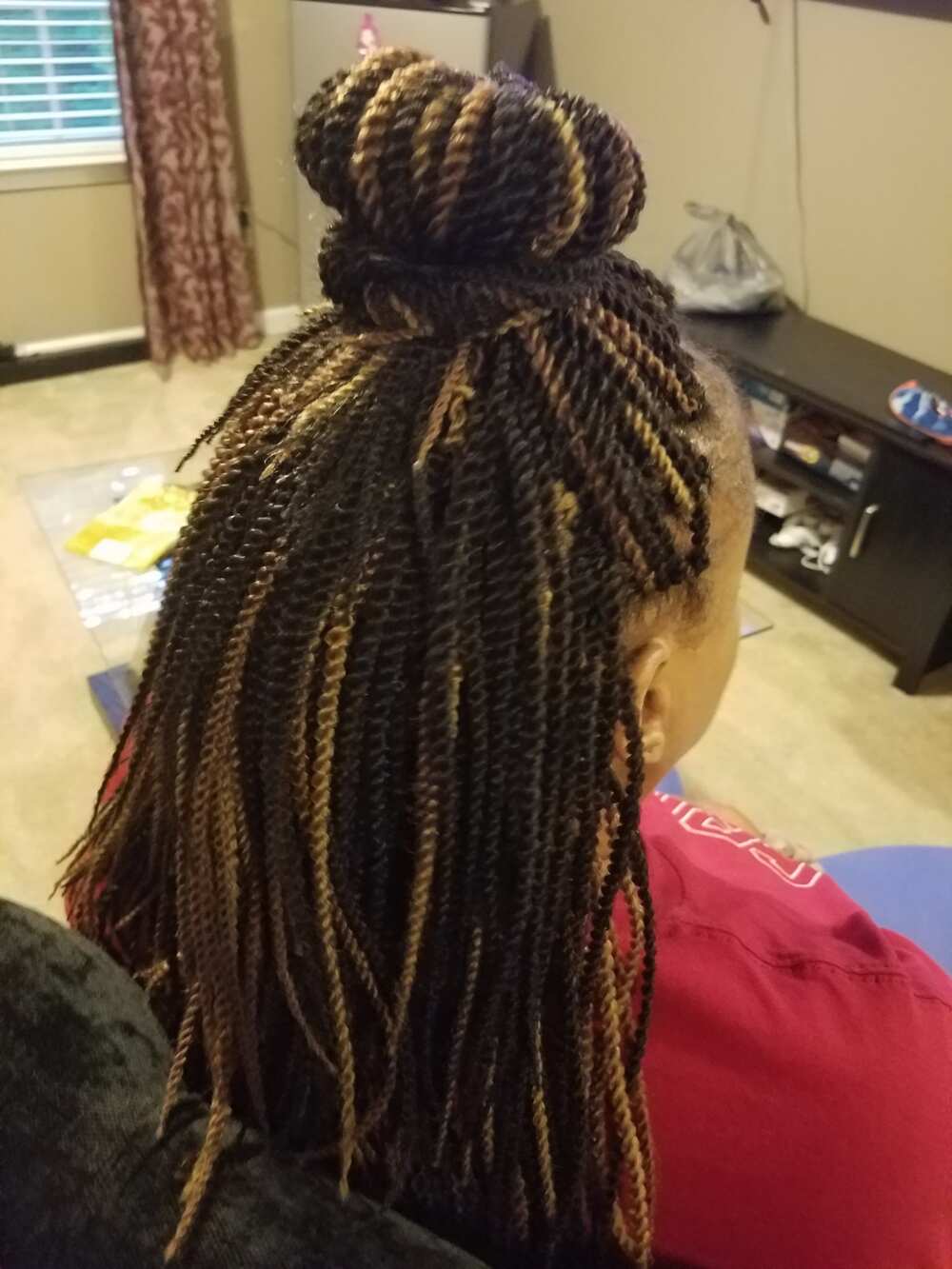 Are you looking for an impressive braided hairstyle? Then, why do not you try the next hairstyle idea? We are talking about twisted updo. It is made up of small twists that are weaved into a high bun. Such an elegant hairstyle would be suitable for official occasions. Also, a braided updo is the perfect option for those who have long hair and get nervous whenever it bothers them. If you often play sports or go to the gym, an updo is an excellent way to make your activity more comfortable, control the hair strands. Also, this hairstyle can help you in summer when the hair gets frizzy very quickly because of the low humidity that harms your hair.
Ombre braids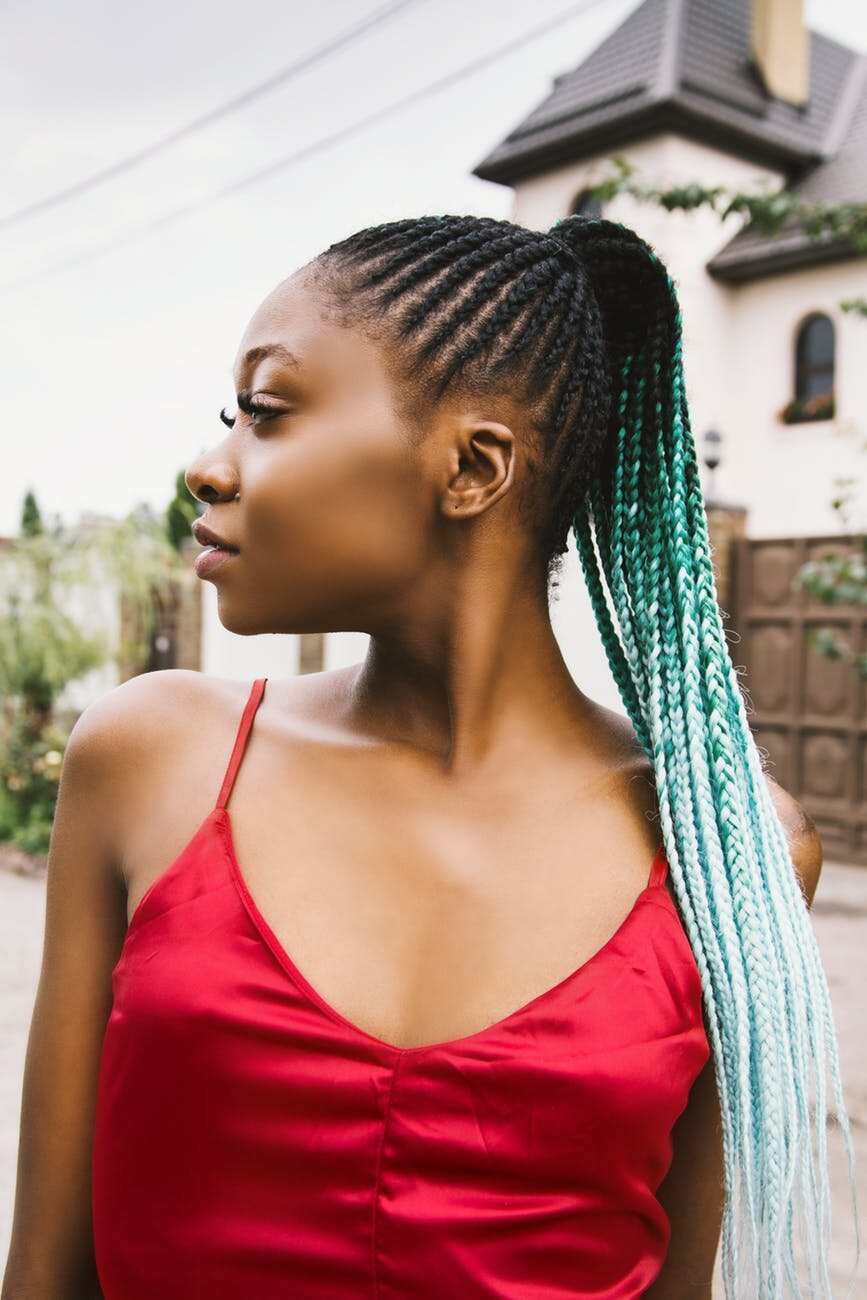 Two-toned braids have recently become one of the trendiest hairstyles not only in Africa but in many countries around the world. Some women get obsessed with so-called ombré. No surprise. Ombre braid hairstyle is trendy among African girls. Black hair decorated with coloured threads braided into the hair strands looks stunning. So, if the classic braid hairstyle seems too dull, you can add any tone to your hair. You can dye your strands in two or more different colours, for instance, black and red, blue, green, white, yellow and so on.
Ombre braid hairstyle is one of the favourite hairstyles of many American and African celebrities who get immediate attention with the various colour combinations of two-toned braids hairstyle. Most women consider dark and light colours as they add dynamic and freshness to their entire look. With the ombre braid hairstyle, you can indeed look like a celebrity. One more tip. Choose a suitable colour combination with consideration of the season, for example, white for winter, green for spring, yellow for summer, red for autumn. You can also choose a light or dark colour combination suitable for your skin tone. So, why not try this fantastic hairstyle?
Braids with beads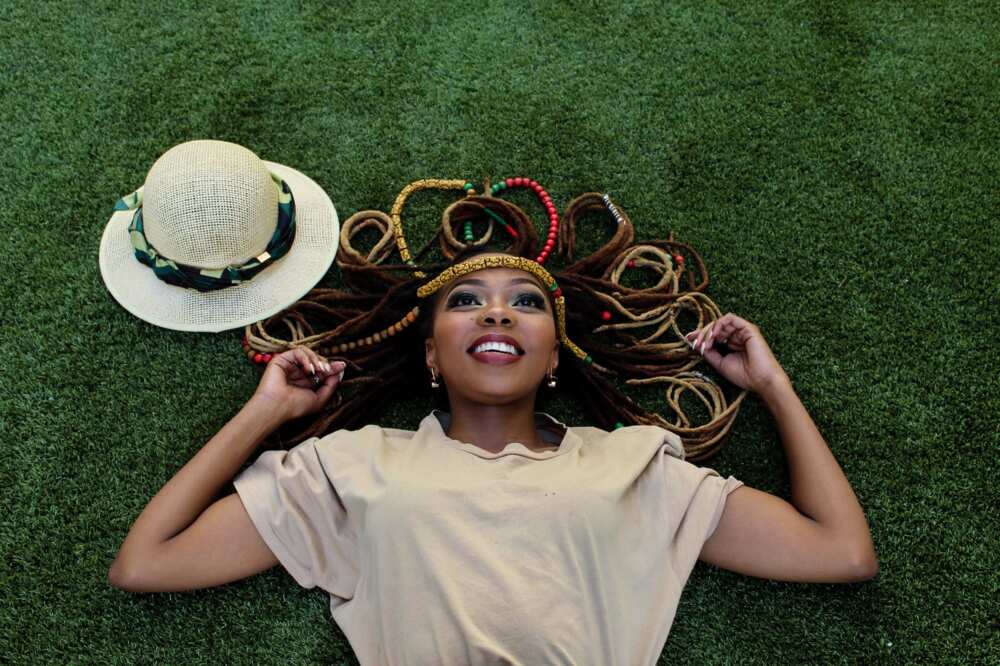 Of course, we could not forget about strands with beads. This hairstyle deserves to be number one on our list of different braid styles.
The classic braids can be easily decorated with lovely colourful beads, which will make your hair look eye-catching. If you want to copy it, just some beaded accessories and weave them in your strands. Long or short strands decorated with beads always look fun and fresh. Beads can do wonders with your hair, and you will receive compliments for your captivating look.
Colour braids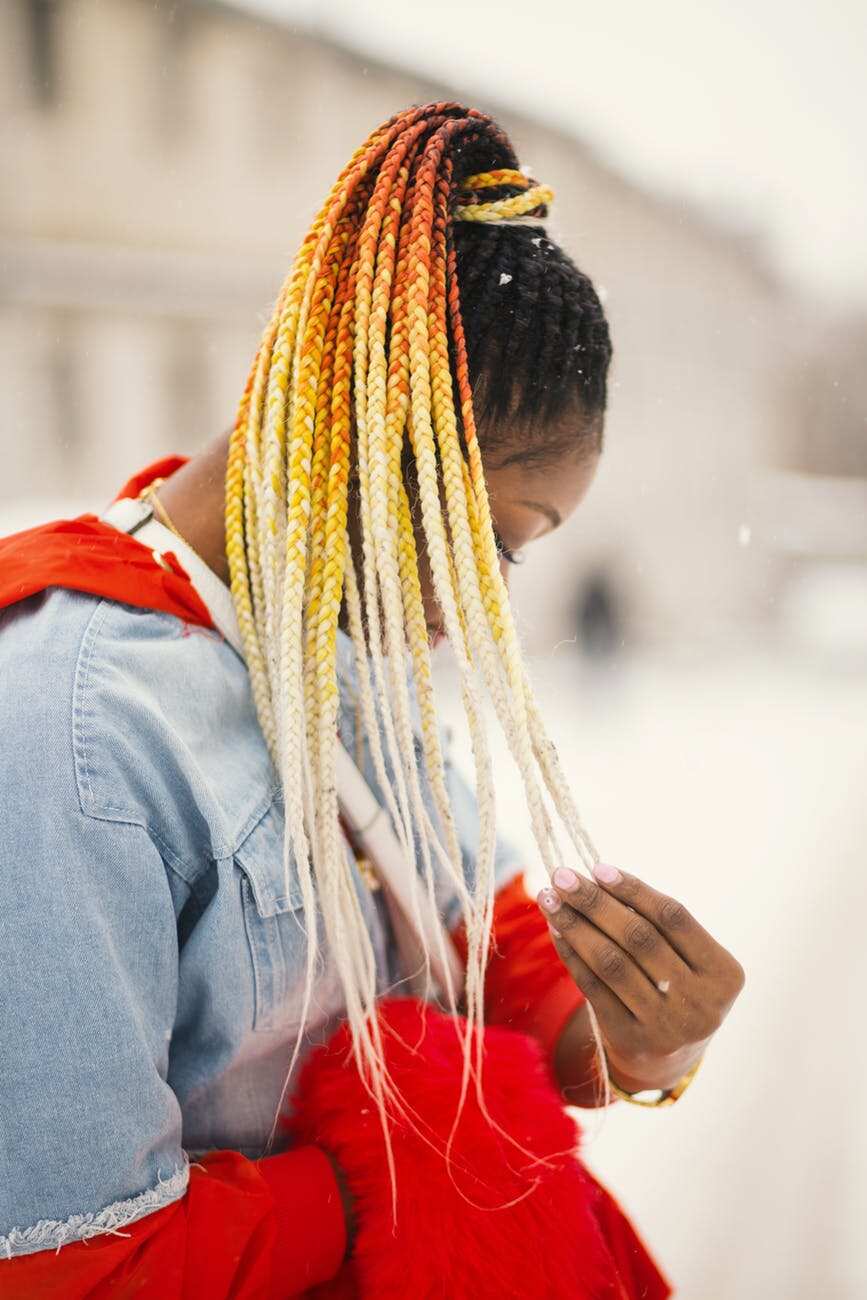 If you are into colour, you might try to experiment with dyeing your strands. It is a great chance to add some new touches to your hairstyle. Here, the sky is a limit – you can choose from the whole range of colours like pink, orange, purple, peach, pink, grey, white to mention a few. Mix them for a more bold and attractive look. Let your imagination run wild a little! The blonde strands, for example, look amazing with the dark skin, a touch of green will make you look extraordinary, orange will add some fun to your hairstyle, purple will make you stand out wherever you go and so on.
A colour braid hairstyle is such a trendy style that probably suits everyone. Dying your braids colour makes a woman look like a stylish fashion model. Kylie Jenner, Jordyn Woods, Beyoncé, Lindiwe Dim and many other celebrities wear colour braids and look fantastic. To get the colour braids, your stylist will be picking strands of your hair and weaving them into the long hair extensions. The truth is that this hairstyle is simple but still attractive. So, why not you dare to experiment a little to stand out from the crowd?
Mohawk braids
How about becoming a star for a while with a mohawk braid hairstyle? Mohawk hairstyle is perhaps for the most daring and risky women. To make a fierce Mohawk, gather your strands along the line that runs across the head. You can even shave off the sides for a more rebellious look.
This fantastic hairstyle is hard to make, but it is one of the most popular long hairstyles with braids. So, try it out!
There are plenty of long braids hairstyles that can suit every occasion. I hope this post was helpful and you were able to find your favourite braid hairstyle.
READ ALSO: How to style dreadlocks for work
Source: Legit.ng