Afro hair styles for ladies
Afro hair styles are completely different from any other ones and very specific because of the nature of African hair. The curliness and thickness of African hair has given birth to a range of specific African hairstyles for both men and women and these hairstyles can hardly be recreated on any other hair types except this given type. Here's a selection of lovely style ideas for women and their natural hair.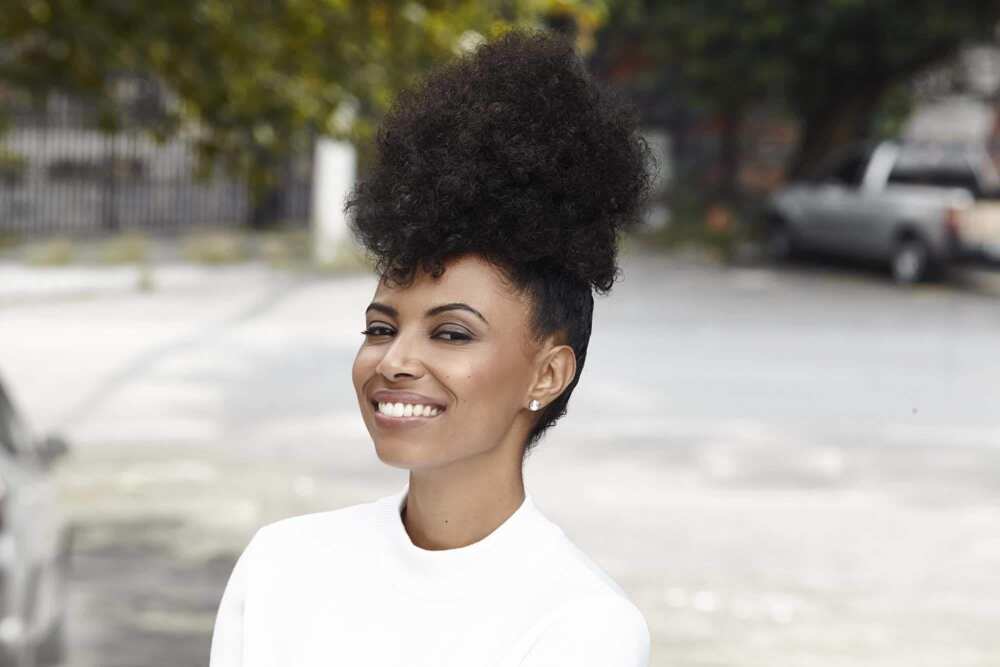 Why hairstyles for natural African hair? Decades ago, it was very popular to straighten African hair with the help of the so-called relaxation. The procedure is known as the one that ruins hair completely due to its mechanical aggressiveness. In several years, women stopped doing this to their hairs and the popularity of this procedure has decreased. Now, native and natural African hairstyles have become popular again among regular people and celebrities like Rihanna or Alicia Keys.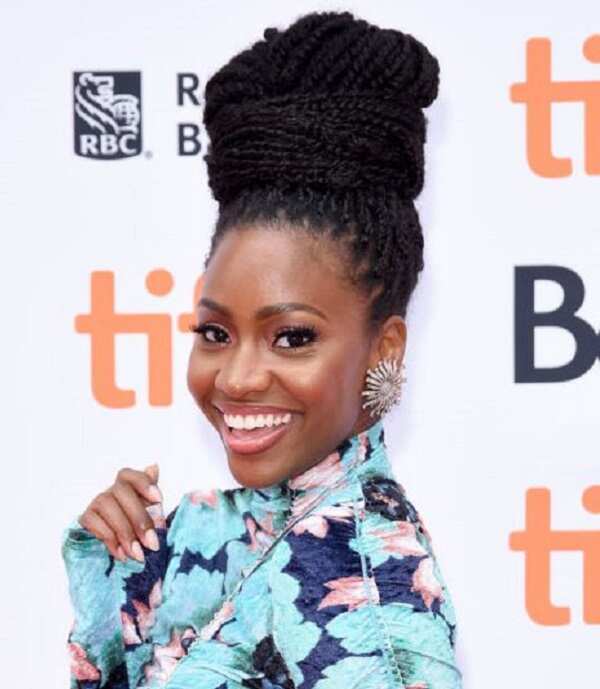 READ ALSO: Nigerian natural hair weaving styles
Box braids gathered into a knot. This is a great hairstyle that can look both casual and formal, depending on the accessories and the purpose. Just collect your box braids into a ponytail, twist, and wrap this twist around the base of the ponytail. The bun will be as big as much hair you have on your head and as long your braids are.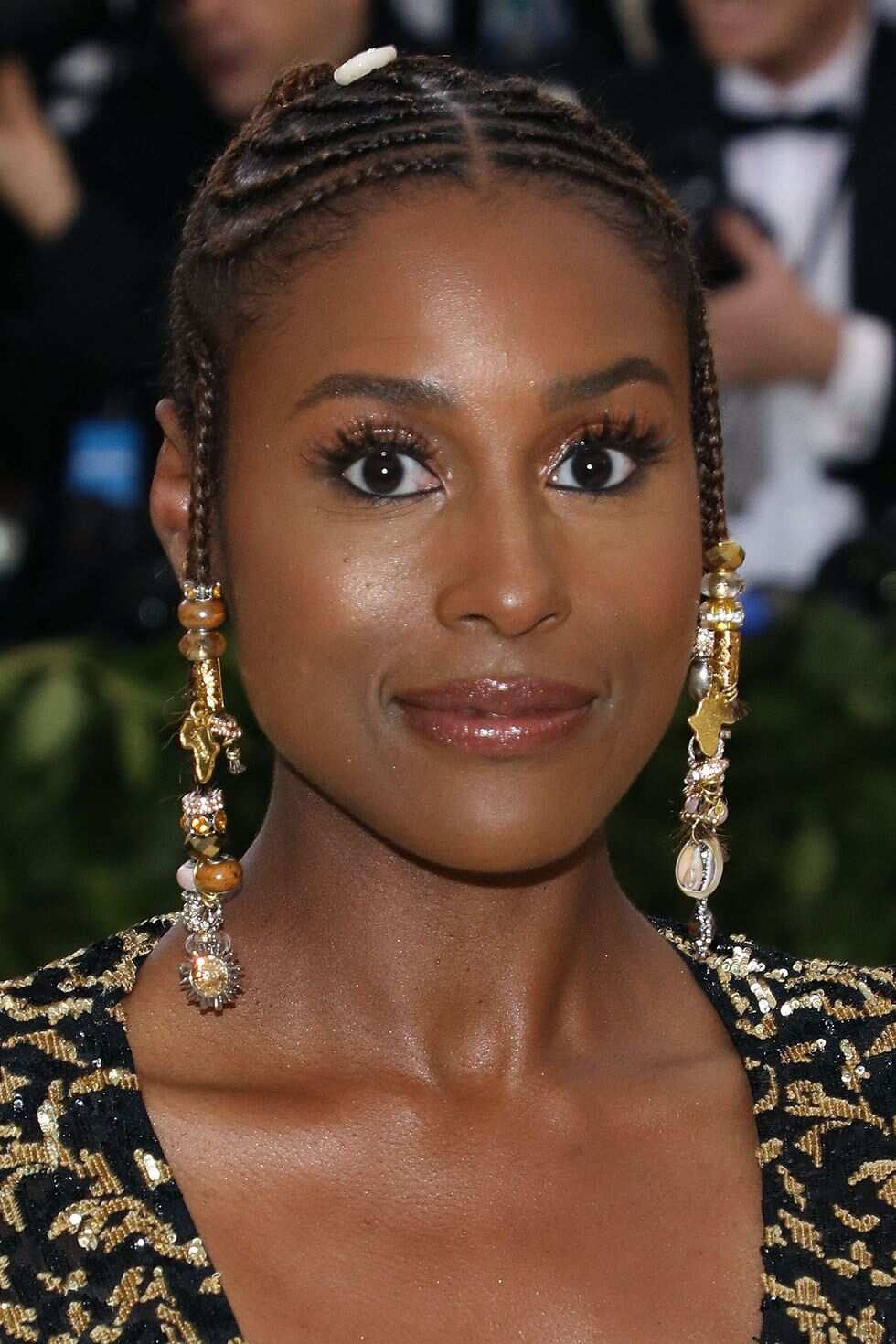 Fulani braids are great as they are. The braids that hang along the temples and sides of the face look so native and attractive, especially if they are decorated with beads or other embellishments. Such shiny details reduce the need of jewelry if you are making such a hairstyle for a festive occasion of any type.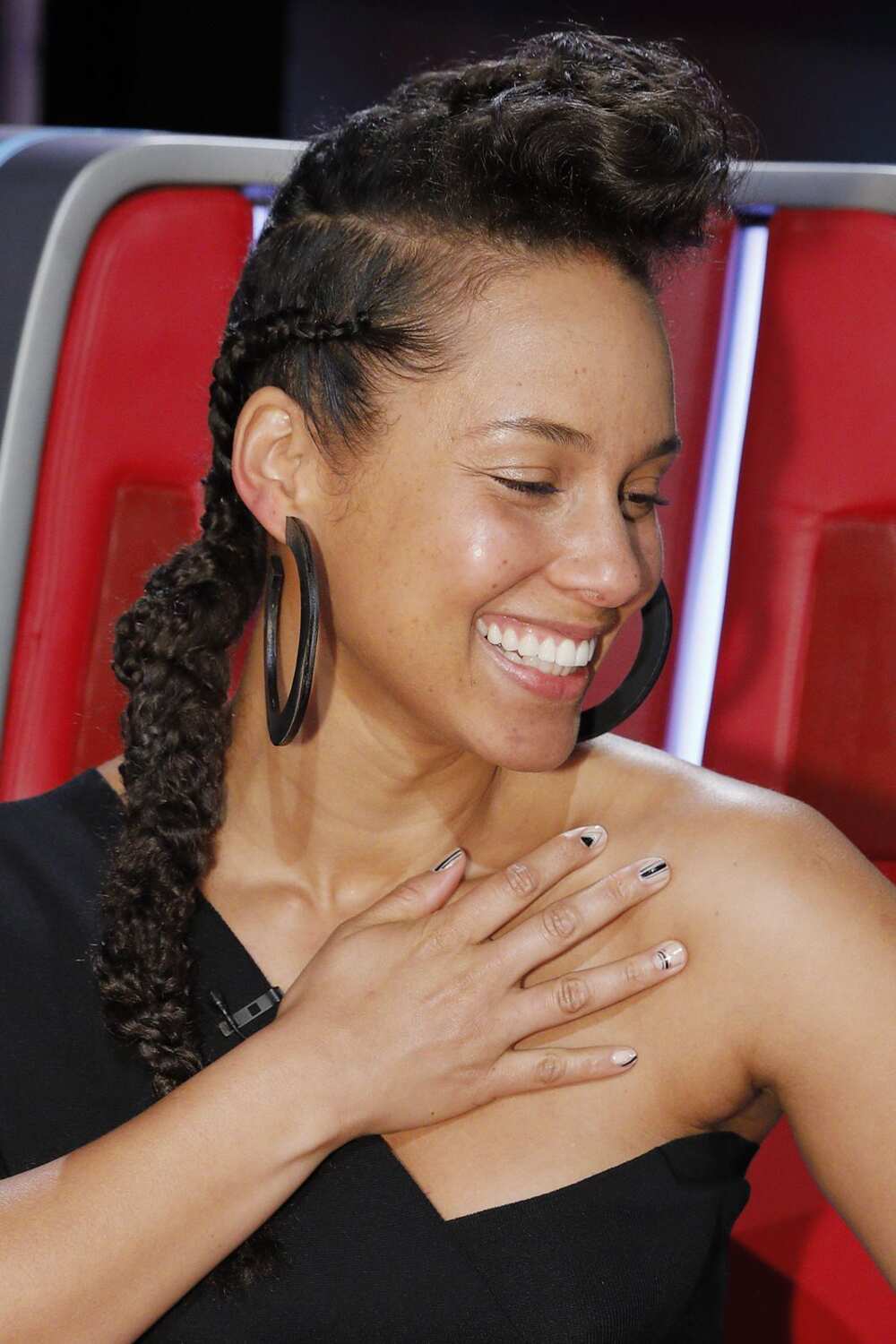 Braided ponytails are another great styling idea for girls and women who already have box braids on their heads. Box braids, as they are, are one of the most popular natural afro hairstyles among women of all ages. They are said to be a great protective hairstyle for those who want to retain the health of their hair or regain it after relaxation.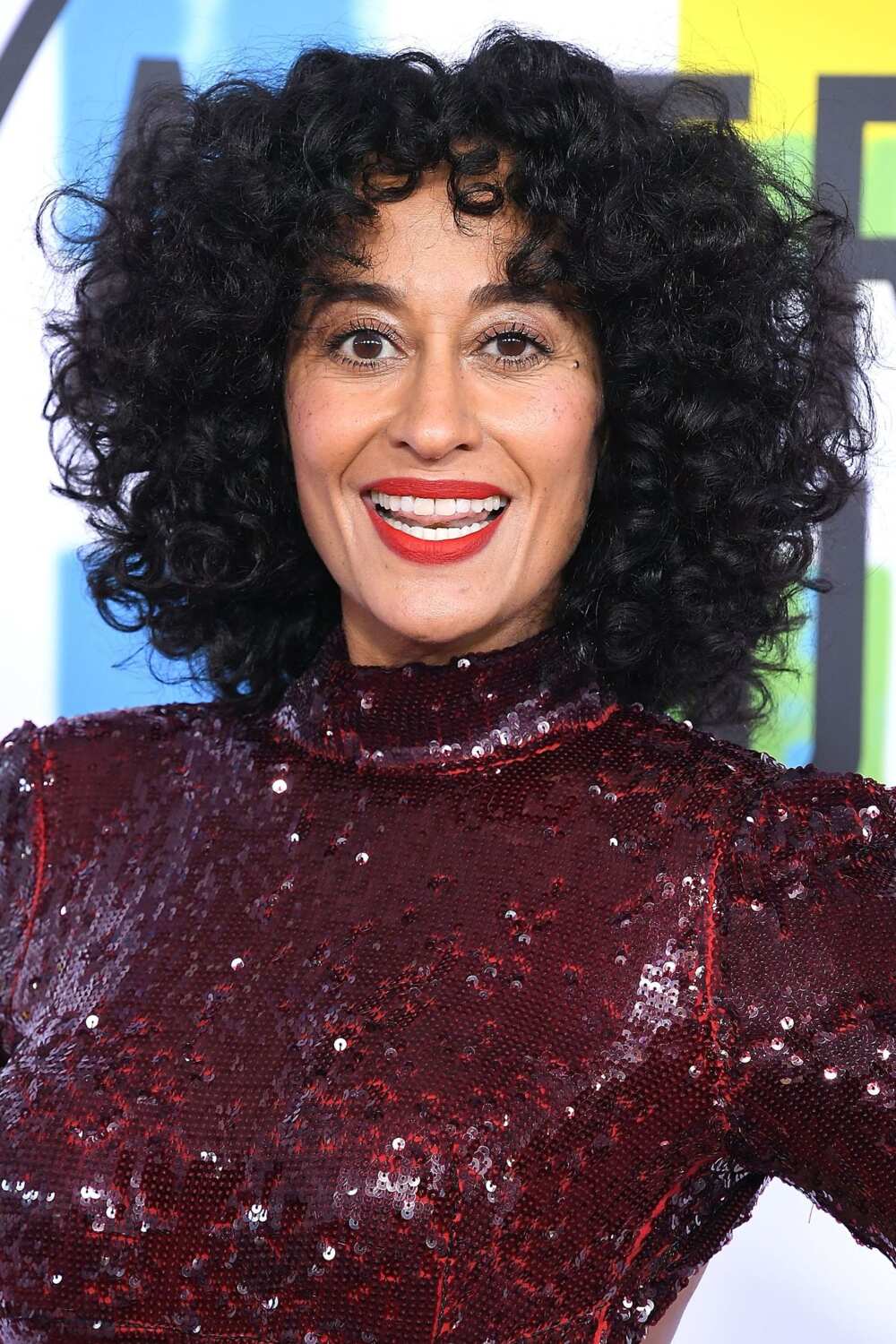 Simple curls that almost reach your shoulders are a great hairstyle if you have really healthy natural hair. To obtain such a silky and soft look, you need to moisturize your hair with conditioners and balms regularly. There are many DIY homemade hair treatments, which help look after natural African hair.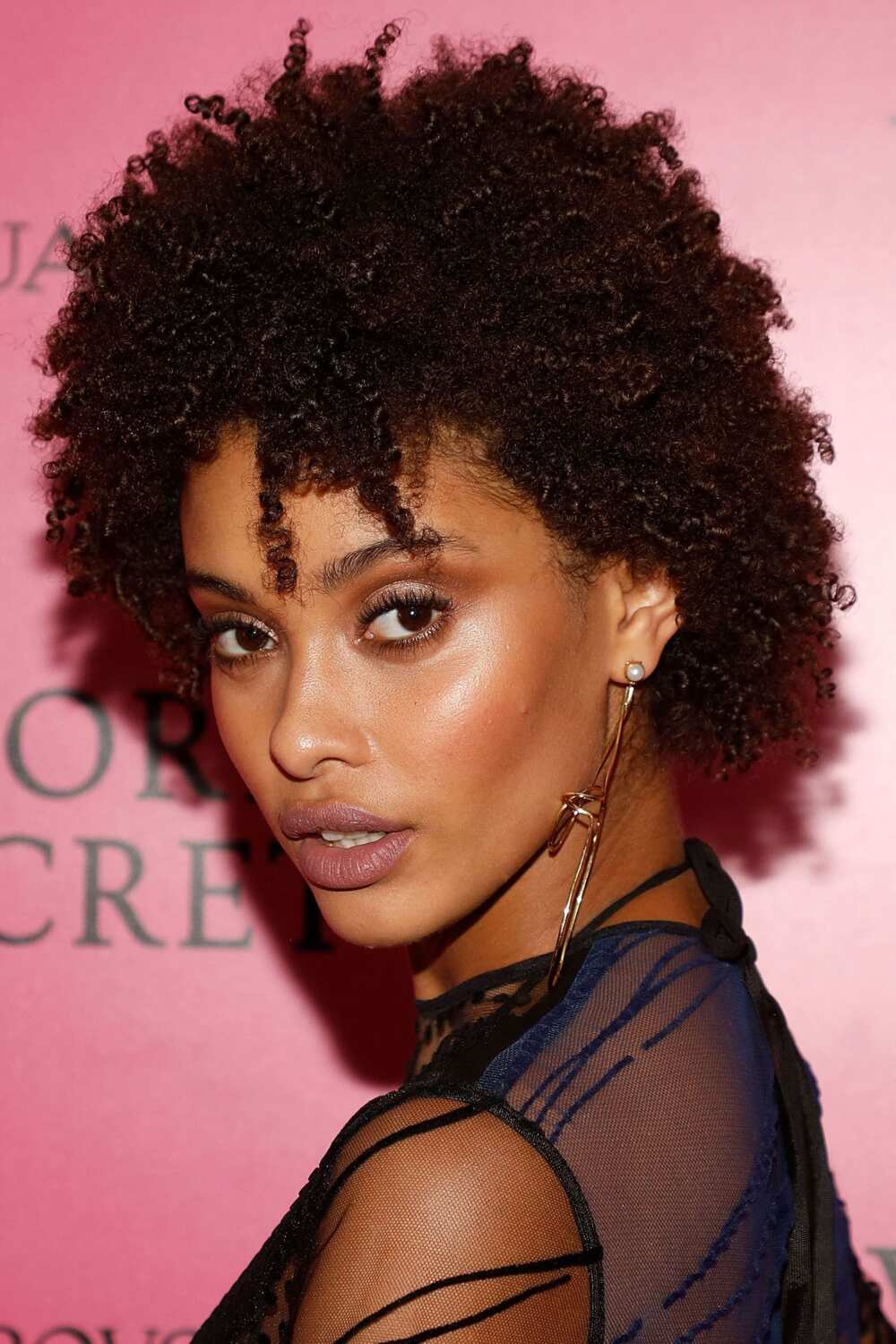 READ ALSO: Dreadlock styles for ladies and gentlemen
Natural spirals look cute, too, especially if separate locks fall over your forehead. It's a great hairstyle for healthy curly hair that's properly moisturized and disentangled at the tips. It's interesting that such a hairstyle will look great no matter how long your hair is. It exposes all the beauty of natural African hair.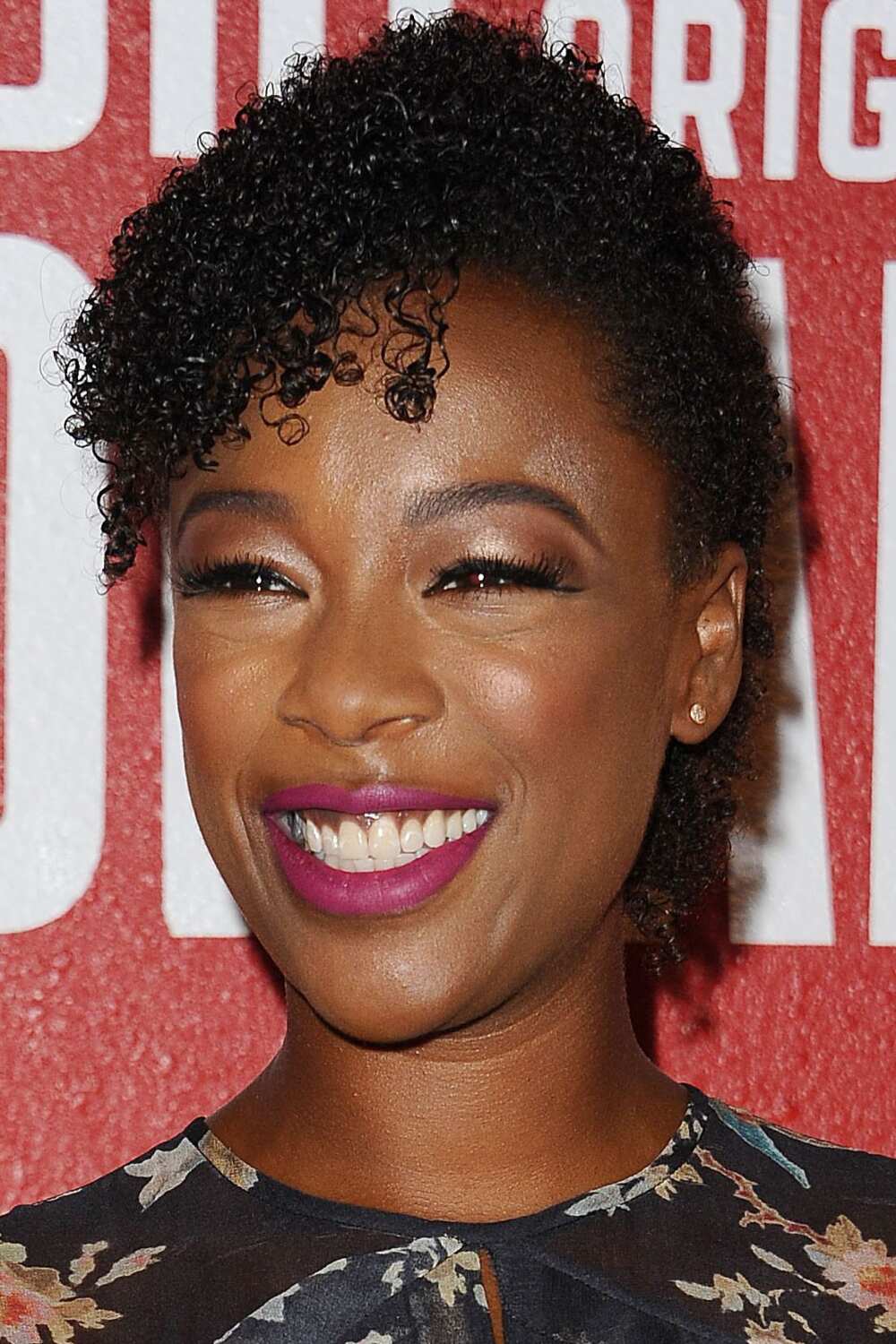 Shiny silky curls are another great choice among native African hairstyles for women. However, you will need some hair styling means that will give your hair this moist and shiny look. Consult a hair professional, which one is suitable for your hair and which one will not damage your hair with its chemical content.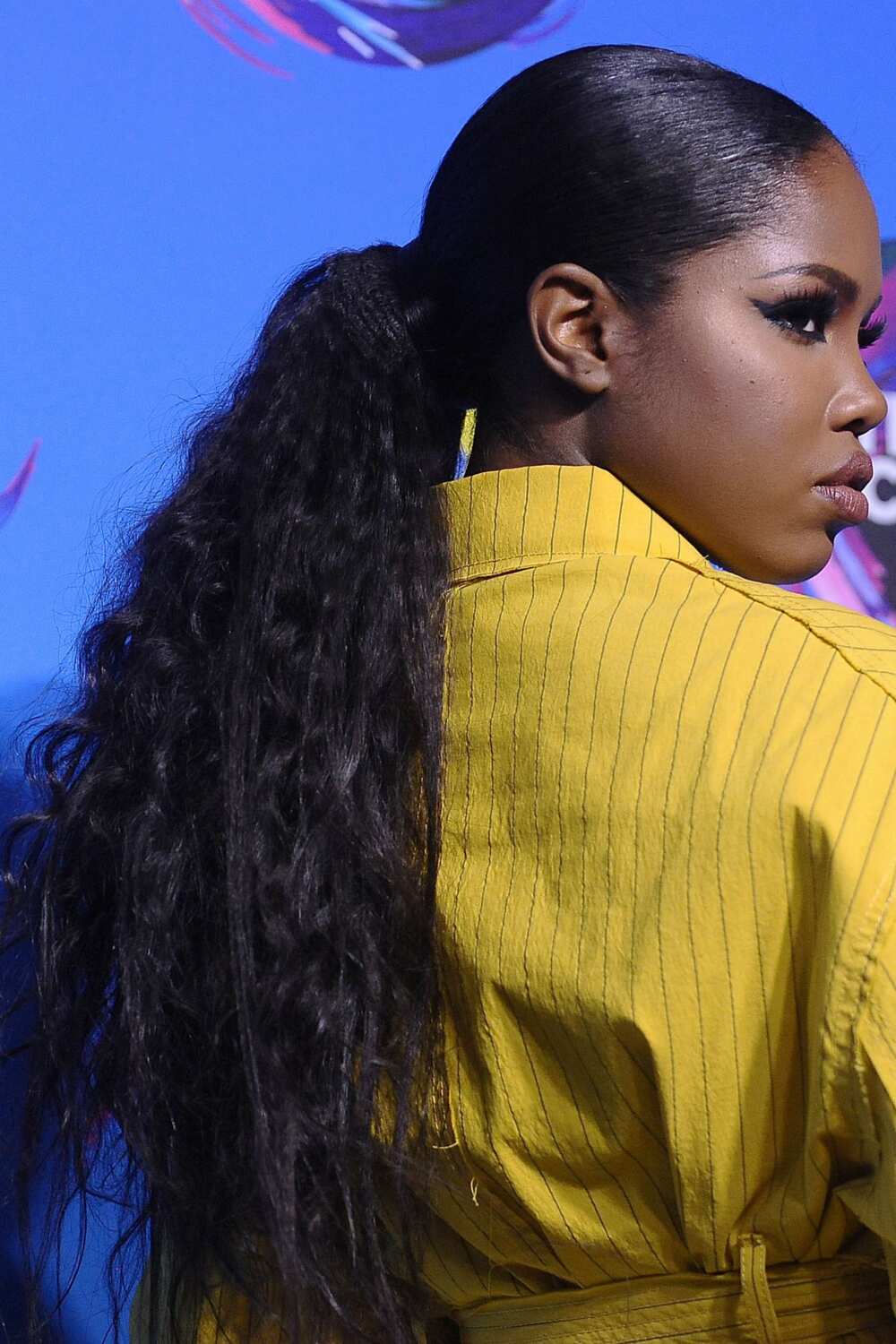 A ponytail with several textures within one hairstyle is something rather new in the natural African hair styles. It involves both straight and curly or wavy strands of hair within one hairstyle. The straightening in this case is done with the help of a regular hair straightener, not the relaxation procedure.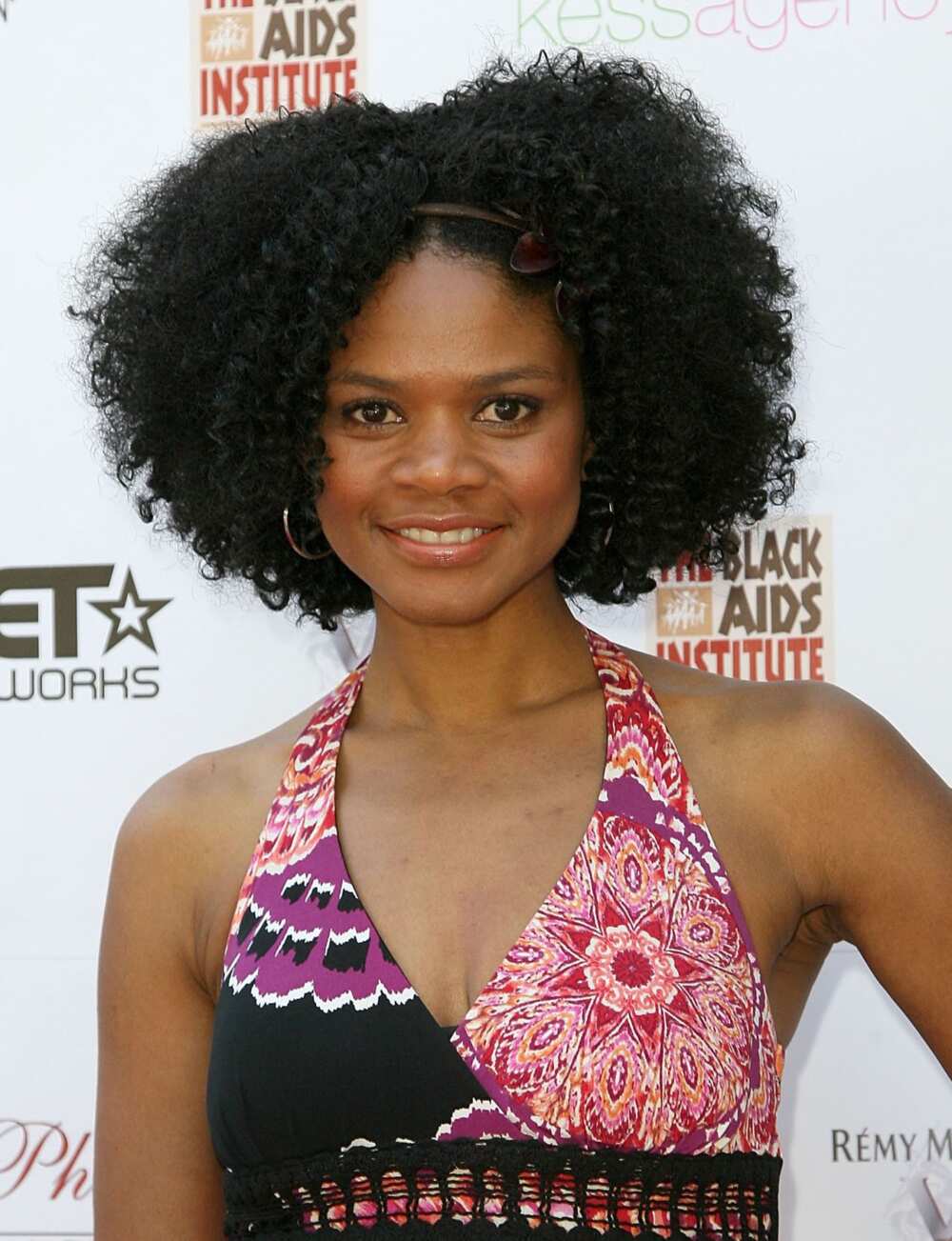 If you want something that looks very natural, choose the "wash and go" style. It means no specific styling except, probably some means that don't let the hair fall over your eyes. It means only the natural beauty of your hair. However, to be able to wear it, you need to be sure that your hair is healthy and moisturized well.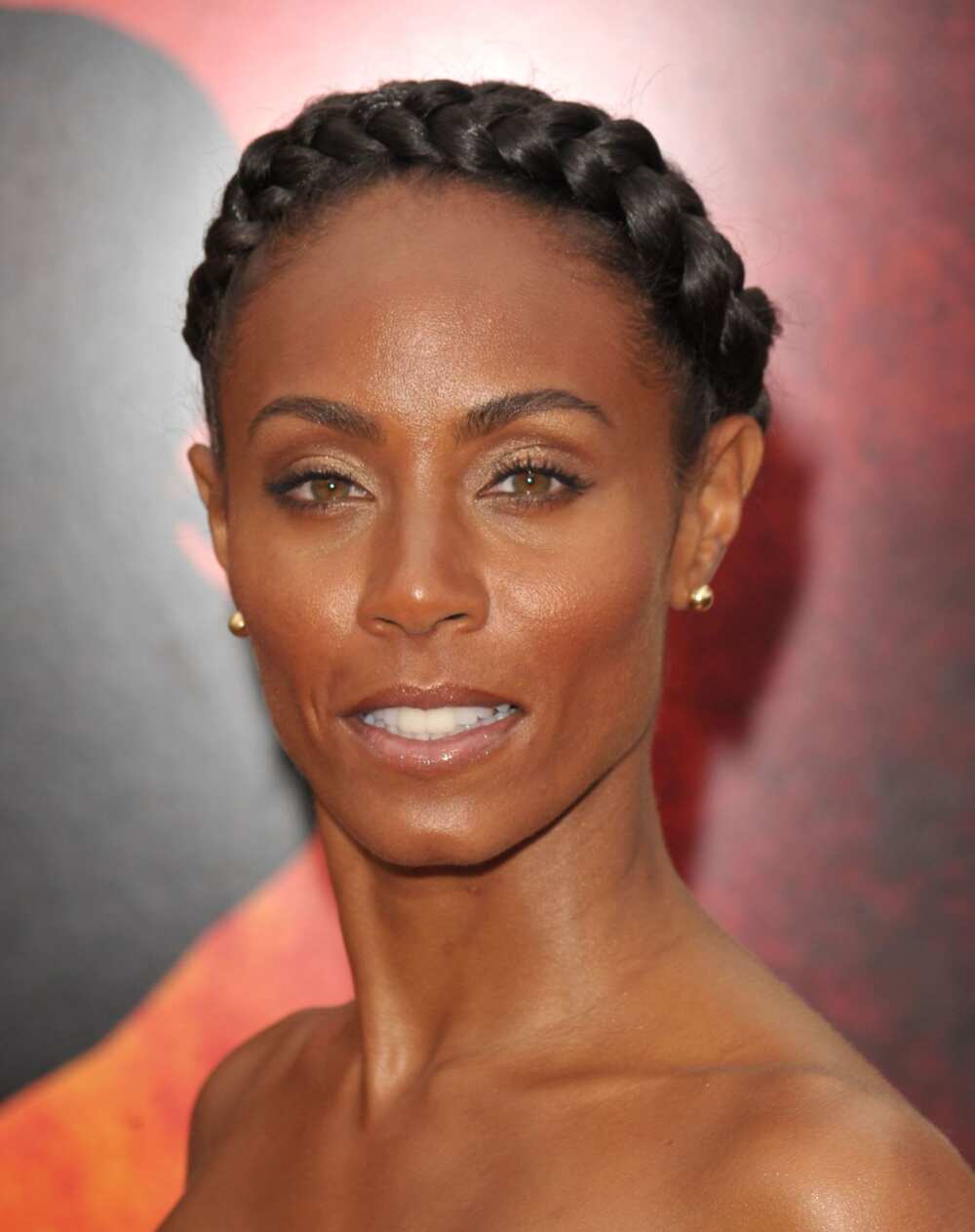 A halo braid is a popular hairstyle that looks especially interesting on African women. If you want to recreate this hairstyle, you need to braid your hair neatly and then wrap the braid around your head, securing the tips reliably.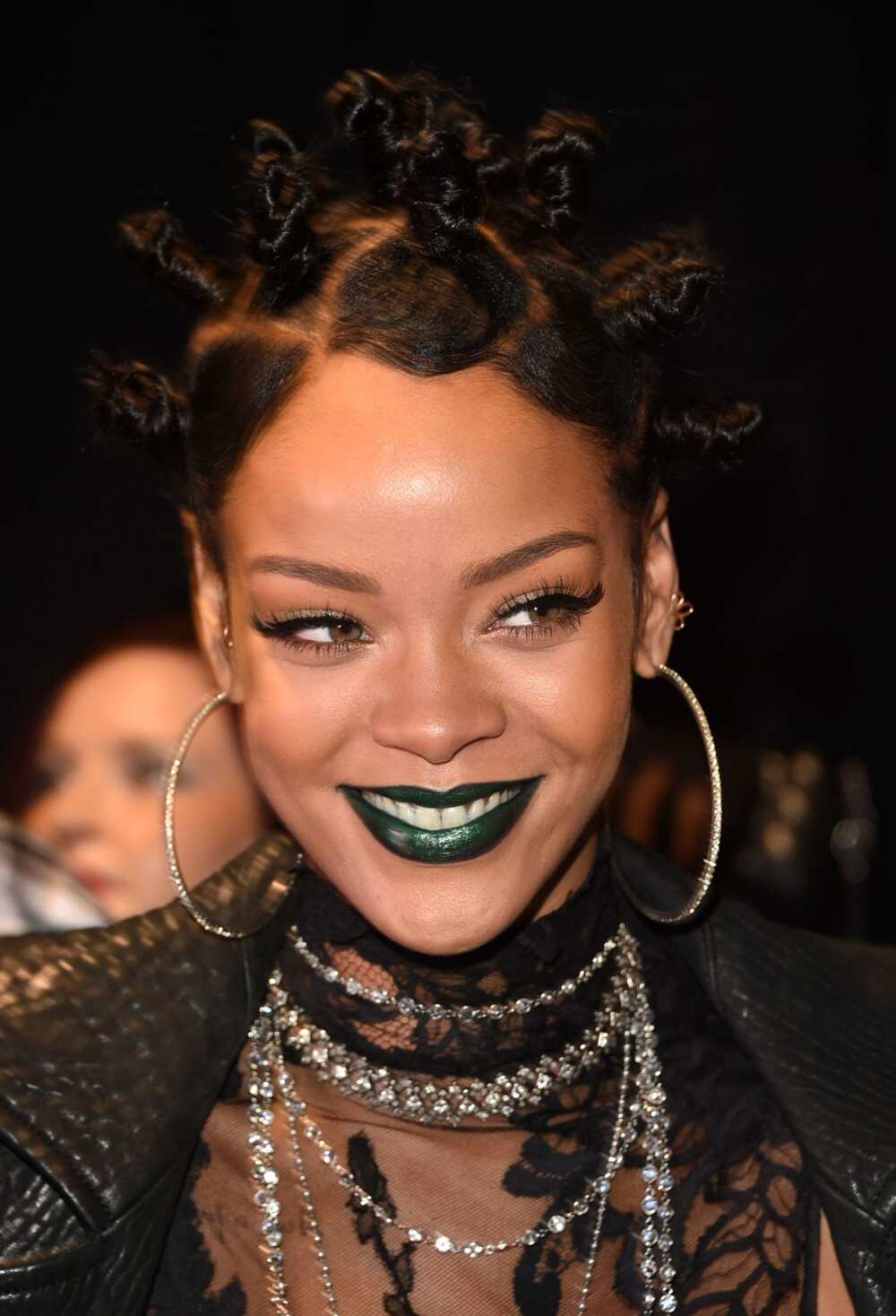 Bantu knots are one of the most exotic hairstyles from Africa. The hair is separated into a number of sections, each of which is then done into a knot in a specific way. This hairstyle doesn't damage your hair but helps you keep it neat and very stylish.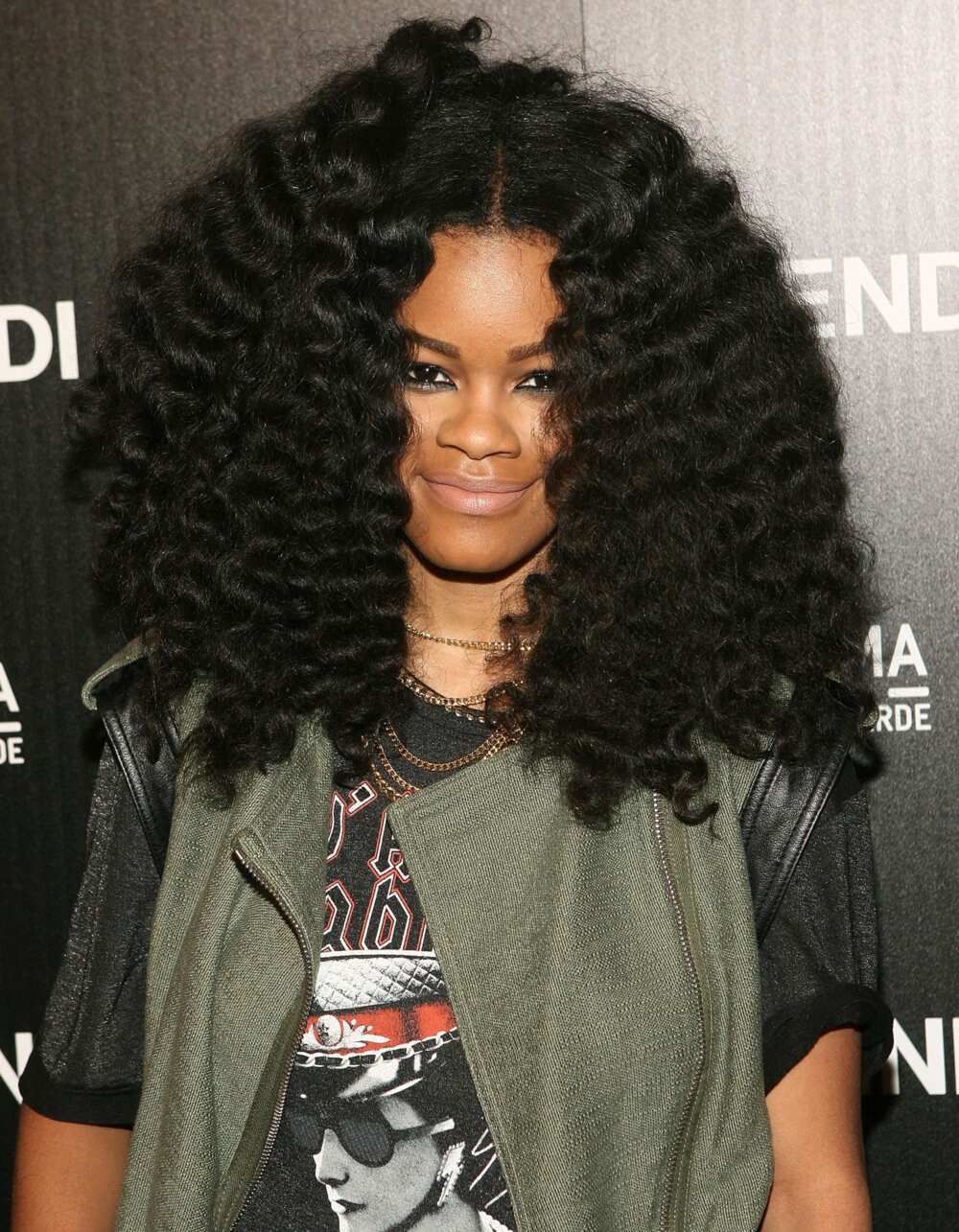 When you undo your bantu knots, the hair you receive after the procedure also looks great. You will have your natural hair done into voluminous bouncy waves that look neat and very silky.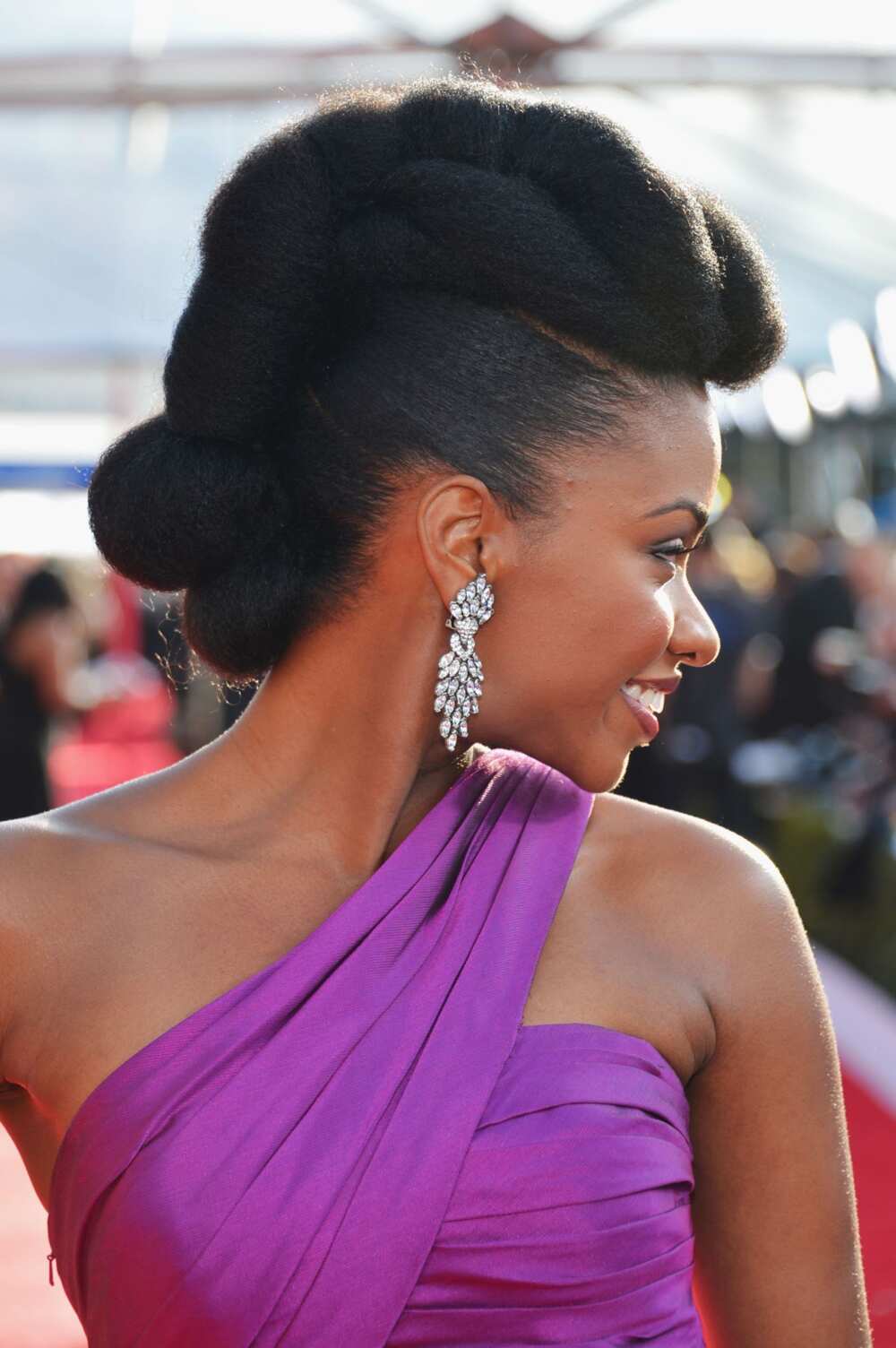 READ ALSO: Different types of cornrows for guys
A number of elegant updos can be made out of natural African hair if you give them a chance. The hair that's laid close to the scalp is normally smoothed and gathered tightly but the loose ends are styled into big voluminous buns and knots. This volume gives such hairstyles their elegance and loveliness.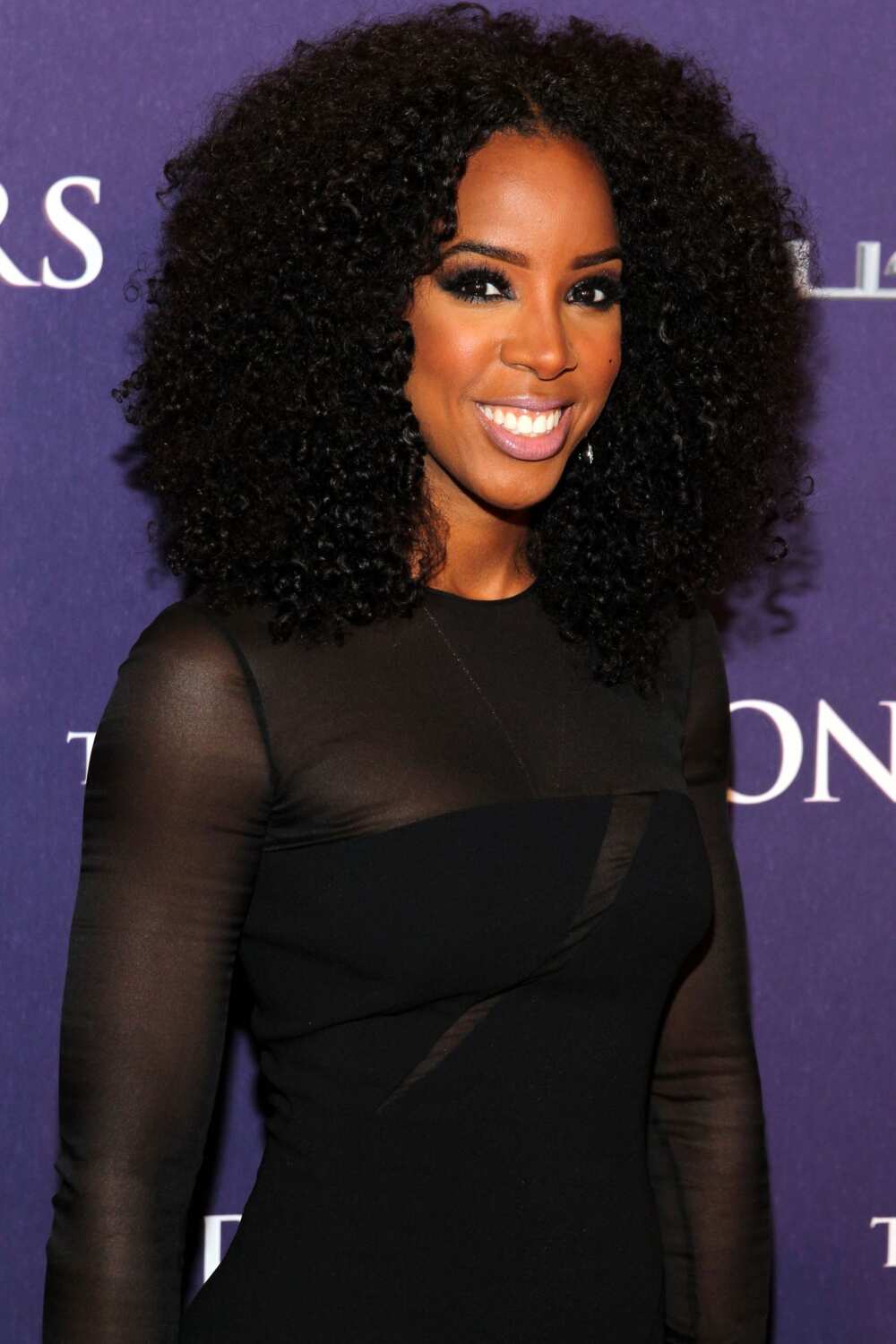 Crochet braids and the springy curls you receive when you undo these little babes is exactly what you need if you want to have some neat and silky volume on your head. The braids themselves are a comfortable hairstyle for everyday wearing and they can last up to several months without any correction or so.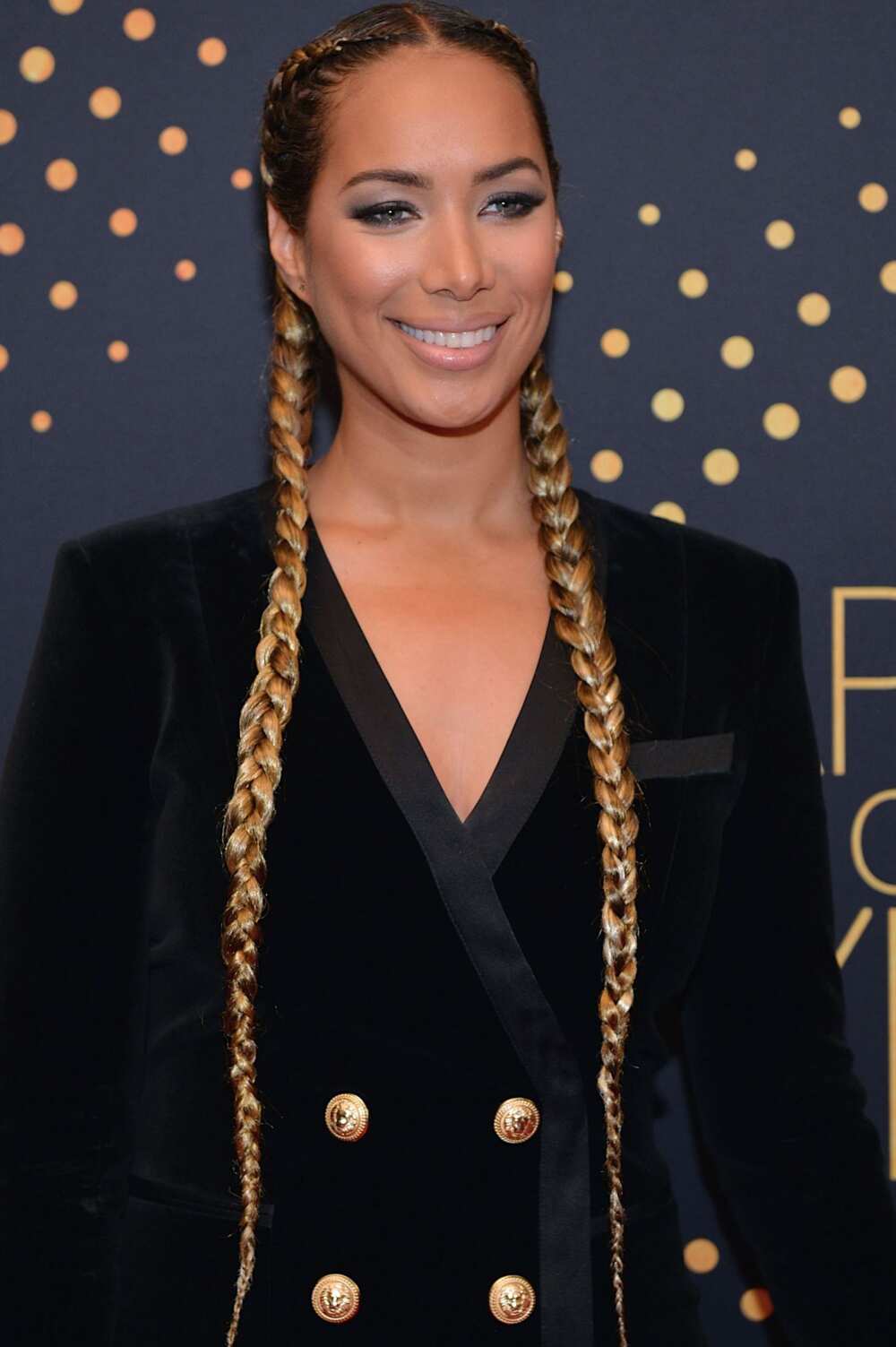 French braids are a very popular hairstyle nowadays on all continents. They are easy to make and you can create a huge number of variations braiding something new each time. These braids look very neat and accurate and they preserve your hair, too, as you keep it safe from the effect of the environment.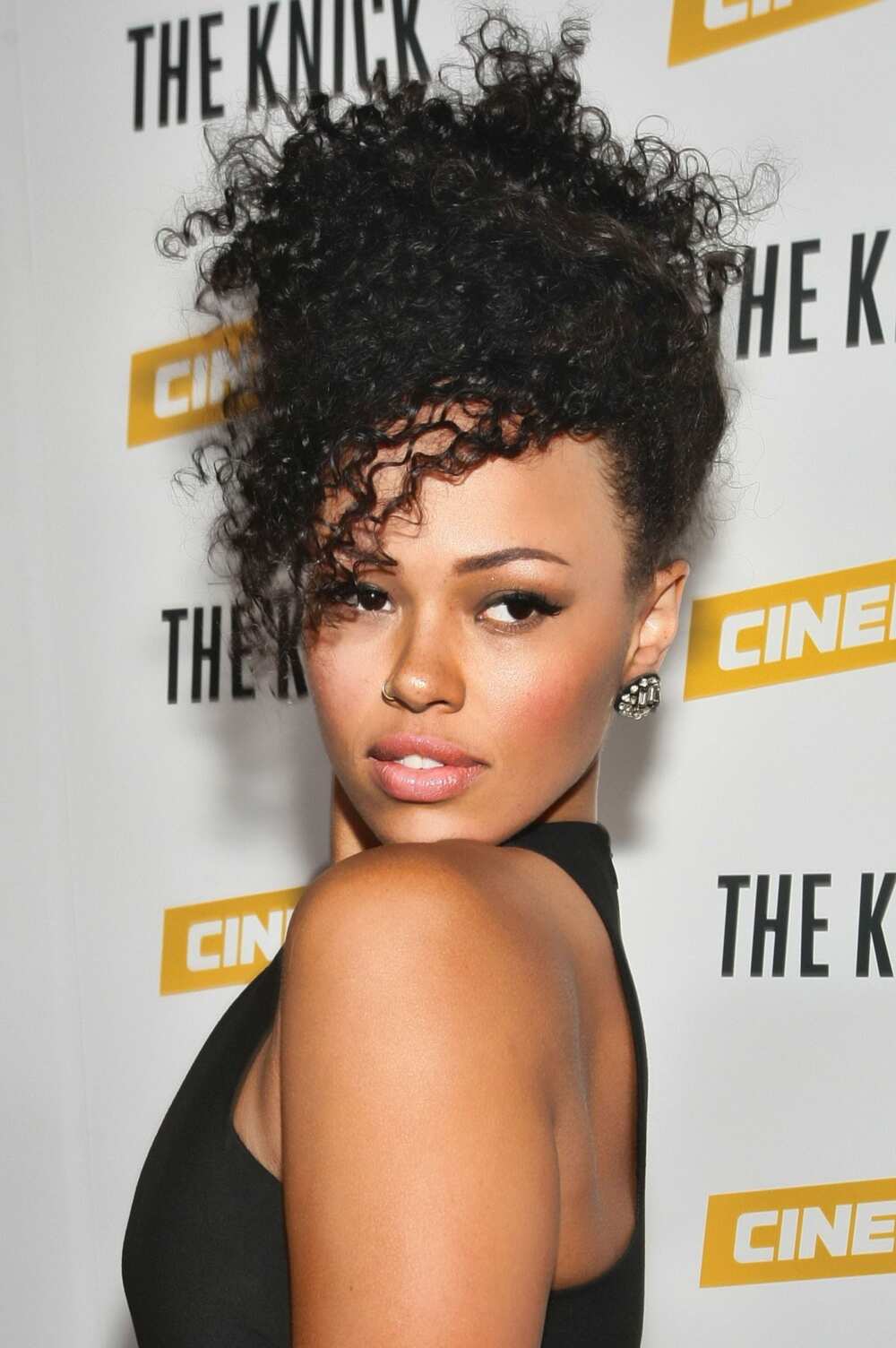 A pineapple style is one of the simplest hairstyles you can create. Just gather all your hair at the top of your head and tie into a kind of a ponytail. The loose ends of your hair will create the pineapple effect and you will see that this is one of the most comfortable hairstyles because it's made within minutes.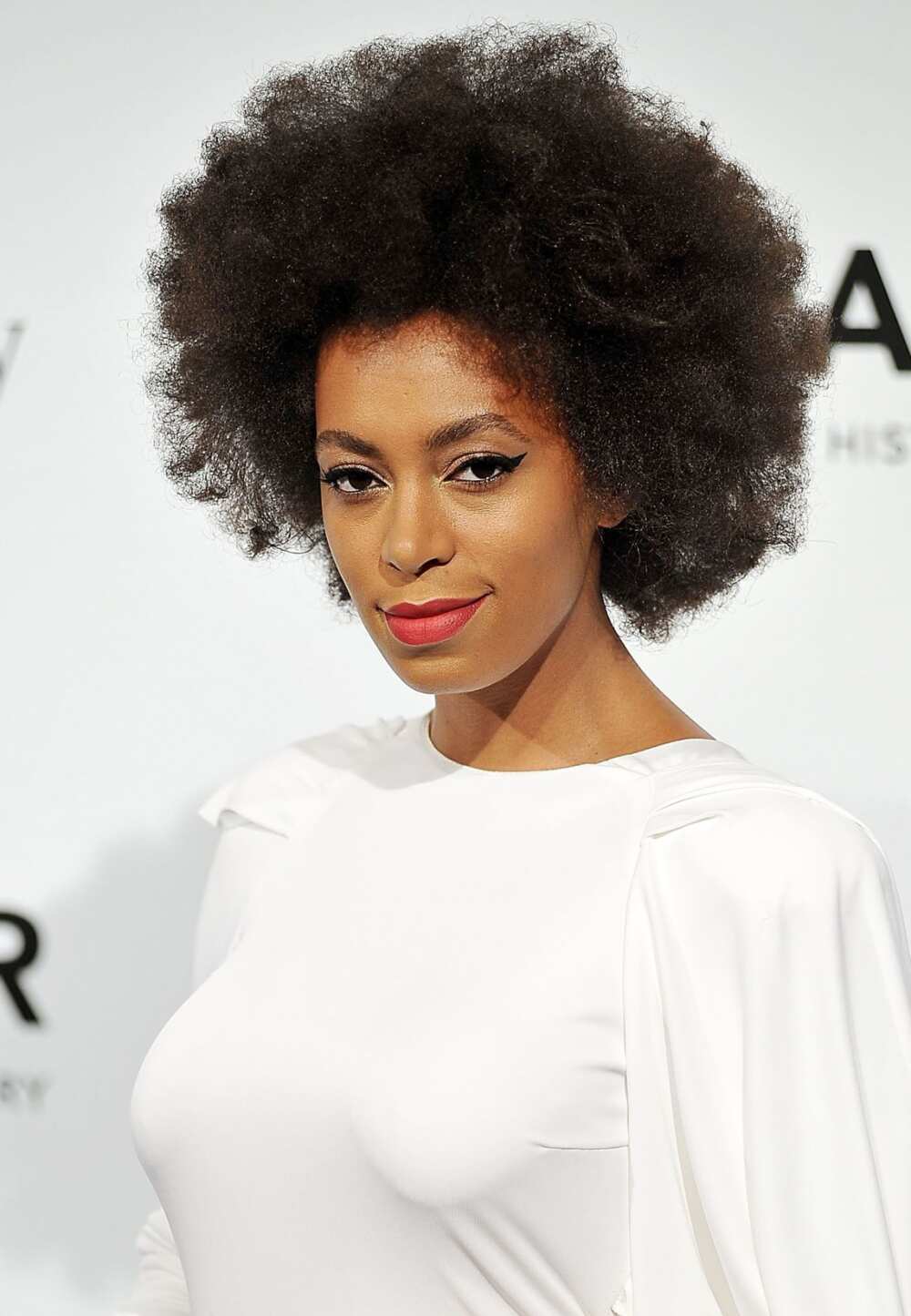 An afro hairstyle with bouncy curls is a great choice if you want to rock your natural hair. However, without even the need to relax your hair, you can show the length that you possess. Use a hairdryer working at a heat mode and stretch the hair a little just to show the length. You will also enjoy the volume and shine of your hair.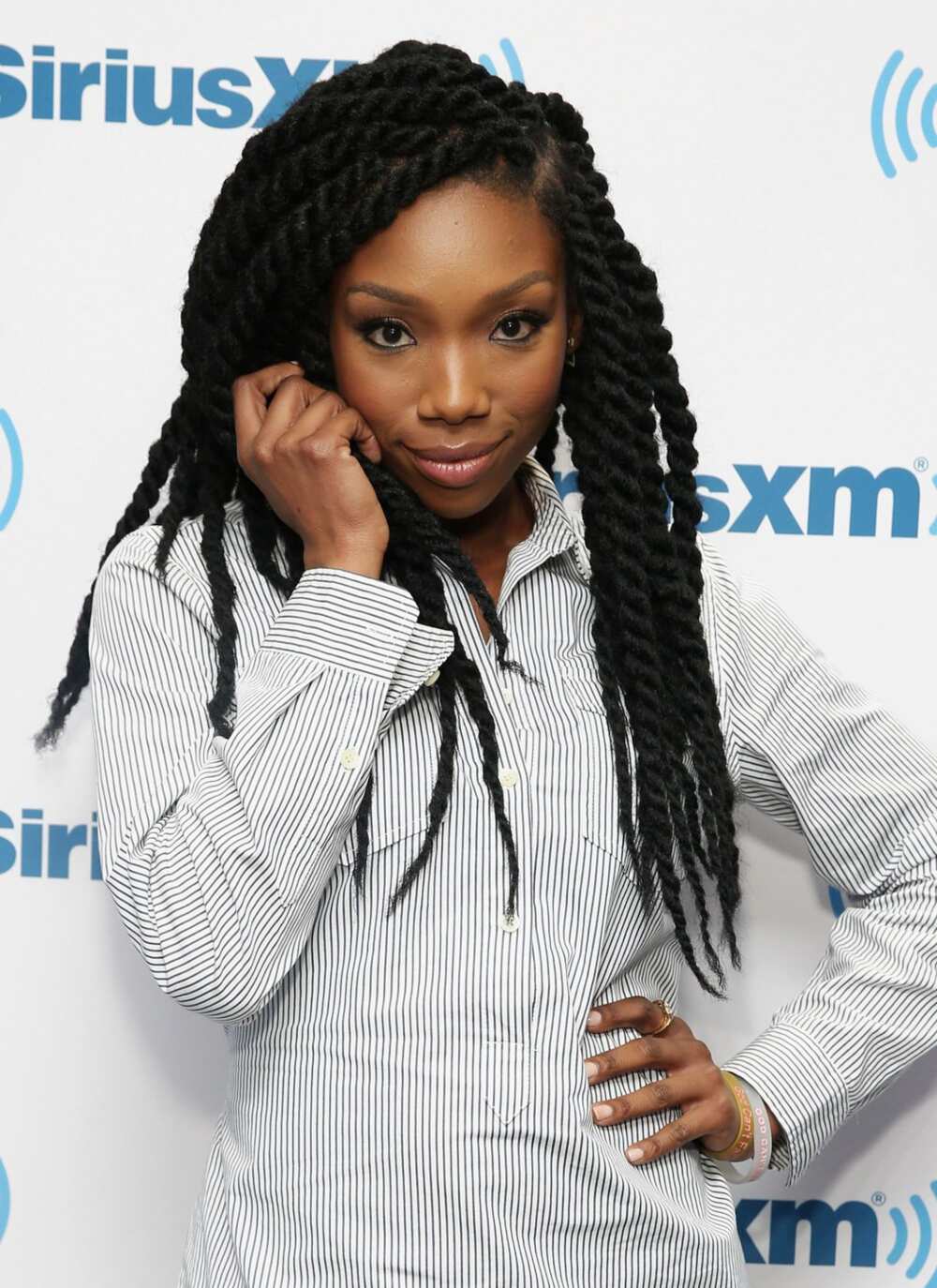 Senegalese twists are another variation of protective hairstyles that allow growing healthy hair after relaxation. They look great when made out of both only natural hair and hair extensions. If you like this hairstyle, you can enjoy it, no matter what the condition of your own hair is.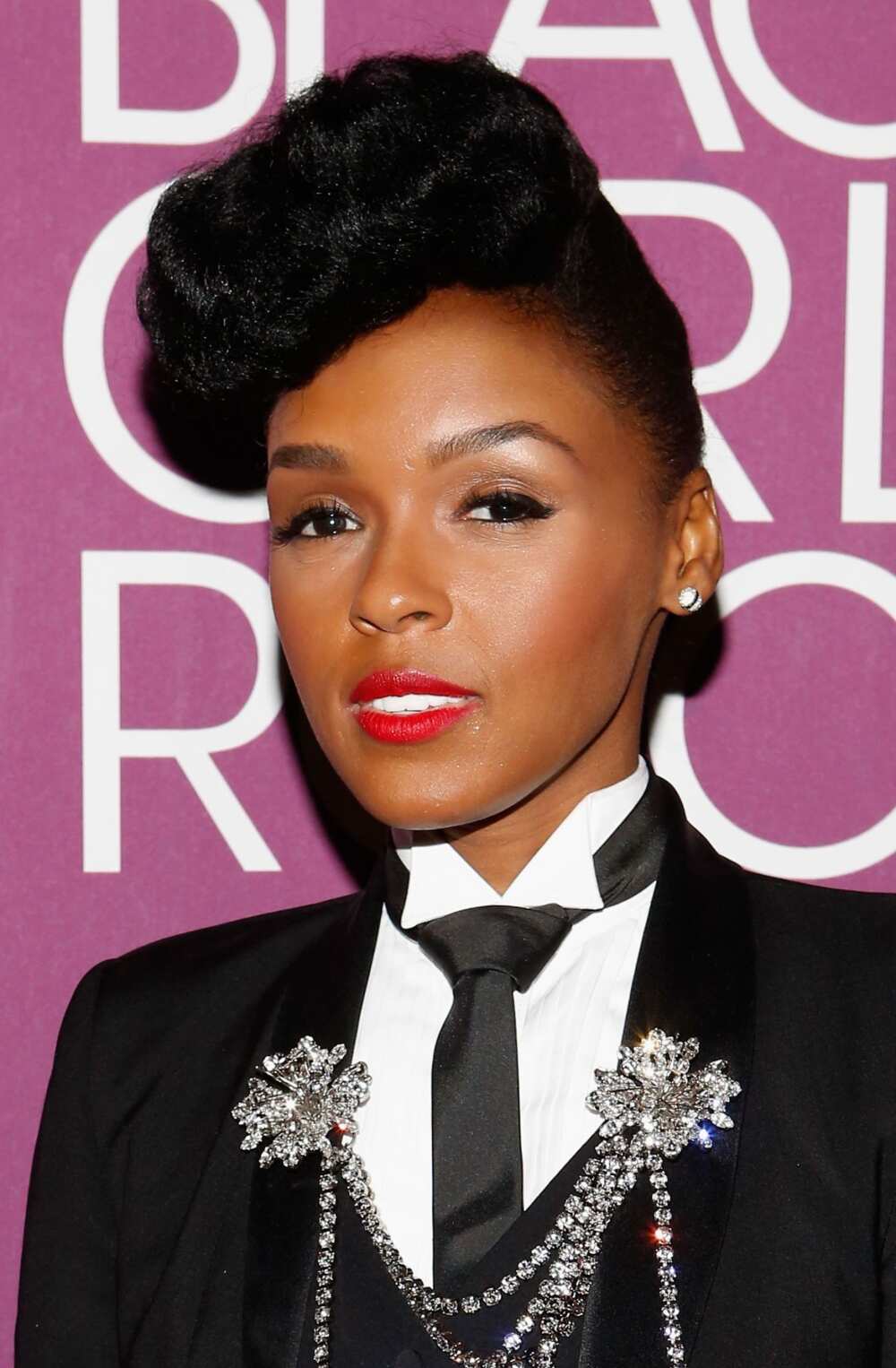 If you need something really interesting and unusual for a special occasion, try this hairstyle. It's often called pompadour for its resemblance to the wigs worn by the famous marquise. This is a great stylish idea and even though you will most likely need a hairdresser to repeat it, you should definitely try this hairstyle.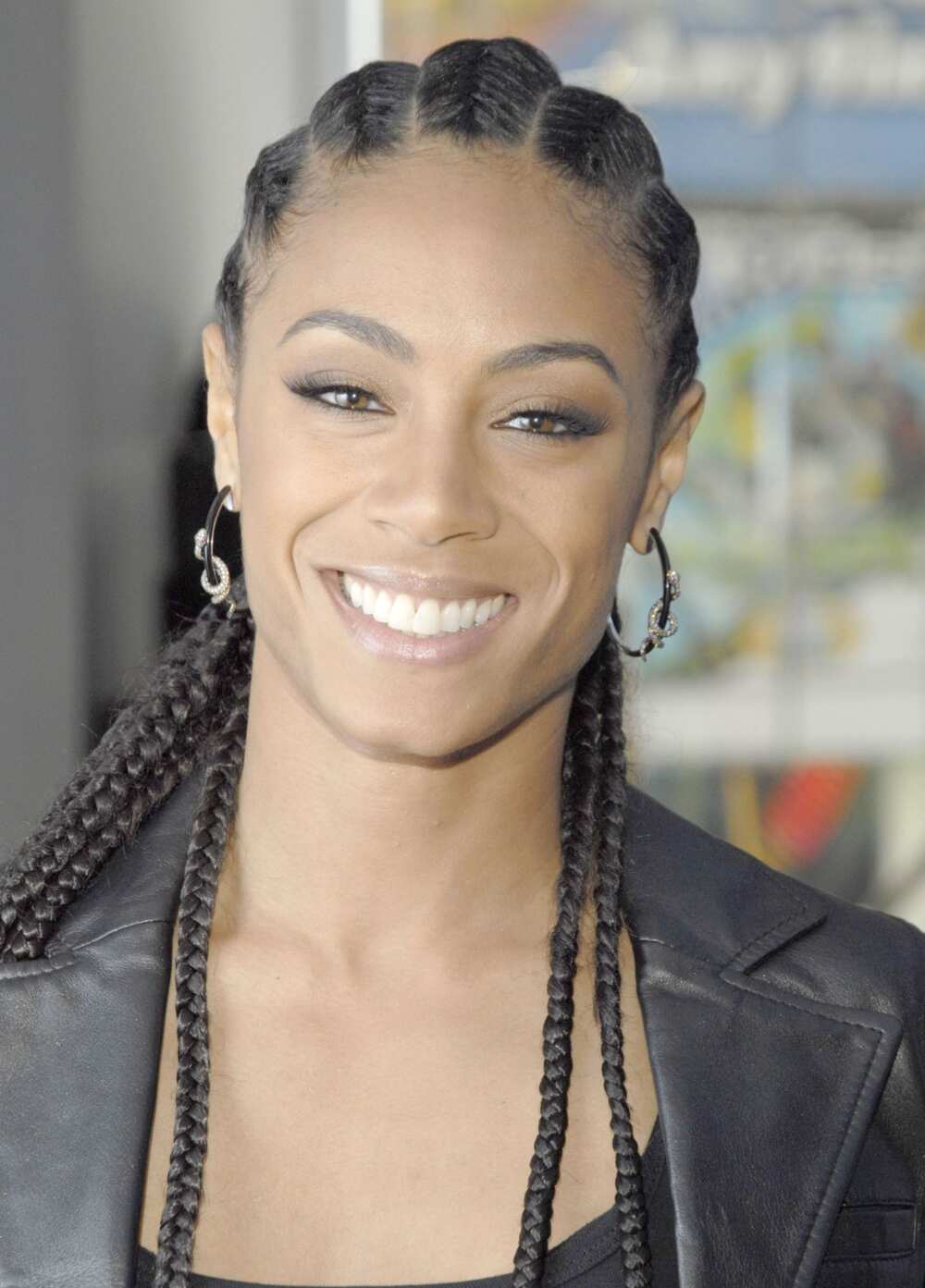 Cornrows are one of the most authentic native African hairstyles. They look great, can be worn for a long time and, as well, protect your hair if you need this protection. Many celebrities have been noticed wearing this super comfortable and cute hairstyle in its different variations.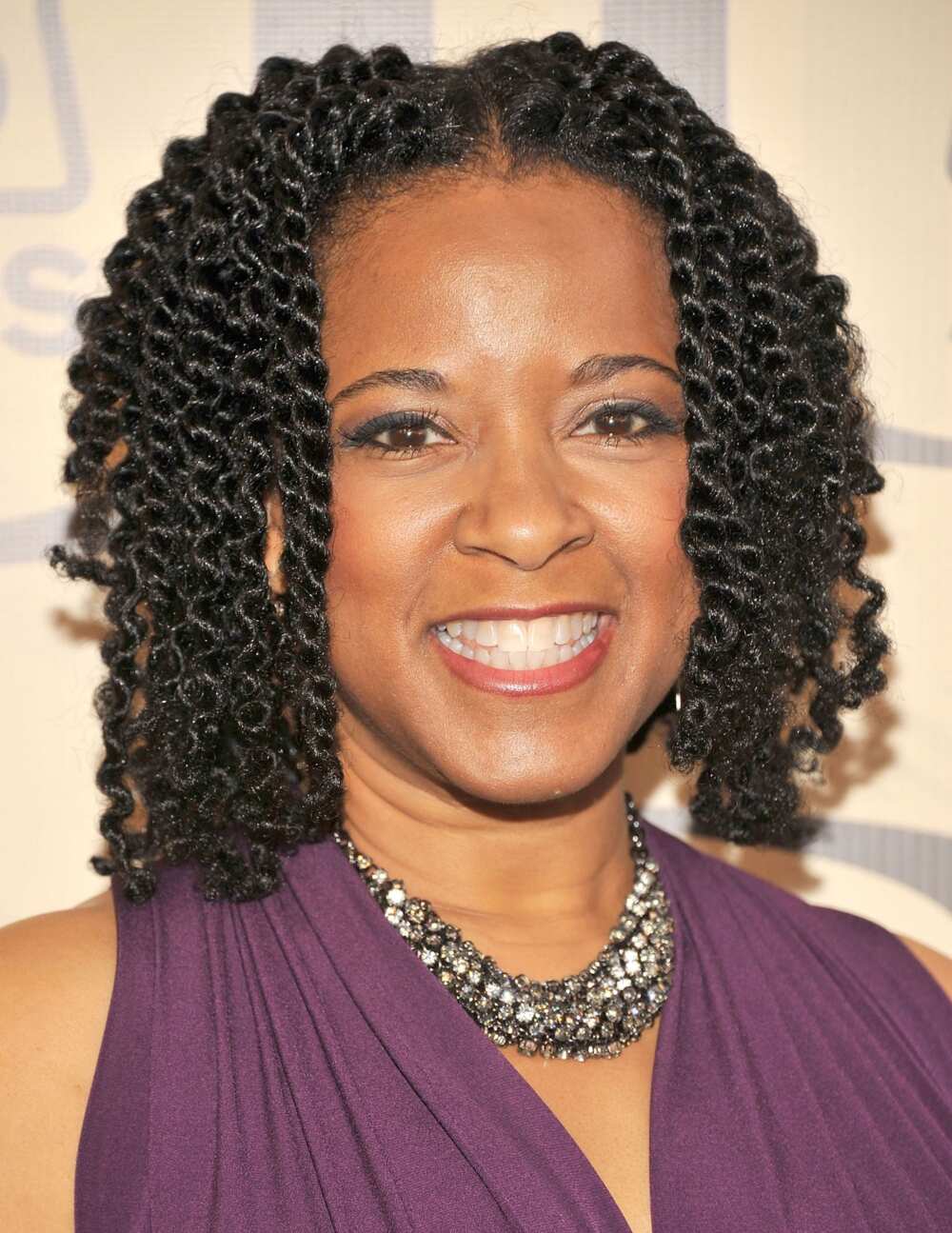 .Twists with two strands are a hairstyle that's done quickly but worn for a long time with a lot of pleasure and satisfaction. It matches any face, can be made with hair extensions and if you want, you can wear it as long as you like.
These are some of the best natural Afro hairstyles for women. If you are looking for good ideas, check out these ones and maybe you will fall in love with some of them. They are comfortable, native, and very charming. This is everything that's needed for a great Afro look!
READ ALSO: Yoruba Didi hairstyles you will adore
Source: goodhousekeeping.com
Source: Legit.ng