Braid hairstyles for long hair
Braided hairstyles are absolutely loved in African countries, including Nigeria. They are graceful, lovely, and indigenous. The braids can also be styled in so many different ways, and nowadays more and more women opt for braid hairstyles for long hair. Check out the trendiest braided hairstyles for black women in our post below!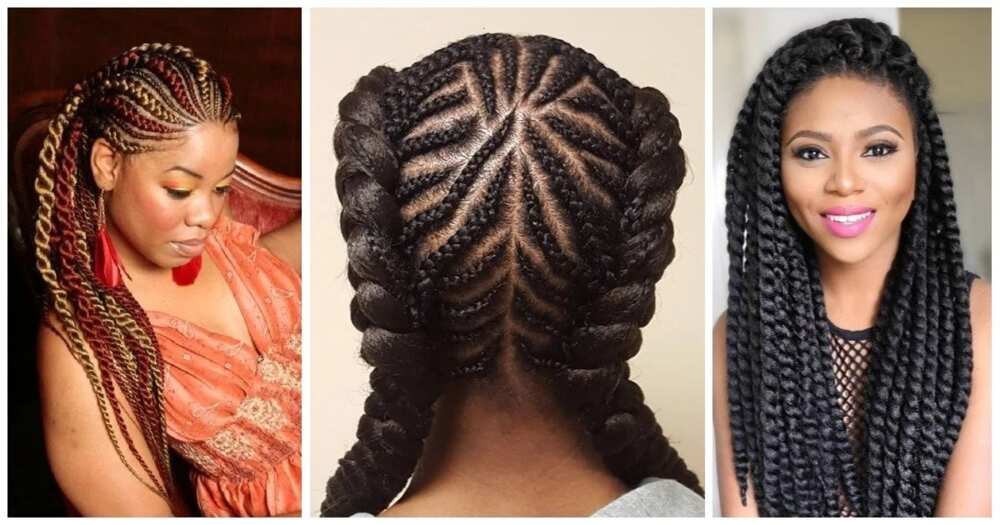 Easy braided hairstyles for long hair
Everyone knows that cornrow braid styles are beautiful and capture everyone's attention. They are also protective for natural hair. Looking at cornrow braids, it is hard to believe how many ways to make a unique hairstyle are there because they are all different and interesting. We have prepared some trending braid hairstyles for long hair to give a kick to your inspiration. Maybe you will be able to make one of them by your own or use services of a professional.
1. Simple black braids
If you are a lover of classic hairstyles, you can gather your long hair into thin little braids and your look will be especially gentle and natural. They can be worn every day and are quite easy to be wrapped into buns and ponytails, which gives you the variety. You can wear any clothes with them – from summer tank tops to turtleneck sweaters. Regardless, you will still look charming and cute.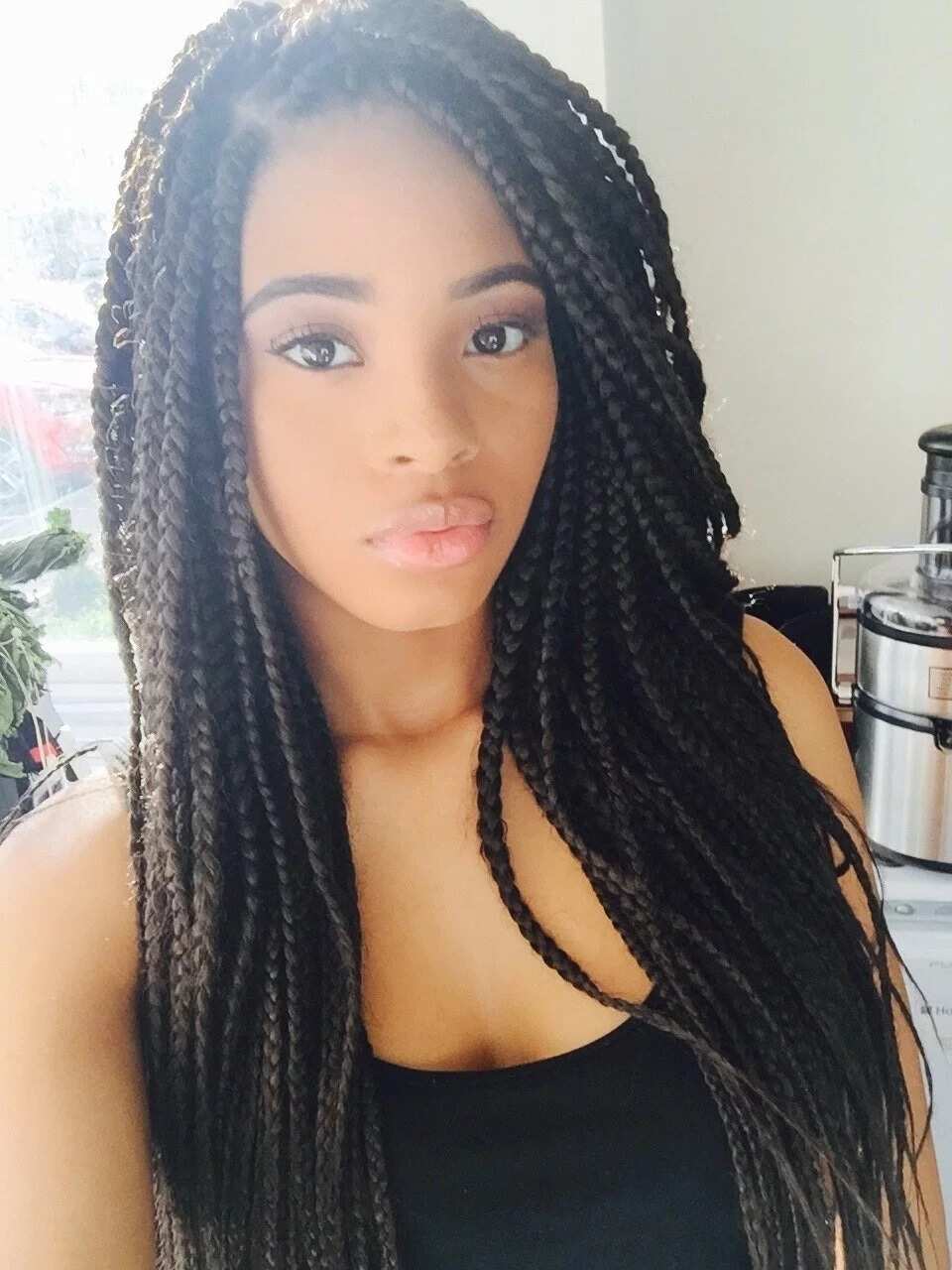 2. Blonde braids
Dying your braids golden blonde will make you look like a trendy fashion model. This hairstyle is perfect for those who are daring and not afraid of the experiments. You will truly stand out from the crowd. The mix of blonde and black hair is hot, and you can always add some special twists to stand out more.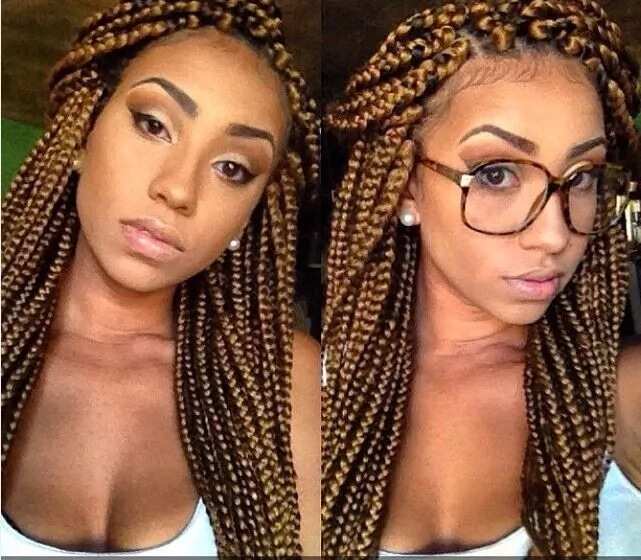 3. Thick black braids with a long twist
While thin braids are cute, thick braids will really give you a strong and fierce woman vibe. You can wear any kind of makeup with them and it will always look good, no matter if it is bright or not. You can also make different other hairstyles out of these braids, for instance, buns, twists, ponytails etc. If you add the jewelry, your look will become even better.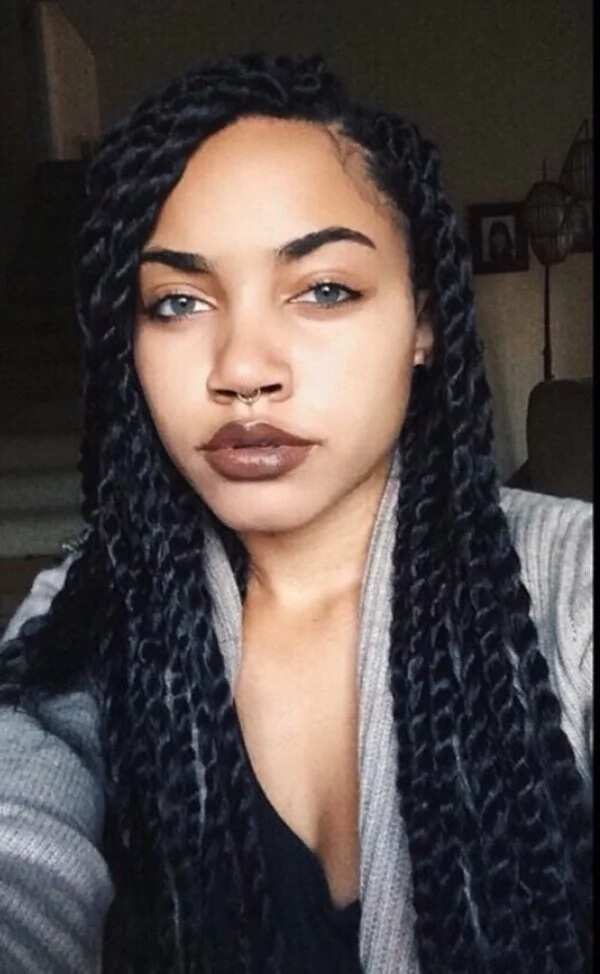 4. Long two-toned twist
Sometimes the simple braids seem too plain, and you want to add another tone to your hair. The braids of different colors would be the best solution for you! For instance, a few braids of light brown color would add dynamic and freshness to your entire look. All you need to add is a cute smile and fire in your eyes.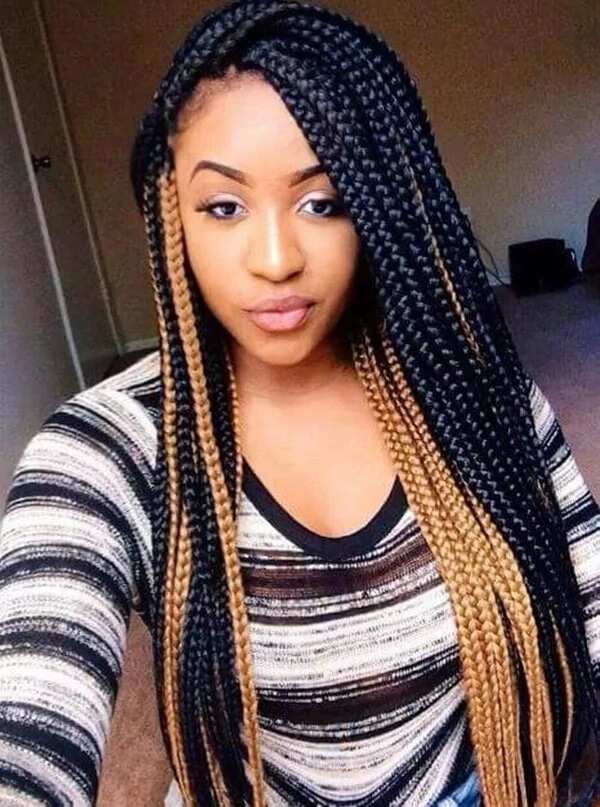 5. Cornrow French braid
The lovely look with cornrow French braids on the sides is a great decision if you want to look stunning and catch everyone's attention. This hairstyle would be good both for work and fun outings with friends. By the way, if you choose natural makeup, you will attract more attention to your amazing hairdo.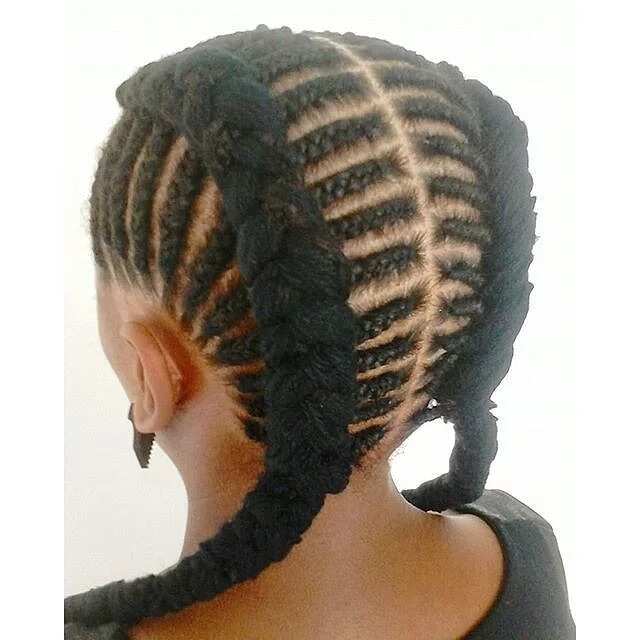 6. Braided rope twists
This hairstyle will put great emphasis on the volume and beauty of your hair. Here is a prime example how many simple, but interesting things you can do with simple long braids. You can wear braided rope twists with any type of makeup or clothing style – the outcome will be stunning anyway.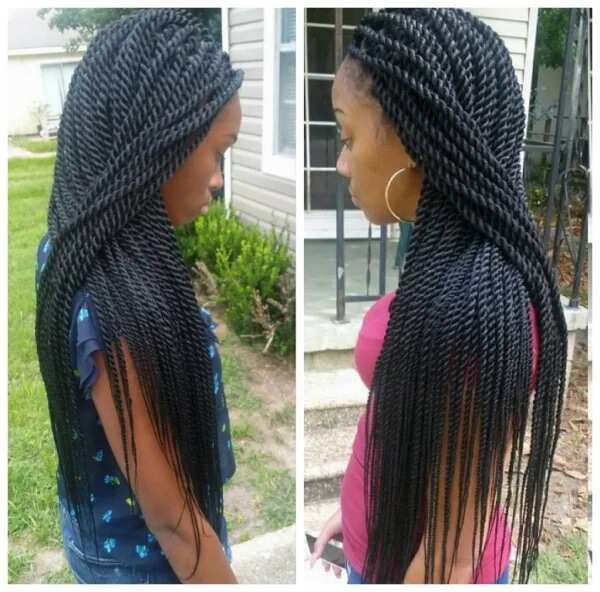 7. Havana twists with cornrows
Havana twists are one of the trendiest side braid hairstyles for long hair, and they add some fierceness, power, and determination in your look, while also looking elegant and striking. If you are not opposed to wearing all the hair on one side of your head, you can definitely go for this hairstyle and post the outcome on social media.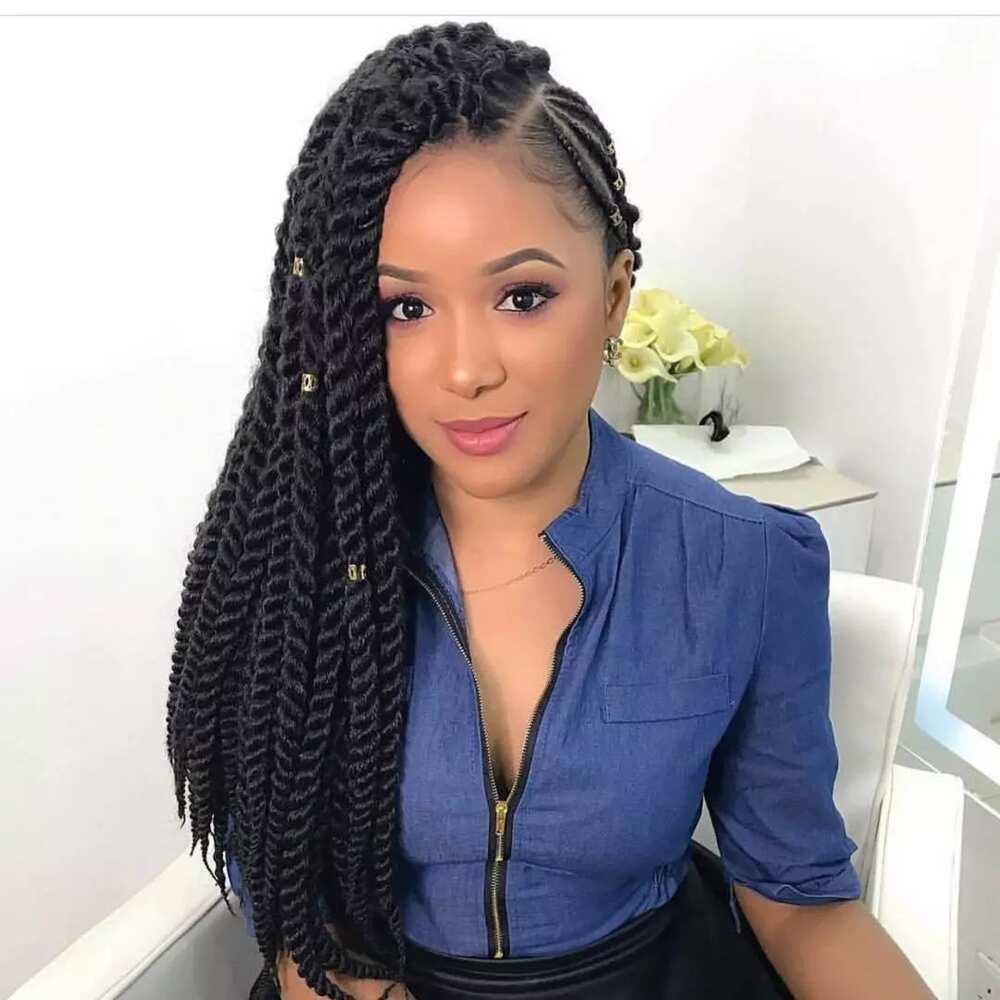 8. Long colored box braids
Yeah, black braids are classic, but some women want something more individual, that will help them stand out from the crowd. In case you are an experiment lover, you can find the color that, in your opinion, would look the best on your braids, and dye them. There are no limitations – you can choose from a variety of colors. Auburn, orange, grey, pink, brown are only a few of them. If you are bold enough, you can even dye them in an unusually bright color. Mixing colors is not a bad idea, either. Set your imagination free!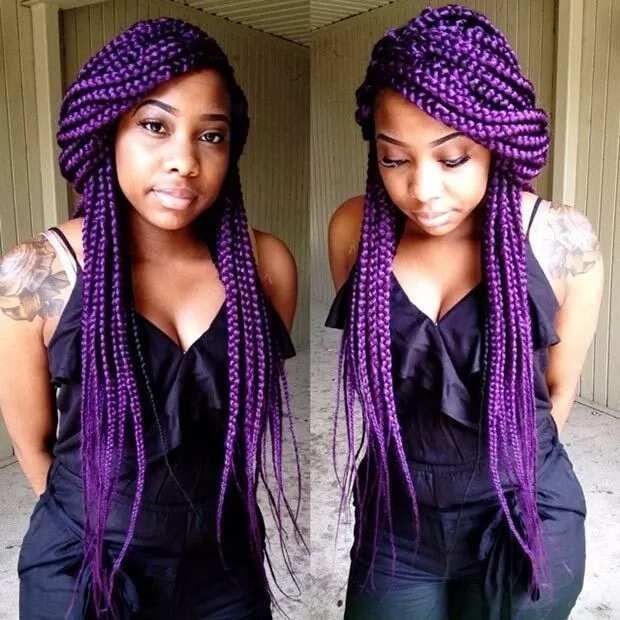 9. Jet black Senegalese twists
Senegalese braids look really special, and they add some dynamics and individuality to your face. They can be combined with a nice updo or bun that will add volume and personality. This hairstyle is born for showing your beautiful facial features and makeup, and in case you are going somewhere and want to look on point, this should be your first choice.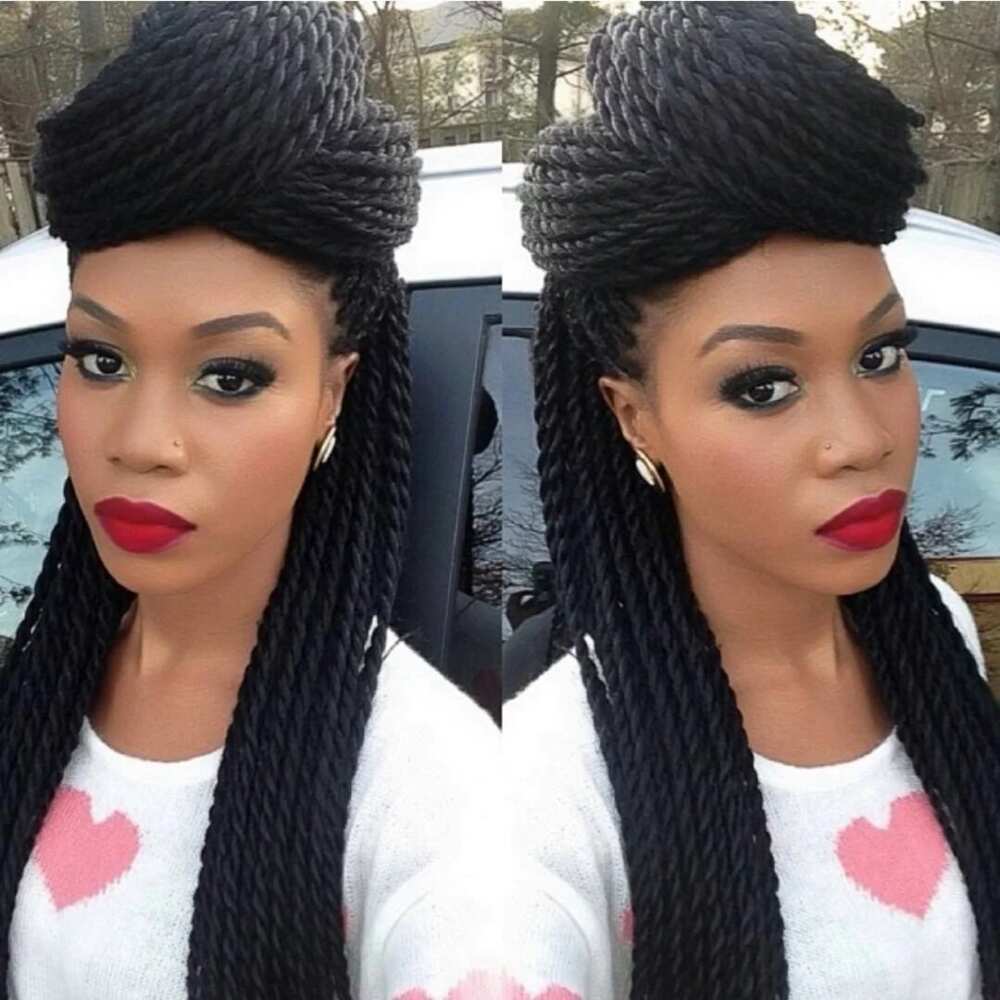 10. Twisted updo
Got long braids and have no idea how to deal with them? The nice updo would be the best decision for you, if you are engaged in the activities where long hair will bother you – for example, playing sports or going to the gym. Besides, this style will also help you with controlling the hair strands which easily get frizzy, because in summer humidity can do harm to the health of your hair. Overall, it is a nice idea and many women have confirmed this by wearing twisted updos.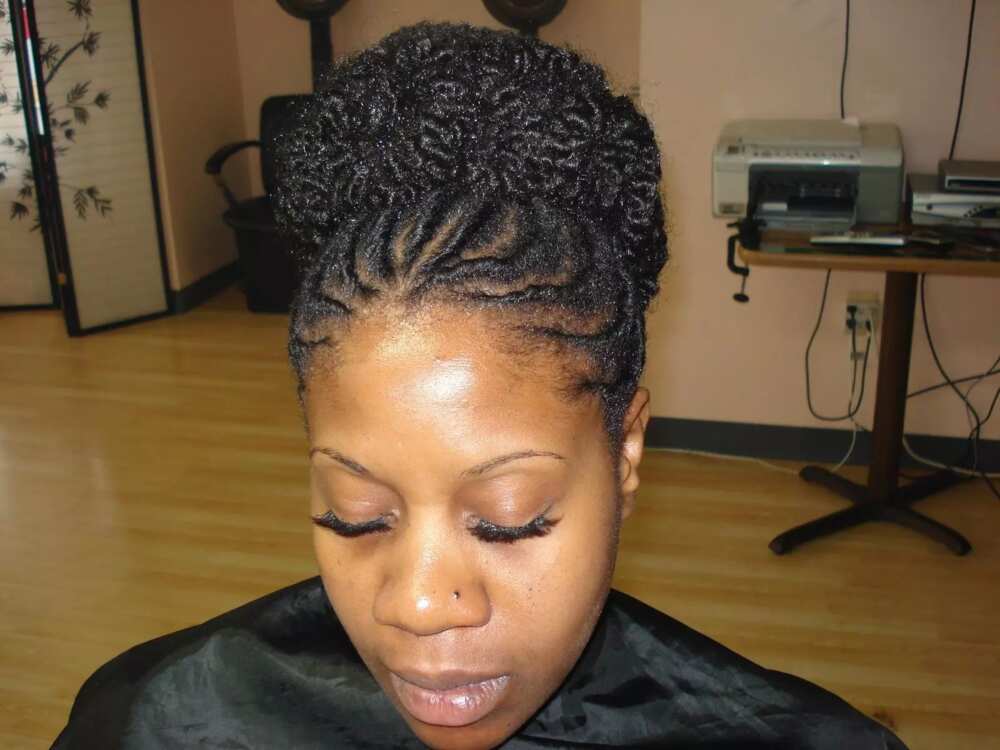 11. Braided side bun
Want something new and unusual? You could try a sweet braided side bun which will look fresh and gather all the looks. This hair could be absolutely perfect for a school dance, formal ball, birthday, or any other event where everyone is supposed to be elegant. By the way, you could also try wearing interesting earrings with it.
READ ALSO: Black natural hairstyles for medium length hair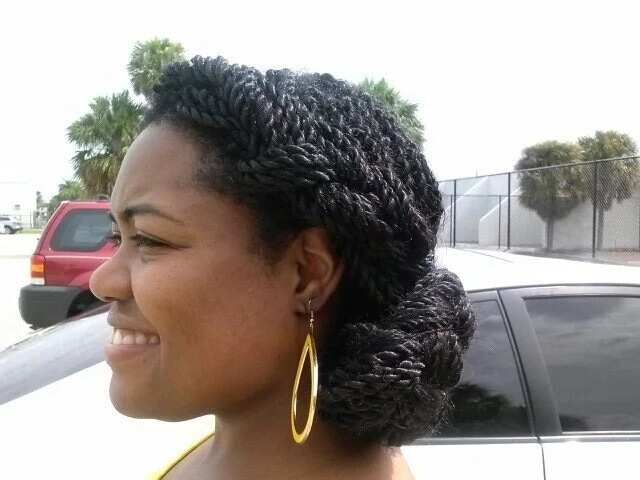 12. Two-toned Senegalese braids
Sometimes we all want to look like a celebrity. Then why not try the amazing two-toned thick Senegalese braids? You are guaranteed the immediate attention with this stunning hairstyle. There can be absolutely different color combinations – it is up to your own preferences. Many people consider dark and light brown to be the perfect tandem.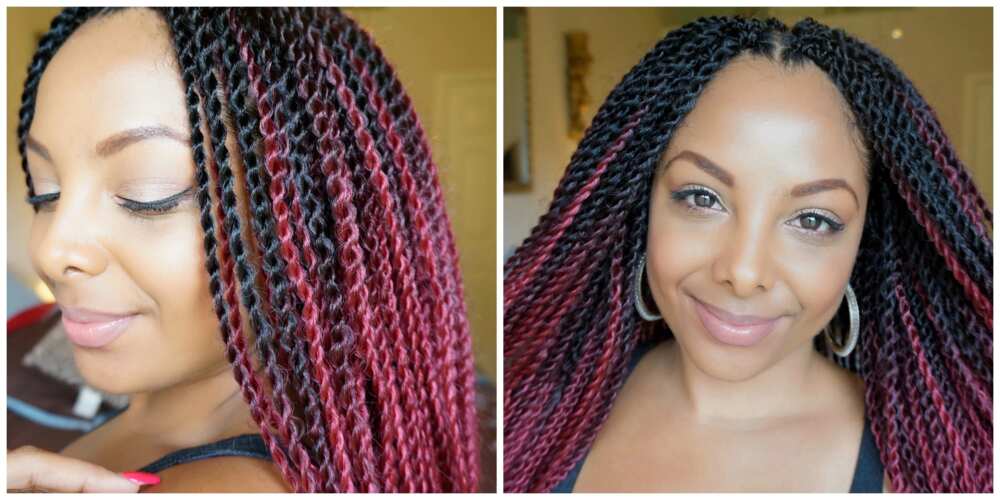 13. Green chunky braids
Of course, this color is not for everyone, but if you like experimenting with your style, it is just for you! Become a fantastic mermaid with the bright green chunky braids. If you go to the club for a night out, you can be sure that all the eyes will be on you. Besides, they are perfect to combine with some fancy makeup and earrings.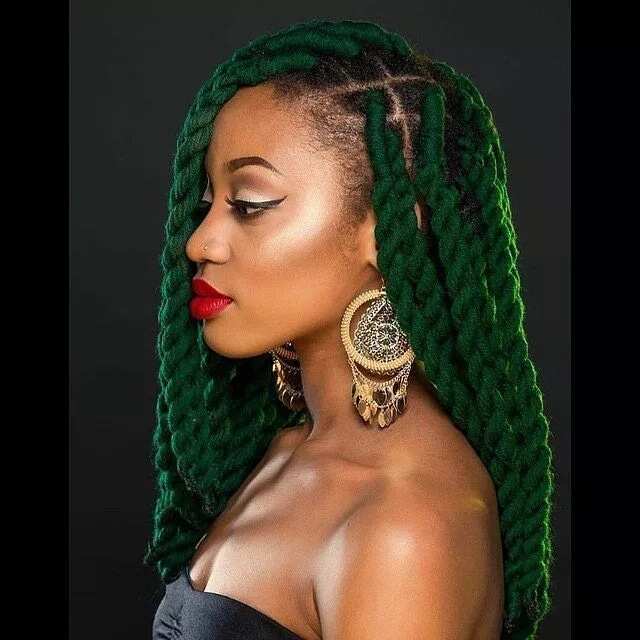 14. Jet black kinky braids
Here is another rebellious hairstyle for those who are completely sure they can rock it. These braids are shaped in an interesting curly way, and they are basically a mix of braids and curls. So, you can opt for a little change and watch everyone turn their heads in admiration. Play with your natural hair, get a little wild sometimes!
15. Long side braids
Every girl can throw her braids to one side and rock this look because it is one of the classic looks that will always be hot, spicy, and appealing. If you want to make a good impression when you go out for a party or hang somewhere with a company of friends, the choice of side braids will always be on top. It is one of the best ways to grab some attention.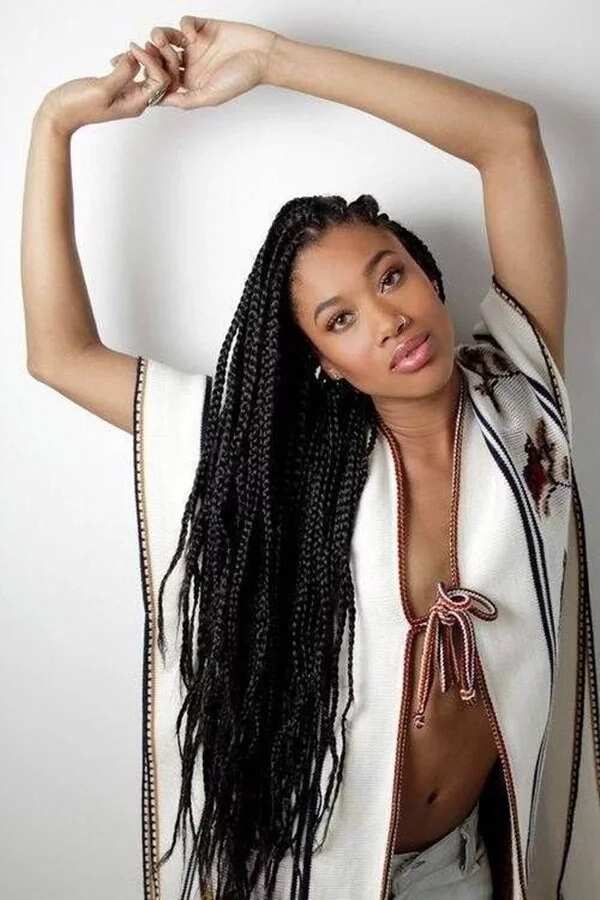 16. Multiple twisted updos
One updo is good, but a few of them are even better! You can make a few lovely updos out of your braids, and make sure everyone is captivated by the unique designs on your head. This hairstyle will never get lost in the crowd, and it will showcase how brave and daring you are. And of course, everyone will know that your stylist is a true professional!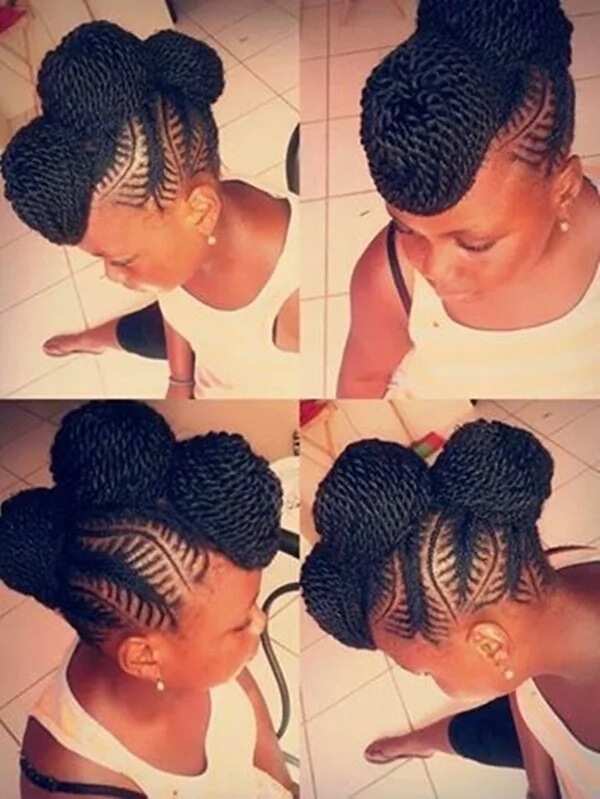 17. Golden bun
If you have dyed your hair golden blonde, you will appreciate the elegance of this bun. This is the perfect hairstyle for the formal events. Also, if you add some golden accessories and beautiful makeup, no one will be able to take their eyes off you!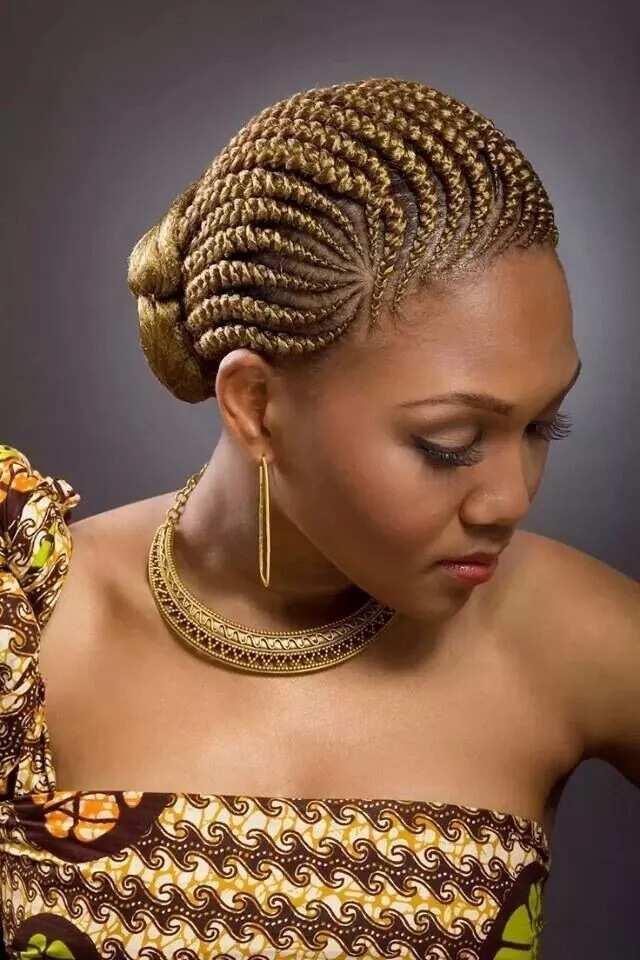 18. Long braided ponytail
Braids can be easily gathered in volume ponytails. They are really versatile and you will always feel comfortable with them, along with also looking gorgeous. By the way, ponytails on dyed hair, like blonde, light brown or red, have a special charm. Adding a bright lipstick to the general picture would be a nice idea.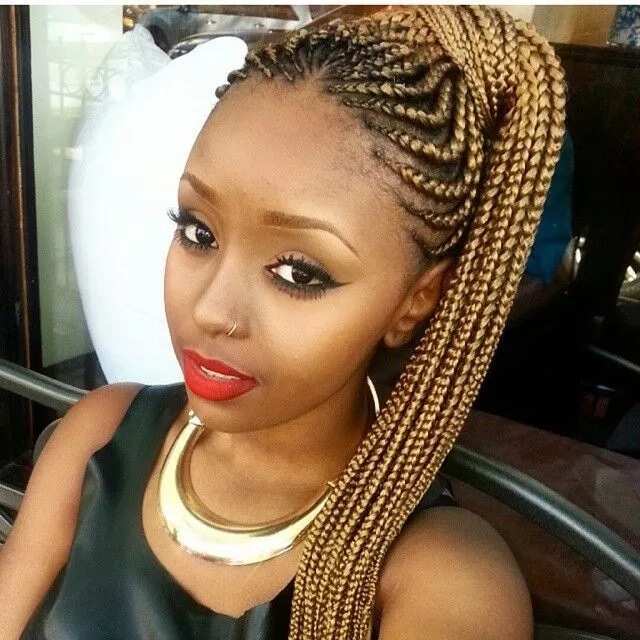 19. Stylized cornrows
Sometimes the cornrow braids can be styled in some really interesting way on your head – up to the different patterns on your head, made of hair. This is why many women attend the stylists in hopes to receive the most extraordinary look. You should definitely try the stylized cornrow braids if you want something exotic and interesting.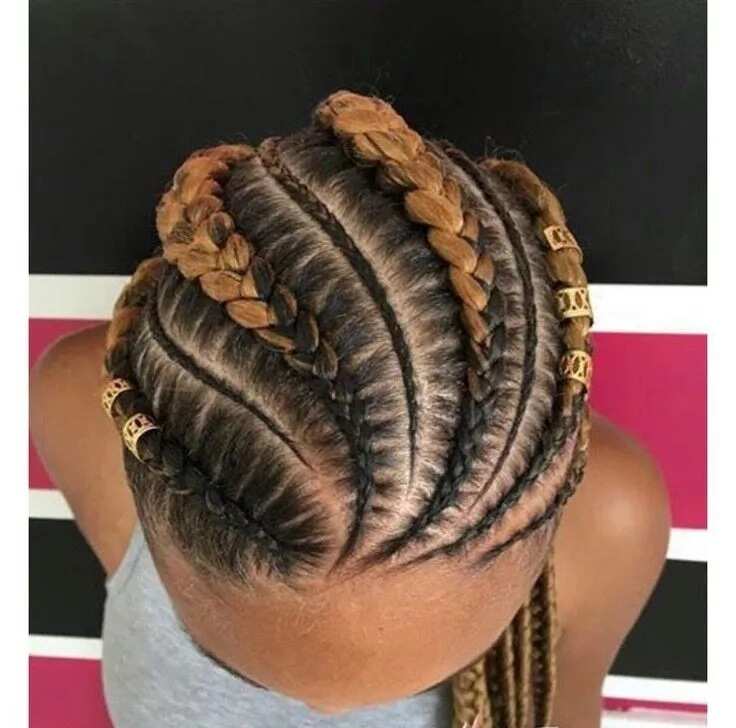 20. Jumbo braids
It is hard to look the other way when you see a beautiful woman who is wearing jumbo braids. Sometimes the stylists make them more realistic by making the braids smaller towards the end. Either way, jumbo braids is a hairstyle for ages. We know for sure it will always be one of the most favourite hairdos of the African women.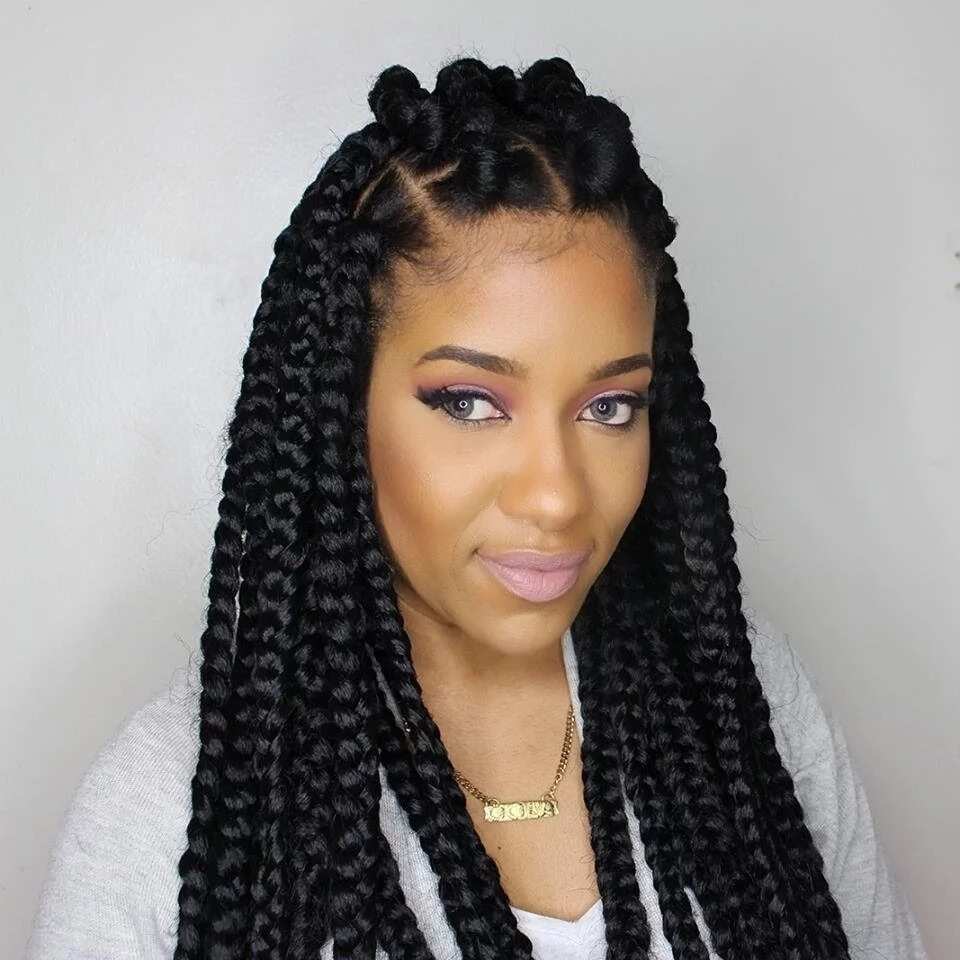 21. Fishbone designs
The latest trend among women with braids is fishbone designs. There are so many unique patterns that you can replicate on your head. Besides, this hairstyle will indicate that you are fierce, fearless and independent. Fishbone hair designs are for those who love experimenting with fashion and being different.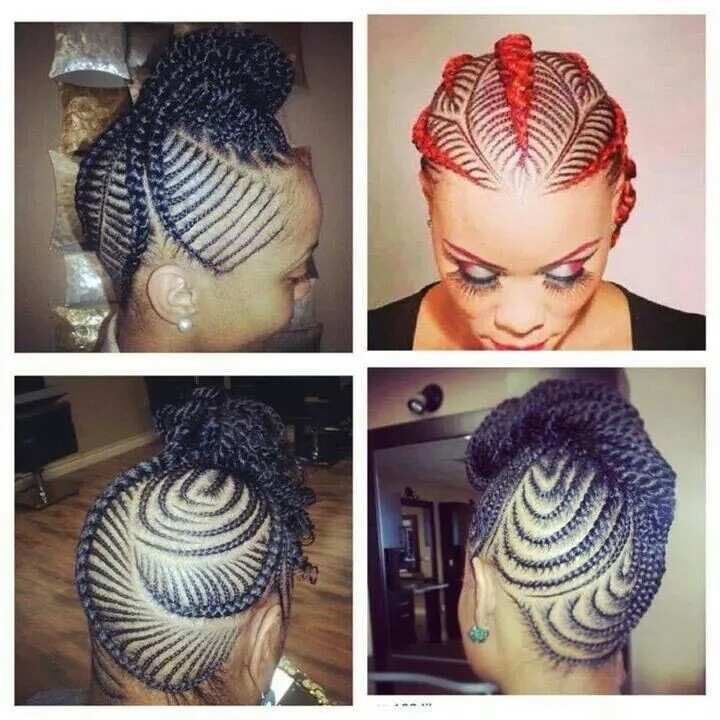 22. Side Mohawk with cornrow braids
This amazing hairstyle is, undoubtedly, something special. Designing one part of your head with tiny patterned braids and adding Mohawk on the other side. It will be really hard to make, but the result will be totally worth the effort. With this hairdo, you will not just look trendy – you will look like a superstar.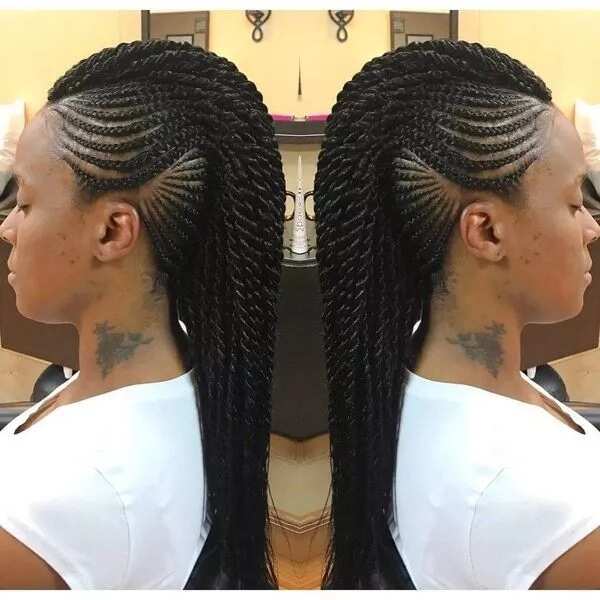 23. Goddess braids Mohawk
There is a wide amount of designs that you can make out of goddess braids. In the end, everyone's eyes will definitely be on you. This is not the hairstyle for every day, but it will be an absolute perfection for special occasions like the wedding. You will also put social media on fire if you take a few pictures with this hair.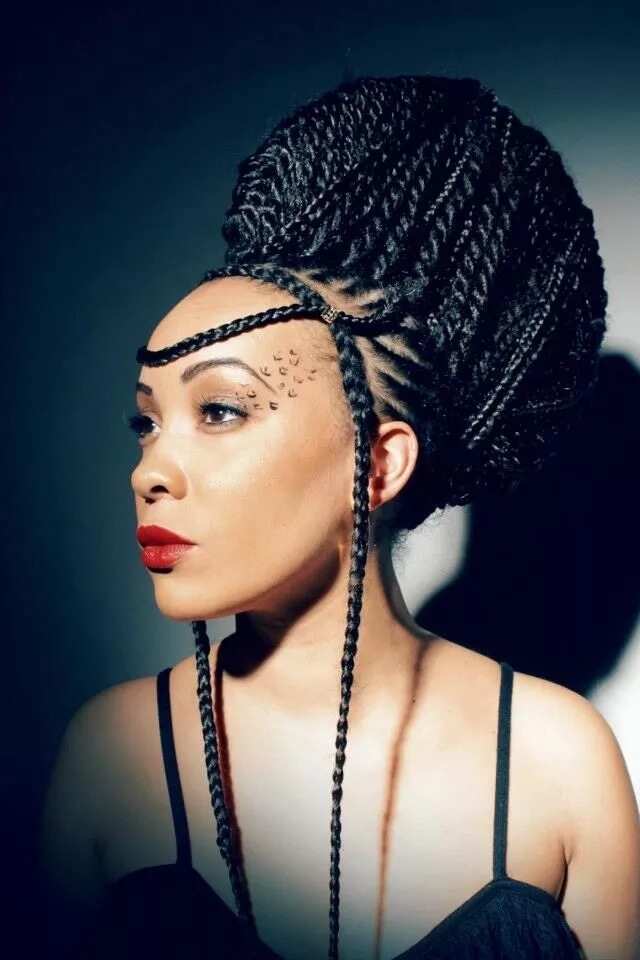 24. Laid back cornrows
If you are not a huge fan of ponytails, then maybe you will appreciate the simple laid back cornrow style. It is not difficult to do your hair this way, and it can be worn by absolutely everyone, on any occasion. By the way, there are a few interesting ways to play it out. If you like simplicity and comfort, this one is for you.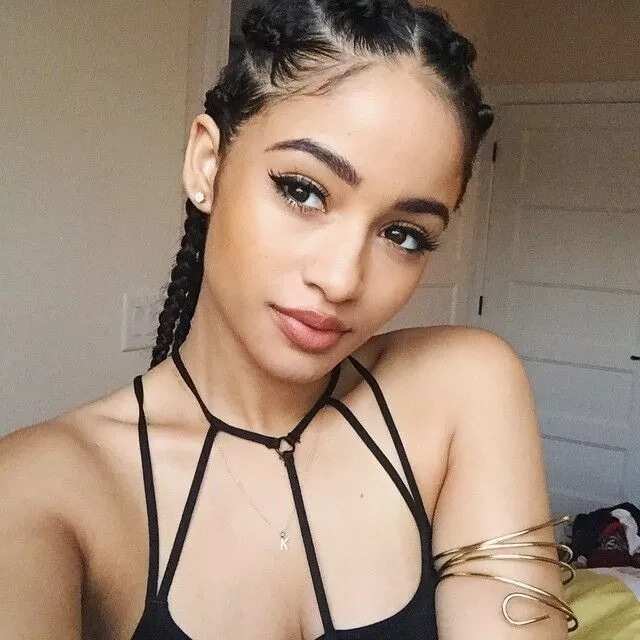 25. Long invisible micro braids
The newest trend popular among black ladies is invisible micro braids. They are a really hard work to do, and you most definitely will be able to replicate this hairstyle with the help of your stylist. Even though this hairstyle is really original and interesting, you should not have it for too long, because the thin braids are usually done too tight, which can cause issues to your scalp and hair. Either way, you should try it at least once!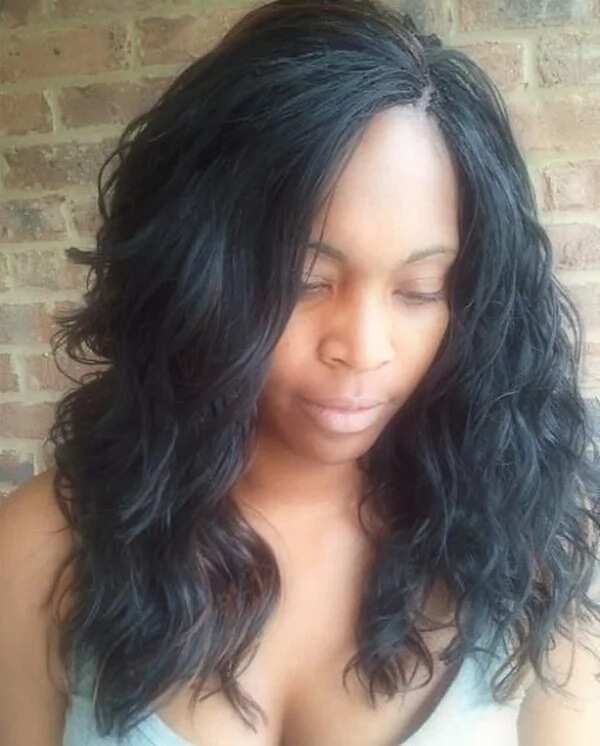 26. Banana braids
Here is another interesting type of braids, widely called banana braids. It takes a lot of time and effort to bring these into life, but when it is over, all you see is an absolutely gorgeous hairstyle which will help you develop your own style and have the individual charm. Not mentioning that the pattern of banana braids is really impressive. To make them even more outstanding, you can add some jewelry.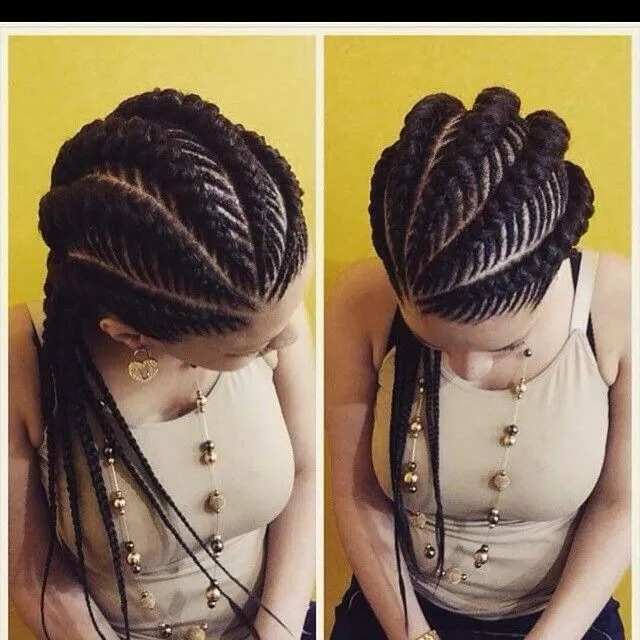 27. Marley hair crochet
This is an amazing hair for those who appreciate curls and originality. They are quite new to the variety of braided hairstyles, so you can try them without regrets. It is really different from the other braids and provides a lot of visual appeal. With this hairstyle, you will be like no one else.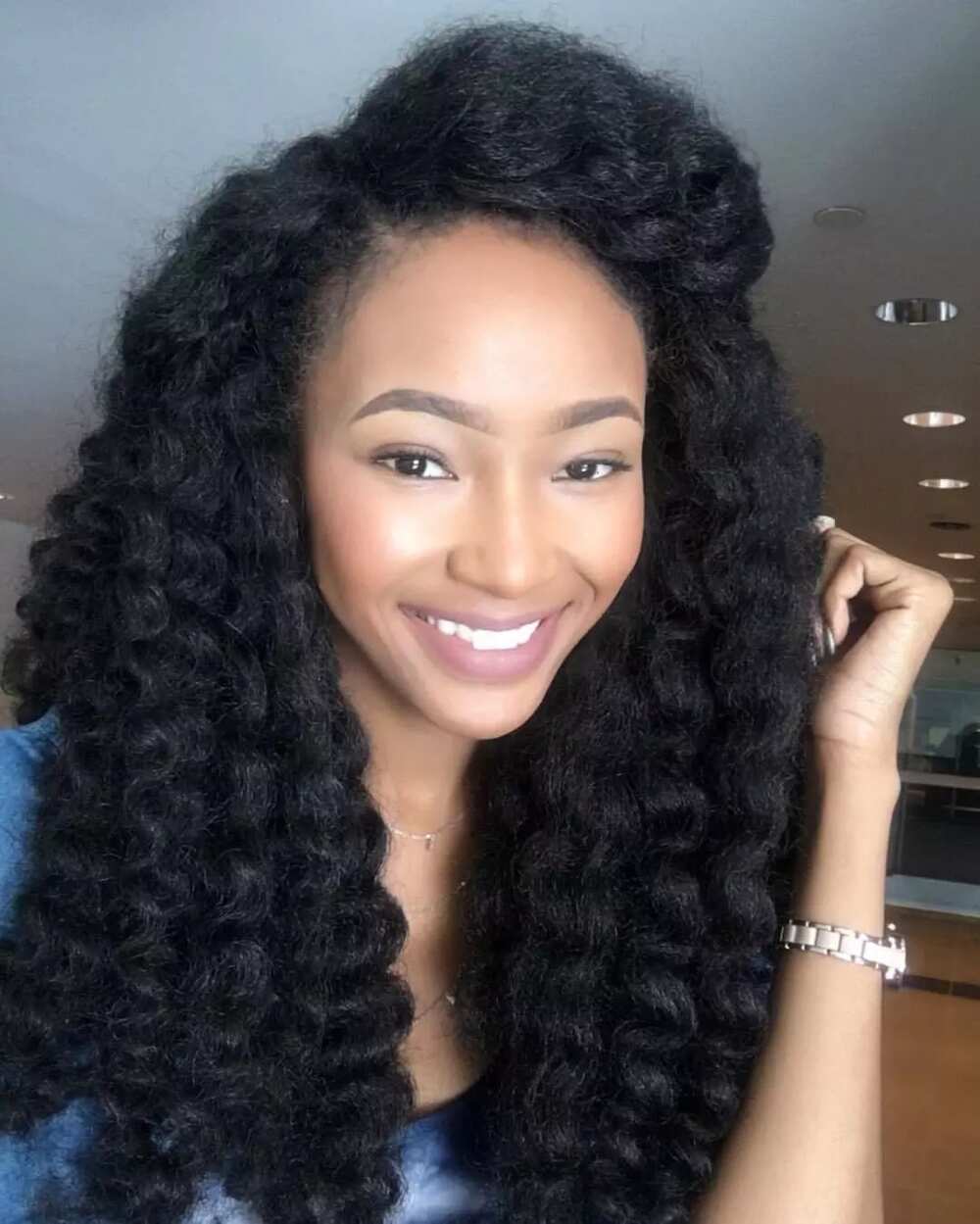 28. Curly crochet hairstyle
This one would be great for both long-haired ladies and women with middle-length hair. Something about these curls will always make everyone around you smile. By the way, curly girls are often seen as positive and funny. As a bonus, you can always add the fancy makeup and shine brightly.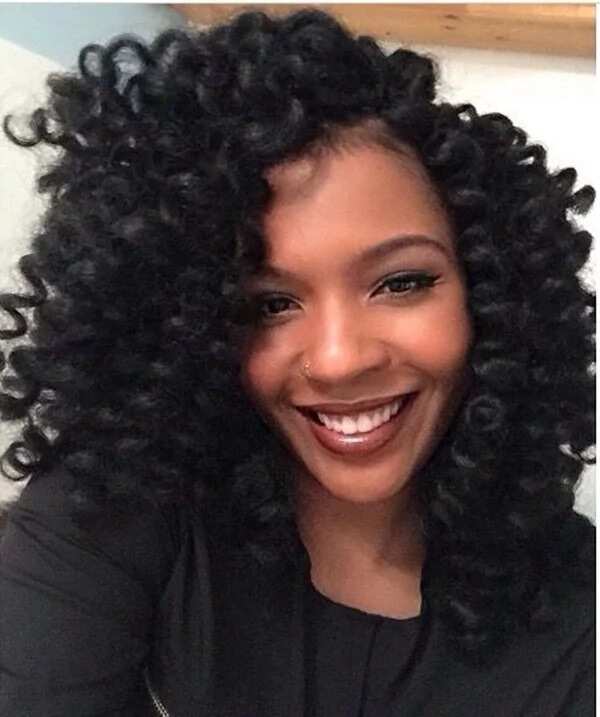 29. Braided up Marley twists
Surely, you must have seen the Marley twists around town, but what if you considered trying them out yourself? This hairstyle is really easy to wear, despite its length, and it goes absolutely perfectly with every outfit, no matter if it is sporty or elegant style.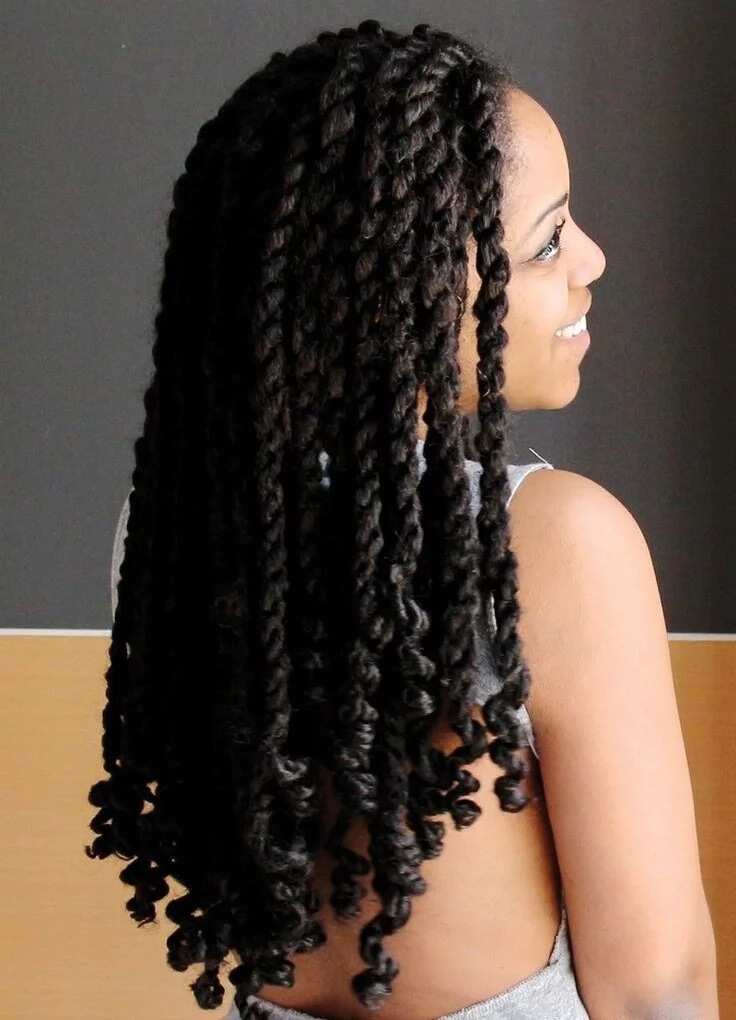 30. Micro tree braids
This is the combination of classic micro braids together with the tree braids. With this style, your gentleness will not be doubted. By the way, brushing is quite easy if you have chosen it.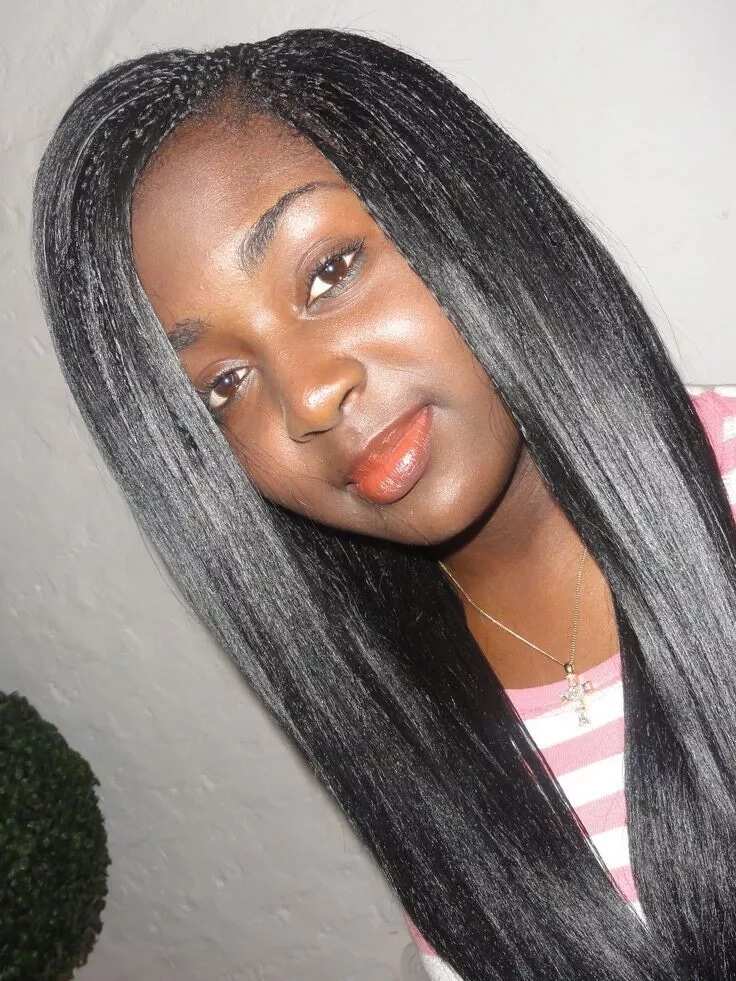 31. Box braids with fun twists
You can not only wear simple braids, but you can also make braids between them! Some experimenting will quickly turn you into a fashionista. By the way, this hairstyle is perfect for summertime, and you will be the queen of the beach with it. It also goes well with nice glasses – it does not really matter which shape they have, but the round ones will look especially trendy.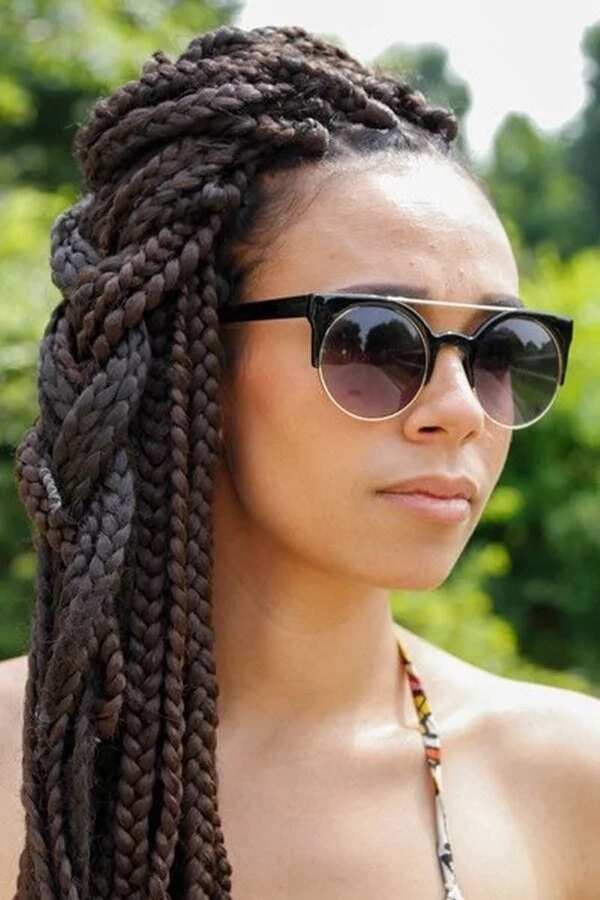 Hopefully, you liked all these braided hairstyles you had a chance to observe in the article! There are so many options to choose from, and you can definitely find something close to your heart on this list. Rock your beautiful braided hair!
READ ALSO: Latest Ghana weaving styles in 2018
Source: Legit.ng