Simple braid styles with extensions
The majority of Nigerian ladies adore wearing braids because they are cute and practical at the same time. Every woman needs ideas for simple braid styles. This article will be all about braided hairstyles and it will give you a lot of fantastic examples of how you could style your hair. Check out these comfortable and simple hairstyles with braids.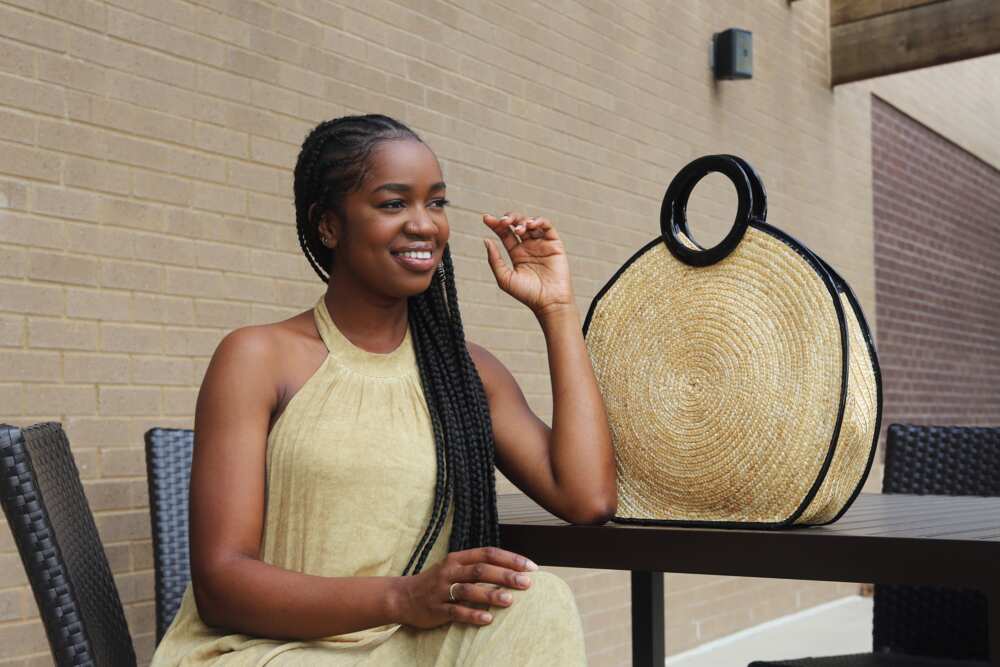 African ladies have an exceptional interest in braids because this is our natural hairstyle and we are trying our very best to present it in a variety of ways. There is such a vast diversity of braided hairstyles, and today, we will talk about them and see how they could complement both your appearance and personality.
Simple braid styles for black hair: top-20 best ones
Extended braids could do wonders with your style and charm, and imply your amazing and adventurous Nigerian nature. So, if you are a braid lover, you have ended up in the right corner of the Internet, and we will show you the list of twenty trendiest braided hairstyles that you can rock in the streets of Nigeria this year!
Now, get ready to see these lovely hairstyles and get your inspiration from them. We are sure that you will be in awe when you check yourself out in the mirror with a brand new look!
1. Long braided ponytail with a bandanna
Ponytails are universal, and they are outstanding when you need to flaunt your lovely face shape. You can create an interesting twist on the good old ponytail, and flip it over to the front of your head. Your look will be refreshed, comparing to the usual ponytail, and this could be a nice hairdo for a picnic with friends or a photo shoot. Except that, you can use a colourful bandanna, which will spice up your image even more and make you self-present as a confident girl who likes the combination of vintage styles and modern chic. Usually, this hairstyle looks quite rebellious and casual, and you will not even need a lot of makeup. This hairstyle is one of the unique and creative simple braid styles for long hair.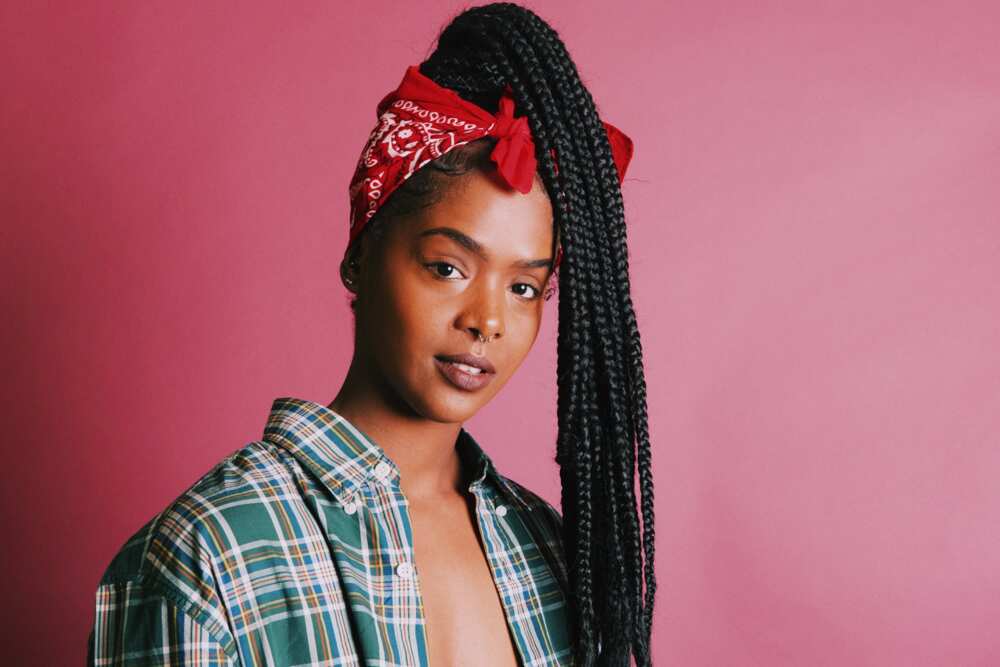 2. Intricate thick cornrow braids
The latest trend among braid lovers is to style them geometrically, leaving gaps on the head between the braids. This style showcases the volume and beauty of the hairdo. You can see the ponytail flipped aside, as well as some intricate and memorable designs on the model's head.
This hair option is simplistic, yet very interesting and definitely fitting for the everyday routine. It is convenient for work, and it would be perfect for the outing with people. It will also give you a chance to flaunt your large earrings, as your ears will be exposed and you can get all creative with the accessories.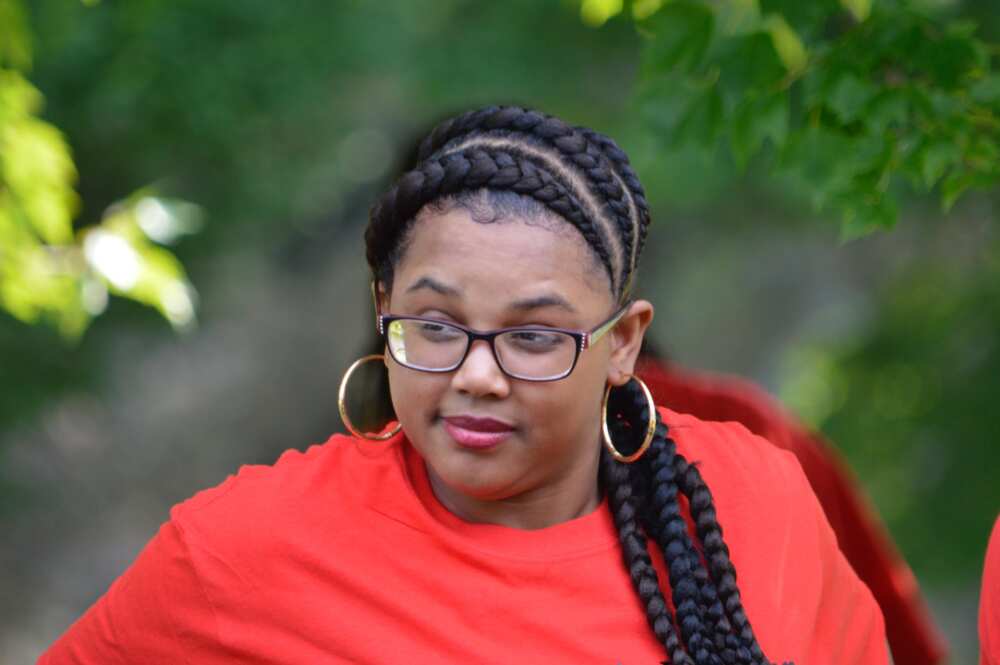 3. Regular braided ponytail with green-blue ombre
Many of the bold girls these days want to stand out from the crowd, and for that, they use the dye of various colours of the rainbow. This model is not an exception: as you can see, she chose the emerald blue, which would not go completely unnoticed whenever you go somewhere. It will give people associations with the sea, peace, and tranquility.
A lot of ladies think of themselves as boring and not interesting and do not know where to start improving. But the answer is simple – you can start with your style by making it bright and multicoloured, instead of usual regular natural hair! Maybe this hairstyle is destined to change your life?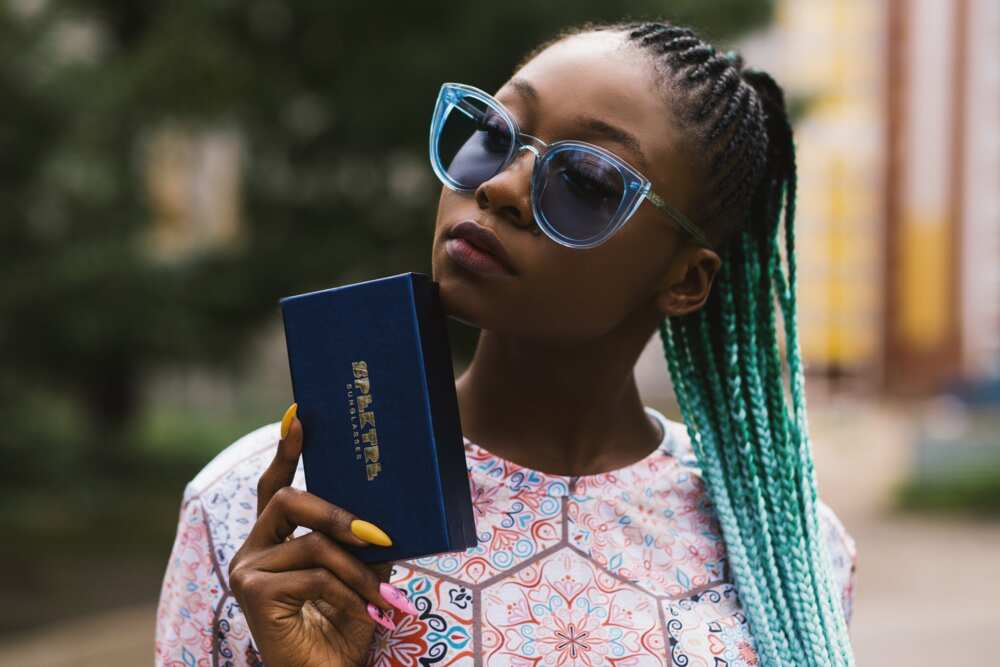 4. Braided bun
Here is a smart option for you, which will create you an image of a woman who knows her business and does not like being messed with. It is the best variant for business ladies, as well as women who are involved in a particular kind of job which requires concentration and they do not like being distracted by long strands of hair. Besides, you can spice up the hairstyle by adding nice red highlights – specifically for those women who got bored with their black hair and wished for some change.
In general, this is an effortless but practical hairstyle, which will protect your hair from any damage and help you focus on significant matters!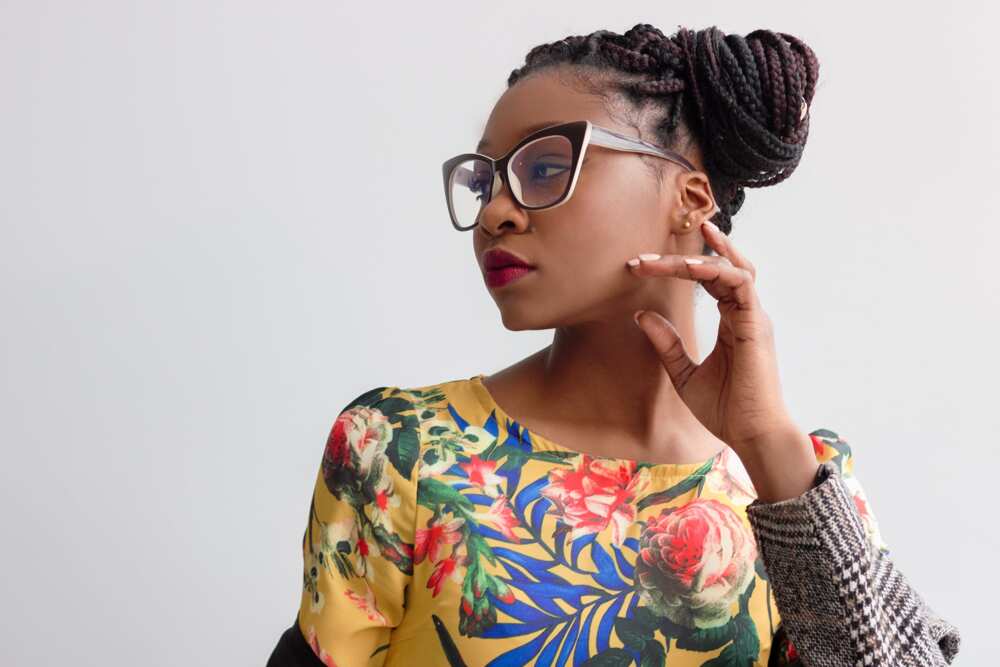 5. Long hair with a few strands tugged back
Do you want to feel like Rapunzel or another fairytale princess? You could get this feeling by using the long hair extensions and creating the additional volume. Even though it would look absolutely perfect if you wore something glamorous, this would not only be acceptable for girly ladies.
Those women who are tomboys and prefer casual style would also appreciate this hairdo – it can have a messy and rebellious vibe, depending on the clothes. As you can see in the picture, it can be worn with a simple T-shirt and jeans. If you are a fan of large and instantly noticeable accessories, then the circled earrings are your best friend.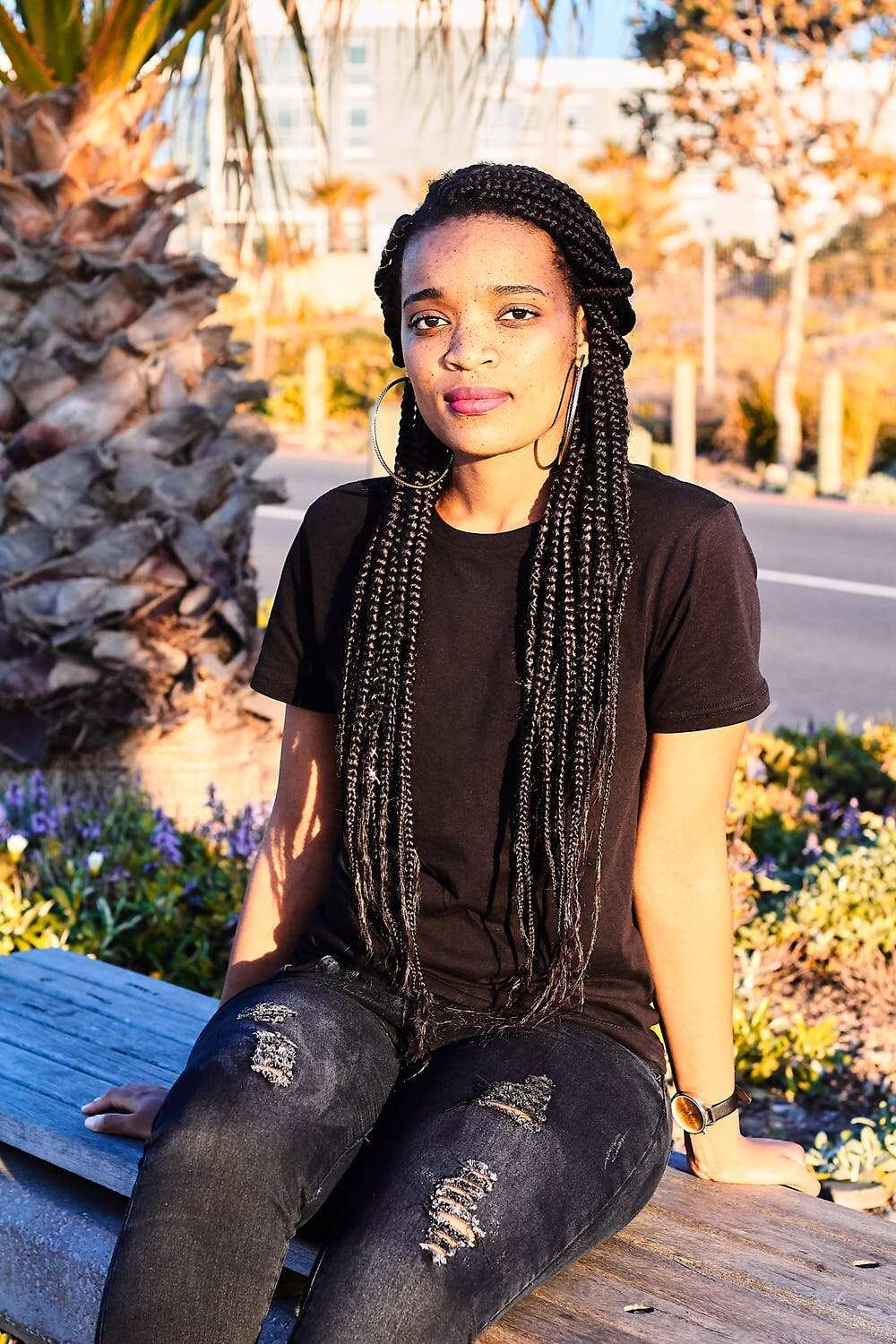 6. Messy braided short bob
One of the most lovely and simple braid styles for short hair is, without any doubt, a bob. It is casual and trendy, and women love it. Every time the long hair starts annoying them, they come back to the bob fashion. However, this does not have to be a perfect and flawless bob. You can play with it a little bit, and make it slightly more playful.
Many ladies have their own natural length for this hairstyle; however, it can be created with the use of extensions, even if you are the owner of very short haircut. The natural and romantic style would go along lovely with it, but so would the nice workplace outfit.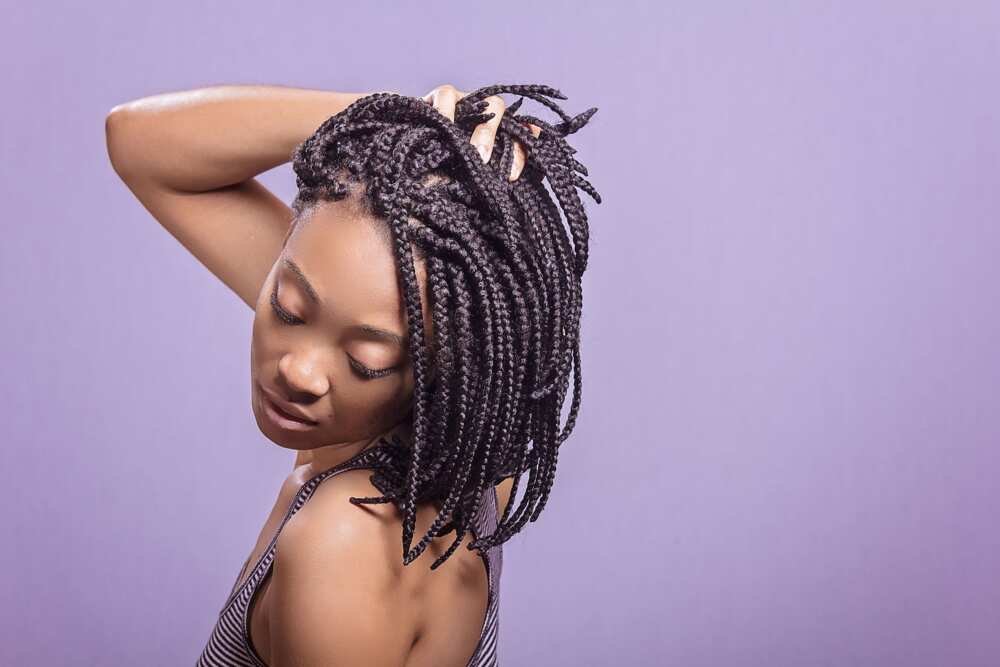 7. Sporty thick braids with a bandanna
The headwear is back, and it can complement your hair in a truly amazing fashion. Assuming that you are a sporty and active girl who still likes wearing long braids, this one would be perfect for you. You could use the regular braid extensions with thinner ends, and perhaps even put the beads and ribbons of different colours on them.
Putting a bandanna on your head will not only look pretty and give you a variety of experimentation but also will protect your hair from all the internal factors. Shortly, it is a good hairstyle for city girls who love feeling trendy, and countryside girls who are proud of their roots.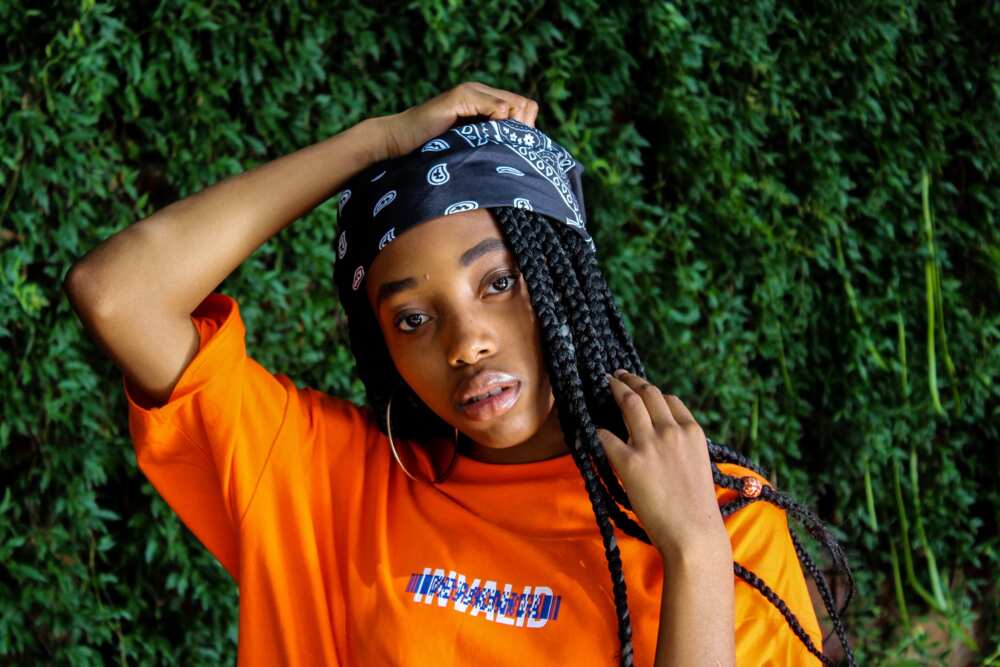 8. Orange and yellow pop of colour
We have already seen the green-blue colour which is reminiscent of the mermaids and the sea, but what about bright orange? Since this hair colour is only becoming trendy, and so far people prefer different ones, you can be the first girl in your neighborhood to make such a bold fashion statement. Not to mention that it comes in a nice gradient that resembles sunset: the roots are of your natural colour, the ponytail starts from the saturated orange, then phases into the sunflower yellow, and afterward ends with the white.
The best part is that you will not even have to wear it forever. The orange ponytail can be bought as a hair extension, and used for the trendy photo shoots or outings.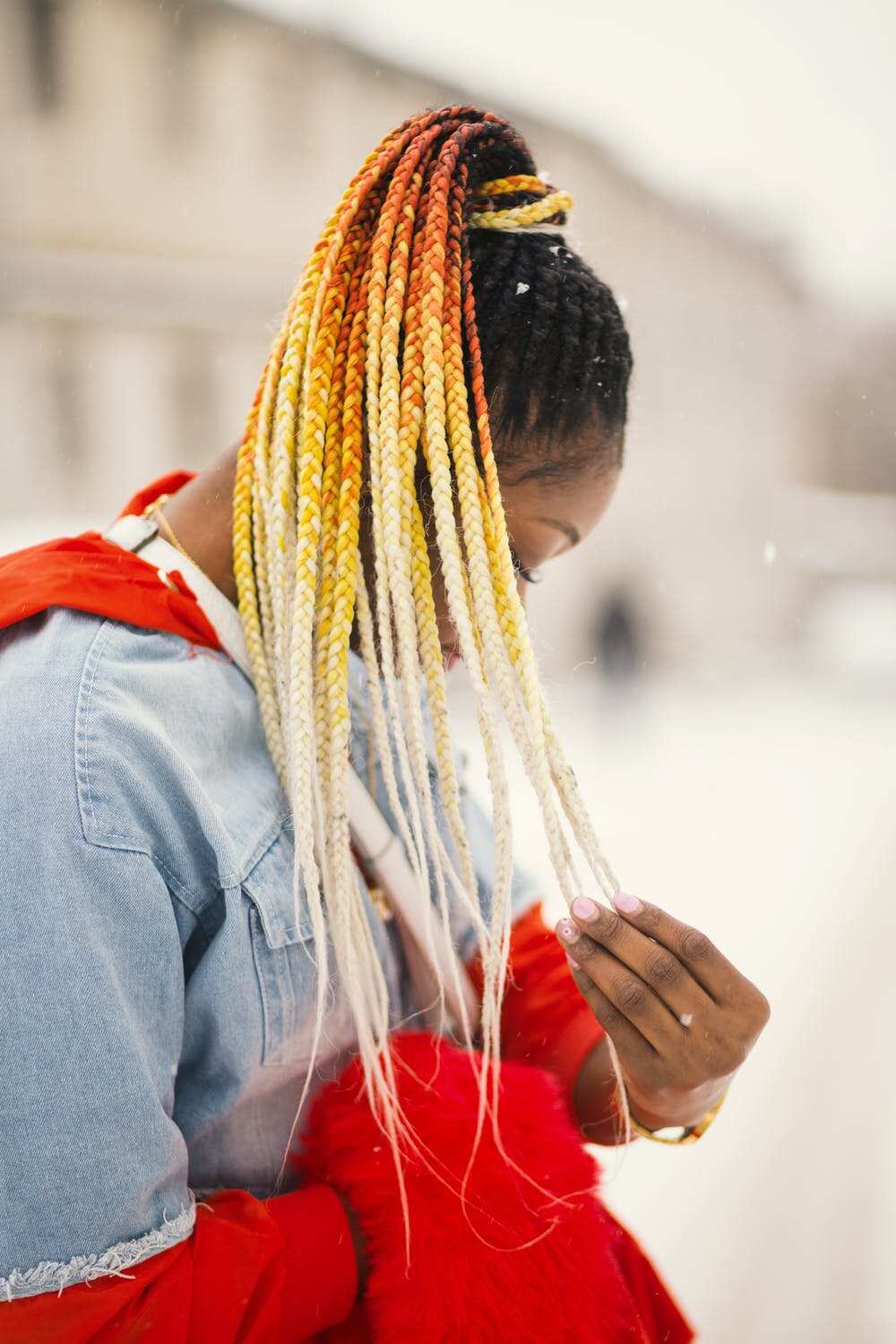 9. Simple braids with beads
Have you ever noticed how beads could completely change the nature of your hairstyle? The hairdo which might seem pretty trivial at first glance can completely change after putting some colourful beads on the tips of your hair. The beads of yellow colour, in particular, will improve your usual spirits and make you look like little miss sunshine. Also, some bright makeup like rosy lipstick would be appropriate, even though you should stop in time and not overdo it. Finally, put a smile on your face and go out in a happy mood!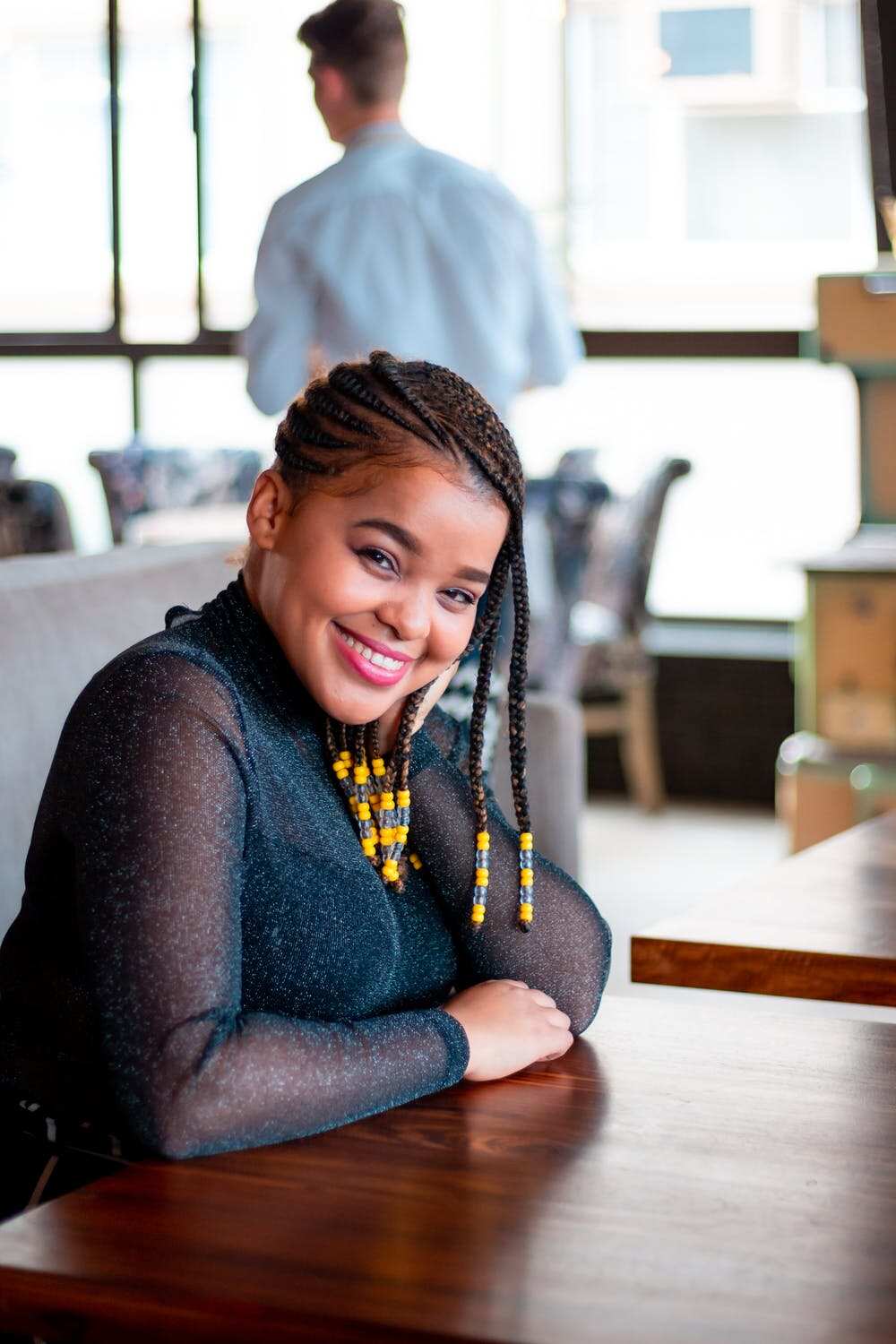 10. Short trendy braided haircut
How about the bob hairstyle with the braids? It can be perfect for girls who prefer the classic style with smart black and white clothes. For making the hairdo more interesting and harder to forget, you can swipe some braids in the back. This hair option can be worn just like this, without any attachments. However, if you want to enhance its appeal, you can also use beads. Sometimes, it is possible to create such a hairdo out of the natural hair if it is long enough, but usually, the women who have extra short hair purchase extensions and attach them to their hair. Extensions are not only convenient but also look on point.
READ ALSO: Nigerian natural hair weaving styles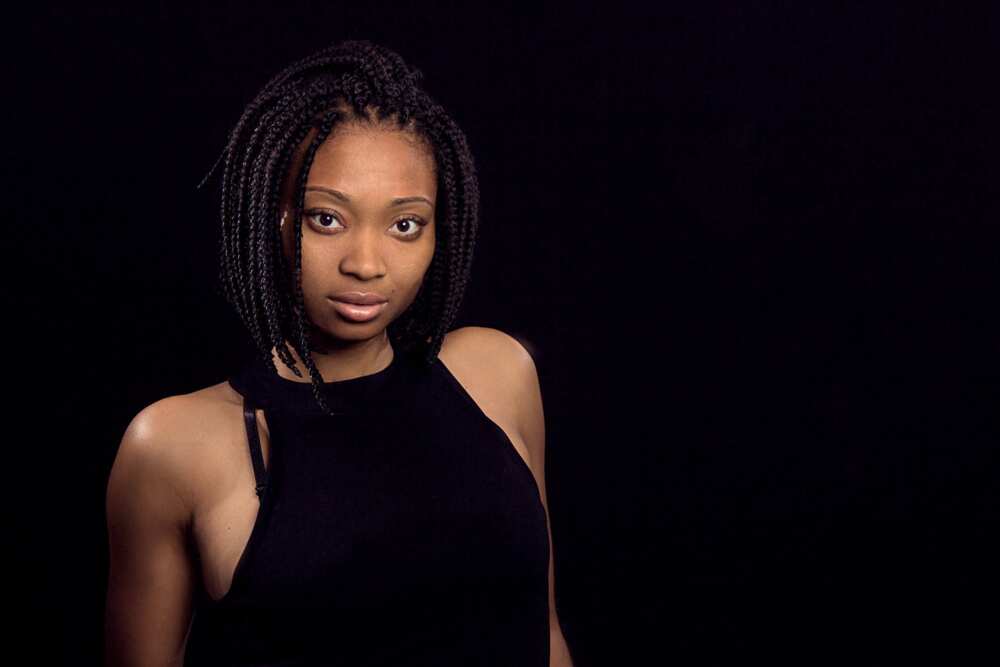 11. Two long thin braids
In case you would love emphasizing on your African nature and spirit, you can opt for something that resembles the native hairdo. This one is very imaginative and not too common, but at the same time, it preserves the feeling of simplicity. The two thin braids with the attached rings will attract everyone's attention, especially the way they are styled on top of your head. This hairstyle requires quite a lot of effort, but the finished result is absolutely worth it. And the accessories would add more charm to your look!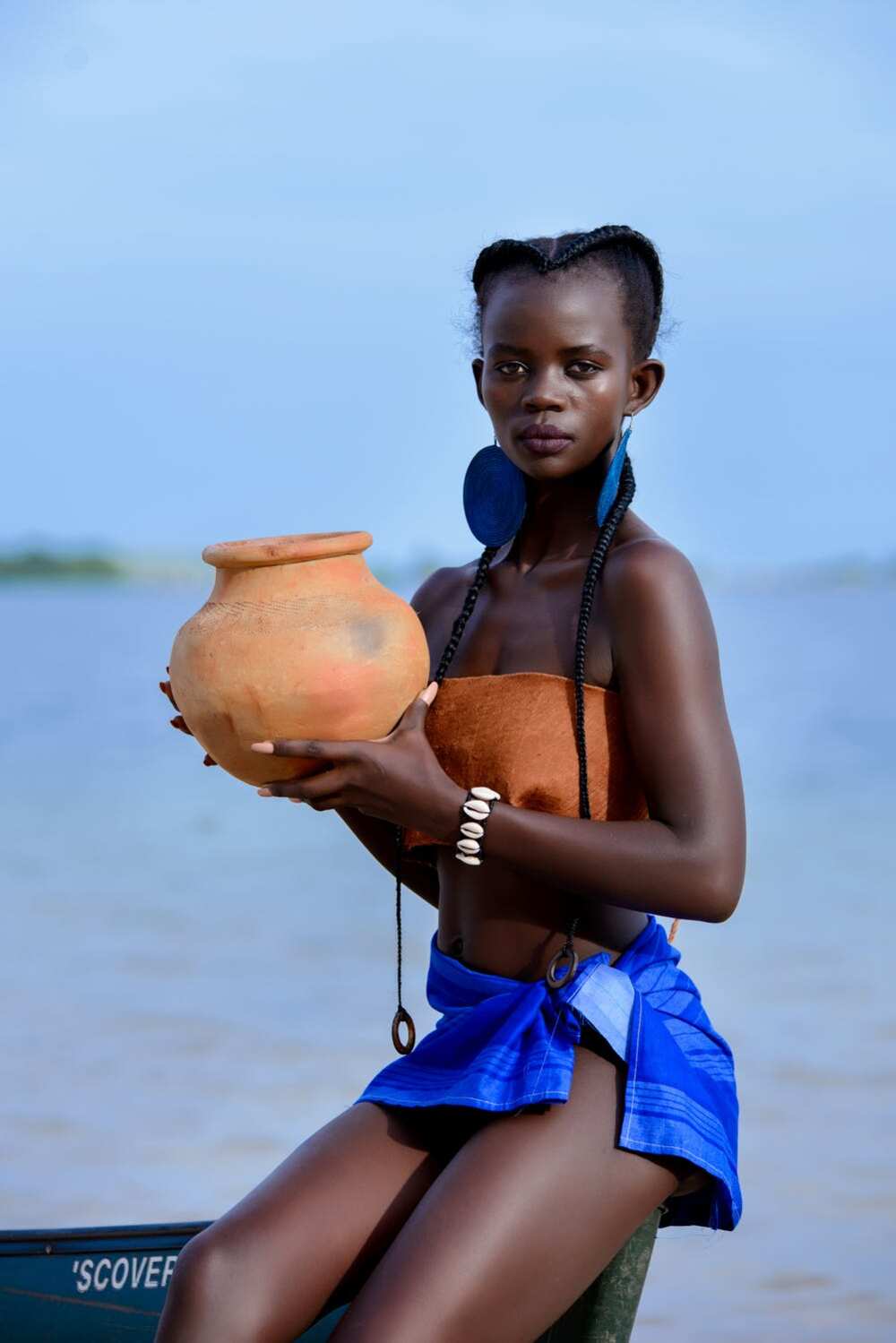 12. Long twisted braids
Before, we have examined exclusively thin braids, because they are light and convenient, and easy to style into whatever your imagination desires. Now, we will move on to the thicker braids, which will make your twists voluminous and appealing. These could be regular or twisted braids – it depends on your choice, but you should remember that both types are quite popular and prominent in Nigeria, and will look excellent on the African woman's head. These braids would be good for the casual style, as well as a formal event – there are no restrictions.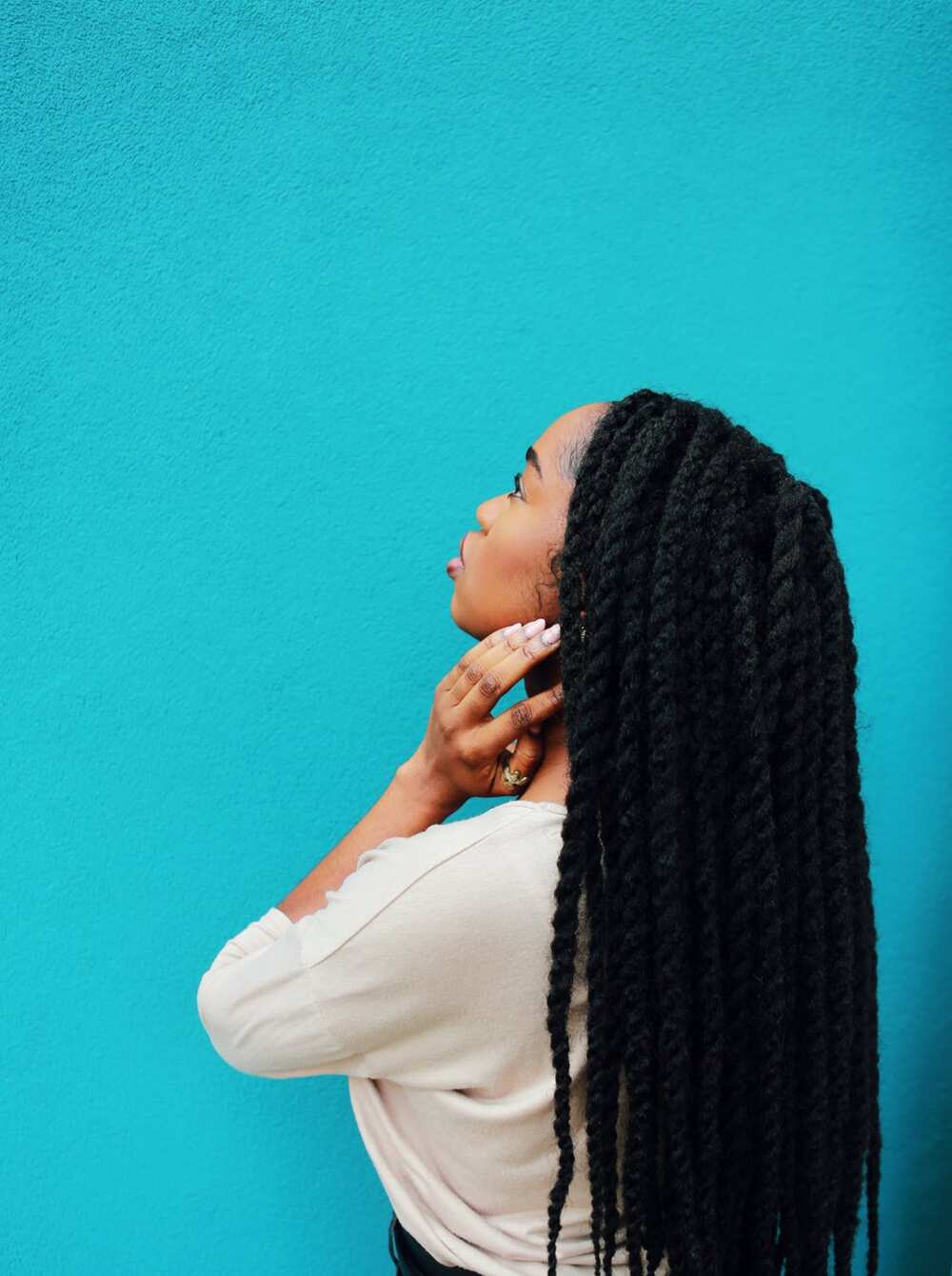 13. Thin golden braids
This hair option has existed for a long time, but relatively recently the trend was started by the singer Beyonce, who had similar braids. All the fans of this singer and people who are just interested in new fashion trends instantly wanted to replicate this hairstyle on their own head. The benefit of it is that the blonde or caramel braids look exceptionally beautiful in combination with dark skin.
It would also be excellent for wearing with the colourful outfits, and you have a chance to make a statement and become remembered as a real fashionista of your neighbourhood. Besides, they are universal and can be gathered into a variety of cute ponytails or buns whenever you are in the right mood to experiment.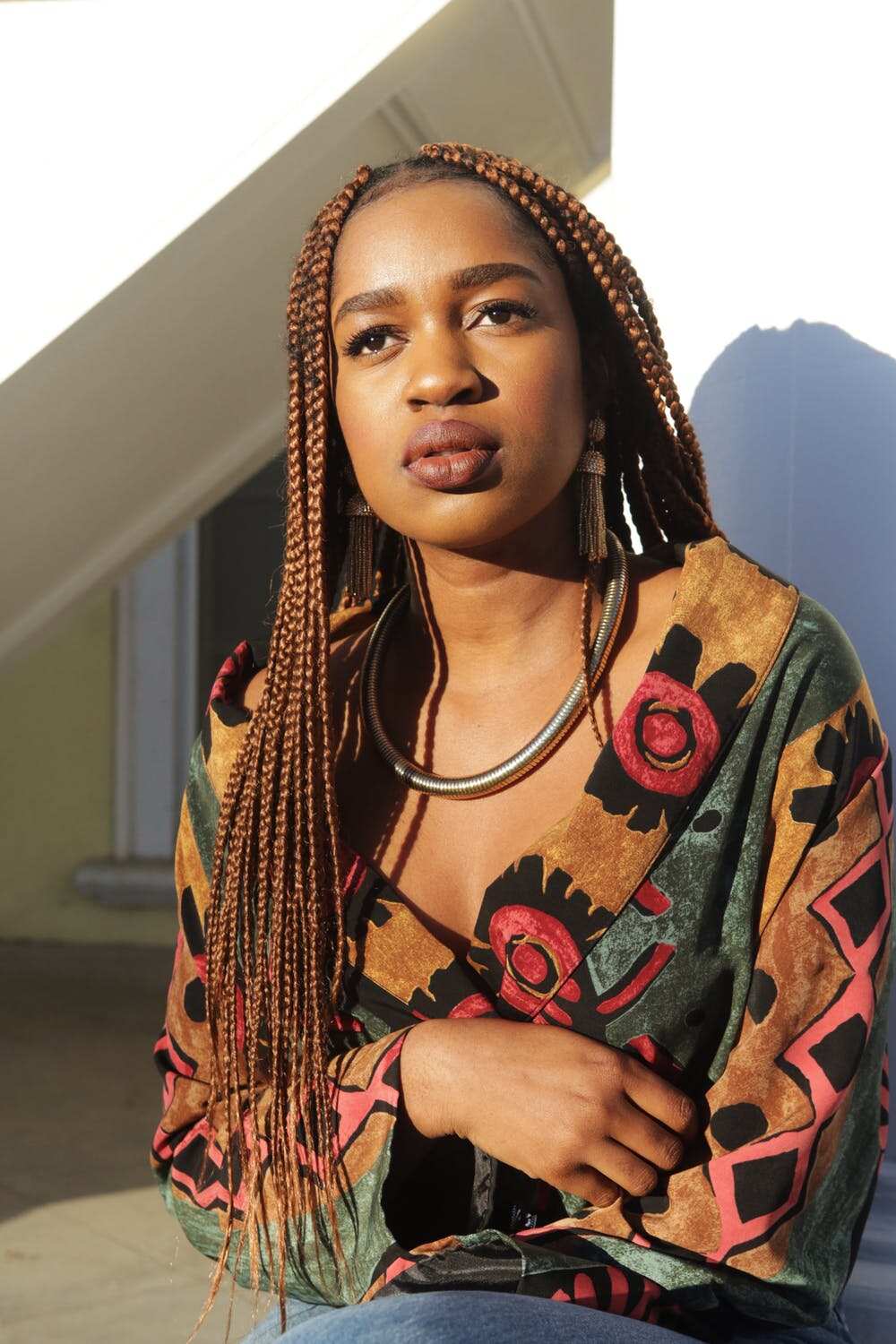 14. An explosion of red
What is special about this particular hairstyle? Basically, it is a very thought-out and creative combination of the regular box braids and the red curls. This is a hairstyle which is worth a celebrity look, and the girl who is wearing burgundy red braids combined with curls will always be the star of every company. Obviously, you should not forget about the stellar presence and a wide smile. As for the makeup, it would be best to opt for something natural and not too eye-catching, because the hairstyle is already captivating as it is.
15. The long multicoloured braid
There has been a moment in every girl's life when she thought that she wants to change her look drastically, and choose a hairstyle that would totally differentiate her among thousands of other girls. If this sounds familiar to you, then perhaps you will appreciate this original and cheerful pop of colour. This haircut involves the colourful hair extensions of pink, orange, yellow, blue, green, purple – basically every shade of the rainbow. These extensions then are woven into a large braid, which looks truly incredible. Enough for you to remain in the shadows – you are worth stealing every show!
16. Black and grey braids
We have talked about the different hair colours that would complement the dark skin in the best possible way. Grey is one of them, and it is becoming more and more trendy among braid lovers. It also looks stunning in combination with regular black braids, and many bold women dye their braids grey and buy extensions of this colour in order to look special. In case you are not an admirer of some overly bright color schemes, but would still want to add some spice to your usual braids, then you can try something more neutral, like adding a grey extension. In practice, it looks really cool and creates a nice effect of highlighting.
17. Rainbow braids
On the contrary, if you do love colours and want them in as much amount as possible, here is a very brave and unforgettable decision for you. You can find the extensions which start with the cold rainbow colours on top of your head, like blue and purple, and then gradually phase into the warmer ones, like green, yellow, orange and red.
This hairstyle will say a lot of things about you, such as that you are not afraid of breaking the barriers, and are enjoying being in the spotlight. Not many girls will be bold enough to create a rainbow pop on their head, so there is a chance that you set the trend. Also, rainbow makeup would be an amazing addition to the look!
18. Grey box braids with two cool buns
In this instance, the model is wearing fully grey braid extensions, combined with the natural black hair. The special feature of the hairstyle is, without doubt, the space buns, which are really trendy these days. The large buns effect can be reached with the help of extensions. You should remember that you do not have to wear them all the time in order to let your hair rest, but occasionally going out with the space buns and in a great summer mood would be a nice idea.
19. Simple purple braids
Sometimes all you need to change is the hair colour, and you will feel like a completely new person. In this situation, you can see regular straight braids, which have been dyed purple. It is also interesting that they are becoming more and more saturated towards the tips. Purple is a very attractive colour, so if you have been in a mood for shaking things up, maybe this tone is just what you need. It is close to other dark tones but preserves its own personality and charisma.
20. High bun with shaved off sides
Shaved off sides had become a real trend in the past years when the women started opting for more bold and rebellious hairstyles. However, as we see from the photo, this high bun still looks sophisticated and elegant. This is like a combination of the graceful braided bun which is often worn by the ladies in Africa, and some spicy innovations like shaving off your sides.
It is quite reminiscent of the Mohawk and similar hairstyles, only it is more refined, and would be good not only for hangouts and photo shoots but also for workplaces and business. So, if you are not too keen on shaving your entire head, but still would like to try some innovative experiments, then this would be just what you need. This hairdo shows your head shape beautifully, and it is worth the attention that the braids come in different sizes - there are some thicker braids, combined with the smaller, thinner ones.
Here are the top-20 most appealing hairstyles that you could do with the hair extensions! When you get the hang of it, they are quite easy to use. So, do not waste any time and start browsing the stores to recreate these epic hairdos on your own. By wearing them, you will impress all of your friends and, most importantly, your reflection in the mirror!
READ ALSO: Afro hair styles for ladies
Source: Legit.ng