Latest Ankara styles in vogue 2019
It's no secret that Nigerians like bright colors and non-standard fashion solutions. Therefore, the review of latest Ankara styles in vogue attracts increased attention each season. Ankara designs are universal. You can easily create a business or solemn image. We invite you to consider the latest trends in the fashion and style industry.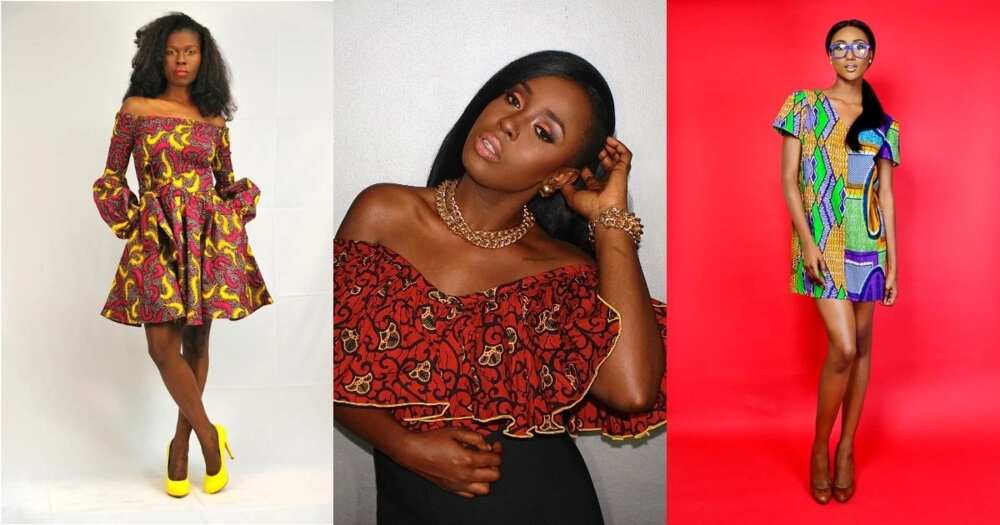 Ankara gowns
Dresses, like no other clothes, are capable of emphasizing femininity, fragility, and irresistibility. A capricious fashion puts forward new demands every year. And we should take them into account.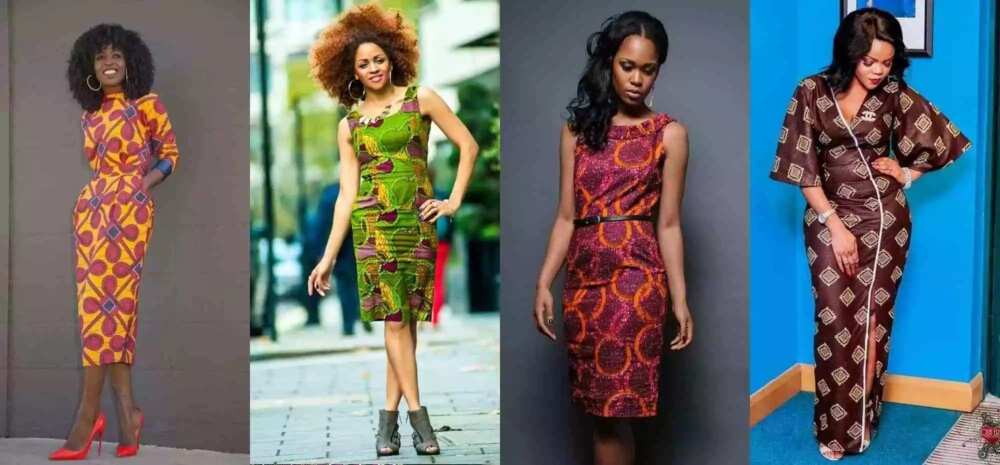 The most feminine element of clothing is presented in a huge variety of Ankara styles for ladies. Gowns can be divided into such types: casual, evening, cocktail, business, and also a wedding. They have maxi, mini, and midi lengths. A special category is native dresses (national costumes).
Popular dresses
Sheath dress is considered the most popular fashion trend in the world of business clothes. Thanks to the strict and direct silhouette, beautiful design of collar and sleeves, you can feel elegant and attractive even in a gray working day.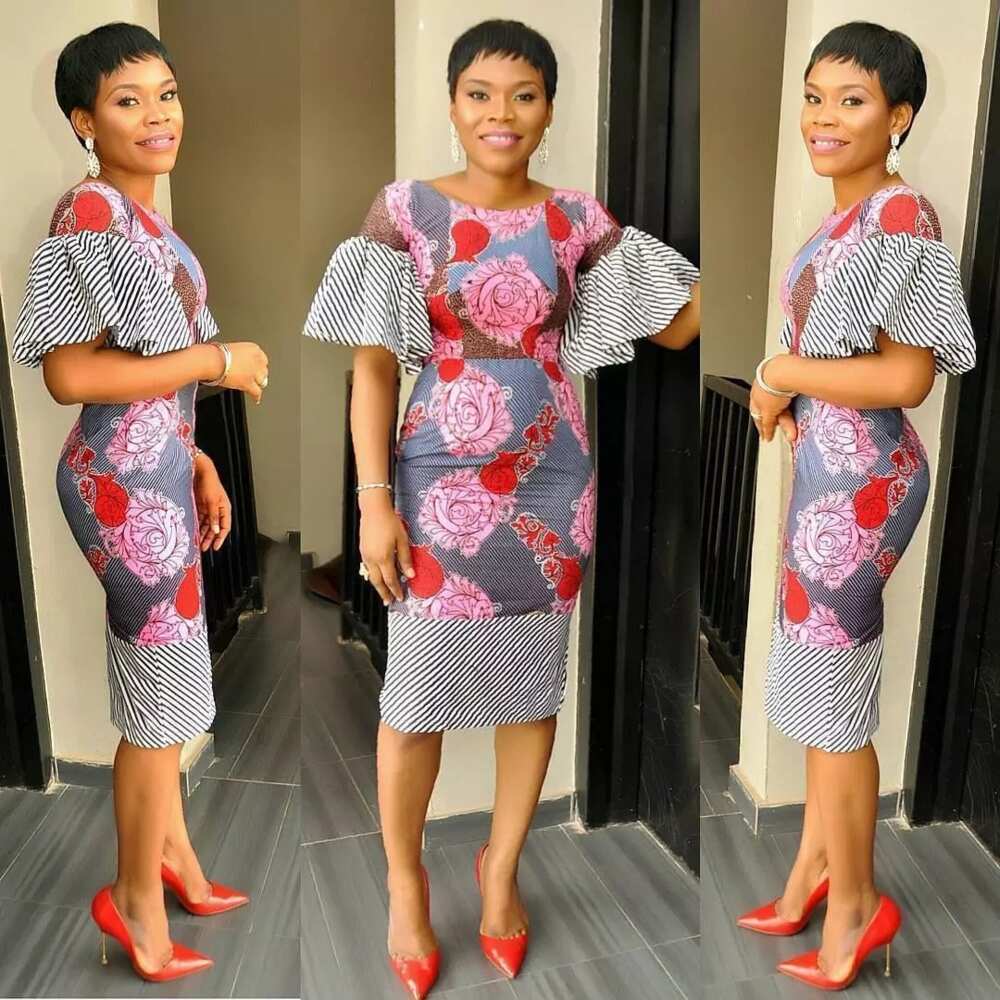 A-silhouette is present in almost all new collections. Designers like this style because it is incredibly beautiful and spectacular.
READ ALSO: Nigerian traditional fashion styles for women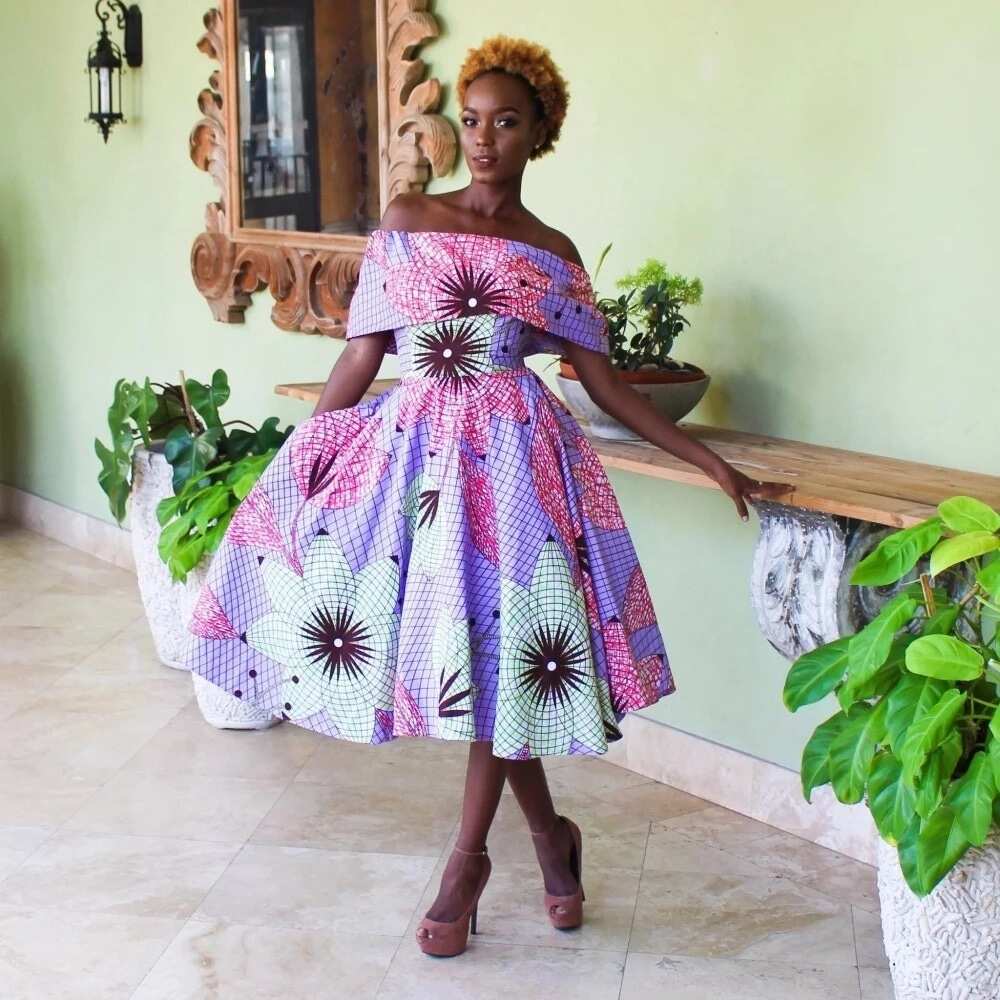 As for the types of light women's dress, it is worth noting sundresses, kimono, tunics, dress-shirts, and sports models. But professional stylists also distinguish such models:
Cover up - mini dress that usually worn over a swimsuit.
Fit-and-flare dress - begins with a fitting top on thin straps or without them, ends with a short sharply flared skirt.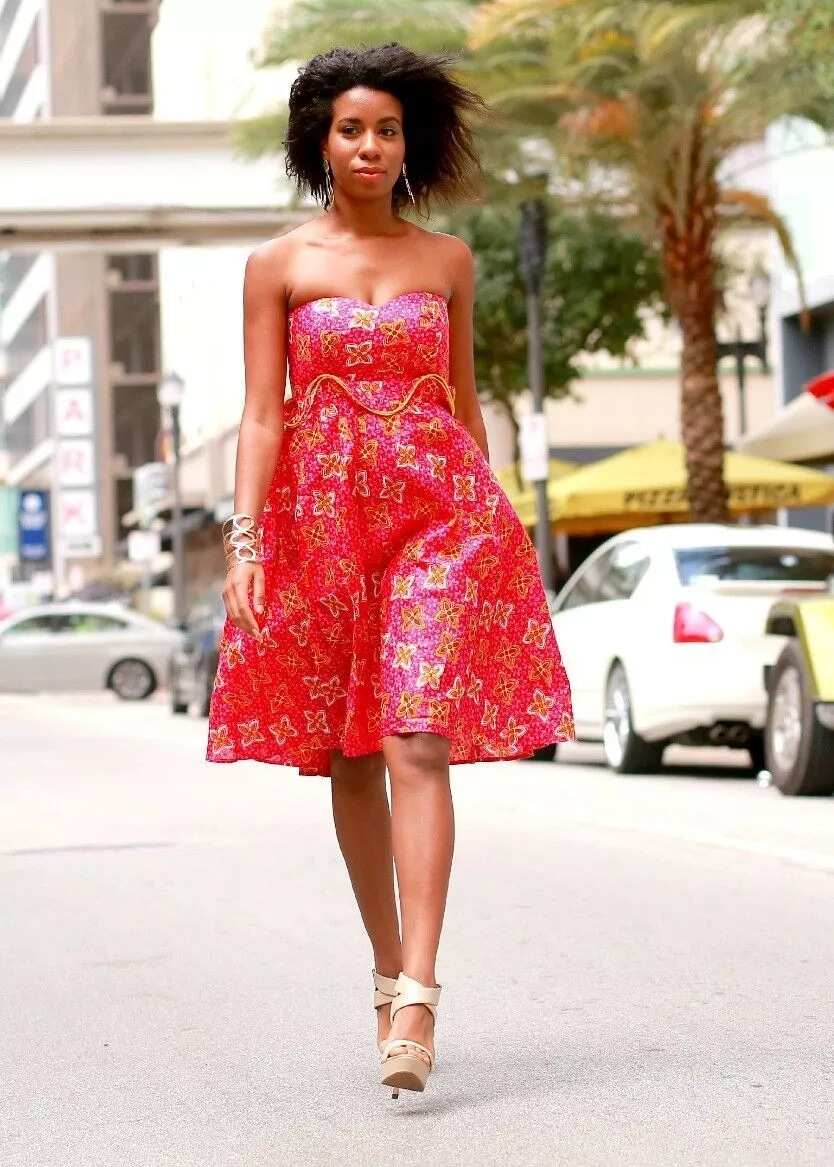 Hoodie dress - a dress with a hood that can be worn with leggings or jeans.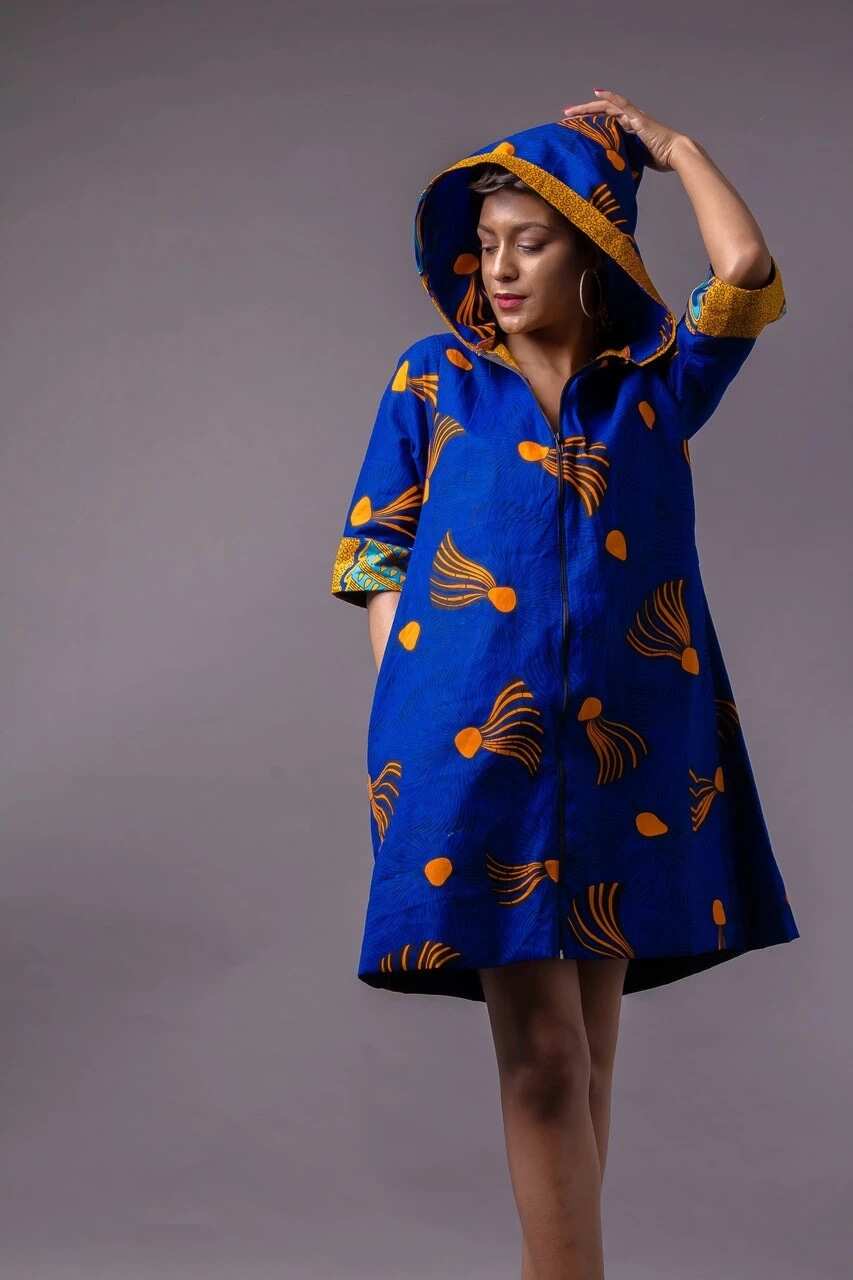 Surplice dress - short gown with a V-neck and three-quarters sleeves.
Chemise - looks like a big loose shirt.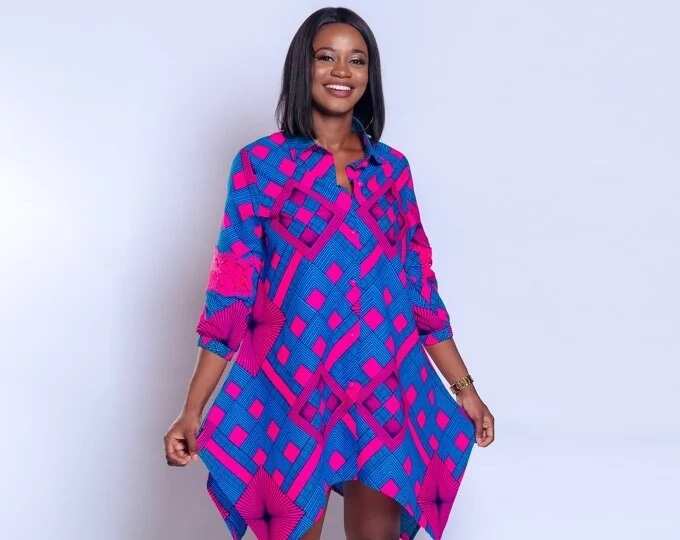 Types of evening dresses
Attires for official and solemn events are usually sewed from expensive and exquisite materials, decorated with different interesting elements. The main features of such gowns are the absence of sleeves, deep decollete, open shoulders and back.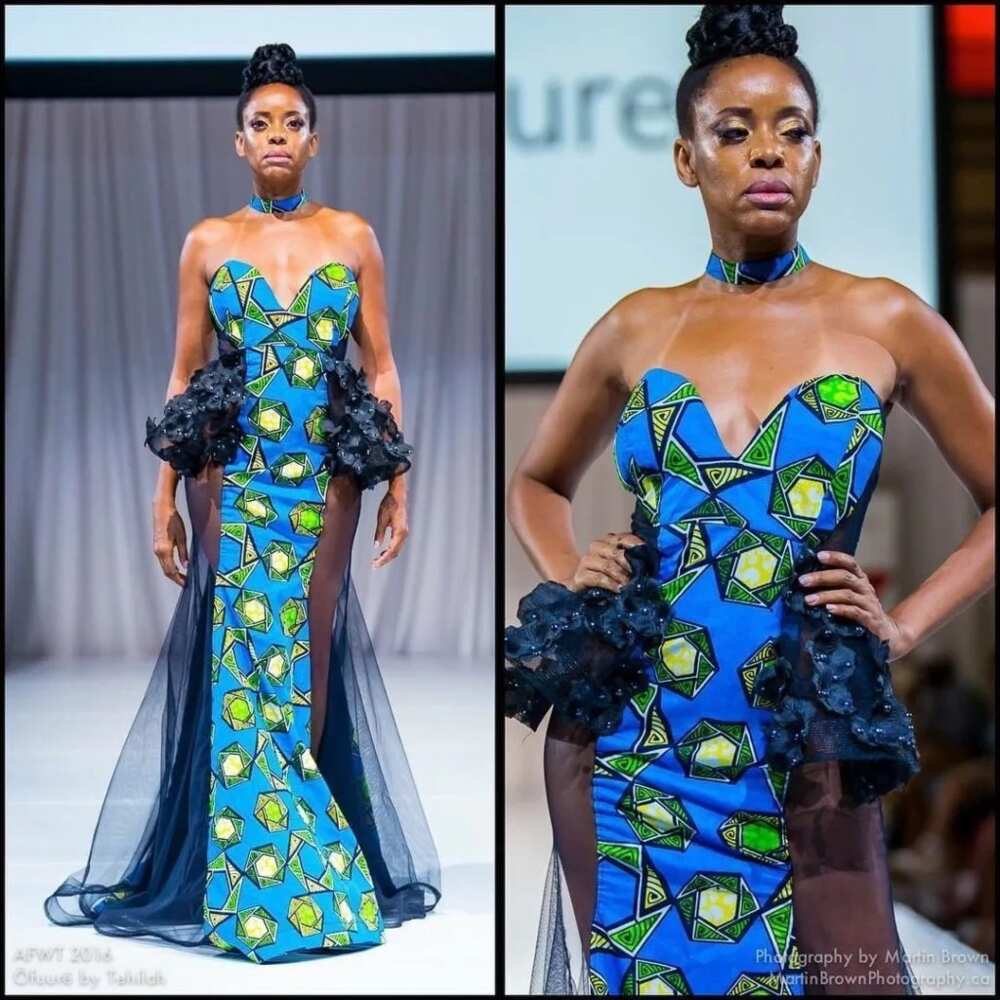 A cocktail dress is a glamorous outfit the length of which is slightly above or below the knees. Such trendy Ankara styles are ideal for evening activities.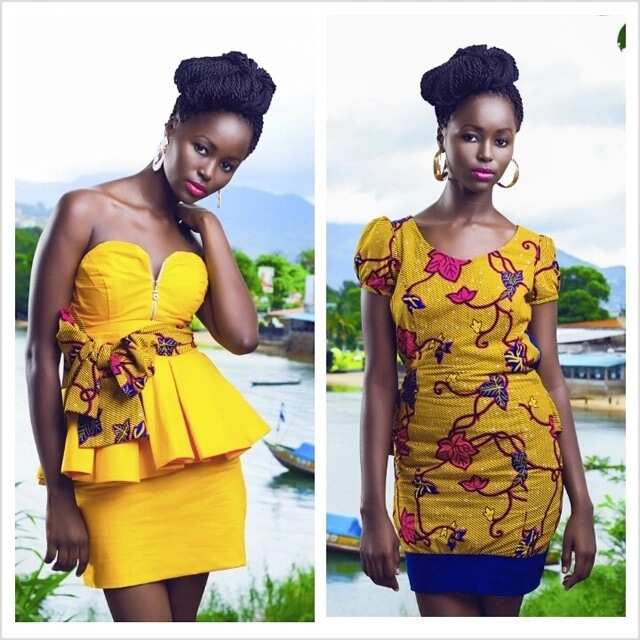 An exciting wrap around dress became extremely popular. It can emphasize all the dignity of the figure and turn all views to you.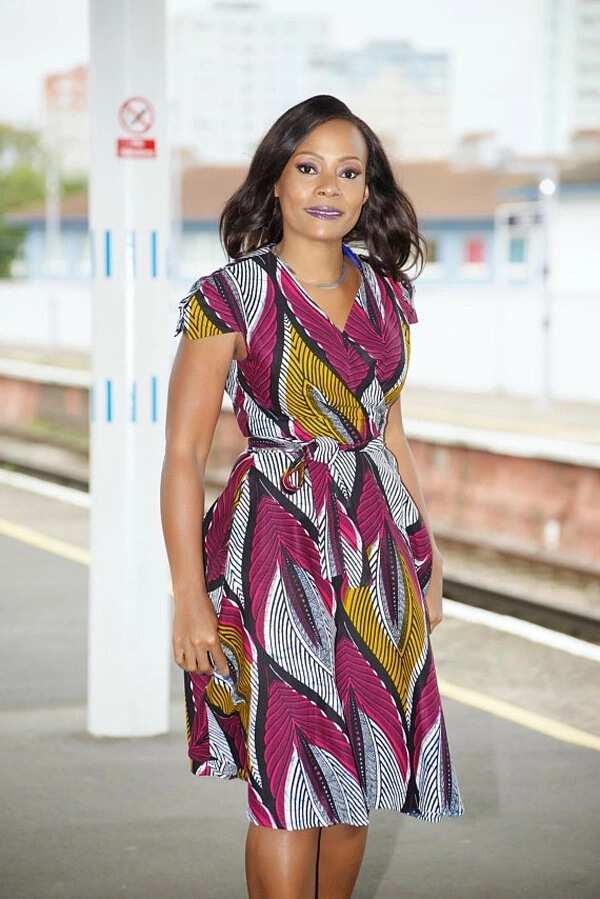 As you already know, there are a lot of chic silhouettes of dresses. Therefore, every self-respecting woman should have at least a few styles in her arsenal. With a dress, it's very easy to be feminine and gentle. Remember this!
Ankara jacket styles
Jackets have appeared long ago. Initially, they served exclusively as an attribute of the male wardrobe making up a set with classic trousers that were not used by women. But over time and changes in fashion trends, jackets began to be popular among the ladies.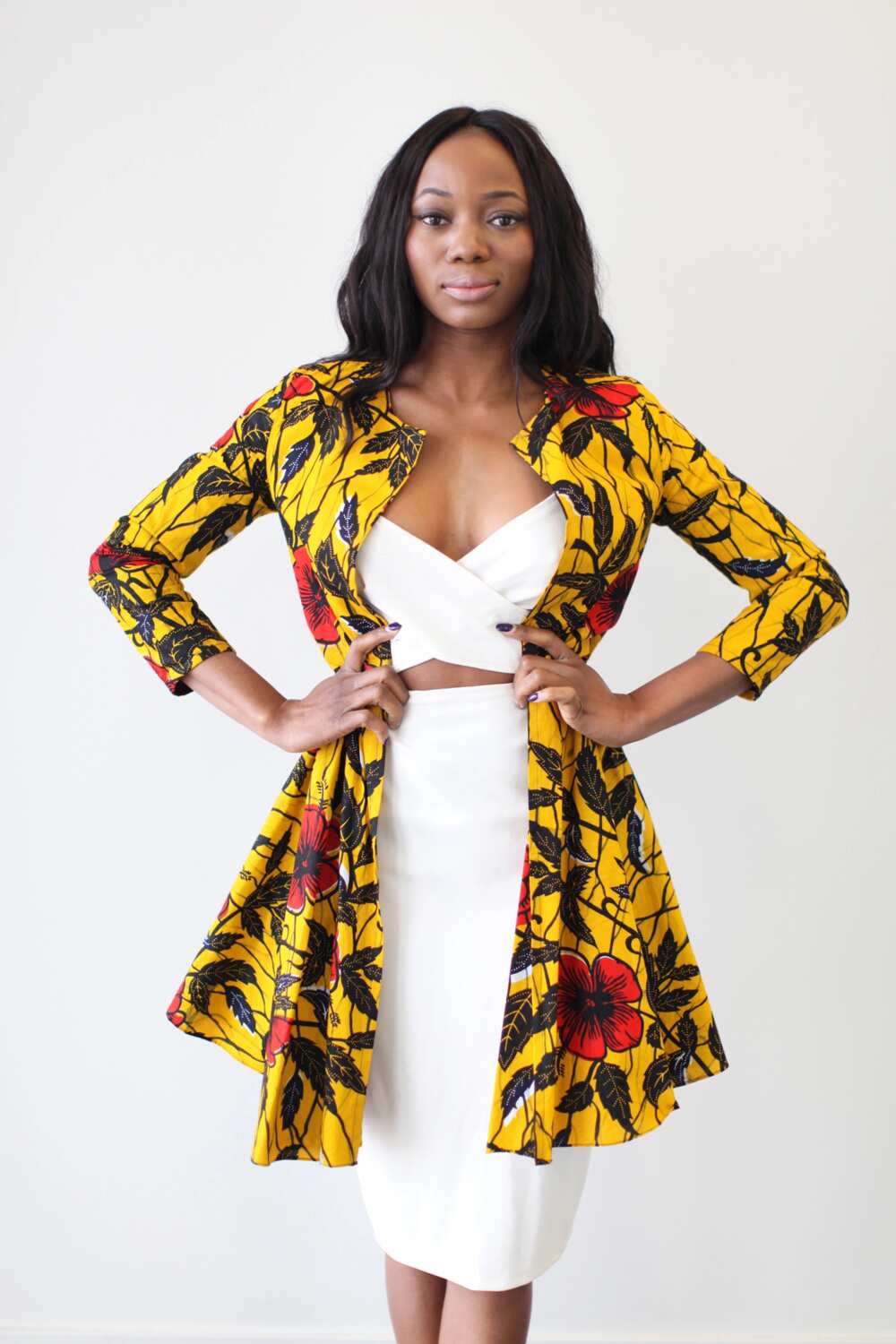 Of course, among the latest Ankara styles, designers have not bypassed the jackets and developed new varieties of models. We present to your attention the most popular and stylish options of this season which will delight each fashionista.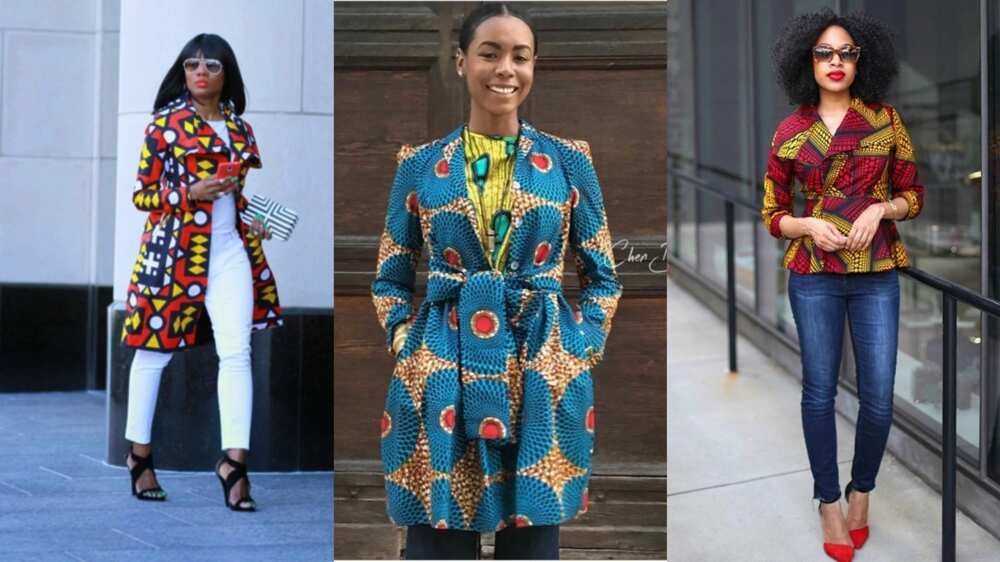 Fitted
Jackets with a fitted cut are very popular in this year. But this style will suit you only if you have a slender figure and a flat tummy. Since such a model accentuates the waistline of plus size girls, it is better to avoid buying such a jacket in order not to emphasize the shortcomings of the figure once again.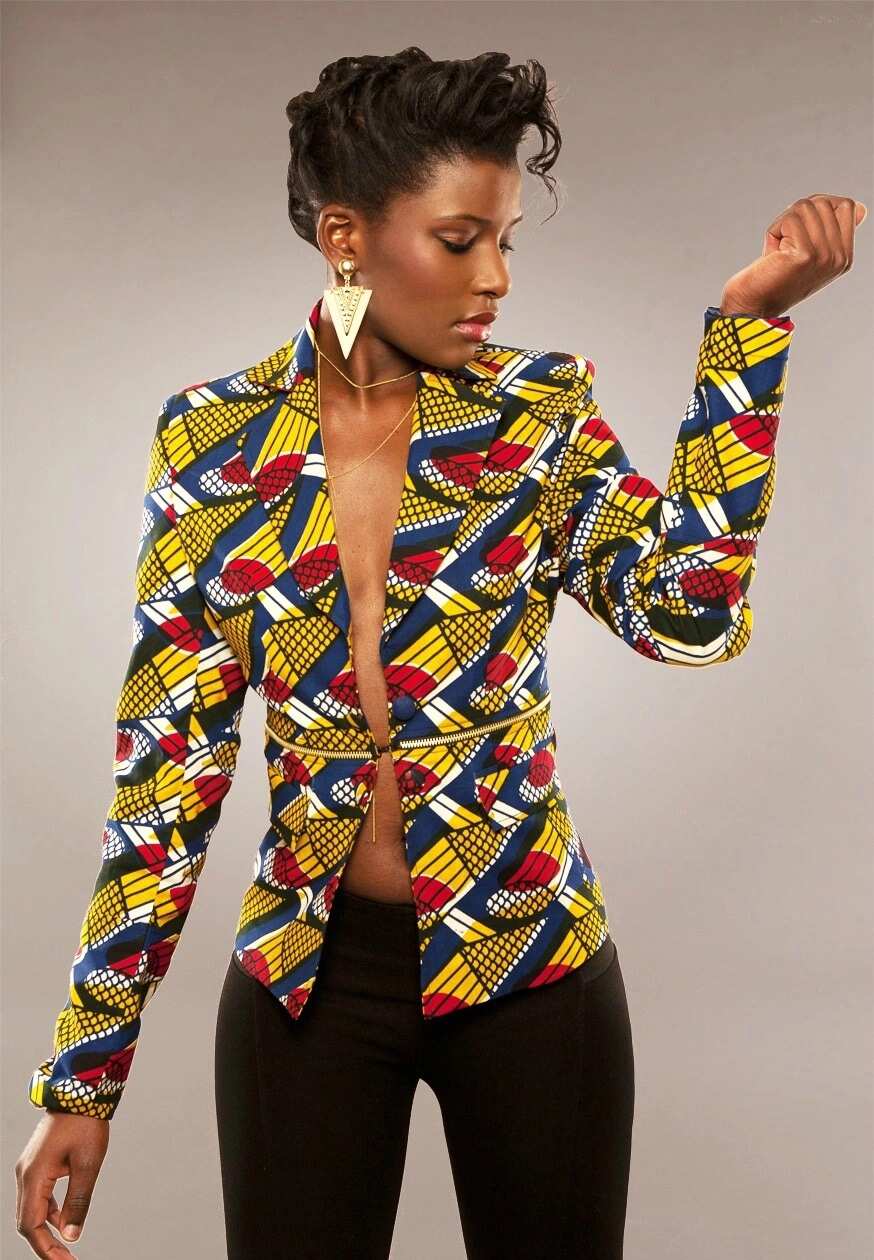 As for thin women, a fitted jacket will emphasize the slenderness of the figure, make the image more stylish and attractive. You can also use a thin leather strap and fasten it in the waist area.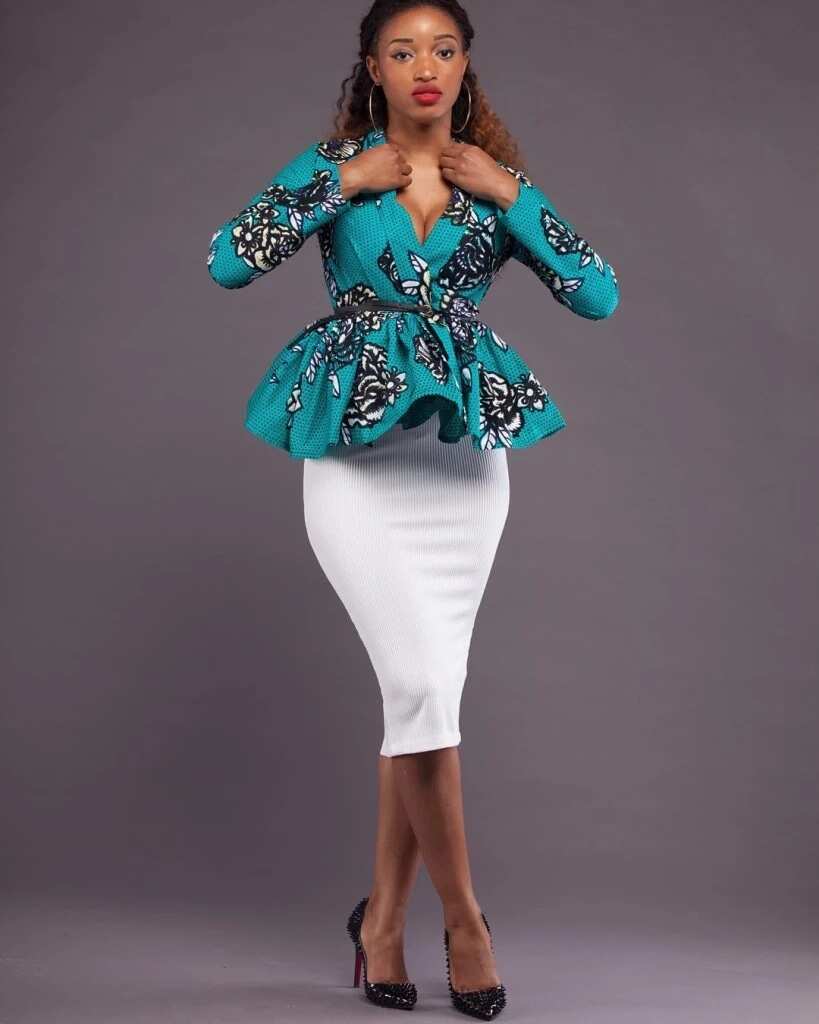 English collar
English collar is a classic version for a jacket. Also, this model with one button is quite popular this season. Such a jacket can be either standard length or elongated/shortened. Anyway, it will still look stylish and fashionable.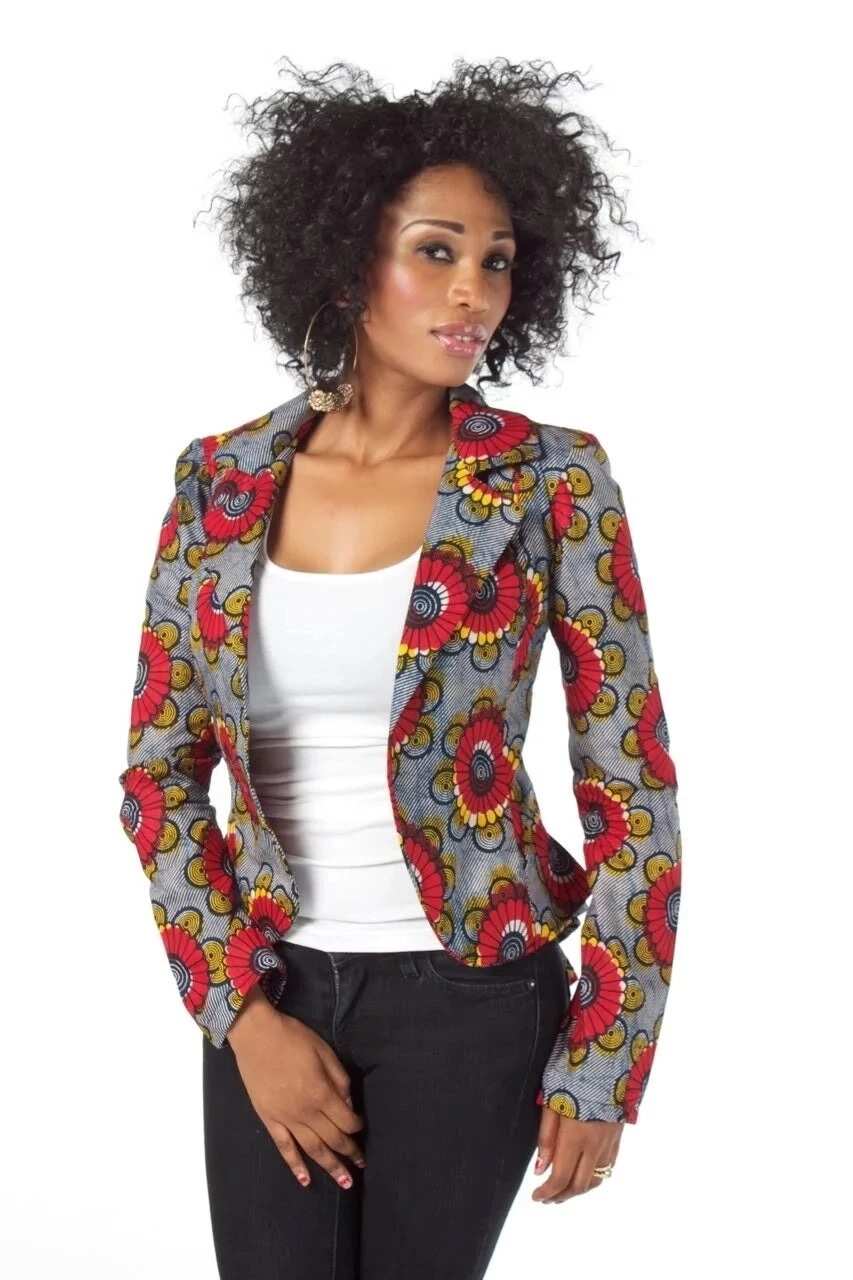 Short sleeves
Recently, a new trend has come to fashion: wearing jackets with shortened and tucked sleeves. This model looks informal, fervently and even adventurous in some way.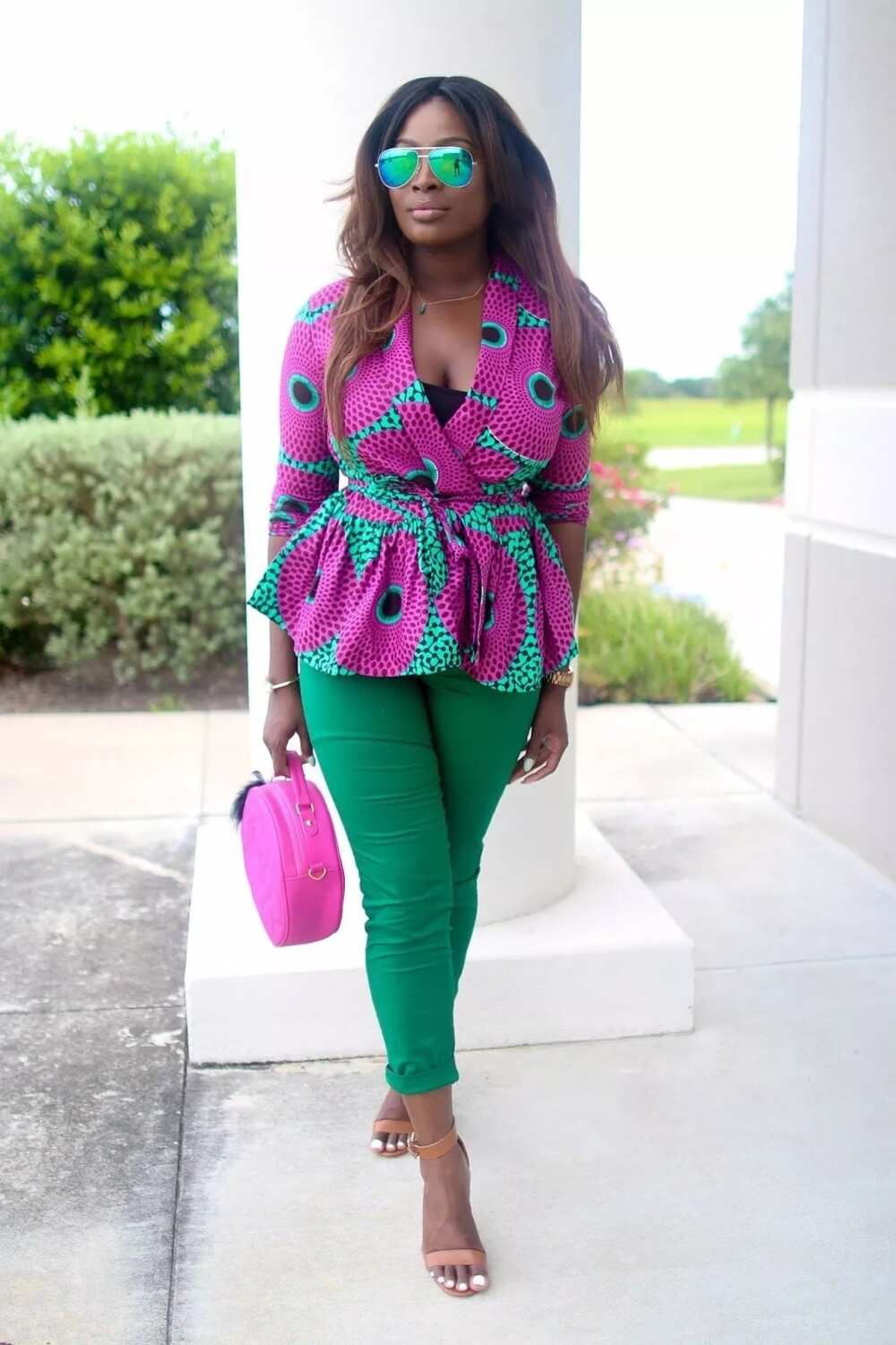 Peplum
Peplum is a frill, quite wide in size, which is usually sewn into the waistline on skirts, jackets, dresses and sometimes even trousers. Models of a jacket with peplum are incredibly popular this season because they look stylish and unusual. Peplum can also help to adjust visually your volumes by emphasizing the waistline and slightly reducing the lush hips.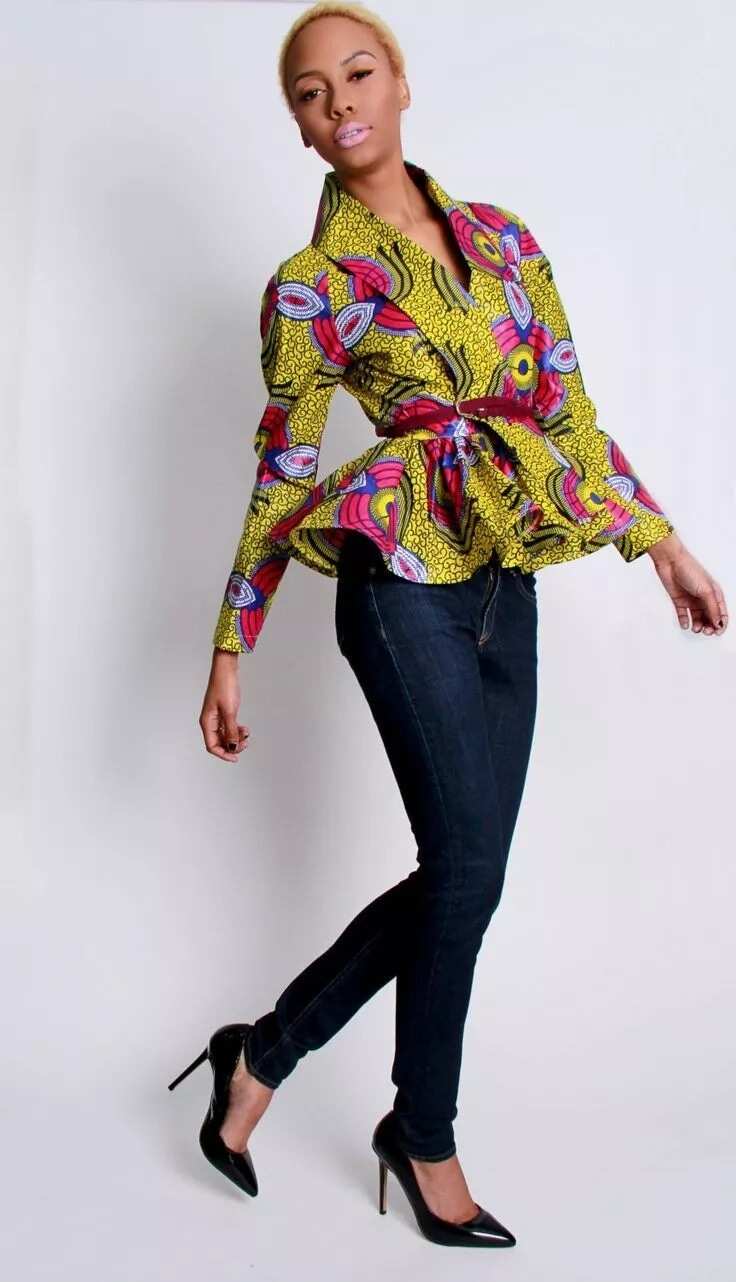 The great demand and popularity among the youth is enjoyed by elongated models of jackets and also sleeveless options. There are reasons for this. Let's familiarize with them right now.
Elongated models of jackets can have from one to five buttons. In any version, they look great and supplement the image of refinement.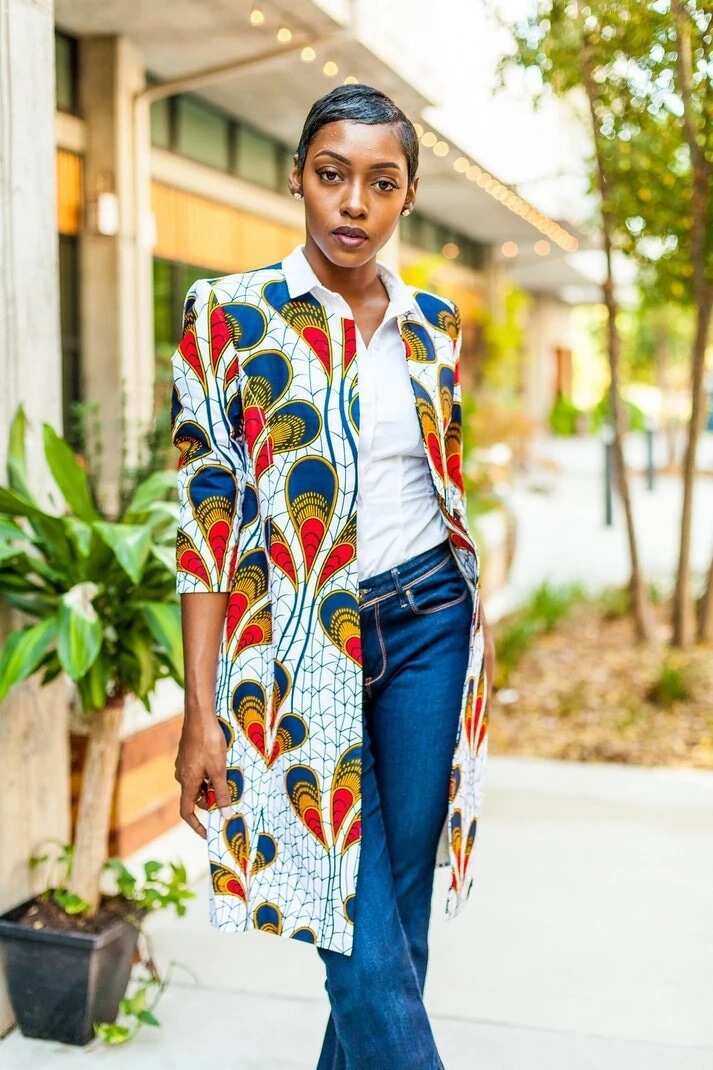 A sleeveless jacket rises frenzied popularity this season as it looks incredibly stylish. Such elements of Nigerian fashion perfectly complement both everyday images suitable for informal situations and office costumes which create a stylish highlight and a special personality.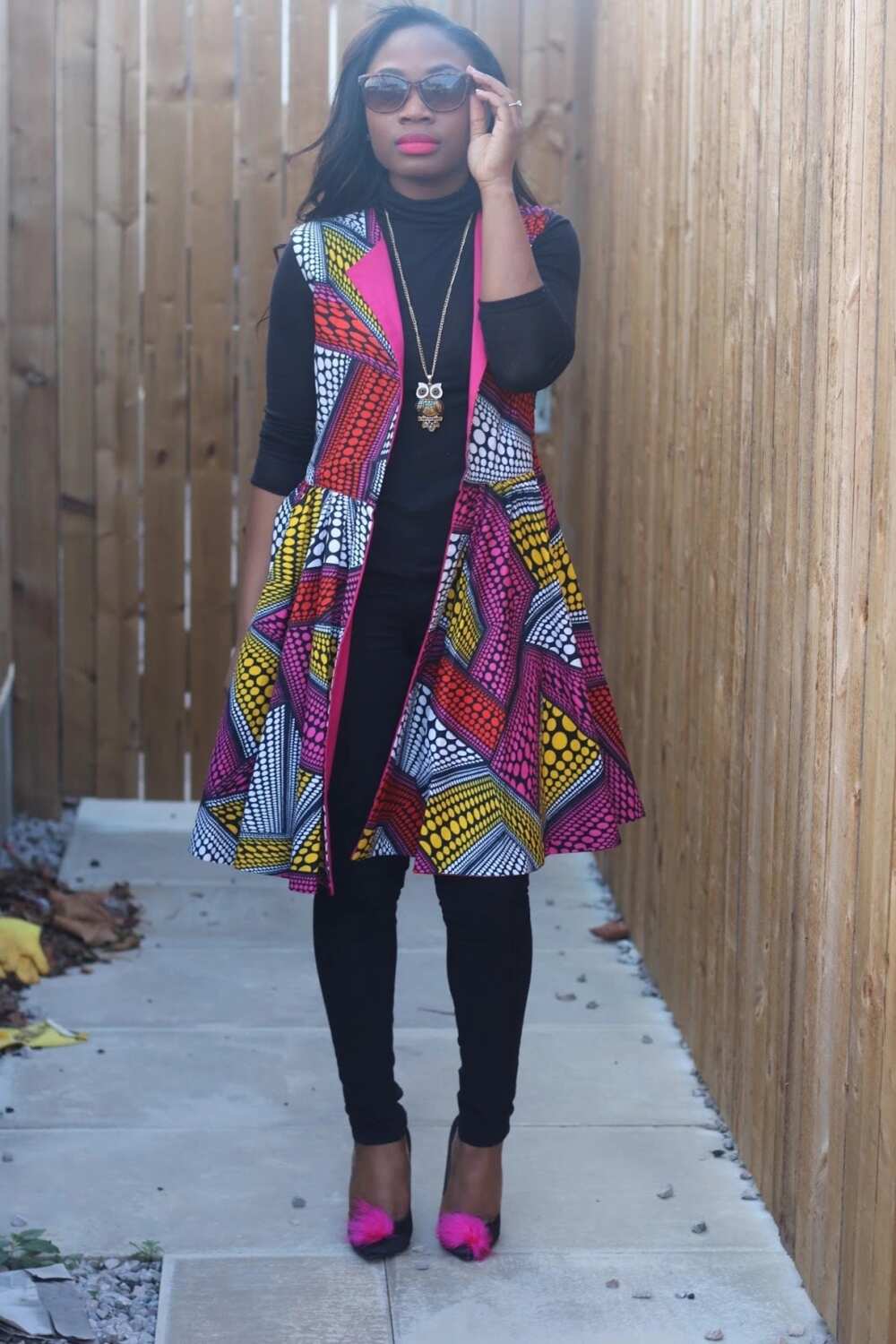 Ankara trouser and top styles
Pants are one of the favorite components of female wardrobe. Walk, work in the office, holiday - for any of these events, you can choose the right product. Let's analyze the most popular models of female pants:
Straight lines. There is a huge number of subspecies of straight trousers. This is classics, slacks (free handy clothes), and chinos (slightly modified slacks tucked from below).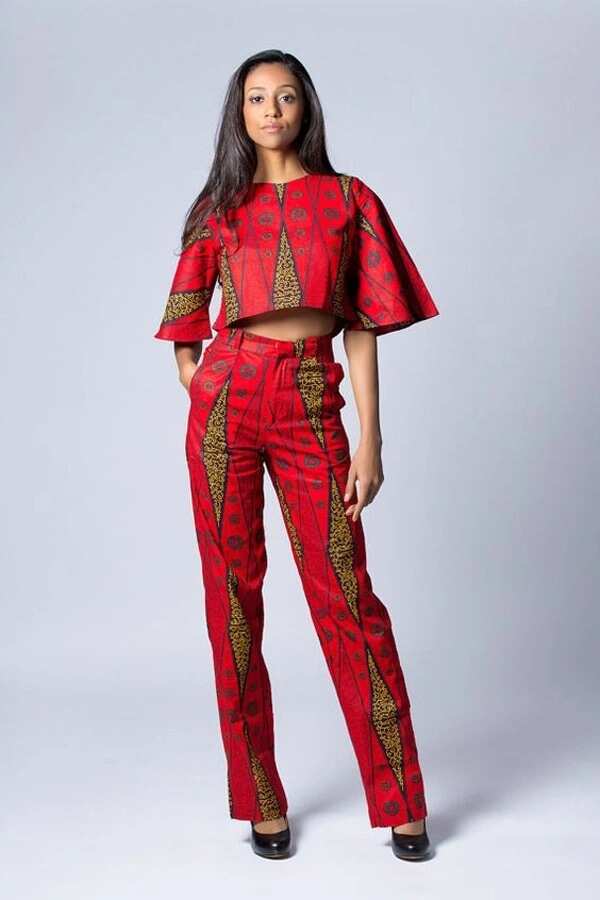 Narrow. Tight models which repeat the bends of the legs can sit slightly free, be elastic or not.
Leggings. Thinner trousers than narrow pants. They fully cling to skin, most often do not have a zip.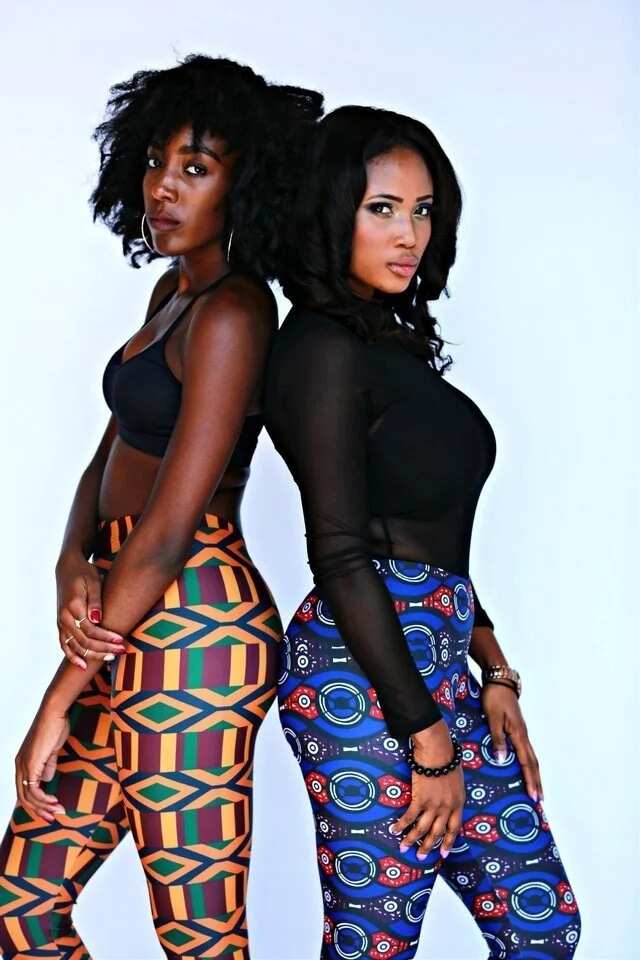 Models of wide trousers sit freely on the figure. Rubberband often performs the role of a strap. Such options are suitable for both warm weather and rainy season, may be worn by girls with magnificent shapes.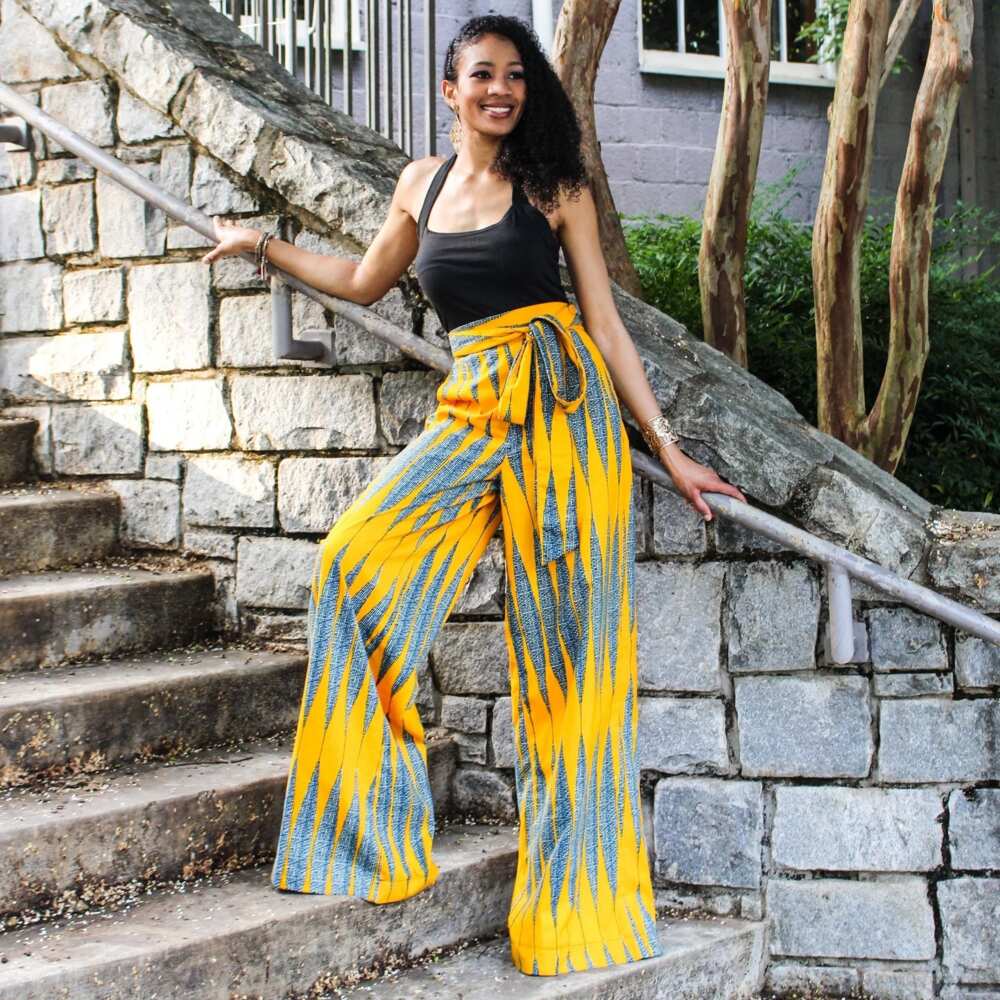 The flare style allows to balance the top and bottom by making the legs visually slimmer (if there is any disproportion). The flare could start not only from the knees but also from the hips.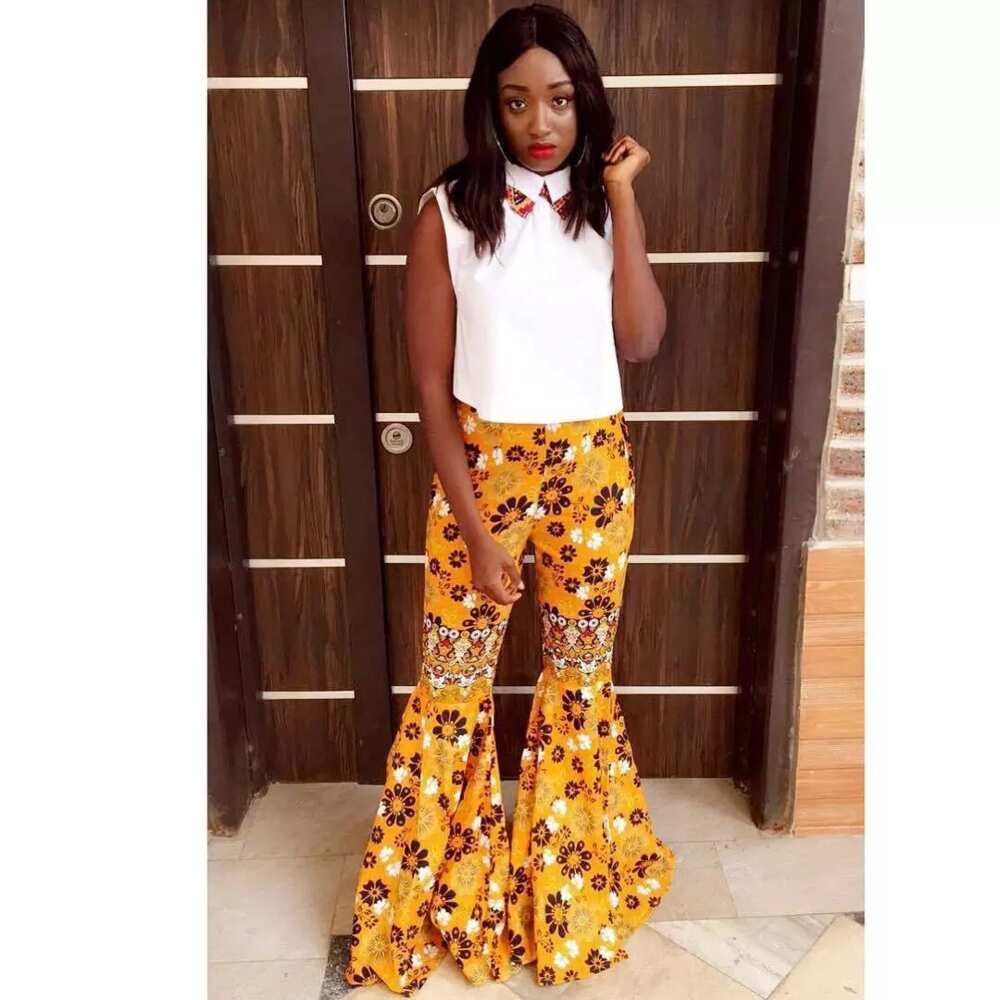 Models of trousers gradually tapering downwards. These are original clothes that will look good on girls who have small hips.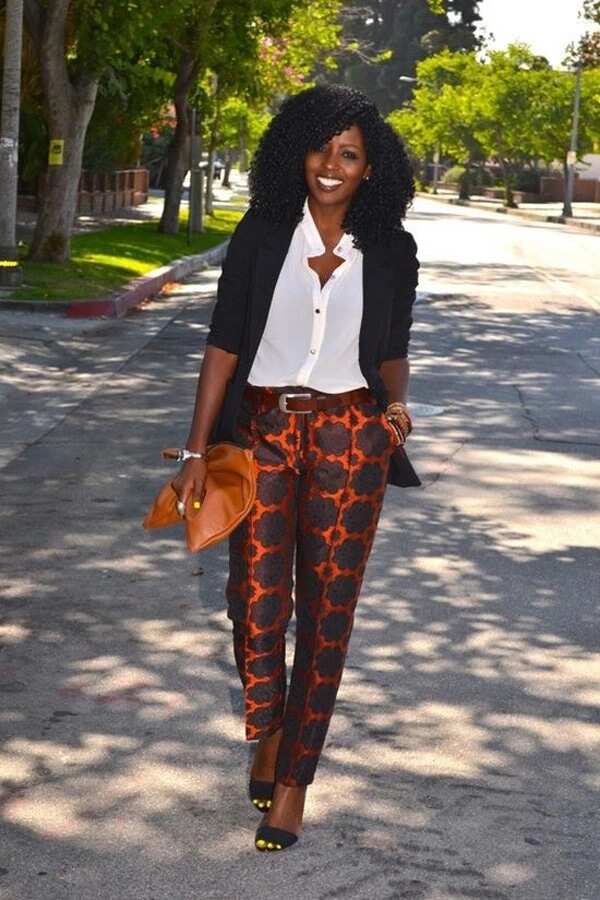 Bloomers came into modern fashion from the East. These are free clothes that have elastic bands on the ankles. They are suitable for informal events and recreation.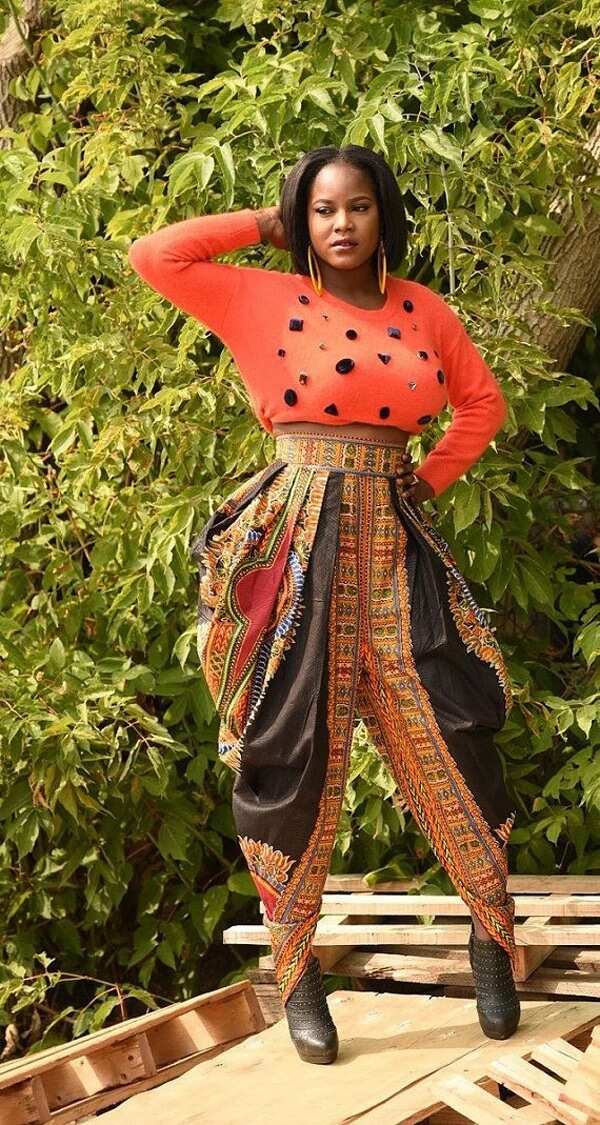 Afghani. Another modified eastern model. The middle seam line is much lowered in these wide pants. The bottom part is tapered and fastened on the ankles.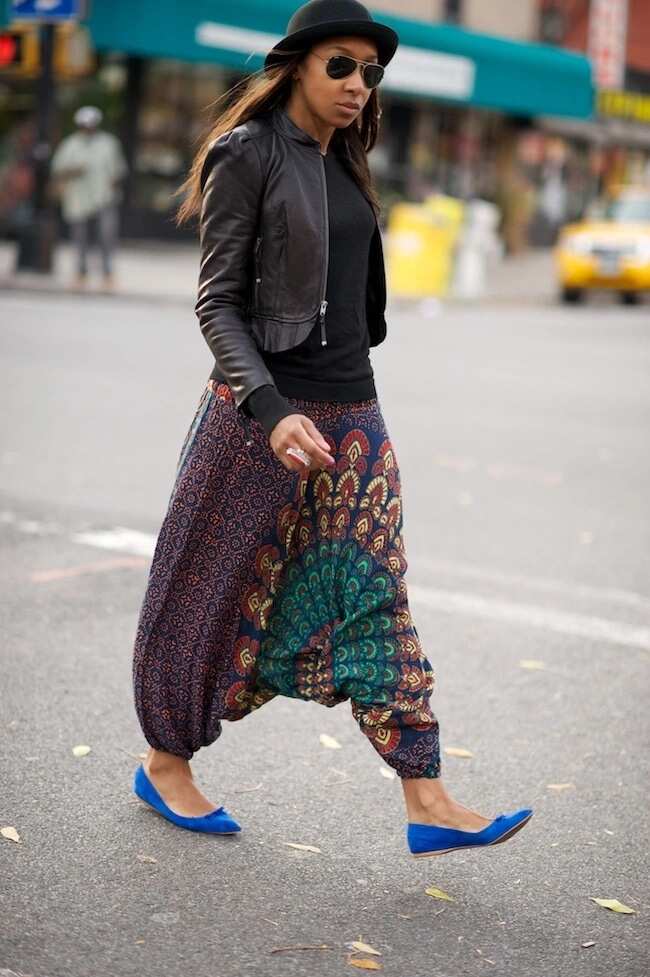 A mix of skirt and trousers generated a skirt-pants. These are very wide trousers that resemble a loose skirt.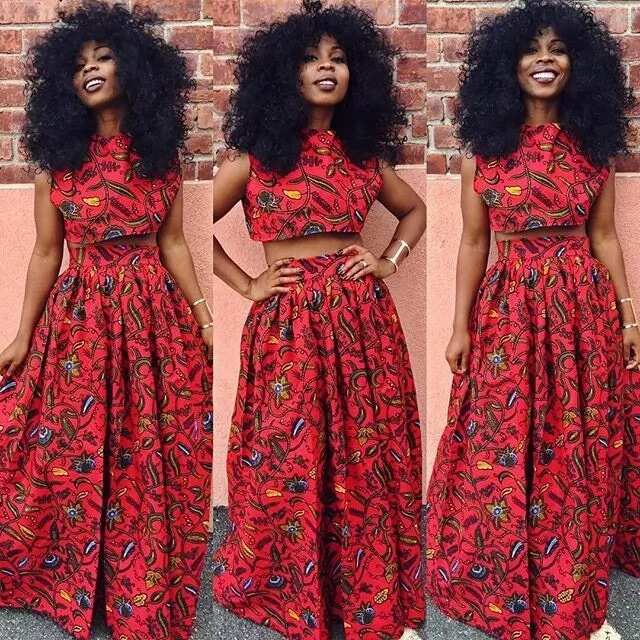 Shortened models. Pants also include clothes that are slightly shorter than standard products.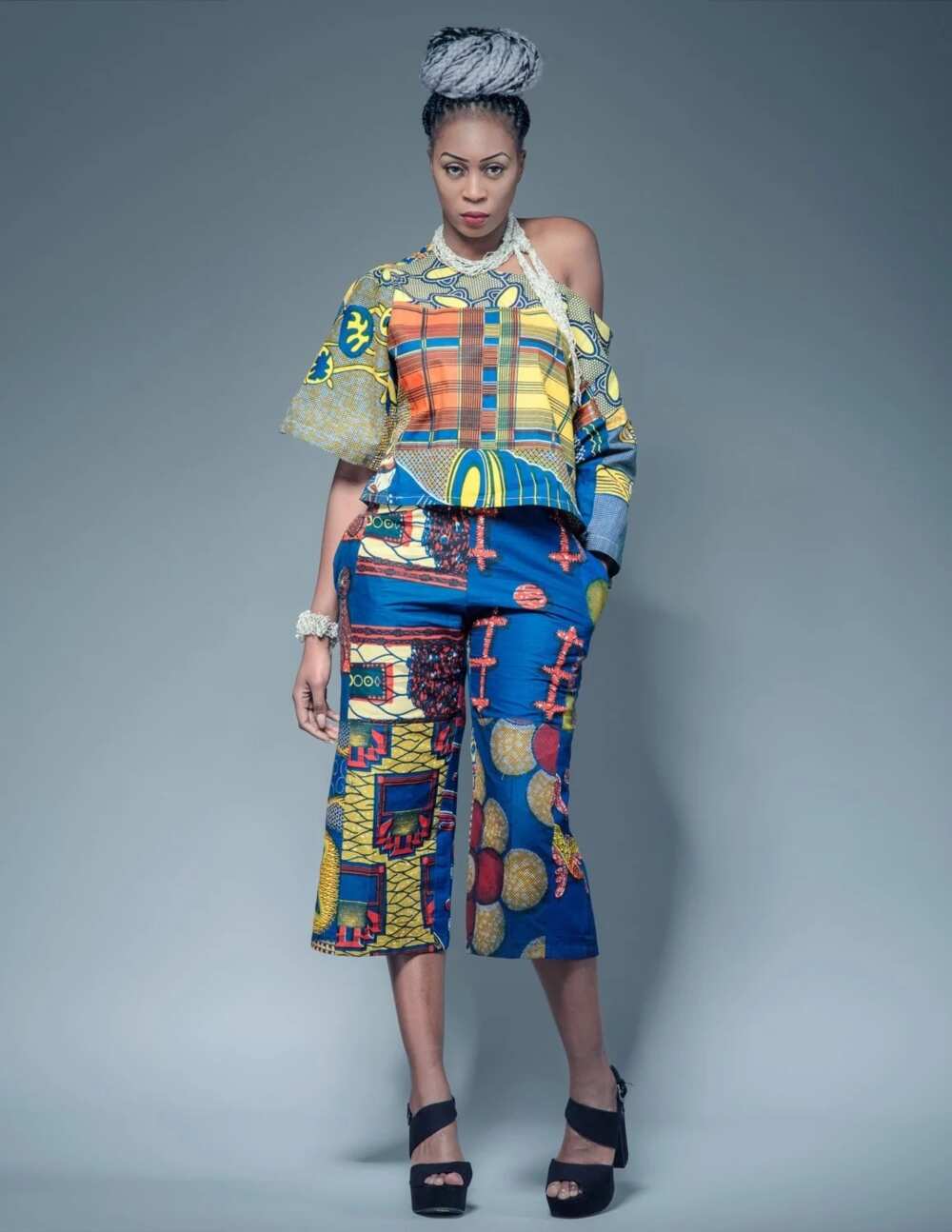 Of course, you will need to supplement the image with a beautiful blouse or shirt. Let's consider the best Ankara top styles.
Сlassic shirts
The most common office-business option is certainly a classic shirt. This item came into female use from men's fashion. To date, there is a large number of variations of the collars of such shirts: triangular, standing, folding, with the ability to button up all buttons and many others.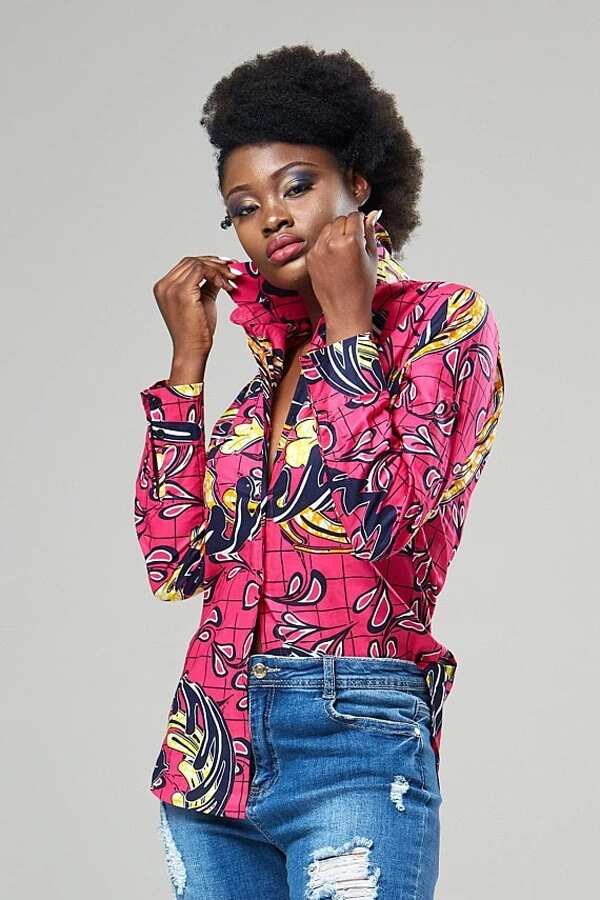 Cutouts of female tops
Female blouses are different in the type of decollete. Models with deep neckline are perfect for semi-formal occasions such as a birthday or dinner in a restaurant. This extremely feminine cut is capable of visually widening the shoulders, narrowing the face and also placing an emphasis on the beautiful neck.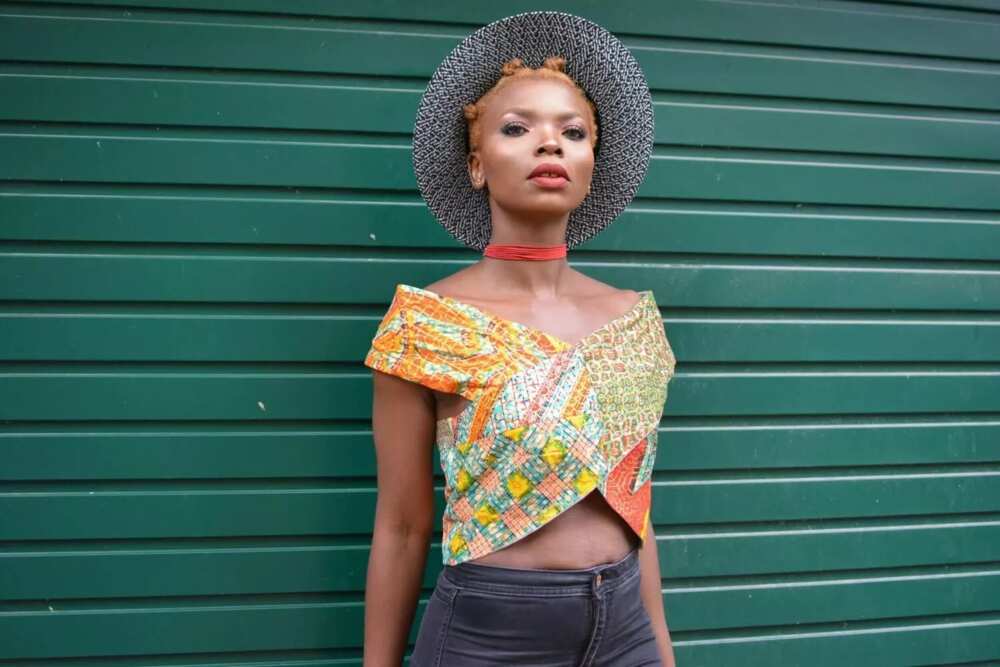 Standard round neckline is perfect for girls and women of any figure. Such a cutout looks especially good on young ladies with broad shoulders or excess weight.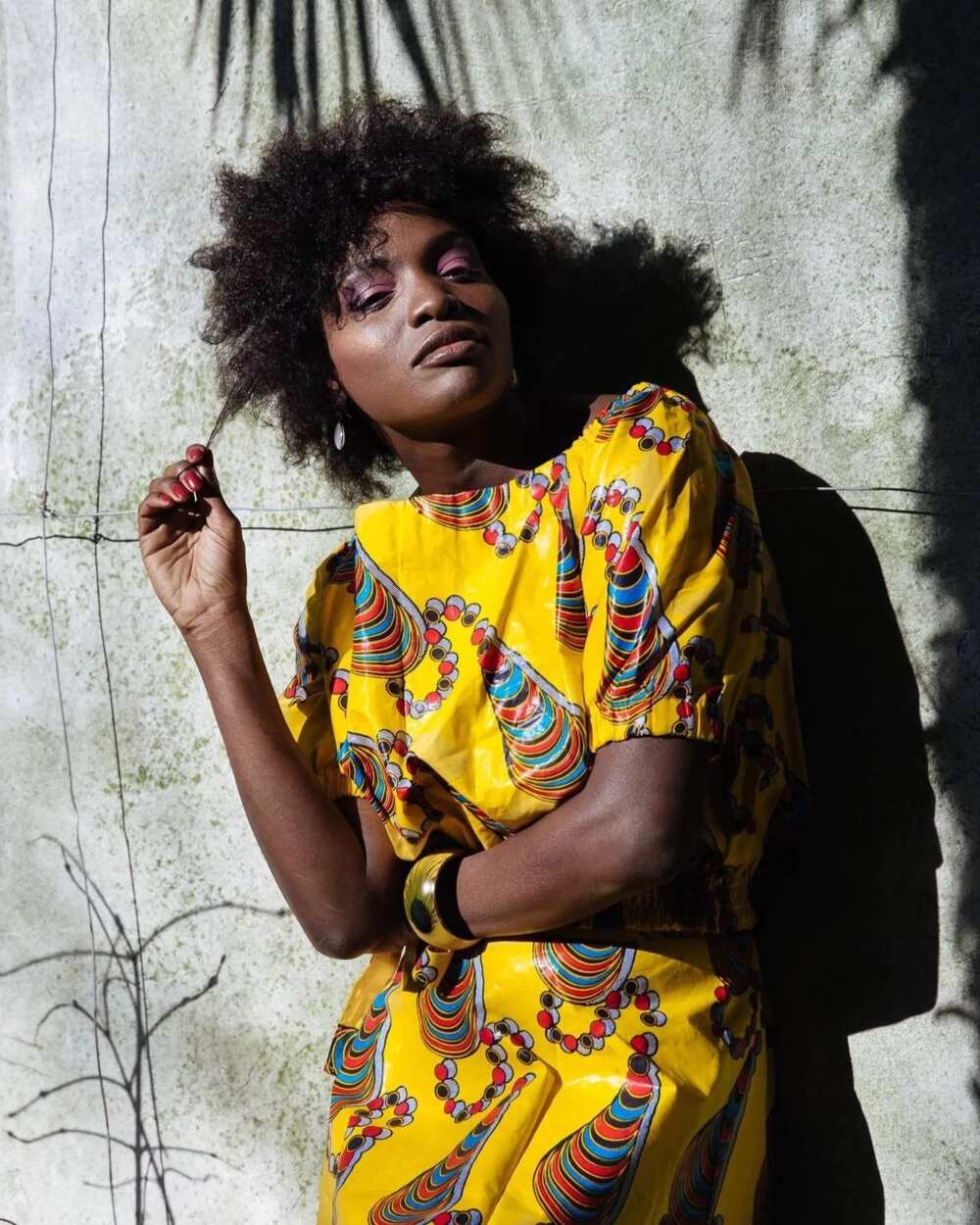 Buying a female blouse with V-neckline is an excellent solution for creating a refine attire with a skirt. This cutout advantageously emphasizes the line of the chest, creates a feminine and tempting silhouette and is suitable for women of almost any physique.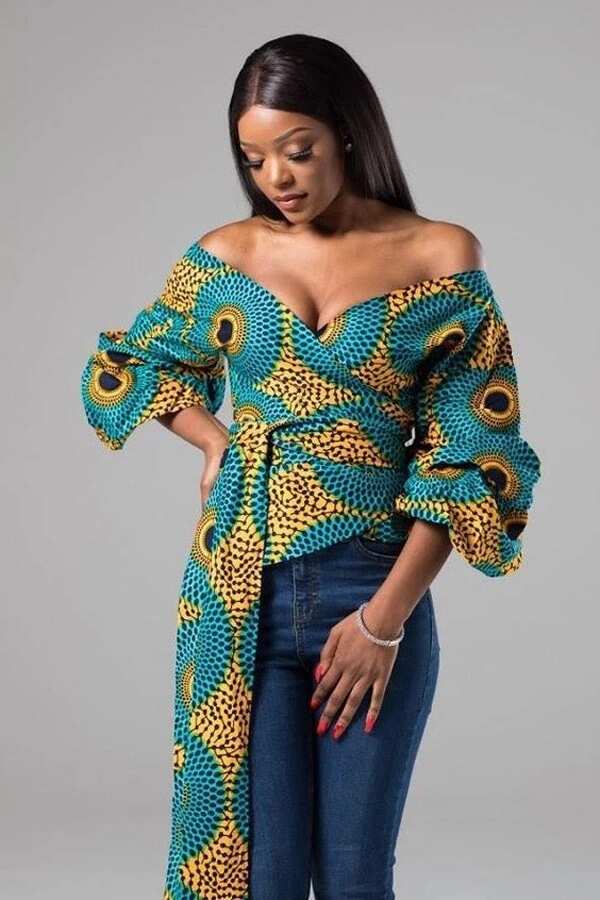 Collar ascot on business blouses and cut-out with ribbons will allow the ladies with magnificent forms to look much slimmer.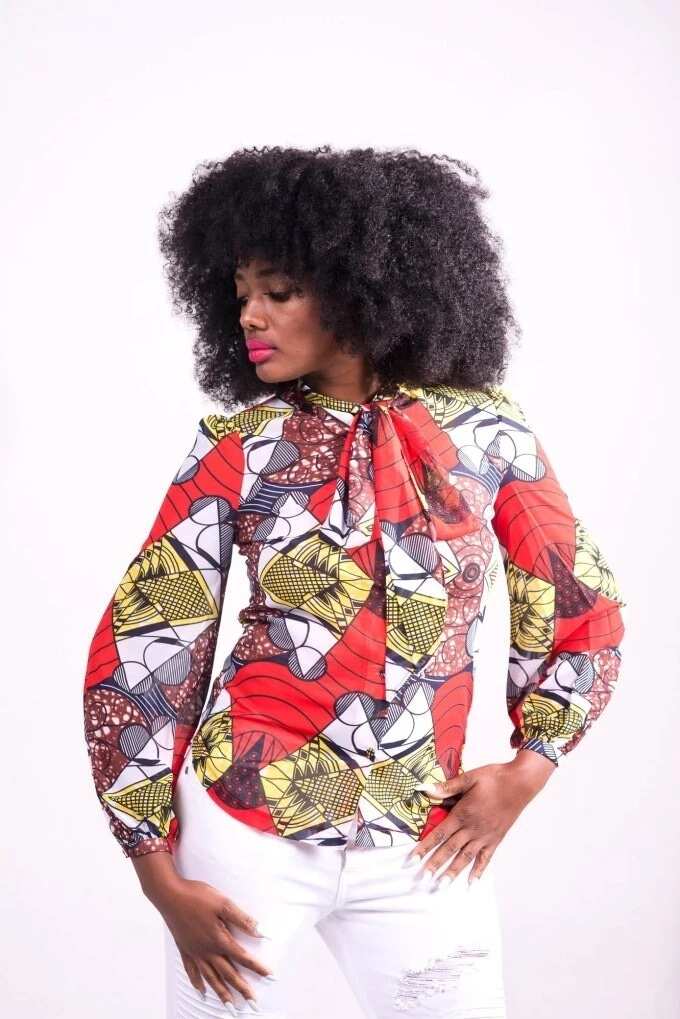 Variants of silhouettes
Blouses with asymmetrical neckline are very popular now. For especially brave representatives of the fair gender, there is even a version with one sleeve. Such tops can be worn for a gala event or a visit to a cafe.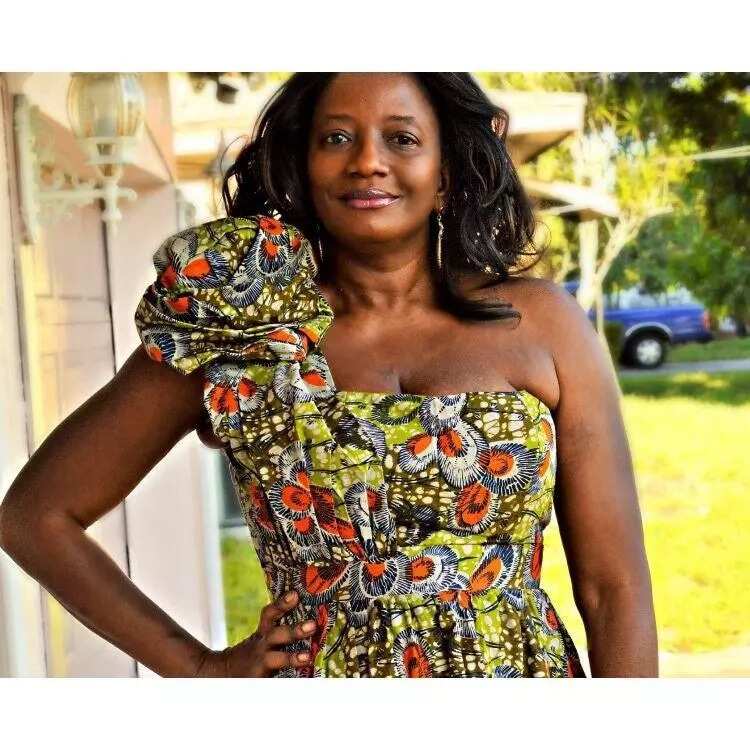 A special group of women's blouses is tunics. They are convenient not only for wearing in the hot weather but will also be indispensable in the home environment.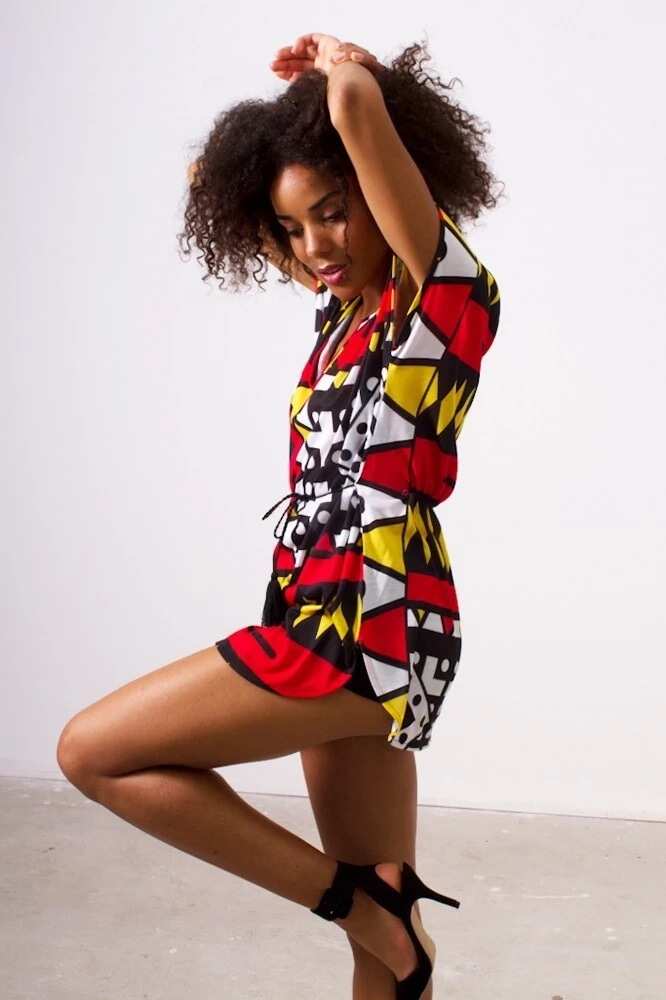 Wrap around blouses can be a solution for leveling problematic places for ladies with non-standard figures.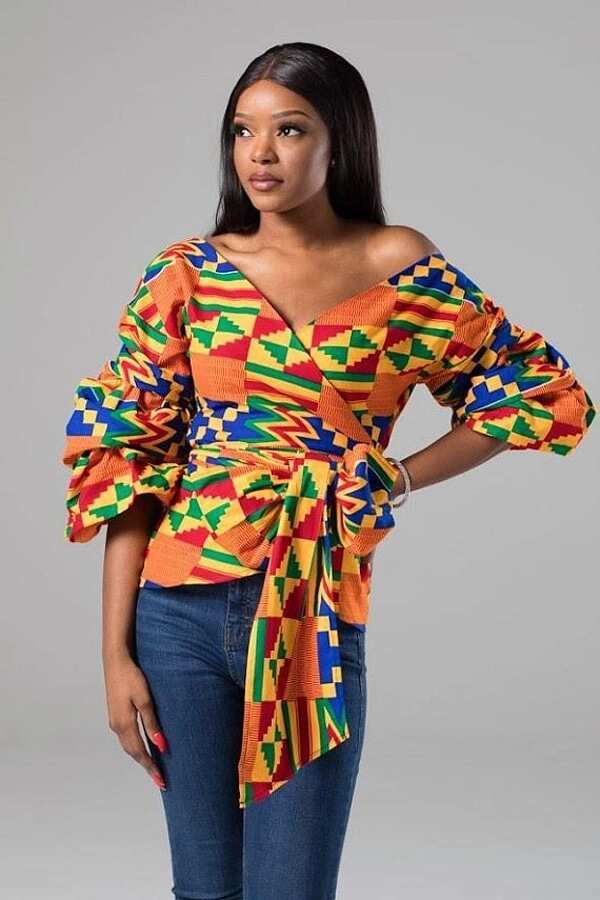 We hope that you have enjoyed the latest trends of Ankara fashion. Use them to look inimitable in any situation!
READ ALSO: Trendy ankara dresses to wear in 2018
Source: Legit.ng