Top female ankara jacket designs
Do you want to take a look at the hottest female ankara jacket styles? Check out the article and pictures below! You will discover plenty of interesting ideas and designs, and numerous combinations of colors, cuts and shapes!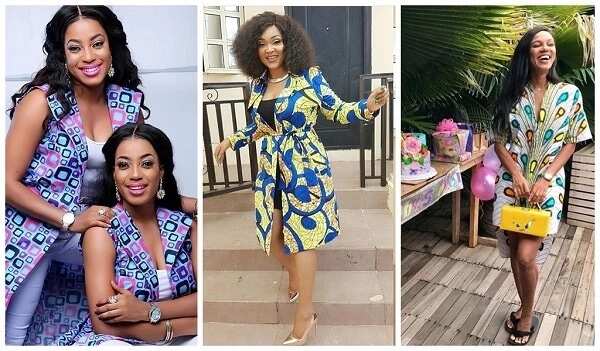 The most fashionable ankara jackets for women
An ankara jacket is a perfect item of clothes that suits anything: pants, skirts, dresses of all fashions. Elegant and bright at the same time, they can turn your dull office look into a festival of colors and emotions. Of course, such an item can be worn for less formal occasions, too. Combined with jeans, it can create a flirty and reserved look at the same time. A smoking hot combination!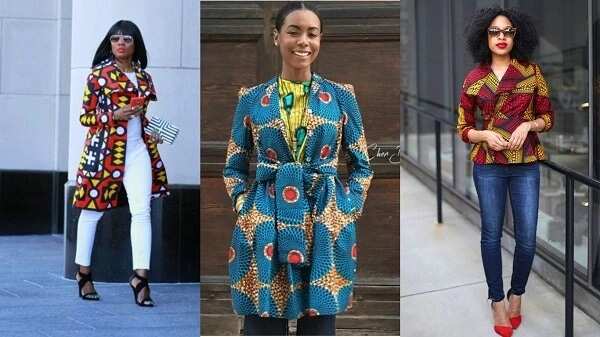 READ ALSO: Nigerian Ankara styles catalogue 2018
Check out these items, choose any ones that you like and give them a try in any situation! Everything you need to do is choose a style and find a good tailor who will bring your ideas to life and help you create an awesome outfit.
The latest ankara jacket trends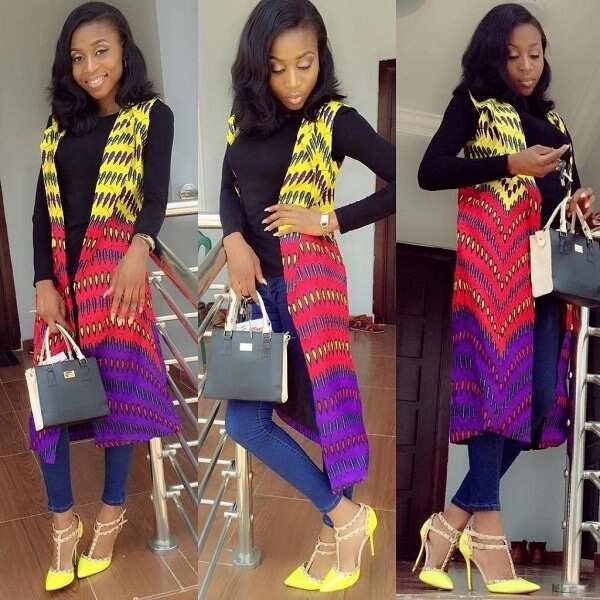 A bright sleeveless jacket
This item looks more like a very long vest without sleeves. Still, it's a fashionable ankara jacket created to be worn over a long sleeve or a shirt of a solid color. Combined with jeans, this jacket will outline your body shape, make you look slender and elegant, and give you the feeling of coziness.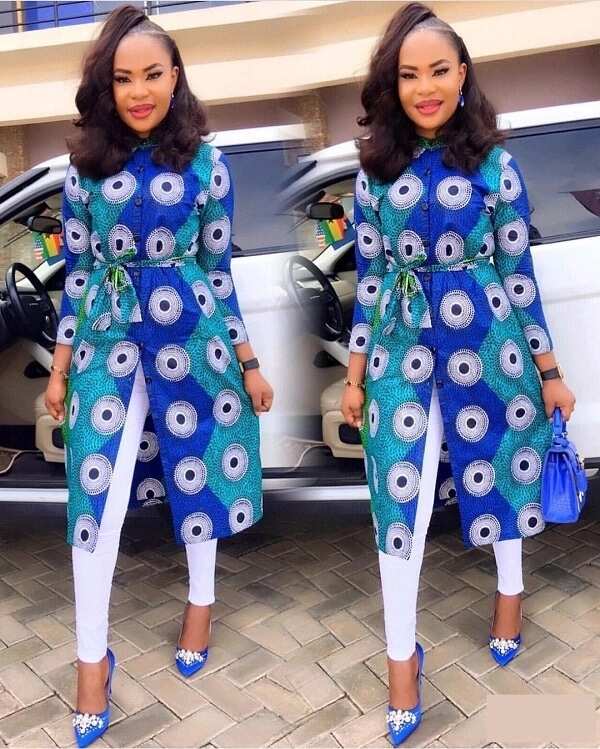 This item resembles a trench coat slightly but, in general, it's a true jacket. It has overlapping front sides with buttons and a stylish belt that holds the folds together. The refreshing blue, white and turquoise colors make it extremely bright and noticeable.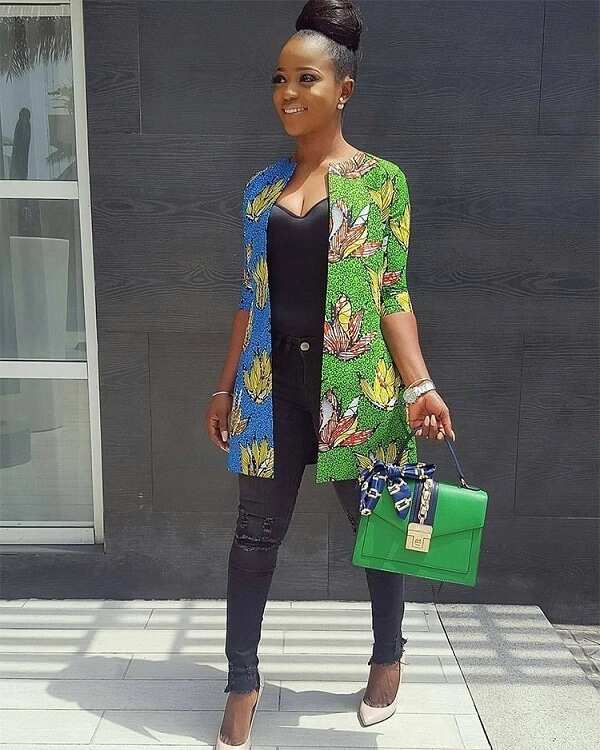 It's a really smart combination of ankara of the same type but in different colors. A simple cut without any extra details is compensated by the colour idea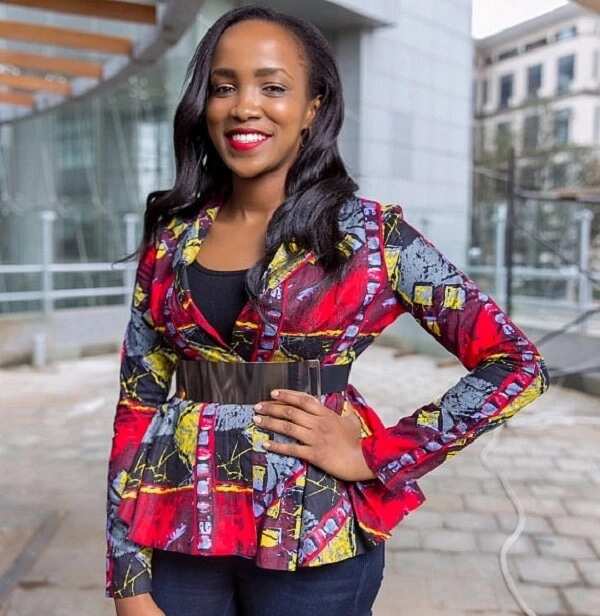 A short jacket with a belt
This cut is a perfect way to exaggerate the slender waist and add some volume to the bottom and chest areas. The folded frill-like hem of this jacket is the main feature of the cut and the wide belt is here to attract attention to this detail.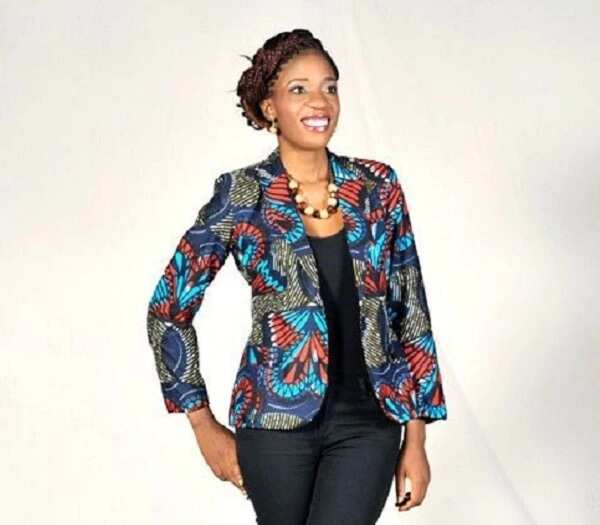 A colorful classic jacket
This is a regular classic jacket of a traditional cut. Yet, just check out how lovely it looks when it's made with ankara. The colorful design is a perfect match to other items of solid colors: pants and tops or dresses, whatever you decide to wear under the jacket. When choosing the fabric, make sure you find something of a matching neutral color in your wardrobe to emphasize the beauty of the jacket.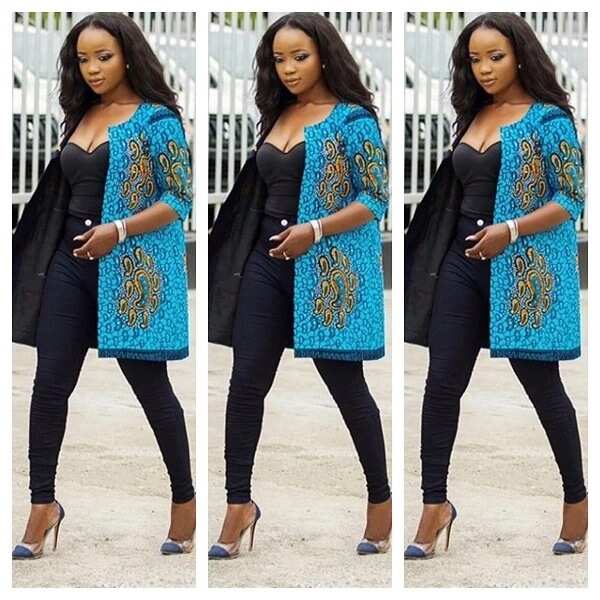 Made out of fresh blue ankara with lovely modest patterns, this item looks as classy and elegant as it only can. The location of the patterns is perfect, the choice of the fabric is perfect. When matched with jeans or other pants, this jacket will give you a decisive and determined look.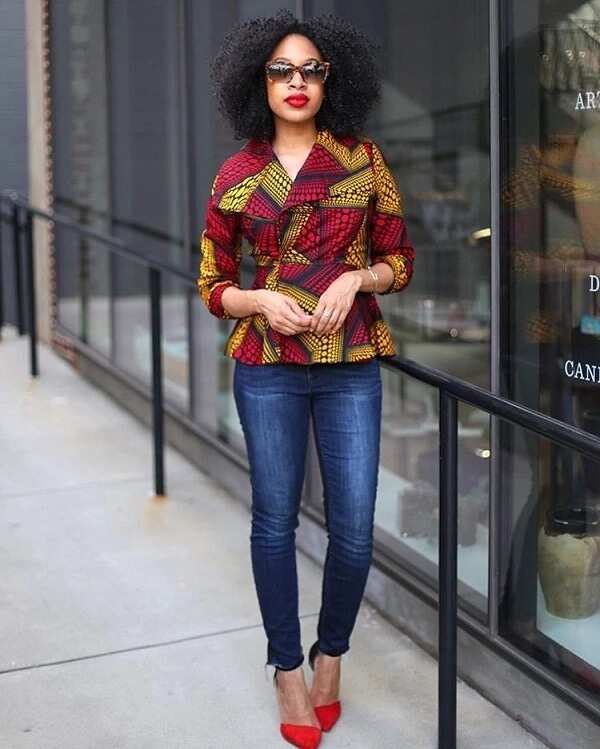 READ ALSO: How to tie head gear with Ankara
This bright colorful jacket looks extremely stylish with lapels of an elegant and complicated shape. Narrow at the waist and getting wider to the bottom, this jacket looks feminine and decisive at the same time. together with jeans and matching shoes it will look perfectly eclectic and bright enough for any occasion.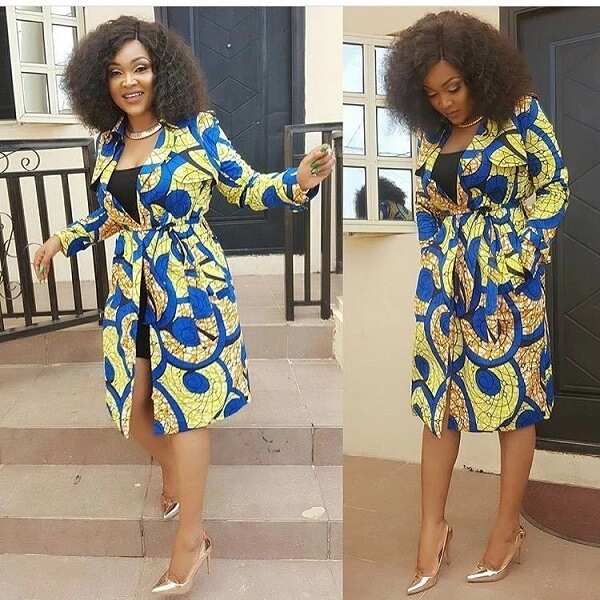 A long jacket with a belt
Here's one more coat-like jacket made out of a bright ankara fabric. It even has details like those of a trench coat. However, it's still an Ankara jacket that can be worn with practically any bottoms and a matching dress of any style. Here, in the picture, the dress is little and black, which gives a pleasant contrast to the main colors of ankara. You can choose any other color that matches your ankara choice and look elegant and bright.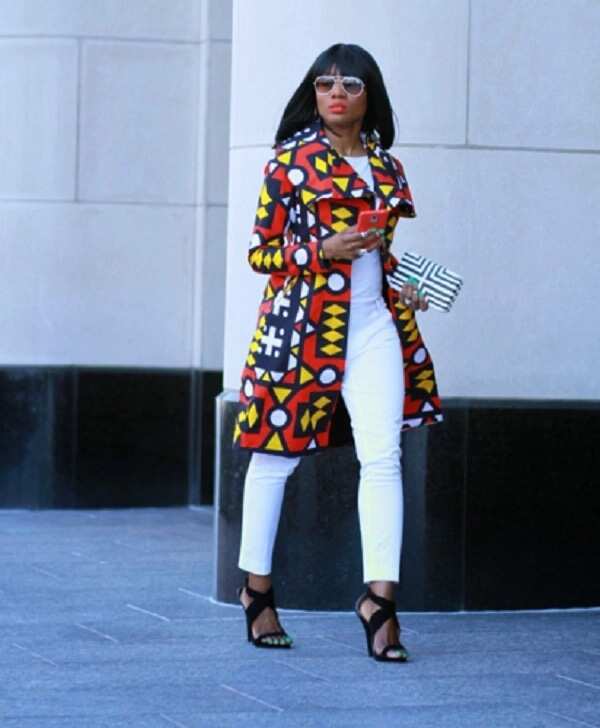 A geometric ankara jacket
Here's an example of a perfect geometric ankara pattern that looks totally African and authentic. The combination of these four colors makes the pattern bright enough and the white clothes worn under it give it a refreshing touch. You can choose any other shapes of the pattern and any other colors but make sure they are geometric to retain this specific elegant and stylish look.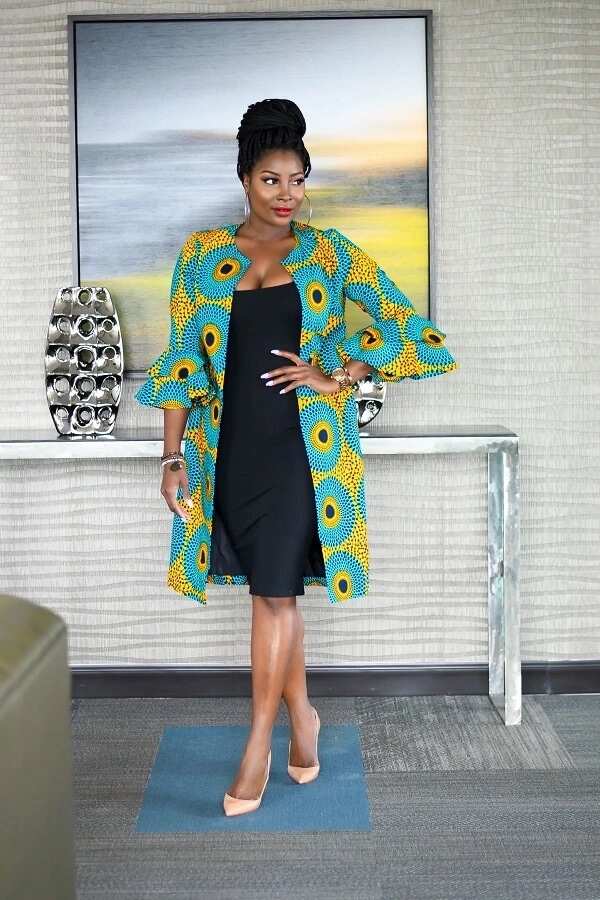 A jacket with frilled sleeves
This stunning jacket has a specific feature – frilled sleeves. The general cut is very simple but the main attention catcher, the sleeves, look wonderful and bright. They are feminine and delicate and give the body a very specific shape. Such a design is a true eye-candy and you can be sure you will turn all heads wherever you go in such a jacket.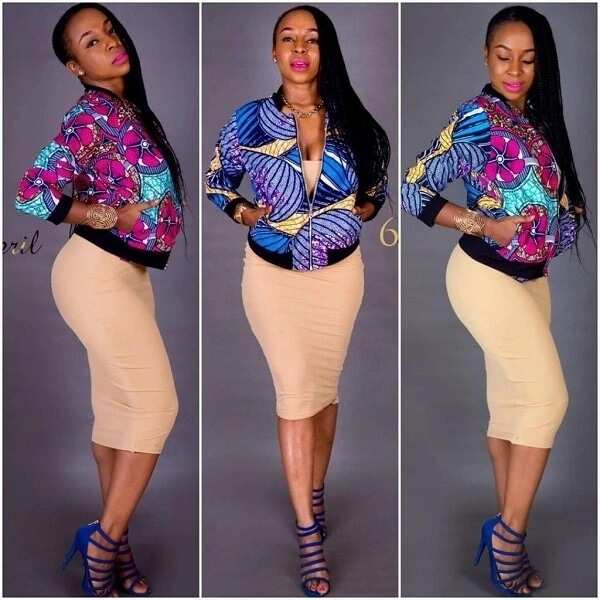 Seeing a bomber jacket in such a fabric as ankara is an unusual thing. However, it's an extremely stylish option, especially when combined with a pencil skirt or tight pants. Of course, such an item is absolutely casual and out of place in an official surrounding; still, it's a thing you should have if you want to be a real ankara fashionista.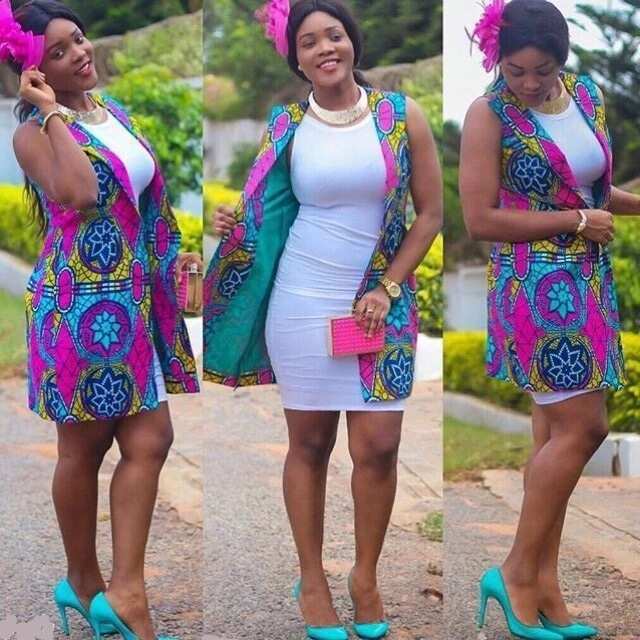 A bright sleeveless ankara jacket
This is another sleeveless jacket, which looks so lovely with a white sheath dress. The dress underneath can also be black or of another matching color but in this case, the effect will be lost and the look will be more official and less festive.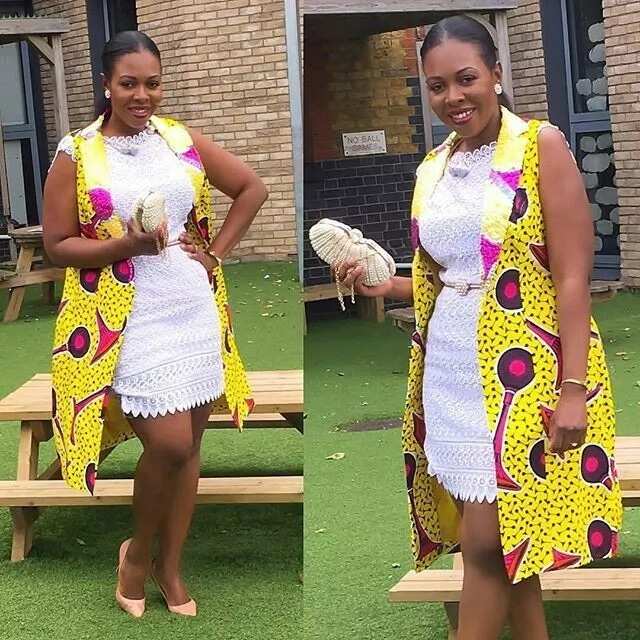 A yellow sleeveless ankara jacket
Sleeveless ankara jacket design is a real trend. It can add a great deal of the mood to practically any dress or whatever else you choose to wear underneath. In this picture, you see another example of how lovely a dress of a solid color can look when paired with a bright sleeveless jacket. The effect will not be gone even if you choose a more casual dress.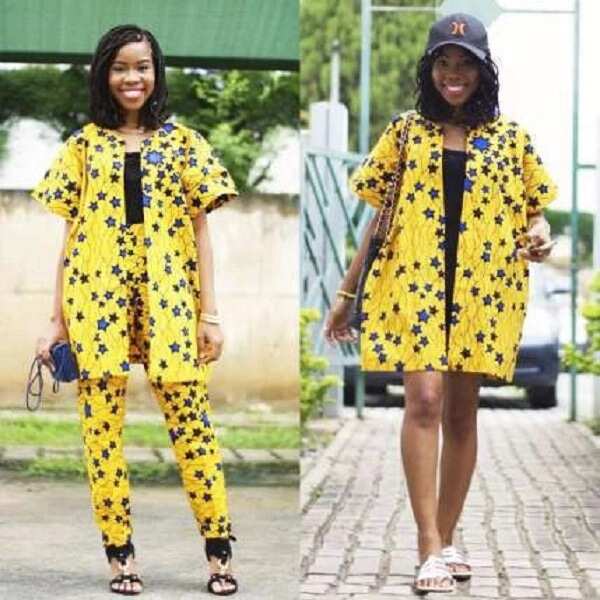 In this picture, you can see how lovely it may look when several items within the same outfit are made out of the same ankara fabric. A jacket and pants or a jacket worn over a dress – in fact, the possible combinations are numerous. Just choose the ankara that you like and create your own garment combinations and new looks.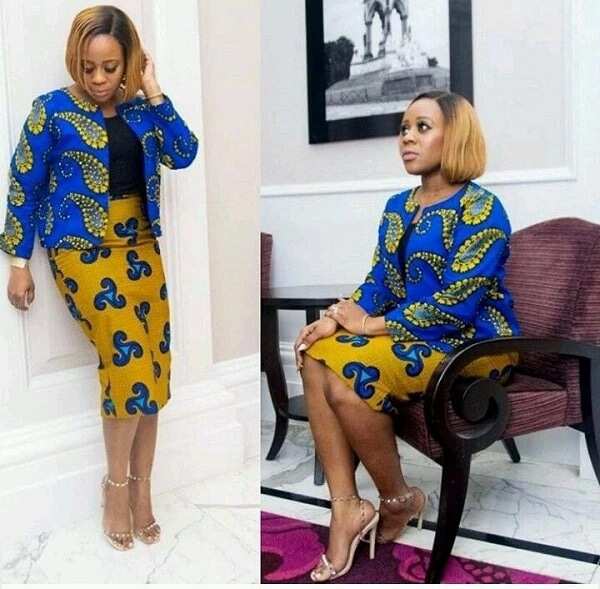 This is a great example of matching two different ankara fabrics in an ideal elegant way. It's not even necessary to choose the same pattern. It's enough to choose the same colors that will repeat each other in the pattern of the skirt and the jacket. Just check out how gorgeous the lady in the picture looks and how perfectly her clothes are matched.
Well, this was a selection of top ankara jackets but this small number is only a part of all the available options. You should feel free and add any details to the existing designs. Just unleash your creativity and open your mind to experiments!
READ ALSO: Ankara maternity gown styles
Source: Legit.ng