The most expensive hotels in Nigeria open their doors to make you experience new-age luxury and perfection during vacation. Choosing an accommodation is not always an easy task. Keep on reading to find out the names of 20 amazing hotels scattered throughout Nigeria, promising to leave you feeling truly pampered!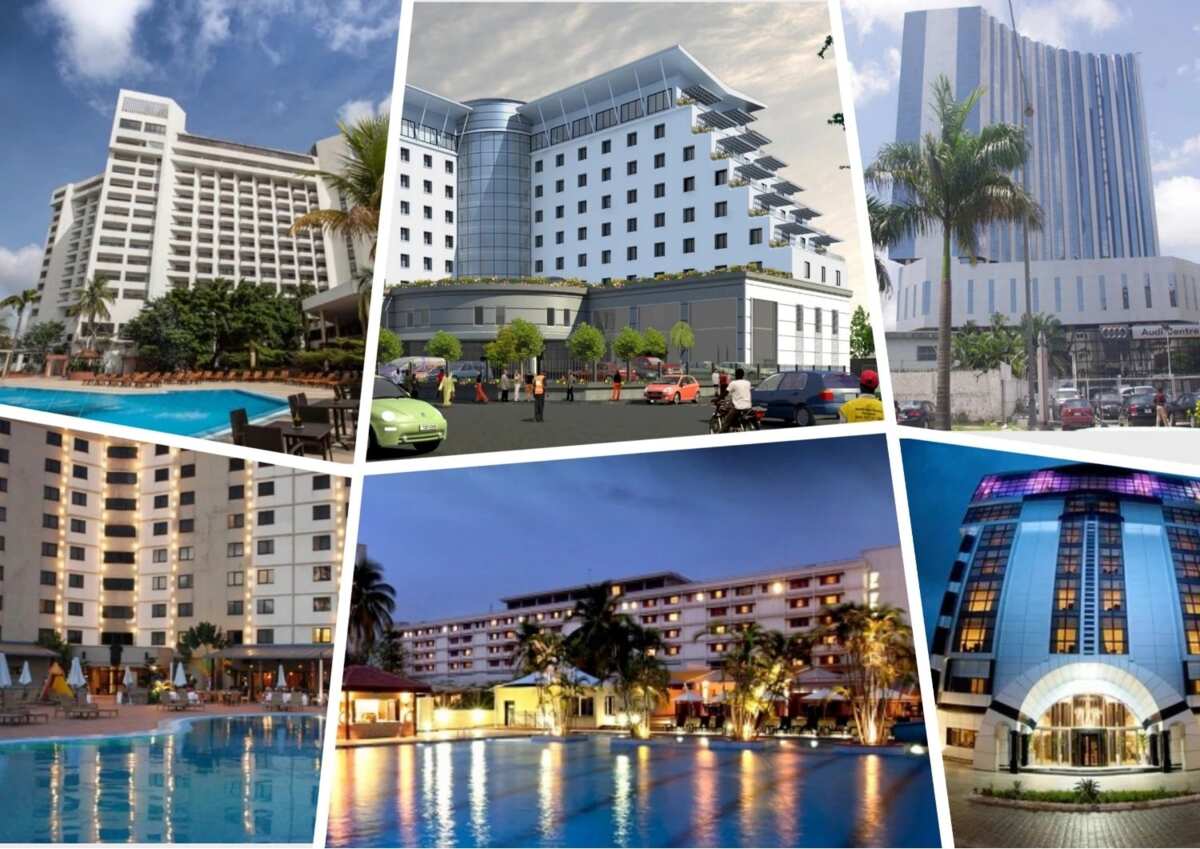 Top 20 most expensive hotels in Nigeria
A great vacation turns into a brilliant experience only if the accommodation meets all your needs and you can chill out like a queen or a king! The most expensive hotels in Nigeria get involved in a challenging competition for the sake of elite visitors' appreciation: exquisite interior, special lighting, tailor-made features, and much more. Most of the people visiting these accommodations don't pay attention to the price, because they need comfort, privacy and a secure place to stay, to hold a seminar or a business event.
The research done by Hogg Robinson Group reflects the highest quality of hotels in Nigeria: you will be surprised to know that Nigerian hotels take the second place in the world due to their high cost.
Checkout the list of the most expensive hotels in Nigeria offered by buzznigeria.com to know the benefits of luxury life and comfort!
1. The Lagos Continental Hotel (formerly known as InterContinental Lagos Hotel) – N982,585 per night
The Lagos Continental Hotel is the tallest hotel in Nigeria. It stands on Victoria Island, Lagos, just a few minutes from internal Embassies, Silverbird Cinemas and Ikoyi Club.
358 beautifully-adored apartments offer unique blend of luxury and gracious hospitality during your stay at the hotel. Each of the rooms provides breathtaking views of Lagos skyline, port area, and the neighbourhood.
READ ALSO: Most expensive hotel in Nigeria
Convention travellers will like this place because of facilities offered for seminars, training, and events. On the hotel's territory you can soak in the outdoor swimming pool, exercise at the ultramodern fitness centre, rejuvenate in the Spa, taste gourmet dishes at one of the four restaurants (Nigeria, Indian, Chinese, and Italian) or have a drink after a business conference at the Ariya Terrace and Milano Bar.
2. Transcorp Hilton, Abuja – N964,600 per night
Transcorp Hilton is a beautiful gem that is ideally set in the heart of Nigeria's Federal Capital, in close vicinity to the airport and business area filled with embassies and government buildings. It provides elegant apartments that meet overall standards and offer enchanting panoramas of the city.
Spacious meeting rooms provide all the necessary audio-visual equipment to stay on the top during any event. After a day in the city or a business event, make yourself comfortable at one of seven restaurants and bars; recharge in the fitness room or refresh in the outdoor swimming pool, or have fun in the gaming-house.
3. Radisson Blu Anchorage Hotel, Lagos, V.I. – N508,484 per night
Radisson Blu Anchorage Hotel, Lagos, V.I. is a charming accommodation, set on the picturesque banks of the Victoria Island in Lagos Lagoon. It features perfect location for both business guests and leisure travellers: just a few minutes separate this in from corporate headquarters, consulates, banking districts, top Lagos sights, and shopping malls.
There are 170 suites and guestrooms, which represent a good solution of Scandinavian design and lavish facilities. If you are about to have a seminar, a conference, a special occasion or a wedding ceremony, there is no better place to hold it than to choose one of the function rooms, overlooking Lagos Lagoon.
You should pamper your tummy with local delicacies flavoured with traditional hospitality at the Voyage Restaurant or enjoy light grilled meals on the terrace Surface Bar & Grill. Don't be afraid to get extra-calories! The on-site gym will help you keep your body fit and sound.
4. Southern Sun Ikoyi Hotel, Lagos – N453,473 per night
Southern Sun Hotel is a self-contained vacation property that is set in Lagos' suburb of Ikoyi, within easy access to the Government offices and business area. It is suitable for both convention and leisure travellers.
The hotel provides 195 enchanting suites and rooms, which guarantee nothing but ultimate comfort and relaxation. There is no need to search for better function space than Southern Sun Ikoyi Hotel can offer you: contemporary design, new-age techniques, and the best service.
On the hotel's area, you can have a have a drink in the cocktail bar or enjoy the most excellent cuisine at the restaurant. The hotel also provides its clientele with the following recreation facilities: a sauna, a pool, and a gym.
READ ALSO: Beautiful and fun places to visit in Lagos
5. The Wheatbaker, Lagos – N441,530 per night
The Wheatbaker is a luxurious boutique hotel, which is situated close to the Lagos business districts of lkoyi and Victoria Island, what makes it a perfect place for all kinds of travellers. The hotel stands 35 kilometres from Murtala Muhammed International Airport.
This property provides exclusive world-class service and amenities with its elegant guest rooms. Every day you can taste seafood, meat, a selection of local delicacies and pasta in the Eko Bar, the Grill Room, and Saraya Deli.
6. Lagos Oriental Hotel – N450,000 per night
Lagos Oriental Hotel is an excellent choice for a stay in the heart of Lagos. Come to experience luxury, dynamic modernity and certain comfort within its 73 guestrooms, whose modern interior is supplemented with artworks and refined furniture.
The on-site facilities make it possible to cater large events, meetings, and celebrations. For dining, you can settle into the Japanese Gourmet Restaurant, the Chinese Restaurant, and the Lobby Lounge & Bar.
7. Lagos Sheraton Hotel, Ikeja – N413,300 per night
Lagos Sheraton Hotel is a marvellous place, which blends international facilities with Nigerian hospitality. Its apartments provide ultimate privacy and signature furnishings.
Within the hotel area, you can enjoy facilities for relaxation (gym, pool) and holding business or private events. If you wish to dine, take a glance into the most exclusive Italian restaurant in Lagos, serving grilled products and Nigerian cuisine. Efficient service and dedicated personnel are provided to every guest round the clock!
8. Nicon Luxury, Abuja – N394,490 per night
Nicon Luxury, Abuja is a comfortable hotel, which offers to experience personalised service and premium comfort in the very heart of the Federal Capital Territory. Its apartments provide enough space and deluxe amenities to make you feel relaxed and renovated.
The hotel can host a business event or a private celebration at one of its spacious conference rooms.
The on-site facilities for recharging include outdoor swimming pools, the Spa, a steam room, a gym, squash court, and lawn tennis court. On the hotel's area, you can also taste local specialties and Mediterranean cuisine dishes at one of the restaurants.
9. Sheraton Abuja Hotel – N388,330 per night
Sheraton Abuja Hotel is a sophisticated hotel that nestles in Abuja, the heart of Federal Capital of Nigeria. It is found just a few minutes away from its most featured attractions and Nnamdi Azikiwe International Airport.
Its 420 comfortable guest rooms blend traditional warmth, modern comfort, and impeccable service. In case if you plan a business event, the hotel's personnel will gladly provide you with the necessary meeting space.
After a busy day in the city, you can relax at the state-of-the-art fitness centre, play tennis, squash or basketball, and recharge in two large swimming pools. There are five restaurants and a lobby bar, which provide fine dining, snacks, and beverages.
10. Hotel Presidential, Port Harcourt – N237,524 per night
Hotel Presidential is an excellent location for both business and family vacation. This hotel is located in Port Harcourt just a stone thrown from such landmarks as Port Harcourt Tourist Beach, Port Harcourt Zoo, Port Harcourt Golf Club and Port Harcourt City Mall.
The clientele of Hotel Presidential is offered to choose among a wide range of categories to all tastes with different views. All of them boast with excellent services and a luxurious interior.
On-site you can renovate powers in the swimming pool, make your muscles work at the gym or play a game or two with a friend at the tennis court.
In case if there is no time left but you have to plan a business event or a special occasion, ask personnel for help and you will be provided with event space.
There is also a bar, a lounge and a restaurant, where you can share some dining, enjoy a coffee break or have a snack.
If you like to party, there is also a good choice for you – the on-site nightclub, provides great vibes and relaxing atmosphere!
11. Federal Palace Hotel, Lagos – N204,500 per night
Federal Palace Hotel is a kingdom of opulence boasting of its hypnotising architecture and convenient location in the heart of Victoria Island's commercial district.
Spacious apartments adorned due to the latest trends, a wide selection of services, the on-site casino, a gym, tennis courts, and exclusive dining options (international cuisine dishes) wait for guests coming for both on business and for pleasure.
12. Ajuji Greenwich Hotel, Abuja – N195,200 per night
Best Western Plus Ajuji Hotel is a perfect example of how hospitality can blend with a desire to bring exceptional experience to travelers. It is found in the heart of North Central Nigeria.
The hotel offers 104 excellent accommodations, where you will enjoy top-notch facilities, premium bedding, and relaxed atmosphere.
If you wish to have a cup of tea or coffee, make yourself comfortable at the coffee bar in the lounge area. The Zui Restaurant will offer you to enjoy the tradit7ional and International cuisine.
You can hold a meeting and business events at one of the five spacious function rooms. After a busy day, let your body relax from the hustle and bustle and deepen it into relaxation in the gym or swimming pool.
It will take you approximately 15 – 20 minutes to reach the building from the Nnamdi Azikiwe International Airport as well as local attractions and business centres: Central business district, the International Conference Centre, National Mosque, Financial institutions, the Christian Ecumenical Center, and the Shoprite shopping mall.
13. Eko Hotel and Suites, Victoria Island, Lagos – N172,800 per night
Eko Hotel and Suites is your premier choice for accommodation in West Africa. It is conveniently set in the centre of Victoria Island.
You will be offered to enjoy African traditions blend with modern standards of luxurious comfort within 824 exclusively designed apartments. They are spread across four hotels: Eko Hotel, Eko Gardens, Eko Suite and Eco Signature. These inns provide views with either of the sea or the Eko Atlantic City.
Hearty International dining, gourmet dishes and mouthwatering specialties of local cuisine tempt guests at eight different restaurants and seven bars.
Choosing Eko Hotel and Suite for the next family weekend or business trip is a lucky solution, which caters all your needs and demands as well as takes care about leisure time facilities, including a fitness centre, a beauty salon, courts (tennis, volleyball/basketball), a sauna and Spa.
READ ALSO: Who is Eko hotel owner?
14. BON Hotel Stratton Asokoro, Ikeja – N119,000 per night
BON Hotel Stratton Asokoro is previously known as Protea Hotel, Ikeja. This hotel provides exceptional comfort in the heart of Nigeria. There are 83 perfectly designed en-suites, where you can enjoy complimentary Wi-Fi and state-of-the-art amenities.
On the hotel's territory, you can find a coffee shop, a bar and a restaurant for dining and coffee breaks. The on-site facilities make it possible to place up to 150 guests for a business event or a conference.
If you wish to take a break and relax, you should take a glance into the beauty salon, the fitness centre or recharge your batteries in a swimming pool. The hotel's friendly personnel will gladly assist you with event planning and provide the necessary information 24-hours a day.
15. Ibom Hotel & Golf Resort, Uyo – N107,000 per night
Ibom Hotel & Golf Resort is a welcoming getaway hidden among luscious palm trees of Uyo, Ikwa Ibom State. Original atmosphere surrounds travellers during the stay in stylish apartments, provided with features of contemporary comfort.
Every day you can taste traditional meals, International cuisine, light snacks and beverages at the Rotunda Bar, the Akwa Ikpa Café, the Bird Table, the Vista Restaurant, Piano Bar – Elyzee Night Club and De Terrace Golf Club.
Within a few-minute walk, you can see a challenging 18-hole golf course of the world-class, a court for lawn tennis, squash and facilities for biking. If you need reparation, try facial and body treatments at the Spa, soak in the swimming pool or exercise in the gym.
16. Le Meridien Ogeyi Place, Port Harcourt – N94,460 per night
Le Meridien Ogeyi Place, Port Harcourt is a modern resort area that is comfortably located in the heart of Port Harcourt, Nigeria. This building stands 16 kilometres from the Port Harcourt International Airport and just a few minutes from the Polo Club.
The hotel is the home for 86 spacious apartments boasting with tastefully furnished interior, African décor and contemporary amenities. The rooms provide a view of the Polo Club and the neighbourhood.
Ororo restaurant and bar are a good choice if you suddenly feel like hungry or wish to taste traditional meals.
Guestss can also use one of the on-site meeting rooms for their private and business events.
The on-site Spa provides a wide range of treatments that will help your body get rid of fatigues. The swimming pool is an excellent choice to refresh and keep your body fit during the trip.
17. Lezsco Luxury Apartments, Abuja – N85,000 per night
READ ALSO: Best holiday resorts in Nigeria
Lezsco Luxury Apartments is an excellent accommodation, which provides a modern level of comfort in Abuja. There are 21 apartments to all tastes in it. Each of them is stylish and includes the necessary facilities to feel like home: kitchen appliances and utensils, private bathrooms, living areas, and stylishly-appointed bedrooms, where you can sleep like a baby.
Superior experience also extends within facilities for recreation and include a gym and a swimming pool.
For business events and conferences try using modern audio-visual equipment of the on-site function rooms.
In Nigeria, there are many terrific places for wealthy people, who are ready to give their money for comfort, privacy and private celebrations in a secure atmosphere. Modern industry of hospitality does everything possible to make people's dreams come true.
18. Four Points by Sheraton Lagos – N81,792 per night
Four Points by Sheraton Lagos is a great place to retreat in the commercial heart of Lagos, Nigeria. There are 231 beautifully designed apartments, where you can enjoy effortless style and facilities provided by modern comfort.
It is an excellent location if you plan to hold a meeting or celebrate a special occasion. On-site you can cheer your favourite sports team and have a glass of beer at the Sports Bar.
If you feel like exhausted, you can try the swimming pool and a gym as well as soothing Spa procedures.
19. Hotel Novotel Port Harcourt – N77,600 per night
Hotel Novotel Port Harcourt is a modern accommodation in Port Harcourt, Nigeria. It offers to experience pleasurable moments of relaxation in one of its 117 apartments. Each of them is ample, air-conditioned and provides the maximum of comfort you can expect from the stay.
To leave your body feelings truly pampered and soul rejuvenated, the hotel provides a garden, an outdoor swimming pool, and a fitness centre. When the weather is good, you can sip your favourite cocktail at the terrace adjoined to the bar. The on-site restaurant serves breakfast buffet, International and national delicacies.
This location is especially favoured by convention guests, because of five perfectly equipped conference rooms and a business centre, which guarantee all the necessary equipment for a successful event.
20. Golden Tulip Hotel, Port Harcourt – N76,000 per night
Golden Tulip Hotel is a beautifully-designed property that is tucked quietly in the Government Residential Area (G.R.A.) of Port Harcourt.
There are 101 tranquil elegantly-appointed guestrooms, where you can relax within ultimate comfort and luxury on premium bedding.
On-site dining facilities include Anioma Restaurant, specializing in African and International cuisine as well as on exotic buffets.
Convenient location turns this hotel into a successful place to hold an interview, give a lecture, a business meeting or share informal dining with family and friends.
Now you are aware of the most expensive hotel in Nigeria 2018. Some of its apartments cost as much as an acre of land! However, a good life within a luxurious ambiance is norm for those people, who live for pleasure!
READ ALSO: The top 10 Lagos hotels where you can splash your cash