Top 30 online jobs for students in Nigeria that require little to no investment
Numerous Nigerians are working online, especially after the Covid-19 pandemic. Technological advancements have made the world a global village where people can work remotely. People of all ages can work remotely, including students. Online jobs for students allow them to make money and study at the same time.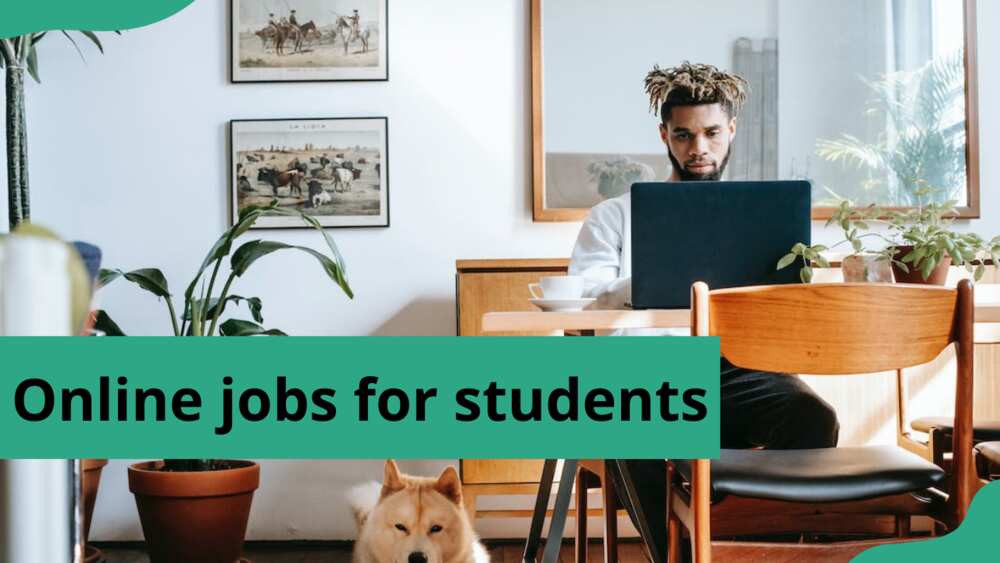 The online space has multiple advantages and disadvantages. One of the biggest benefits is working remotely. Paying online jobs for students are available for those interested. These jobs are flexible, meaning students can work when they are not in class.
Online jobs for students in Nigeria
We live in a digital era where people connect via the internet. The online space has millions of job offers. Some are genuine, while others are not. Before you choose a job, ascertain it is genuine. You do not want to be conned or hacked.
There are multiple online jobs for students to earn money in Nigeria. These opportunities allow students to earn an extra buck as they study.
The main requirements for pursuing these remote jobs are good computer skills, a computer/laptop, and a reliable internet connection.
The demands and pay scales for remote jobs differ based on complexity, skills needed, and the employer. Below is a look at various online opportunities you can explore.
1. Blogging
Blogging is one of the most widely-accepted and easiest online jobs for students in Nigeria. If you enjoy writing, you can start a blog. Once you get an audience, you can monetise your blog to earn money.
2. Affiliate marketing
Affiliate marketing entails promoting specific services and products for an agreed commission. It requires minimal starting costs. It is one of the best online jobs in Nigeria for students, especially those with running blogs or social media accounts with many followers.
You can become an affiliate marketer for multiple products and services. Once a brand or company accepts to work with you, they will provide a link that directs your audience to the specific services or products you endorse.
3. Freelance writing
Freelance writers look for clients needing remote or ghostwriters for their blogs, books, or other written content. A student can work for multiple clients simultaneously.
Freelance writing is among the most popular online jobs in Nigeria. The amount you make as a freelance writer depends on the agreement made between you and the client, usually based on the number of words or characters you write.
4. Translating services
For you to offer these services, you must be proficient in the particular language(s) needed by the client. You can offer translating or interpreting services at a fee.
If you have been wondering how to find online jobs for students, you can look up translator jobs on search engines and apply for those you are qualified for. Some clients ask for proof of proficiency in a particular language before offering you a job.
5. Graphic design services
If you are pursuing a course in graphic design or have graphic designing skills, this is a fantastic opportunity to try. Graphic designers can work remotely as long as they have access to a computer and stable internet.
Once you get a remote position as a graphic designer, you will design logos, create visual ads, or build websites for your clients.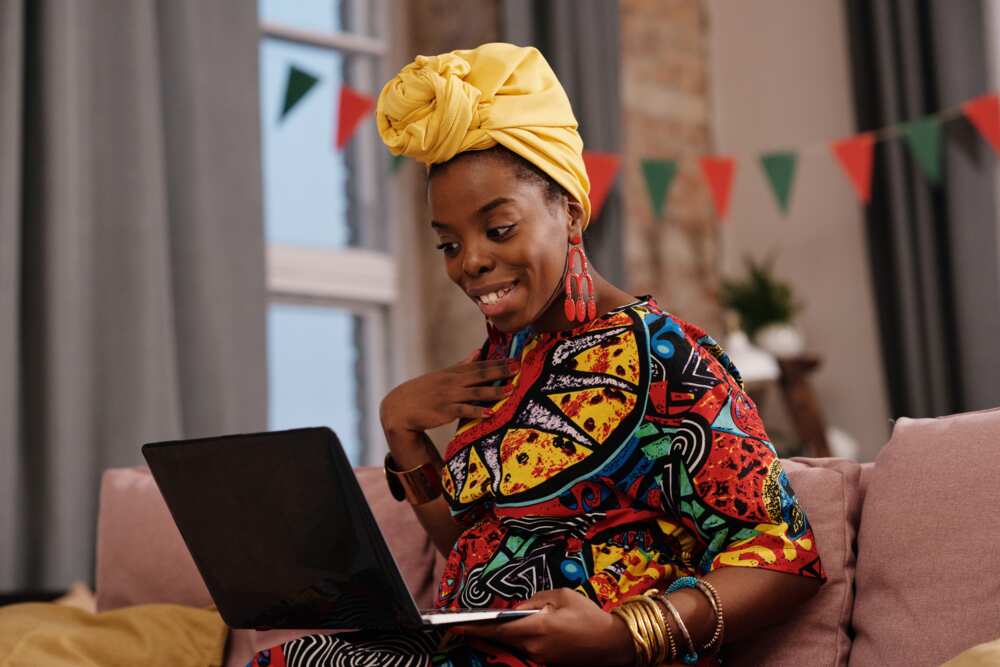 6. Virtual assistant services
In today's world, businesspeople, influencers, and corporates need personal assistants to run errands and organise their daily activities. You can become a virtual assistant to these people.
To excel at such a job, you must possess excellent planning and communication skills. This is an administrative job for students with skills and knowledge in secretarial duties.
7. Transcription services
Many Nigerian students offer transcription services to local and international clients. A transcriber listens to the audio or video files provided by the client and types the words in the files. To do this job, you need quality headphones, a computer, and fast typing skills.
8. Bartering and selling
If you have an entrepreneurial spirit, you can try bartering and selling. This is one of the best online jobs for secondary school students in Nigeria because it is not too time intensive.
Every household has things they no longer use and wish to get rid of. At the same time, each has a list of new items considered necessities. You can start a bartering and selling business by assisting people in getting rid of used and unwanted items and getting their new necessities.
Note that you should organise for people to drop items they no longer need at a specific location for some cash. You can revamp these items and sell them at a higher price.
9. Editing and proofreading services
You can explore this opportunity if you have top-notch editing and proofreading skills and are proficient in a particular language.
For this job, you will receive raw content from clients. Your work as a remote editor is to clean up the content and make it readable and appropriate for the intended audience.
10. Animation services
Do you enjoy creating animations? If so, you can tap into this vibrant niche. You can work for media stations, website owners, corporates, and other businesses in your free time. Many clients are searching for freelancer animators who can make appropriate animations for their establishments.
11. Data entry services
Are you looking for online jobs for students in Nigeria that pay daily? Data entry jobs are a good option for you.
Many data entry jobs are advertised on multiple online platforms every day. These jobs are mostly paid on a daily or contract basis. Data entry involves clerical tasks, e.g. electronic data processing, typing, word processing, transcribing, and coding.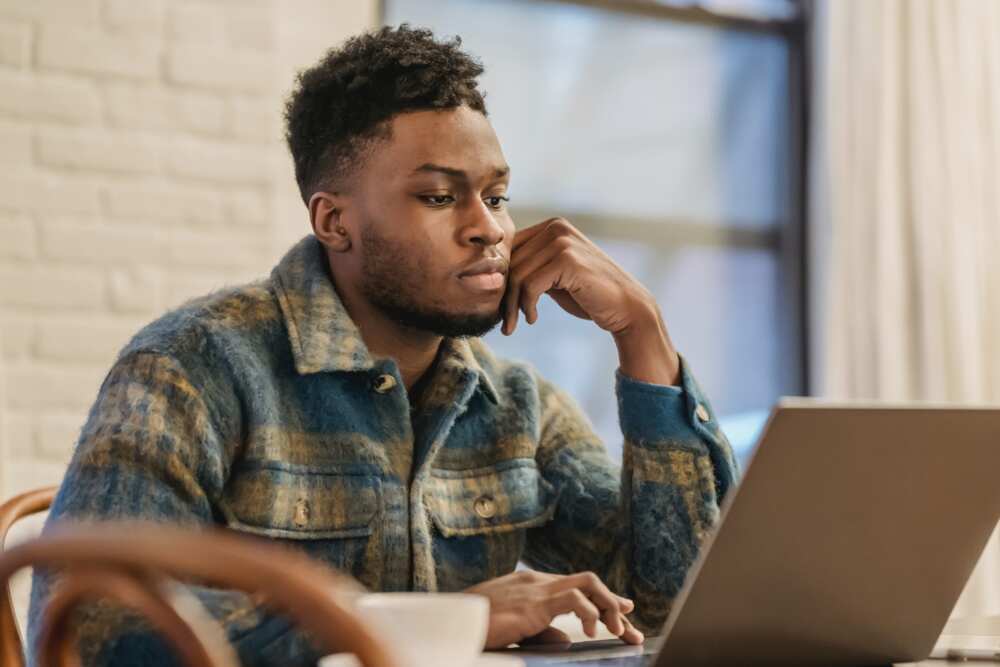 12. Customer service representative services
If you possess excellent communication skills, consider offering customer service representative services whenever you are not in class.
Customer service representatives are needed in most medium and large businesses. They handle clients on behalf of the company, including answering complaints and sealing deals.
These opportunities are done in shifts, so you can pick shifts when you do not have classes or school projects.
13. Remote event planning services
Many young people in Nigeria enjoy attending parties and other social events over the weekend. You can tap into this niche by organising events for people whenever you are free.
As an event planner, you will liaise with multiple service providers for the event to be successful. You are in charge of food, drinks, décor, and entertainment. You will have to show up in person on the D-day to ascertain everything goes as planned.
14. Product reviewing services
Many local and international companies need people to review and endorse their services or products. Once you get a client, you should try their product or service. After testing it, you are required to share your honest opinion. You get paid for sharing your opinions.
15. Online tutoring services
Offering tutoring services for children in primary or secondary schools is a viable opportunity for college and university students. These services are always in demand because some students need one-on-one attention.
16. Social media management services
Almost all businesses today have social media pages. They use these accounts to reach to reach their current and potential clients.
Many companies are searching for people to manage their social media accounts. You can become a social media manager for top brands and earn handsomely.
17. Online surveys
Many businesses and corporates want to know what people feel about their products or services. Taking online surveys in your free time can be a steady source of income.
You need a computer and stable internet connectivity to complete online surveys. You must also do thorough background research on each survey site to verify its legitimacy.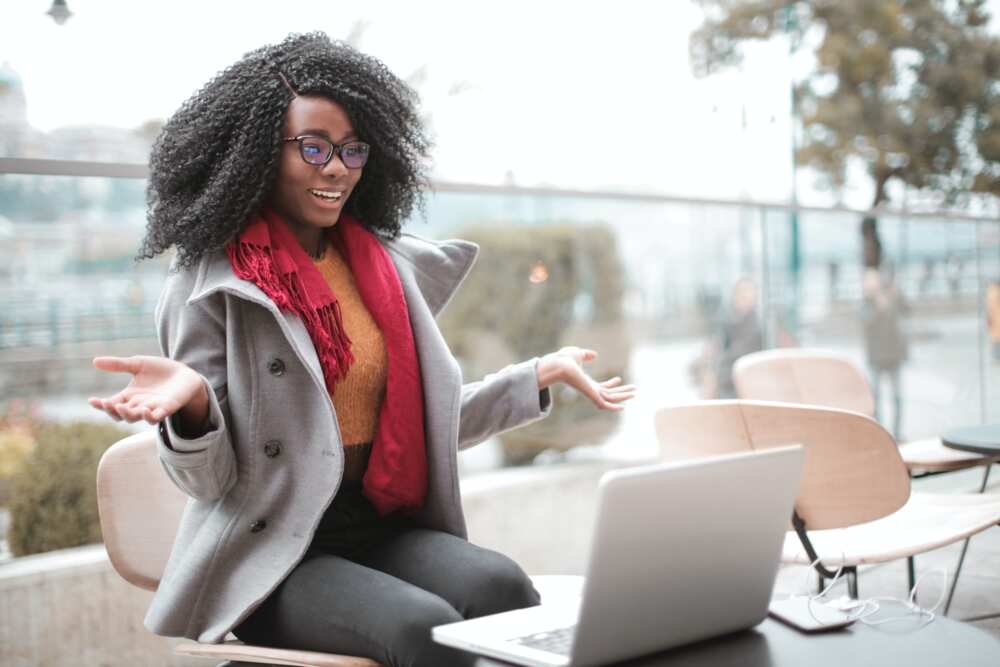 18. Referral services
In modern-day Nigeria, people want to find the best places, things, and services without too much hassle. If you have an adventurous spirit, you can rake in a good amount of money by offering referral services at a fee.
These services involve exploring places and trying various products and services. Once you have the correct information, you can refer other clients.
19. Vlogging
Vlogging entails creating videos in a particular field of interest and uploading them on sites such as YouTube. YouTube pays depending on the number of views and subscribers. Today, vloggers are among the most highly-paid online content creators.
20. Online stylist services
Fashion and design students or fashion-conscious people can offer online styling services. Social media celebs and other influential figures need people to dress them so they can maintain a certain image.
If you are good at pairing, mixing, and matching outfits, you can offer to style their clothes at a fee. You can also tailor their clothes at home and deliver them via courier.
21. Internet security services
If you are a computer wizard with a speciality in security patches, this is an ideal opportunity for you. You can use your skills to help businesses and individuals to secure sensitive information from hackers, scammers, and viruses.
22. Sustainability consultancy
Are you passionate about environmental conservation and preservation? You can start an online sustainability consultancy.
This opportunity is ideal for college or university students pursuing environment-related programmes. Many businesses and corporates are adopting green technologies as a way of conserving the environment.
23. Digital media conversion
Many businesses experience loss of important files and documents because they are stored in outdated formats. You can come to their rescue by transferring data stored in outdated formats to modern formats. For a digital media conversion venture to be successful, you must be tech-savvy.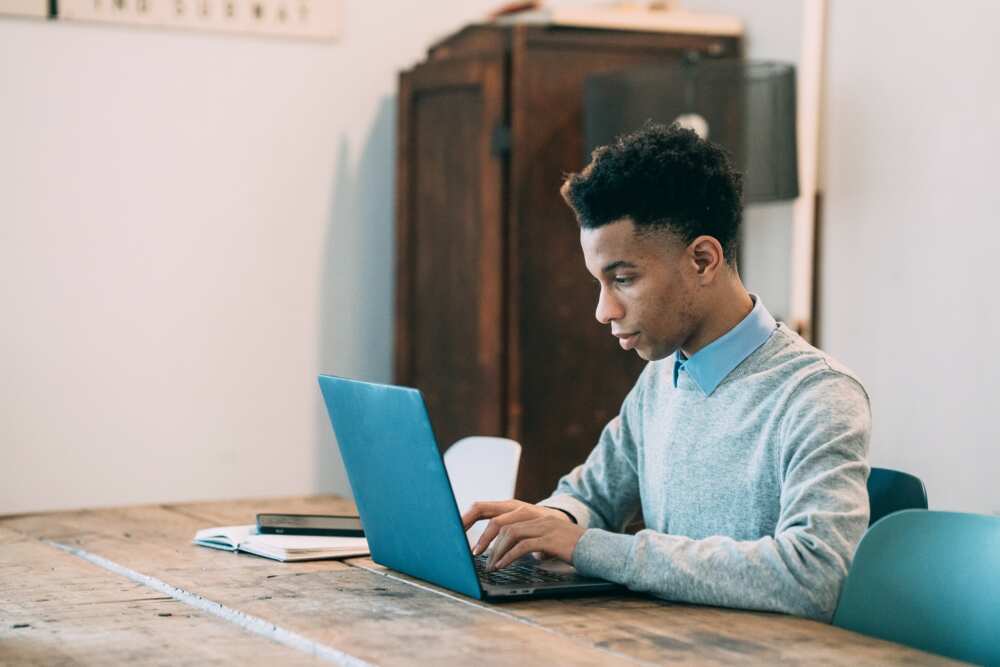 24. Business plan writing
If you have been wondering how to get online jobs for students, consider applying for business plan writing gigs, especially if you are pursuing a business course.
Numerous people wish to start businesses but find it daunting to come up with business plans. You can come to their rescue by offering to write the plans for them at a fee.
25. Website flipping
This is another opportunity that requires a tech-savvy student. Website flipping is the process of finding poorly developed websites, improving them, and selling them at a higher price.
26. Resume writing
Can you write a perfect resume that will help someone secure a job? Every year, millions of Nigerians seek various job opportunities and need well-done resumes. You can offer online resume writing services in your free time and make some good cash.
27. E-commerce website
E-commerce has grown tremendously in the last decade. You can start and run an e-commerce website while still studying. Beware that there are numerous competing sites in this niche, so you must not expect it to be a get-rich fast business.
28. Online news correspondent
Mass media and communication students are perfect candidates for online news correspondent positions. If you have been wondering how to apply for online jobs for students, try applying for these positions.
The media industry is constantly evolving, and the demand for online news correspondents for podcasts, TV stations, and radio stations is increasing. As an online correspondent, you will be responsible for generating news content for distribution over the internet.
29. Voice acting
If you are a student with a golden voice, you can use it to make money from your house. You can do voiceovers for commercials and audiobooks or even bag voice roles in television shows and movies.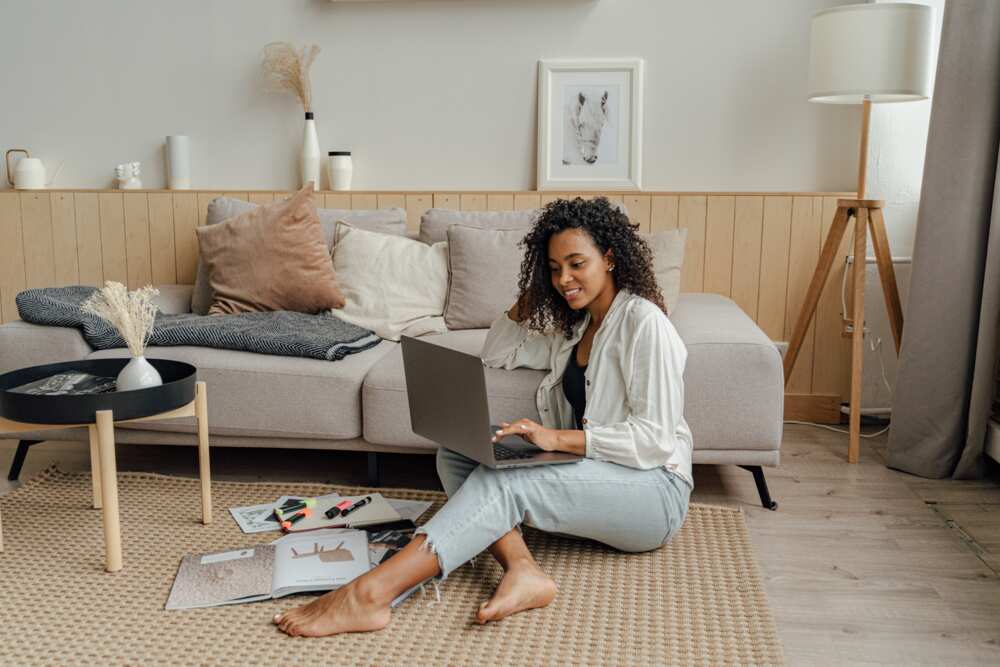 30. Email marketing
Can you craft email subject lines that people cannot help but click? If so, you can contact businesses and make money online by managing their email campaigns. Once you demonstrate the skill of enticing recipients, employers will give you a long-term contract.
What is the best online job for students?
The best job matches your skills, talents, and abilities. It must also be flexible so you do not miss classes and social activities.
What are the top online jobs for students?
There are numerous top online opportunities for students. Check them out above, and choose one that you feel passionate about.
What can I do online as a student?
There are numerous legit remote jobs you can explore in your free time as a student. The job you pick should match your interests and skills you possess.
How can I get a genuine online job?
You can get a genuine job by looking for opportunities from credible sites or getting referrals from people who have tried and tested specific jobs. You should always do thorough research before starting an online job to ascertain it is legitimate.
There are multiple online jobs for students in Nigeria that pay. Before starting a remote job, do your due diligence to ensure you are not scammed.
DISCLAIMER: This article is intended for general informational purposes only and does not address individual circumstances. It is not a substitute for professional help or advice and should not be relied on to make decisions of any kind. Any action taken upon the information presented in this article is strictly at your own risk and responsibility!
Legit.ng recently published a guide on how to start a debate in school. There are different kinds of debates, from presidential, parliamentary to school debates.
The goal of starting a debate is to win the argument. How you start a debate can influence your chances of winning the argument.
Source: Legit.ng