Restaurants in VI: Top 10 of the best eateries on the Island
Victoria Island (VI) is situated in one of the most populated cities in Nigeria. VI lies within Lagos Island and the Lekki Peninsula. It is one of Lagos's most upscale and pricey neighbourhoods; the wealthy and most expatriates live in VI. Due to this, there are lots of restaurants in VI to satisfy the huge population.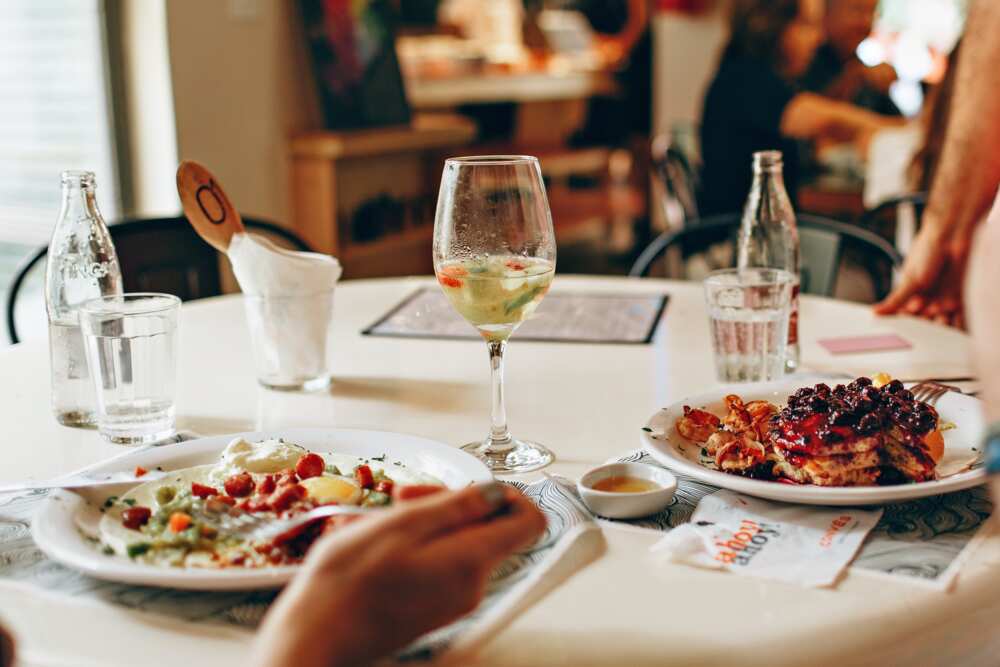 Victoria Island in Nigeria is known for its plethora of restaurants offering a diverse range of cuisines, from local to international. There is something for everyone, from traditional Nigerian cuisine to luxurious fine dining experiences.
Best restaurants in Victoria Island
Many eateries have been around for a while and offer traditional dishes passed down through generations. There are also some newer establishments offering contemporary dishes as well as fusion cuisine.
Whether you are looking for a casual lunch spot or an elegant evening out, you will find something to suit your tastes on Victoria Island. Below are ten nice restaurants in Victoria Island.
1. Ocean Basket Seafood Restaurant
Physical address: 35 Akin Adesola
Contact number: +234 816 059 1821
Are you looking for affordable restaurants in Victoria Island Lagos? Then this is the place to visit. This eatery offers a seafood speciality, so if you are a seafood lover, check it out!
Additionally, there is a sushi menu. Ocean Basket Restaurant can accommodate at least 250 people. There is an outdoor area, an indoor area, a garden and a terrace for you and your guests to enjoy. There is ample parking too.
2. RSVP
Physical address: 9 Eletu Ogabi St
Contact number: +234 818 616 6666
RSVP is an excellent spot if you want a fine dining experience when looking for restaurants in Victoria Island Lagos. Its interiors are lovely, and it has a stylish loft. Talk of professional waiting staff; this eatery is one of a kind, and you will find good faint music there too.
Some of the delicacies you will enjoy include burgers, chicken logs, pasts, prawn pasta and many more. The eatery also serves some refreshing drinks with fancy names such as strawberry dream, sweet berry, chapman and many more. If you want a place to hang out, RSVP will give you good vibes.
3. Shiro Lagos
Physical address: 3/4 Water Cooperation Road, Landmark Village
Contact number: +234 818 629 8888
If you are looking for a fine dining experience, and you are a fan of contemporary Japanese cuisine, this place is a perfect fit. Shiro Lagos offers not only delectable dishes, but also excellent entertainment in the form of DJ sets, as well as cooking masterclasses. Many guests commend this establishment for its food, service and ambiance.
4. Hard Rock Cafe
Physical address: Water Corporation Road, Landmark Village, Oniru
Contact number: +234 908 198 8888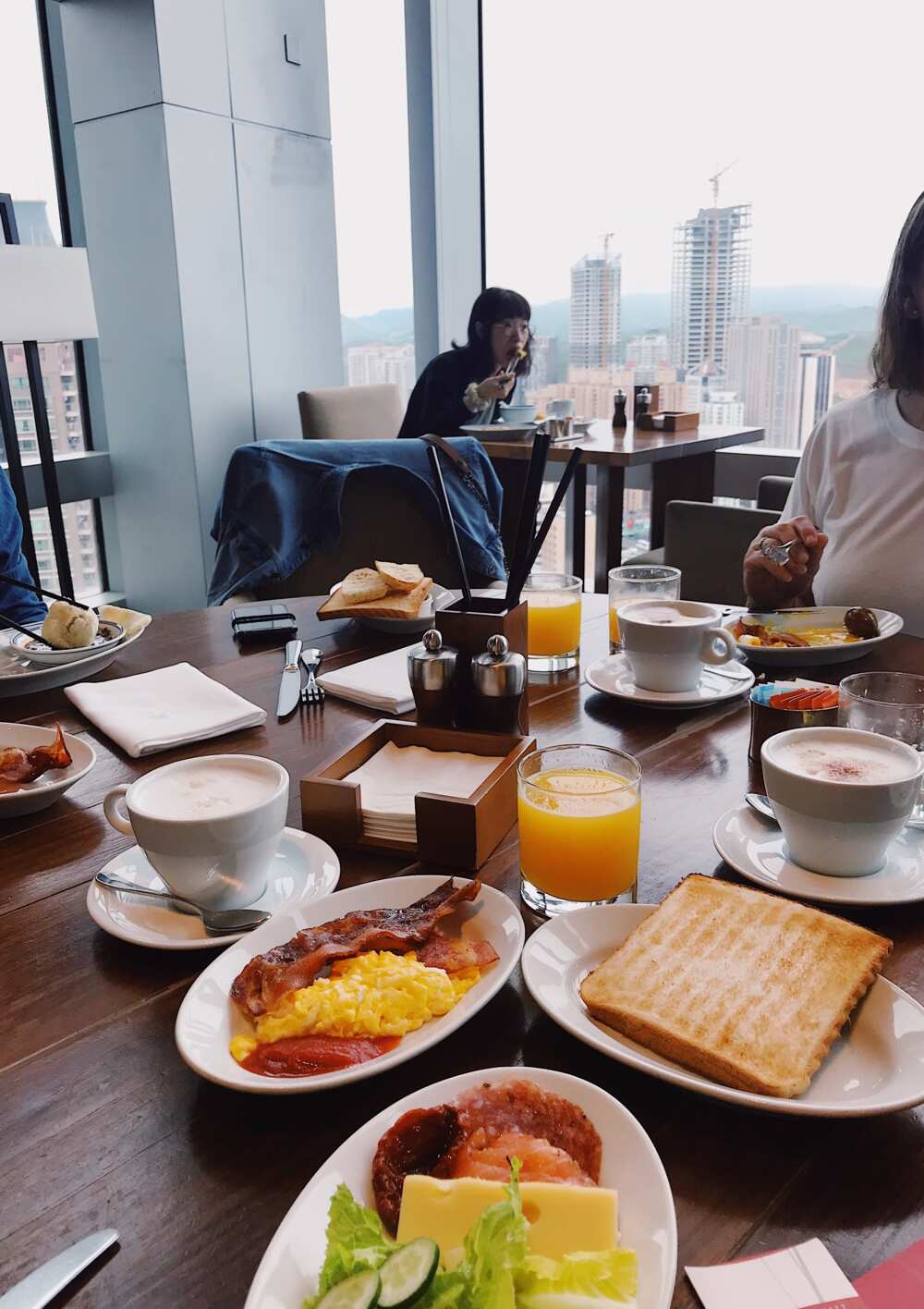 This restaurant offers seating for around 200 people. It is a great place to dine. The Hard Rock Cafe also has live performances in the pool area, which you and your guests can enjoy. There is also a children's area where kids can play.
Hard Rock Cafe has a beautiful view of the Atlantic Ocean. This is one of the top restaurants in Victoria Island to visit with your date as you enjoy some drinks and unwind.
5. Cactus Restaurant
Physical address: 20/24 Ozumba Mbadiwe Street
Contact number: +234 818 177 7666
Could you be craving an English breakfast? This is the place to go to. Cactus Restaurant is an excellent eatery in Victoria Island to spend time with your family and friends. It has a variety of bread, pastries, cakes and greens. The eatery also offers mixed cocktails, drinks, and smoothies, among many others.
6. Nok by Alara
Physical address: 12a Akin Olugbade
Contact number: +234 908 561 4815
What comes to mind when you hear Nok by Alara? What should come is a contemporary high-end African restaurant. It has a great interior design that showcases African culture. Apart from that, there are multiple West African cuisines for you to sample. The cutlery is well thought out. This is a great chill spot for you and your friends.
7. Eko Sky Restaurant & Lounge
Physical address: 1415 Adetokunbo Ademola Street
Contact number: 012772700
Eko Sky Restaurant and Lounge is a fantastic restaurant that has plenty of cuisines, such as North American, Asian, Nigerian and European. It can be a great area to take your better half since the views are to die for. It has a calming feel as it overlooks the Atlantic Ocean.
8. Bungalow Restaurant
Physical address: 1296 Akin Adesola
Contact number: +234 803 304 9104
If you are a sushi lover, this eatery is your go-to place. They have a wide variety of sushi to choose from. You will also find Mexican and American cuisines in this restaurant. The atmosphere in this eatery is cool, and you get great treatment from the staff. The Bungalow Restaurant is well-decorated with unique pieces of art.
9. Spice Route
Physical address: 36 Adeola Odeku St Opp Spar, Adjoining Access bank
Contact number: +234 808 020 8080
For the lovers of Indian and Chinese food, there is no better place in Lagos than Spice Route. What started as a humble bar is now a set of several restaurants across Nigeria. They offer delectable dishes and exceptional service.
They have a wide range of appetizers, street bites and desserts, not to mention traditional main courses. You can also enjoy live music in the evening alongside your meal.
10. Talindo Steak House
Physical address: 7b Karimu Kotun
Contact number: +234 815 153 0000
This place has been serving its customers since 2003, and, seeing that it is still standing, and even thriving, you can say that Talindo is doing something right. This place offers comfort food in the fine dining setting, so you can feel fancy while eating your favourite dishes.
These are just some of the top restaurants in VI to visit if you want to enjoy a great meal. Therefore, if you are looking for an eatery in Victoria Island for you and your friends, consider checking the options listed above.
DISCLAIMER: This article is not sponsored by any third party. It is intended for general informational purposes only and does not address individual circumstances. It is not a substitute for professional advice or help and should not be relied on to make decisions of any kind. Any action you take upon the information presented in this article is strictly at your own risk and responsibility!
READ ALSO: Restaurants in Ikeja: 10 of the best eateries in mainland Lagos
Legit.ng recently published an article about the top 10 restaurants in Ikeja. If you find yourself in the neighbourhood, and you are feeling peckish, these are the eateries you should consider.
From chain restaurants to high-end establishments, Ikeja is chock-full of great hangout spots one can take their friends, family or significant others to. Find the place that works for you and your wallet in this article.
Source: Legit.ng