Top 20 finest musicians in Nigeria
There's no beauty standard the pleases everyone, however, there's no doubt that beauty is not just the outward appearance, but also the quality of a persons heart. Beauty is also about who you are on the inside. This time we have selected for you the most beautiful and handsome Nigerian musicians. Checkout top 20 finest musicians in Nigeria.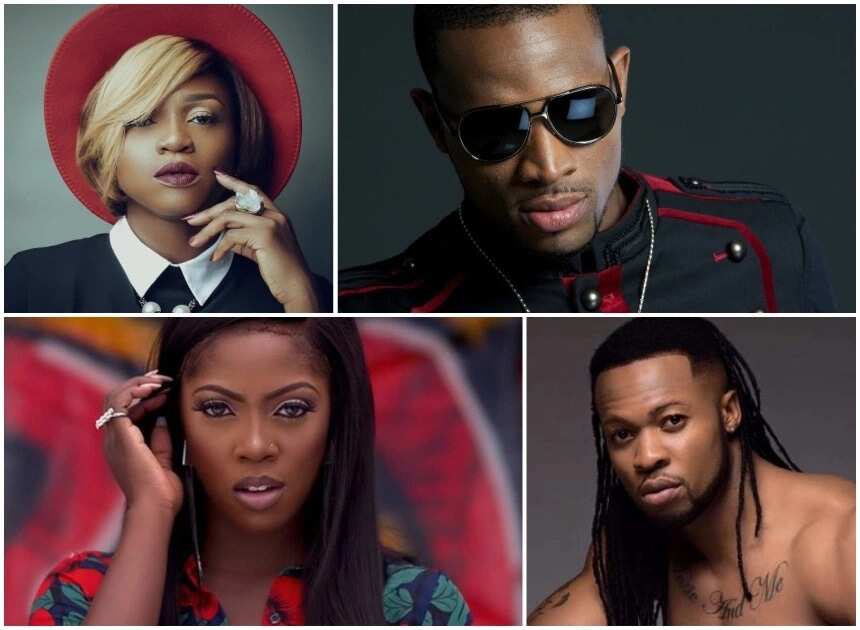 This article will cover the following tops:
Who is the most handsome musician in Nigeria
Who is the most beautiful female musician in Nigeria
Read on to learn who these people are.
1. Who is the most handsome musician in Nigeria
These men are not shy of the fact that they are gorgeous. On the contrary, with the help of their appearance, they earn not only big money but also increase the army of their female fans. Well, let's get acquainted with the 'breakers' of women's hearts. Among the many excellent bodies and faces, we are eager to know who is the best, most irresistible, and most handsome musician in Nigeria.
1. D`banj
Of course, this man will head the top of the most handsome men in Nigeria. Just look at him, he`s perfection of male beauty. He has won many awards for his contribution to the Nigerian music industry and African music. He is engaged in charity, and also helps other musicians to record their songs. What about his beauty? It can be called serious and chilly. Yes, the musician often smiles and it will leave you with goosebumps. And his body is everything!
2. Davido
He is one of the richest musicians in Nigeria, the owner of a music recording studio HKN Music, and a successful producer. Davido made himself known to the whole world as a talented musician and handsome man. He always chooses clothes with taste, whether he's going out to the store or on the red carpet.
READ ALSO: Who is the best musician in Nigeria?
3. Flavour
He started as a drummer in a local church and continues as a famous musician who can many musical instrument. It's hard to say what exactly makes him so handsome. A perfect man's face and just a delightful body.
4. Olamide
He has all sorts of music awards in his collection. A piercing look of incredibly beautiful eyes makes him one of the finest musicians in Nigeria.
5. Iyanya
He is one of the most famous recording artists and a talented singer. High height, a gorgeous body, and an astounding glance extol this musician to all peaks, but he considers himself imperfect and is ready to make every effort to become perfect for himself and his fans.
6. 2Face or 2Baba
2Face is an excellent songwriter and a successful producer. The musician received many musical awards not only in Nigeria but also in America. He is a musical legend of our time. 2Babaalways make his style special and super-trendy.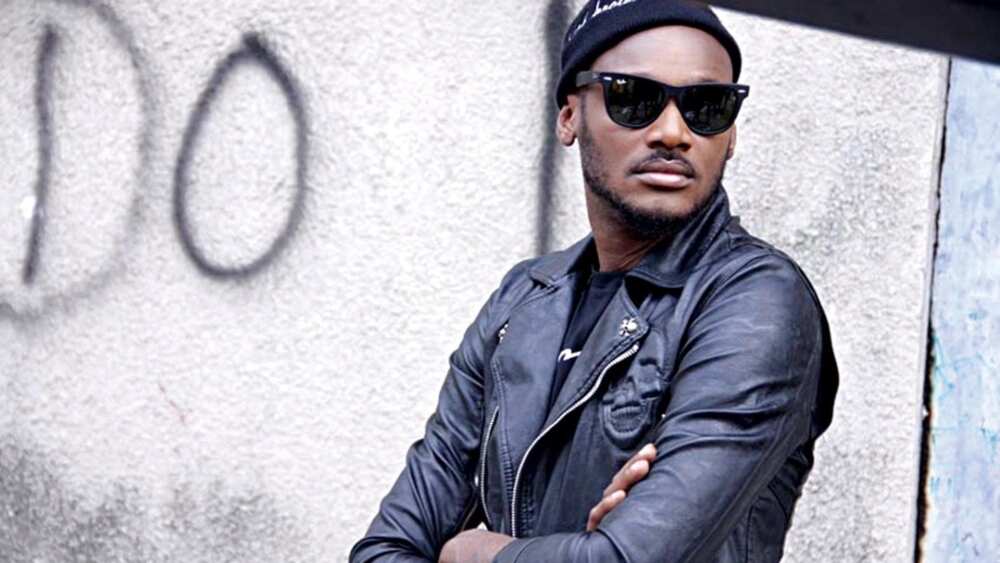 READ ALSO: Most handsome man in Nigeria
7. Wizkid
He took the first steps in music at an early age. He is now an international star having collaborated with many international star like Chris Brown, Rihanna, Drake, etc. Wizkid always dressed fashionably, stylishly and brightly. Earlier this year he walked the D&G runways with Naomi Campbell. Talking about moving up in the world!
8. Timaya
He doesn`t spend much time on heavy workouts at the gym. His maximum is a running track and tasty proper food.
9. Banky W
A beautifully shaven beard and a radiant smile make Banky W a real handsome man.
10. Don Jazzy
A well-known producer, one of the richest musicians in Nigeria, he writes songs for many Nigerian stars and even worked with legendary American artists. Don is very famous and respected in the show business. Many musicians are grateful to him for their career. He has a real male Nigerian beauty with serious facial features and a muscular body.
2. Who is the most beautiful female musician in Nigeria
Known to many the fact that beauty is a concept rather ambiguous and highly subjective. Modern beauties capture us with perfect features, excellent figures, but not only by this. Don`t forget the achievements of modern Nigerian beauties in the music. Checkout most beautiful female musician in Nigeria.
1. Tiwa Savage
This woman began her brilliant career in the background with the legendary George Michael. She quickly became famous, and now Tiwa is popular all over the world. Each of her albums conquers the tops of the charts. According to the singer, only a family makes a woman beautiful. Incredible, stylish and talented Tiwa Savage conquered the world.
READ ALSO: The most beautiful female musician in Nigeria
2. Niyola
This woman is a famous recording artist and talented singer. She is also a songwriter for many Nigerian musicians. Niyola has a charming smile and deeply expressive eyes, thus very proud of her attractive appearance. And to look so gorgeous, a Niyola has some secrets. She does cleansing masks and then applies a moisturizer, so her skin shines in the morning. And her favorite berry lipstick gives the whole appearance charm and mystery.
3. Waje
She is a famous Nigerian singer whose strong vocal range covers three octaves. Waje is an acronym for "Words aren't just enough." And this is true. For this gorgeous woman, words aren`t enough. She kills by her beauty. Bright features, a feminine figure and a piercing look of the singer make the male heartbeat several times more often.
4. Cynthia Morgan
The bustling singer has so brightly rushed into the world of show-business, that people started talking about her as the successor to Lady Gaga. But over time, the beauty changed the "freak" style to a softer and classic, not forgetting to emphasize her appearance with bright notes. To always be hot, Cynthia Morgan advises to go to a hairdresser more often.
5. Chidinma
She became the number one singer according to the MTV. Her collection also has many other awards. Dark, thick hair framing her beautiful face, and mouth-watering forms complete look of this beauty.
6. Yemi Alade
She is an Afropop singer and has a lot of nominations in musical contests. The beauty doesn`t deny that she loves sweets, hates diets and never sticks to them. The secret of Yemi's beauty lies in the control of consumed foods and love of sports. The singer believes that to be dazzling as long as possible you need to drink 1.5 liters of water every day and sleep well.
7. Simi
Her lightness and serenity fascinate many people. Dark straight hair, adorable eyes, and a sweet smile make her a gorgeous woman. According to the singer, beauty is given to women not by tons of cosmetics, but by an inner sense of happiness and love for themselves and the world around us.
8. Nnekka
She is a Nigerian singer who glorifies her country in Europe. Nnekka has an interesting and unsurpassed musical style that will not leave anyone indifferent. "Beauty is, above all, your inner world" - the singer likes to repeat. And the best assistants in preserving her beauty she considers massage and meditation. Appraising her photos we can say, she looks stunning.
9. ASA
Some call her appearance the most interesting in Nigeria. Thin features, expressive eyes and plump lips attract many people to the ranks of her fans. The singer very often uses glasses as her main accessory. Her face has decorated many fashion magazines cover.
10. Omawumi
She is an ambassador of peace, a talented singer and songwriter, as well as an actress of Itsekiri ethnicity. The singer has for many years remained the idol of many upcoming singers in Nigeria. Girls want to be like the favorite singer, copying her in everything, and men admire her beauty. She admits that she does nothing special for this, she does her favorite thing and is being happy with every day of her life.
Indeed, in most cases, for a musician, outer beauty doesn`t play a significant role, yet it can be an excellent addition to talent. We believe that these famous Nigerian musicians above are loved not for their beauty alone, but for their voices and talented performances. It is also worth noting that the talent of a musician, can even dictate the canons of beauty.
READ ALSO: Top 10 richest musicians in Nigeria
Source: Legit.ng