May 29 Handover: What Are Your Expectations From Tinubu Govt? Nigerian Students Speak
Asiwaju Bola Ahmed Tinubu will be inaugurated as the president of Nigeria on Monday, May 29
Many students have expressed hopes and expectations about what the incoming administration has to offer
The Nigerian students who spoke to Legit.ng set agendas for Tinubu with a view to enjoying the dividends of democracy
FCT, Abuja - The 2023 presidential election has come and gone with one of Nigeria's most influential politicians in history and the candidate of the All Progressives Congress (APC), Bola Ahmed Tinubu winning the election.
His victory in the Saturday, February 25, 2023 poll means that the APC continues in power.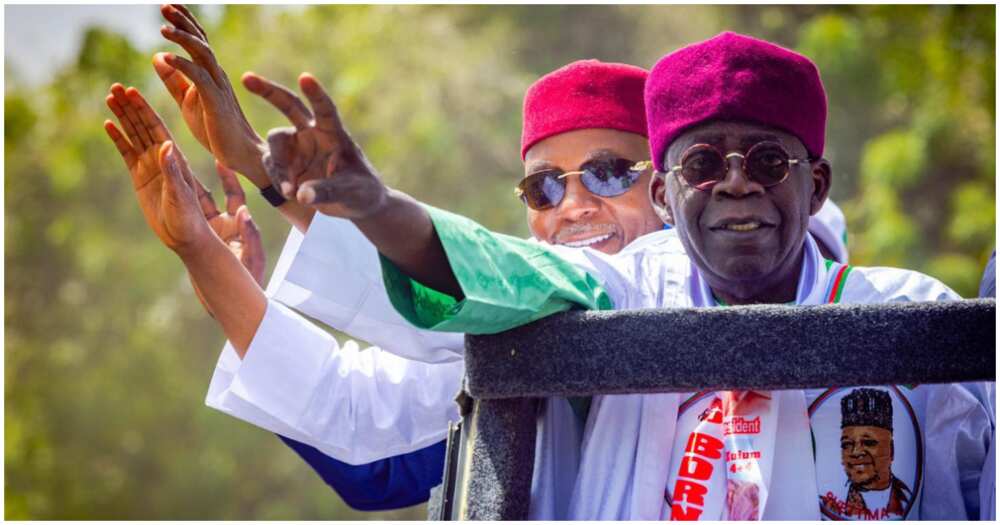 Bola Tinubu's Inauguration: Enormous challenges and oft-high hopes in Nigeria
The challenges are colossal, and Nigerians always tender demands. That has been the case with successive Nigerian governments.
As a new government is set to take over on Monday, May 29, 2023, Nigerian students across the country speak to Legit.ng on what they expect.
Tinubu's presidency: Nigerian students bare thoughts
Dorcas Akanni, a 200-level student of the National Open University of Nigeria (NOUN), is placing high hopes on the new administration.
Akanni said:
"I expect a lot from the Tinubu and Kashim Shettima administration, but most importantly, tackle insecurity first and also improve the working conditions of the police so we the citizens can feel a little bit safe with them around."
Tawfiqah Ajetunmobi, a student at the University of Ilorin (UNILORIN), wants to save herself from disappointment. The Comparative Religious Studies student has consciously set the bar low.
Hear her:
"I'm not really expecting much, because expectations bring disappointment sometimes.
"So, I'd rather wait and be surprised with what they have in store for us Nigerians."
For Kindness Udoh, an undergraduate of NOUN who is also into journalism, he fears the Tinubu government will muzzle the media.
His words:
"To be honest, I don't know what to expect. And that's what scares me the most. But I am almost certain that the media will have a tough time and democracy will die a painful death (already even started to)."
In contrast, Shukurah Folalu of the Lagos State University (LASU) appears to hold considerable optimism.
She declared:
"I expect more of good things from him."
Folalu also predicted that investment in quality education, job opportunities and good infrastructure for citizens will be provided by the incoming Tinubu administration.
Khadeejah Yusuf, also towed the same line as Folalu. The 22-year-old UNILORIN finalist expects positives.
She said:
"I expect to see positive changes in the educational system and more employment opportunities for undergraduates without work experience."
Yusuf Akinloye, who studies at LASU, urged the Tinubu government to upgrade educational facilities as well as look into the scholarship scheme for the students.
Concurrently, Amina Yusuf, a fresh Master graduate in Human Kinetics Education at University of Ibadan (UI), Oyo state, pleaded with the government of Tinubu to create a variety of opportunities for tertiary institutions' disciplines.
"I implore the administration to work on employment opportunities, one that'll always yield a stable and robust salary. Or, what's the benefit of spending years, funds, and efforts on schooling if not to be gainfully employed upon completion?
"But it is here in Nigeria that we see talented graduates still hustling for menial jobs with the semi-literates and non-literates. And being offered a ludicrous amount of money as salary. Hence, making some say, "education na scam"."
Yusuf added:
"Asides that, there are various fields being taught in higher institutions. The government should, please, create a variety of opportunities for these disciplines. This wouldn't make any course of study irrelevant in Nigeria and ultimately create more employment opportunities for graduates.
"And most importantly, the government shouldn't just create these opportunities without a strategic plan on how to pay consistently and robustly. Because without the remuneration, the opportunity is useless."
FG declares public holiday ahead of May 29 handover to Tinubu
Earlier, Legit.ng reported that the Minister of Interior, Ogbeni Rauf Aregbesola announced Monday, May 29, a public holiday to honour the inauguration of Bola Ahmed Tinubu as the 16th President of Nigeria.
Aregbesola disclosed this in a statement issued in Abuja on Friday, May 26 on behalf of the federal government.
The minister hailed Nigerians for accepting democracy again by trooping out to perform their civic duties during the general elections.
Source: Legit.ng