"I Am Tired": Nigerian Lady Who Secured Visa to Australia Spends Over 24 Hours on Plane, Shares Video Online
A beautiful Nigerian woman has shared an intriguing video on TikTok about her journey to Australia
In the video, the girl shared her entire experience from the time she began arranging her things in Nigeria ahead of the D-day
Social media users have reacted massively to the captivating video, with many wishing to relocate like her
In an inspiring video compilation shared on her TikTok page, a young woman identified as @fayvhooor01 has documented her remarkable journey from Nigeria to Australia.
According to the lady, the journey was not amazing as she stayed on the plane for over 24 hours.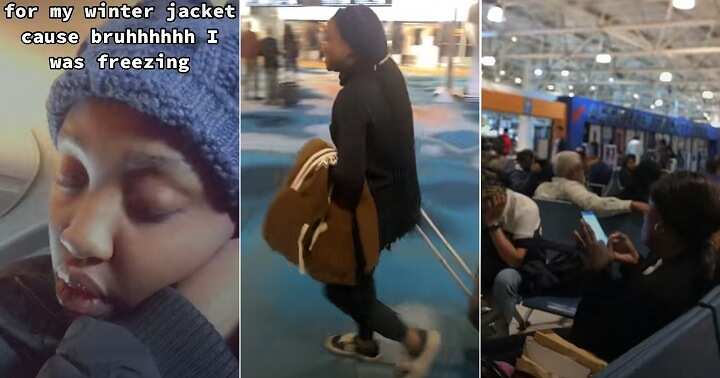 "I was on a plane for more than 24 hours", she wrote.
The video revealed each step of her journey, providing a glimpse into the challenges and triumphs she experienced along the way.
PAY ATTENTION: Share your outstanding story with our editors! Please reach us through info@corp.legit.ng!
Favour describes her preparation period as the most stressful time of her life
Favour shared the timeline of events, starting with receiving her visa grant on July 7th. Due to a sit-at-home order, she was unable to begin her preparations until the 11th and commenced shopping from the 12th to the 14th, describing it as one of the most stressful periods of her life.
On the 15th, she endured the pain of getting her hair done, and on the 17th, she packed and labelled all her belongings.
The actual journey began on the 18th when she and her father travelled from Abia state to Imo state airport to catch a flight to Lagos.
On the 19th, Favour departed Lagos at 1:40 pm (WAT) for Addis Ababa, Ethiopia. The flight lasted for eight hours, during which food was served.
Favour arrives Addis Ababa
They arrived in Addis Ababa at approximately 9:15 pm and departed for Singapore at 11:20 pm, embarking on a 9-hour and 30-minute flight. By this point, exhaustion had set in. After arriving in Singapore at 3:15 pm, she had to wait for about 8 hours before catching her final flight to Sydney.
During the layover, she converted her USD to buy something to eat. The last leg of her journey began at 12:45 am, lasting for 7 hours and 20 minutes.
Finally, Favour arrived in Sydney, where her brother eagerly awaited her arrival, marking their reunion after not seeing each other since 2019.
In her words;
"Got my visa grant on the 7th of July. Got home on the 11th due to the sit at home and couldn't start shopping till 12th. Went shopping from the 12th - 14th, I've never been so stressed in my life. Made my hair on the 15th (I was in so much pain).
"I spent the 17th packing and labelling everything, my journey actually started on the 18th, My dad and I travelled from Abia state to Imo state airport so we could fly to Lagos. I left Lagos on the 19th by 1:40pm (WAT).
"The journey to Addis Ababa lasted for 8 hours, They served food on the plane, I didn't try it again sha. We arrived at Addis Ababa at about 9:15 pm and left for Singapore by 11:20pm.
"This flight lasted for 9 hours 30 minutes. God knows at this point I was beyond tired. We arrived at Singapore at 3:15 pm and had to wait for about 8 hours before the final flight to Sydney. I had to convert my Usd here to buy something to eat.
"We finally left Singapore by 12:45am. At this point I had to swap my hoodie for my winter jacket cause bruhhhhhh I was freezing.
"The flight lasted for 7 hours and about 20 mins. Sydney! My brother came to pick me up yayyy! Haven't seen him since 2019."
Reactions as lady relocates to Sydney to be with brother
@Lady Naka reacted:
"You welcome Aussie baddie."
@Precious N commented:
"You got your visa grant on my birthday."
@ZayZoezio reacted:
"Congrats. Supposed to be in Sydney by next month but couldn't raise the required fund for deposit yet so till Feb hopefully."
@Chibu Ike said:
"Congrats omo I tap from your grace hope mine will be sooner Australia my dream country."
@Divinestores commented:
"Congratulations, am the next in line."
@OHEEMA reacted:
"We are namesake ooo God Abeg do m for me too, congratulations."
@Janeysmiles commented:
"Congratulations dear."
Watch the video below:
Nigerian lady who relocated abroad to meet her man shares cute video
Meanwhile, Legit.ng previously reported that a Nigerian lady with the handle @vito_bani on TikTok has shared her relocation journey to Turkey to meet her man. In the clip, she documented her journey from getting some foodstuffs, fixing her lashes, hair and nails, leaving the east to Abuja, and finally landing abroad.
The happy lady also shared how emotional it was for her to leave her family and friends behind and how she cried her eyes out. She took some cute pictures along the way and met up with her sister and friend, who escorted her to the airport. They laughed but cried so hard in their hearts.
Vito said she woke up in Istanbul with mixed feelings but got another flight headed to her location, feeling all happy and cheerful. Finally, she met her baby after three years, and she was so happy.
Source: Legit.ng