Hannatu Musawa: Tinubu's Culture Minister Disowns Statement on NYSC Status; Updated
Hannatu Musawa, the minister of art, culture, and creative economy, has disowned a statement purportedly released by her in relation to the controversy surrounding her NYSC status
The Human Rights Writers Association of Nigeria (HURIWA) had raised concerns about her serving as a minister while being a corps member
However, a statement that Musawa has now disowned claimed she defended herself and also asserted that there is no legal restriction preventing a serving corps member from holding a political position
FCT, Abuja - Hannatu Musawa, the minister of art, culture and creative economy, has dissociated herself from a statement purportedly released by her regarding the controversy surrounding her National Youth Service Corps (NYSC) status.
A statement published by a section of the media on Sunday, August 27, had claimed that the minister had finally spoken on the controversy over her status as a serving National Youth Service Corps (NYSC) member.
The Human Rights Writers Association of Nigeria (HURIWA) had raised the alarm that one of the ministers of President Bola Tinubu was a serving corps member.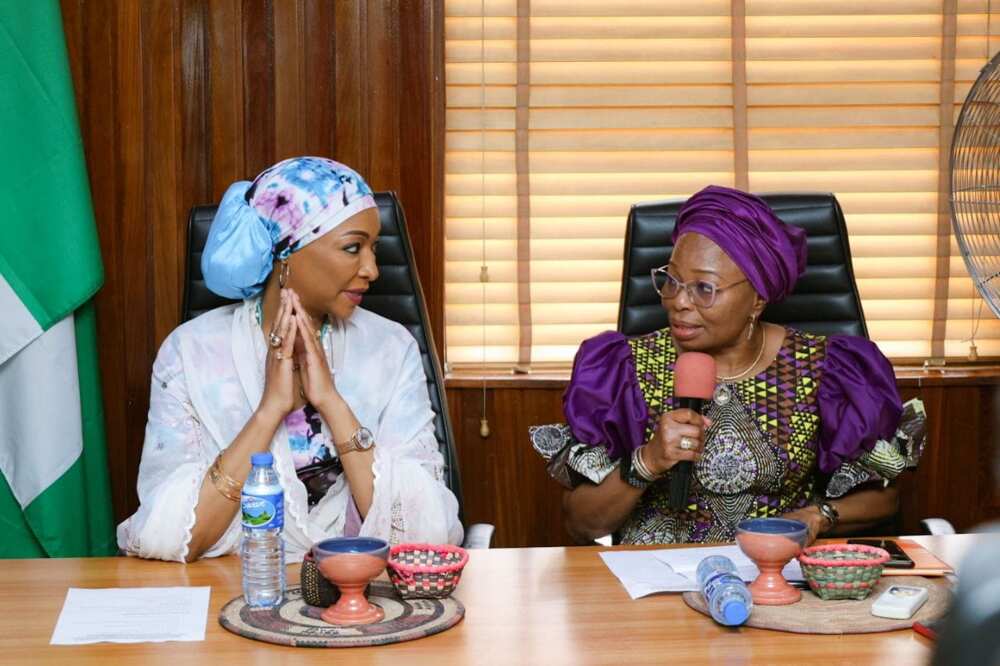 Hannatu Musawa: NYSC confirms minister's status
Subsequently, Eddy Megwa, the director of public relations of the scheme, said Musawa was occupying the ministerial position in breach of the NYSC Act.
Megwa explained that it was against the NYSC Act for any corps member to pick up any government appointment until the one-year service was over.
NYSC: I didn't break any law, Musawa allegedly reacts
In a statement on Sunday, August 27, the minister was alleged to have explained why she deferred service until 2023.
She also purportered said she was posted to Akwa Ibom as against Ebonyi, which the NYSC spokesman mentioned.
The statement read in part:
"I will like to state clearly that contrary to wrong insinuations and false assumptions in a section of the mainstream media and social media where false accusations have been made, there is no breach of any law or constitution of the Federal Republic of Nigeria as amended regarding my current position as a Minister and status as serving Corp member.
"It must be said that there is no law of Nigeria or any part of the our constitution and NYSC Act that states that a serving Corp member can not be appointed by the President of Nigeria or any other appointing authority into political positions. Equally, no part of our existing laws and NYSC Act says that a corps member must finish service before he/she can be appointed into political office. There is no legal and constitutional limitations whatsoever. I have not broken any law of Nigeria."
NYSC: Musawa disowns viral statement
In another statement obtained by Legit.ng in the late hours of Sunday, Musawa said the previous statement did not emanate from her and, therefore, dissociated herself from the contents.
The later statement was released by the deputy director, press at the Federal Ministry of Information and National Orientation, Suleiman Haruna.
The statement read:
"The attention of Barrister Hannatu Musa Musawa, Hon. Minister of Art, Culture and Creative Economy, has been drawn to a recently circulating piece titled:
"MY PERSONAL STATEMENT ON MY NYSC STATUS AS A SERVING MINISTER. The piece is inaccurately associated with her in relation to the current NYSC discussion.
"The Hon. Minister clarifies that she has not released any official statement regarding the aforementioned matter and kindly asks the public to be cautious of unverified information.
"I deeply value and appreciate the support, solidarity, and understanding of Nigerians in these times. For clarity, I wish to state that I have not issued any statement on the current issue."
Can NYSC members serve as ministers? Lawyers react
Meanwhile, senior lawyers have weighed in on the constitutionality of the appointment of Musawa as minister of arts, culture and creative economy by President Bola Tinubu.
While some lawyers said the Nigerian Constitution supports her appointment, others disagreed.
Musawa was among the 45 new ministers cleared by the Senate recently and sworn in by President Tinubu.
Source: Legit.ng