Ability in Disability: Meet Olatunde Asade, Disabled Man Who Runs Contracting Company in Lagos
In a country with very few opportunities for a large number of Nigerian youths, it's easy to imagine that there are even far fewer opportunities for people who are disabled.
One man living with a disability who has decided to create an opportunity for himself is Olatunde Asade, founder and manager of Soundprof Contractors Limited.
In the past, Legit.ng shared stories of physically challenged persons who have excelled in their careers. It is no different for Asade, whose growing firm is into general contracts involving interior/exterior decorations and designs, studio soundproofing, and billboard set-up.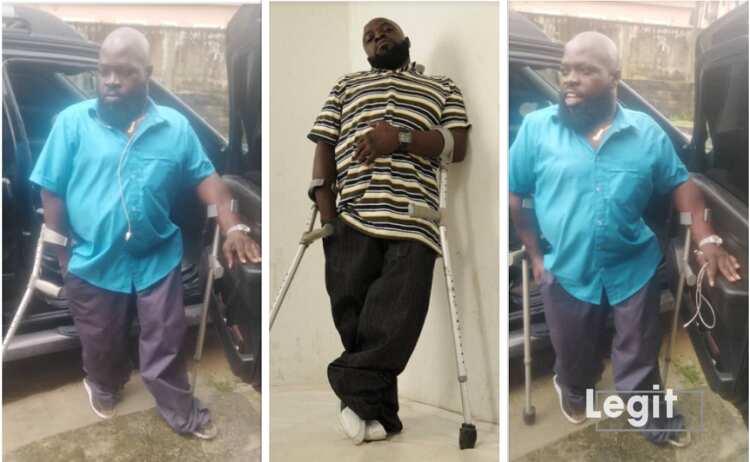 According to Asade, regardless of the reality of being differently abled or a person with a disability, he has been able to steer his growing company. He has also been fortunate to work on some projects in major cities across Nigeria, including Lagos and Abuja.
In this interview, Asade shared with Legit.ng his motivation to run a successful business that employs many, despite being physically challenged.
PAY ATTENTION: Share your outstanding story with our editors! Please reach us through info@corp.legit.ng!
Going into business against taking white-collar job
Asade said that after school, it was tough finding a job, hence he decided to use his love for music to go into music production.
He said:
We all know that job opportunities in Nigeria are very scarce, given the population of young Nigerians out there. Because I didn't want to be unemployed for long, I decided to train as a music producer. From music production, I was able to earn a decent income.
Despite his passion for music, Asade said he wanted more out of life and to establish himself as an entrepreneur. So he used the money he made from music to start a general contractors' business.
I wanted more for myself because I was not satisfied with my level of income. I've always wanted to go into business, so I decided to go fully into general contracts which is something I've been eyeing for a while.
Soundprof Contractors was formed in 2015 for the execution of different types of services like Sound proof /acoustic treatment, interior/exterior decorations and designs, acrylic & tartan track / playground construction, project management, billboards advertising and general consultancy.
He says that the company has built up an ever-increasing experience in providing services to individuals or corporate clients over the years.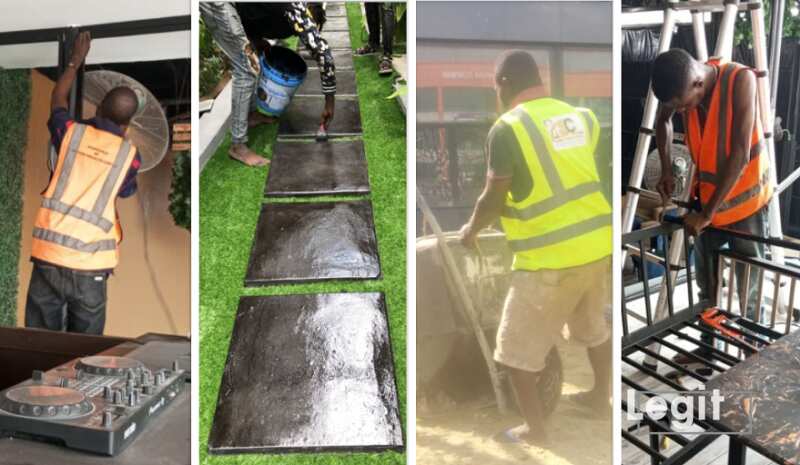 Working with disability
For Asade, his disability did not stop him from going out on the field and doing the work himself. As a result, the company has grown to a point where he only supervises his staff.
He said:
Initially, it was not easy having to join in the work. But over time, we have grown to a stage where we can employ workers to do the job.
Now, I have four permanent staff and an average of 12 contract staff depending on the type of contract or number of jobs we are working at any given time.
What I mostly do now is get the contract, supervise the ongoing work to make sure the standard is met and ensure staff is paid.
How government can support small businesses
Even though it is often said that only a few small businesses in Nigeria can survive for more than five years, Asade's is nearing a decade despite the economic challenges.
For general contractors and many other businesses in Nigeria, the challenges are most likely the same, says Asade. However, he believes that the government has a role to play in making the environment conducive for small businesses.
He said:
We have the issue of power supply to deal with, which affects all types of businesses in Nigeria. As a result of the steady rise in inflation, the prices of building materials also keep rising. All these and others affect the eventual cost of the contracts.
However, the government can help small businesses by ensuring steady power supply and reducing electricity tariffs. They can also find a way to control their agencies against multiple taxations of small businesses and, if possible, control the prices of goods in the market.
Asade leaves a piece of advice for people like him who want to go into business or pursue a preferred profession. He said:
Whatever situation or condition you may find yourself in, you can't afford to be lazy or dependent on other people. If you don't try to do something for yourself, no one will assist you.
My advice will be to start with whatever you have, prepare a goal for yourself, be positive in every situation you find yourself in, believe in yourself, and most importantly, believe in God.
Meet Seun Sangoleye, young Nigerian woman revolutionalising baby food in Africa
Meanwhile, Legit.ng earlier reported the story of Seun Sangoleye, the founder and Chief Executive Officer of Baby Grubz, an infant food company established in 2013.
Her path from computer science graduate to entrepreneur nutritionist began in 2012 when she became a mother for the first and her son refused to take baby foods she bought from the supermarket.
She decided to start Baby Grubz in 2013, which has developed into a million-naira business picking several recognition from reputable organisations such as the African Development Bank Group.
Baby Grubz has also expanded distribution across Nigeria, Ghana, and other West African mothers in the UK looking for familiar foods to feed their babies.
Source: Legit.ng