Joe Rogan wife Jessica Rogan: age, height, family life
We all know Jessica Rogan as the wife of the famous American standup artist Joe Rogan. Spouses of stars are independent personalities with bright biographies, unusual hobbies, and other interesting facts. Today, you are welcome to take a look behind the curtain and see the life of the wife of the brilliant Joe.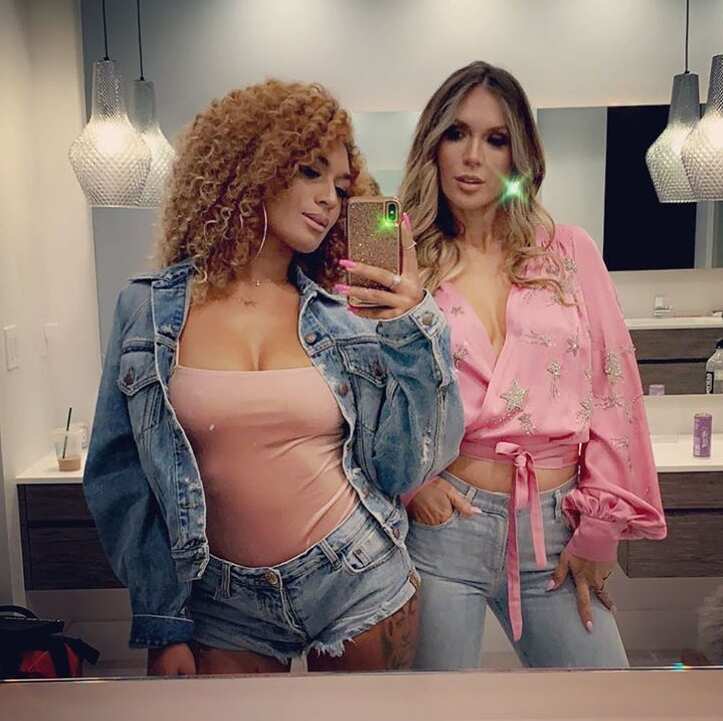 What do we know about Joe Rogan's wife? That her husband is one of the most beloved and one of the funniest standup artists in the United States. That her husband earns millions and gathers thousands of people at his performances. What else? Well, it is the right time to dive deep and discover more details of this woman's biography.
Who is Joe Rogan's wife?
The first and foremost thing we find on the internet when we start to search for the information about Jessica is a huge, overwhelming and confusing controversy regarding her pictures and biography. In most sources, she is mistaken for two other Jessicas: one of them, her complete namesake, is a model. The other one is Jessica Schimmel, the daughter of the famous Hollywood comedian Robert Schimmel. Neither of them is the wife of Joe Rogan.
READ ALSO: Anne Hathaway husband Adam Shulman bio: age, height, net worth
Before becoming a part of the Joe Rogan family, the lady was known as Ms Ditzel. She was born in Sugar Land, Texas; no further information about her parents is available. It seems she has always done a lot to preserve her private life and keep any information about Jessica Rogan family really secret.
Still, we can find some interesting facts about her life before getting married to the famous standup artist. Late in the 1990s, Jess was married to the lead singer of "H-Town", Keven "Dino" Conner, and had a daughter with him. Kayja was born in 1996. The marriage soon collapsed due to Keven's infidelity. The guy died after a car crash in 2003, long after they have parted.
Before becoming who she is now, Jess used to work as a cocktail waitress and wait for her happiness. It came in the shape of Joe around the 2000s.
What is Jessica Rogan age?
It is interesting that we can calculate the woman's age only from the Instagram post of her daughter Kayja. She posted a picture of them two posing in front of the mirror and having fun with the text saying that her mother is 42. The post was published in 2017. Jessica's birth year is 1975, and this year, on the 18th day of July, she will turn 44.
What about Jessica Rogan height and overall appearance?
Jessica is a pretty woman with long hair of a honey colour and a very appealing body. Still, we can speak about her height only when comparing her to her husband, Joe. He is about 5 feet 6 inches tall (which stands for 173 cm), and his wife must be either of the same height or slightly shorter. When she wears high heels, she stands taller than the husband in most pictures when they are spotted together.
The woman looks very attractive and almost luxurious in spite of having given birth to three children. She obviously takes good care of her looks, and it is not a surprise with all those millions she and husband have earned together. As seen in pictures, Jessica is always dressed well and fashionably even if the family is spotted during a casual walk.
Becoming Joe Rogan wife
After parting with Dino and his tragic death, Jess met Joe and started dating him. He fell in love with the woman, and they kept on for many years until they decided to exchange the vows. It happened in 2009 after a previous engagement ceremony. In this marriage, Joe Rogan wife Jessica gave birth to two daughters. Joe has adopted her first daughter Kayja and still seems to stay in a good relationship with his adult stepdaughter. The elder daughter Lola was born in 2008, and Rosy saw the light of this world in 2010.
Joe seems to be a good father to his kids. He has talked much about being a father with The Orange County Register. He said he found having babies absolutely adorable but frustrating when they cry, and one cannot figure out what they need.
This is what we can find about the wife of the famous comedian including Jessica Rogan age, personal details like height and background. It is interesting that Jess has only an Instagram page that is closed for those who do not follow her yet. That is why you can find her pictures mostly on her daughter Kayja's Instagram.
However, you can always follow them both and discover news about Jessica Rogan at any moment. Keep track of the life of your favourite celebrities and be the first to discover new facts and events from their lives.
READ ALSO: Cari Champion ESPN: husband, salary, net worth
Source: Legit.ng