35 famous John Wayne quotes that are the stuff men are made of
John Wayne was one of the most celebrated actors of all time. Most of John Wayne quotes are proof that he was not only good at acting, but also had a lot of wisdom to share with the world. He was and still is the proof of what a true man should be like. As an American icon, he represented the idea of rugged masculinity that many men wanted to acquire as their own identity.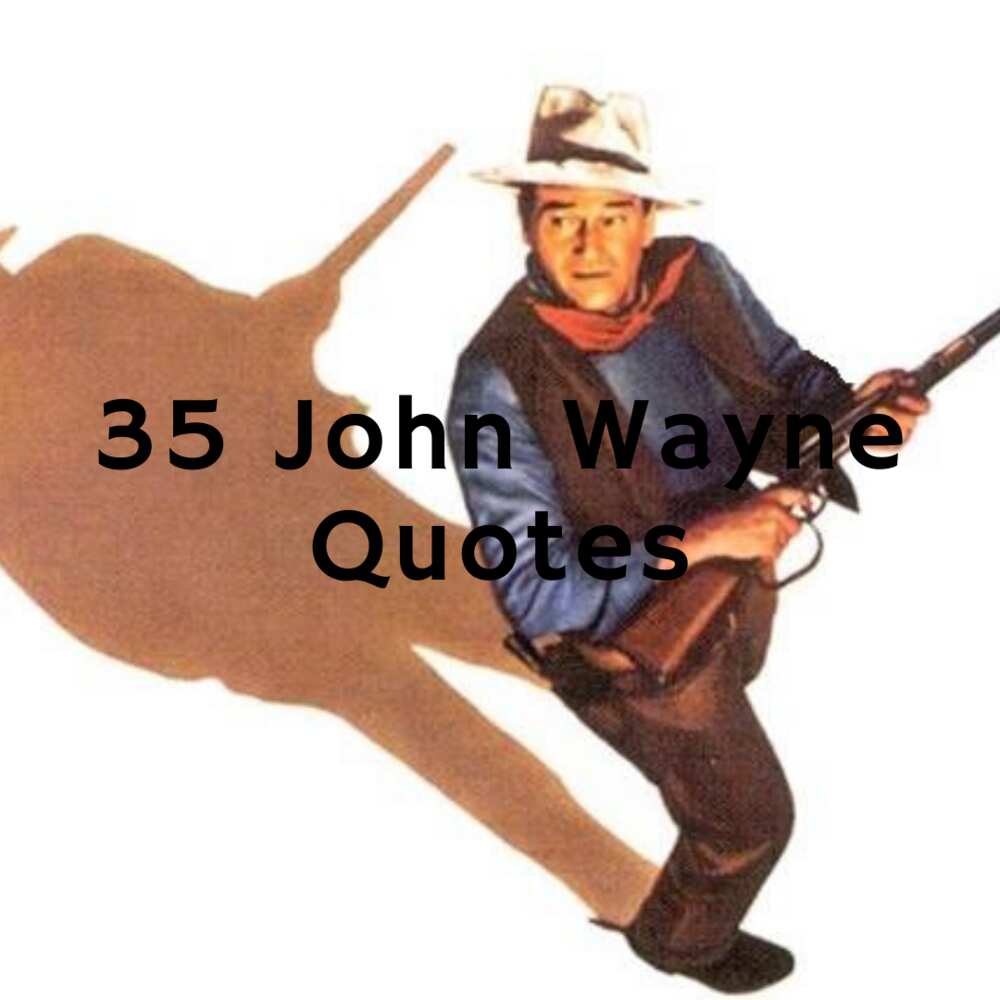 If you have watched any of his old movies, then you will identify some of John Wayne movie quotes with ease. There are numerous of such famous John Wayne quotes that are easy to adopt. He has always been an actor that faces life with a big spoon. So, which are some of the best John Wayne quotes you must know? Read on to discover more.
Top quotes by John Wayne
If you come across quotes from John Wayne, there is a high likelihood that your life will change. Most of John Wayne famous quotes are popular for a reason. They tend to inspire and push those who see them to greatness. What are the famous quotes? If you have been wondering which of these famous quotes you really know, here are a few examples to get you started.
John Wayne quotes about life
John Wayne is one of the best iconic figures. His experience has been captured in his quotes, which remain part of his legacy. From these sayings, it is easy to conclude that he was one of the most powerful men, whose view about life still makes sense even today.
Tomorrow is the most important thing in life. Comes into us at midnight very clean. It's perfect when it arrives and it puts itself in our hands. It hopes we've learned something from yesterday.
Do not ruin your chances of making tomorrow a better day than all others.
I have tried to live my life so that my family would love me and my friends respect me. The others can do whatever the hell they please.
As long as your family and those important to you are okay, everyone else should never hinder you.
Life is tough, but it's tougher if you're stupid.
Be careful not to make life harder on yourself just because you are unwise.
There's right and there's wrong. Y'gotta do one or the other, do the other and you may be walking around, but you're dead as a beaver hat.
Make a choice of what you want to do but do not hang on the fence.
The worst part of it has been, I think, the adverse effect on family life. It kills off family conversation. And it's harder to get your children to read books. I became a confirmed reader when I was growing up in Glendale. I've loved reading all my life. Now I've got this daughter, Aissa, a very bright young lady — but it is a hard job to get her to read. Television's just too easy.
TV has its effects on all people, the intensity is what differs.
A goal, a love and a dream give you total control over your body and your life.
Have focus and pursue a goal that will keep you on the right path.
Talk low, talk slow, and don't say too much.
Measure your words and only talk if you must.
All the screen cowboys behaved like real gentlemen. They didn't drink, they didn't smoke. When they knocked the bad guy down, they always stood with their fists up, waiting for the heavy to get back on his feet. I decided I was going to drag the bad guy to his feet and keep hitting him.
It was the character of all cowboys screen boys to stand out and be well-behaved. They should be emulated.
I've always followed my father's advice: he told me, first to always keep my word and, second, to never insult anybody unintentionally. If I insult you, you can be goddamn sure I intend to. And, third, he told me not to go around looking for trouble.
Parents have very good advice, make a point of listening and adhering to them.
Real art is basic emotion. If a scene is handled with simplicity – and I don't mean simple – it'll be good, and the public will know it.
If you can handle the emotions needed in a film then you can become a great artist.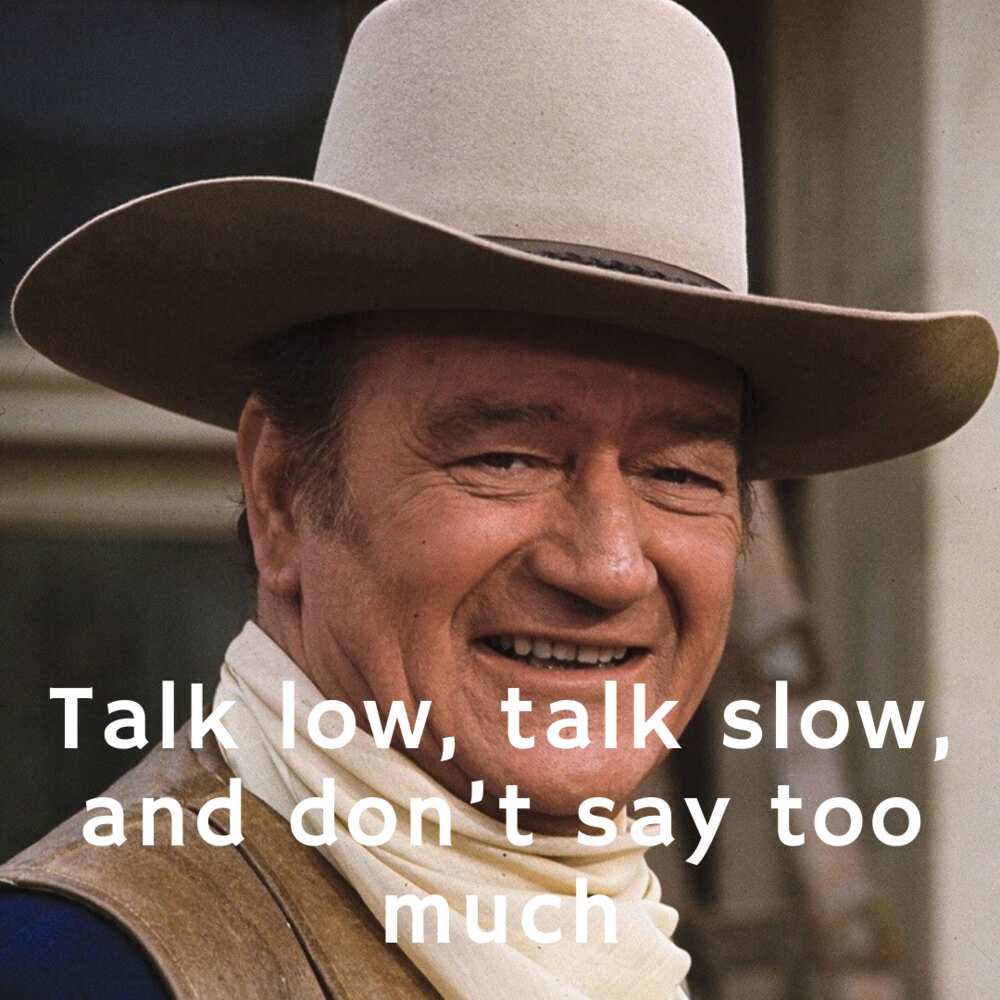 I would like to be remembered, well, the Mexicans have a phrase, "Feo fuerte y formal". Which means he was ugly, strong and had dignity.
In everything you do, make sure there is a reason for you to be remembered.
What's the secret of success? Right decisions. How do you make right decisions? Experience. How do you get experience? Wrong decisions.
No matter what you do, to succeed, certain elements are needed to make you a success.
When you come to see a picture of mine, I want you to know that I'm not going to do anything that will make you uncomfortable. I want you to know that you won't be disappointed in me.
A good actor or actress will always be confident that every film they are in is safe for all.
I'd read up on the history of our country and I'd become fascinated with the story of the Alamo. To me it represented the fight for freedom, not just in America, but in all countries.
Every great actor has a motivating factor that drives them to become whoever they turn out to be.
I was sure I'd set the world on fire, and it was hard for a young feller like me to realize the truth – that I hadn't set the world on fire, and I was totally unprepared to handle the consequences if 'The Big Trail' had been a success and launched me as a star.
It is important to learn how to manage expectations, especially when starting out. It is possible that things may not work out as envisioned.
I suppose my best attribute, if you want to call it that, is sincerity. I can sell sincerity because that's the way I am.
Have a trait that stands out for that is what will make you different in your field.
I won't be wronged. I won't be insulted. I won't be laid a hand on. I don't do these things to other people and I require the same from them.
Be good to others and do to them what you expect them to do to you.
When the road looks rough ahead, remember the 'Man upstairs' and the word HOPE. Hang onto both and 'tough it out.
When all seems lost, look to God for all the protection and help.
When you stop fighting, that's death.
No matter how tough things are, never stop fighting for doing this means the death of you.
Courage is being scared to death and saddling up anyway.
When you are courageous, you step out to fight despite being fearful.
Funny John Wayne quotes
Apart from life lesson, there are several sayings from the old famous actor that would crack you even today. These include:
I never have really become accustomed to the 'John.' Nobody ever really calls me John… I've always been Duke or Marion or John Wayne. It's a name that goes well together, and it's like one word.
Get off your butt and join the Marines.
Don't be a lazy person.
Everybody that I was in school with had an uncle or father in the law, and I started to realize that I was going to end up writing briefs for about ten years for these fellows who I thought I was smarter than. And I was kind of losing my feeling for that.
Don't worry about not having a Godfather to hold your hand, working hard will help you get ahead in life.
If everything isn't black and white, I say, 'Why the hell not?
It does not matter that things are not obvious.
I'd like to know why the well-educated idiots keep apologizing for lazing and complaining people who think the world owes them a living.
Most people think the world owes them something.
You're short on ears and long on mouth.
Don't be the person who talks too much and listens less.
John Wayne quotes on manhood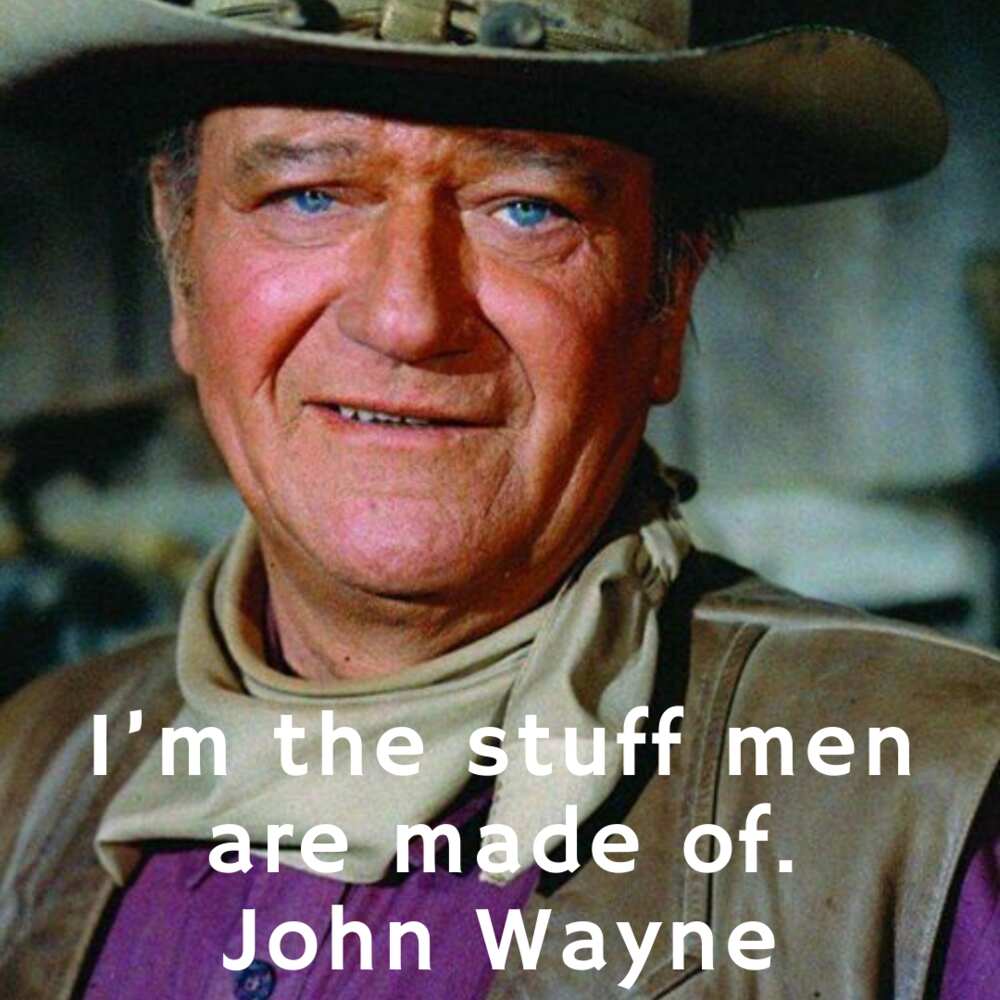 John was a huge representative of masculinity back in the days. His beliefs and ideas were near-perfect as far as being a man is concerned. If you are looking for the right inspiration to become a great man, one who fears nothing, then these quotes and sayings will serve as a great inspiration. Some of the best quotes that show this aspect of his life include the following:
I define manhood simply: men should be tough, fair, and courageous, never petty, never looking for a fight, but never backing down from one either.
Men need to be tough, but they also must be fair if they are to be considered real men.
A man's got to have a code, a creed to live by.
All great men live by a code of honor.
I'm the stuff men are made of.
When you are confident then you serve as an example that can be emulated.
All battles are fought by scared men who'd rather be some place else.
Most men who fight are often scared and would have opted for something different.
A man deserves a second chance, but keep an eye on him.
Do not write people off. Offer them a second chance but be careful and keep your eye on them.
A man's got to do what a man's got to do.
Sometimes you have to do what you think should be done.
A lot of guys make mistakes, I guess, but every one we make, a whole stack of chips goes with it. We make a mistake, and some guy doesn't walk away—forever more, he doesn't walk away.
Be careful about learning from the mistakes you make. learn to let go.
A man ought to do what he thinks is right.
Have a mind of your own and always do what is in your mind.
A man who won't stand for what he believes isn't a man!
All men must stand by their belief even if it is not accepted by others.
What was John Wayne's famous line?
It may be difficult to point out the specific line he loved most. However, from all the quotes above and more, he was a man that enjoyed and loved to portray courage.
What is John Wayne's most famous movie?
As already mentioned, John Wayne was one of the best actors of his time. He was loved for his macho nature. He was the true expression of what a man should be like. Here are ten of the best movies he is known for.
1. Rooster Cogburn of 1975. Fans got to see his soft and humorous side in this comedic Western. They were treated to doses of funny scenes and the usual action prowess that he is best known for.
2. The Sons of Katie Elder in 1965. This is a classic western trope of avenging a murder. We get to see the family get together on a revenge mission for their father's death, not to mention to avenge their mother being swindled.
3. Hondo in 1953. This is a great classic despite showing aspects of racism and sexism. Wayne gets to protect a woman and her kid from some foes. It is packed with action and murder scenes which makes it his kind of film.
4. The Shootist in 1976. While most would consider this one of his best films, you may not so much if you are of the idea of a sad film where your favorite dying character is looking for a way to die gloriously.
5. Rio Bravo in 1959. This is a great western film with a lot of shooting scenes when men end up hiding in prison with dangerous criminals. If you love such fierce and hot scenes then this would be your go-to film.
6. El Dorado in 1967. If you want to watch a great western film with a funny grandfather making humorous remarks then this would be your go-to film. It also includes some of the best actors.
7. Big Jake in 1971. This should be considered atypical western film. It has all the components that make it stand out, ranging from family love and hate, as well as the much-needed shouting and fights.
8. McLintock! in 1963. This is one of John's best Westerners with a tint of humor. He acted as a single rancher whose estranged wife returns home. The drama unfolds as a lot of things changed since she left.
9. True Grit in 1969. As Wayne's only Academy Award win, it is easy to see why it deserved the honor. The fact that the film seems to have a little extra grit makes it stand out as one of the greatest.
10. The Searchers in 1956. This is a powerful film even for its time. The adventure of two great men out in search of their kidnapped family members will be keeping you at the edge of your seat. The subject may be weighty, but it is also one of the best westerners ever.
There are numerous John Wayne quotes that men can learn from. Having been a man that was concerned about masculinity and real manhood, the above quotes will encourage any man that intends to grow into a great person.
Source: Legit.ng