50+ great sibling quotes to share with your brothers and sisters
Not everyone is fortunate enough to have a loving sibling in their life. Therefore, if you are lucky, embrace the power of family by utilizing these sibling quotes. You can use them as captions for your pictures on social media or send them to your siblings via text.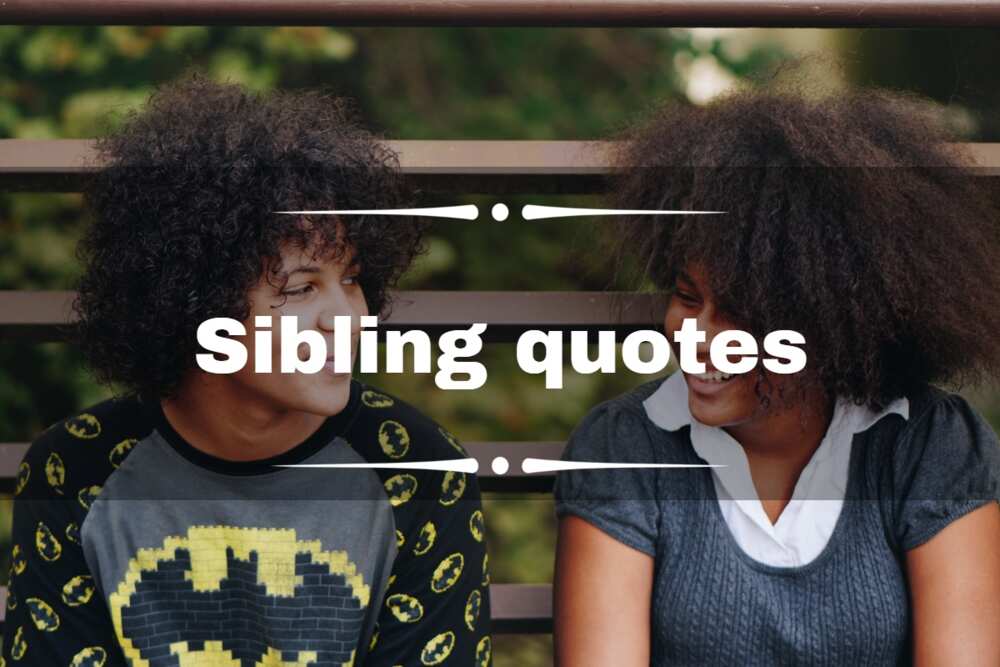 The relationship between children born in the same family is special, and quotes about siblings reflect how you feel and make fun of each other. Whether you are looking for quotes to write in a sentimental letter or sending through a text, some of them here would help. Some are inspiring while some are witty and teasing.
Beautiful sibling quotes
There are numerous inspirational quotes siblings can send to one another. These sayings are meant to uplift each other. Check out these brother and sister quotes:
Siblings - the definition that comprises love, strife, competition, and forever friends. - Byron Pulsifer.
A sibling represents a person's past, present, and future. - John Corey Whaley.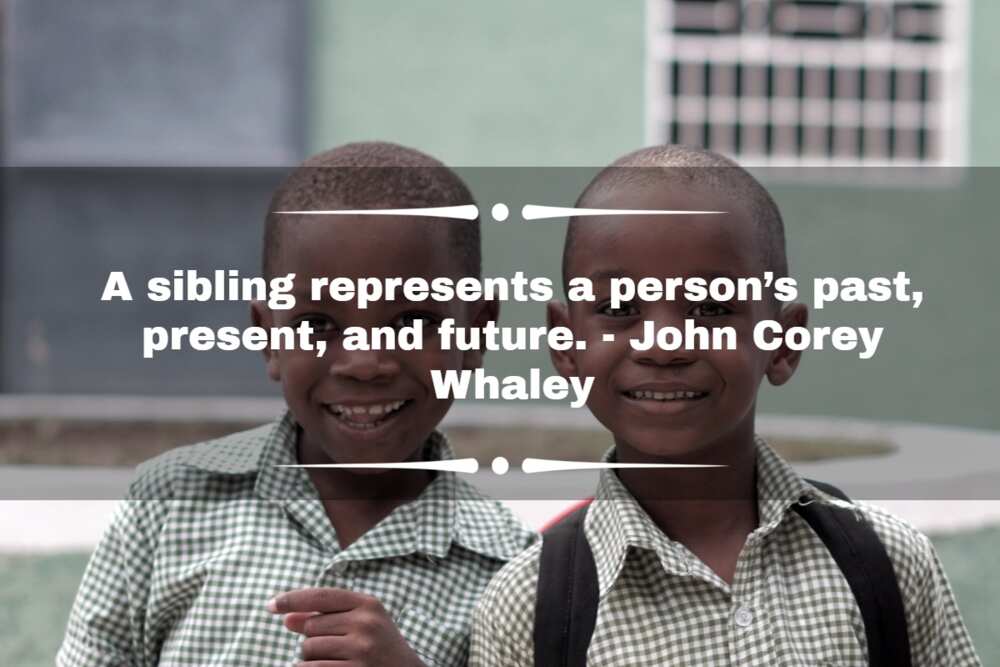 Sometimes we need someone to be there for us. Not to fix anything or do anything in particular, but just to let us feel cared for and supported.
He is my most beloved friend and my bitterest rival, my confidante and my betrayer, my sustainer and my dependent, and scariest of all, my equal. - Gregg Levoy.
Your siblings are the only people in the world who know what it's like to have been brought up the way you were. - Betsy Cohen
To have a loving relationship with a sister is not merely to have a buddy or a confidant… it is to have a soulmate for life. - Victoria Secunda.
A sister is someone who loves you from the heart. No matter how much you argue, you cannot be drawn apart. - Shiv Sharma.
When siblings stand shoulder to shoulder, who stands a chance against us? - Pam Brown.
The best thing about having a sister was that I always had a friend. - Cali Rae Turner.
Sometimes being someone's sibling is even better than being a superhero. - Marc Brown.
Our siblings. They resemble us just enough to make all their differences confusing, and no matter what we choose to make of this, we are cast with them our whole lives long. - Susan Scarf Merrell.
When siblings agree, no fortress is so strong as their ordinary life. - Antisthenes.
What sets sisters apart from brothers and friends is the intimate mashing of heart, soul, and the mystical cords of memory. - Carol Saline.
A sister can be seen as both ourselves and very much not ourselves — a special kind of double. - Toni Morrison.
Quotes about brother and sister relationship
The relationship between a brother and sister is one of a kind. You can't describe this relationship because at one moment, they are fighting and the next, protecting each other. Here are quotes about brothers and sisters:
Brothers and sisters are as close as hands and feet. - Vietnamese Proverb.
What brothers say to tease their sisters has nothing to do with what they think of them. - Esther M. Friesner.
We may look old and wish to the outside world, but to each other, we are still in junior school. - Charlotte Gray.
Brothers and sisters separated by distance joined by love. - Chuck Danes.
The greatest gift our parents gave us was each other. - Unknown.
Sisters and brothers just happen, we don't get to choose them, but they become one of our most cherished relationships. - Wes Adamson.
Brother and sister, together as friends, ready to face whatever life sends. Joy and laughter or tears and strife, holding hands tightly as we dance through life. - Suzie Huitt.
Some relationships are like Tom and Jerry: They tease each other, knock down each other, irritate each other, but can't live without each other! - Unknown.
I don't believe an accident of birth makes people sisters or brothers. It makes them siblings, gives them mutuality of parentage. Sisterhood and brotherhood is a condition people have to work at. - Maya Angelou.
Cute quotes on siblings bond
You can celebrate your bond by sharing incredible sisters and brothers quotes. Here is a heartwarming collection of siblings quotes to send to your brothers and sisters:
You don't choose your family. They are God's gift to you, as you are to them. - Desmond Tutu.
Our brothers and sisters are there with us from the dawn of our personal stories to the inevitable dusk. - Susan Scarf Merrell.
If you want to do crucial things in life and big things in life, you can't do anything yourself. Your best teams are your friends and your siblings. - Deepak Chopra.
The mildest, drowsiest sister has been known to turn tiger if her sibling is in trouble. - Clara Ortega
Children of the same family, the same blood, with the same first associations and habits, have some means of enjoyment in their power, which no subsequent connections can supply. - Jane Austen.
Be nice to your siblings, they are your best link to your past, and they will most likely stay with you in the future. - Baz Lurhmann.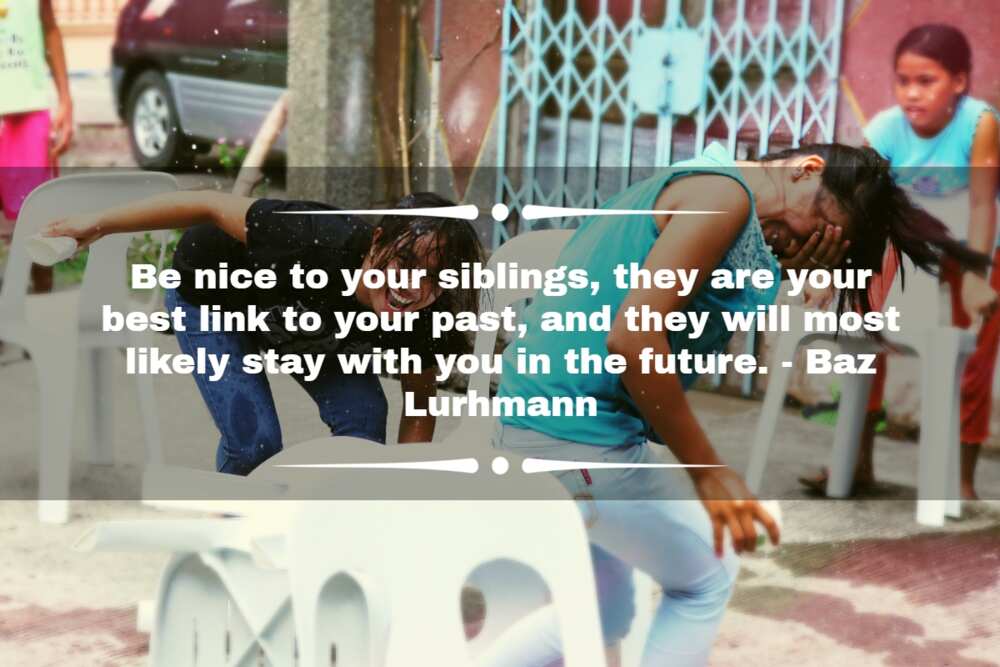 Like sugar and spice, siblings make things extra nice.
Friends come and go, but children born in the same family are forever.
It's OK to lean on your siblings in times of need. They have both the strongest and the softest shoulders to cry on.
Children born same parents know how to push each other's buttons, but they also know how to mend things faster than anyone.
Your sibling is your real-life guardian angel. You just can't see her (his) wings.
A sibling may be the keeper of one's identity, the only person with the keys to one's unfettered, more fundamental self. - Marian Sandmaier.
Funny brother and sister quotes
Sometimes you can send hilarious brother sister quotes as a joke. Here are some funny quotes about siblings:
I would ask my parents something but then go to my siblings. We were encouraged to bounce ideas off everyone. - Ahmet Zappa
People say my sibling and I look alike. When it's a compliment, he looks like me. When it's not, I look like him.
The advantage of growing up with siblings is that you become very good at fractions. - Robert Brault.
One thing I can always look forward to in life is that even when I'm old, my big brother will still be older!
After a girl is grown, her little brothers, now her protectors, seem like big brothers. - Terri Guillemets.
Admit it!!! We always eat and drink slower than our brother or sister so that we can tease them at the end when we're the only ones with any left. - Unknown
The oldest child always sets the bar. Thank goodness you set it low!
You and I are brother and sister forever. Always remember that if you fall, I will pick you up as soon as I finish laughing. - Unknown.
Siblings are like free insurance. If you need a new body part, they've got the perfect spare part.
Sisters are like psychiatrists. They have no choice but to listen to your whining, then turn around and rob you blind.
Siblings: children of the same parents, each of whom is perfectly normal until they get together.- Sam Levenson.
I may fight with my siblings. But once you lay a finger on them, you'll be facing me. - Abby Slater.
I wouldn't trade my siblings for the world. I don't have anywhere to put it.
Half the time when siblings wrestle, it's just an excuse to hug each other. - James Patterson.
Having an older brother helped me learn how to be a better person. When he does something good, I copy it, and when he does something terrible, I try not to laugh at him.
The only thing big about my big brother is his ego!
Unique brother quotes from sister
As a sister, you can show your love to your brother via quotes. Whether you are looking for little brother quotes or one to send to your elder one, here are some fantastic quotations on brothers you should use:
My brother is my partner in crime. Until we get caught, then he did it!
Brothers are playmates at the beginning and best friends for life. - Anonymous.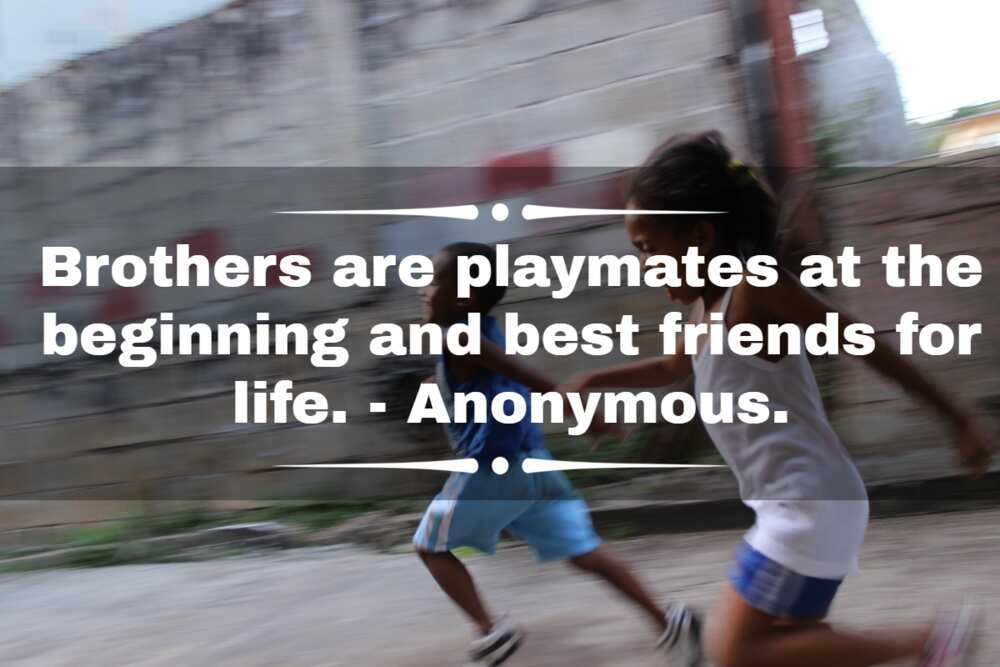 Brothers don't necessarily have to say anything to each other. They can sit in a room and be together and just be completely comfortable with each other. - Leonardo DiCaprio.
Brothers are just born to disturb their sisters. - Unknown.
My brother has the best sister in the world.
Siblings captions for Instagram
You can as well caption your social media pictures with sisters or brothers quote. Below are some suggestions for you:
We didn't realize we were making memories. We just knew we were having fun.
I can't promise to solve all your problems, but I can promise you won't have to face them alone.
I didn't know love until mom and dad showed me you.
You bring out that little bit of childhood that can never be lost.
Our bond is unbreakable.
I know it's a cliché, but the whole family is just whacked. I mean, we're all out of our minds. They're the funniest, most eccentric, bizarre people I've ever met, my siblings. - Dana Carvey.
A sister or brother is both your mirror and your opposite. - Elizabeth Fishel.
Being brother and sister means being there for each other. - Unknown.
For there is no friend like a sister, In calm or stormy weather; To cheer one on the tedious way, To fetch one if one goes astray, To lift one if one totters down, To strengthen while one stands. - Christina Rossetti.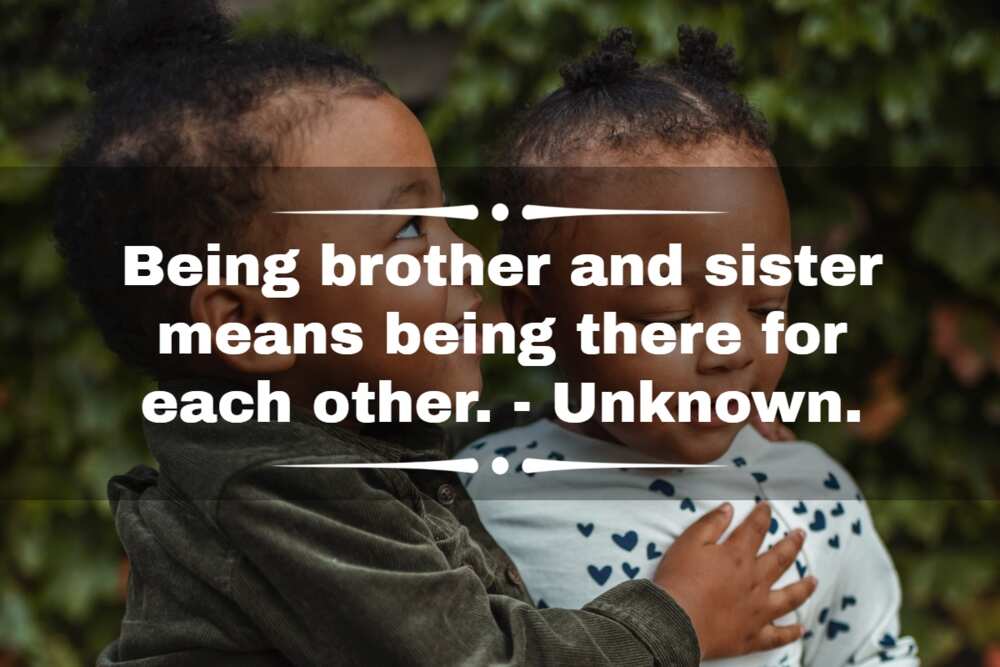 The ones that stay with you through everything; are your real best friends. Don't let go of them. Also, remember, sisters make the best friends in the world. - Marilyn Monroe.
When brothers and sisters get in trouble, it's like watching cats and dogs fight. They trade jabs while their tales fly around.
There is a little boy inside the man who is my brother… Oh, how I hated that little boy. And how I love him too. - Anna Quindlen.
Growing up, I had a very normal relationship with my brother and sister. Over time, they became my best friends, and now I hang out with them all the time. I'm very close to them. - Logan Lerman
Sweet is the voice of a sister in the season of sorrow, and wise is the counsel of those who loves us. - Benjamin Disraeli.
There you have it! These are some of the best sibling quotes. You can send them to your brothers and sisters to let them know how you feel about them.
READ ALSO: Uplifting betrayal quotes to help you get through the tough times
Legit.ng recently published an article on uplifting betrayal quotes. Considering that betrayal has turned into a new normal nowadays, many people tend to feel disappointed by failed promises.
While betrayal may cause irreversible damage, you shouldn't be held back by the disappointment. You need to dust off and move on. Therefore, these fantastic quotes are what you need at such moments.
Source: Legit.ng