53 grandson quotes for grandparents to express how proud they are
Grandson quotes will make your grandchildren know how much you cherish them. Not many people are privileged to see their grandchildren during their sunset days, so you should cherish every moment you have with them. You do not have to do much to please them but say words that show how much you value them.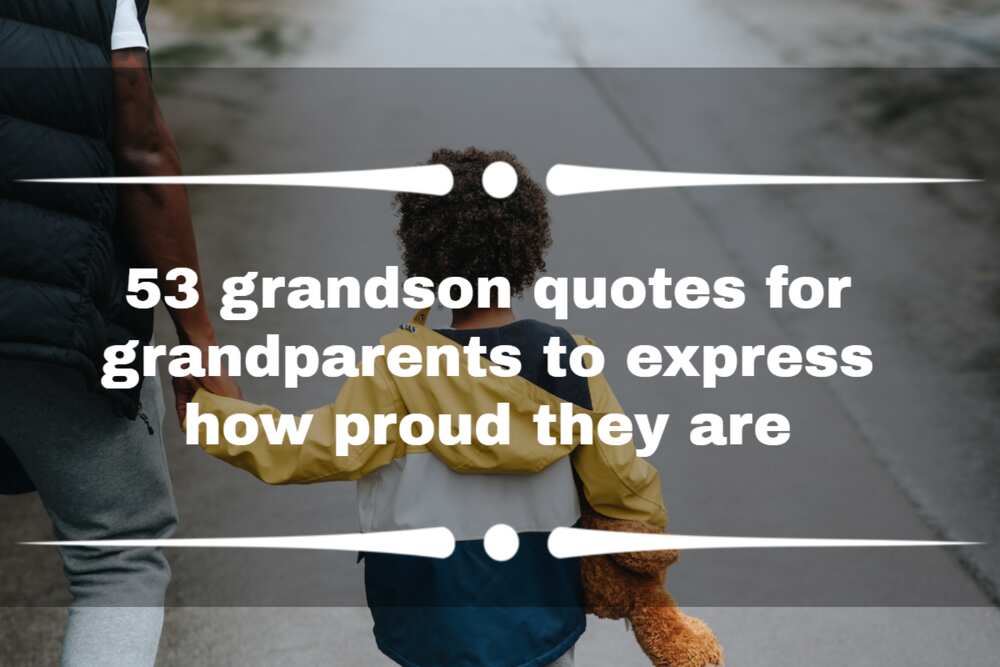 Spending time with your grandkids is one of the most valuable moments you will have. They remind you of the good old days you had, while also making you proud of your achievement of raising a family well.
Best grandson quotes from grandma
Grandmothers share a special bond with their grandsons. In most cases, the two are almost inseparable whenever they meet. Below is a list of quotes grandmothers can use to show their love for their grandsons.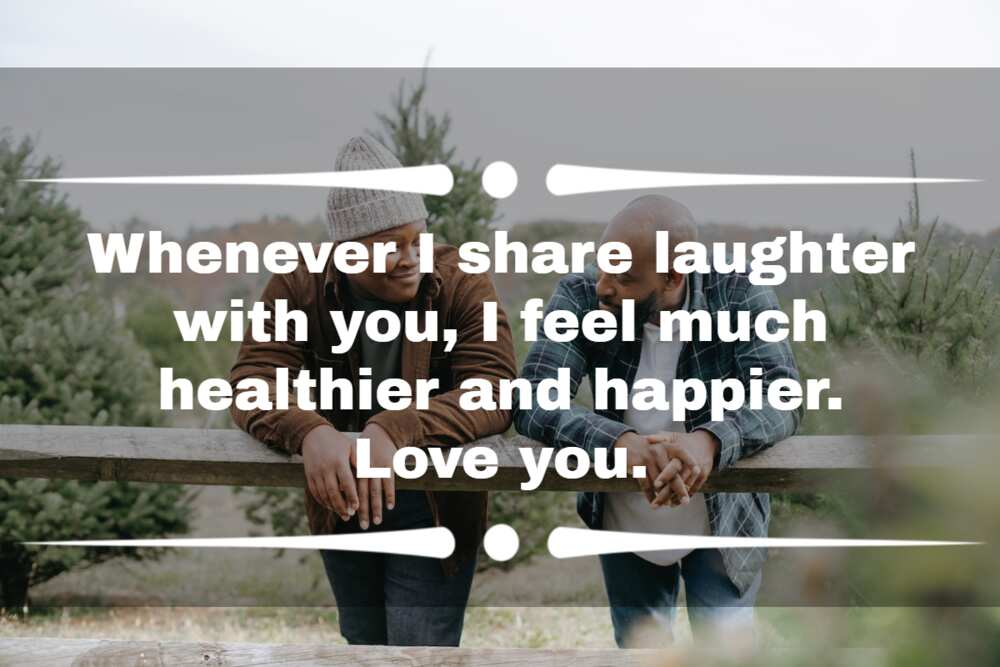 Holding these babies in my arms makes me realise the miracle my husband and I began. – Betty Ford
Whenever I share laughter with you, I feel much healthier and happier. Love you.
Nothing else but a grandchild can put a smile on your face, a lump in your throat and a warm feeling in your heart.
My grandchildren may not have everything they want in this world, but they have a grandma who loves them more than anything else.
Having a grandchild fills a space in your heart that you never realised was empty.
Perfect love sometimes does not come until the first grandchild.
Some fathers do not love their children, but there is no grandfather who does not adore his grandson. – Victor Hugo
Since the time you have come into my life, each day has been a beautiful one.
I wish you all the happiness and success in this world to my sweet grandson.
Grandchildren give us a second chance to do things better because they bring out the best in us.
Unique quotes about grandsons from grandparents
Are you looking for uncommon quotes for your grandson? A common quote is monotonous, and your grandson may not receive it with enthusiasm, but a unique one does the trick. The unique quotes will make your grandson feel appreciated.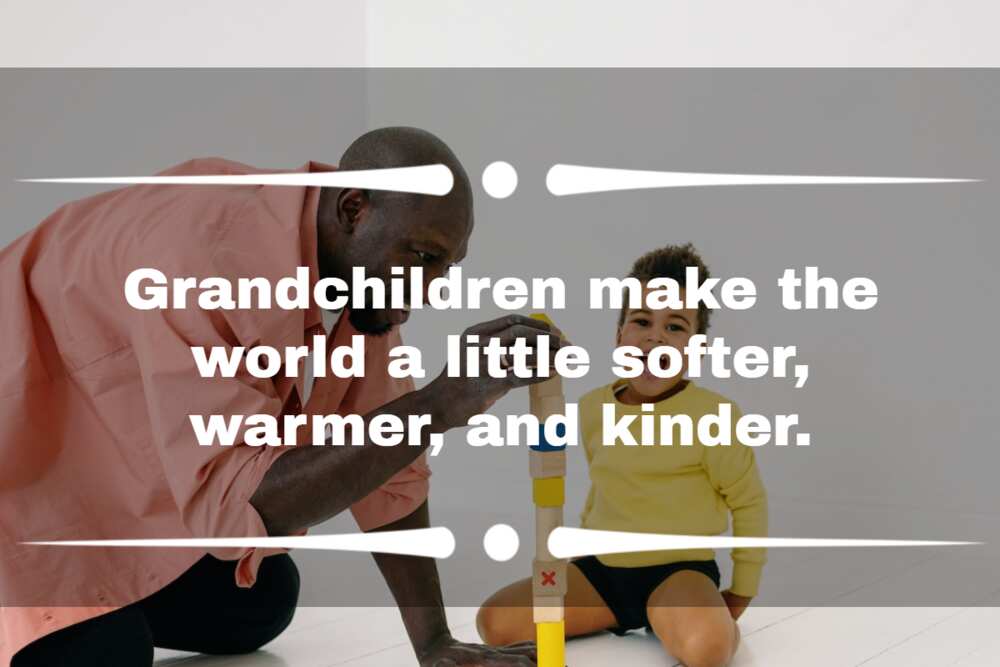 Grandchildren are like snowflakes. Each one is beautifully unique.
I've always enjoyed seeing the world through the eyes of my grandchildren. – Neil Sedaka
Do you know why children are so full of energy? Because they suc* it out of their grandparents. – Gene Perret
You better arm yourselves to answer your children's and grandchildren's questions, no matter what the question is, without being judgmental. – Josh McDowell
I wouldn't change my grandchildren for the world. But I wish I could change the world for my grandchildren.
Grandchildren make the world a little softer, warmer, and kinder.
Grandchildren are God's way of compensating us for growing old. – Mary H. Waldrip
Grandchildren are called 'grand' for a reason.
Posterity is the patriotic name for grandchildren. – Art Linkletter
It is a dream of every grandfather to have a grandson like him. I am so fortunate my dream came true.
I would never hesitate to say that you are more precious to me than my children.
If I had known how wonderful it would be to have a grandson, I'd have had them first. – Lois Wyse
The best we can hope for in this life is that we shall not have sons and grandsons of whom we need to be ashamed. – Lin Yutang
Your children are your rainbows, and your grandsons are your pot of gold.
When a grandson arrives, a grandfather doesn't feel lonely again.
Surely, two of the most satisfying experiences in life must be those of being a grandchild and or a grandparent. – Donald A. Norber
Grandchildren give us a second chance to do things better because they bring out the best in us.
What a bargain grandchildren are! I give them my loose change, and they give me a million dollars worth of pleasure. – Gene Perret
I don't put off any time with my grandchildren. I don't put off a thing. – Lynn Redgrave
Blessed with a grandson quotes
To grandparents, grandchildren are a blessing. The grandkids come at a stage when grandparents are done with most of their lives, and welcoming them brings a new lease of life. If you feel blessed to have a grandson, here are quotes that can help express your joy.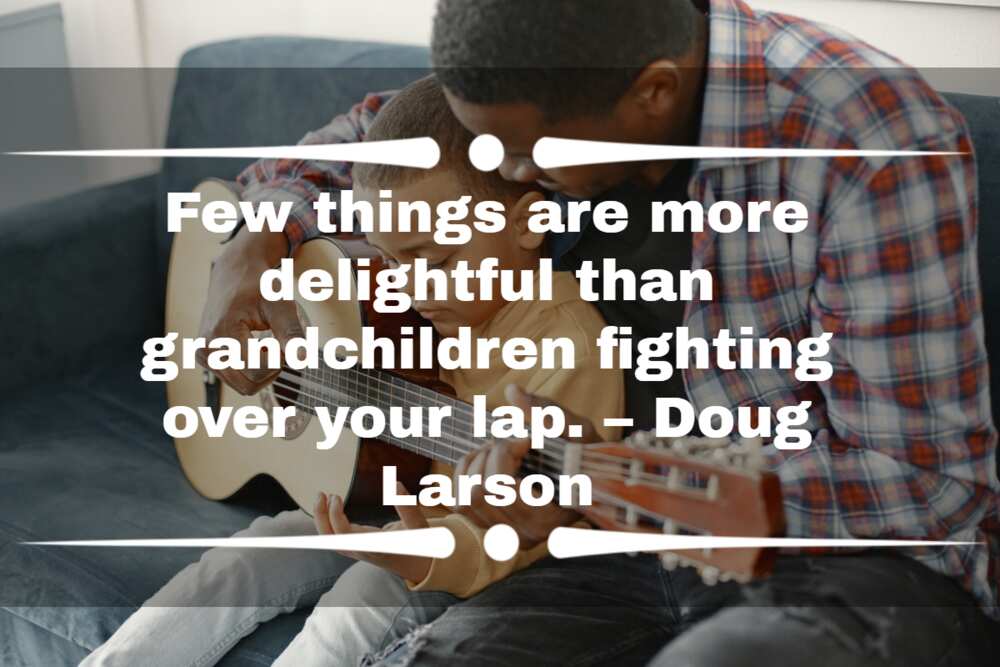 Being a mother and grandmother is the best of the best in my life. My grandchildren multiply the joy my daughters bring me. – Alexandra Stoddard
Few things are more delightful than grandchildren fighting over your lap. – Doug Larson
What children need most are the essentials that grandparents provide in abundance. They give unconditional love, kindness, patience, humour, comfort, and life lessons. And, most importantly, cookies. — Rudy Giuliani
One of the most powerful handclasps is that of a new grandbaby around the finger of a grandfather. – Joy Hargrove
The joy of grandchildren is measured in the heart.
They say genes skip a generation. Maybe that's why grandparents find their grandchildren so likeable. – Joan Macintosh
When I count my blessings, I count my grandchildren twice.
Everyone needs to have access to grandparents and grandchildren to be a full human being. – Margaret Mead
Missing my grandson quotes
Your grandchildren may not always be around to spend time with you. In most cases, they live with their parents far away, making you miss their presence. These quotes about grandsons show how you value their presence and miss them when they are not around.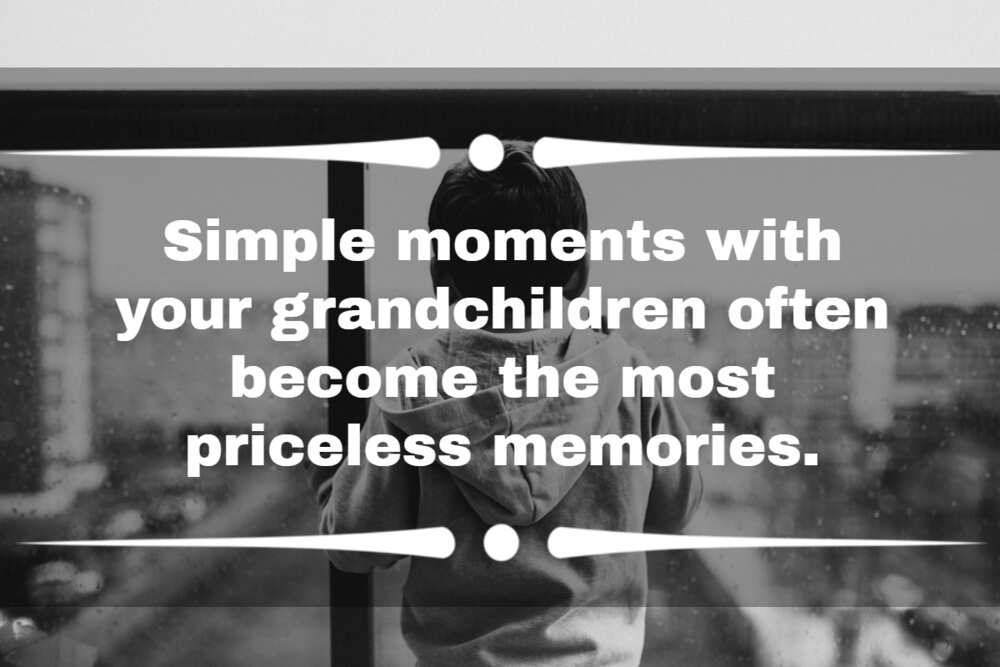 Knowing that your grandson cares about you makes you a happy person. Love you, dear.
Dearer than our children are the children of our children.
The most precious jewels you'll ever have around your neck are the arms of your grandchildren.
Simple moments with your grandchildren often become the most priceless memories.
Side by side or miles apart, grandchildren are always close to the heart.
Grandchildren: my favourite hello and my hardest goodbye.
I have never once regretted missing a business opportunity so that I could be with my children and grandchildren. – Mitt Romney
Distance will never decrease my love for my grandkids.
Funny quotes for grandson
Grandma and grandson never miss the hilarious moments between them. Despite their age difference, they have a lot to share, and it is all fun and laughter when they are together. Here is a compilation of humorous quotes for grandsons.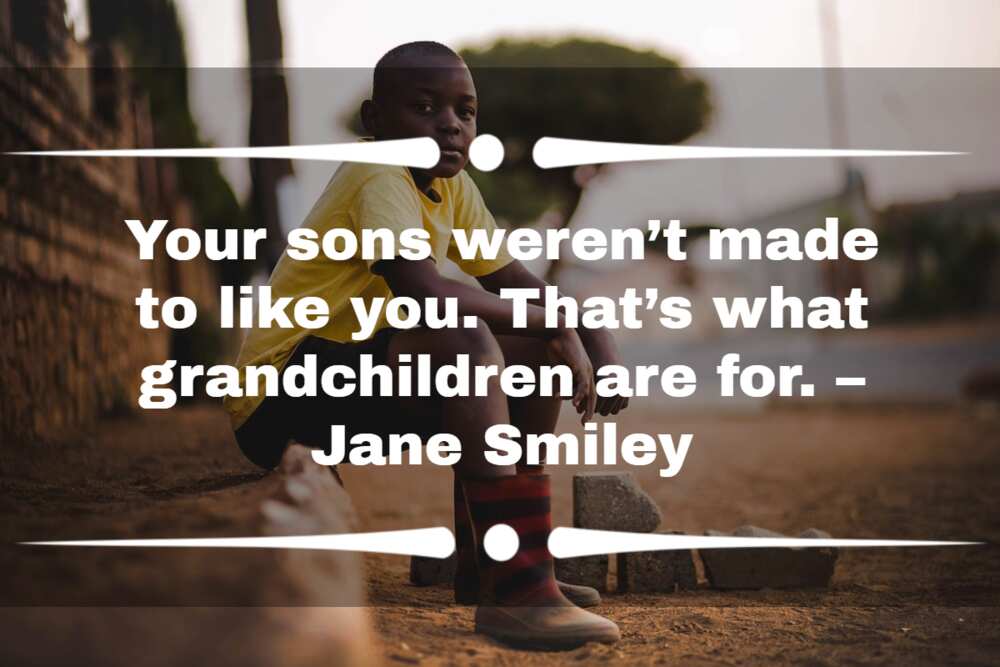 I am a grandparent now, but at least my nine-year-old grandson calls me Glamma and not Grandma.
A grandson doesn't make a woman feel old; being married to a grandfather bothers her.
The reason grandparents and grandchildren get along so well is that they have a common enemy. – Sam Levenson
An hour with your grandchildren can make you feel young again. Anything longer than that, and you start to age quickly. – Gene Perret
Your sons weren't made to like you. That's what grandchildren are for. – Jane Smiley
You can't scare me. I have four grandkids.
On the seventh day, God rested. His grandchildren must have been out of town. – Gene Perret
Elephants and grandchildren never forget. – Andy Rooney
Grandsons make grandparents go down the memorial lane to their younger days. From their playful nature, personalities, and resemblance to their parents, grandparents can picture their lives in their grandsons. The above grandson quotes make grandparents feel honoured in their old age while also making their grandkids feel special.
READ ALSO: 100+ positive niece quotes from the proudest aunt or uncle
Legit.ng recently published niece quotes every proud aunt or uncle can use. If you intend to be your niece's best aunt or uncle, you should not hesitate to show them love and how proud you are. Even if they face challenges, you should assure them of your support even when they are not ready to share with their parents.
Being an aunt or uncle comes with its fair share of fun and responsibility. You are the next best person after their parents that your niece can turn to for support and guidance. Niece quotes will show them that you are proud and ready to support them throughout their journey in life.
Source: Legit.ng