30+ traditional Yoruba hairstyles that are all the rage even now
Yoruba is among the three largest ethnic groups in Nigeria. This ethnic group mainly occupies the southwestern part of the country. Similar to other ethnic groups, its people have rich traditions and norms. Traditional Yoruba hairstyles, in particular, are quite fascinating.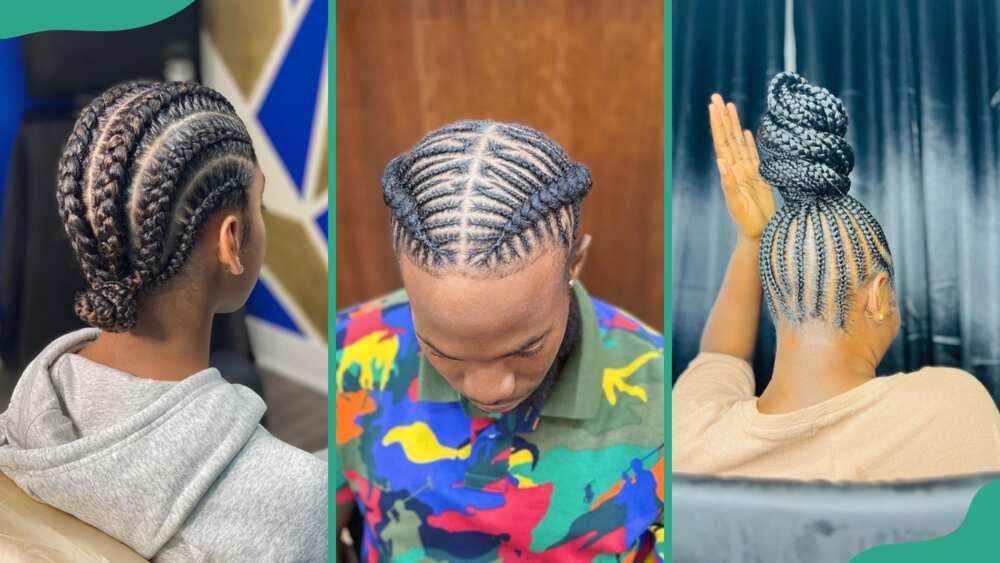 Traditional Yoruba hairstyles are beautiful and unique. Stylists have modified and modernised them to match the fashion styles of the modern age.
Yoruba hairstyles
There are multiple Yoruba hairstyles for kids and adults to choose from in 2023. These looks have made a comeback and are all the rage right now.
Kolese bun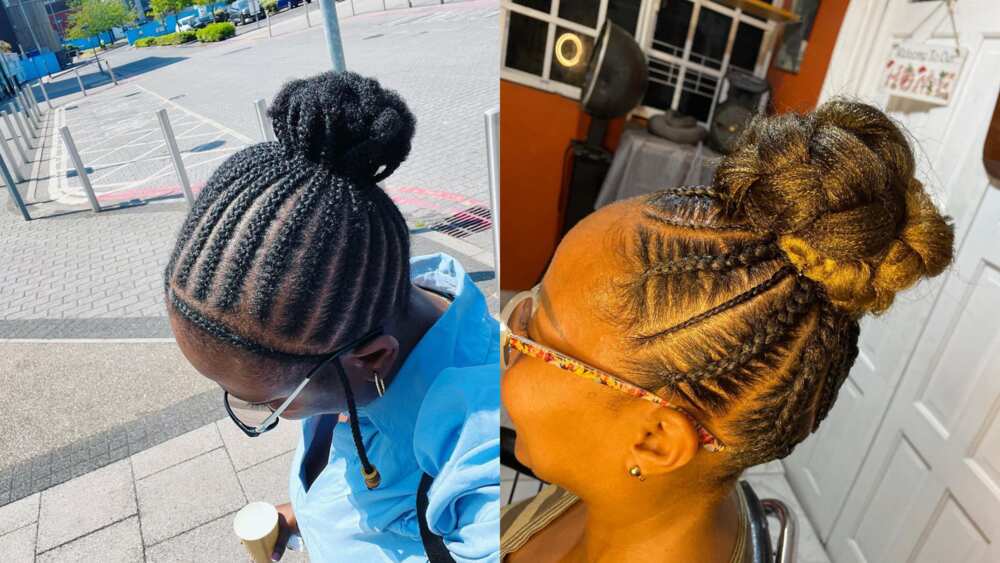 Kolese means legless in the Yoruba language. Kolese Didi hairstyles incorporate the cornrow braiding technique. The Kolese bun can be done using natural hair or extensions. The cornrows can also be thin, midi, or thick, depending on personal preference.
Threaded spikes (Irun Kiko)
Threaded styles are pretty common in Yorubaland. In the past, rubber or wool was used to knot the hair by dividing it into sections. Today, yarn is more commonly used. The threaded look above is known as the Irun Kiko and is protective.
Straight-back Yoruba Didi hairstyles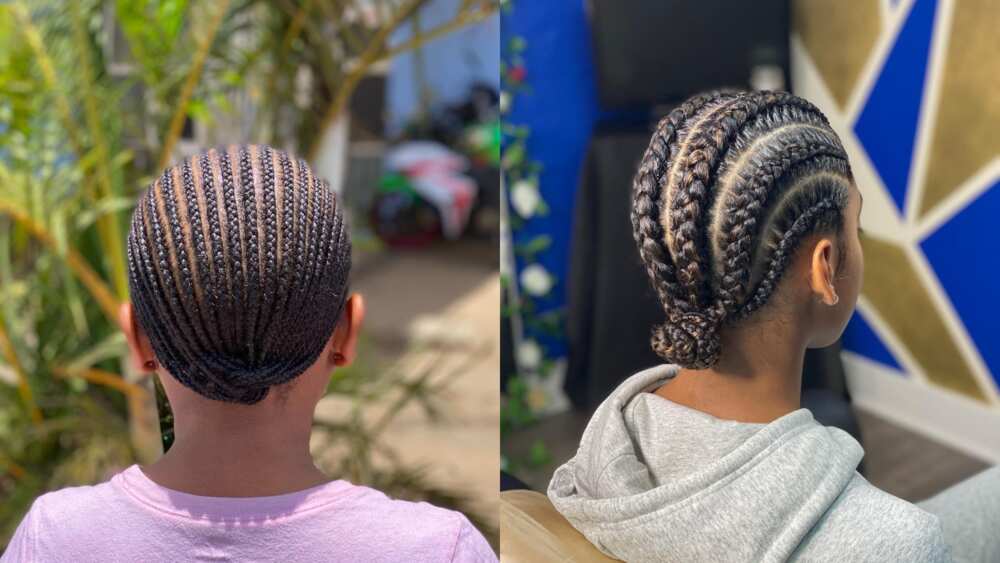 One of the most common Yoruba Didi hairstyles for natural hair is straight-back cornrows. While they were traditionally done with natural hair, braid extensions are used today. Traditionally, the Yoruba tied up the ends of the cornrows into a knot or back bun.
Mini-jumbo bridal look
Cornrows are a protective hairstyle that can help to regrow your hair and save you from the hottest months of the year. Modern brides are embracing authentic African looks for their special days. The mini-jumbo cornrows tied in the signature Yoruba back bun looks exquisite.
Didi shuku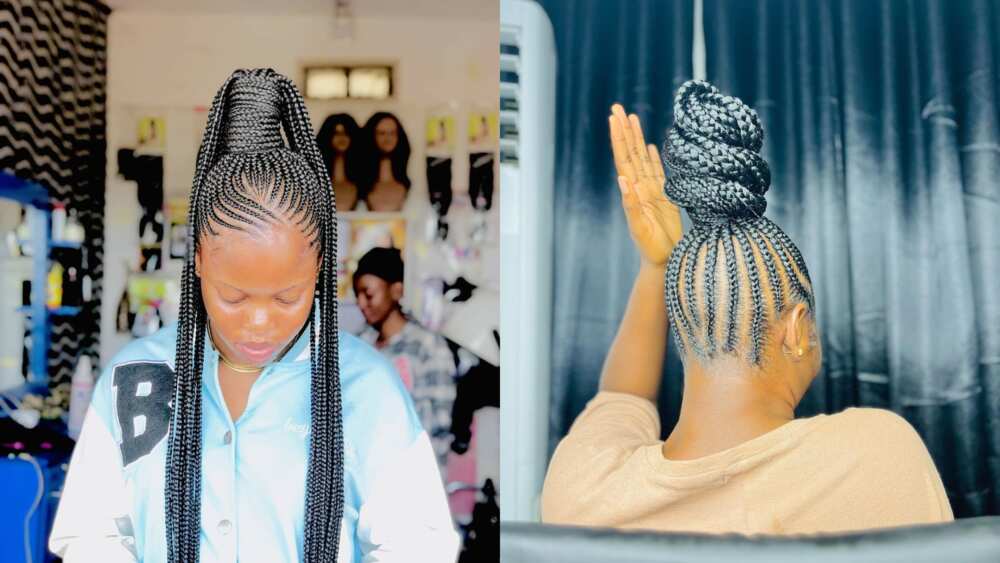 The traditional shuku hairstyle involves braiding a hump on top of the head to look like a basket. Today, this look is mainly achieved in a braided high ponytail. If you do not like the feel of long hair flowing over your back, you can request your stylist to make a shuku bun.
Pink cowrie shells cornrows
Cowrie shells are believed to bring good luck and success in the Yoruba community. They are still used today in Yoruba divination rituals. Modern people can incorporate them into their hairstyles. If you are looking for Yoruba Didi hairstyles with attachment, this look is a must-try.
Modern-age Koroba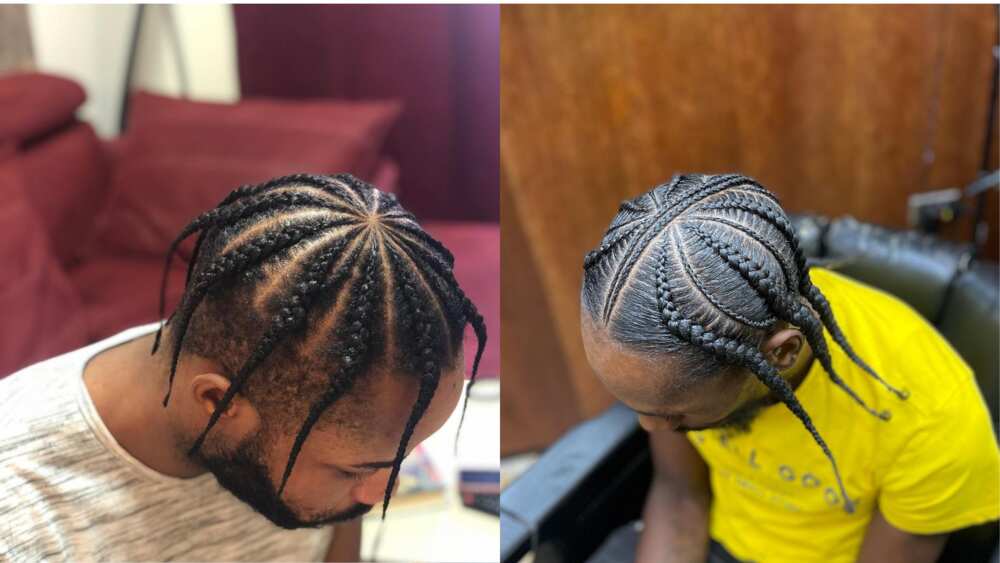 If you are looking for Yoruba Didi hairstyles without attachment, this is a must-try, especially if you have longer natural hair. Koroba refers to braided cornrows that run down from the centre of the head to the different angles of the head, usually in a circular manner.
Beaded Koroba
Beaded Koroba is simply the regular Koroba accessorised with beads. You can add some oomph to the look with your favourite beads and cowrie shells. This look is a stunner that will make all heads turn.
Single patewo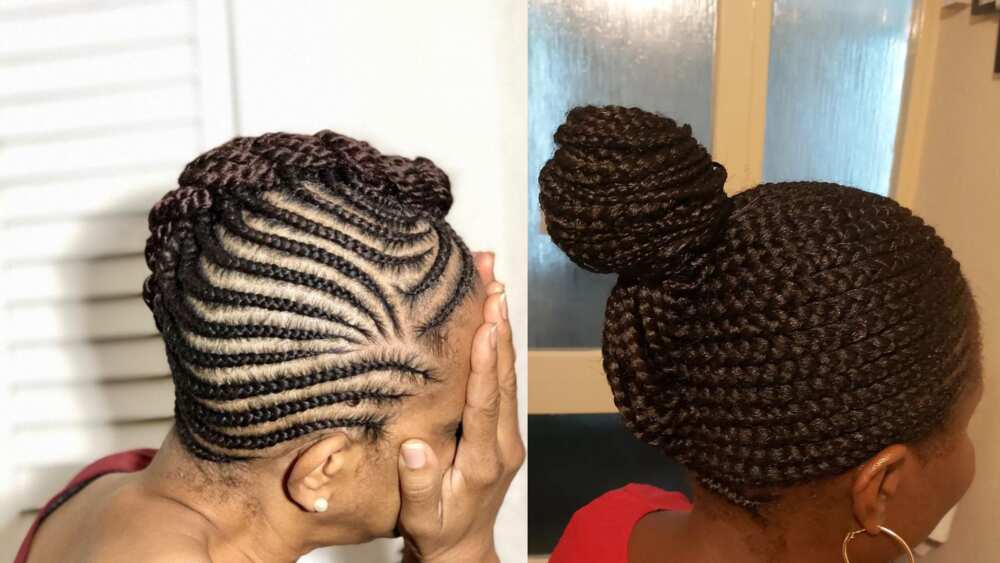 Patewo means making the ends of your hair come together oppositely. Patewo simply means to clap your hands. In a single patewo, cornrows are made from the sides of the head and meet in the middle.
Koroba with hair extensions
In the traditional set-up, the Koroba hairstyle was made with natural hair. In today's society, you can have your Koroba made with your favourite braid extensions. If you enjoy having the ends flowing down your shoulders and face, try this look soon.
Double patewo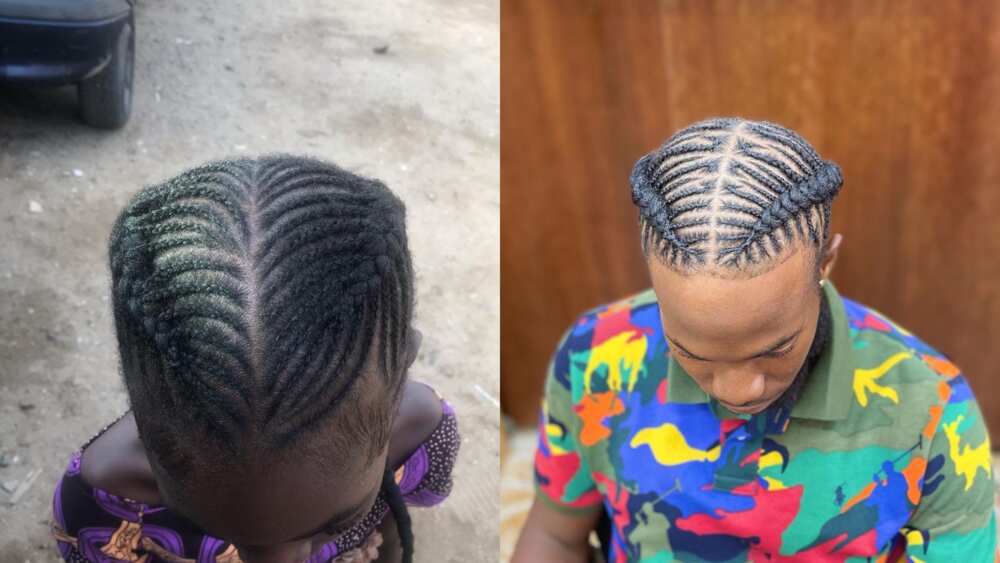 If you are looking for fancy Yoruba hairstyles for children and adults, the double patewo is ideal for you. Men and women can wear this look. This look is known as fishbone in English. The fishbone can start closer to the forehead, as seen in the second pic, or the cornrows can meet further away from the forehead, as seen in the first picture.
Criss-cross patewo
An interesting twist to the single patewo is criss-cross cornrows that meet to form a fishtail towards the bottom of the head. This look is perfect for little boys and girls.
Fancy fishbone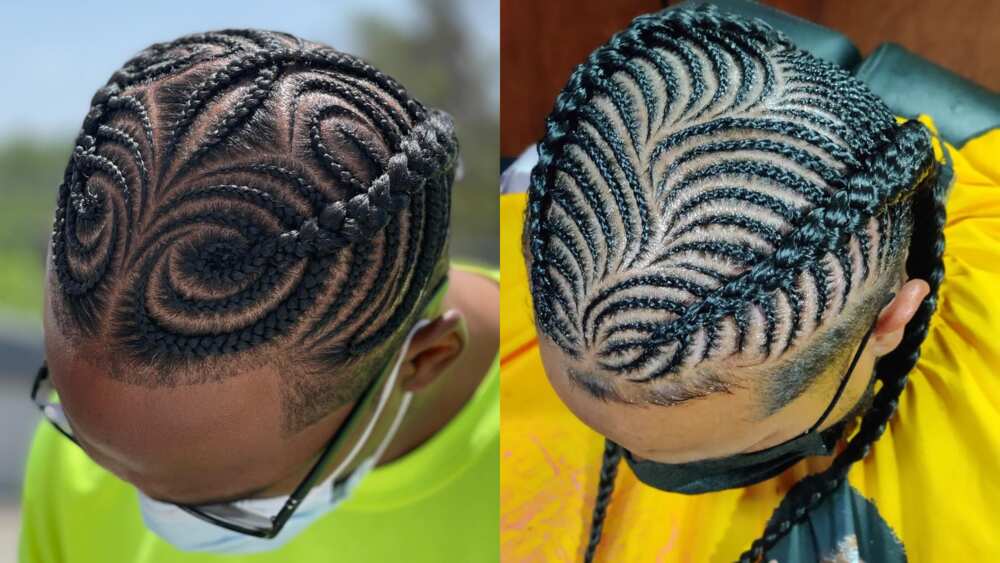 The fishbone style is made of braids plaited closely to the scalp with one thick braid in the centre. Thinner cornrows join the main braid at an angle. The fancy styles above are wavy and cute and can be rocked by any gender.
Patewo-shuku blend
The blend of shuku and patewo is interesting and unique. If you want something more colourful, you can use braid extensions in your favourite colour. There is a wide array of colours to choose from in the present-day world.
Mohawk-patewo combo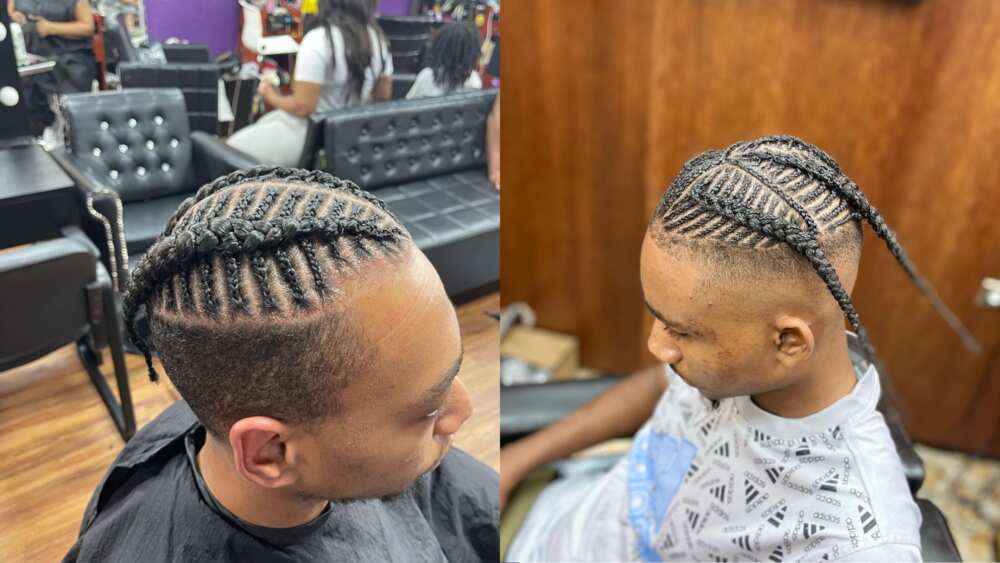 In the mohawk style, both sides of the head are shaven, leaving noticeably longer hair in the centre. You can create the fishbone or patewo style on the hair in the middle of the head.
Patewo with a fringe
A fringe is made when strands or locks of hair fall over the scalp's front hairline to cover the forehead. The fishbone-fringe combination is ideal for people with longer natural hair. If you do not have long hair, you can use hair extensions.
Side-swept Irun Kiko patewo
Irun Kiko means threaded, while patewo means fishbone. These two styles can be combined to create beautiful looks. The side-swept style is perfect for work and social events.
Pigtails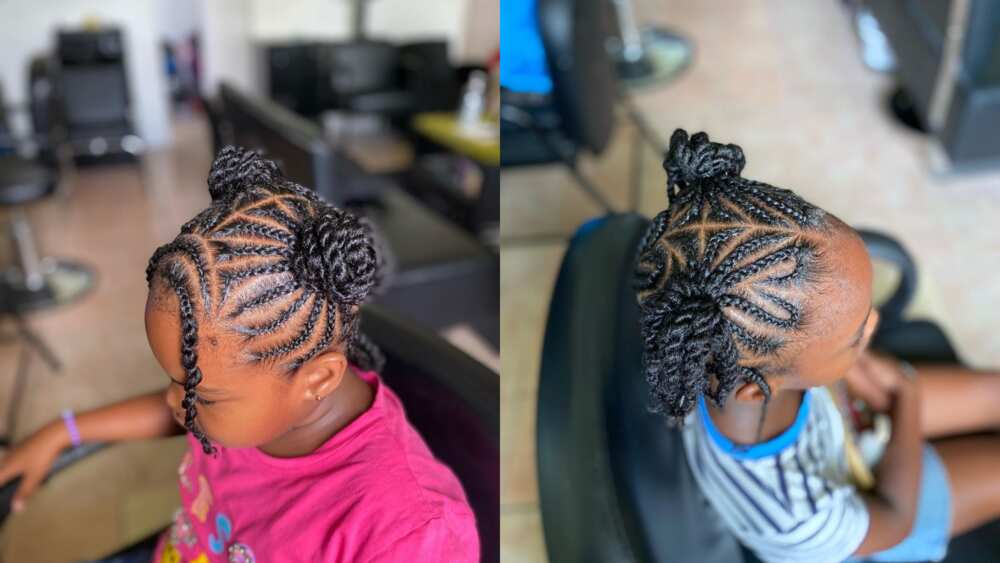 Braided pigtails are pretty common among little girls. They are trendy and timeless. Besides, they are protective. The ends of the hair can be let loose or tied up in buns.
Shuku with curls
The shuku with curls style is exquisite. The black and white image reminds you of the traditional woman, doesn't it? She looks elegant, and her style is inspiring.
Kojosuko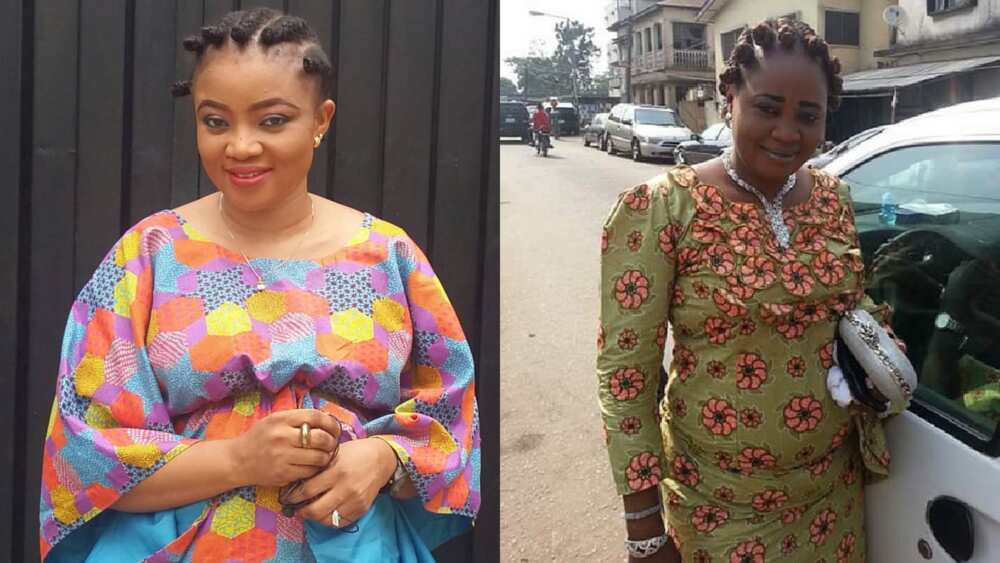 There is a common rule that people who do not groom their hair show disrespect to society. The kojosuko look is somewhat reverse cornrows with knots at the front of the head. The look can be done with natural hair as in the first picture, or with hair extensions, as in the second picture.
Straight-back kolese with knots
In the traditional Yoruba community, straight-back kolese were pretty common. A distinguishing feature of this style is the knots at the ends of each braid.
What is Yoruba hairstyle called?
There are multiple traditional hairstyles with different names, including patewo, shuku, kojosuko, and kolese.
What do Yoruba people believe about hair?
In traditional Yoruba, unkempt hair is akin to the forest. People with unkempt hair are considered mysterious, dark, and should be avoided.
What hairstyles originated in Nigeria?
Some of the hairstyles that originated in Nigeria are patewo, shuku, kojosuko, and kolese.
What does Patewo mean?
Patewo means making the ends of your hair come together oppositely. Patewo simply means to clap your hands. It translates to fishbone hairstyle in English.
There are many interesting traditional Yoruba hairstyles to try. These looks have been modernised to make them prettier and fit for the modern age.
Legit.ng recently published stunning Brazilian wool hairstyles popular in Nigeria today. Brazilian wool hairstyles are perfect for women who want to bring out their distinctive feminine charms.
These styles are easier to make and come in various colours that fit different tastes. They can also blend effortlessly with natural hair, allowing women to wear them based on the occasion or season.
Source: Legit.ng