Top 60 goddess braids styles for 2023 for trendy ladies (pictures)
Goddess braids create an extraordinary and memorable look that will help you to stand out from the crowd. They look so natural that it is almost impossible to distinguish real or faux extensions from real hair.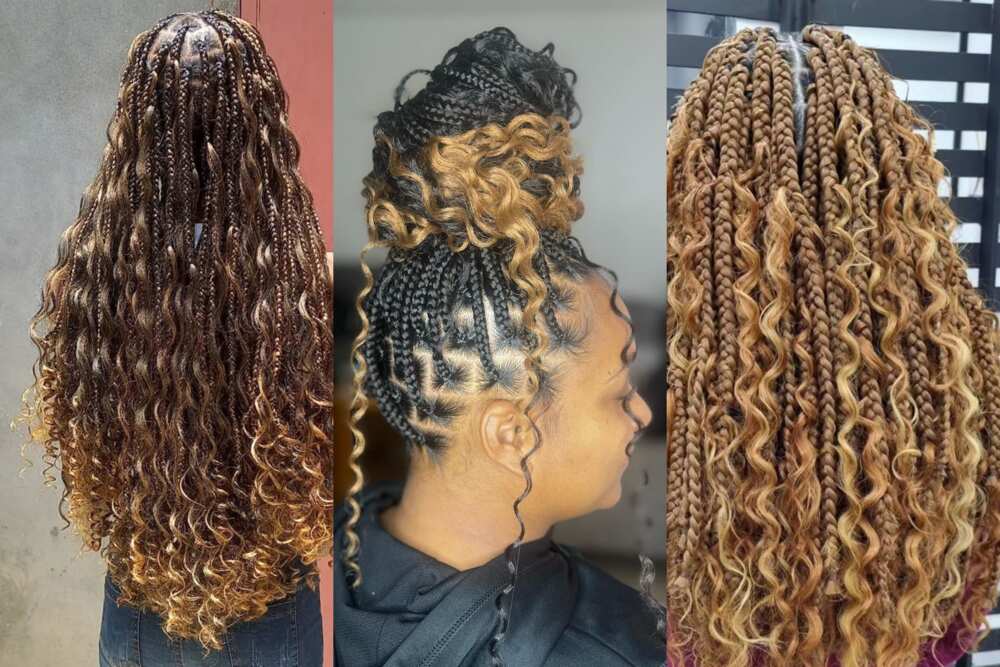 There is a diverse range of hairstyles with goddess braids. So there is no surprise that choosing one that will suit you the best is challenging.
Amazing goddess braids for every lady
Goddess braids are an excellent choice for women who want to express their individuality and create an exclusive look. You can weave these large afro bunches, which create voluminous hairstyles.
1. Long black goddess braids styles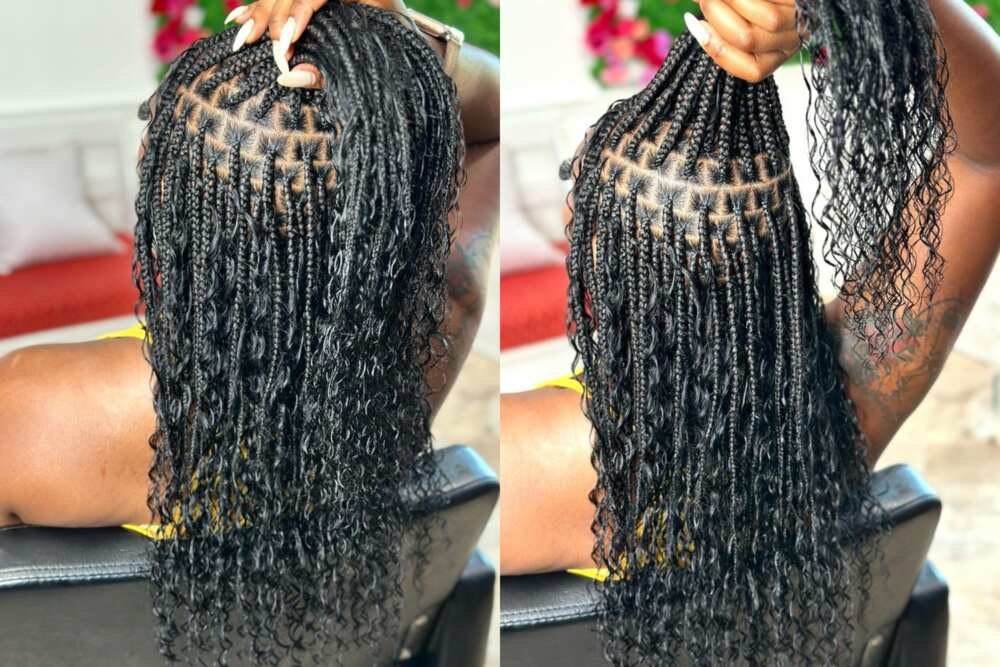 These beautiful bunches of natural colour seem simple, but still, they are able to make you look like a queen and shine.
2. The classy look
This braid style is really basic, but it will offer you an outstanding and stylish appearance. Most teenagers enjoy it since it allows them to show off.
3. High bun goddess feed in braids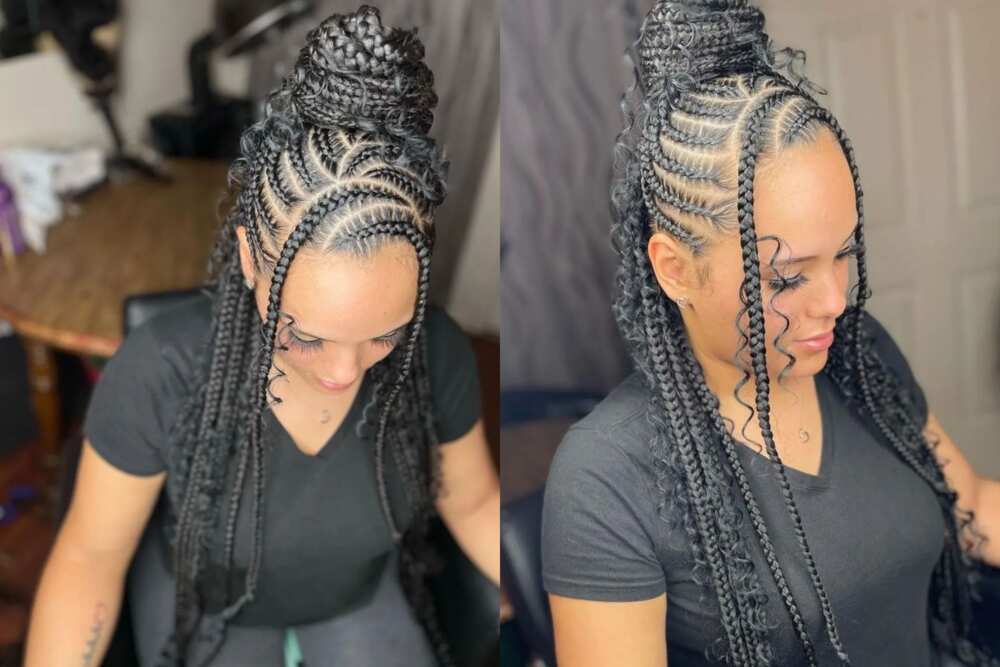 Lovers of buns should definitely try these goddess styles. It is a natural look that you can wear to any given occasion.
4. Junk style
If you love simple styles, you can go for this bold style. You can accessorize it with beads and style them in any way you wish.
5. Cute blue boho braids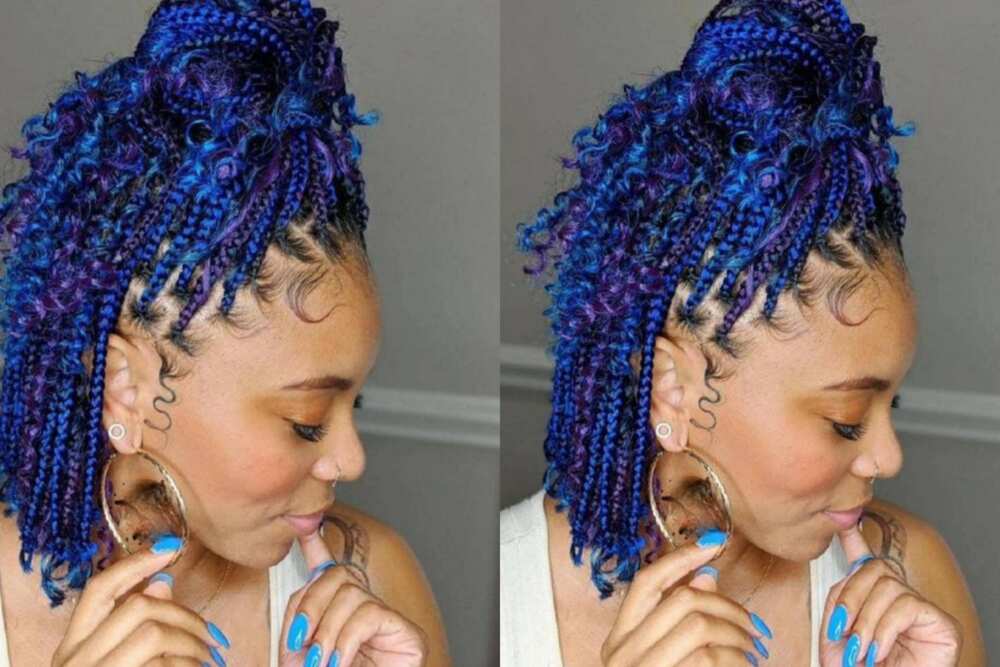 Boho braids offer you a variety of options to try out. They are relatively low maintenance style and can last for several weeks with proper care.
6. Medium plaits
You can play with height and go for a medium style that is classy and simple. Medium plaits are low maintenance and easy to maintain, which makes them ideal for women who are always on the go.
7. Brown braids
Brown braids offer a splash of colour to your hair and can be a fun and simple choice for people wishing to make a fashion statement. Furthermore, the b colour may match a variety of skin tones and is a versatile choice for a variety of events.
8. Cute bob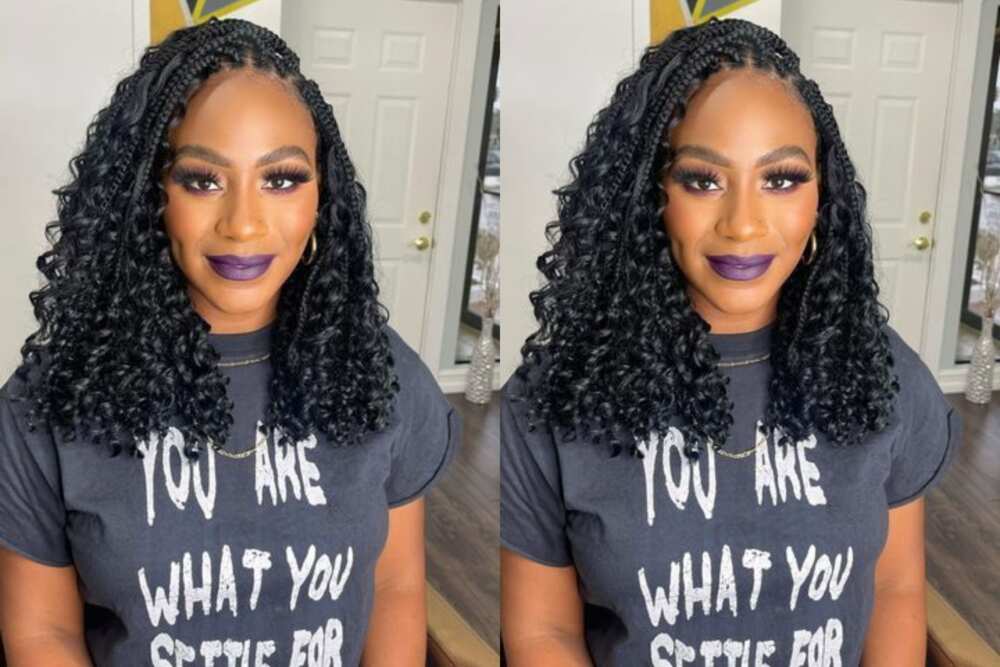 You may wear this basic yet stunning style to events such as weddings, birthdays, and cocktail parties, and you will receive numerous praises.
9. Classic goddess
These classic goddess bunches with extraordinary colours will make you look more gorgeous and stunning.
10. French curl braids
This is one of the most adored styles by brides, as it is simple and gives you the glow you need. You can accessorize with beads of your choice and style it differently.
11. Styled shoulder-length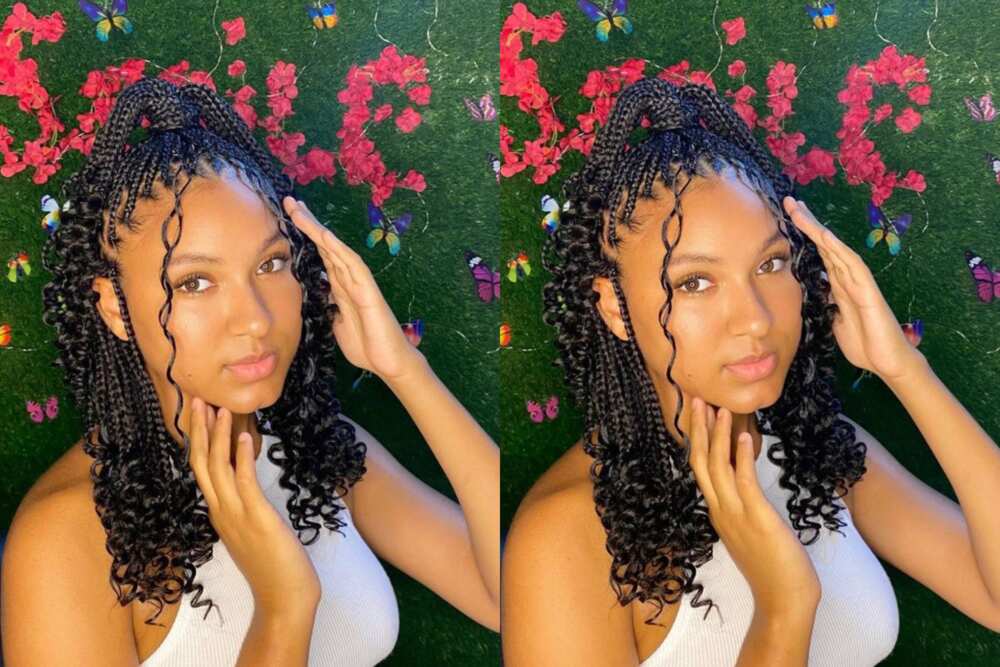 You can go for this simple look that is easy to create and simple to maintain. This can serve you several weeks, depending on the texture of your hair.
12. Maroon curls
Are you a fan of colours? Why not try going for maroon braids? They can be plaited according to your design and styled as you wish.
13. Styled black and green braids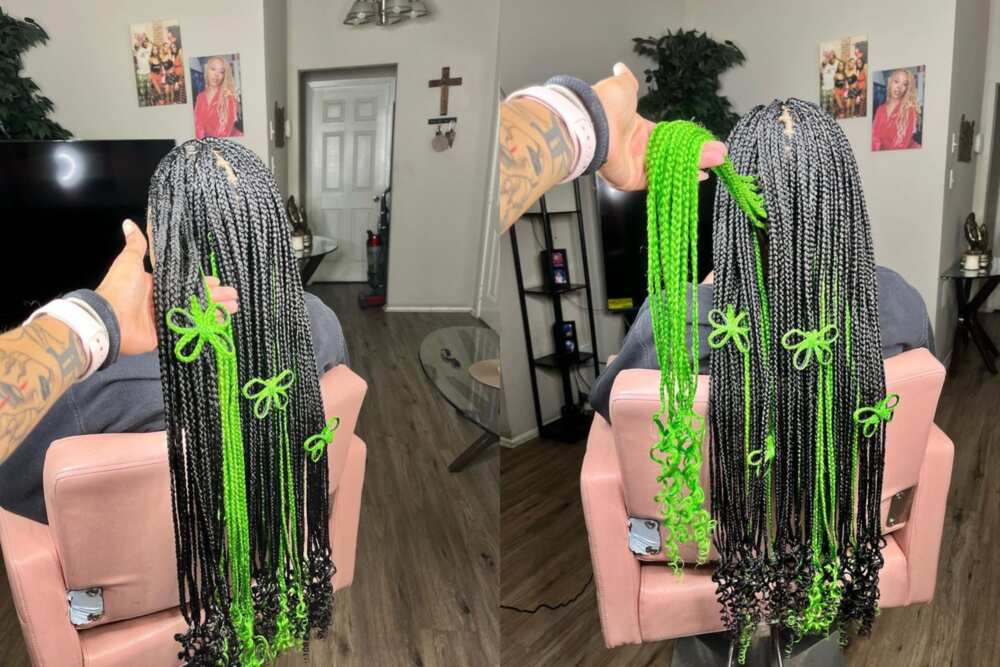 If you love experimenting with colours, then you can try the black and green braids combination. An additional styling will add a more unique look.
14. Black braids with an updo style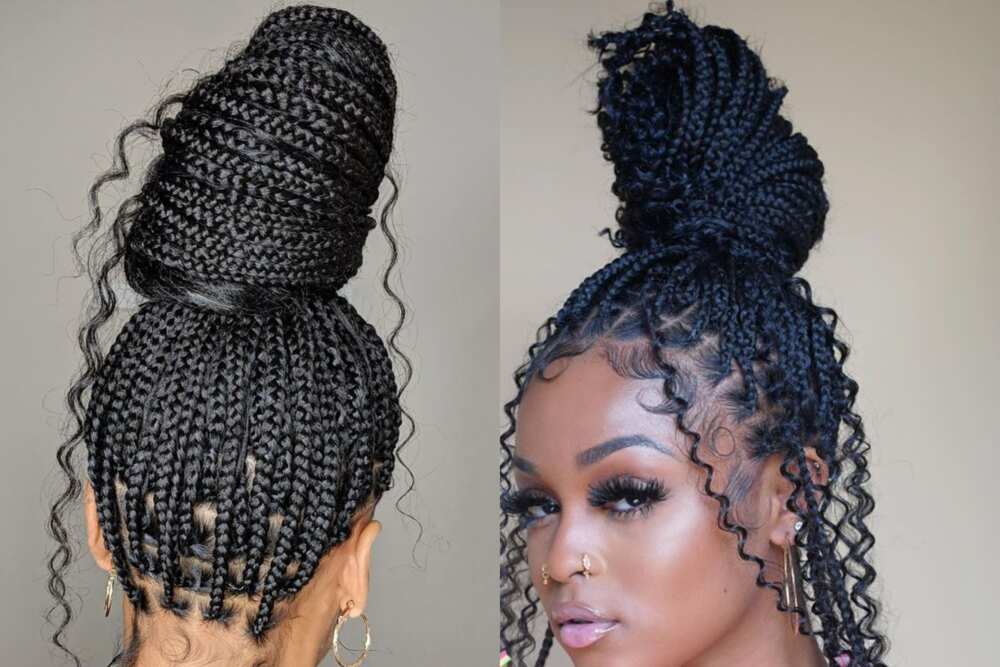 If you do not like your hair flowing behind you, you can try different options of updos with goddess braids. As an alternative, you can go for this burgundy hairstyle with a bun on top of your head.
15. Simple goddess twists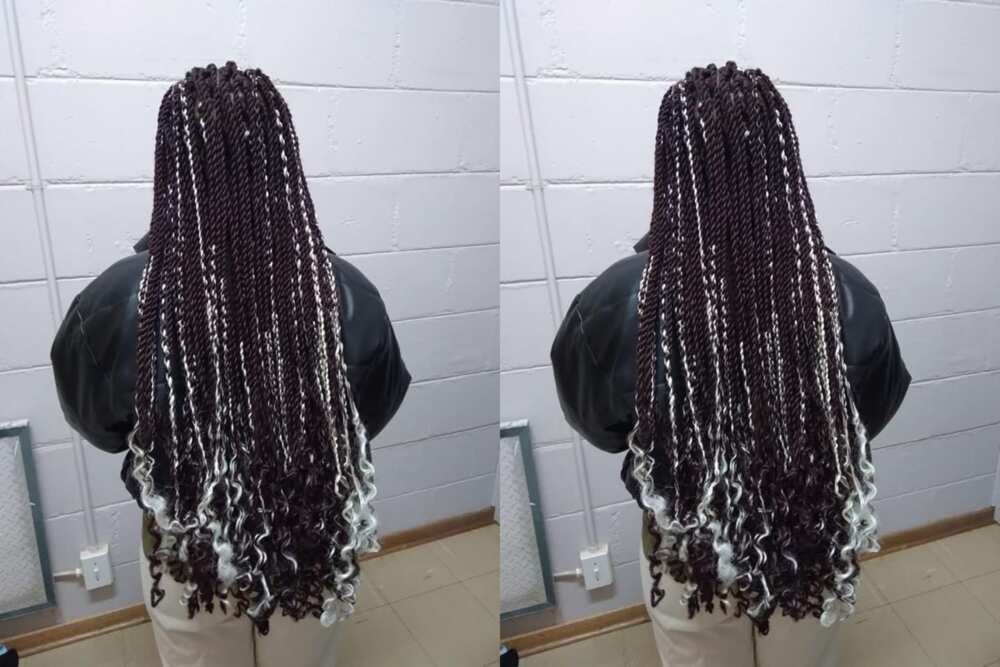 Simple goddess twists are a stylish and trendy hairstyle that is sure to turn heads. The braids provide a protective style for your natural hair, preventing it from damage and promoting growth.
16. Extra long with curly ends
If you want to look natural and gorgeous at the same time, this option of braided hairstyle is just what you need.
17. Black and white faux braids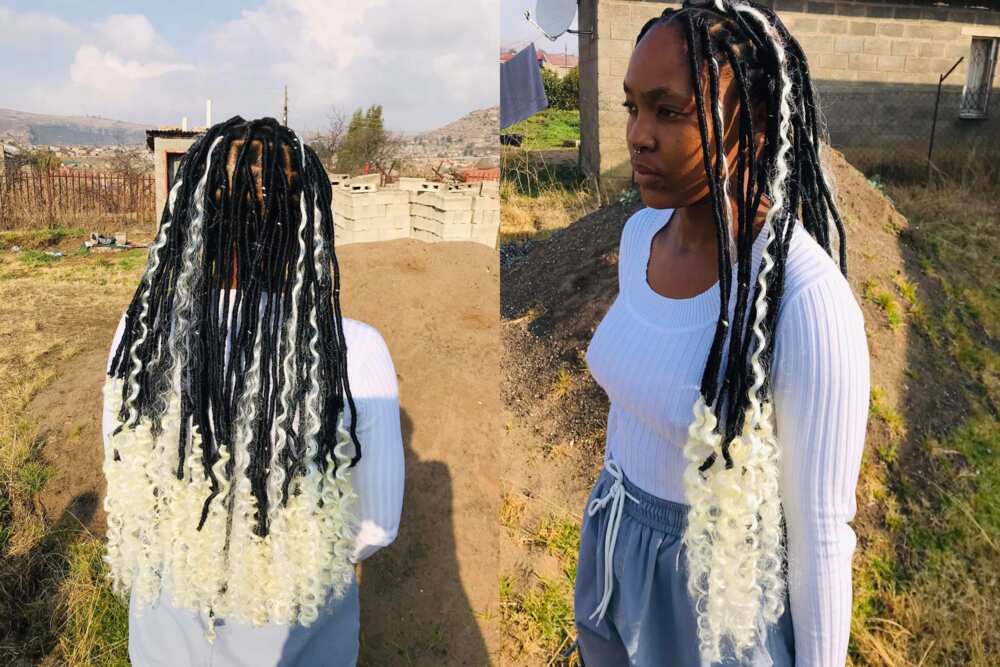 Black and white hair has been a big trend for several years. Combining it into trendy goddess braids would be a good idea.
18. Long, thin blonde style
When you want to look as bright and gorgeous as you have never looked before, your choice should be this hairdo. Combine it with a trendy half-updo and get ready to attract every single glance.
19. Goddess braids on natural hair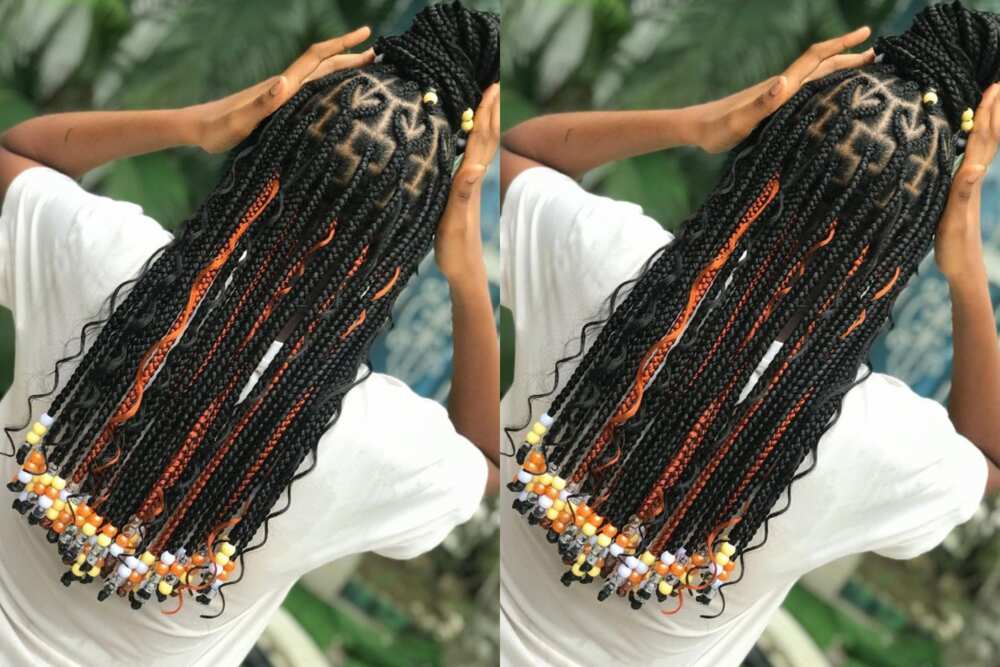 Goddess braids can be worn in a straight-back pattern and can also be styled into different shapes and sizes. These braids can be accessorized with beads, rings, or other hair accessories to add personality and flair to the style.
20. Goddess braids with cornrows
Here is another bright decision for ladies not afraid of experimenting with hair. The simple goddess braids with cornrows are suitable for all hair types, including natural, relaxed, and transitioning hair.
21. Maroon twists
Nothing can look cuter than the maroon colour on the head. The colour provides a stylish and girly appearance, while the metal beads add a touch of sparkle to the style.
22. A heart shape style
This style is perfect for those who love being simple. The heart provides a playful and energetic appearance. It's an excellent option for those who want to experiment with different patterns.
23. Bold bob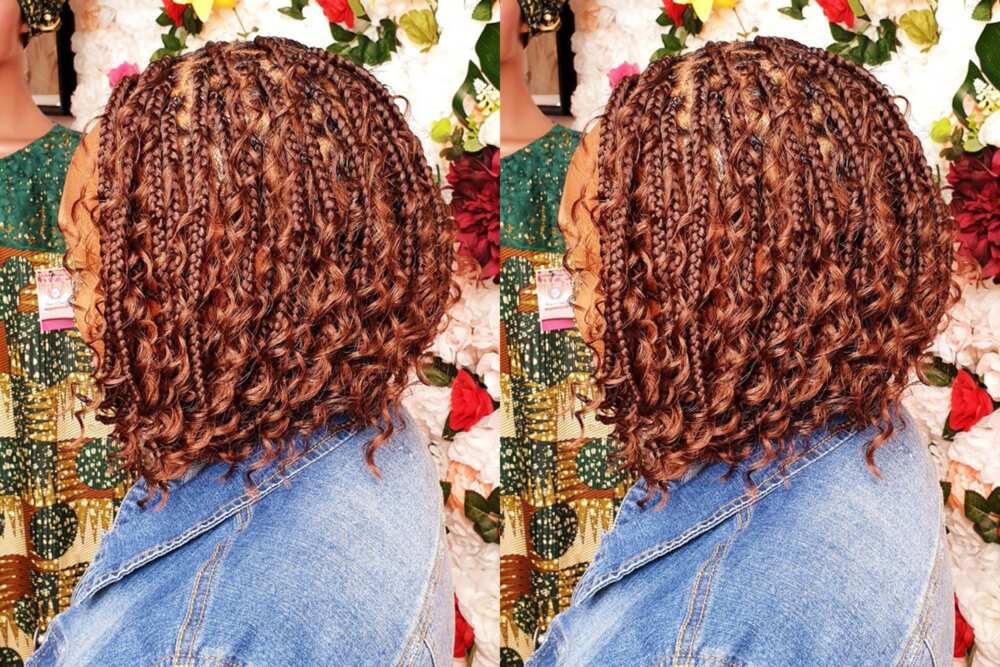 A bold bob style is a classic, versatile, low-maintenance hairstyle that suits any face shape and hair texture. Depending on the individual's preference, this youthful look can be edgy, elegant, or playful.
24. Laid-back feed in braids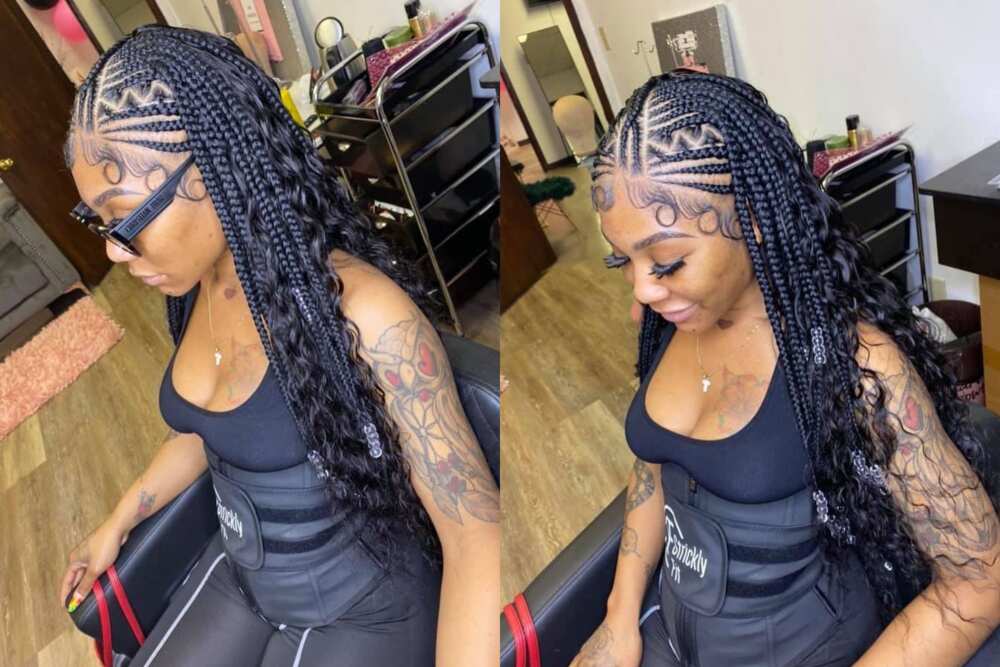 This style requires minimal styling, making it perfect for those who are always on the go or have a busy lifestyle. It is a great choice for those who want a stylish, low-maintenance, modern, and timeless style. You can also opt for ponytail goddess feed in braids that look similar to the one above.
25. Neatly braided with curls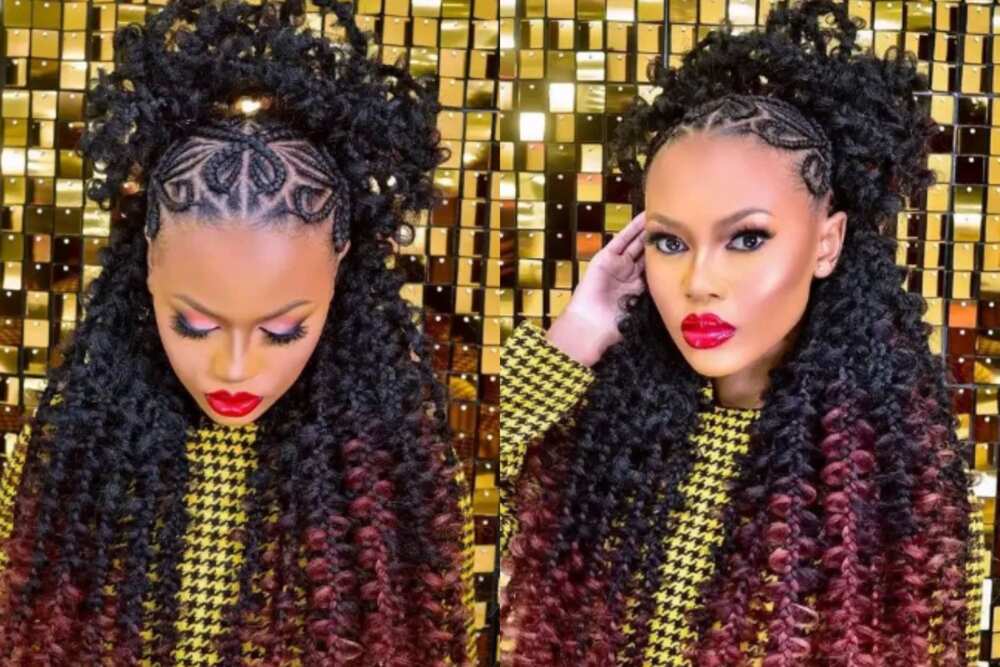 This style combines the elegance and simplicity of neat braids with the added texture and volume of curls. This style is perfect for those who want flair to their braids without going overboard.
26. Blonde braids with curls
This style can last for several weeks with proper maintenance, making it a practical choice for those who want a low-maintenance yet stylish look.
27. Brown goddess faux braids
This is another popular protective design that comes in a variety of lengths and sizes. It is simple to care for and can endure for several weeks.
28. Simple style with metal decorations
Brown is such a trendy colour today. Do not miss the fashion trend and try out this hairstyle with either metal or wooden beads. You can style it anyhow you like.
29. 2 goddess braids
If you are tired of ordinary goddess cornrows, here is a perfect option for you. Try this braided hairdo with double cornrows. It looks very neat and original.
30. Long brown braids with white curls
If you are tired of the standard black box braided styles, try braiding your hair with brown braids and then adding white curls. It gives you a distinct appearance that is guaranteed to turn heads.
31. Red hot goddess braids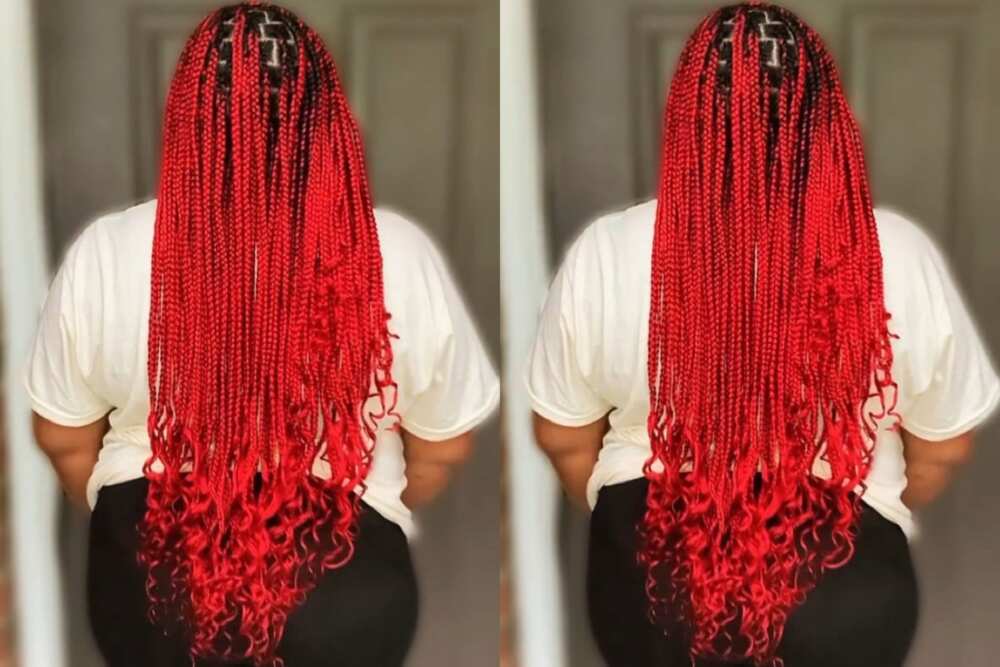 This look is ideal for folks who love strong and vibrant colours. The red braids add a fun and dynamic look. It's a great option for individuals who like to try out different hues and patterns.
32. Blonde ombre laidback with a twist
Shiny blonde cornrows with finishing twists will make you look stunning and luxurious. Try them out for a sophisticated hairstyle.
33. Neatly braided style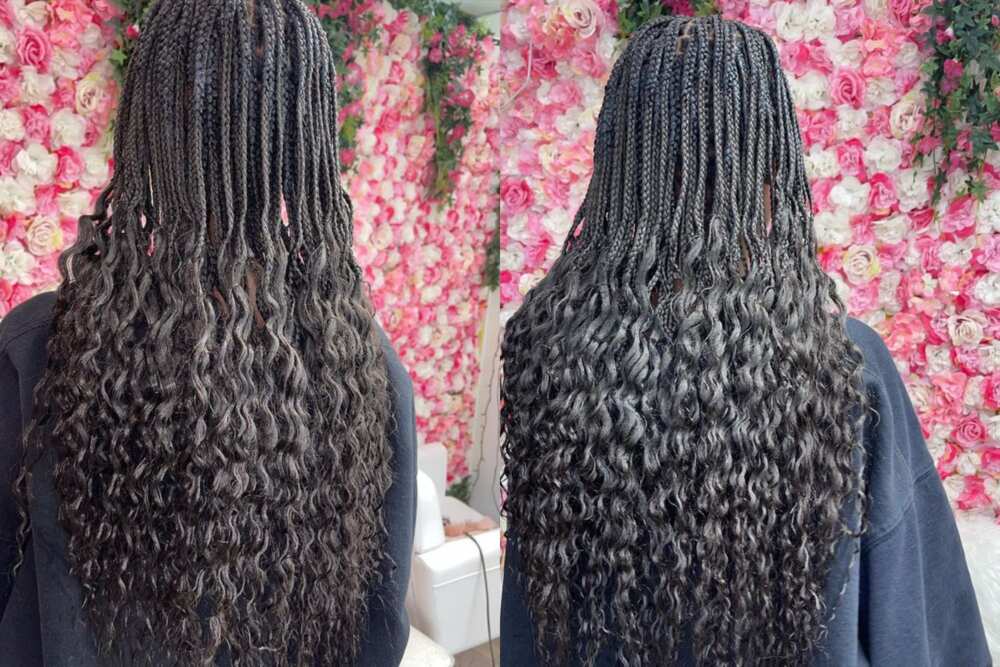 If you are looking for a fun and playful hairstyle, then this neatly braided style could be the perfect option. As for the braids, you can go for black or any other colour of your choice. Ensure that the braids are curled halfway, as shown above.
34. Long box twists
Long box twists are perfect for those who want to make a statement. They are boldly larger and can be worn in various colours. It is a good choice for those who want a unique and eye-catching hairstyle.
35. Black with a golden touch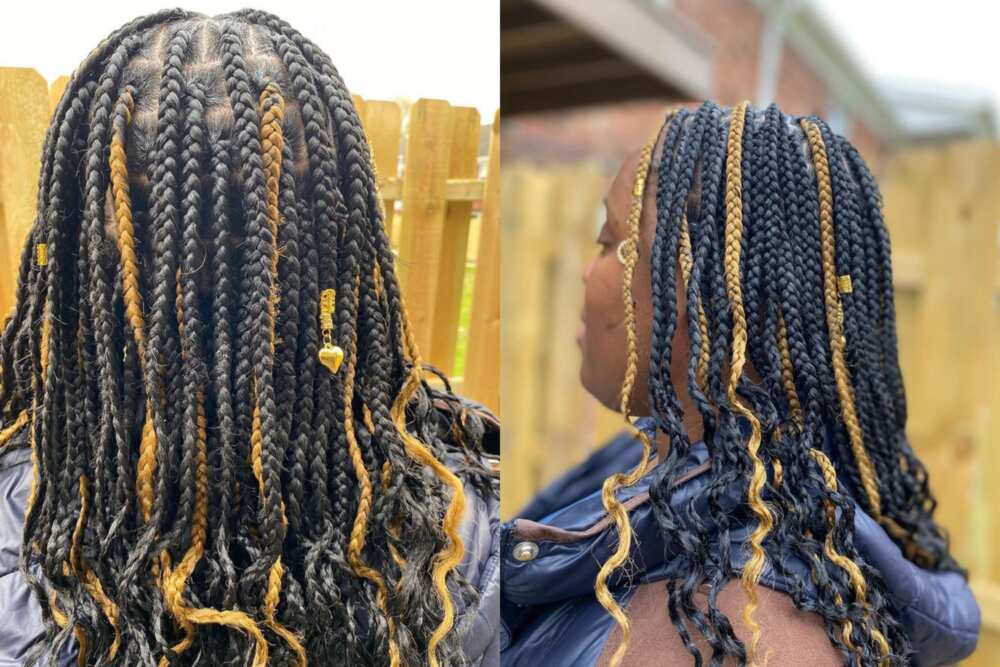 Try these black with a golden touch braid for a basic yet gorgeous look. It has a more traditional appearance with a modern twist.
36. Long boho goddess braids
Faux braids can be done in various sizes, shapes, and patterns, making them a versatile hairstyle option. They can be worn as a protective style or as a bold fashion statement.
37. Faux with curly ends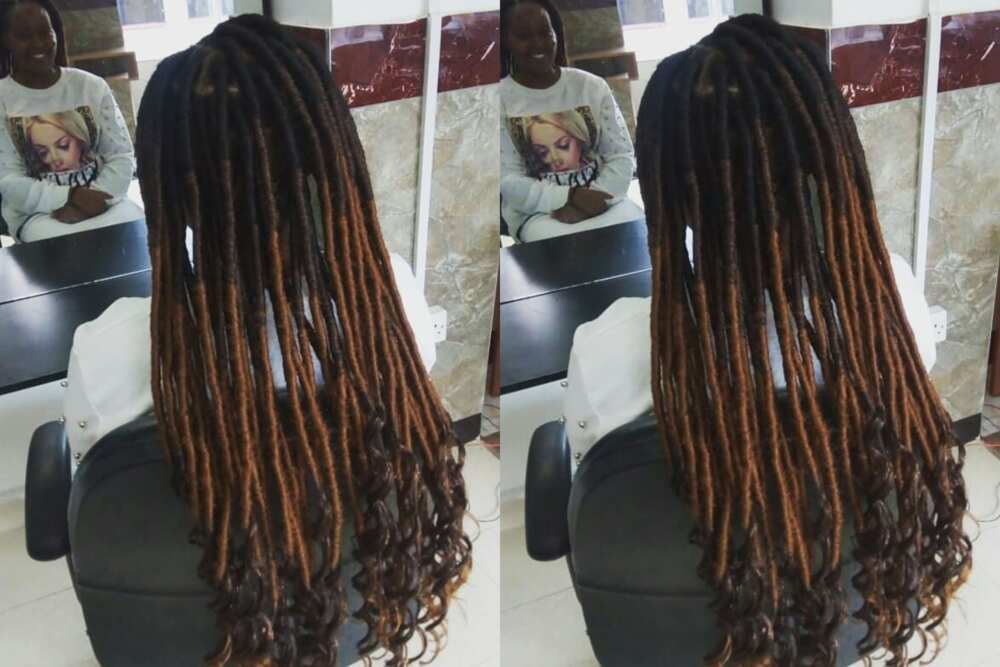 The faux style is a great choice, for it is a protective style that can help to keep your natural hair healthy and strong. It provides a low-tension method for creating neat and sleek braids that are less likely to cause breakage or damage to your hair.
38. Styled braids with curls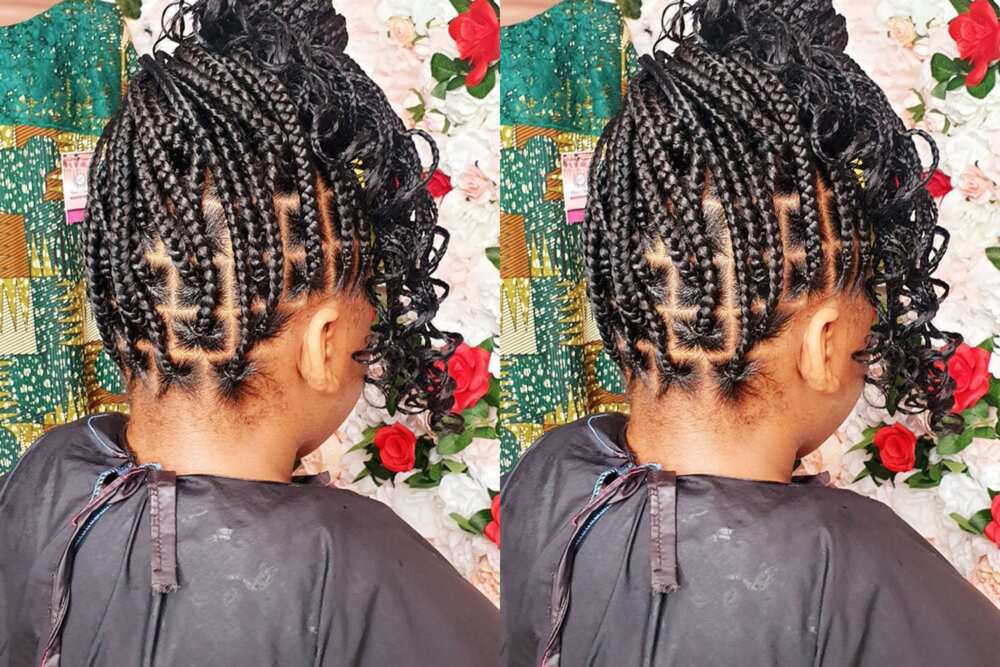 This stunning and bold style is perfect for anyone who loves long, flowing hair that can be styled in various ways.
39. Golden style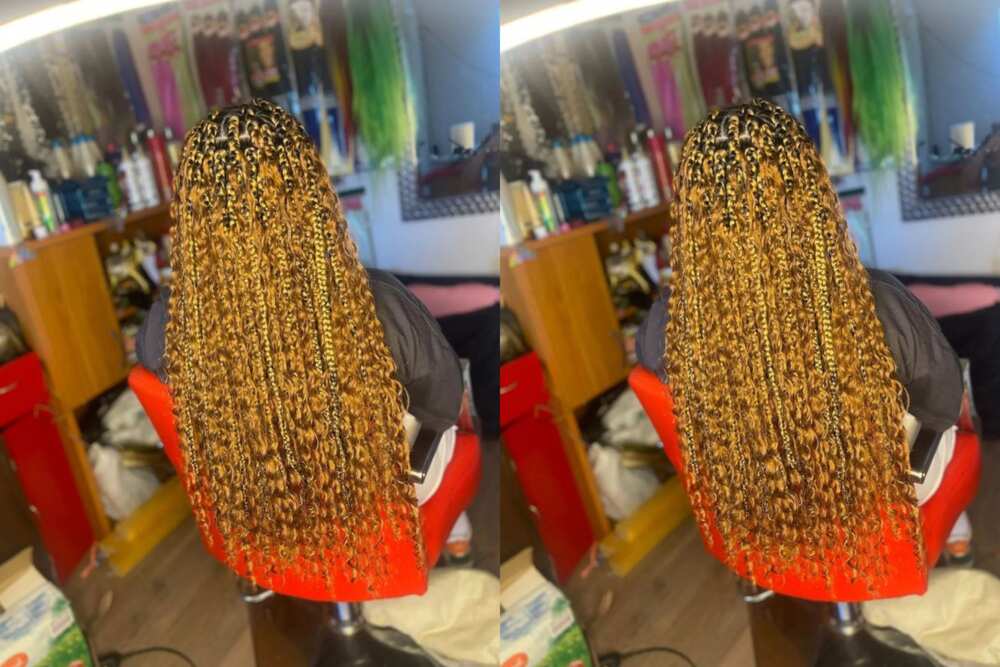 These goddess braids can be worn with any hair length, from short to long, and can be adapted to any occasion, from casual to formal.
40. Blue braids with white curly ends
The white curly ends add a touch of sophistication and elegance to any look, making the style perfect for special events.
41. Double bun style
This style is versatile and can be customized to suit your style and preferences. You can choose the length, thickness, and colour of your braids or weaves, making it easy to create a unique look.
42. Long box with curls
This long box with curls is chic and classy. It can be done in different patterns and styles. Adding beads gives the style a dramatic look for those looking to make a statement.
43. Half-updo style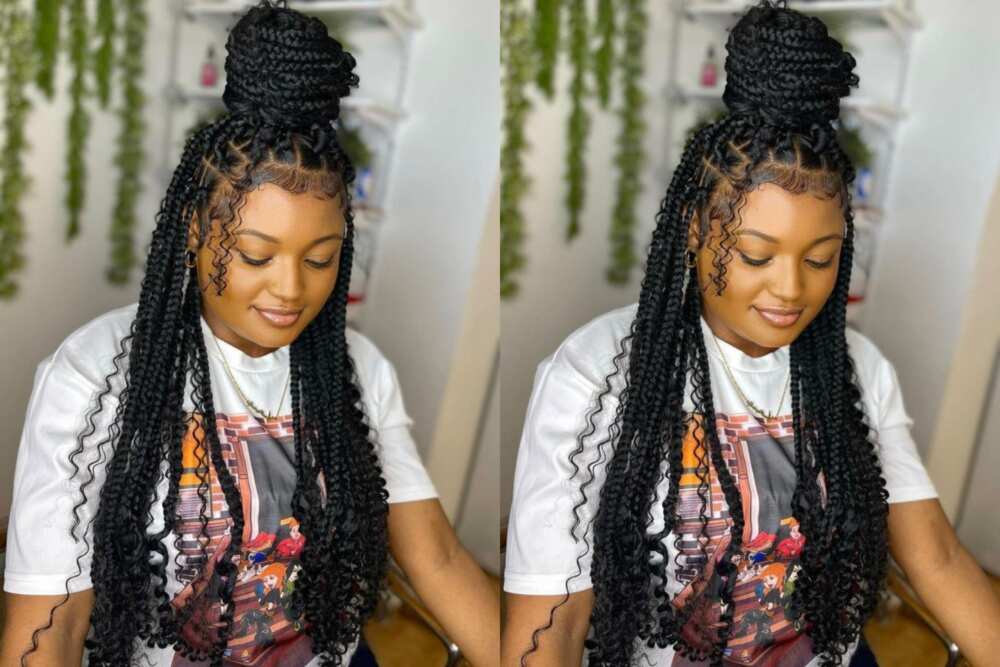 For those who love long braids, try having these jumbo braids. This gives you a more natural look and can help to boost your confidence.
44. Red touch with curls
This style is typically very comfortable, especially when installed by a professional stylist. You can wear it for extended periods without discomfort.
45. Tribal braids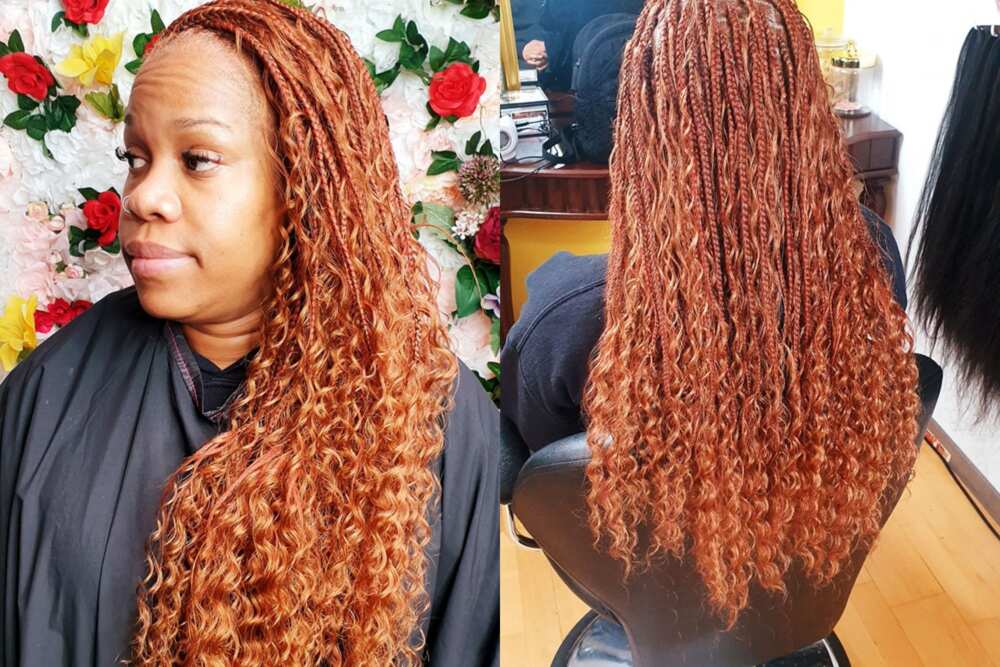 This hairstyle is considered simple, yet it creates a unique and spectacular appearance. Beads and cowrie shells can be used to embellish them. They are appropriate for all occasions.
46. Pink and black combination
Another elegant colour is the combination of black and pink. You can decide to curl all the braids or just have a few strands of curls hanging.
47. Medium knotless goddess braids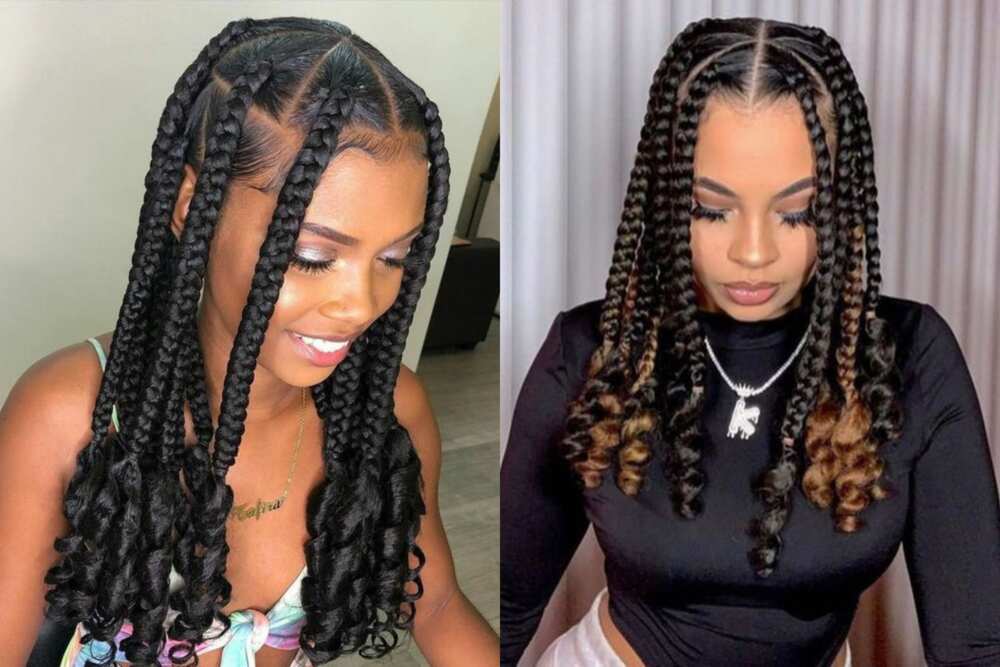 The best thing about this hairstyle is how simple it is to style and maintain. It is also simple to clean and remove, and you may experiment with different extension colours to achieve a beautiful effect.
48. Black-boxed bob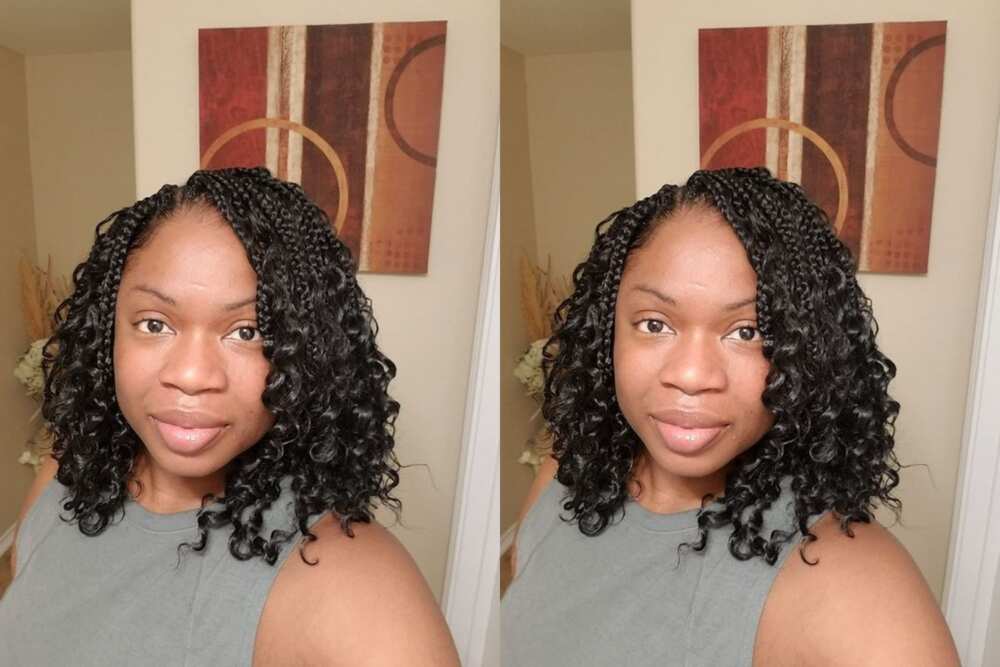 This is an excellent choice for women who want to express their individuality and create an exclusive look.
49. Jumbo goddess box braids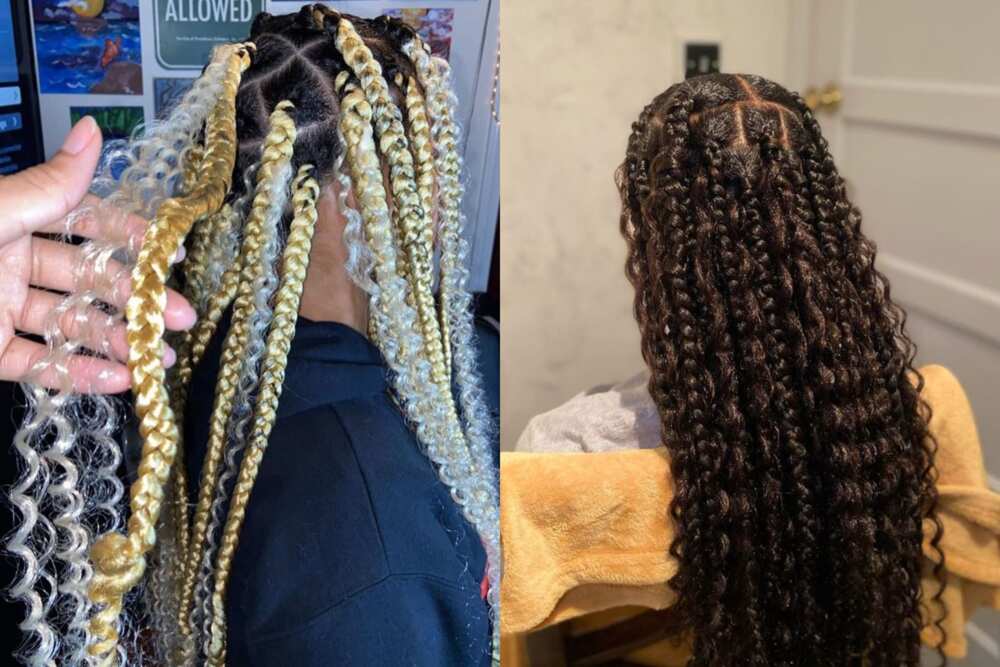 This is yet another classic hairstyle that can be worn to work or at special events. This is the finest hairstyle for an oval or round face shape since the parting emphasises the centre of your face.
50. Simple shoulder length
The blonde highlights add a pop of colour to the hairstyle, making it more interesting and unique. The simplicity of the box braids makes it a low-maintenance hairstyle that is easy to manage and can last for several weeks with proper care.
51. Updo Boho goddess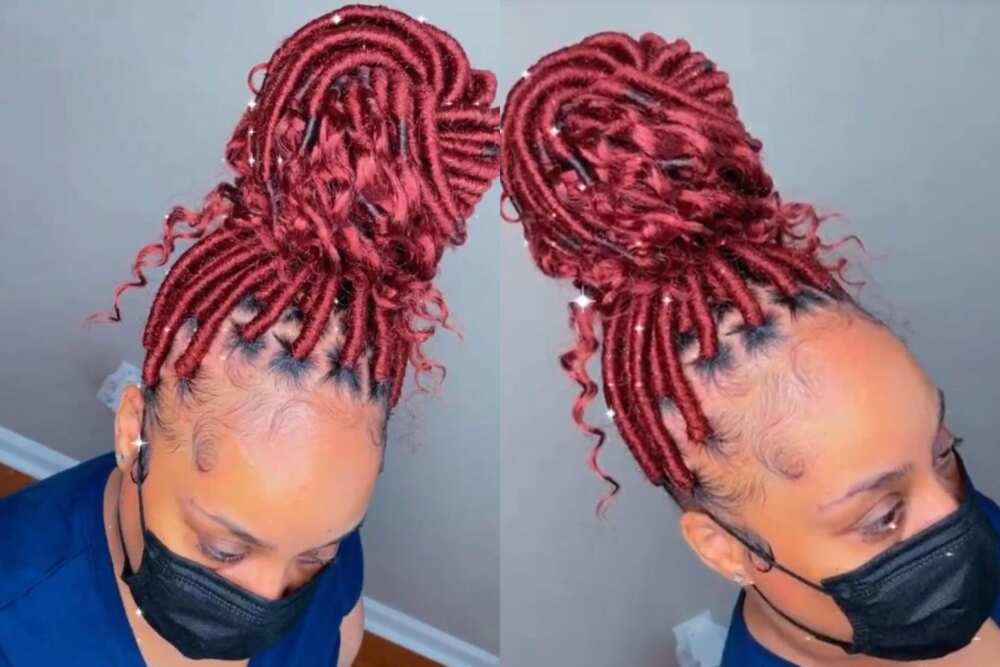 This simple hairstyle can be a cute and easy option for anyone with straight or slightly wavy hair. Proper care and maintenance can keep your hair looking neat and healthy while also being stylish.
52. Fulani braids with long curls
This style is perfect for the office, social parties, and other occasions. Depending on your presence, the ends of the stitch lines can be left dangling or tied into a bun.
53. An updo style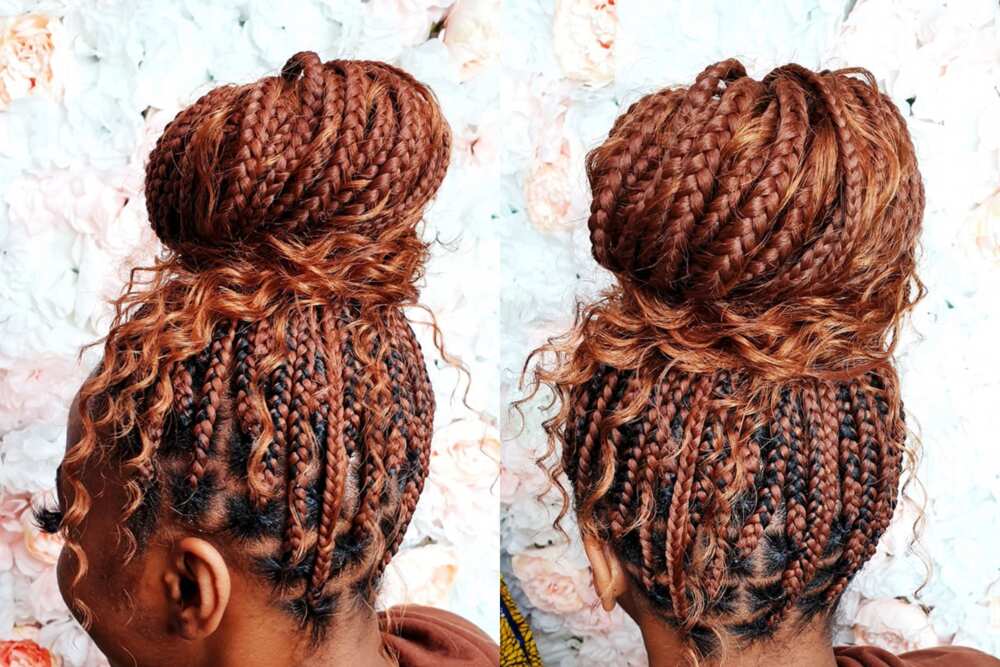 This hairstyle is ideal if you want to seem bright and beautiful. It honours your ancestry by combining culture and style.
54. Fulani with curls
Fulani with curls is another simple style that is adapted by many. The curls add a unique appearance to the entire look.
55. Long goddess knotless braids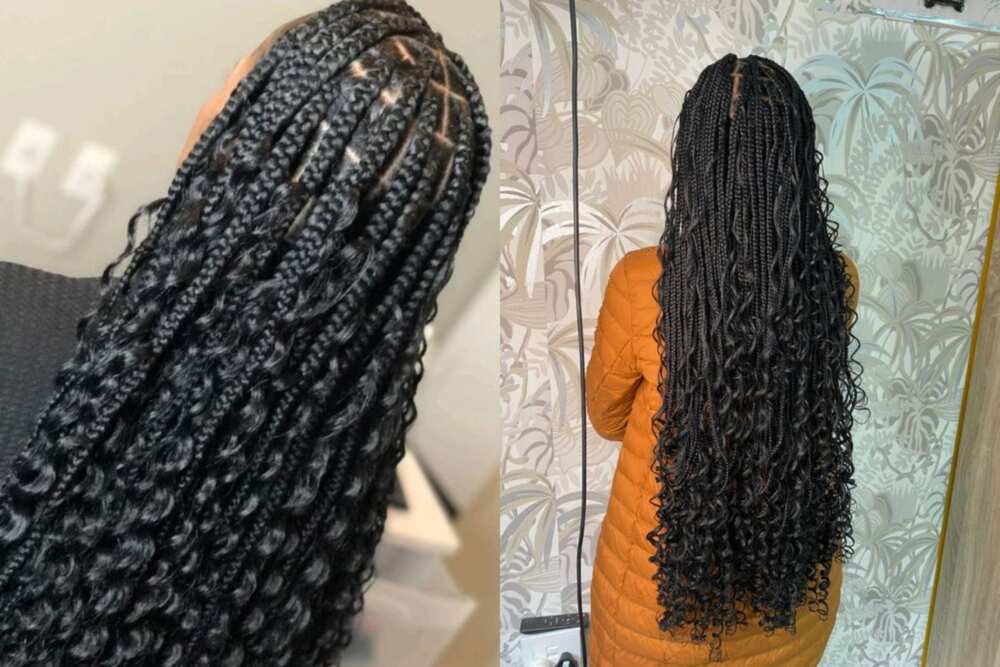 Long knotless goddess braids are minimal maintenance and can last for several weeks, making them an ideal choice for women who wish to save time and effort while styling their hair.
56. Brazilian braids
Mini plaits can last for several weeks, allowing for extended periods of hair growth without the need for frequent styling.
57. Jumbo goddess braids with curls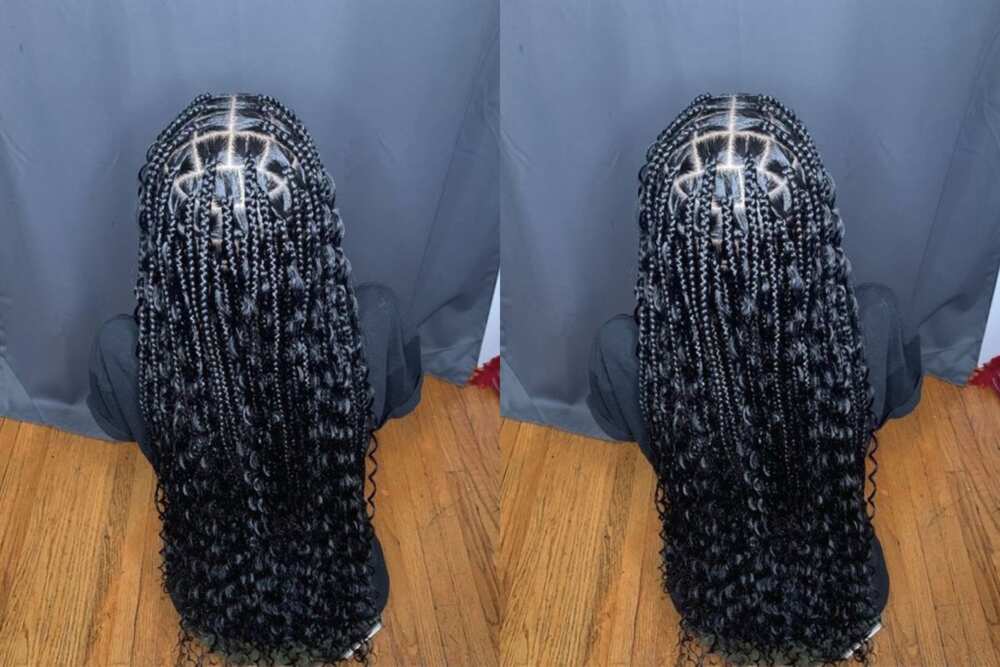 These jumbo goddess braids with curls can be styled in a variety of ways, such as in an updo, a bun, or a left down for a more casual look.
58. Simple dark brown braids
If you dislike bright colours, you can choose a more subdued brown. Still, it will highlight your beauty.
59. Medium-length goddess braids with curls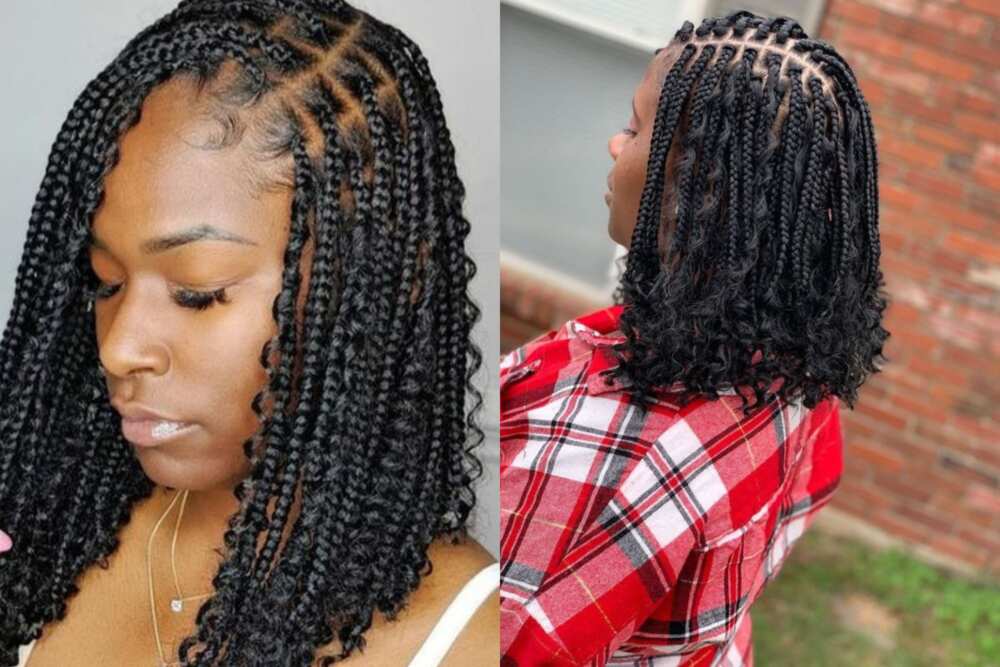 Instead of too-long braids, opt for medium-length goddess braids with exclusively black curls. You can style your hair by splitting it into two pieces.
60. Short deep blue style
While blue is not a popular shade for many people, it can look great on anyone who isn't scared to experiment with new looks. The hairstyle can be worn in a bun or left loose.
What are goddess braids?
Goddess braids are simply braids with curly strands added to the end or throughout the braids.
What's the difference between goddess and bohemian braids?
Goddess braids may be larger, more defined, and have a more intricate pattern, while Bohemian braids are a more relaxed and natural look.
What's the difference between goddess and box braids?
Goddess braids are easily styled into box braids. As a result, they are not different because box braids are a style that may be transformed into many forms.
How long does goddess braids last?
Goddess braids can last for several weeks, typically between 4-6 weeks, depending on how well they are taken care of and how quickly the hair grows.
The goddess braids hairstyle is a classic and flexible look that has been popular among ladies for many years. There are limitless variations of this style that can suit every personality and occasion, from bold bobs to beautifully braided curls.
Legit.ng recently published an article featuring simple black toddler hairstyles every parent can master.
You may develop and manage gorgeous looks for your youngster with creativity and care. From simple ponytails to braids and twists, here are some easy black toddler hairstyles every parent can accomplish.
Source: Legit.ng