35+ Nigerian short weave hairstyles you will absolutely love
Not every woman loves long hair. Interestingly, many Black women choose short weave hairstyles because they are low maintenance. Besides, they are cute and classy, especially for the modern woman who loves fashion and style.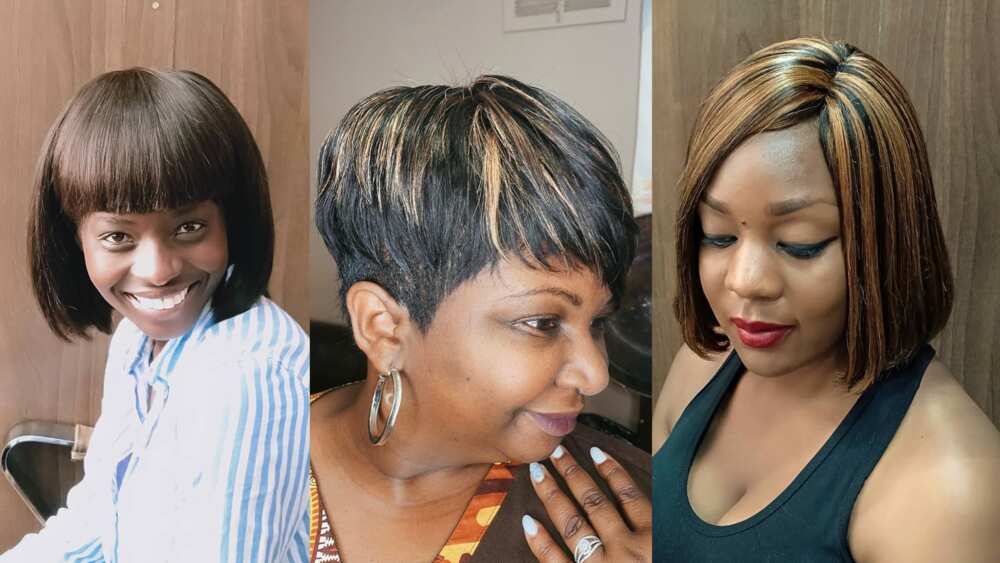 Short weave hairstyles are trending because of how beautiful they look on the present-day Black woman. Many women have welcomed short hair weave with open arms, and we are here to inspire your next look.
Short weave hairstyles to rock today
With the rise in preference for short hair among Black women, the demand for short hair pieces has also increased. Below are looks you should try soon because they are fabulous and eye-catching.
Short flat iron weaves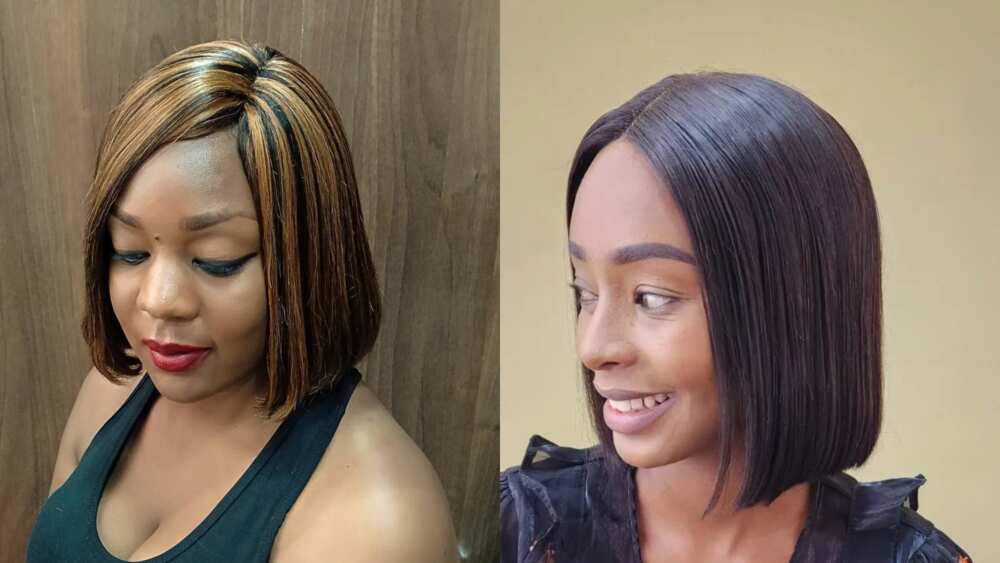 If you love your hair soft and smooth, then a short flat iron weave is the right fit for you. You only need water and a leave-in conditioner for the hair to have a soft natural lustre. Short flat iron weaves are available in multiple colours. You can ask your stylist to section the hair in the middle or towards the side.
Nicki Minaj-inspired look
If you search for pictures of short weave hairstyles, you will probably come across celebrities who have rocked the same. Nicki Minaj is known for her signature pink hair. You must agree this look is fashionable and bold!
Retro Afro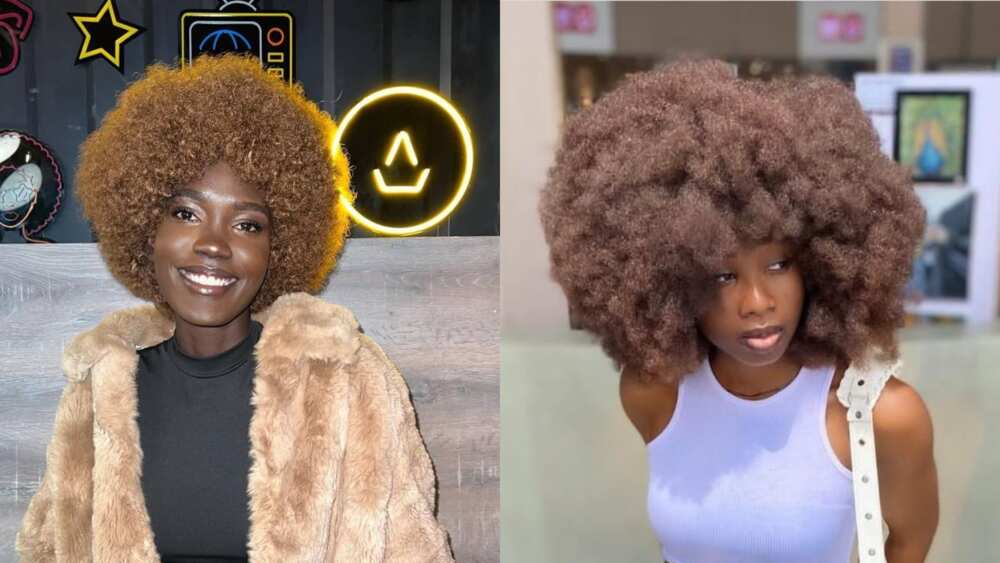 Retro Afros are some of the trending short weave hairstyles for Black women today. Not every woman has thick and curly hair to rock a natural afro. Besides, a natural one is significantly harder to maintain. Solution? Get an Afro weave.
Undercut bob
An undercut bob haircut is when a part of the hair is kept relatively shorter than the other. This look is ideal for the office, social events, and any other engagement. The blonde highlights give the look some extra oomph.
Classic bob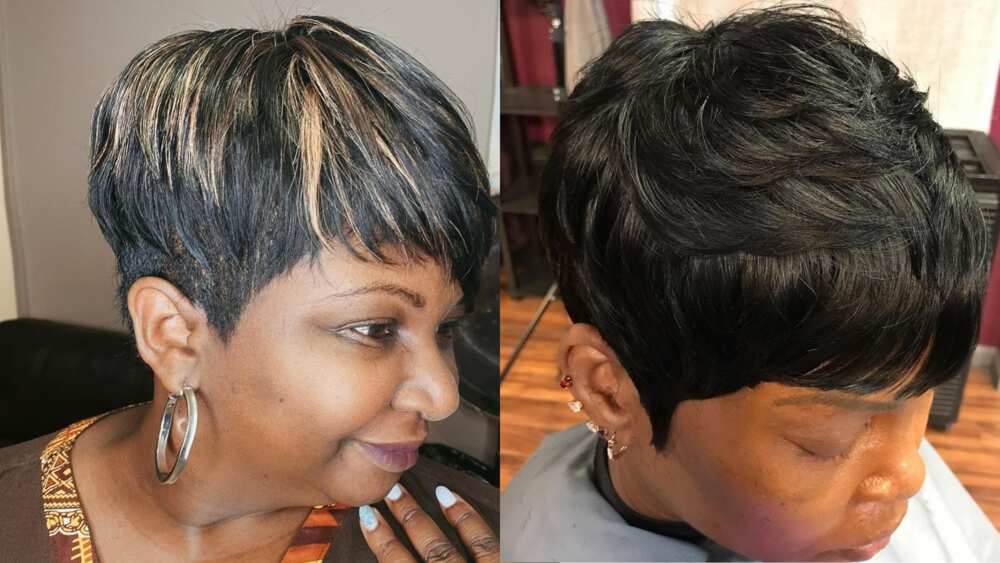 If you like being cool and looking hot (and who doesn't?) your hair is definitely part of the plan. A classic bob weave will instantly upgrade your look. While many women wear all-black bobs, you can revamp the look by adding some highlights. You can also play around with the direction the hair flows.
Artistic queen
If you are looking for unique short weave bob styles, the look above is a must-try. You can shave one or both sides of your head and have the stylist install the weave in the remaining hair. This look is particularly nice for the artistic woman.
Super short and curly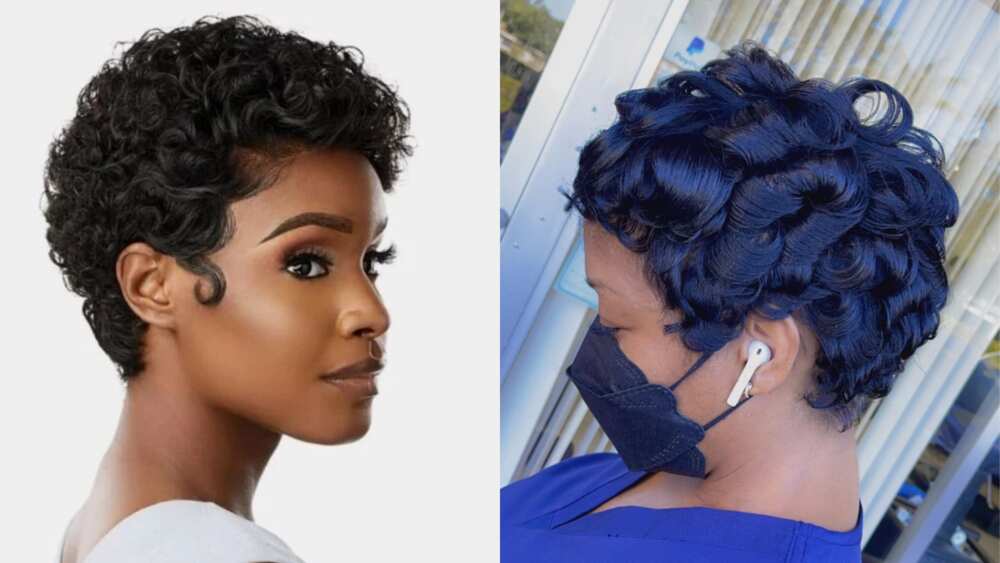 If you are looking for fabulous short weaves with curls, the looks above are for you. The above looks are low-maintenance, time-saving, and versatile. They also showcase your best facial features and are confidence-boosting.
Green and bold
Green is the colour of growth and abundance. If you are in a season of growth in any aspect of your life, consider rocking this look. The green weave gives a sense of maturity, right?
Pixie hottie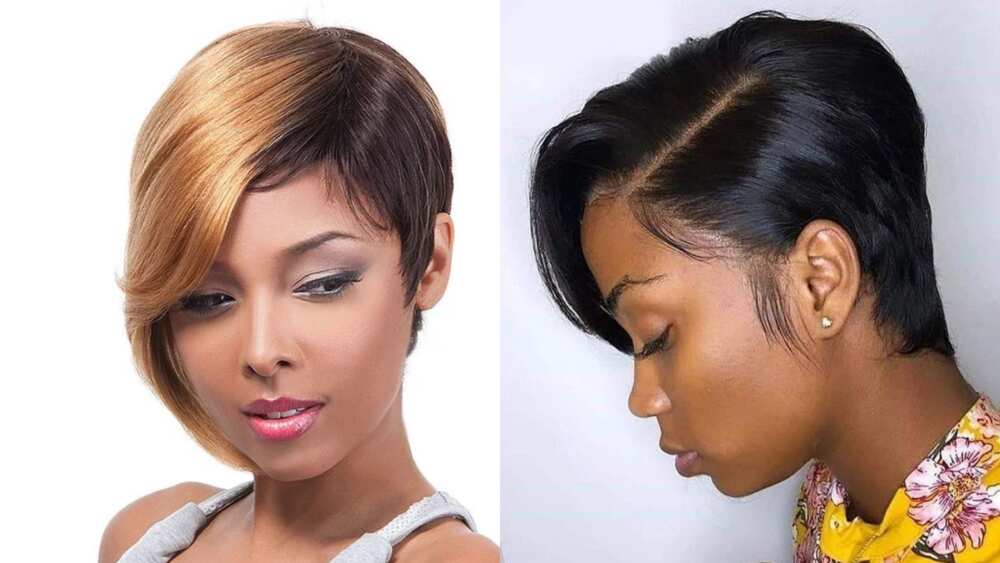 The wispy bangs styled to the side make a statement! The pixie weave is ideal for the modern woman who is bold and confident.
Minimal leave-out bob
Some women do not mind hair flowing over their faces. If you are one of them, rock this style. It covers almost half of your face. How cool is that?
Shorty-shorty bangs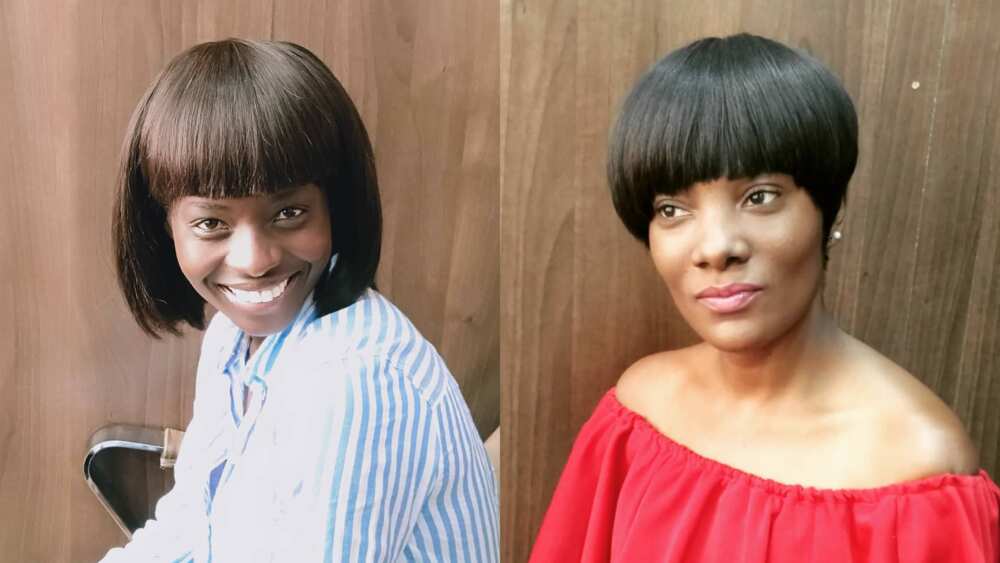 If you struggle with flat and lifeless hair, bangs will add volume and movement to your hairstyle. A short weave with bangs will turn your dull hairdo into one you adore.
Side bangs
Did you know bangs can look great with your round face shape? Instead of straight bangs, go for thick, side-swept bangs that are cut at a strong angle.
Hot and curly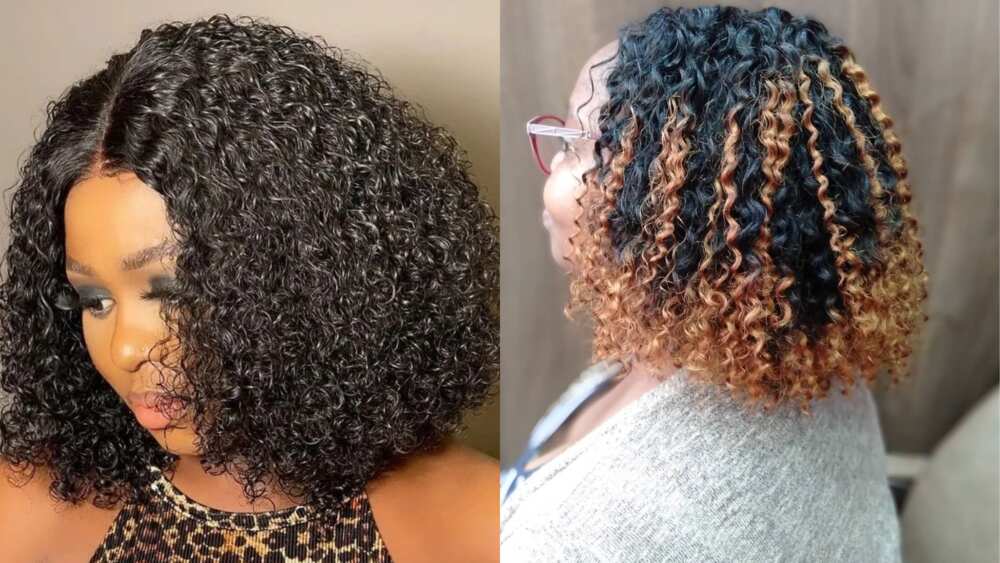 Having curly hair also means that you will stand out in a crowd and slay like a star. One can say that curly hair brings some beauty with it. It polishes your presence in a positive manner.
Brown-black goodness
Are you looking for fabulous short weave hairstyles for round faces? The look above is your perfect fit. You can play around with your favourite colours, but you have to admit the brown and black blend is spectacular.
Full 'fro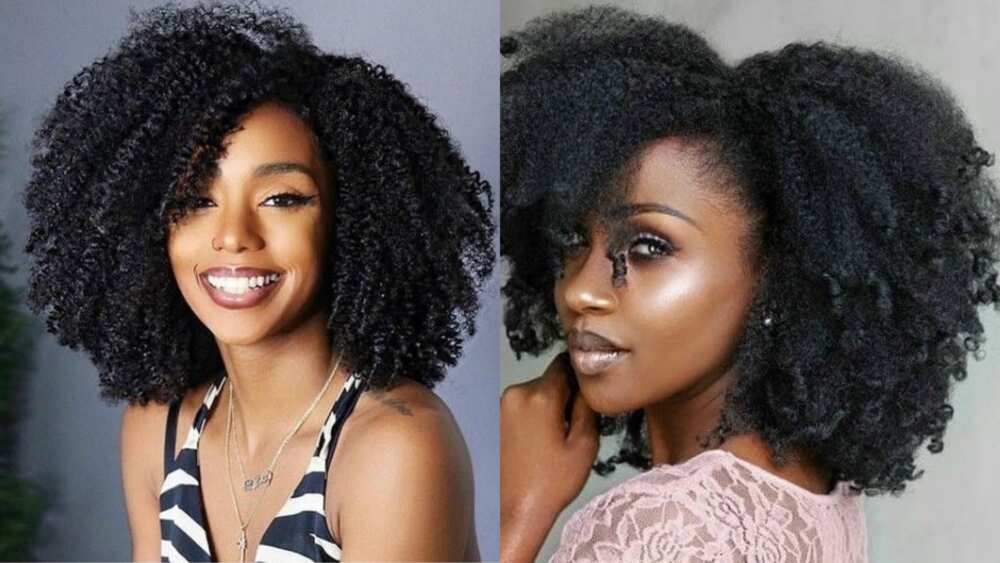 The contemporary hair market offers a ton of weave options. You can easily get hair bundles that resemble curly African hair. You can choose between a semi-curly and curly weave that goes right to the shoulder.
Fabulous pin curls
Did you know pin curls are made by dampening a strand of hair with water or lotion, coiling it, and securing it with a hairpin or clip? That sounds like a lot of work. You can avoid this by choosing a short weave with pin curls. They do not unravel as fast as curls made with your natural hair.
Purple goddess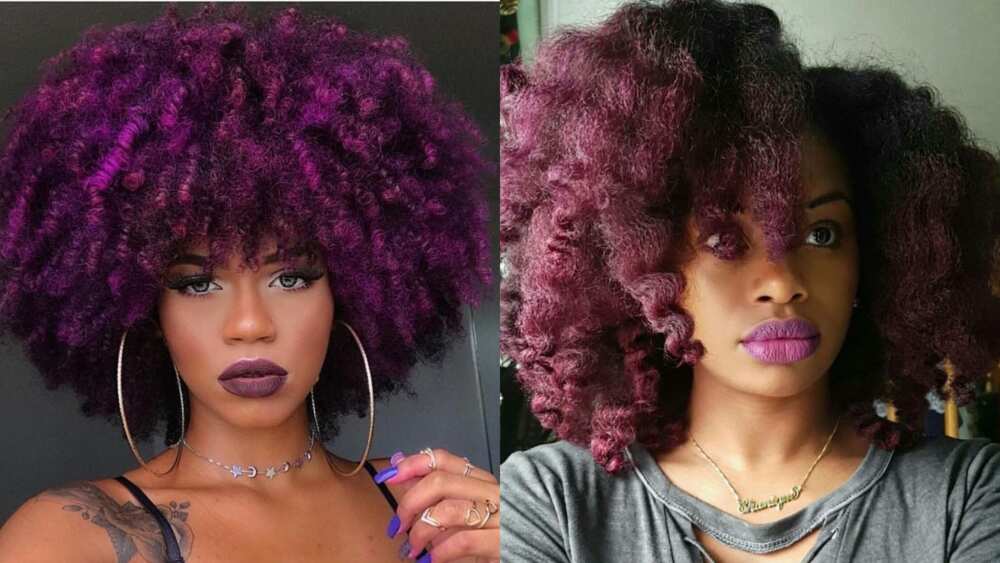 Purple is associated with wisdom, royalty, power, and luxury. If these adjectives describe how you feel, you should consider rocking a short purple weave. This style is best in an Afro-inspired look. You can have small curls or just rock curly ends.
Little front bang
The little front bang is amazing, isn't it? This look only allows a small section of your hair to touch the face. It is ideal for the woman who minds having plenty of hair falling over their face. A little of it should not be too much of a bother.
Wavy goodness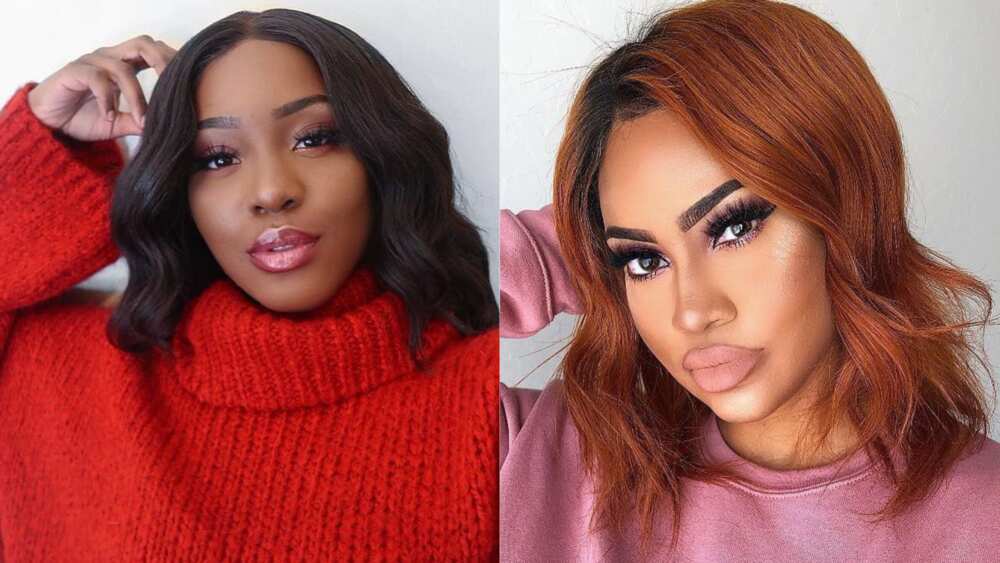 Wavy hair is different from curly hair in that it makes more of an S shape, going from side to side. The waves in the looks above are fantastic for the office. You can do a wavy black or brown weave. The waves can be pronounced or less pronounced, depending on your preference.
Silver bob
A bob cut that frames the face is cute, perky, and can stand out in a room full of women. It especially suits those with big eyes, small noses, and oval-shaped faces.
Bowl-cut pixie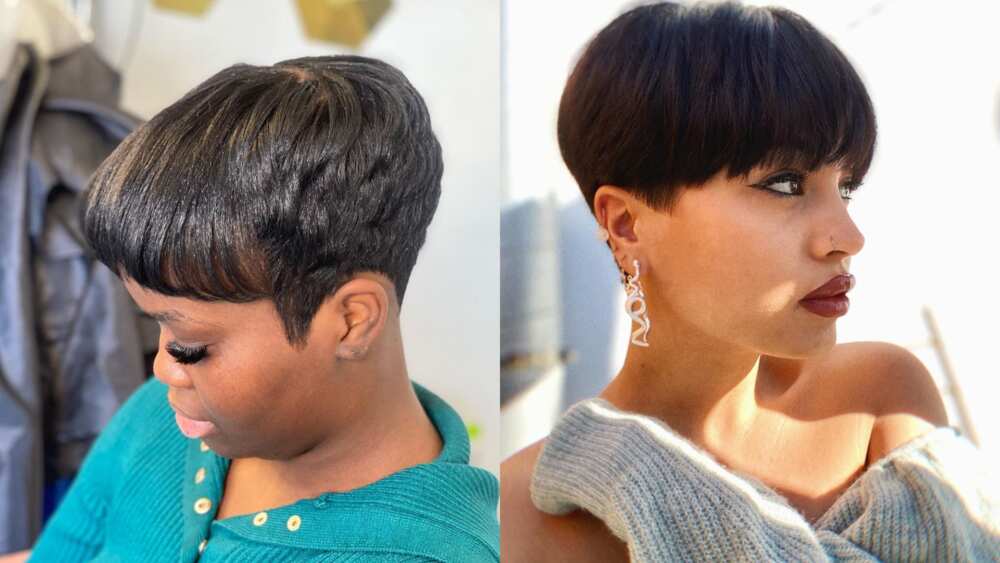 A bowl-cut weave gives a new look to the modern pixie option. The bowl-cut look is created by cutting or shaving the hair in the back and leaving the top part at the same level as the fringe. If you do not want to cut your hair, you can rock this style in a weave.
Bossy and sassy
This curly-wavy style is a statement piece. It is a fun look for social events. Beware that this look may need frequent setting at the hair salon.
Curly tops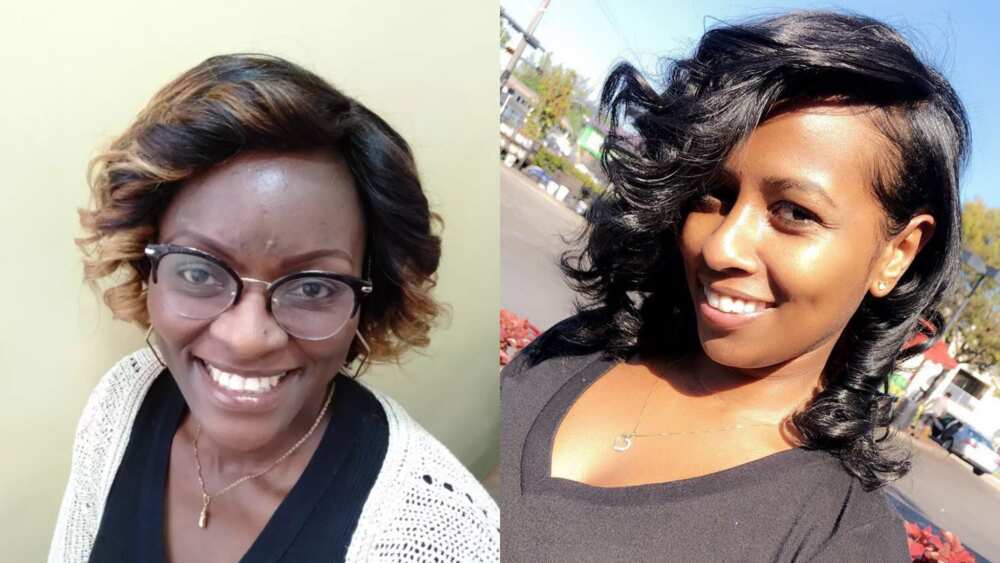 Weaves allow you to create a longer, thicker or more glamorous hairstyle. You can get a hairpiece with a curly top for some style. The weave will give you the benefit of a protective, versatile and pretty style all rolled into one.
Spring twists
Spring twists are a lightweight, protective style created out of coily hair extensions to give a springy and twisty look. You can achieve this look by requesting your stylist to install a spring twisted weave on your head.
What is the best hair to use for a quick weave?
The best hair for quick weave styles is challenging to pinpoint because there are hundreds of weave options in the market today. Always consult with your hairstylist before choosing one.
Can short hair be weaved?
Yes, it can. Braid-less sew-in weaves are a glue-less weaving option that is great for shorter hair.
Do quick weaves damage your hair?
Manufacturers of quick weaves claim their products are completely safe. However, harsh gels, thick pomades, and super-adhesive hair glues can dry out and damage your natural strands. Seek professional help before installing them.
Are quick weaves good protective styles?
Weaves are not a great protective style because they give very little scalp access. The hair is usually braided down in a pattern that has little spacing.
Short weave hairstyles are all the rage right now. They are perfect for the modern woman who wants to look great without dealing with high-maintenance styles.
Legit.ng recently published awesome crazy hair day ideas for a fun time at school. Crazy hair day is about embracing joy, unleashing creativity, and boldly exploring extraordinary hairstyles that capture attention and defy conventions.
There are many ways to style your kids' hair and look good. The possibilities are endless, from towering sculptures to vibrant colours and everything in between.
Source: Legit.ng