This article is about how to make Ghana weaving styles at home and especially what braids suit most of all to the oval type of face. You can find hear a lot of Ghana weaving hairstyles photos and to choose one that you like the most. Also you can find about advantages and disadvantages of this hairstyle. So let's start!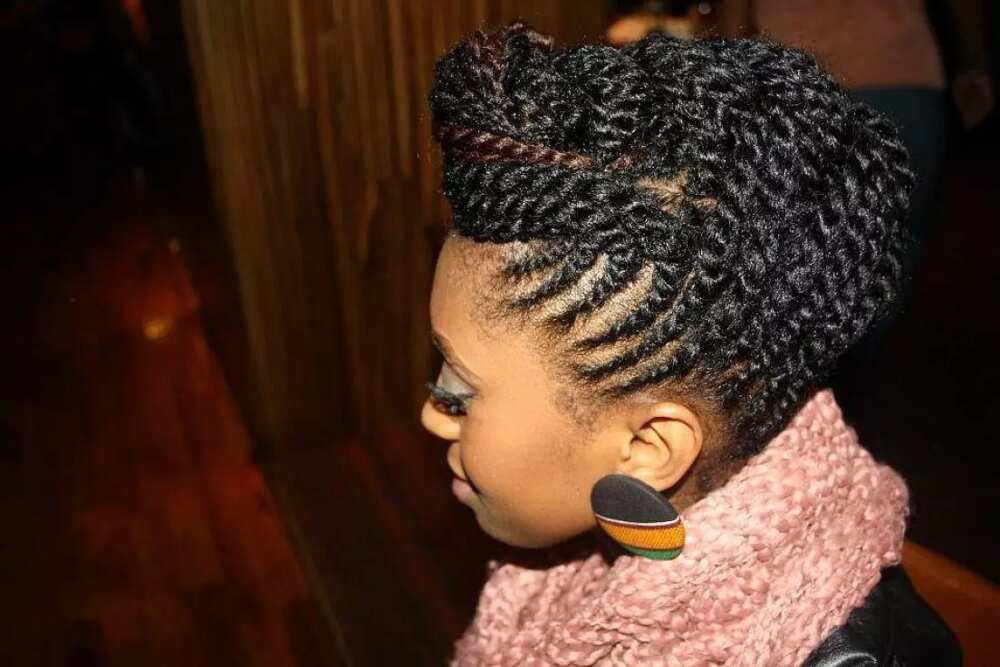 Ghana braids are often called cornrows. If you decided to plait this haircut, you should use more additional hair in order to make an impression of thicker and, thus, extraordinary hair style. This haircut is one of the best ways for women who are frizzy-haired by virtue of their nature.
The Origin Of This Hairstyle
A long time ago this type of hairstyle became remarkable in Africa. At first, Ghana weaving styles were made to demonstrate an achieved position, beliefs, age and belonging to some nationality. In those times, Ghana braiding style was conveyed in Hieroglyphs and statues. One had a possibility to observe the haircut on the head of a sphinx.
A lot of bondservants braided such a haircut, even more intricate and ingenious designs to demonstrate their opposition and remonstrance when their masters desired to make their hair straight. In that period of time when they were slaves, they considered that it is better to become bald-headed.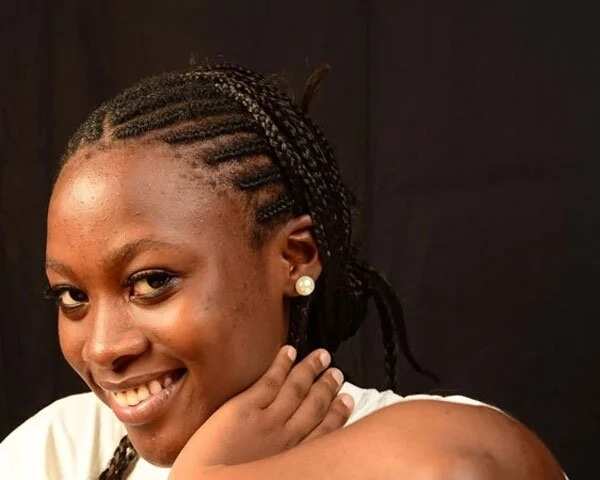 Nowadays, a great number of women from different nationalities and origins are plaiting cornrow braids more than ever. It looks perfectly well on women of every age. You can also decorate it with fillets, glass beads or flowers. With the help of synthetic hair extension you can make your hair look longer.
READ ALSO: 7 inspiring ways to rock your natural hair
We have made a photo collection of different styles for you. You have an opportunity to get convinced, that this haircut will suit every woman. You should try it now! Don't wait! Go on watching examples of this interesting and extraordinary haircut.
Ghana Weaving Styles For Oval Face
1. Ghana Braids
This braided hairstyle is wonderful, just look.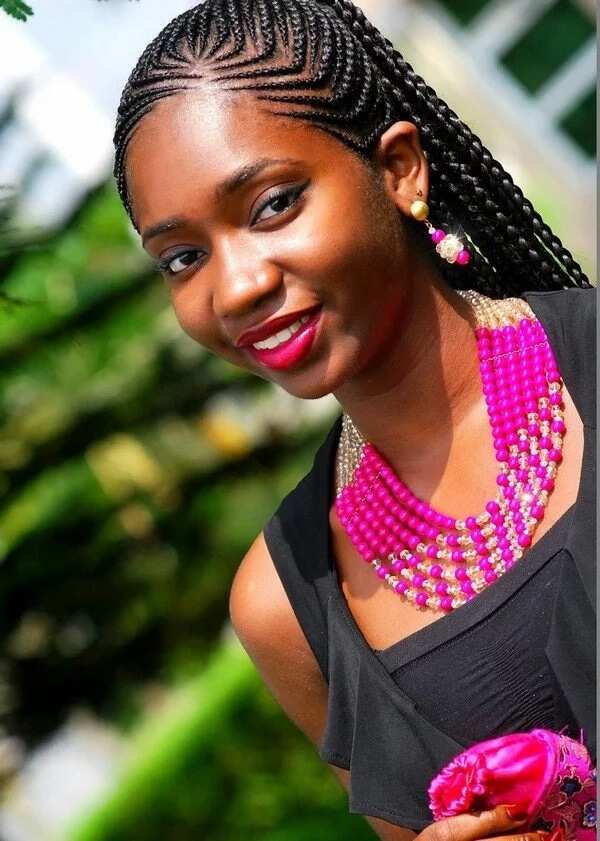 2. Braids from Africa
After the creating of braids you can make more enigmatical pony-tail or updo.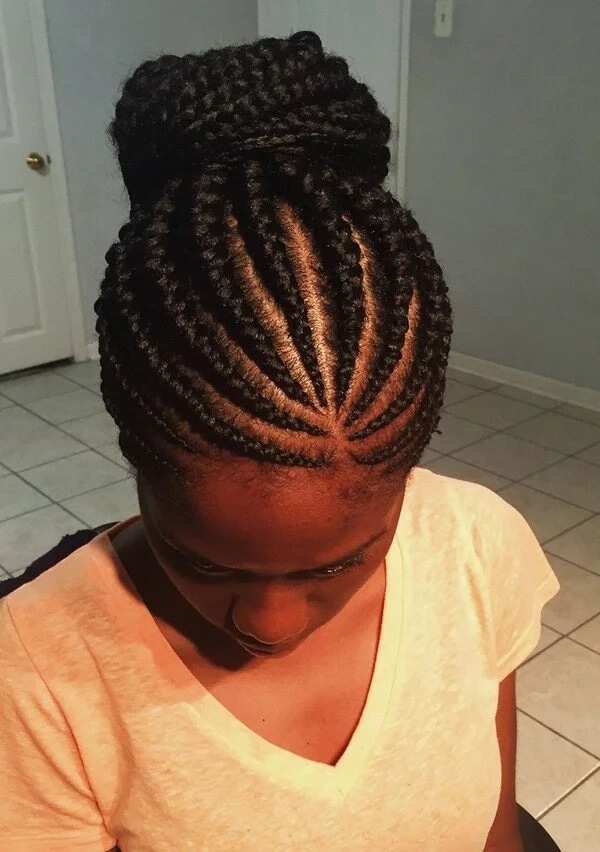 3. Banana Cornrows Hairdo
You can incline your hairdo in both sides. It makes it more exciting and inquisitive.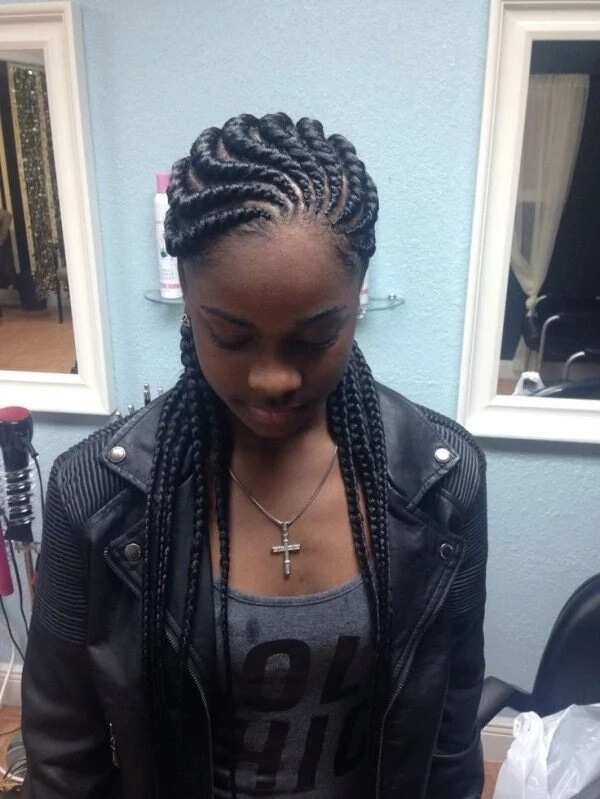 4. Ghana Braids with purple ribbons
For greater impression, these Ghana braids have been decorated with purple beads.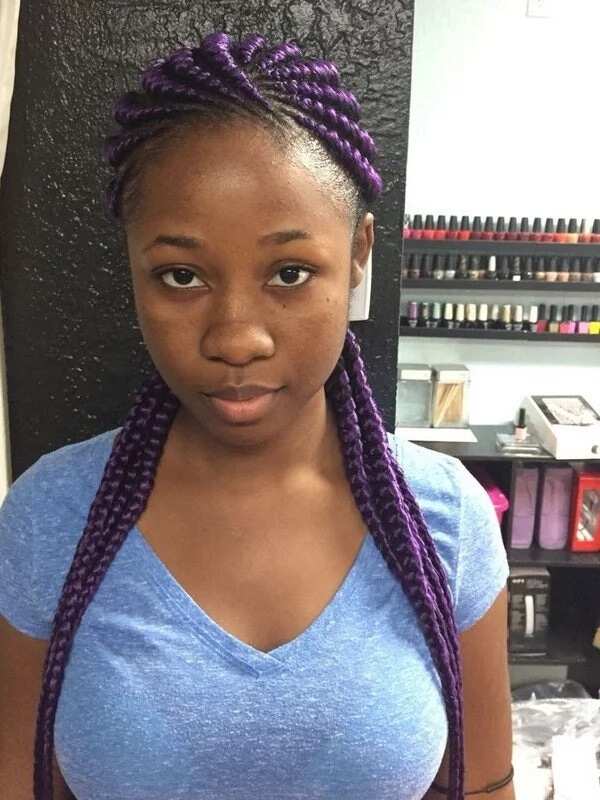 5. Wonderful Cornrow Braids Hairtype
This fashionable modern braid hairdo appears to be through the internet every new day.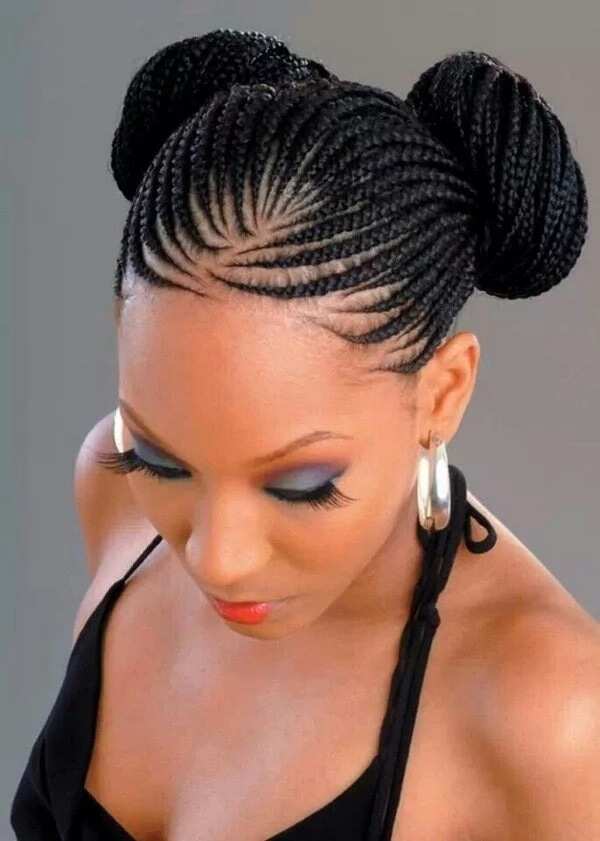 6. Exciting Hairdo
This type has a great example right now right here.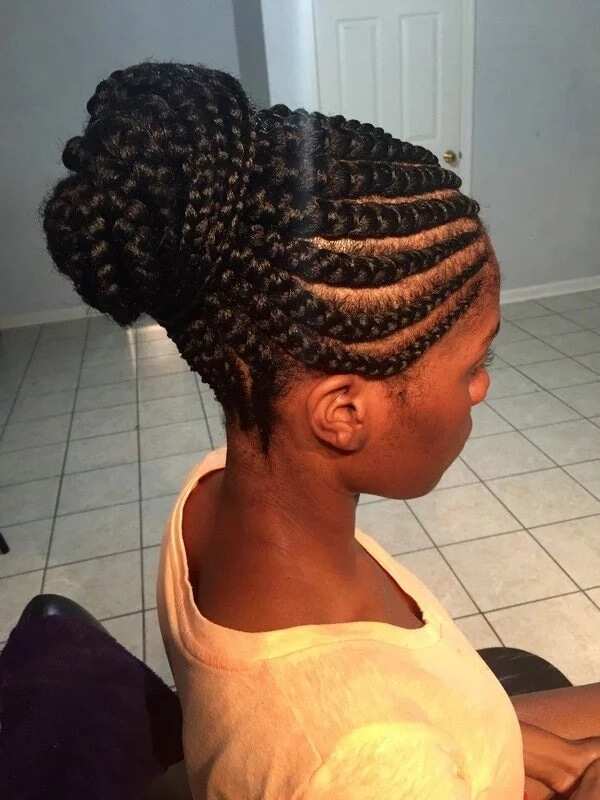 7. Great Ghana Braids
Breads will emphasize the peculiarity of women's and men's beauty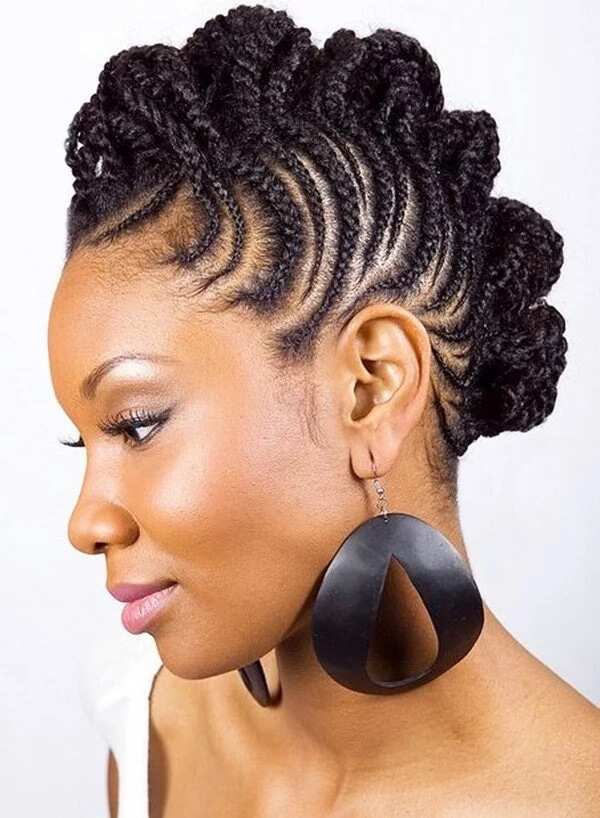 8. Ghana Curls
Among all the braided hairdos, Ghana braids are likely to be the most extraordinary!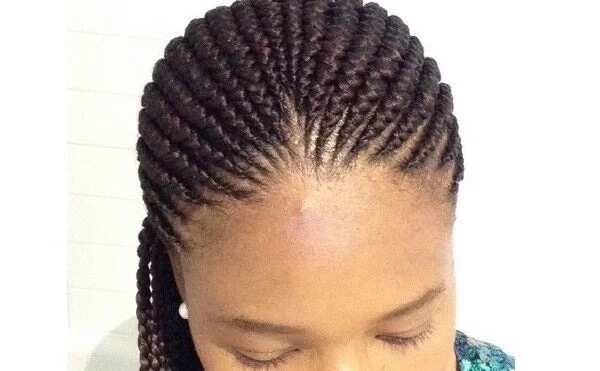 9. Beautiful Ghanaian Curls
Special hairdo for some special and unique occasions.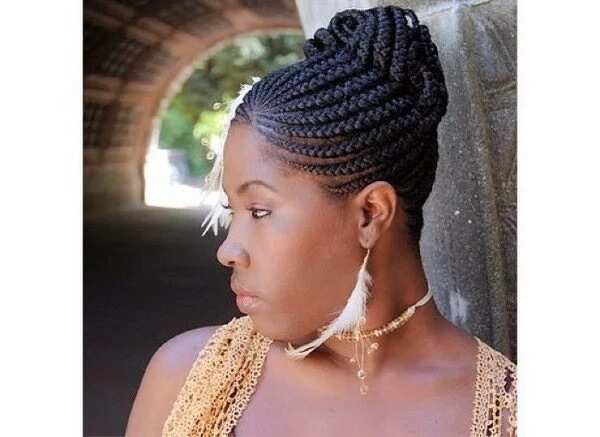 10. Cornrow Braids
Both for daily and night life!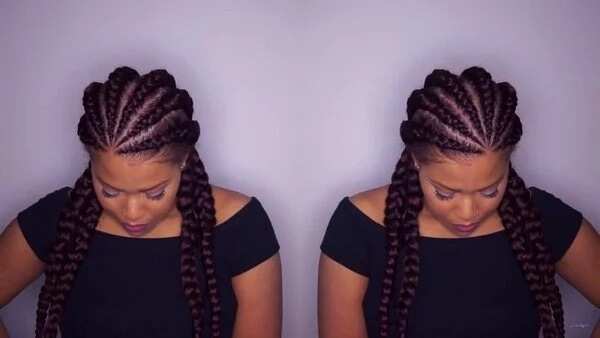 11. Delightful Braids
This type of hairdo will suit for women of all ages throughout the world!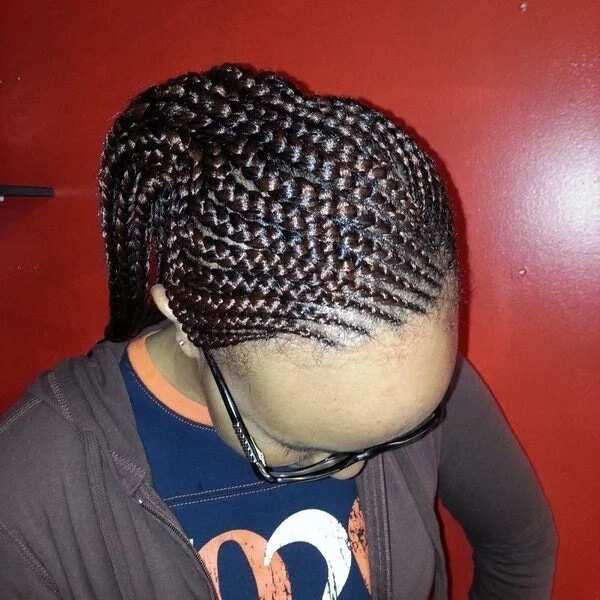 12. Splendid Braids
Such hairdo is so spruce!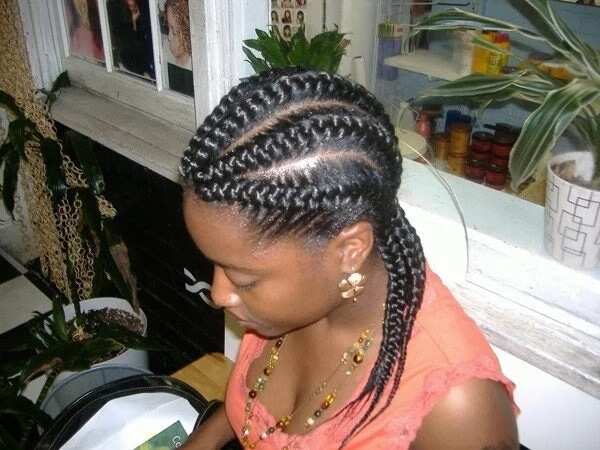 13. Excellent Hairstyle
The hair seems to be so healthy and strong! It looks truly excellent!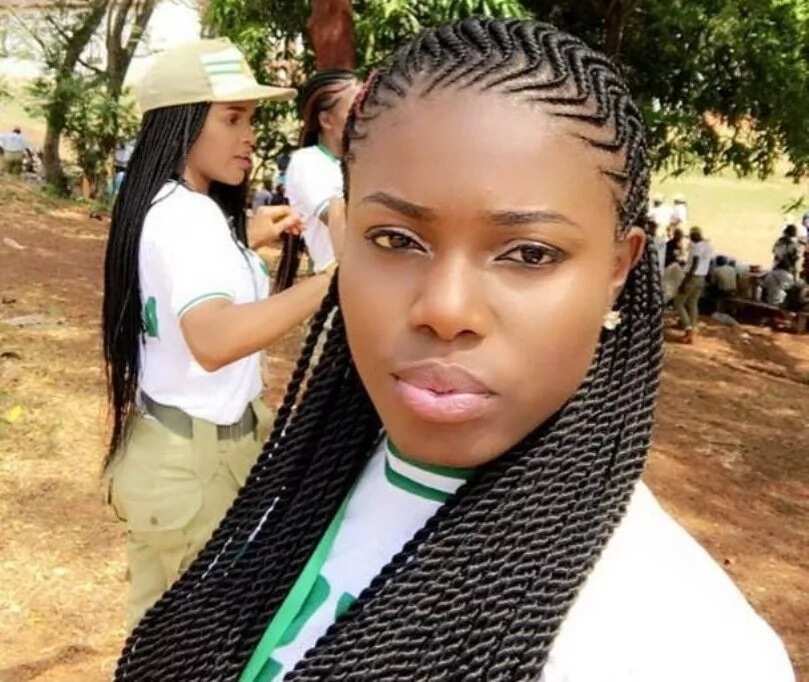 14. Simple Ghana Braids
With such hairdo you will look really your best!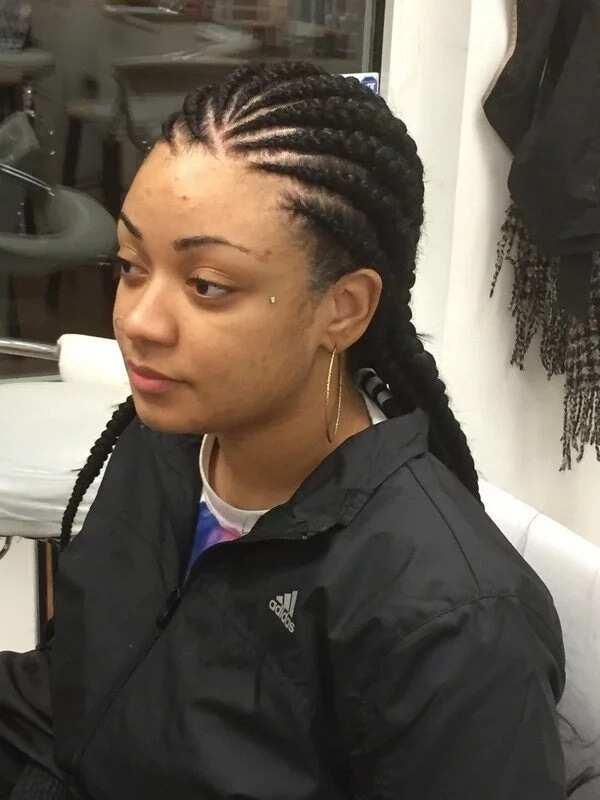 15. Variegated Braids
With this hair style you can spend all the hot summer day! It is very comfortable!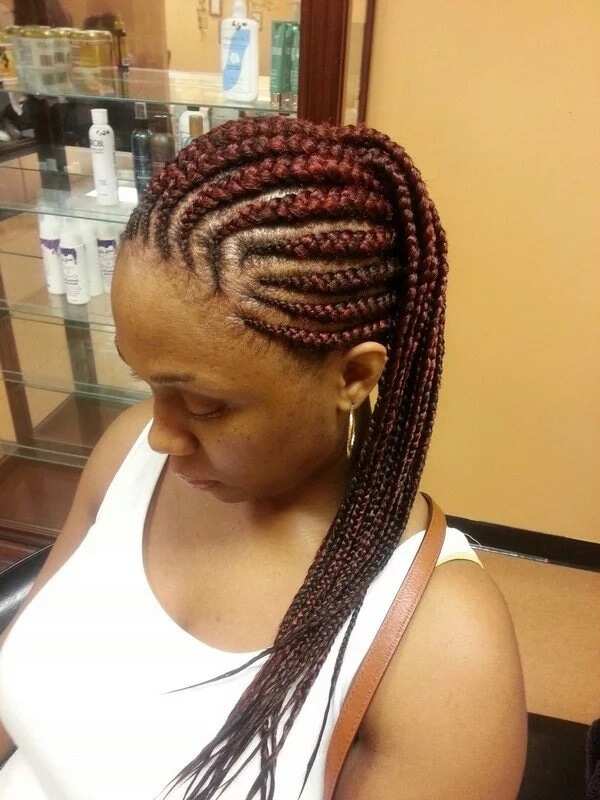 16. Braids For all Occasions
Do you intend today to celebrate something? No? You are just about going to walk with the friend? In every case it is suitable!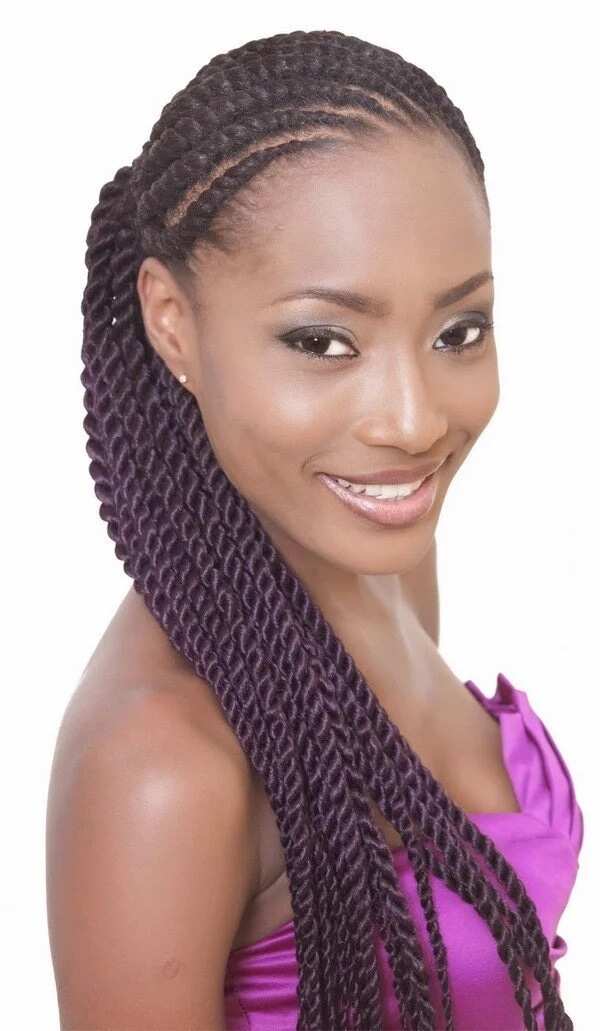 17. Only best hairstyles for you
You can combine different colours and choose one or even several best for you.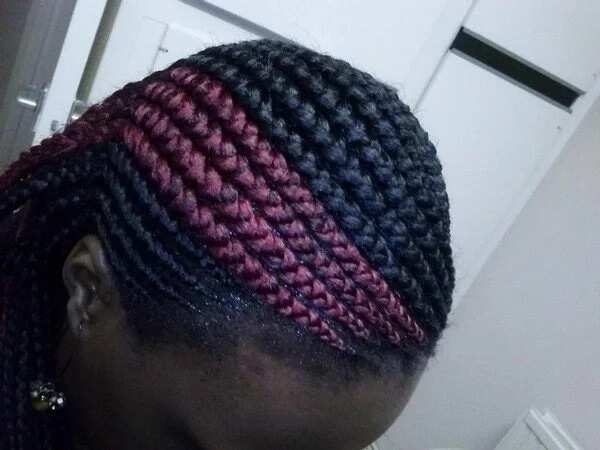 18. This one will be perfect For Kids
It looks very joyful!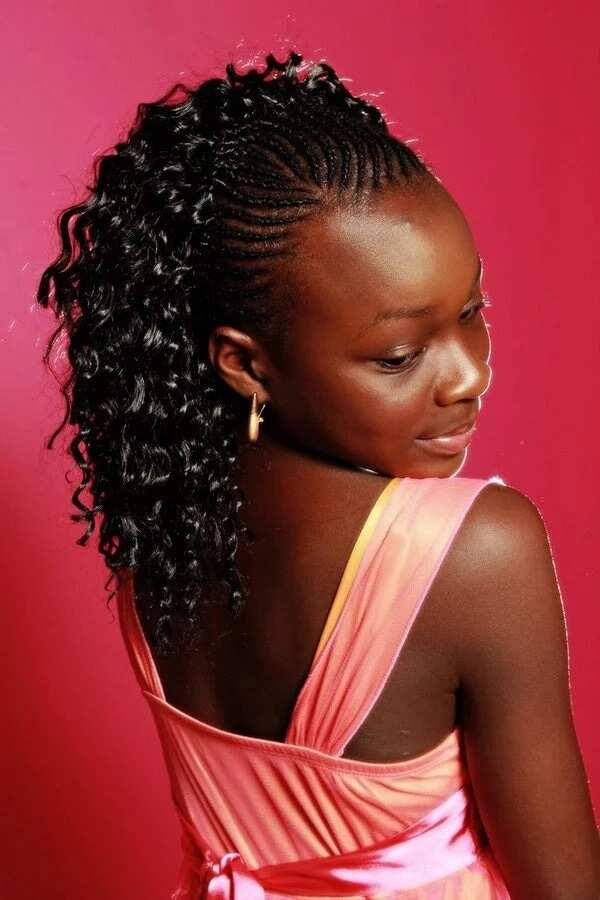 19. Banana Cornrows
Ghana braids can be plaited with a limitless row of models, proportions, and manners. Only imagination can become your personal limit.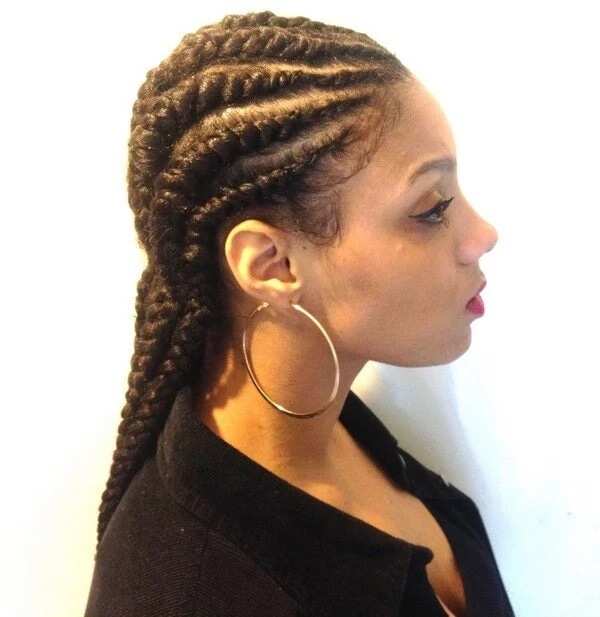 20. Braids with green ribbons
This look is famous for its perfection and thought-out details.
21. New Style
Celebration of life!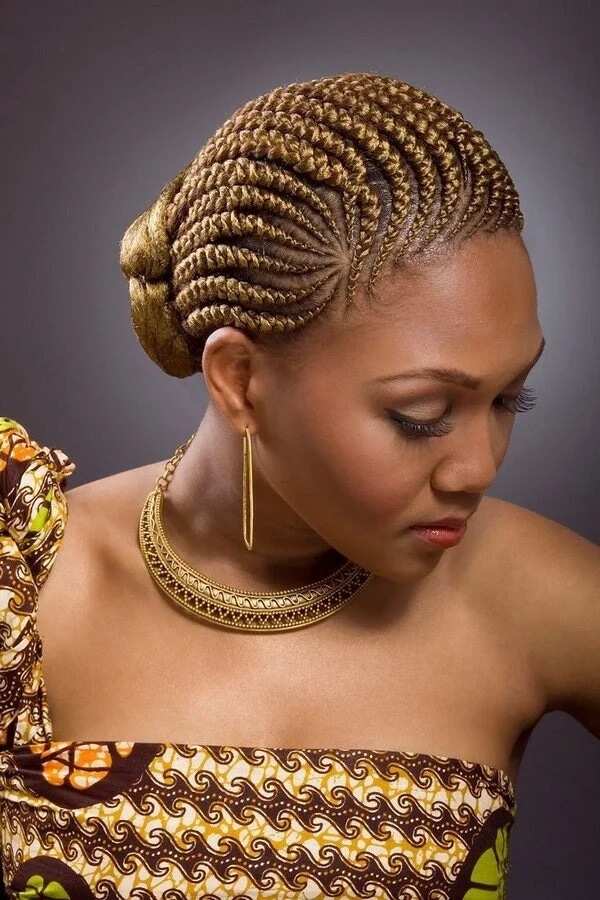 22. Cherokee Cornrows
On the one hand, this hairdo is restrained, but at the same time it is сhick, stylish and elegant!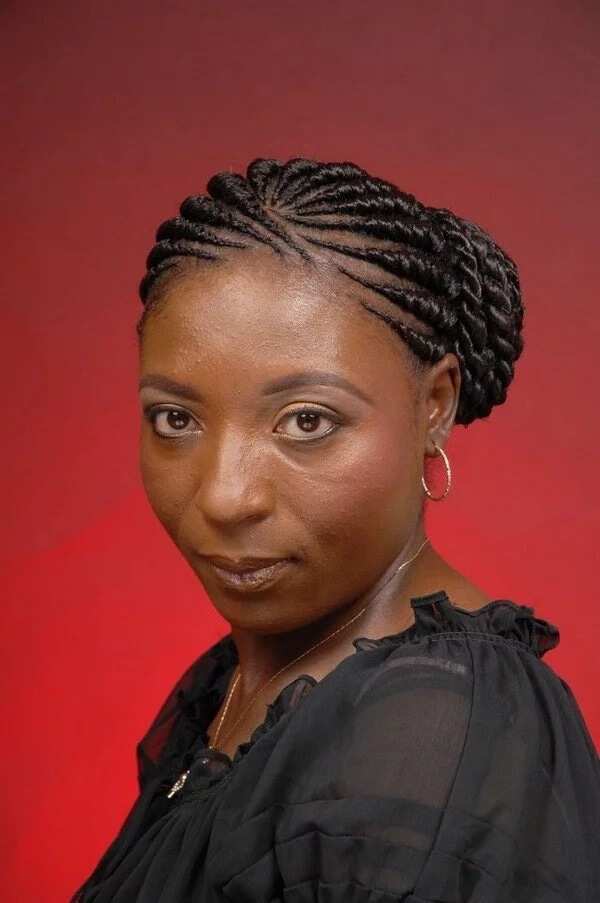 23. Ghanaian Braids
It looks very practical! Especially, when it is summer and so hot weather.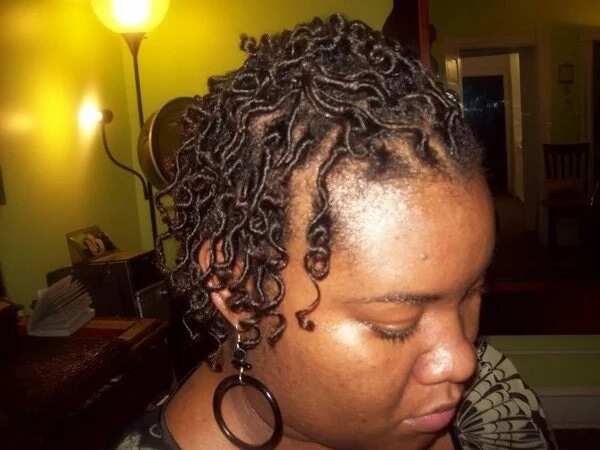 24. Protective Type
The name of the style shows that it is very practical and my point is that it will suit for both holidays and weekdays.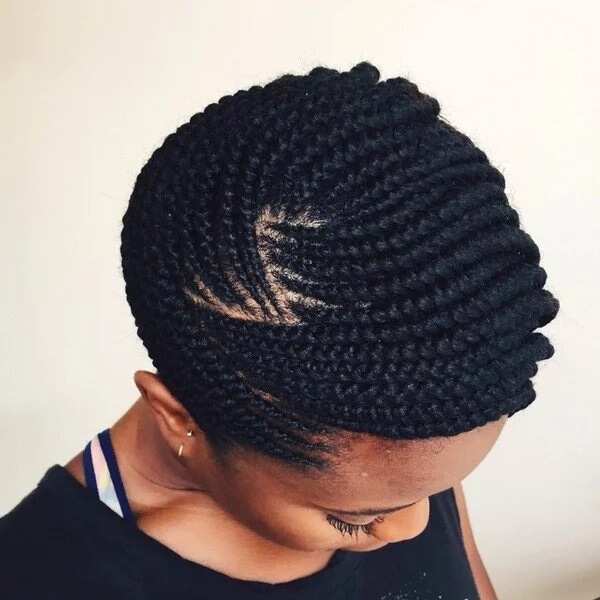 25. Sightless Cornrows
It is the idea for long hair.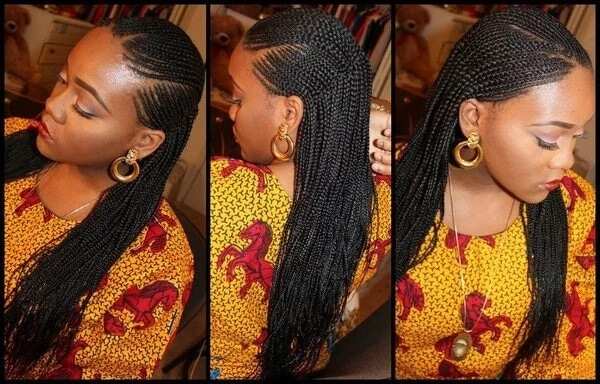 We are absolutely sure, that the best features of your oval face will be emphasized with this hairdo. You will look like queen. Your curls drop on one or another side, making your style more mysterious.
READ ALSO: This man can dress ladies' hair better than women
This hairstyle can be plaited for teenagers, women in different ages from 10 till 50-year-old!
How To Make Ghana Weaving Braids?
At first you should care about your natural hair; you should feed your hair with vitamins with the help of masks or gels.
Take a comb, which suits for your hair and run over the hair up and down, till your hair become less tangled.
Take braid with weave 21 Inch to pug at the cornrows part.
You will need a tail comb to divide hair into tiny parts.
You should set apart some pugs of hair.
Moisten your hair; it will make your hair lustrous and shiny. Apply the moisture on the top of the head and wait until it is absorbed.
How To Do Hairdressing?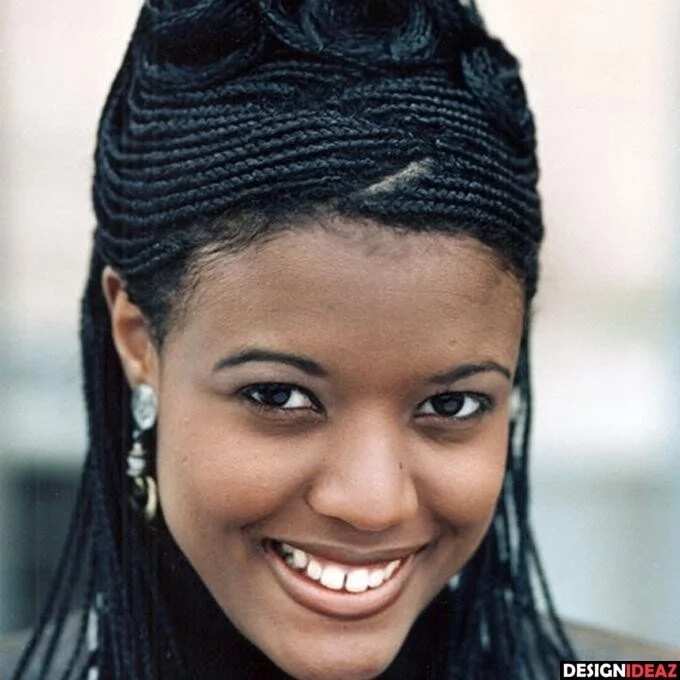 Put the hairspray to braids and parting, use your fingers to embrocate the spray tenderly on the head.
You should remember that you can use the spray not more, than two or three times per week, if you use it more often, your hair will become dirty very quickly.
Protect hair during night and do bathing only with towel to prevent any discomfort.
This hairdo will be at least one month. But remember, that this hairdo will exhaust your hair, so after this it is better to give a rest for them and change the hairstyle.
So, you see that this hairdo has both advantages (it is very beautiful, it makes you more eccentric and conspicuous) but at the same time it has considerable disadvantages (it makes your hair exhausted). Well, it is a kind of temptation for us to try something new, something interesting, something cool!
SOURCE: Ghana Today yen.com.gh