20 Best Interview Hairstyles for Both Males and Females to Try in 2023
Initial impressions are crucial in hiring, and your hairdo significantly impacts your first impressions. A haircut may make or ruin an outfit, but it can also be charming and simple. Job interviews may be stressful. Therefore, decent interview hairstyles can significantly enhance your confidence. Looking good is also part of the interview.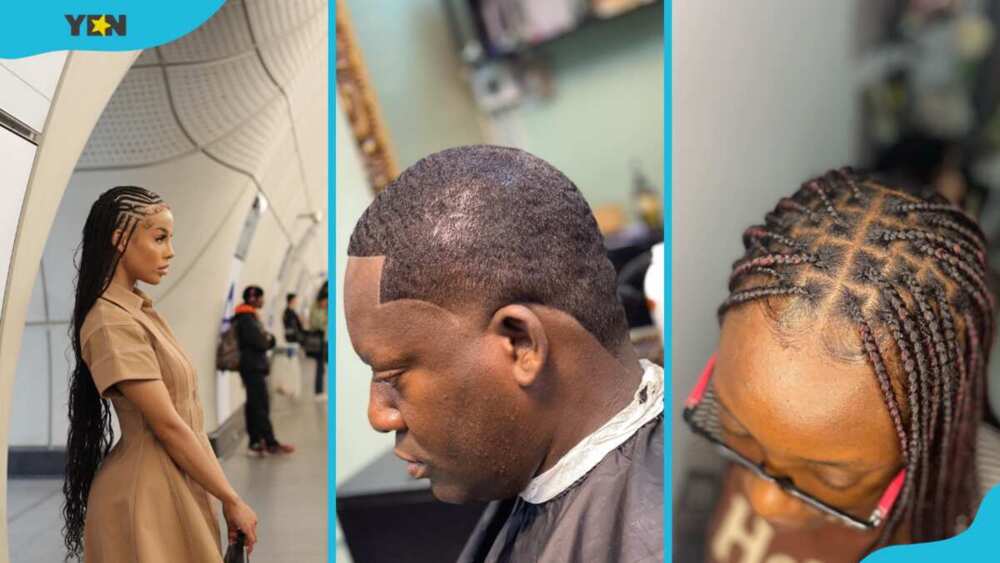 By enjoying your appearance, you demonstrate your commitment and seriousness about the possible employment role. It immediately gives the hiring committee confidence that you can represent them properly. Thus, to ensure that the interviewer offers you the position, smile, maintain your composure, persuade them of the value of your experience, and dress professionally. So, how should I wear my hair for a professional interview?
Best interview hairstyles for both males and females
If you're seeking professional hairdo ideas for your subsequent job interview or want to switch up your appearance at your existing employment, you've come to the perfect spot! So, what hairstyle is best for an interview? The following hairstyles are suitable for interviews.
Interview hairstyles for females
There are several methods to style your tresses for an interview. While some individuals would like a more polished appearance, others might prefer something flashier. Whatever you decide, make sure everything is clean and organised.
Simple cornrows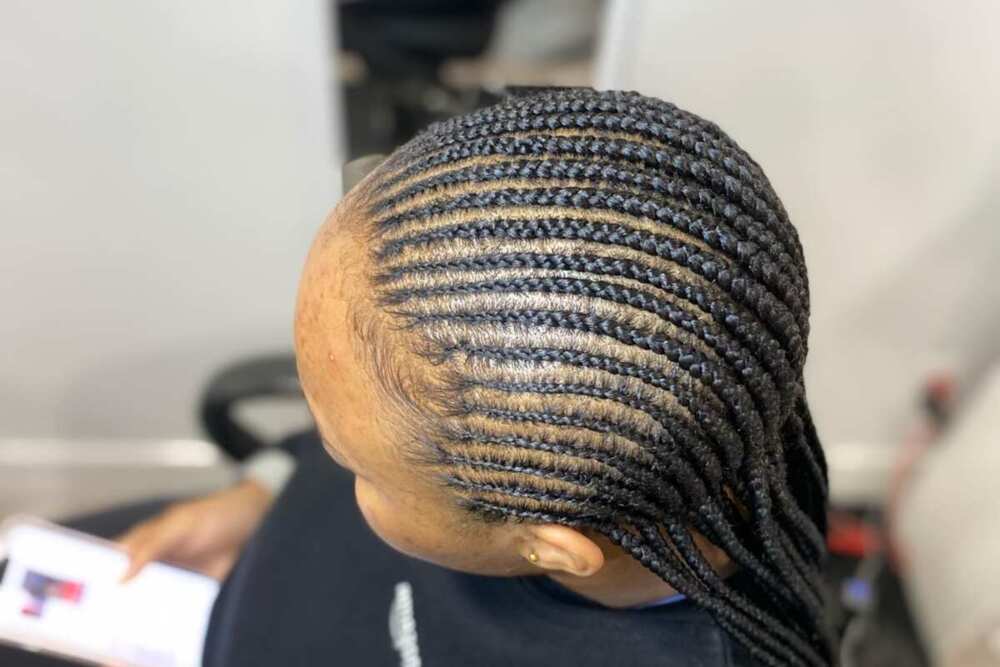 You don't need intricate detailing to create extremely stunning cornrows. Women receive equal respect for making little, simple cornrows as they do for intricate patterns and decorations. Additionally, the style is more adaptable, so go ahead and put it in a large ponytail or twist it into a bun as you choose!
Tapered hairstyle with defined curls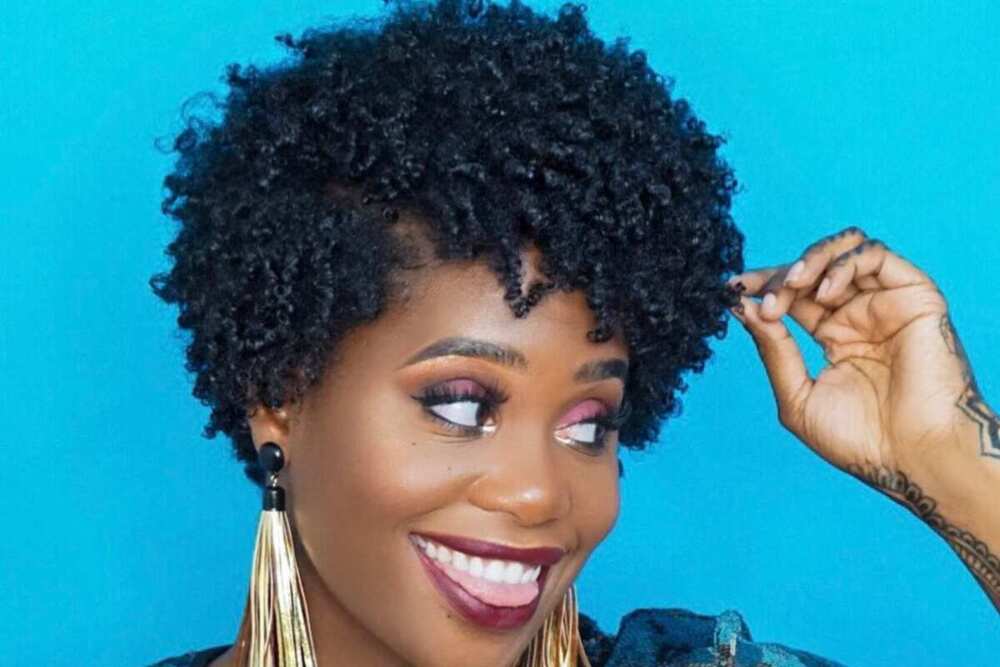 It's often all about shape for black ladies looking for classic hairstyles. Try a tapered haircut for your curls if protecting your curly locks is not your top priority. Showcase your beautiful, healthy locks as you go from a shorter to a more lengthy taper.
Asymmetrical dreadlocks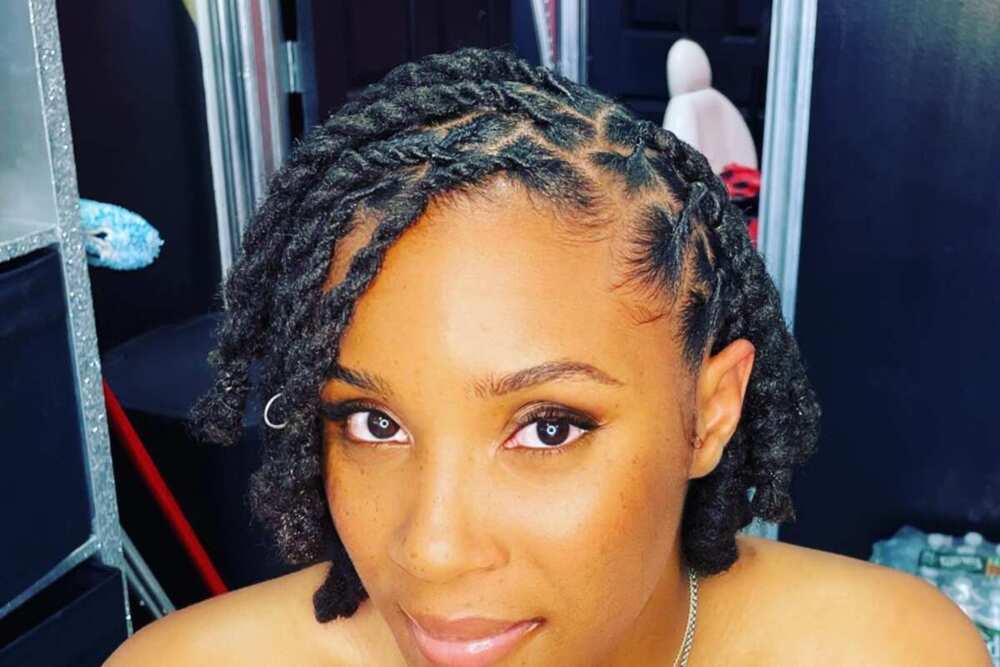 It is one of the best interview hairstyles for females. Asymmetrical dreads are another excellent appearance for short dreadlocks designs for women. Maintain the growth of your locks at any length or thickness.
Half box braids, half cornrows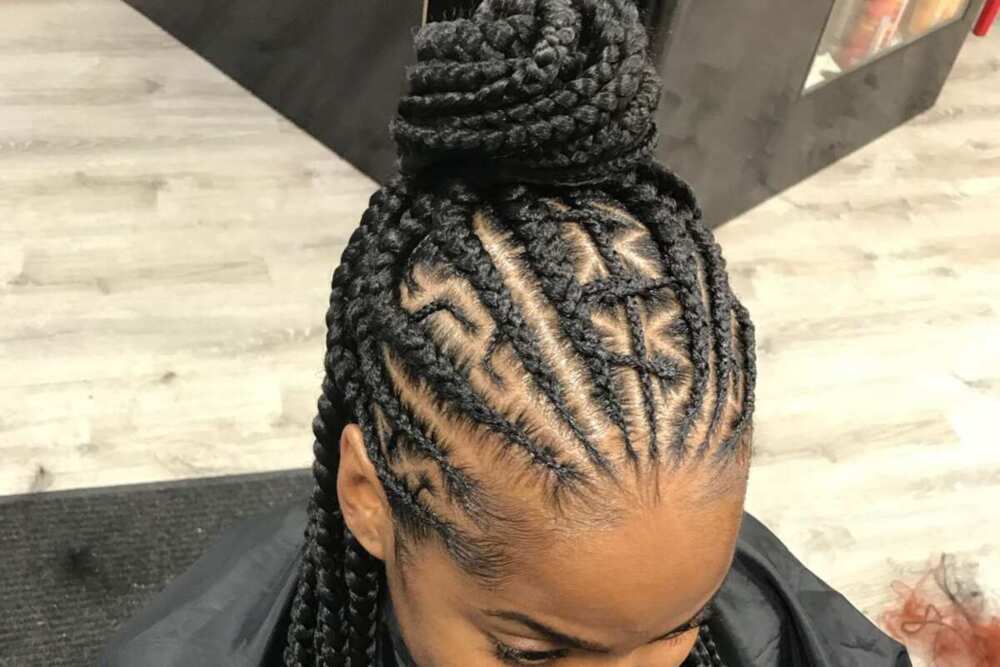 This style is the ideal technique to accomplish if you want to give your cornrow hairdo a bit of edge. Choose a distinctive pattern, like this lovely zigzag and straight-line design. Box braids with cornrow braids at the front will set you apart.
Cornrows with curls and braids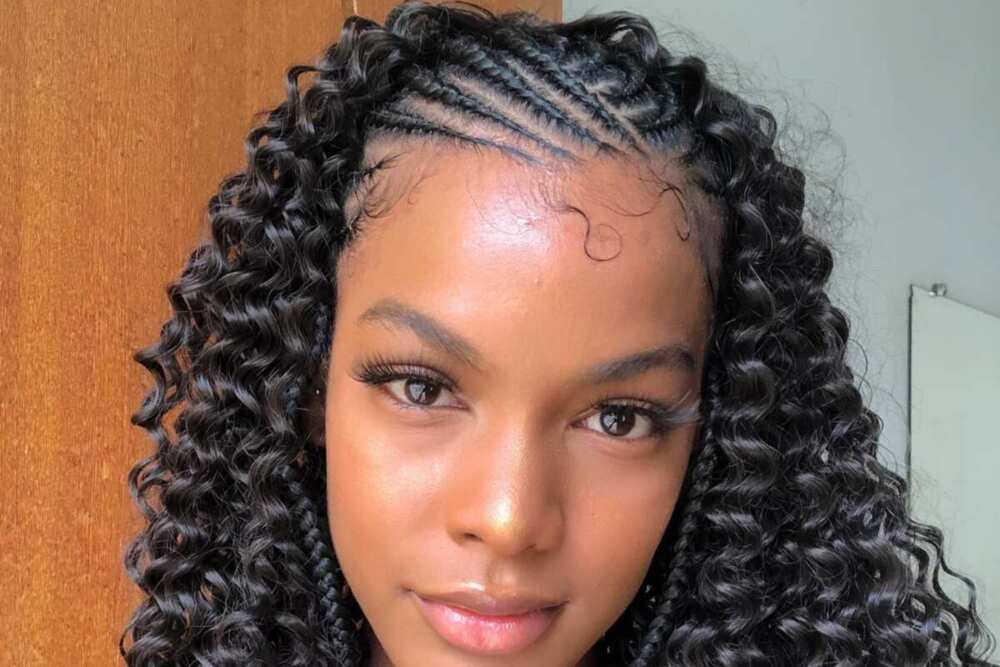 This design is a beautiful interview hairstyle for curly hair. It is a fantastic option to avoid committing to cornrows and braids fully. Half-head cornrows keep things simple and unique in the front, while complete and bouncy twist-outs allow natural hair to flow in the back.
Medium layered curly hairstyle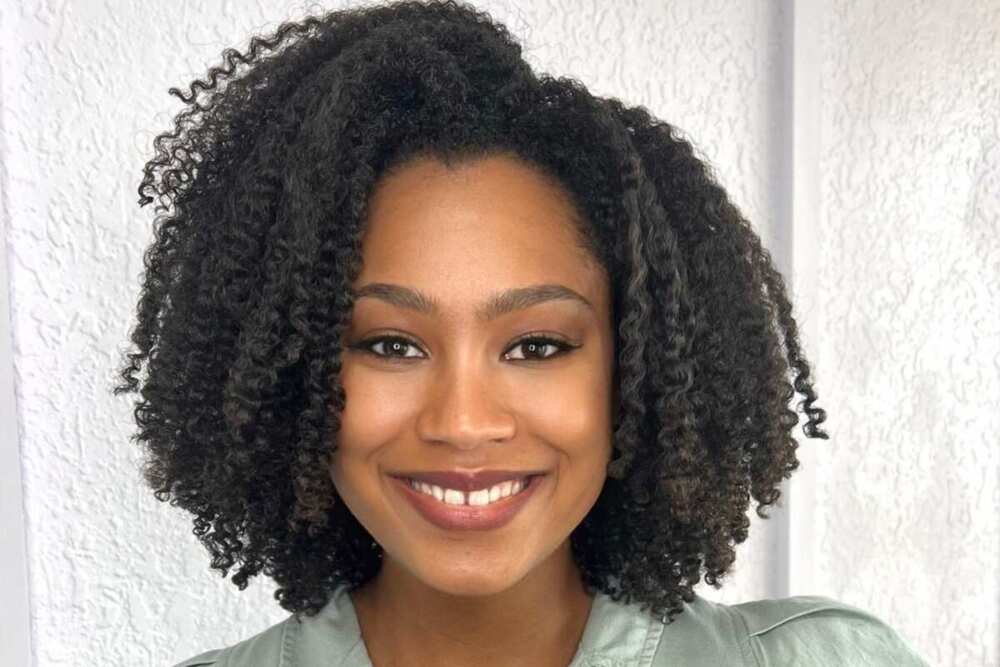 It's one of the best interview hairstyles for medium hair. The hairdo is a fantastic method to give your hair structure and volume. Its adaptable style allows it to be worn in various settings, from a casual, everyday look to a more official, dressed-up one. Since it highlights the curls' inherent form and structure, this hairstyle is ideal for people with naturally curly hair.
Curly wig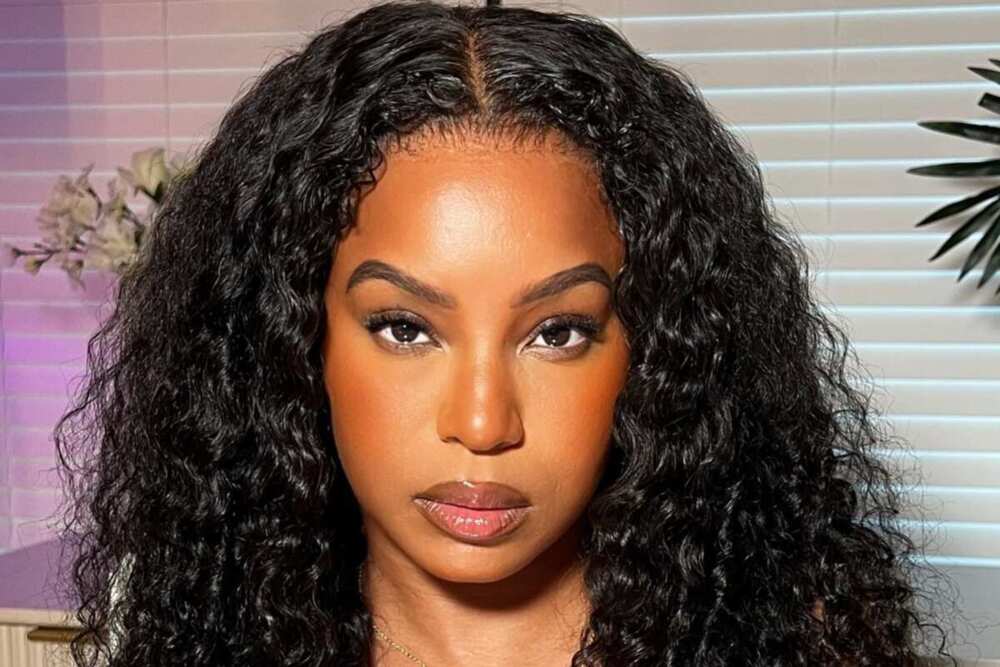 A curly wig is an excellent technique to transform your appearance instantly. A curly wig may help you get the look you want, whether it's a fun, flirting look or something more polished.
Short haircut with chopped layers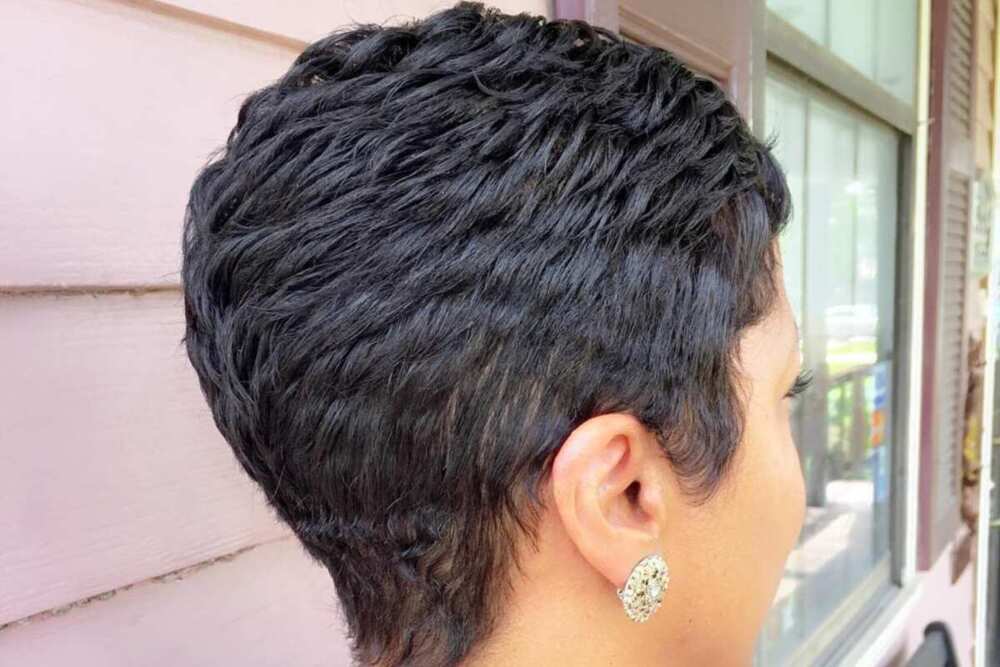 Brushed back and trimmed tight, this interview hairstyle for black ladies is beautiful and practical. You'll appreciate how simple it is to get dressed in the morning, not to mention how much money you'll save by getting a short trim at frequent salon appointments rather than paying for a costly weave.
Short curly hairstyle with caramel highlights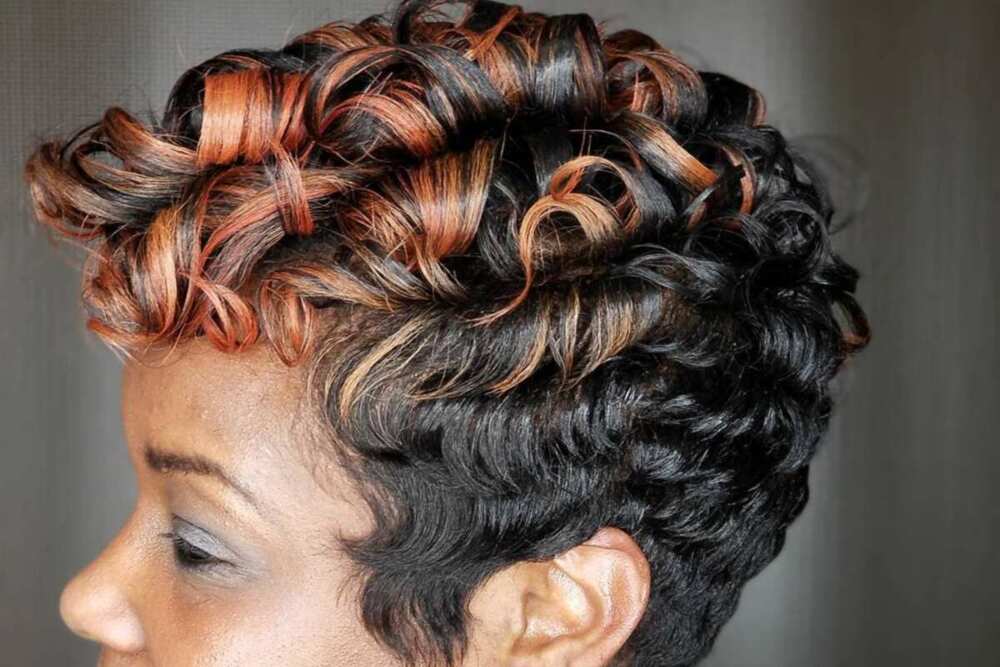 It is one of the best interview hairstyles for short hair. The vintage style's finger waves and accentuated ringlets are fashionable and striking when worn with a short pixie. Regardless of the colour you choose for the highlights, it will still look fabulous.
Elegant braided bun updo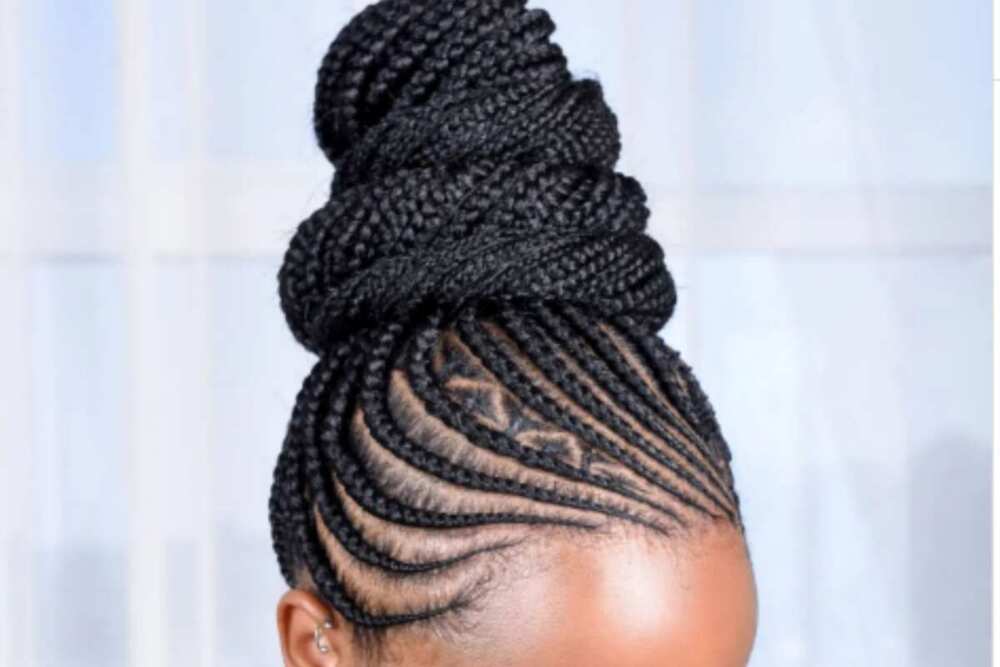 Adding a bun with tiers will give your cornrow ponytail a new level of sophistication. It is a fresh take on the conventional bun with an eye-catching appearance. Although this bun is the primary star of the show, adding a few creative touches makes for a stunning hairstyle.
Interview hairstyles for males
Landing that desired job interview means a lot, so you must look your best. Men's haircuts for interviews may change your style with a polished, impeccable, and business-like twist that will make you appear serious and prepared for any queries.
Bald fade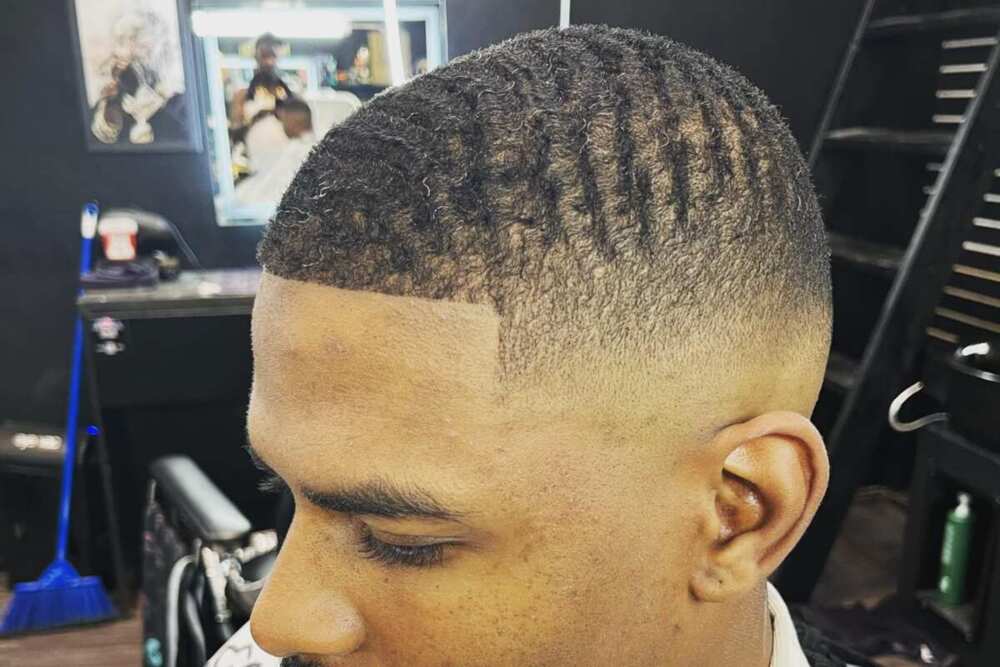 A buzz cut that is too short and barely there leaves minimal hair on top, but you may compensate by growing out your beard. You can keep a few strands on your head without having to style or manage it daily.
The short afro and skin fade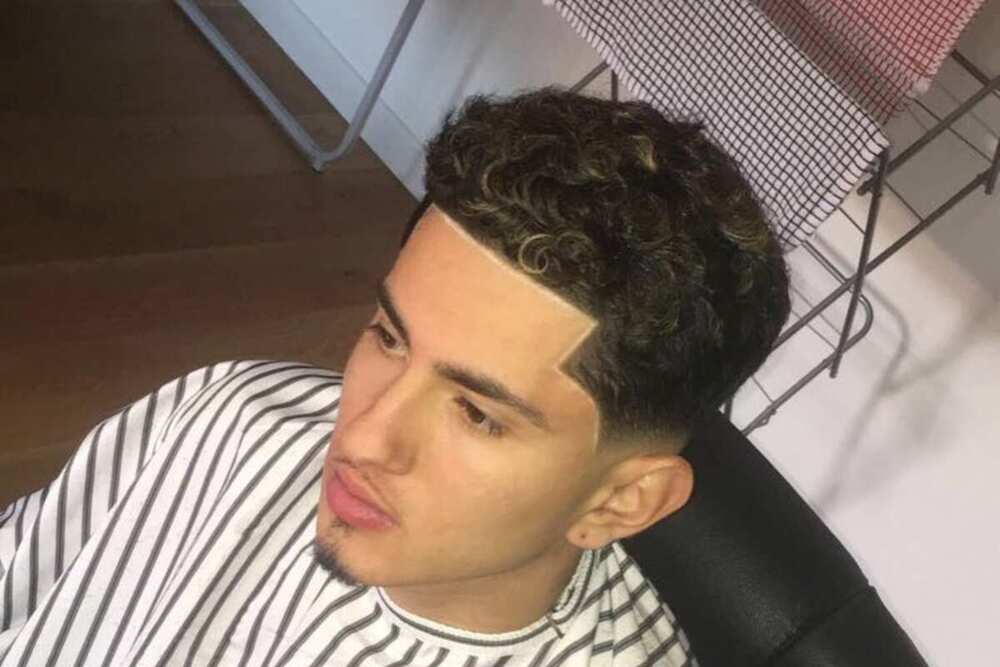 Short haircuts are particularly common among black males due to the freedom and plethora of style possibilities they provide. The short afro serves as the foundation for short natural haircuts. Furthermore, trimming your hair benefits its health since dead ends are removed.
Buzz cut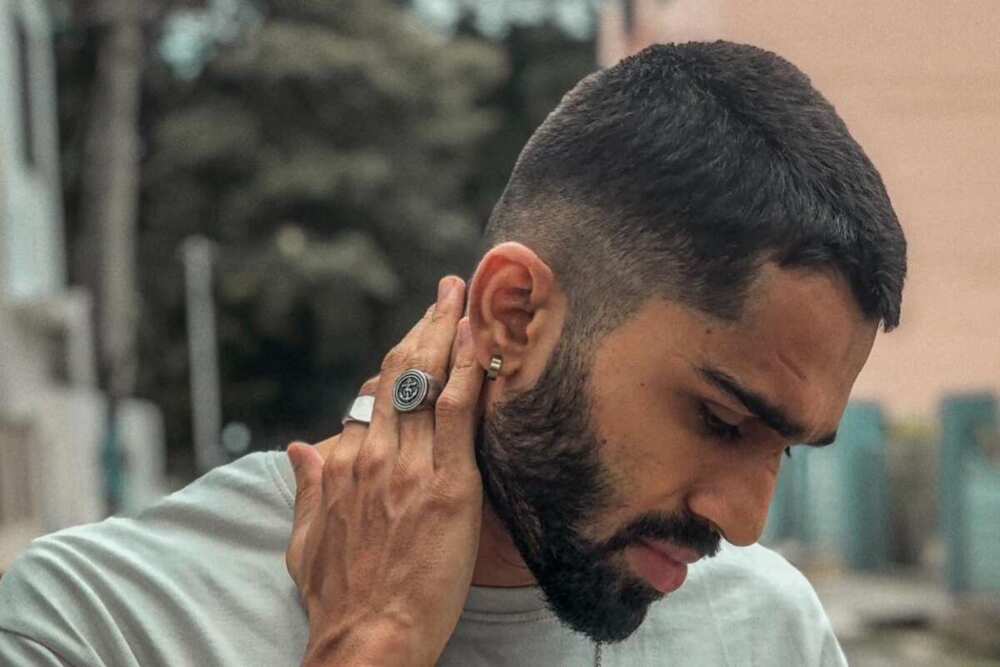 A buzz hairstyle is an appealing option for black males owing to its low upkeep and adaptability. The style can be worn uniformly throughout the head or with a fade, in which the length progressively reduces towards the back of the neck.
Caesar cut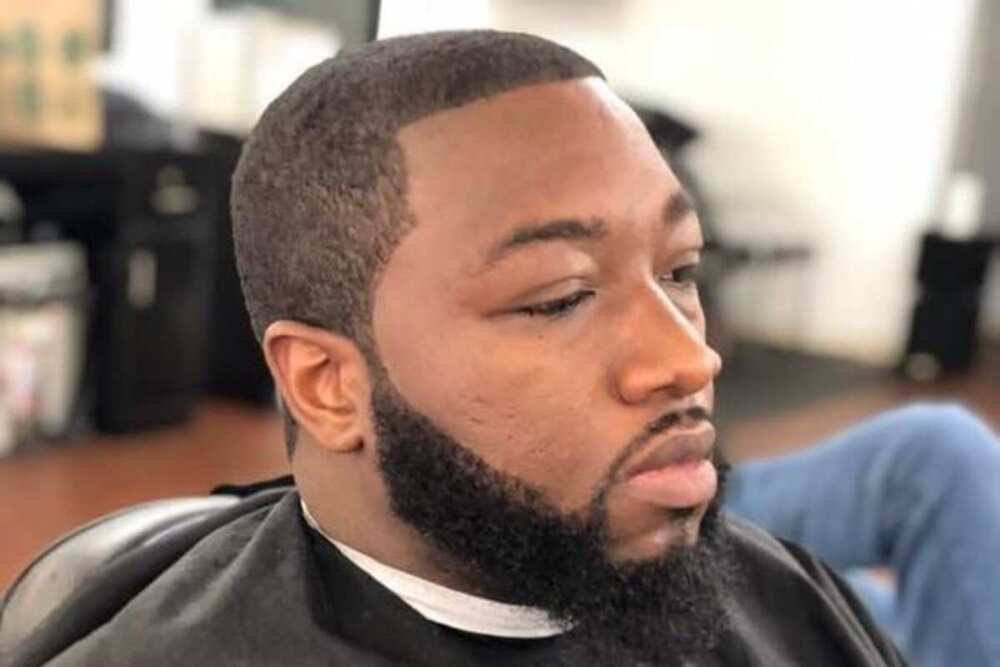 The Caesar cut is a traditional men's haircut ideal for individuals who love short hair. Its low-maintenance design takes very little grooming time each morning, making it great for the busy male. The cut is distinguished by having a reasonably uniform length around the head and on top and a discreet short fringe.
Clean shave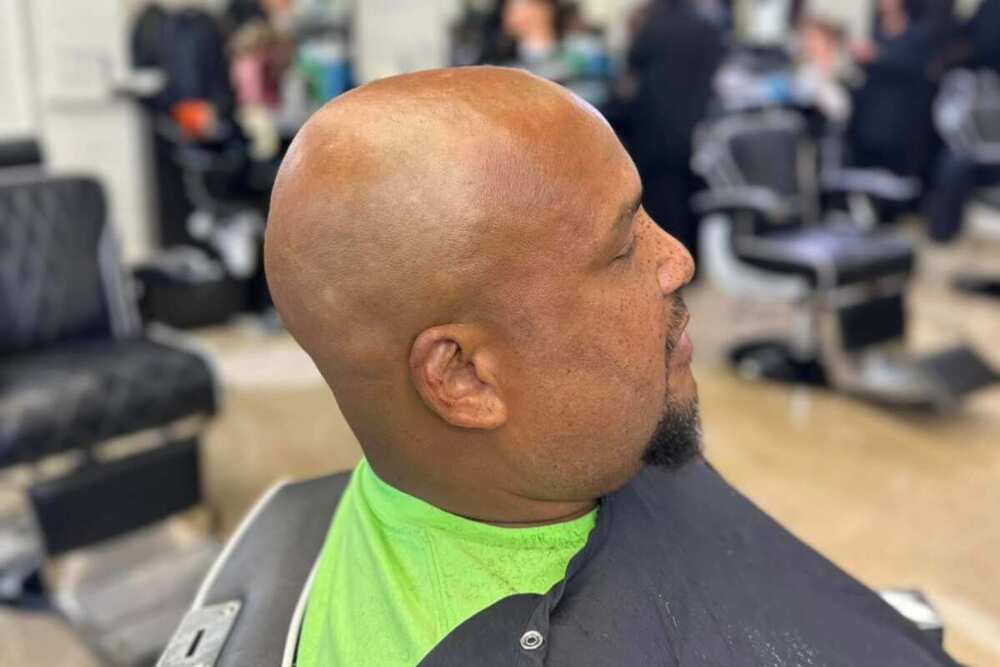 A clean shave is one of the best interview hairstyles for males. Shaving your hair gives you a macho image. Men with no hair are frequently thought to be stronger, more powerful, and more confident. It's also an excellent method to wear locks, reduce grooming time, and eliminate all your hair products.
High and tight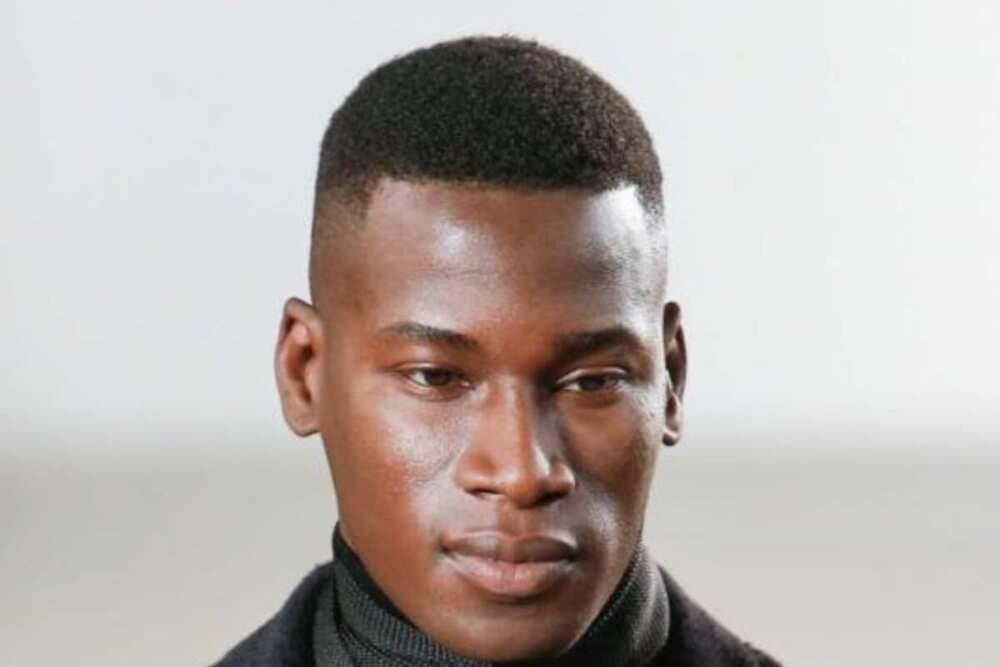 Are you looking for simple-to-style Black men's haircuts? Men like structured, simple-to-manage haircuts. Shaved sides and some length on top of your head are essential to the high and tight look. The style is an excellent choice for low-maintenance men.
Low fade with waves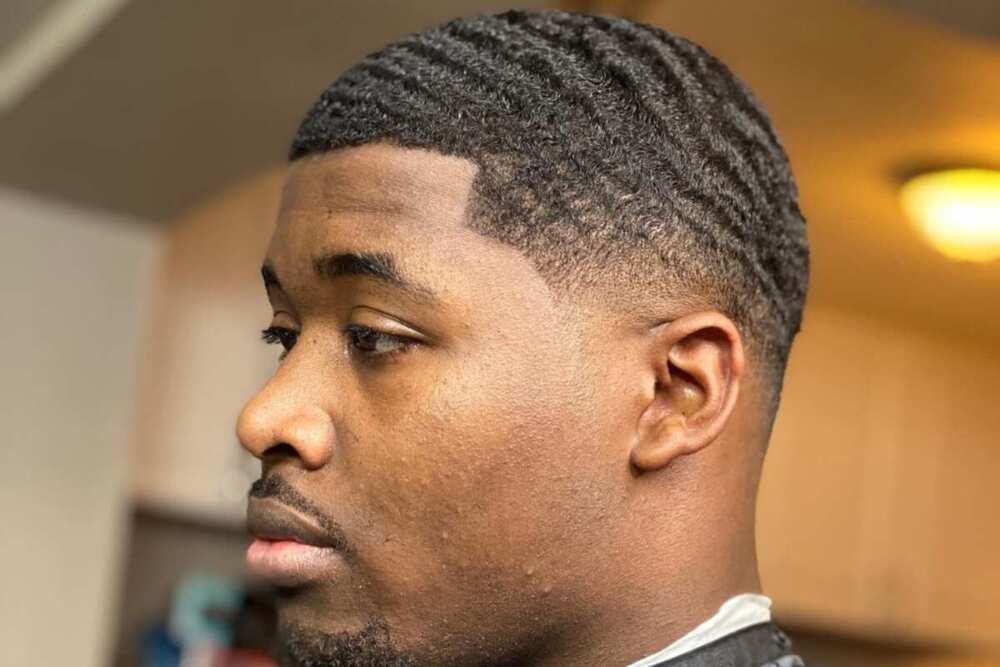 The low fade with waves is an excellent option for those who want a blend of texture and accuracy. The hair is tapered close to the skin, but a distinct wave pattern is left on top. The style provides a sleek, modern, and contemporary appearance.
Box fade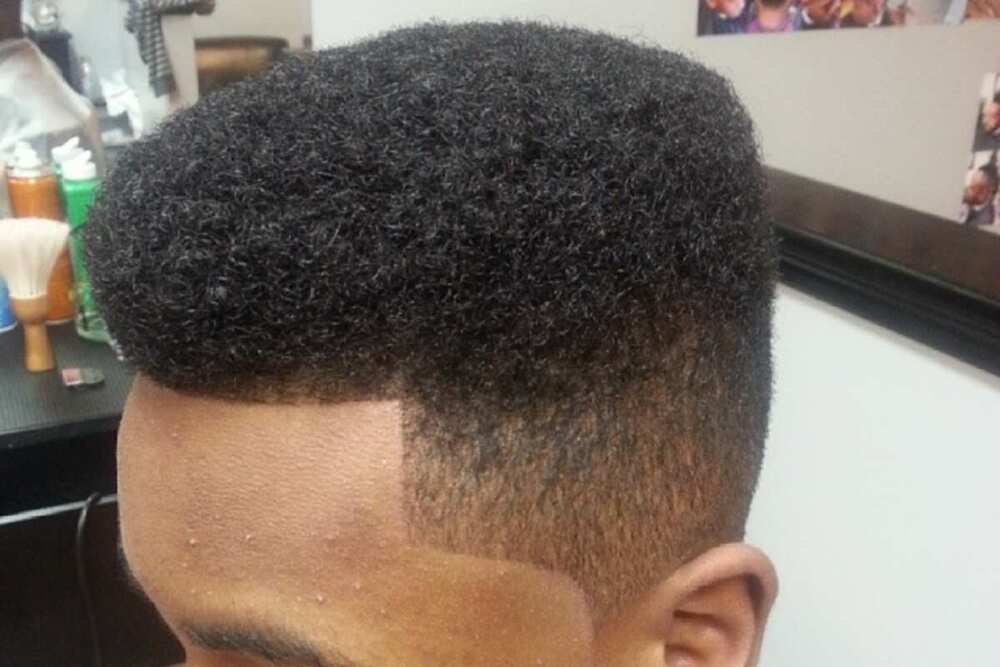 The box fade is a high-top fade type with a squared top, giving your appearance a more contemporary and edgy feel.
Cosmic fade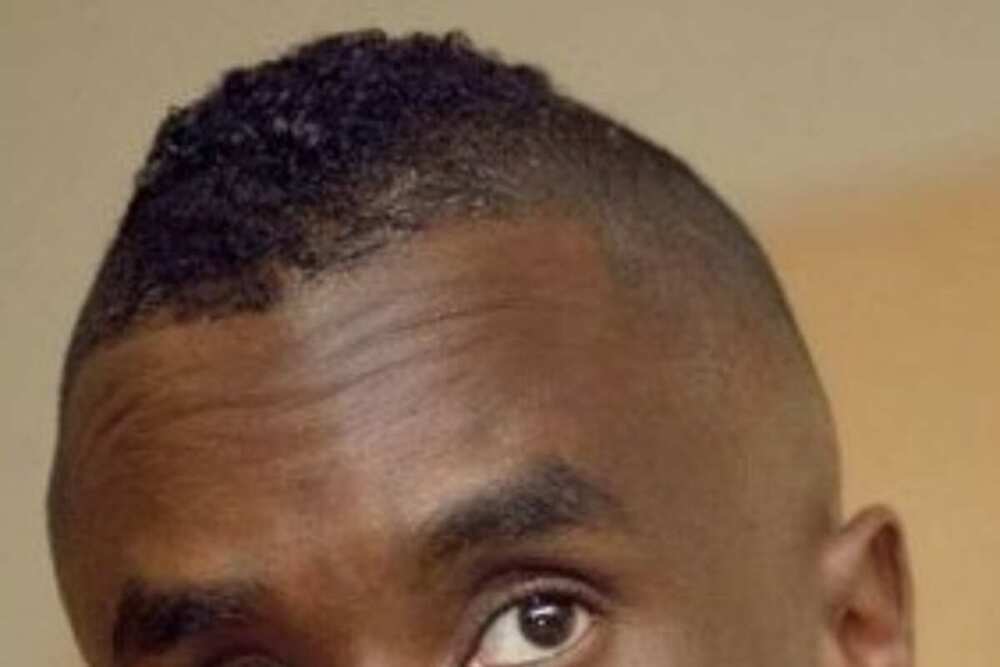 This celestial-inspired design has a crisp fade and elaborate constellation-like geometric patterns carved into the sides. The crown is left open and enormous, producing a stunning contrast that emphasises uniqueness and cosmic design.
Low skin fade with textured top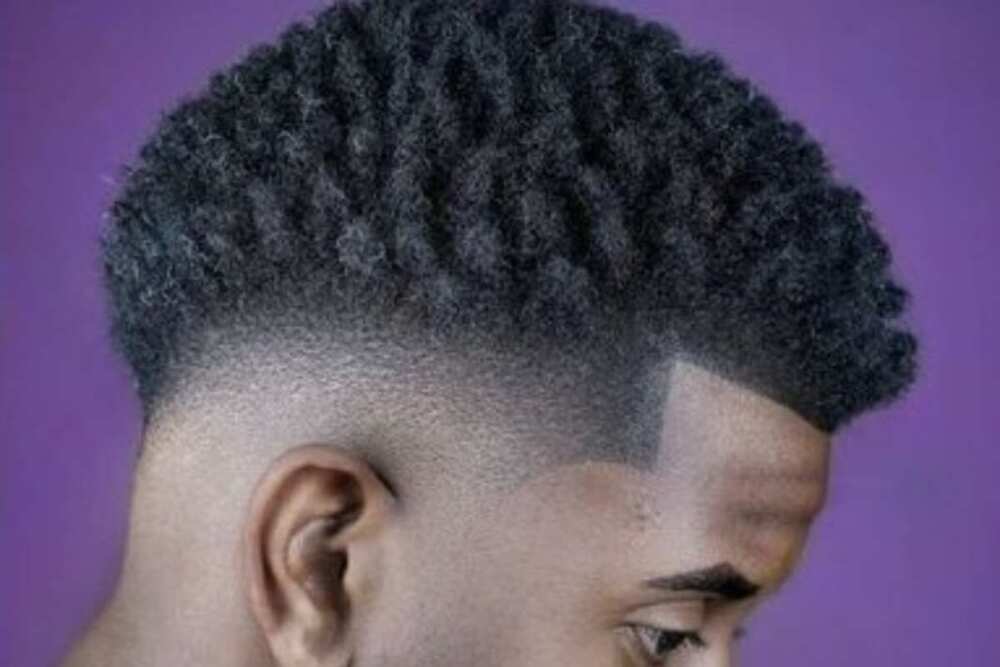 This lovely men's hairdo has a tight side and back low shave, contrasting with a textured and voluminous top for a fashionable look.
Does hairstyle matter in a job interview?
Yes, hairstyles that make you feel uneasy during the interview or that are provocative to you and the interviewer could negatively impact your chances of getting the job.
How should a female and male hairstyle look at a job interview?
Generally, your hair should be neat. Choose a hairstyle that complements your appearance and makes you feel polished without requiring you to constantly fuss with it or push it out of your eyes.
Above are some of the best interview hairstyles for both males and females. By enjoying your appearance, you demonstrate your commitment and seriousness about the possible employment role. Therefore, having lovely interview hairstyles can significantly enhance your confidence.
Lady rocks cornrows hairstyle to an interview, gets the job
A beautiful lady identified as Mela Lawson has narrated how she rocked cornrows to an interview and got the job.
Mela shared her experience via LinkedIn while recounting how she was scheduled for an interview the same day she was supposed to get her hair braided.
She said she had no choice at the time because she was already booked to braid her hair and she couldn't make any other style.
Surprisingly, Mela was offered the job despite all the fuss and anxiety over her hairstyle.
Source: YEN.com.gh