21 women with buzz cuts to inspire you to get the big chop
The buzz cut has long been identified with men. However, women have embraced this hairstyle over the years. A buzz cut is chic, classy and easy to maintain. Many women have gotten the big chop, including celebrities. Here are women with buzz cuts to inspire you.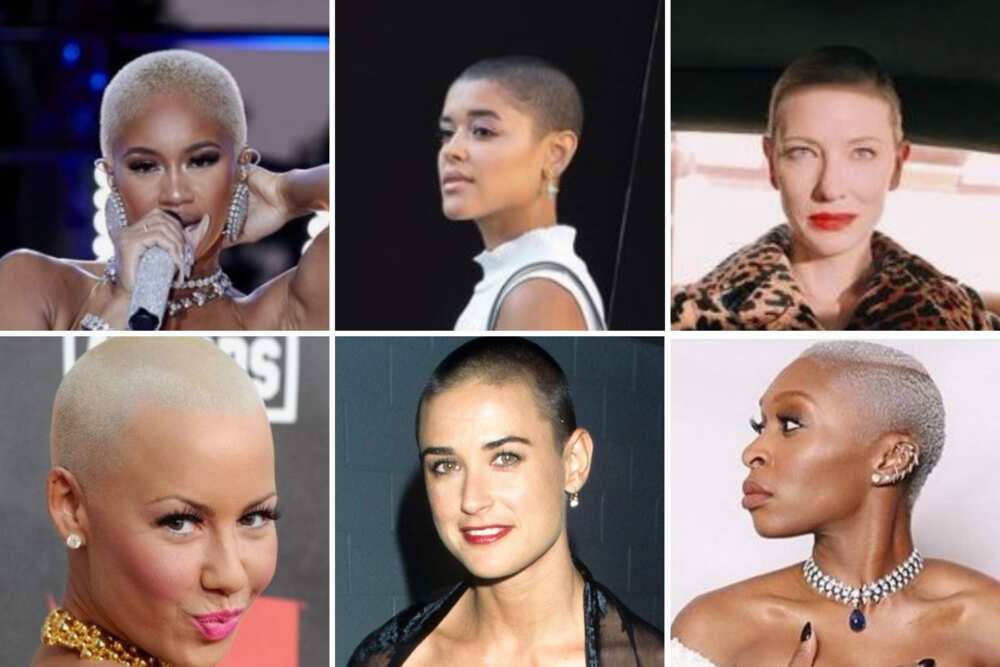 The buzz cut style has become popular, and many women, including celebrities, are getting the chop. There are various buzz cuts, including the fade, the crew cut, and the design. When choosing the cut, it's essential to know the length and texture of your hair. From Lupita Nyong'o to Jessie J., these are famous women who got the big chop.
21 women with buzz cuts
A buzz cut is a short hairstyle where hair is trimmed with electric clippers and guards. Below are 21 women with buzz cuts that will inspire you.
1. Amber Rose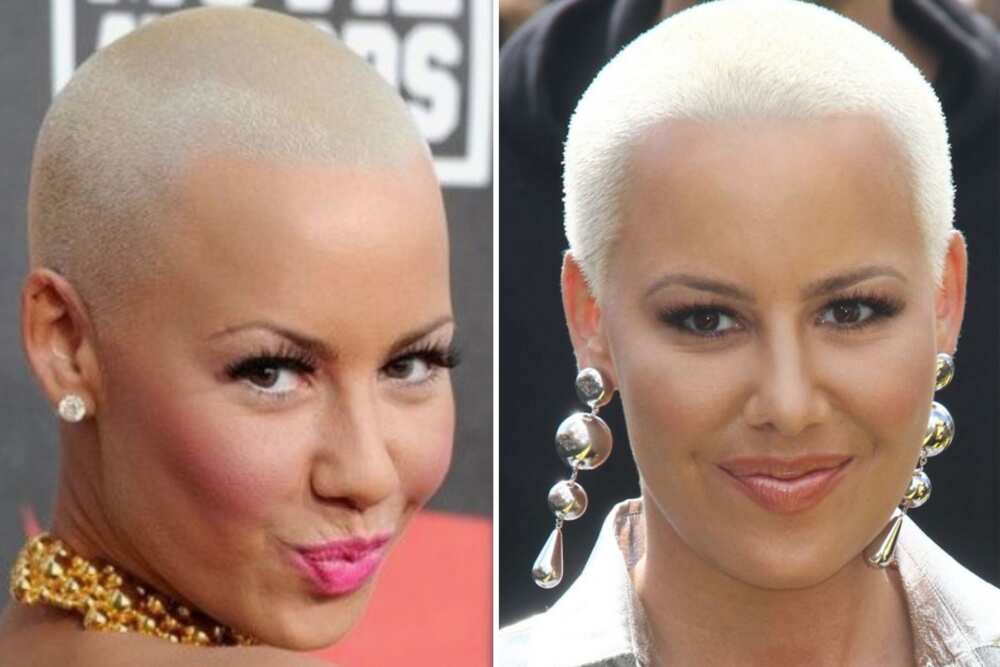 Blonde buzz cut is one of the best buzz cuts for women. Amber Rose has made the peroxide blond buzz cut her signature hairstyle over the years. It suits her face, although it takes a lot of effort to maintain. You need to dye and cut the hair quite often to keep it neat. If you love short blond hair and have the time, this style might suit you.
2. Jessie J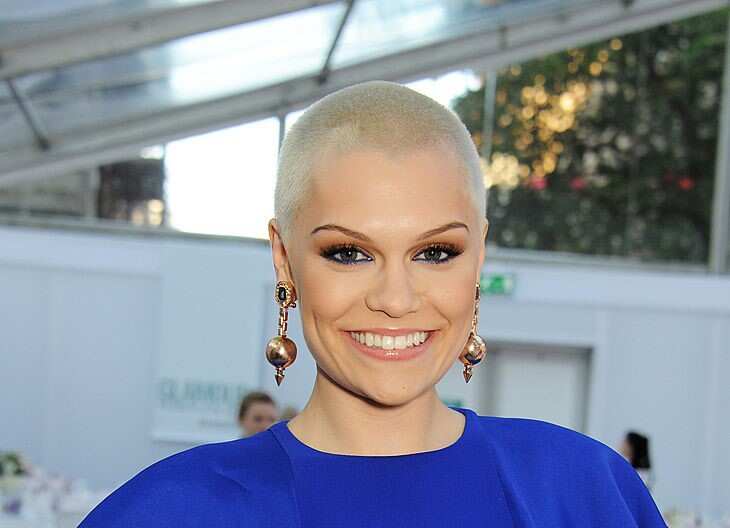 Platinum hair colour has been the hairstyle of the Kardashians for some time. This trend found its way to the cut, and the platinum blonde buzz cut has become one of the favourite short buzz cuts for women. Jessie J. rocked this style, and it looked good on her. This cut looks good, with a length between one to three millimetres of platinum-coloured hair.
3. Iris Law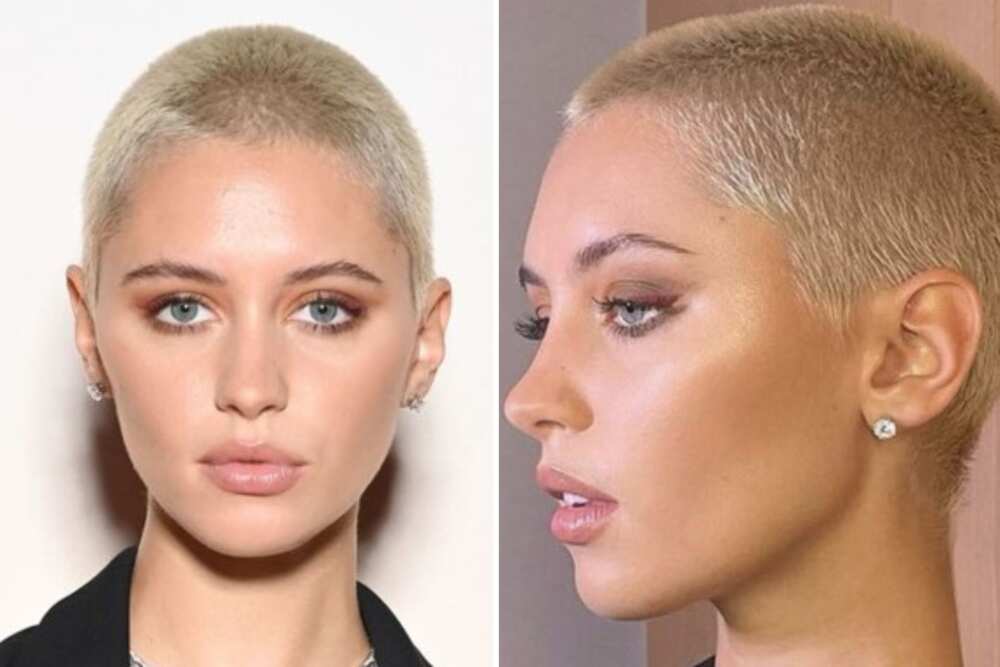 Iris Law is an actress and model from the UK. She has been one of the girls with buzz cuts in the modelling arena. This young model bleached her long hair before getting a buzz cut. She became a new person with this style, which was gorgeous on her.
4. Lupita Nyong'o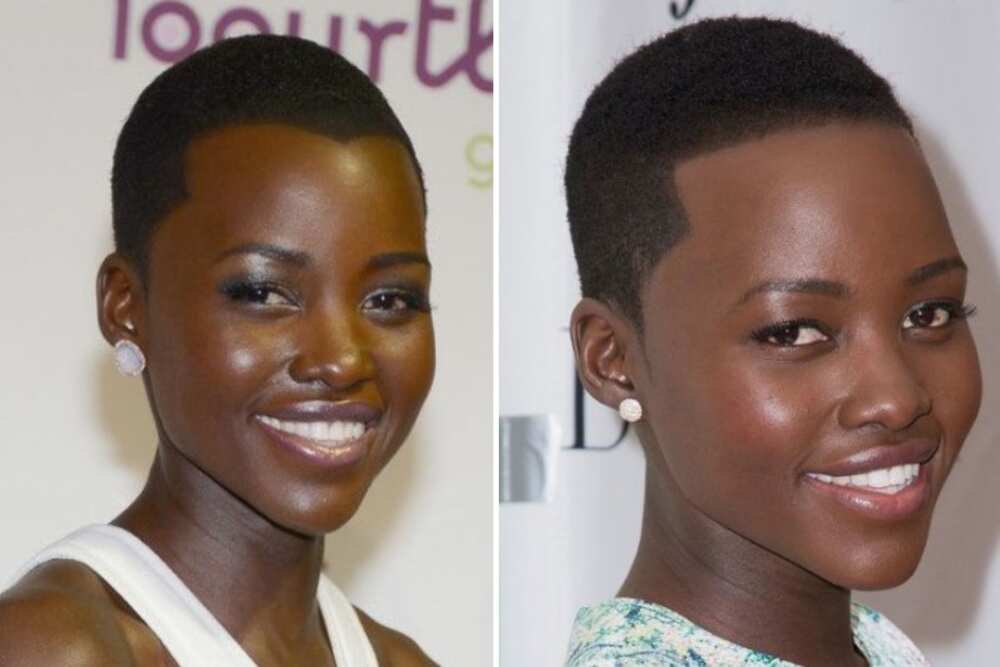 Lupita Nyong'o is a Kenya-born Hollywood actress famous for her roles in 12 Years A Slave and Black Panther. She has always had short hair, and it is no surprise she made it on this list. The talented actress isn't afraid to experiment with her hair, and one of her short looks is this grown-out buzz cut.
5. Cara Delevingne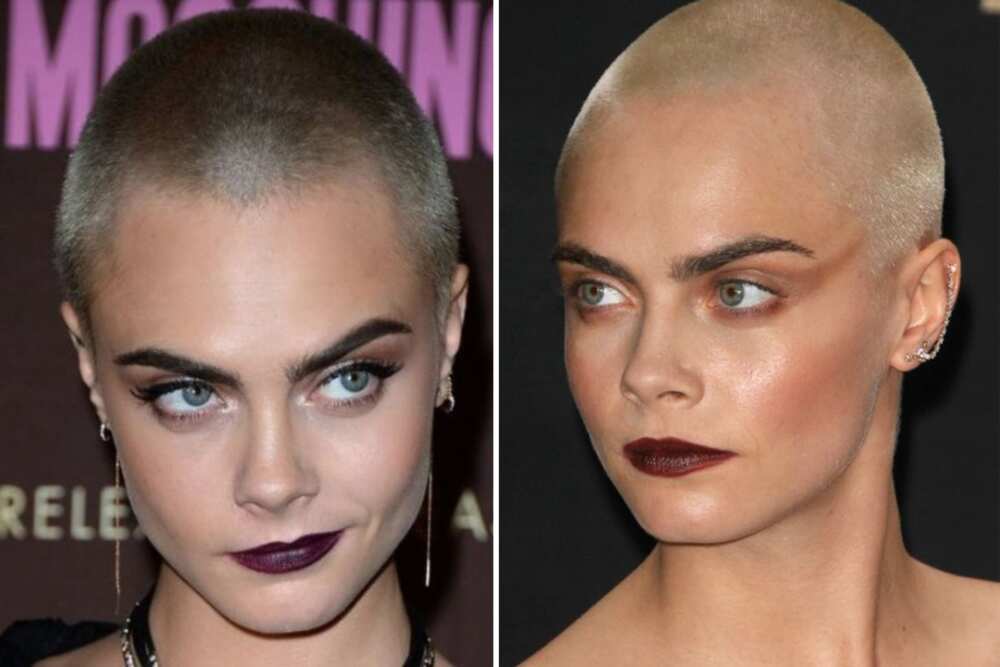 With her perfect complexion and big blue eyes, Cara Delevingne looks gorgeous with any hairstyle. One of her best looks is the edgy feminine buzz cut. This style can be spiced up in different ways, making it a great option for many. Cara wore the look with a sprayed silver at the Met Gala 2017.
6. Kristen Stewart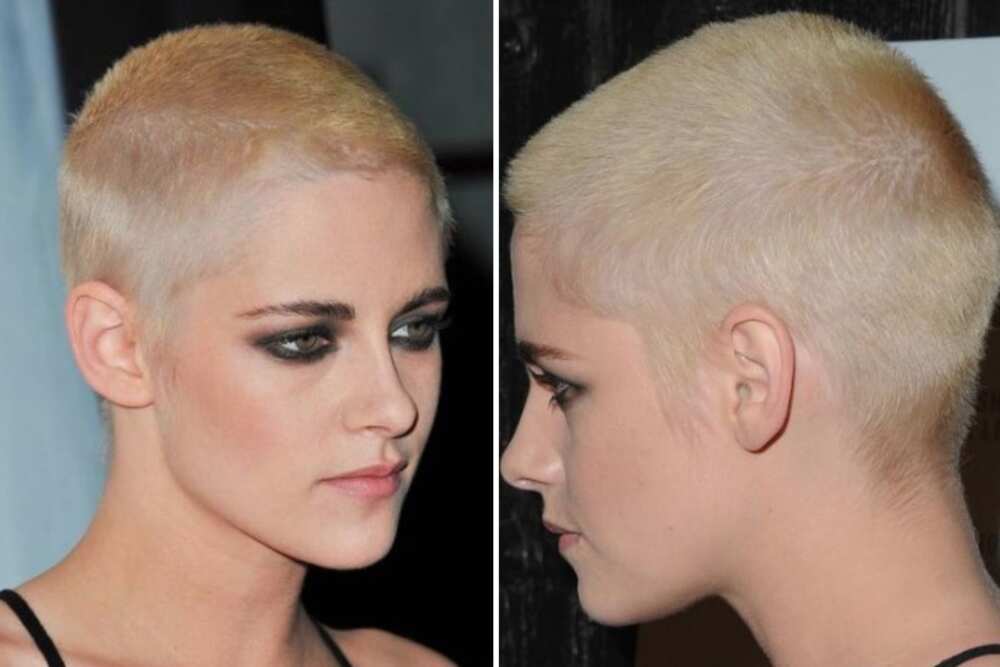 Kristen Stewart is an actress who isn't afraid to experiment with her hair and does exactly what she wants regarding her style. In her latest role as an engineer in the movie Underwater, she wears a buzz cut for practicality. This platinum blonde cut looks fantastic with smoky eyes and bold eyebrows.
7. Saweetie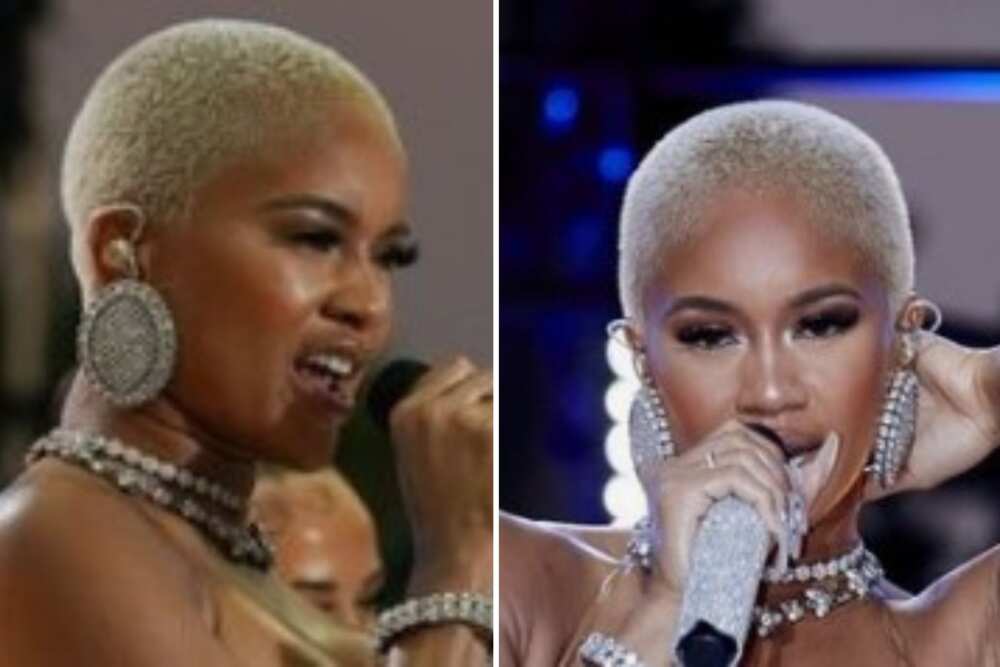 Saweetie got the big chop in 2021 as she celebrated the holiday season. She showed off a blonde buzz cut on Instagram. The new hairdo look is a departure from the long hairstyle she's had for a while.
8. Natalie Portman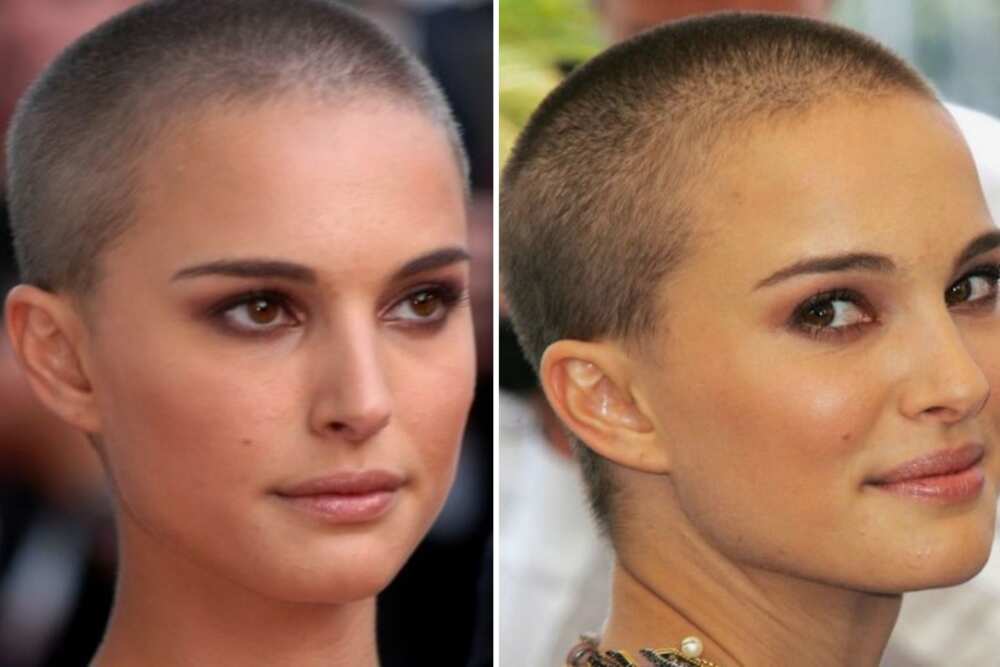 Natalie Portman is one of the famous buzz cut women. This talented actress cut her hair on screen for V for Vendetta. The cut had to be done right in one take and it looked great. The style works for her as it complements her face and eyes.
9. Keke Palmer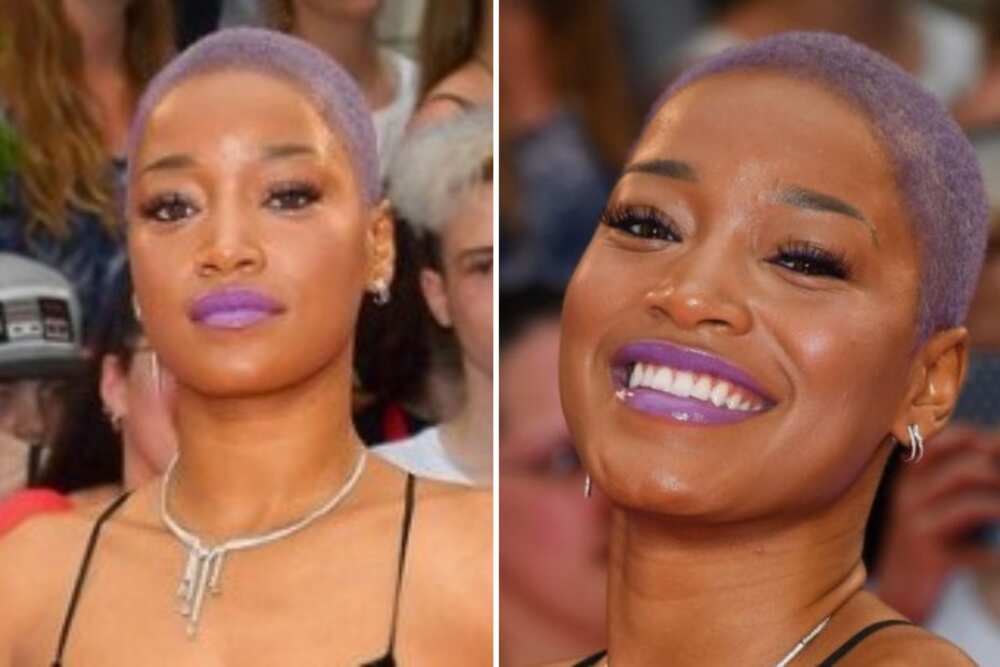 The American actress and media personality debuted her lilac buzz cut in 2017. While stepping out, Palmer added purple lipstick to complete the look. She told Refinery29 that she loves experimenting with her hair, and edgy looks excite her.
10. Amandla Stenberg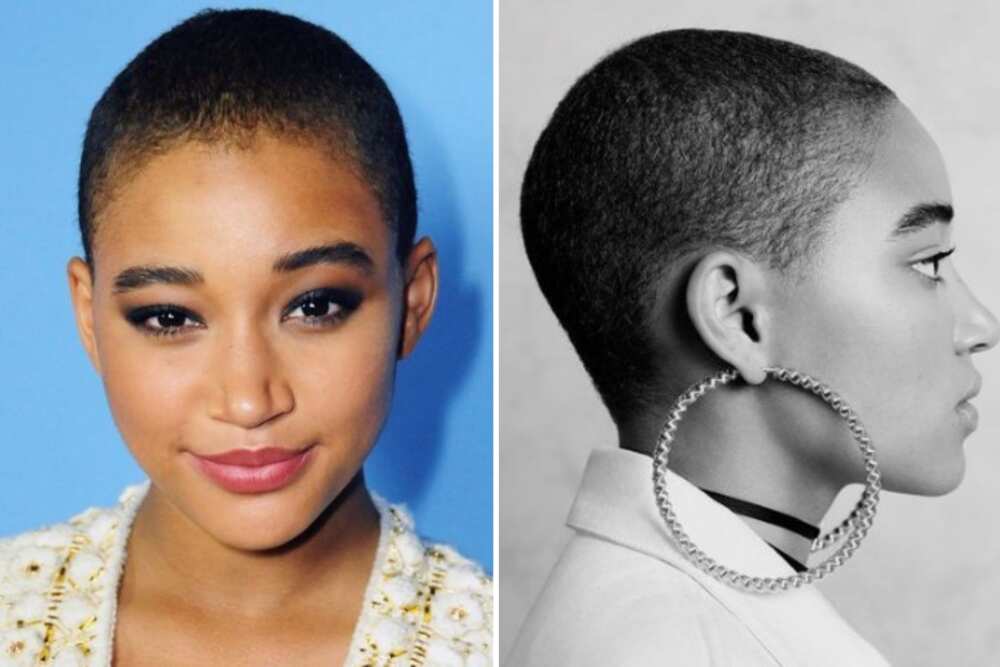 Amandla Stenberg is a young up-and-coming actress from the United States. She isn't afraid to take risks when it comes to hair. One of her favourite hairstyles is the buzz cut which makes her eyes pop. Although she loves short hair, the decision to get the buzz cut was for a German film, Where Hands Touch.
11. Ruth Bell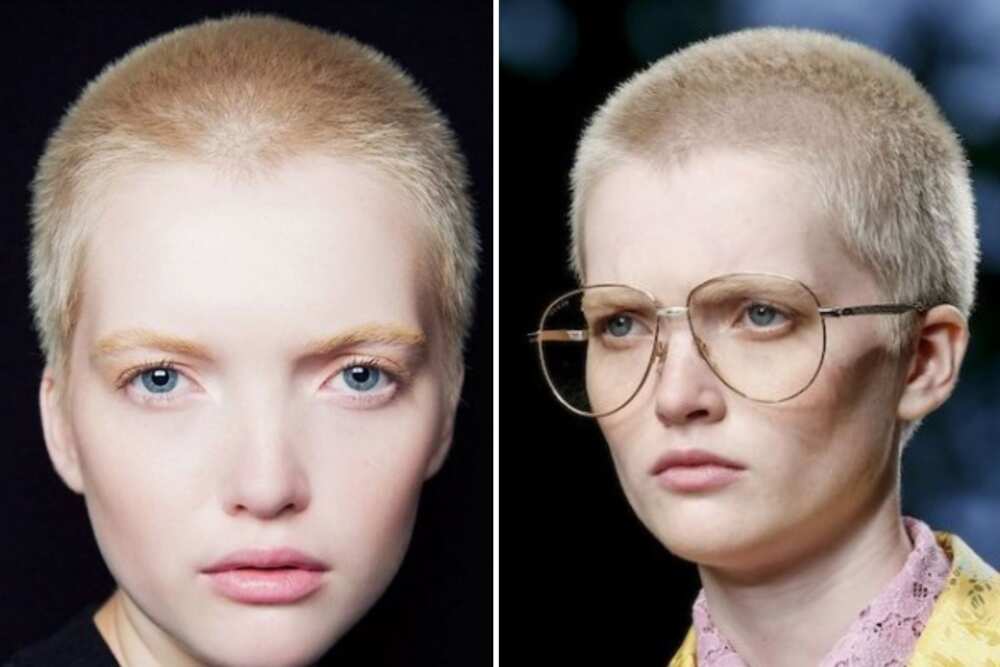 Ruth Bell is a fashion model from Britain. She is one of the women with buzz cuts in the fashion industry. Her decision to get a buzz cut was to distinguish herself from her twin sister May Constance Bell, also a fashion model. Her short hair has been versatile, allowing her to play with colour and length over the years.
12. Jada Pinkett-Smith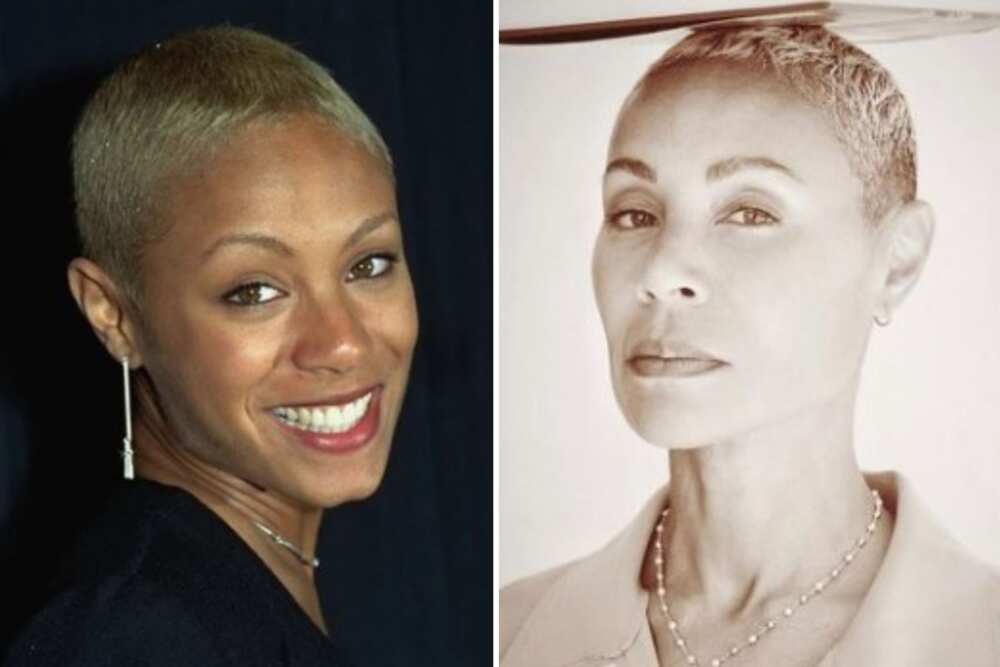 Jada Pinkett-Smith is an American actress and a co-host of the Facebook Watch talk show Red Table Talk. She opened up about her experience with alopecia, which led her to shave her head. Jada's daughter Willow assisted her in getting the cut.
13. Solange Knowles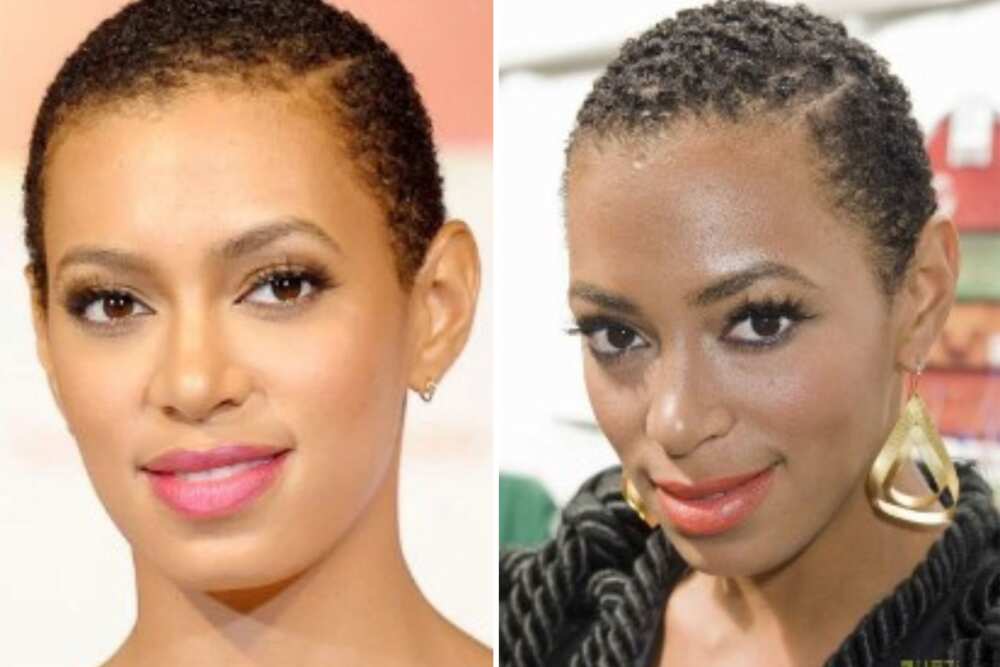 Knowles is an American singer and songwriter from the United States. Beyoncé's younger sister is known to experiment with her natural hair. From braids to afro, the big chop is one of her best looks. With a pair of standout lashes and a striking lip, the buzz cut looked good on her.
14. Jordan Alexander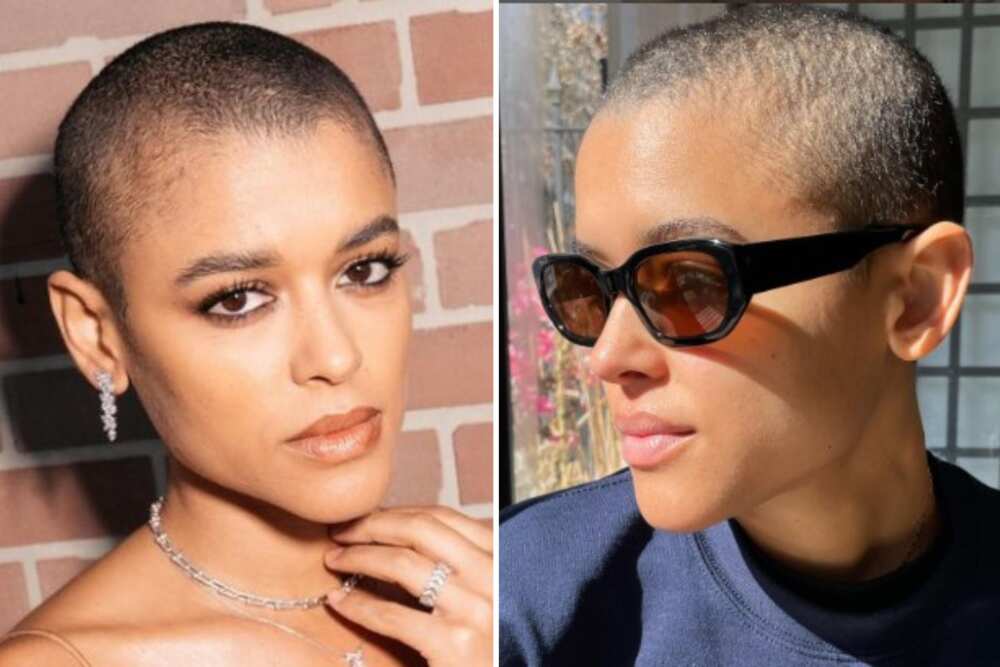 Jordan Alexander is an American actress known for her role in the Gossip Girl reboot. She loves to keep her hair short. Alexander's buzz cut gives her numerous makeup options making her face pop.
15. Slick Woods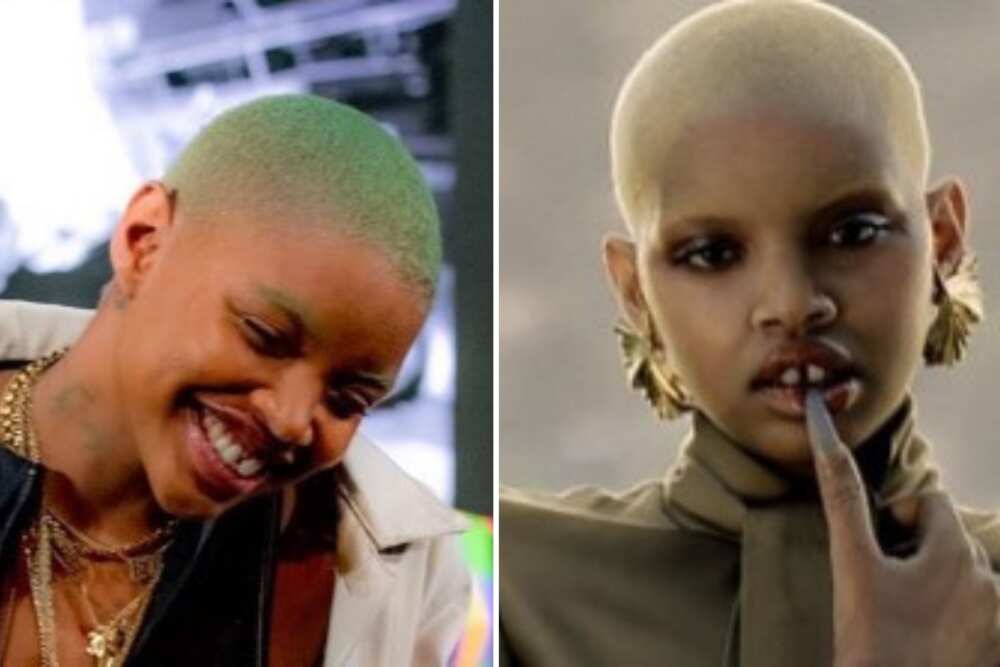 Slick Woods is a model who has been wearing short hair since appearing on the scene. The style allows her to experiment with colour. She was diagnosed with cancer in 2019, but it didn't stop her from pursuing her career and life goals.
16. Charlize Theron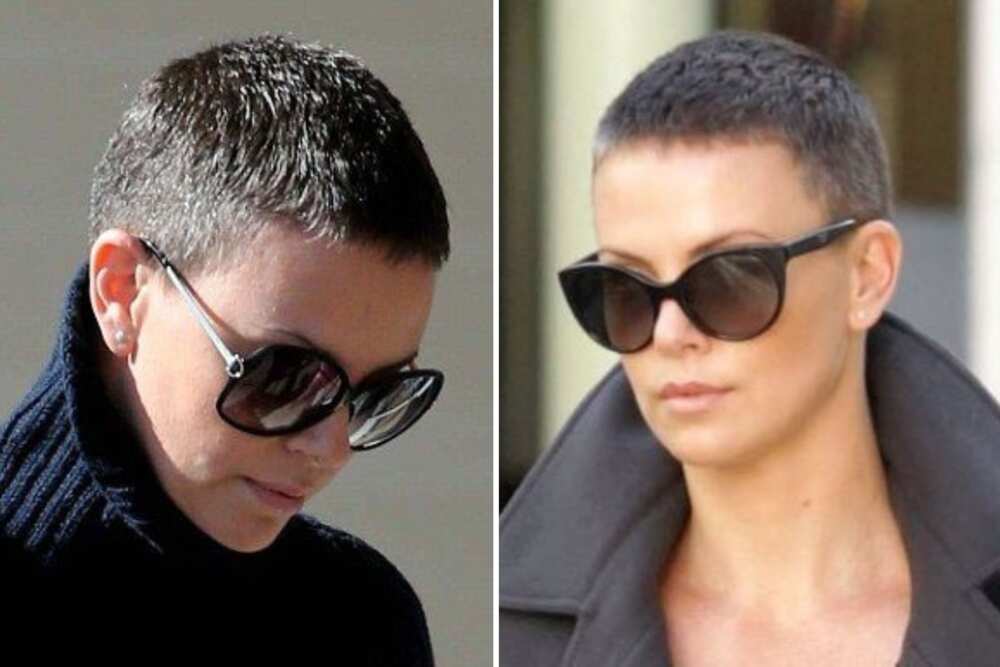 Charlize Theron had a female long buzz cut for Mad Max: Fury Road. She stated it made her feel free; every woman should experience it. The South African actress said so as she walked on the Red Carpet in 2013.
17. Cate Blanchett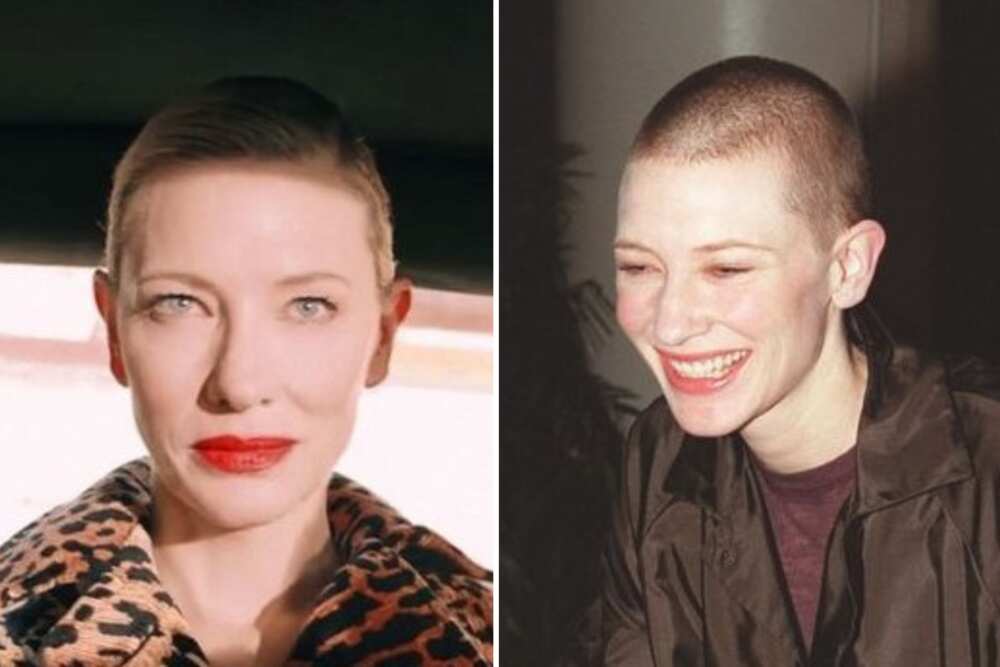 Cate Blanchett is another American actress who shaved her head for a role. She was featured in the thriller film Heaven. The photos are 20 years old, although it looks like they were taken just the other day, which is a testament to her everlasting beauty. This proves the buzz cuts for older ladies still look great.
18. Demi Moore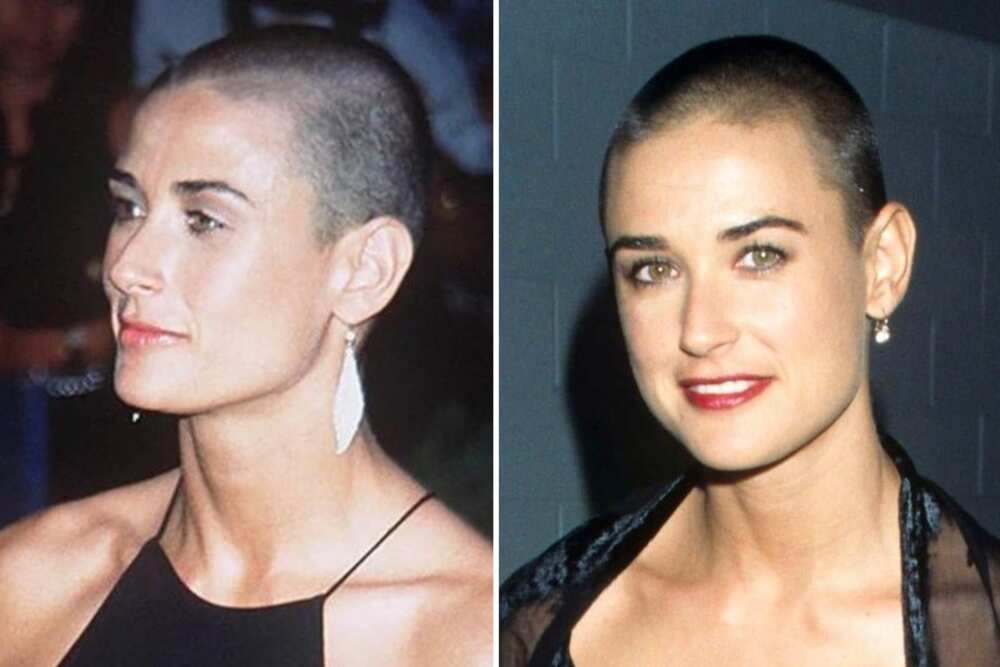 Demi Moore shaved her head for G.I. Jane, which was a big deal. Although this was in 1997, the look is timeless. This means you can still use it today as the inspiration for the big chop.
19. Adwoa Aboah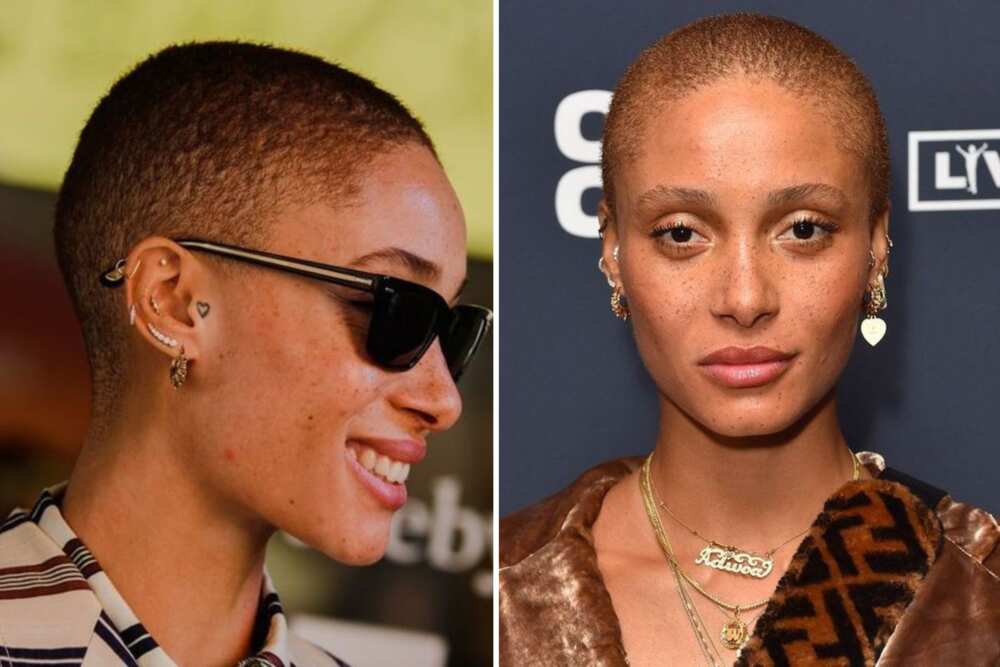 Fashion model Adwoa Aboah once had a super sleek buzz cut. Although she has since grown out her hair, this buzz cut holds a special place in her heart.
20. Cynthia Erivo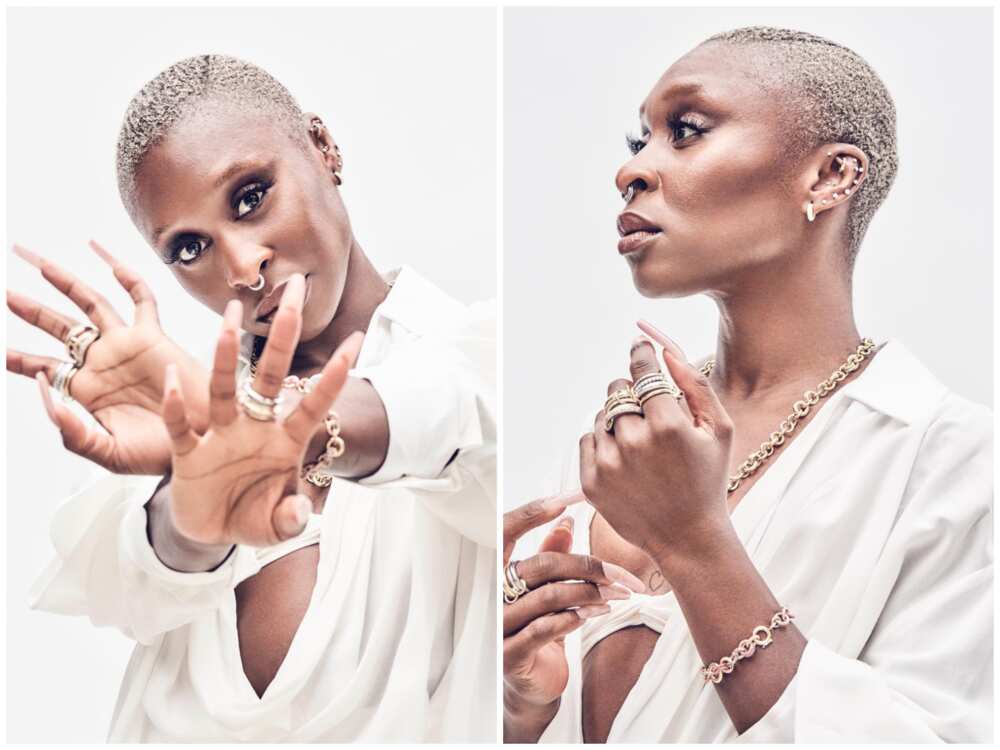 Cynthia Erivo is one of the well-known buzz cut women. She has styled and dyed her short hair in many ways. Her buzz cut can be inspiring as you can get creative makeup without interfering with the look.
21. MJ Rodriguez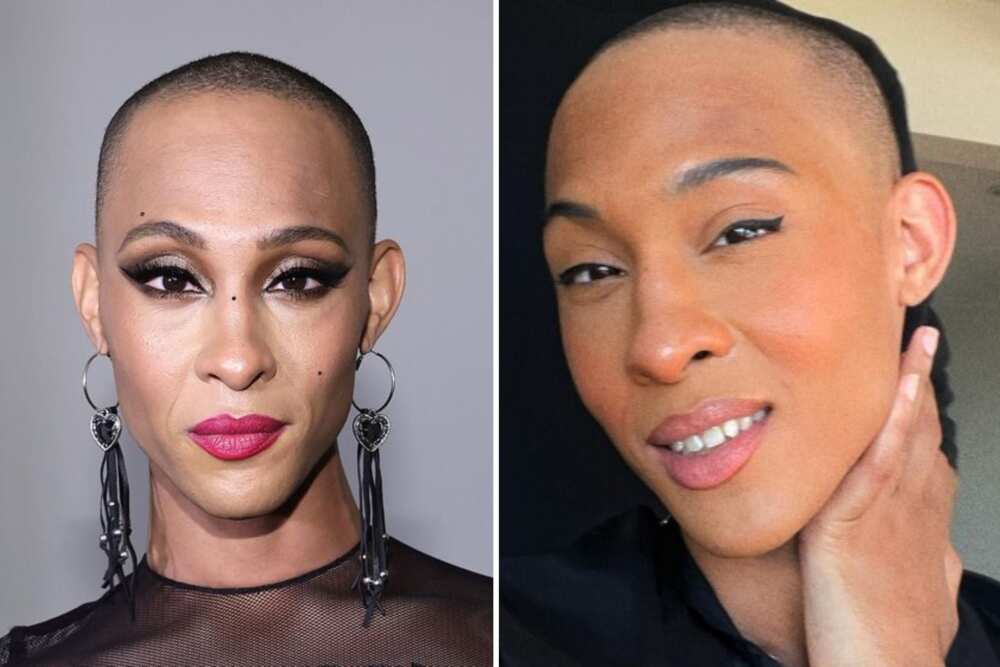 MJ Rodriguez got a fantastic buzz cut by hairstylist Barry Lee Moe. She stated that it was time to let go. If you feel like your hair is holding you back, use this as a sign to get the big chop.
A buzz cut is a stylish short hairstyle that has become popular with women. There are numerous women in the limelight who have decided to get the big chop. The above list of 21 women will inspire you to cut off your hair.
Legit.ng published an article about unique hair dying ideas. Dying your hair is a form of expression when it comes to style. There are numerous shades of colours to experiment with. From metallic to rainbow, there are endless possibilities for creating a cool and unique look.
Dying is a good option if you are looking for a unique hairstyle. It is an excellent option to make a statement and enhance your beauty. There are many options when it comes to ideas and colours. Here are cool and unique options you can experiment with.
Source: Legit.ng