Billie Eilish's boyfriend's list: who has the singer dated?
Billie Eilish is known for her unique musical style, blending pop, electropop, and alternative music elements. Billie Eilish is also recognised for her distinctive fashion sense and advocacy for mental health awareness and environmental issues. Her personal life has also been controversial, particularly regarding her romantic partners. Have a look at Billie Eilish's boyfriend's list.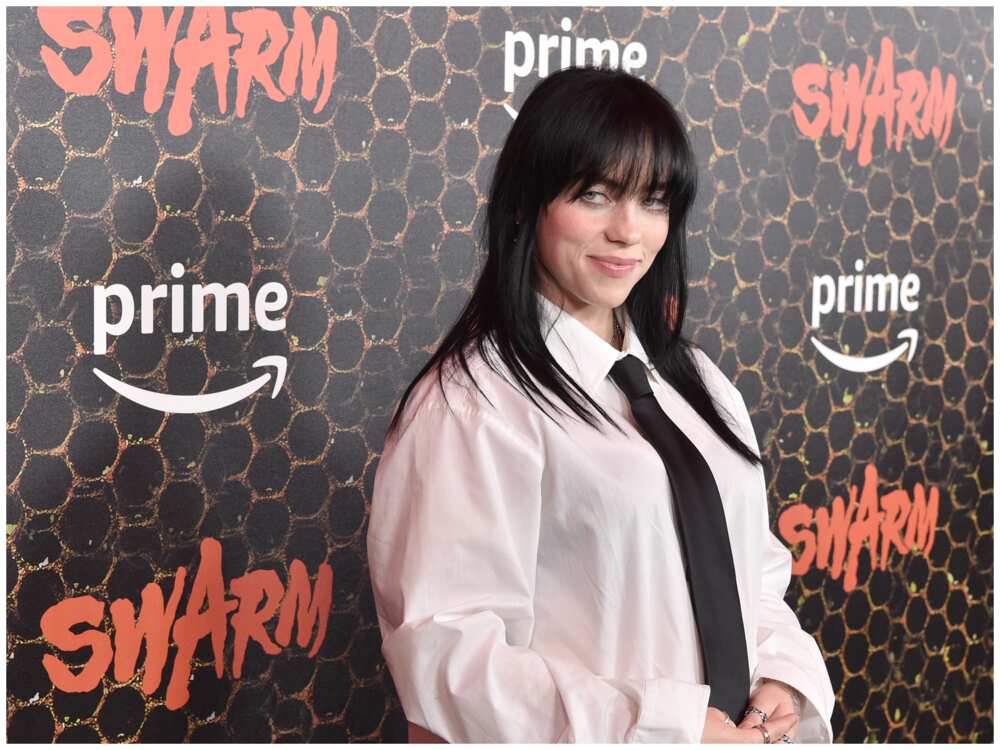 Billie Eilish Pirate Baird O'Connell, known professionally as Billie Eilish, is an American singer, songwriter, and musician. She first gained widespread recognition in 2015 with her debut single, Ocean Eyes, which became a viral hit. Since then, she has won multiple Grammy Awards and has become one of the most influential artists in the music industry.
Billie Eilish's boyfriend's list
Billie Eilish's relationship history is brief, considering she is only 21. Furthermore, she has previously stated that she found it hard to go to events and flirt with people.
She thought many people were either terrified of her or thought she was out of their league. Even so, she has had a few high-profile matches. Have a look at Billie Eilish's dating history.
Jesse Rutherford (October 2022–May 2023)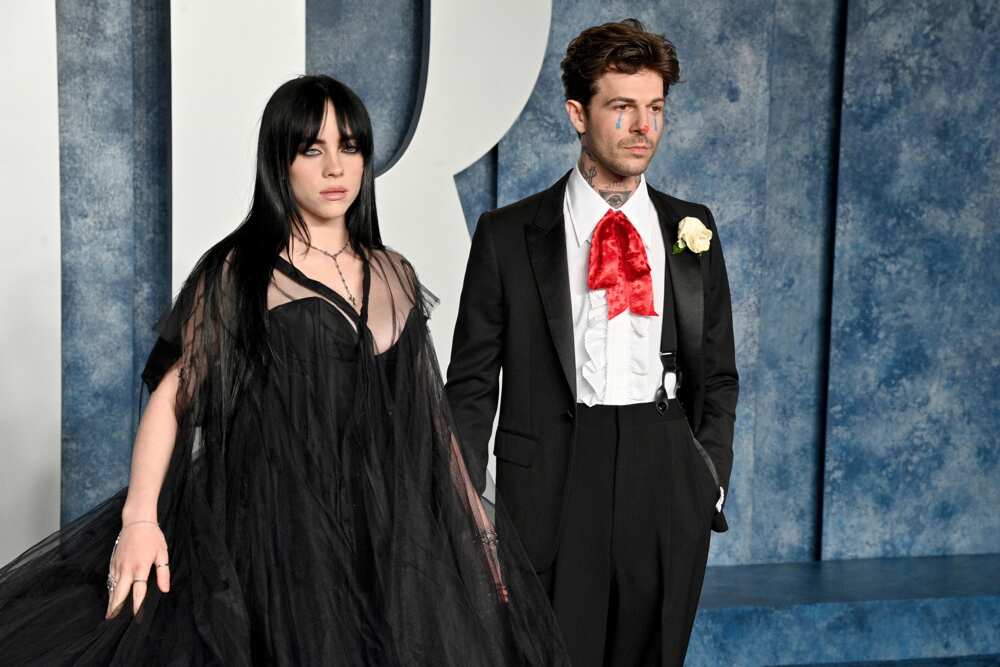 The most recent of Billie Eilish's ex-boyfriends is Jesse Rutherford. Rutherford is an American singer, songwriter, and actor. He is best known as the lead vocalist of the band The Neighbourhood, which was formed in 2011. The Neighbourhood gained popularity with their hit singles like Sweater Weather and Daddy Issues.
Billie and Jesse were first spotted locking lips outside a restaurant in Los Angeles, California, in October 2022. Shortly after, TMZ published photos of the pair on what looked like a romantic dinner date. The images went viral, and although they were yet to confirm their involvement, they attracted much backlash due to their 11-year age gap, with Billie being 20 and Rutherford 31 at the time.
They made their relationship Instagram official on 01 November 2022. They poked fun at the backlash surrounding their age gap by Billie dressing up as a baby and Rutherford as an old man. They had their last public appearance together at Coachella in April. After about eight months together, the couple called it quits in May 2023.
Matthew Tyler Vorce (April 2021–May 2022)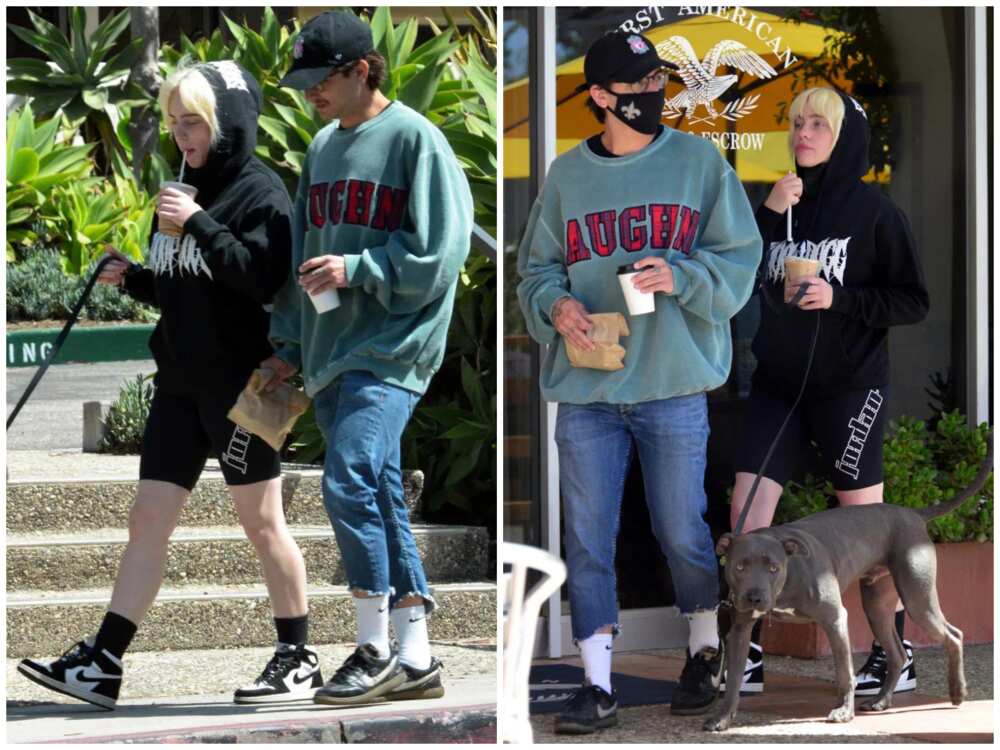 Matthew Tyler Vorce is an American actor and a co-host of the podcast series Searching for Putty Man. He gained attention in the media due to his association with Eilish, as his acting portfolio is small.
They were first spotted together publicly in April 2021, grabbing coffee. Although they seemed cosy with each other, they declined to comment on their relationship. However, the songstress alluded to having a partner and said she preferred to keep it private.
Like Billie Eilish's past boyfriends, he was significantly older. Matthew was 29, while Billie was 19 when they started dating. In early 2022, there were rumours that Matthew had cheated on Billie. He announced their breakup via an Instagram story in May 2022, saying nobody had cheated.
Brandon Quentin Adams (2018–2019)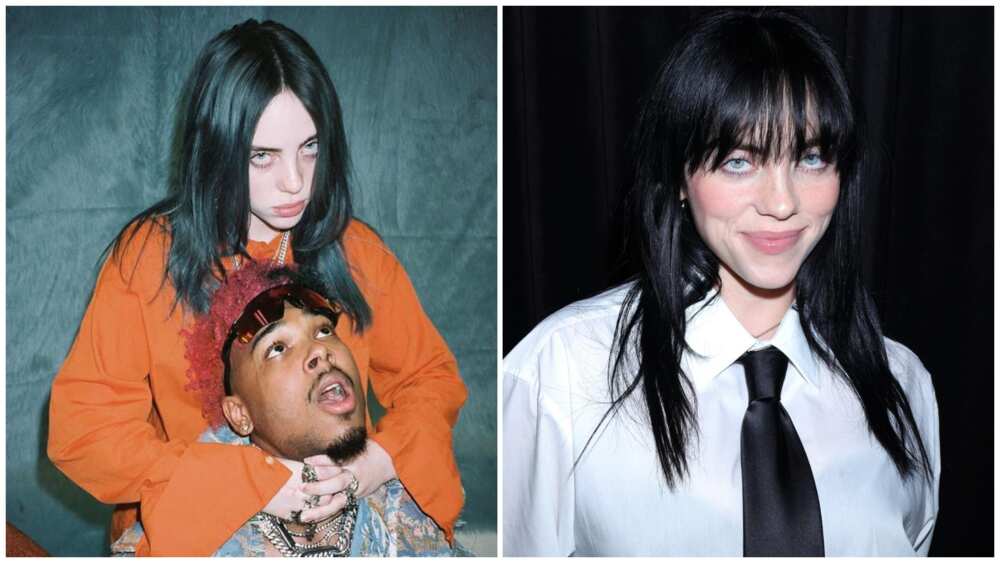 Brandon Quentin Adams is an American rapper who goes by the stage name 7:AMP. They are thought to have started dating in 2018 when Eilish was 17. Their relationship was private then, but the singer talked about it in her Apple TV+ documentary, Billie Eilish: The World's a Little Blurry.
The documentary revealed that Q, as Billie affectionately called him, was 22 years old when they were together. The singer's fans caused an uproar, suggesting that Q had groomed her as he was an adult dating 16-year-old Eilish.
They ended their relationship in 2019 after about a year together. Eilish revealed that they went their separate ways because they wanted different things. She said staying together wouldn't have been fair to him since she wasn't happy with him. Q has yet to address their relationship and breakup.
Henry Whitford (2014)
Henry Whitford is a little-known personality from Los Angeles who briefly came into the spotlight after Eilish's shoutout. Although he wasn't one of Billie Eilish's boyfriends, they went on a date when she was 16, and he was her first kiss. Unfortunately, her shoutout turned her fans' attention to Henry, causing them to bully and make fun of him, calling him ugly.
Who is Billie Eilish's boyfriend?
The singer is not in a relationship as of writing. She broke up with her last partner, Jesse Rutherford, in May 2023. There has been no news of a new romantic alliance for her since.
FAQs
Who is Billie Eilish's partner? The singer is not in a relationship as of writing.
When were Billie Eilish's relationships? Her first known official relationship was between 2018 and 2019. Her most recent one was between October 2022 and May 2023.
How old was Billie when she dated Q? She was reportedly 16 when the relationship started and 17 when they broke up.
Who is Billie Eilish's ex? Her most recent ex is Jesse Rutherford, an American singer.
Is Billie Eilish married? No, the singer is not married.
Who was Billie Eilish's biggest crush? She once revealed that the Buffy the Vampire Slayer star, Sarah Michelle Gellar, was her celebrity crush.
The men on Billie Eilish's boyfriend's list have often attracted backlash for significant age gaps. The singer is currently single after her recent relationship with Jesse Rutherford came to an end in May 2023.
Legit.ng recently published Olivia Rodrigo's boyfriend's timeline. Olivia Rodrigo, an American singer-songwriter and actress, gained initial fame through her role on Disney's television show High School Musical: The Musical: The Series. Following the release of her debut single, Drivers License, in January 2021, her personal life has been under intense media scrutiny.
Aside from her music career, she has also appeared in TV series such as Bizaardvark, New Girl, and Grace Stirs Up Success. Fans and followers are curious about Olivia Rodrigo's romantic relationships, including her current boyfriend and dating history. Read more about her romantic past.
Source: Legit.ng