30 craziest Florida Man headlines that have kept the meme alive
Crazy, hilarious, and absurd things happening in Florida have been popularised on the internet by Florida man memes. Florida man headlines have been online since 2013, with netizens uploading materials about men doing unusual acts such as crimes and funny actions.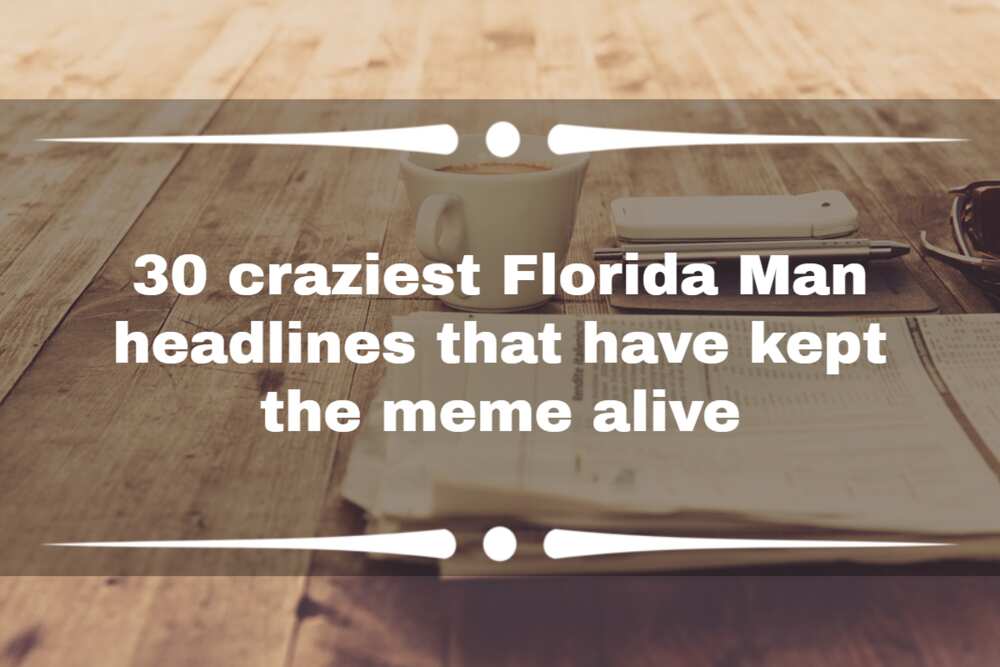 Florida Man headlines are one of the memes that have dominated social media for a long time with bizarre and funny stories. People have shared numerous links on the internet about strange things that have happened in the Sunshine State. Here are some headlines that have kept the meme alive over the years.
Best Florida Man headlines
While there have been many headlines of Florida man on the internet, some of the stories have stood out. Below is the best of Florida man stories compilation that will surprise you.
1. Florida man breaks into a house, cleans it and leaves behind origami
In 2019, a man identified as Nate Roman from Marlborough, Massachusetts, USA, reported a funny incident that left many shocked. He come home and found an intruder had entered his home and cleaned everything in the house, including spreading his bead and scrubbing the toilets. What is even more crazy is that he left behind origami roses on his toilet paper rolls.
2. Florida Man blows a .339 blood alcohol level and gets a DUI on a golf cart
Alfred Constant Mathieu went for a cruise on his golf cart, and while driving on a highway, he was stopped by police who noticed he was drunk. On testing his blood alcohol content, it turned out to be .339, which is way above the legal limit, and he was arrested.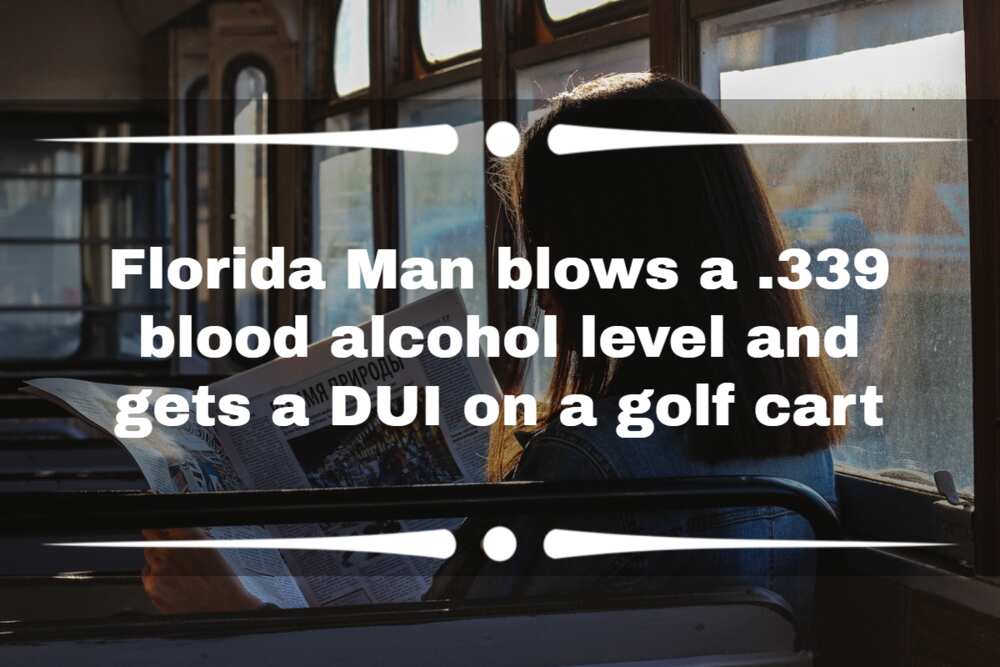 3. Florida Man flees cops so fast that some of his clothes come off. So police identify him with DNA from his sock
Cops could only find a pair of jean shorts, a sandal and a sock at a shooting scene in St. Petersburg, Florida after the suspects dashed from the scene. However, the socks proved to be a vital piece of evidence after DNA pulled from it matched Octavius Jessie Henderson, identifying the shooting suspect.
4. Florida man tries to walk out of a store with a chainsaw stuffed down his pants
Anthony Ballard took shoplifting a notch higher by shoplifting a chainsaw. He reportedly entered Treasure Coast Lawn Equipment and engaged the cashier in small talk while hiding the power tool in his pants.
5. Florida man arrested for calling 911 after his cat was denied entry into a club
Everett Lages visited a Florida nightclub alongside his kitten, but the officials denied access to the facility. Instead of leaving, he called 911, and when the cops arrived, he was uncooperative and continued calling 911. He was arrested for misusing 911.
6. Florida man arrested for crashing car into a mall; says he was trying to time travel
A car crashed into a mall on North Davis Highway in Pensacola, Florida. When cops questioned the unidentified man driving the Dodge Challenger, he said he was trying to time travel when the incident occurred.
7. Police say a Florida man with no arms and no legs is armed and on the run
Florida police were looking for a person suspected of that horrible incident. Sean Petrozzino, the suspect, is a quadruple amputee who lived with his parents after separating from his wife. The police warned the public, saying Petrozzino was armed and on the run.
8. Florida man impersonating a police officer pulls over real cops
Matthew Joseph Erris was arrested in April 2019 after impersonating a police officer. Matthew unknowingly stopped an undercover cop who later called 911 to inform the real cops who apprehended him.
9. Florida man calls 911 after PlayStation stopped working
An unidentified Florida man called 911 to inquire why his PlayStation system was not working. He wanted to know if there was a network issue.
10. Florida man and his pet chicken develop social media fame
A man in Niceville, Florida, gained immense fame on social media with his pet chicken. The two were almost inseparable as they were seen visiting most places and enjoying their time together. Dave Cox and his chicken Sammi have a significant following on Instagram.
Craziest Florida Man headlines
Of all the stories about Florida man on the internet, some are crazy and a bit bizarre. Here are Florida man stories that you will find quite absurd.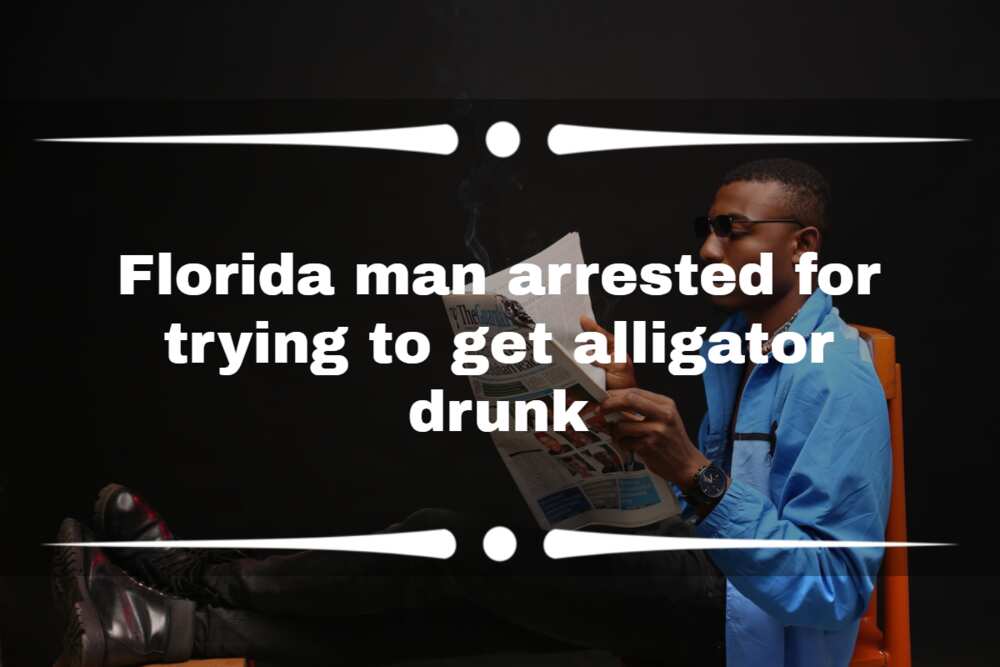 1. Florida man arrested for trying to get alligator drunk
In August 2019, two Florida men were arrested by police after they were found giving beer to an alligator they captured. A video showed Timothy Kepke and Noah Osborne forcefully pouring beer into the alligator's mouth.
2. Florida man fights off an alligator that attacked his dog
Trent Tweddale's morning walk with his dog Loki turned disastrous when an alligator attacked his pet. In an attempt to rescue his pet, the dog owner ended up in a tug-of-war with the alligator. He rescued his dog but not without minor injuries.
3. Florida man arrested after botched castration surgery
Gary Van Ryswyk hit the headlines in August 2019 after he was arrested for conducting a failed castration surgery. Gary Van Ryswyk and another person met online and opted to perform the surgery, but he was not a licensed medical doctor.
4. Florida man in Largo tells police, "Just take me to jail."
In March 2022, Kyle Futch was identified as the person on a surveillance camera seen taking boots at a store without paying. When police visited his home for arrest, he told them to take him to jail.
5. Florida man busted with guns and baby alligator in truck
Officers pulled over a truck driven by Michael Marolla in April 2022, and on searching the truck, they found guns. They were drawn back when they saw a baby alligator in the truck bed.
6. Unique piece of evidence helps police finger Florida man in robbery
William Carroll allegedly robbed a woman at knife-point and made away with her backpack. Police caught him, but nothing could tie him to the crime scene until a brown stain that matched a dog's poop at the scene was spotted on his shirt.
7. Florida man driving a car with two missing tires blames it on paranormal activity
In November 2022, cops pulled over a driver they noticed was driving a vehicle without two wheels. The driver explained to the officers that someone had put a spell on him and had to drive away fast, causing the damage.
8. Florida man has a great time in someone else's vacation rental
Zachary Seth Murdock was arrested after he broke into a vacation rental, bathed, and made himself a cup of coffee. His identity was revealed after his bus ticket was found in the kitchen trash can.
9. Florida man busted for stealing his twin brother's identity
In April 2022, Wayne Bowen pleaded guilty to stealing his twin brother's identity. He used his estranged brother's name, Social Security card, and military discharge papers to apply for federally subsidised housing benefits.
10. Florida man drives stolen truck to Space Force base to warn of a battle between aliens and dragons
Corey Johnson was charged with grand auto theft in July 2022. He stole a Ford F-150 and drove it to a Space Force base to warn the government about mythical creatures. He told the authorities that US aliens were fighting with Chinese dragons.
Funny Florida man headlines
Some stories about the meme will surely make you laugh your head off. Here is a list of the funniest Florida man headlines.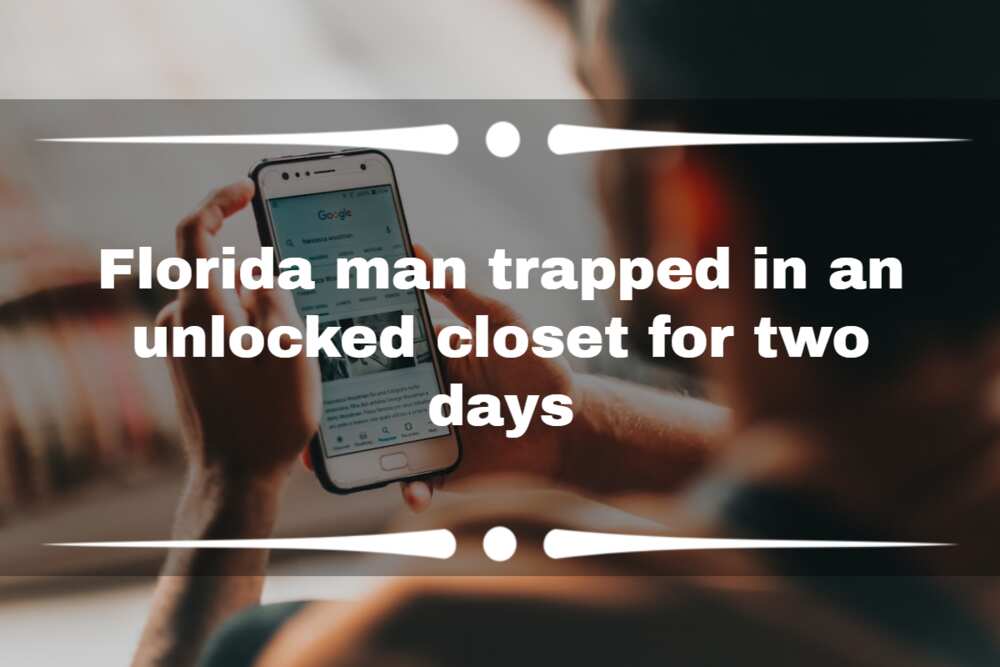 1. Florida man tries to evade arrest by cartwheeling away from cops
In July 2020, an unidentified person was apprehended by cops for blocking traffic after doing a flip on the road. However, he set himself free after a and tried to get away fast by cartwheeling himself and was caught.
2. Florida man driving with a clown mannequin had a live grenade in his pickup truck
In October 2021, a Florida man was questioned why he was driving on an expired licence. The police became suspicious and searched his car, only to find a live grenade.
3. Trash talking: Florida man captures alligator with bin
Eugene Bozzi's daughter told him that she had seen an alligator. He realised it was big and posed a danger to children. To everyone's surprise, the US Army veteran used a trash bin to capture the alligator.
4. Florida man trapped in an unlocked closet for two days
A Florida man and woman spent two days in a closet, thinking it was locked up. The couple called 911, and when police arrived, they realised the closet was unlocked, and the two could have come out whenever they wanted.
5. A lame dad joke gets Florida man banned from Disney World for life
In September 2015, David Swindle, displeased with the services he received from a Disney World attendant, said he could build a meth lab in his in the time it would take to get a service. He was handed a lifetime ban from Disney World.
6. Florida man accused of jumping naked on neighbour's trampoline before breaking into a home
Adrian Lee Gonzalez-Bradway, a Lehigh Acres, Florida resident, was arrested after he bounced naked on his neighbour's trampoline and attempted to break into her house. He was also reportedly seen eating grass during the arrest.
7. Florida man jumps into Bass Pro Shops fish tank in South Florida
A person in South Florida jumped into Bass Pro Shops fish tank. He later jumped and ran away from the store. He later turned himself in and said it was a spur of the moment and never intended to do it.
8. Florida man protects his car from Hurricane Dorian by parking it inside his kitchen
Fearing that Hurricane Dorian could blow away his smart car, Patrick Eldridge found a safe haven for his car by parking it in the kitchen. He could not park it in the garage because his wife's car was already there.
9. Florida man killed by an alligator while hiding from cops
A suspected burglar, Matthew Riggins, was killed and partly eaten by an alligator as he evaded police arrest in November 2015. Mathew was reportedly hiding in Barefoot Bay Lake when he was attacked.
10. A Florida man was bitten in the face by an alligator while playing disc golf
In October 2019, a man was bitten in the face by an alligator as he was looking for a Frisbee to play disc golf. He also lost his left arm in the early Friday morning attack.
Florida man headlines have been around for a long time, and as more things happen in the Sunshine State, the meme will continue trending. While some stories are bizarre and scary, others are fascinating, and you can share them with your loved ones.
Legit.ng recently published 100+ unanswerable questions. It feels satisfying to answer a question, but unfortunately, some questions seem not to have answers.
Even though a lot is known in the world, plenty remains unknown. Therefore, some questions do not have answers, and you should not bother thinking about them. Here is a compilation of questions without answers.
Source: Legit.ng