Kamala Harris bio: Age, height, ethnicity, family, net worth, career
Kamala Harris is one lady whose biography is full of firsts: she is the first Black woman to be elected district attorney in California history, the first woman to be California's attorney general, first Indian American senator, and now, the first Black woman and first Asian American US vice-president. Joe Biden picked Kamala as his running mate, believing that she is the person he needed in his White House bid, and judging from her impressive biography, Biden made the right choice.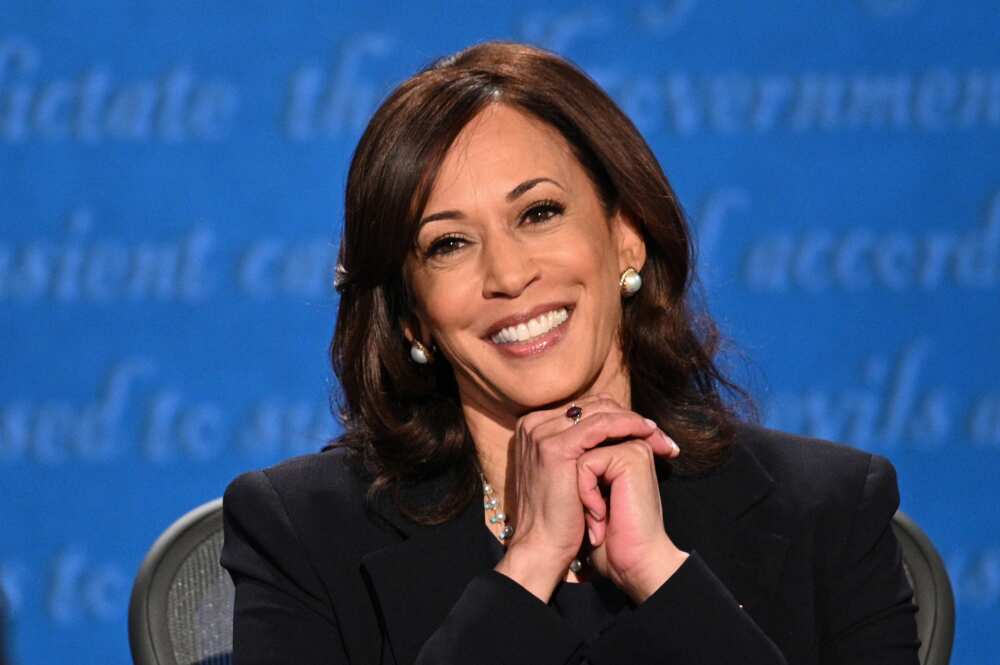 In March 2020, Democratic presidential candidate Joe Biden pledged to pick a woman as his running mate. While his rumoured shortlist included governors, members of congress, and even mayors and state legislators, he faced pressure to pick a woman of colour like Harris.
But Biden revealed that his criteria for a running mate were that they were "simpatico with me, both in terms of personality as well as substance," and could govern if Biden, 78, were unable to perform the duties of the president.
Fast forward to August 2020, and Biden made a choice and one that many all around the world agree with.
On August 11, 2020, a Tuesday, Democratic presidential candidate Joe Biden selected California Senator Kamala as his choice for U.S. vice-president in the November 3 election.
The announcement was celebrated by multitudes all over the world, and even Hollywood actor Priyanka Chopra took to her Twitter to express her elation, calling the moment "transformational".
But who is Kamala Harris? Here is Kamala Harris bio that will educate you on everything you need to know about the US vice president.
Profile summary
Birth name: Kamala Devi Harris
Date of birth: October 20, 1964
Age: 56 years old (as of 2021)
Place of birth: Oakland, California
Parents: Donald J. and Shyamala Gopalan Harris
Sibling: Maya
Height: 1.57m
How old is Kamala Harris?
The vice president was born on October 20, 1964, in Oakland, California. At the moment, Kamala Harris age is 56 years.
Kamala Harris parents
The Democrat was born to two immigrant parents, an Indian born mother, and a Jamaican born father.
Kamala Harris mother, Shyamala Gopalan, is a cancer researcher, civil rights activist and daughter of an Indian diplomat. Her father, Donald J. Harris, is the emeritus professor of Economics at Stanford University.
Kamala Harris father and mother divorced when she was seven years old, and her Hindu single mother primarily raised Kamala and her younger sister Maya on the top floor of a yellow duplex in Berkeley.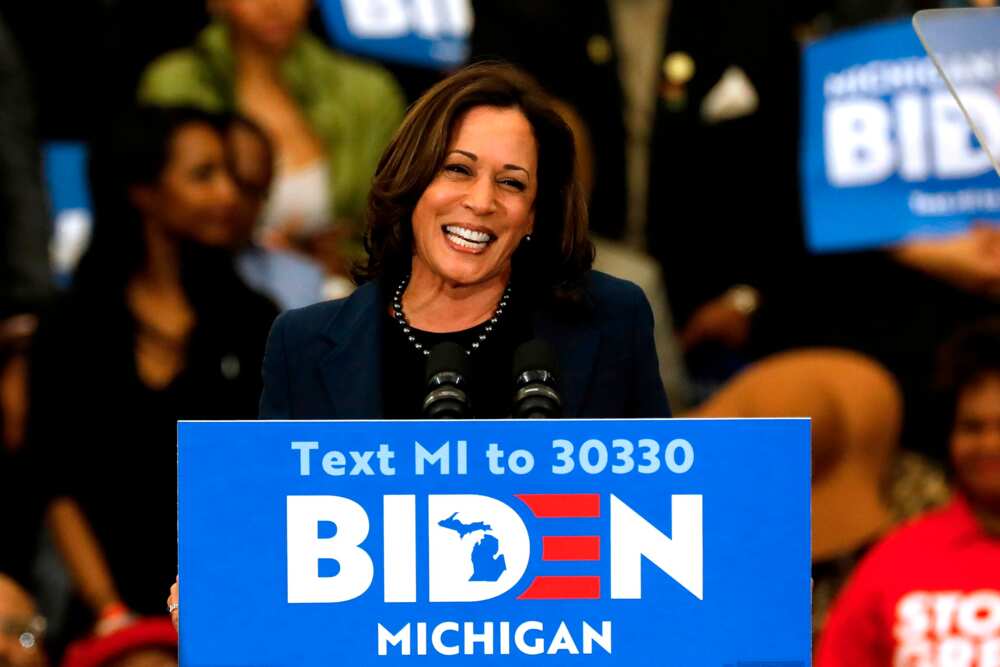 Kamala Harris education
She first attended Thousand Oaks Elementary School. When she was 12 years old, her mother moved the family to Canada and started performing research work at the Jewish General Hospital and teaching at the McGill University.
Kamala and Maya then attended school in Montreal for five years. When they arrived at Montreal, they attended the Notre-Dame-des-Neiges school on Côte-des-Neiges Rd. because their mother wanted them to learn French.
For her high school education, Kamala attended Westmount High School, from where she graduated in 1981.
Hugh Kwok, who runs the Wingho Auto Classique dealership, also went to Westmount High, and in his description of high school Kamala, he defines her as a very popular student who was involved in the student association and many different clubs.
Recalling their time in High school, Hugh revealed,
"Kamala would see me carrying all my bags and she'd always have a supportive word for me...She'd say: 'Go for it Hugh!" That's her character. She always encouraged me to stick with my dreams. It's unfortunate that we didn't keep in touch. I don't follow politics, but you can bet I'll be watching Nov. 3."
She went to college in the United States of America. She attended Howard University, where she majored in Political Science and Economics.
After four years at Howard University, she graduated in 1986. The vice president describes her time at Howard Uni. as one of the most formative experiences of her life.
She then went to earn her law degree at the University of California, Hastings, graduating in 1989.
Her upbringing
The vice president grew up with her Indian heritage, and she joined her mother on her visits to India. Her mum adopted Oakland's Black culture and immersed Kamala and her younger sister Maya within it.
In her 336-page memoir, The Truths We Hold: An American Journey, Kamala reveals,
"My mother understood very well that she was raising two black daughters...She knew that her adopted homeland would see Maya and me as black girls and she was determined to make sure we would grow into confident, proud black women."
The Kamala Harris family even went to both a Black Baptist church and a Hindu temple.
Another interesting fact about her childhood is that when she was 13 and in Montreal, Kamala and her sister Maya led a successful demonstration in front of their apartment building in protest of a policy that banned kids from playing on the lawn.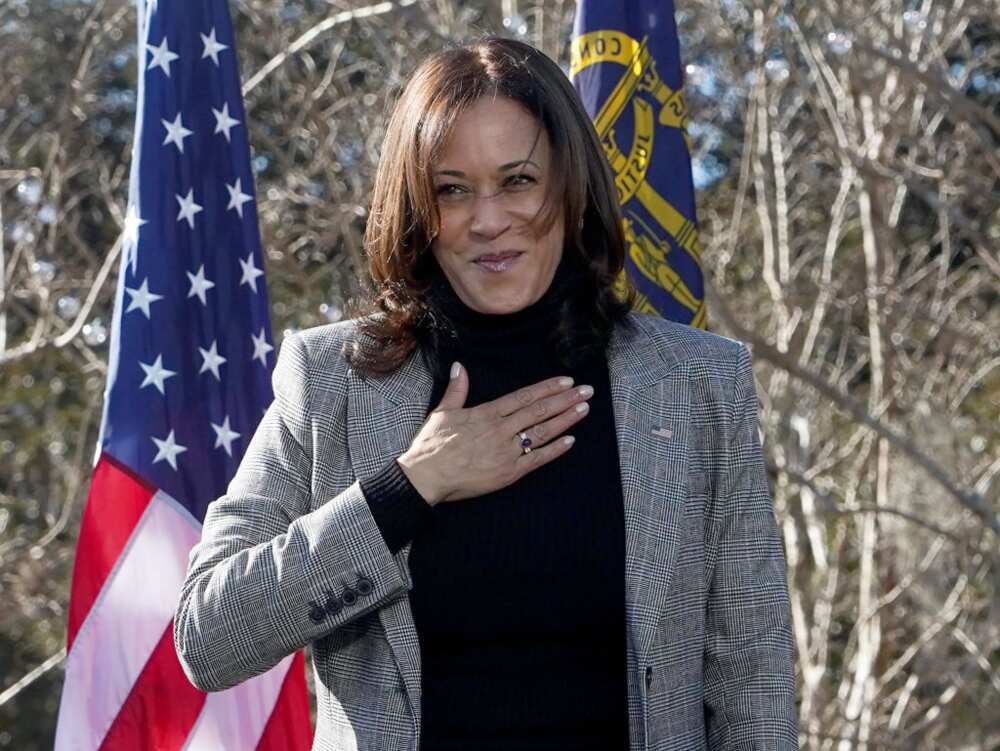 Career
The vice president began her career in the Alameda County District Attorney's office, where she focused on prosecuting child sexual assault cases.
In 2003, she became the District Attorney for San Francisco, and after two terms in office, she was elected as the first woman and the first Black person to serve as California's attorney general. She held the position from 2011 to 2017.
As San Francisco's DA, she started a program to provide first-time drug offenders second chances with the opportunity to earn a high school degree and find a job.
In her nearly two terms in office as attorney general, Kamala gained a reputation for being one of the Democratic party's rising stars, and she later used this momentum to propel her election as California's senator in 2016.
In 2017, she was sworn in as a United States Senator for California, the second African-American woman and first South Asian-American senator in history.
She served on the Homeland Security and Governmental Affairs Committee, the Select Committee on Intelligence, the Committee on the Judiciary, and the Committee on the Budget.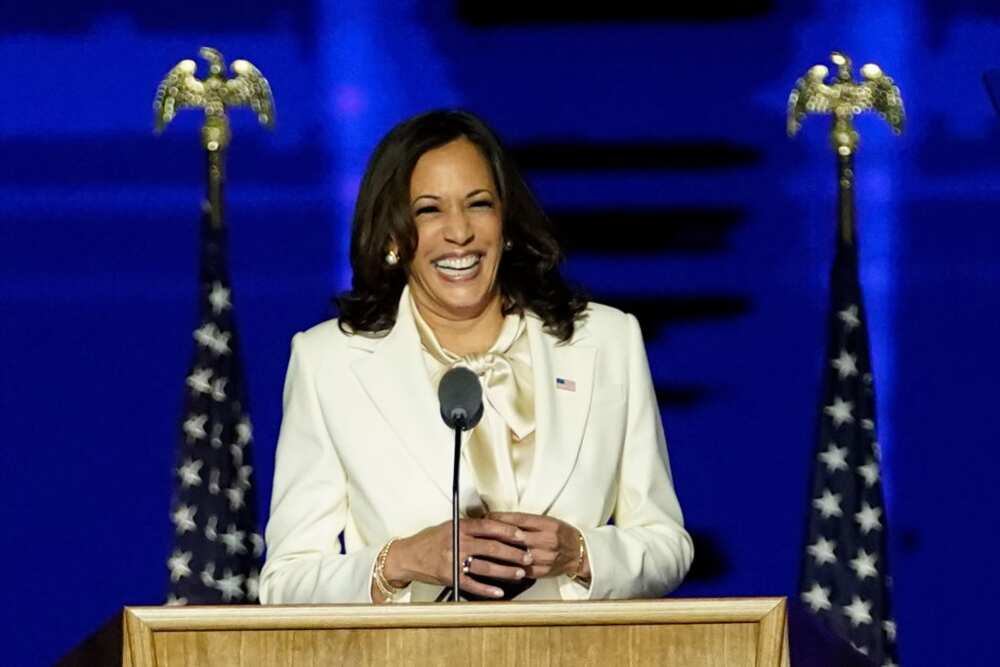 Kamala Harris 2020 White House bid
At the beginning of 2019, the then-U.S. senator launched her candidacy for presidency to a crowd of more than 20,000 in Oakland, California.
Her bid was met with initial enthusiasm, which later dwindled when:
She failed to articulate a clear rationale for her campaign.
She gave muddled answers to questions in crucial policy areas, such as healthcare.
She was unable to capitalize on the clear high point of her candidacy - a debate performance that showed off her prosecutorial skills.
She also tried to walk the fine line between the progressive and moderate wings of the Democratic Party but ended up appealing to neither.
She eventually ended her candidacy on December 3, 2019, before the first Democratic contest in Iowa.
In March 2020, she endorsed Joe Biden, and in August, Biden announced that he had picked her to be his running mate. This makes her the first black woman and South Asian American to become a vice-presidential candidate.
Becoming the US vice president
On November 7, four days after the US election, Biden secured the 270 electoral votes he needed to capture the US presidency. Biden's eventual electoral vote total was 306 to Trump's 232. Biden also won the popular vote by more than seven million votes.
In the weeks that followed, Trump and other Republicans challenged the election results, claiming voter fraud. Even though several lawsuits were filed, no evidence was provided to support the allegations, and many of the cases were dismissed. By early December, all the US states had certified the election results, and the process then moved to Congress for final certification.
Shortly after the proceedings began on January 6th, 2021, Trump supporters stormed the U.S. Capitol. It took several hours to secure the building, but Biden and Kamala were eventually certified as the winners of the 2020 US election.
On January 18th, Kamala officially resigned from the Senate and two days later, amid an incredible security presence, she was sworn in as vice president of the United States of America.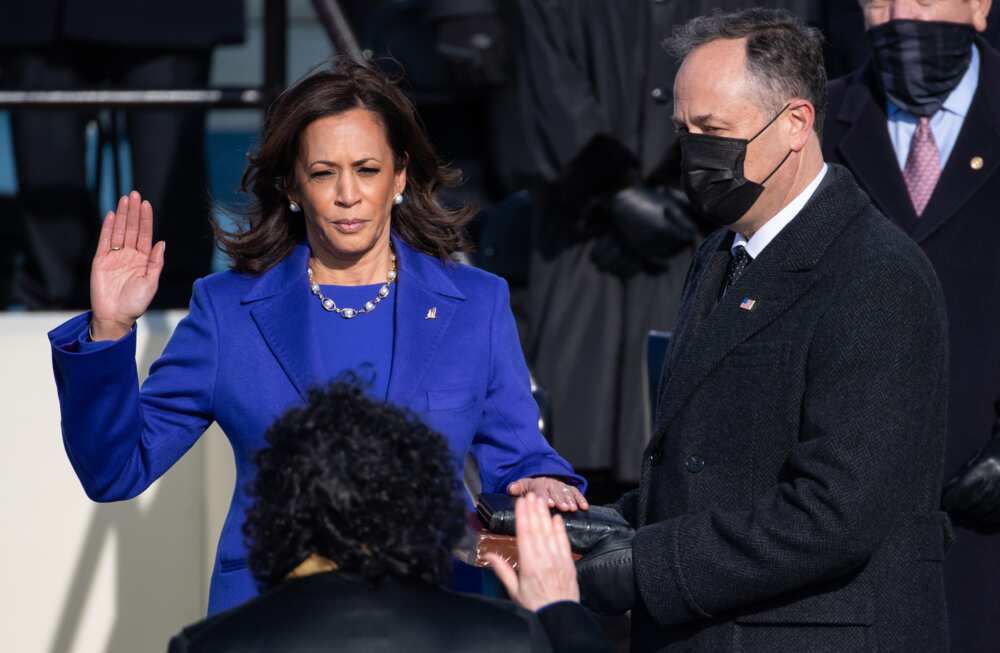 In her inauguration speech, she said:
A great experiment takes great determination. The will to do the work, and then the wisdom to keep refining, keep tinkering, keep perfecting. The same determination is being realized in America today. I see it in the scientists who are transforming the future. I see it in the parents who are nurturing generations to come, in the innovators and educators, in everyone, everywhere, who is building a better life for themselves, their families, and their communities.
This too, is American aspiration. This is what President Joe Biden has called upon us to summon now. The courage to see beyond crisis. To do what is hard, to do what is good, to unite, to believe in ourselves, believe in our country, believe in what we can do together.
Kamala Harris policies
The US vice president has taken a front seat in condemning police brutality in the U.S. On talk shows, she calls for changes to police practices across the USA, and on Twitter, she calls for the arrest of the cops that killed Breonna Taylor.
She became the lead advocate for social justice reform following the death of George Floyd, and she frequently speaks about the need to dismantle systemic racism.
The vice president says that her identity makes her uniquely suited to represent those on the margins.
Relationship history
In 1994, she began dating Willie Brown, a powerhouse in California politics. The then-speaker of the state assembly was 30 years older than her.
From his perch in the assembly, Brown appointed Harris to the California Unemployment Insurance Appeals Board and the Medical Assistance Commission—positions that together paid her around $80,000 a year on top of her prosecutor's salary.
In 1995, Brown was elected as mayor of San Francisco, and in December that same year, Harris broke up with him because:
"she concluded there was no permanency in our relationship," Brown told Joan Walsh in 2003. "And she was absolutely right."
Kamala Harris husband
On August 22, 2014, Harris married lawyer, Douglas Emhoff. Emhoff is a Brooklyn-born litigator and partner at DLA Piper Law Firm.
The two were set up by one of the vice president's close friends, P.R. consultant Chrisette Hudlin, and after nearly a year of dating, the San Francisco Chronicle reported that they were engaged on March 27, 2014.
They later got married four months after their engagement in a private ceremony at the Santa Barbara Courthouse. Harris' sister, Maya Harris West, acted as the officiant.
Doug, who was born just seven days before his wife (October 13th), has two kids with his ex-wife, Kerstin. His son Cole is a graduate of Colorado College, while his younger daughter Ella studies at Parsons School of Design.
Kamala Harris children
Doug's kids, Cole and Ella are her step-children.
Does Kamala Harris have children?
No, she has no children of her own. She is the stepmom to Doug's kids, who affectionately refer to her as 'Momala'.
Kamala Harris net worth
According to Forbes reporter Michela Tindera, Harris and her husband, attorney Doug Emhoff, had a fortune of $6 million as of August 2019. The bulk of the money comes from Emhoff's legal work and profits from several books authored by the vice president. In 2019, Harris was one of the highest-earning of the Democratic candidates.
Fortune recently estimated Kamala and Emhoff's net worth at $6.3 million, based on the vice president's most recent Senate disclosure form, filed in May 2020.
FAQs about the US vice president
Get to know her better:
What is Kamala Harris height?
The U.S. vice president is 1.57 metres tall.
What is Kamala Harris ethnicity?
She is of mixed ethnicity. She was born to immigrant parents, an Indian born mother and a Jamaican born father.
Joe Biden refers to Kamala Harris as "a fearless fighter for the little guy, and one of the country's finest public servants " and this biography proves that indeed, she is.
READ ALSO: Joe Biden picks Kamala Harris as his running mate
Legit.ng reported that Joe Biden picked Harris as his running mate for the U.S presidential elections in 2020.
Biden's decision followed a months-long search for a candidate who could lift the Democratic Party ticket in a wild and unpredictable election, and it makes Harris the first black woman and the first Asian American to run on a major party ticket in the U.S.
Source: Legit.ng