100+ you are beautiful quotes and messages that will make your loved one smile
Beauty is arguably one of the fascinating aspects of a person. This explains why there are numerous poems, quotes, sayings, and messages touching on the subject of beauty. We take a look at some excellent you are beautiful quotes that you can tell, write to, or text your loved one to let them know how pretty they are.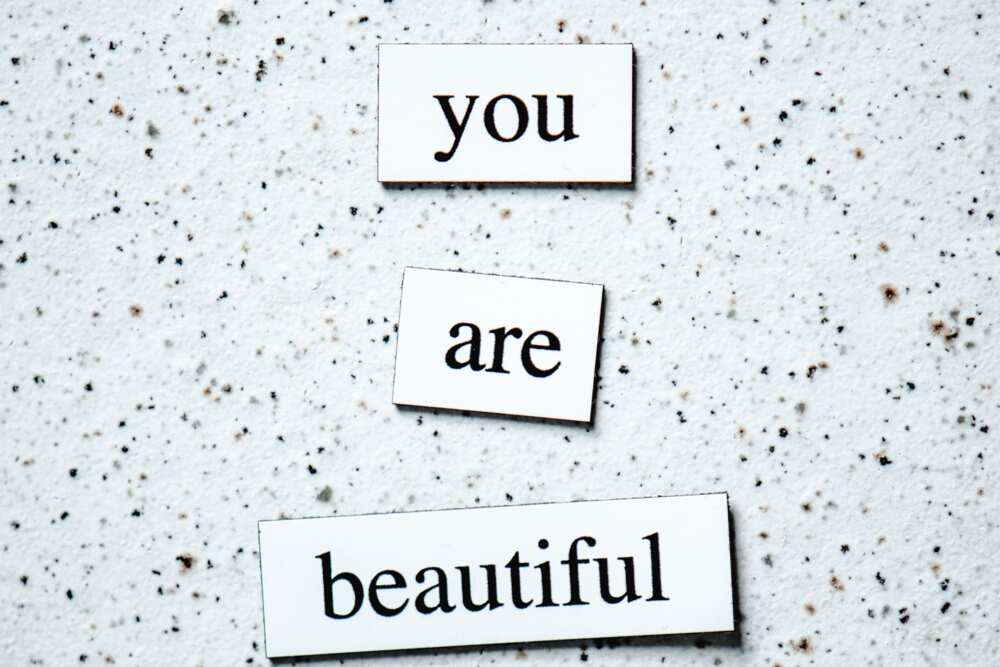 Have you ever found yourself looking for the perfect words to let someone know how beautiful they are? Some profound you are beautiful quotes can go a long way towards brightening your loved one's day. Do not let a perfect moment to say something beautiful to them pass you by.
Profound, you are beautiful quotes and messages
You can send your loved one, either sister, girlfriend, wife or mother, some inspirational beauty quotes to let her know how beautiful you think she is. Here is an amazing collection of such quotes.
You are beautiful quotes for her
Here are some excellent natural beauty quotes for her.
I love you every day, with all of me and with all I will become. Not just because you're beautiful but because everything you get involved with gets to be lovely. My heart is yours forever.
I will love you even when you are no longer young and beautiful because your beauty is inside you; it is eternal.
Whenever you hold me with your warm and comforting hands, hearing your soothing voice makes me feel like I can live forever.
I love your smile because it takes away my problems. My soul feels deep peace inside of me when you are by my side. Nothing compares to the happiness that engulfs my heart when I hear your voice. You are the most beautiful thing I've ever had. I love you.
When I'm not with you, I just look at the sky and wonder how someone can be so beautiful, and I consider myself fortunate because that beautiful lady is a part of my life.
I still can't believe that there can be such beauty in this world. Baby, you are so beautiful to me.
I want you any way I can get you. Not because you're beautiful or clever or kind or adorable, although the devil knows you're all those things. I want you because there's no one else like you, and I don't ever want to start a day without seeing you. - Lisa Kleypas
I was once told that I would fall in love with a gorgeous woman. Still, I could never have imagined that this woman would be fantastically pretty with the most extraordinary personality I've ever seen.
You are the sunshine that brightens my day. Having you on my lap is like having all the goodness of life all in one place. Sometimes I get lost staring at your beautiful face. Even if I had the chance to change anything about you, I would leave everything about you the way they are because you are just perfect.
It's a pity that it's impossible to hold a beauty contest among the angels. It would be the only competition in that you could compete fairly. You are beautiful in every single way.
People often say that beauty is in the eye of the beholder, and I say that the most liberating thing about beauty is realizing you are the beholder. - Salma Hayek
Real beauty isn't about symmetry or weight or makeup: it's about looking life right in the face and seeing all its magnificence reflected in your own. - Valerie Monroe
How to say you are beautiful quotes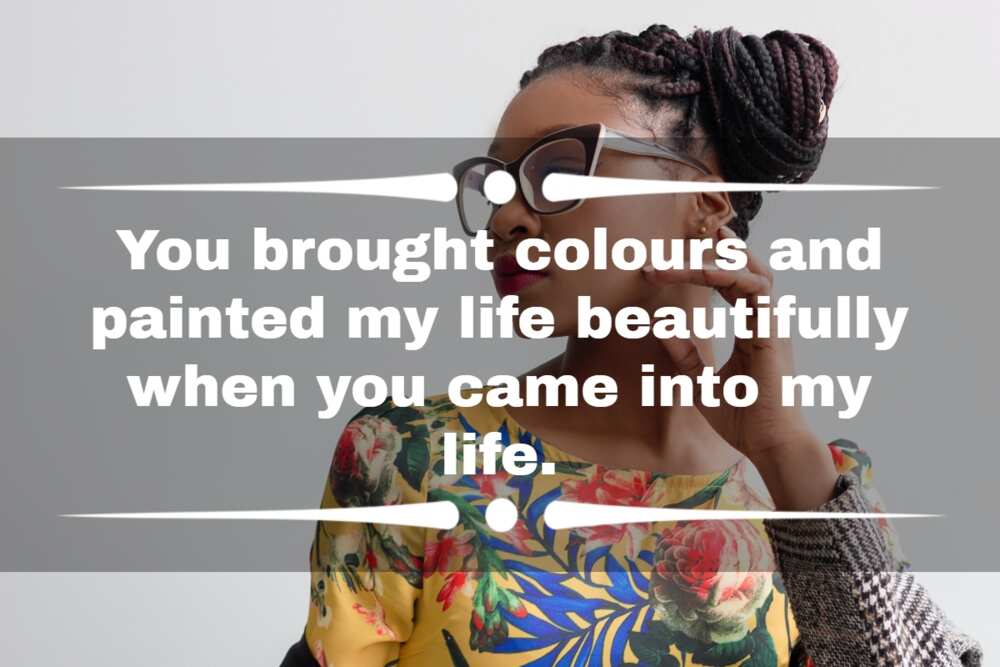 Here are some fascinating you're beautiful quotes to let her know just how great she looks.
You are important to me, and I will never let that beautiful smile fade away; I promise to always be there for you.
No matter what people say, nothing will ever make me stop loving you. Even if a time comes when my heart stops beating, my soul will still need you. You are my world, and I love you.
Sometimes when I am with you, I have difficulty breathing because your beauty leaves me breathless. I have taken the vow to be yours forever because I can't find someone who fills my heart with so much joy just as you do. You inspire me to be better always.
That's the thing about inner beauty: unlike physical beauty, which grabs the spotlight on itself, inner beauty shines on everyone, catching them, holding them in its embrace, and making them more beautiful.
The beauty of a girl is not in a facial mole, but true beauty in a woman is reflected in her soul. It is the caring that she lovingly gives, the passion that she knows. - Audrey Hepburn
The beauty of a woman is not in the face, but the true beauty in a woman is reflected in her soul. It is the caring that she lovingly gives and the passion that she shows. You are this woman to me.
The most beautiful people we have known are those who have known defeat, suffering, struggle, and loss and have found their way out of the depths. These persons have an appreciation, sensitivity, and understanding of life that fills them with compassion, gentleness, and deep loving concern. Beautiful people do not just happen. - Elisabeth Kübler-Ross
There is a garden in her face, Where roses and white lilies blow; A heavenly paradise is that place, Wherein all pleasant fruits do grow. Their cherries grow that none may buy, till cherry ripe themselves do cry. - Thomas Campion
There is no going back to having you in my life because you are amazing. You are a miracle, and I realized this from the first moment I set my eyes on you.
Nobody is more beautiful in this world than a woman in love, so nobody is more beautiful than you.
Especially today, your skin is more radiant than ever, and you have always been tempted. Your look ennobles the world view, and your smell ashamed the most fragrant flowers.
True beauty lies deep within. No matter what you look like on the outside, if you know you are beautiful, nothing can change that. - Amy Davis
Romantic you are so beautiful quotes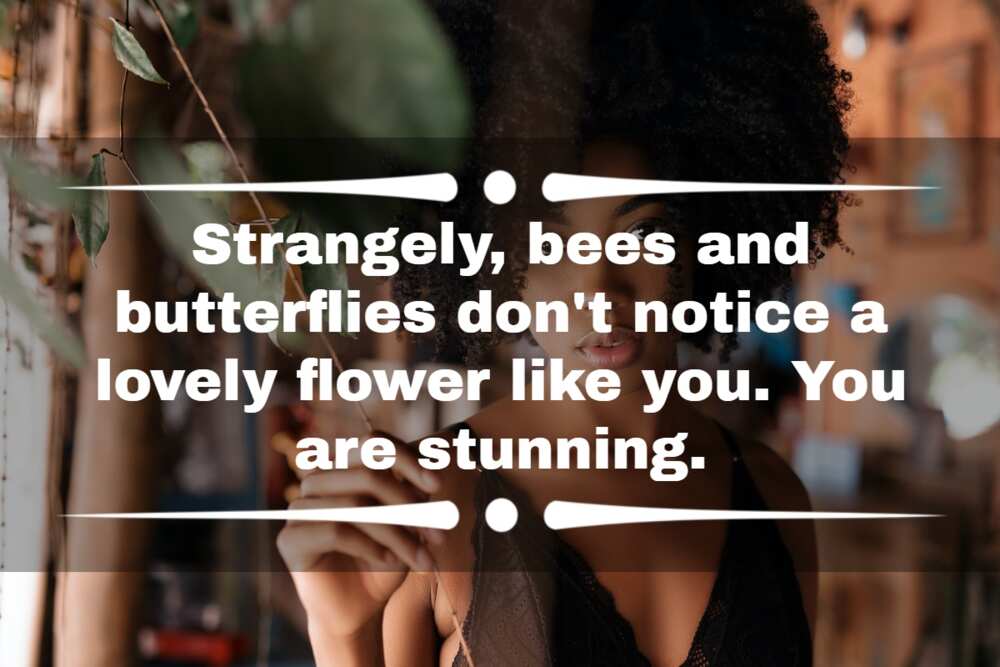 How do you tell a girl she is beautiful? Try out some of these inspirational quotes about beauty.
Strangely, bees and butterflies don't notice a lovely flower like you. You are stunning.
Trust me; you don't need anything else to become beautiful, so don't change who you are. Your goodness and honesty make you lovely.
You came into my life when I was lost and helped me find happiness. You are gorgeous, but you are also kind, and that is what makes you so exceptional.
When a girl has gone through the journey of finding and pursuing her most authentic self and shares that gift, for me, that's beautiful. - Geena Rocero
When virtue and modesty enlighten her charms, the lustre of a beautiful woman is brighter than the stars of heaven, and the influence of her power, it is in vain to resist. - Akhenaton
You are a painting. Remember how lovingly and carefully formed you are. Your thoughts, talents, memories, and mistakes all make you the complete canvas. Even though others may mistake your worth, you must never value yourself any less. - Michelle Marcos
You are beautiful because of the light you carry inside you. You are beautiful because you say you are and hold yourself that way. - Mary Lambert
You are beautiful, and everyone knows that. Not outwardly alone but also deep inside. Your beautiful heart is one of the best things breathed in the world. I love you with all of my heart.
You are beautiful. I tried to forget, to pretend I did not need you, but it was no use. You haunt my waking hours and my dreams, and though I know if I stay with you, my soul will be lost and my life damned, I cannot stay away, nor can I put you from me. So come and let me drown in your bewitching angel's eyes. Some things bought dearly are worth the price - Jennifer Blake
You are the most beautiful and wonderful idea God had. He drew you to complete me and make me the happiest man in the universe. I love you, beautiful!
You are the most beautiful woman in the world because nothing compares with you. When I looked into your eyes and felt a spark in my heart, I immediately knew that you are the best that I've ever had and the best I will keep forever.
You bring out the best in me; that's the fascinating thing about you. When I say 'you're beautiful', I am not lying. It comes from my heart with the purest of intentions. Your beauty is out of the world, and nothing else comes close.
How beautiful you are quotes for her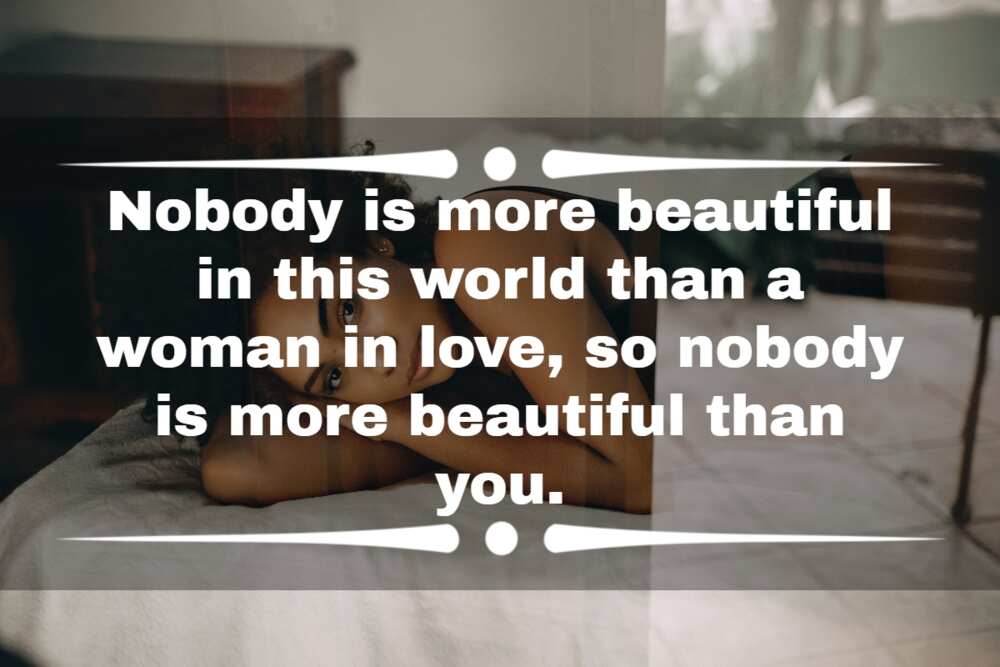 Here is a look at some of the best you're beautiful quotes to brighten up your loved one's day.
You brought colours and painted my life beautifully when you came into my life.
I never expected to have so much fun, and it's all because of you, my love. Keep smiling because you look beautiful when you smile.
I will never forget the way you looked walking toward me. I never thought that I'd have a woman like you in my life. It's all there, etched in my brain. And now, the way the light pours over our hair and all that silk shines is so black it's nearly blue. The world disappears when I'm holding you. - Christine Feehan
A beautiful girl can make you dizzy like you have been drinking jack and coke all morning. She can make you feel high for the single greatest commodity known to man. - J. D. Salinger
A beautiful woman delights the eye; a wise woman, the understanding; a pure one, the soul. I am lucky since you please my eyes and my soul. You are beautiful just the way you are.
Anybody can see a pretty girl. An artist can look at a cute girl and see the older woman she will become. A better artist can look at an older woman and see the pretty girl she used to be. - Robert A. Heinlein
Each side of your appearance and each trait of your character are beautiful. You are the most stunning person I have ever known.
Even Aphrodite is a pale copy of your beauty. You are one in a million. The smell of your hair is more pleasant than the scent of thousands of roses. I dream of plunging into its warmth and spending eternity in your arms.
Everything about you is lovely. Your beautiful smile, just like the rising sun in the morning. Your gentle touch is just like the evening breeze. The sweet words from your mouth make you beautiful.
Girls don't need a short, tight skirt or low-cut top to impress a guy. A girl doesn't need a lot of makeup on their face to look beautiful; all a girl needs to look beautiful is a nice personality, a natural smile, and to be true to themselves.
How can I tell you what you mean to me? When I saw you at the ball, it was as if my heart started beating again. You lit up the room, bright in an ocean of black and white. And I thought- my life has been a dark, endless night. Then you came out like a rainbow and filled my black soul with colour. - Kerrelyn Sparks
I give you my name, earthly possessions, and eternal love. But of all the things I have, the thing I want most to give you are my eyes, these eyes that see how magnificently beautiful you are. - Michelle Marcos
Emotional, you are looking so beautiful quotes her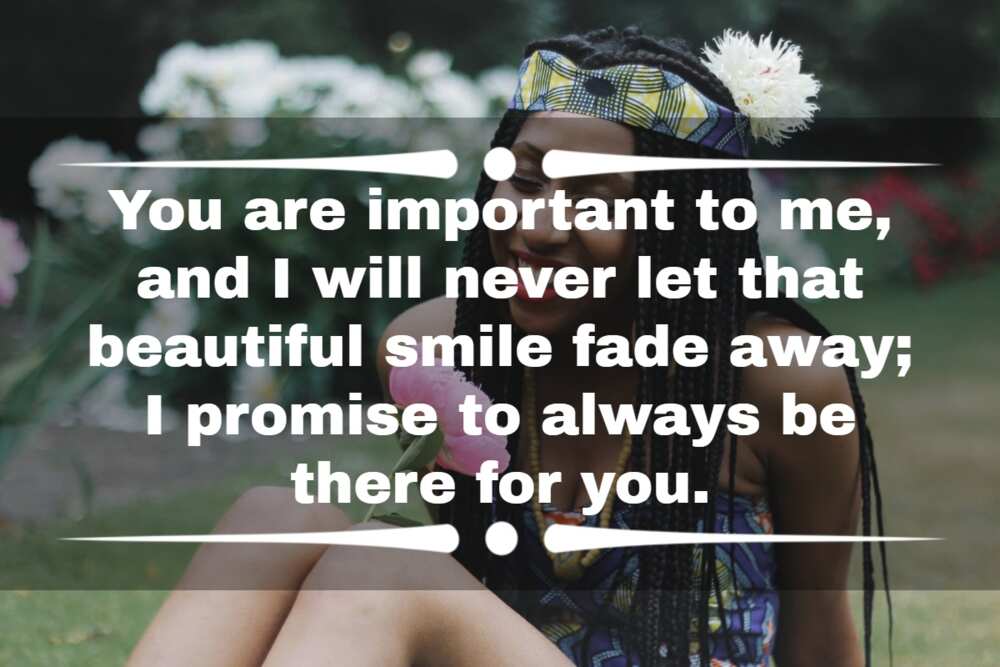 Wondering how to make your girl smile? Try some of these emotional, beautiful love messages.
Your beauty captures me, but what amazes me most is how wonderfully it combines with your amazing soul.
Even if you don't think you're pretty, look into my eyes, and you'll be surprised by your lovely reflection.
You must be an angel. You look like one. You glow like one. You soar like one. And like the angel you are, you take me to heaven every time I'm with you.
You make my world the heaven many people pray for, and I am grateful for all the good times we share; they remind me of how lucky I am to have you in my life. With you in my life, I am ready to face whatever life throws at me.
You must know that you're beautiful. Your hair is so golden, and you have the bearing of a young Venus. Don't you understand? I want you. I'm made out of flesh and blood and whatever else it is that God puts into men. I want you. Now. - Heather Graham
You smell of violets. You've no idea how many times I have walked these moors and smelled them and thought you were near. On and on, I walked, following the scent of you, and you were never there. When I saw you in the hall tonight, I thought I had finally gone mad. - Deanna Raybourn
It is not fancy hair, gold jewellery, or fine clothes that should make you beautiful. No, your beauty should come from within you – the beauty of a gentle and quiet spirit. This beauty will never disappear, and it is worth very much to God. - Peter 3:3-4
Your beauty is astonishing. I keep wondering what I love most about you. Various things like your eyes, nose, lips, and body explain your beauty. I just can't spot a part of you that beats the other. I am in love with every part of you. You are wonderful.
Your beauty is beyond the cute face and curves. When I say 'you're beautiful', it covers the beautiful feeling you set up in my heart. I can't stop longing for your love because it feels good sharing my life with you.
Your looks are complete. Charm flows from the inside of your heart to the outside. It is so apparent that I can still see your awesomeness even if I'm blind. An amazing heart always recognizes a warm soul.
Your beauty is never explainable. It is one thing that leaves me dumbfounded whenever you come close to me. If I am to choose a girl to be my partner in my next life, you know that it will always be you. As long as you are in my life, my world lacks nothing.
Your beauty never stops glowing, no matter what time of the day or month; you still look beautiful, for your beauty is not outward but within your heart.
Remember that you are beautiful today. You are deserving, significant, special, one-of-a-kind, and wonderful. You are gifted and indispensable.
Your soul is like an ocean; no matter how far I dive into it, I will never reach the bottom. You are stunning, my darling.
Your beauty cannot be overlooked; it is extraordinary because it not only pleases my eyes but also warms my heart.
No words can describe how beautiful you are quotes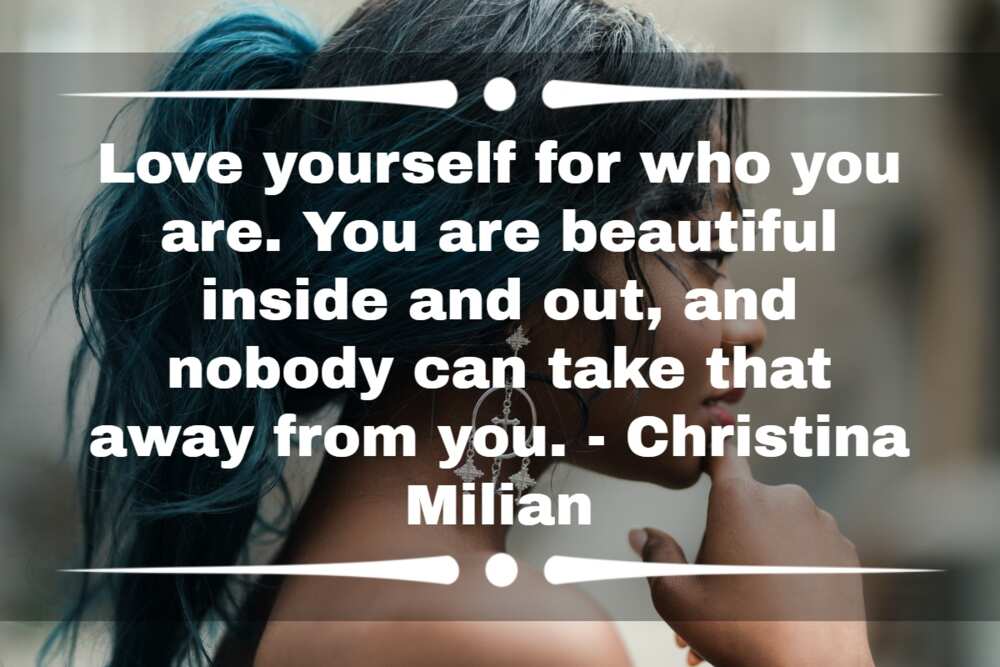 It is always appropriate to express gratitude for your loved ones' compassion, kindness, or advocacy, which makes them radiant and beautiful. Here are some words can't describe how beautiful you are quotes you can use.
I love you not because of anything you have but because of something that I feel when I'm near you.
I'm still looking for words to describe your beauty. You're so beautiful; I can't explain it in words.
We do not choose randomly from each other. We meet only those who already exist in our subconscious. - Sigmund Freud
You are more beautiful than you think, and I am yet to find the words to describe that.
No words to describe your beauty. You are obviously not an example of bad photography.
You're so beautiful. Your smile is infectious. Your eyes are mesmerizing. You're my favourite person in the world. There are no words that can truly describe your beauty.
I watched the surrounding landscape with great curiosity and wanted to discover the words that could describe its unspoiled beauty. - Daniel J. Rice
You are the most beautiful person I know. You are so beautiful, my love; no words can describe your beauty; you have a special way of making it up. It's the sweetest thing that I have ever seen.
Eyes that sparkle like the stars. Lips that can melt a million hearts. The glow of your face is what I admire the most. Words are not enough to describe your beauty.
No one can be as gorgeous as you are. Your smile lights up my world. Just wanted to tell you that you are looking quite stunning today.
I have no words to describe your beauty. That's why your name is written all over my heart.
The beauty of your smile. The grace of your walk. The warmth of your eyes. The gentleness of your touch. The charm of your voice. No words to describe your beauty.
No words to describe your beauty, no words to describe the feeling. The joy of being with you can never be explained.
Baby, you are one in a million. No words to describe your beauty. You made me feel happy and complete when you walked into my life.
You are so beautiful. You can't imagine how beautiful you are. You are the most beautiful girl in this world, and I want to tell you that I love you, my flower!
Love message to make her fall in love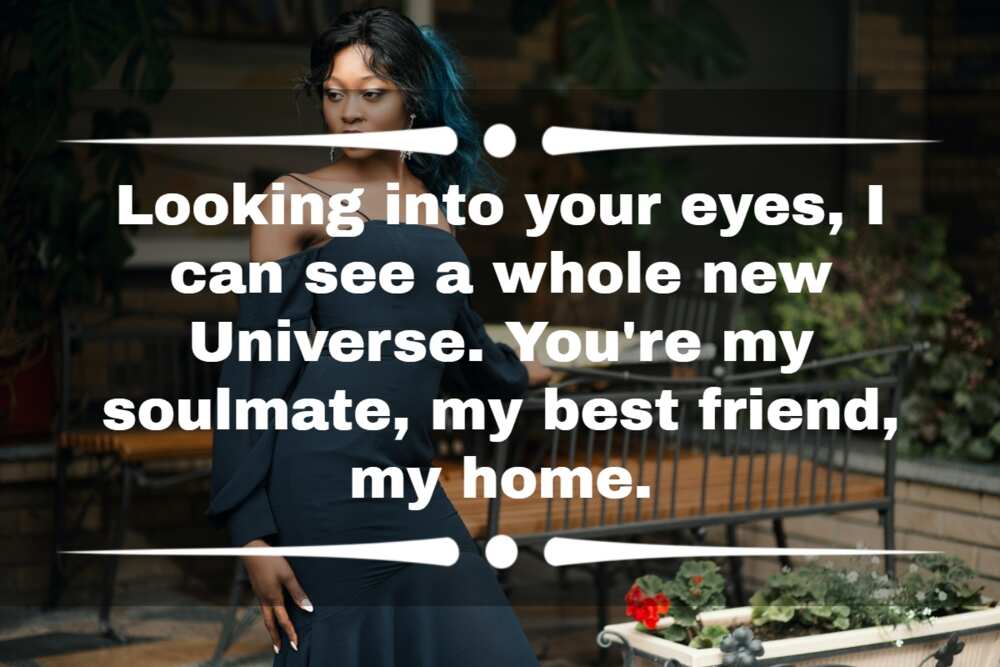 To make her feel special, express your heartfelt emotions with a romantic message. Consider selecting one of the charming text messages for her from the list below.
I love you so much, my queen, my princess, my sunshine. You will remain the queen of my heart.
Get up every morning, tell yourself you are beautiful and gear up to win!
You are worthy of love and respect. You are beautiful, gifted, and intelligent. Don't let the storm make you forget it. - Russell T Davies.
You are worth millions of compliments, and I will spend my entire life telling you how wonderful and stunning you are.
When I saw your beautiful smile that day, my heart told me that she was the one you were searching for.
If you think you are not beautiful, just look into my eyes, and you will see how beautiful you are.
You're beautiful, it's true. I saw your face in a crowded place, and I don't know what to do cause I'll never be with you. - James Blunt
I love you, and I don't want to lose you. Because my life has been better since the day I found out.
Love who you are and let go of anyone that tries to make you feel less than who you are. - Charles E Hudson
I love you, and I will love you until I die, and if there's a life after that, I'll love you then. - Cassandra Clare
I love you, not only for what you are but for what I am when I am with you. - Roy Croft
With your beautiful smile, I will have a lovely day filled with love and joy. You make every part of my day beautiful with your love, and I love you more and more.
You're beautiful, and your face is a clear attestation of this. Your heart is among the most beautiful things in the world. My world has been at its best since you became mine.
Love yourself for who you are. You are beautiful inside and out, and nobody can take that away from you. - Christina Milian
It's not the face, but the expressions on it. It's not the voice but what you say. It's not how you look in that body but the thing you do with it. You are beautiful. - Stephenie Meyer
Words to make her feel special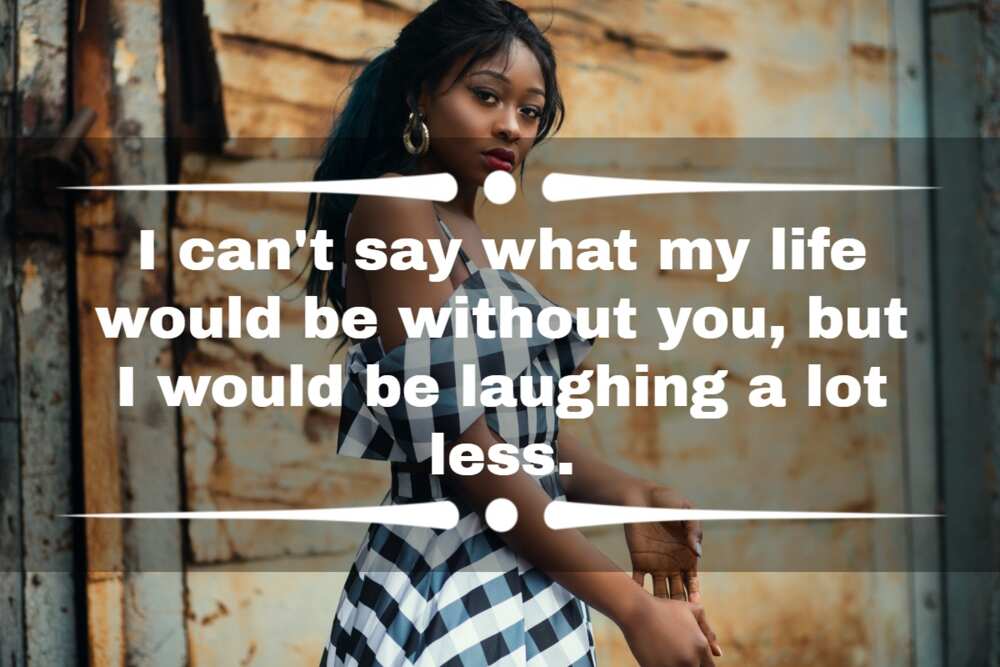 Make your loved ones feel special whenever you are near them. Here are some sweet words for her that will make her smile.
Know that no matter where life takes us, you will always be the only one for me.
I really never thought I'd feel this way about someone. But then you came along. You've made me believe in soul mates.
Every time I see your gorgeous face and look into your amazing eyes, I fall in love with you more and more, and it feels like heaven to know that we are together.
I am convinced that you belong to me. I know that because I can feel your heart thumping aloud merrily for me. That's how it should be, my love.
I always thought nothing could give me butterflies in my stomach, but ever since you came into my life, I have experienced the feeling every day.
Spending every second with you is my life's mission. There is nowhere I'd rather be other than in your loving arms.
I have become a better person because of your presence in my life. I could never wish for a better person to call a lover.
I was happy before I met you, but now I realize that I never truly understood happiness. You make every day of my life better by just being in it.
Looking into your eyes, I can see a whole new Universe. You're my soulmate, my best friend, my home.
I love everything about you: your mind, your sense of humour, your positivity, your outlook on life, your soul, your goals and desire, and of course, your beauty.
The night sky is magical, but its magic will never be as serene as a moment I share with you. If that moment is spent stargazing together, even better.
Your intelligence and passion are so attractive to me, among many other things. I would never stop writing if I wrote down why I love you.
I can't say what my life would be without you, but I would be laughing a lot less.
I sometimes struggle to see the beauty that surrounds us, but then you call and ask me how I am. I feel only joy in those moments.
Life's like this weird complex puzzle. Everything fits together in one way or another. You're my missing puzzle piece.
How do you romantically say you are beautiful?
You can tell your woman she is beautiful in a variety of ways, such as by purchasing flowers or a nice outfit that will make her shine. You can also send her texts on a regular basis to simply affirm to her that she is a magical being and that you are proud to have her in your life.
How do you give a good compliment?
A compliment can have a big and long-lasting impact on the person who receives it. Compliments not only make people feel good, but they are also an excellent icebreaker for conversation. As a result, when complimenting someone, focus on something specific that you find adorable and never ask if what you are complimenting is real or fake.
A few you are beautiful quotes each day can help bring out the smile on your loved one's face. Which quote did you find most interesting or inspirational?
READ ALSO: 120+ good morning messages for my wife: Best ideas to use
Legit.ng recently published an article about heartfelt good morning messages for your wife. Finding the right words to say to your partner is a critical component of a happy marriage. This includes husbands telling their wives romantic things at various times of the day.
It's wonderful to see your wife happy and content. Nice words or messages will help a lot in making this happen. Find the best quotes and messages to send your wife in the morning to brighten her day.
Source: Legit.ng