Stassi Schroeder bio: age, net worth, boyfriend
Vanderpump Rules, a Bravo reality television series, catapulted Stassi Schroeder into the celebrity world. The show is a spin-off of The Real Housewives of Beverly Hills. Besides Vanderpump Rules, she has starred in several other shows. Most of her fans love and admire her for her quick thinking and debating skills.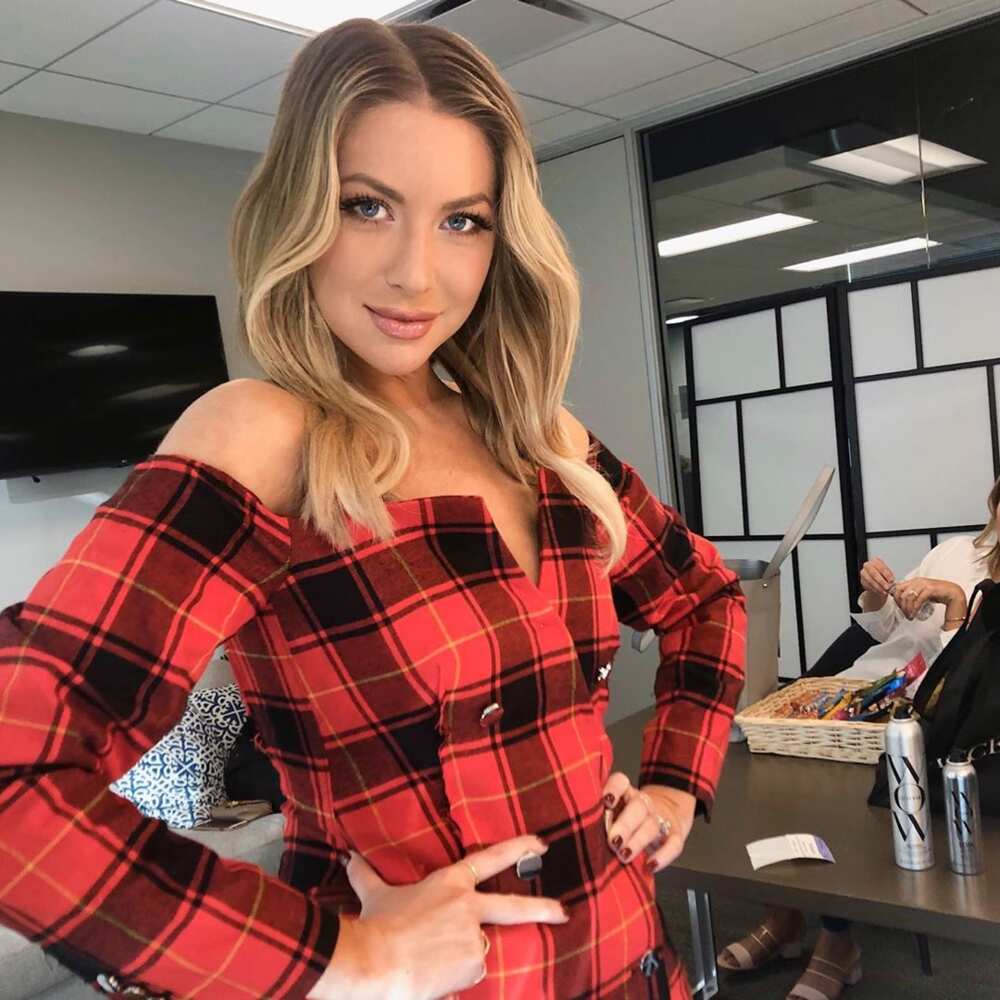 What does Stassi Schroeder do for a living? She is a famous reality television star, fashion blogger, author, model, and podcast host. Her success is a result of her wit and ability to express her thoughts without fear, as seen on her reality shows. Speaking without mincing words has made her popular among her fans and followers.
Profile summary
Name: Nastassia Bianca Schroeder (commonly known as Stassi Schroeder)
Date of birth: 24th June 1988
Place of birth: New Orleans, Louisiana, United States of America
Age: 31 years
Zodiac sign: Cancer
Nationality: American
Ethnicity: White
Alma mater: Mount Carmel Academy; Loyola Marymount University
Profession: Reality television star, fashion blogger, author, model, and podcast host
Height: 5 feet 7 inches (170 centimetres/ 1.70 metres)
Weight: 59 kg (130 lbs)
Eye colour: Blue
Hair colour: Dark brown (blonde)
Father: Mark
Mother: Dayna
Brothers: Hunter & Nikolai
Sister: Georgianna
Fiancé: Beau Clark
Stassi Schroeder family background and early life
Nastassia Bianca Schroeder was born in New Orleans, Louisiana, United States of America, on the 24th of June 1988. Her father, Mark, is an architect while Dayna, her mother, is a jewellery designer.
Dayna's brand of jewellery is known as Georgi Jules Jewellery. Presently, Stassi Schroeder age is 31 years, and her Zodiac sign is Cancer.
What nationality is Stassi Schroeder? Her nationality is American, and she comes from White ethnicity.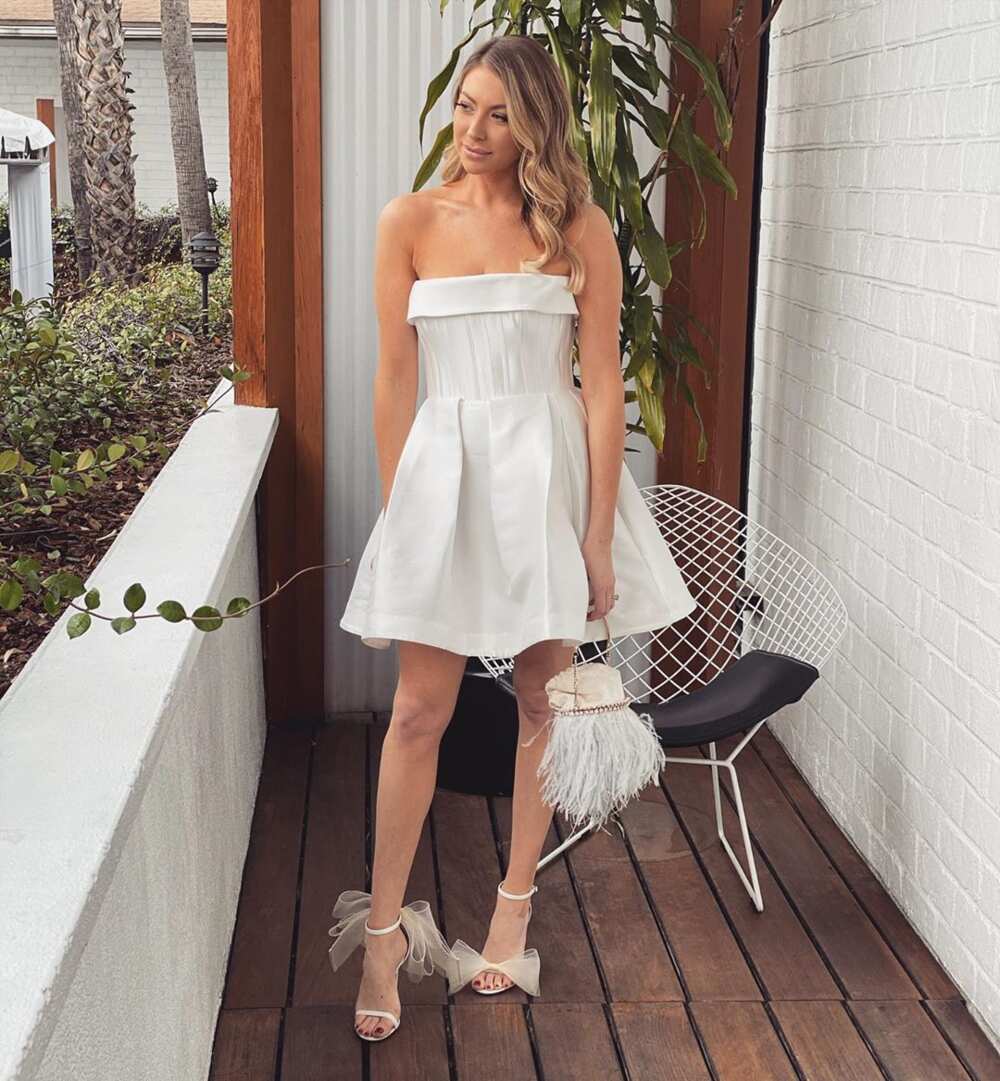 The reality star and former model comes from a family of four children, and she is the first child. She has two younger brothers whose names are Hunter and Nikolai, and a younger sister named Georgianna.
In May 2019, the four siblings lost their grandmother, Rosemary, who was 95 years old at the time of her demise.
Education background
The reality television star joined Mount Carmel Academy, a local high school, for her education. When she was 11 years old, she began taking theatre classes in the same school.
In her senior year, she became the president of the school's drama club. In 2006, her senior class voted her the Most Talented student.
After graduating from high school, she relocated to Hollywood, where she joined Loyola Marymount University. She was 18 years old at the time, and she pursued a Bachelor's degree in English Writing.
Body measurements
Stassi Schroeder hot pictures on her social media platforms are evidence that she has a fantastic body. She is relatively tall and has a slim body build.
Her height is 5 feet 7 inches (170 centimetres/ 1.70 metres), and her weight is about 59 kilogrammes (130 lbs.)
The reality television star has distinctive blue eyes. Her natural hair is dark brown, but she often colours it blonde.
Career
The gorgeous lady is a reality television star, fashion blogger, author, model, and podcast host. She also has an entrepreneurial spirit and is known for putting her best effort into every venture she decides to pursue.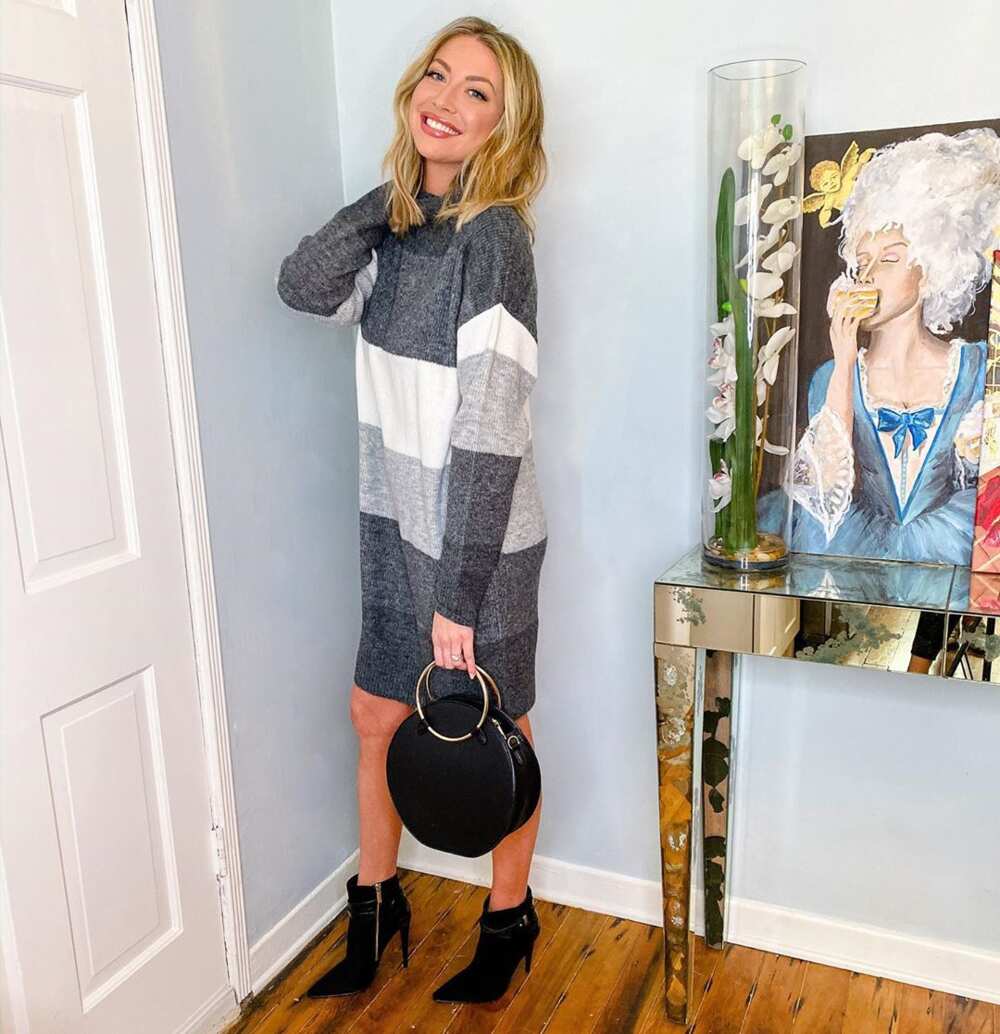 Television career
The reality television star has featured in several reality game shows as a contestant.
In 2005, she featured inThe Amazing Race as one of the contestants. She appeared on the show alongside her father, Mark, and her step-mother, Char. Her younger brother, Hunter, also featured in the exciting game show. She was position seven at the end of the show.
In 2008, she featured in the television series, Queen Bees. She was in eight episodes of the show as herself.
In 2010, she became one of the employees in both SUR and Villa Blanca, which are Lisa Vanderpump's restaurants. This job would later expose her to the world of reality shows.
Between 2012 and 2014, she appeared in seven episodes of The Real Housewives of Beverly Hills.
From 2013 to date, she has been starring in the reality show, Vanderpump Rules, as herself. So far, she has made an appearance in 132 episodes of the reality series.
The series documents the lives of Vanderpump's employees as they work hard towards securing their future. In the process, there is quite a bit of interpersonal misunderstanding and drama, which makes the show exciting for most fans.
In 2016, she secured her first acting gig in the television film, Sharknado: The 4th Awakens, where she portrayed the character of Koening. The same year, she featured in one episode of Hashtaggers.
In 2017, she appeared in the episode titled Stassi Schroeder & Kristen Doute/Johnny Weir/Nancy Grace on the show, Hollywood Medium.
Between 2017 and 2019, she featured in three episodes of Bravo's Summer House. She also appeared in the episode titled Episode #1.2 on the show Ex-Housewife in 2019.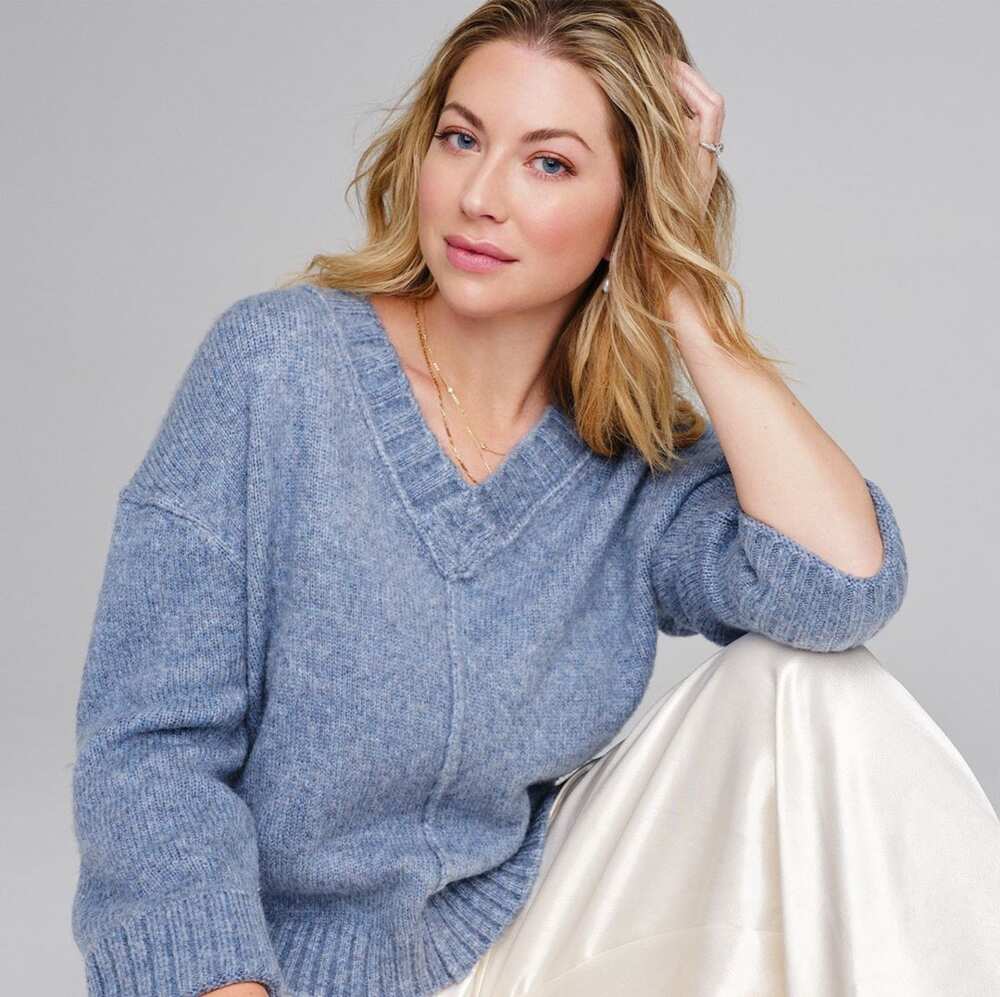 Career in fashion
For several years, the reality television celebrity worked as a top model who featured in different magazines. She appeared in 944, Italian Vanity Fair and Us Weekly. She was also featured as a cover model in Pacific, Millenium, and Cliché magazines.
The model teamed up with Shop Prima Donna, which is an accessories e-retailer, to release a capsule collection in December 2014. A capsule collection typically contains clothing or accessory items that are essential for a chic look, but they never go out of style.
In the agreement with Shop Prima Donna, the model was assigned the task of designing timeless accessories. She decided that she would design necklaces that had an Egyptian vibe because she genuinely loves gold. She would also use stones and pearls to give her collection a unique and lady-like twist.
Does a Stassi Schroeder clothing line exist? Yes, it does. In July 2019, the model and fashion guru teamed up with JustFab to launch a clothing collection with two sections, #OOTN (Outfit of the Night) and Next Level Basics.
Career in writing
The reality television star's first writing gig was on the website called The Divine Addiction, which belongs to Vanderpump's daughter. She did style critic writing for the site.
On the 16th of April 2019, Stassi Schroeder book, Next Level Basic: The Definitive Basic B**ch Handbook was released. Gallery Books published it, and it ranked third on the New York Times Best Seller list.
Since the beginning of this year, she has also been writing a bridal column in Glamour Magazine.
Stassi Schroeder podcast
Straight Up with Stassi is the name of the reality star's weekly podcast. In the podcast, she openly talks about diverse topics ranging from friendships, behind the scenes of Vanderpump Rules, pop culture to relationships.
Episodes of her podcasts are available on her self-titled website.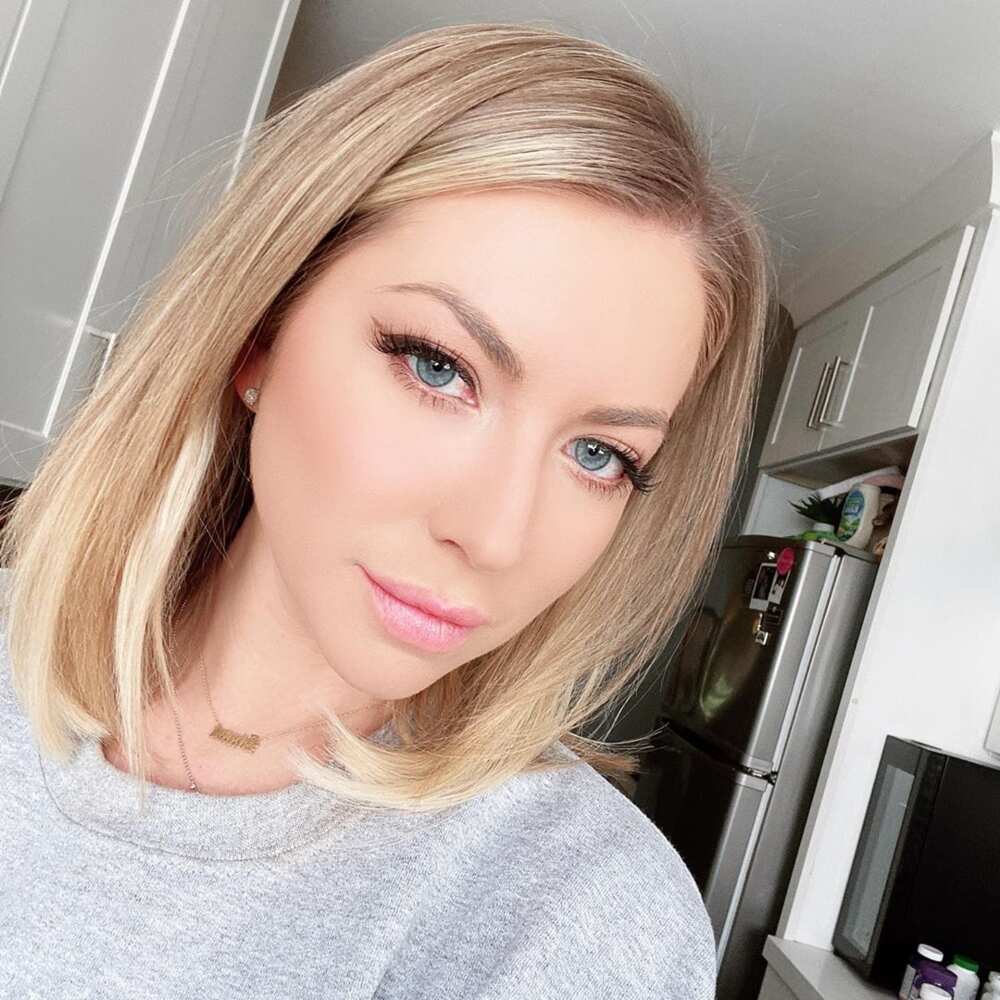 Besides the podcasts, the website also has an e-retailer shop section where her fans and lovers of her fashion collection can buy unique clothing items.
Details of her tours are also available on the website. Currently, information about The Bougie Bus Tour 2020 is available on the site.
Straight Up With Stassi LIVE will be making stops in 27 locations across America, and her special guests will be Beau Clark and Taylor Strecker. Fans can expect her to address a wide range of topics without mincing her words during the tour.
Other entrepreneurial ventures
Stassi Schroeder net worth has been boosted by her endorsement deals with different companies. She often uses her social media platforms to endorse wellness, beauty, and other products.
Some of the brands she has worked with include Taco Bell food, bioClarity skin products, Bondi Sands tanning foam and Botox Cosmetic that is a prescription-only medicine.
Besides product endorsements, she has a wine partnership that was launched on the 1st of February 2019. She collaborated with Katie Maloney-Schwartz, Kristen Doute and Nocking Point Wines to create the Basic Witch Potion No. 1 wine.
In June the same year, they collaborated for the second time to release the Basic Witch Potion No. 2 wine, which is also called Rosé.
What is Stassi's net worth?
The reality star's net worth is currently estimated at $2 million. Most of this amount is from her endorsement deals, reality television appearances, and entrepreneurial ventures.
Stassi Schroeder boyfriend and dating history
Currently, the model and reality television star is in a loving and stable relationship with Beau Clark. In July 2019, Stassi Schroeder engaged to Beau Clark news spread across different media platforms.
The couple started dating in 2018 and has been together since. In February 2018, the former model made an appearance on Watch What Happens Live with Andy Cohen and confirmed that she was in a relationship with Beau Clark, who is a commercial and advertising casting associate.
Before confirming the relationship, there were rumours that she had been spotted in Los Angeles' hot spots with an unidentified man on several occasions. After opening up about her love life, she started posting cute pictures of her and Clark on her social media platforms.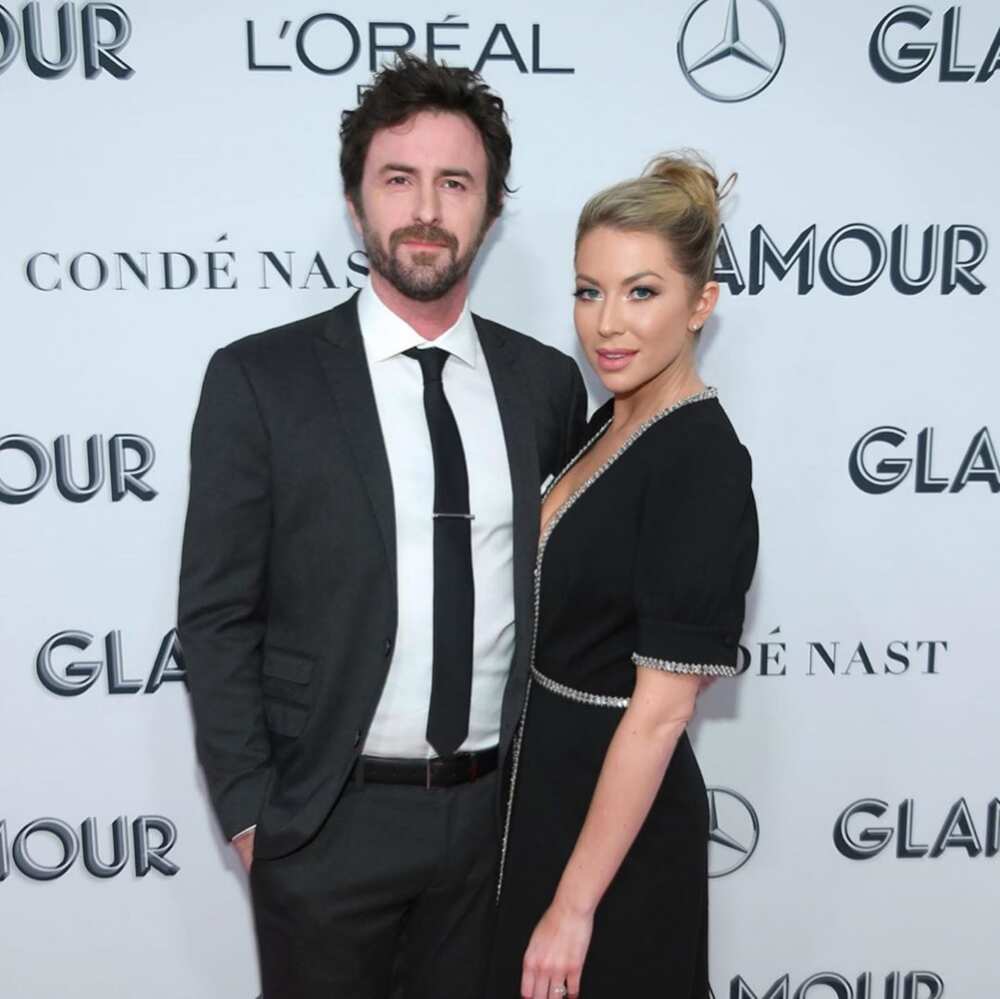 Previous boyfriends
Before Clark, the former model dated Peter Madrigal in 2010. The relationship between Stassi Schroeder and Peter did not last very long. The couple split after a couple of months.
In March 2017, there were rumours that the romantic relationship between the two would be rekindled after the two shared a kiss in one episode of Vanderpump Rules. Later, it was indicated that the kiss was to raise the target rating point of the reality series.
Between 2011 and 2013, the former model dated Jax Taylor, who is also a reality television star. The relationship lasted two years before they decided to split.
In August 2013, Stassi Schroeder and Patrick Meagher started dating. The relationship was on and off for a long time. They first broke up in July 2016 before rekindling their love in May 2017. After a couple of months, Stassi Schroeder and Patrick broke up again.
Stassi Schroeder house
After the Stassi Schroeder Amazing Race game show wrapped up filming, Hurricane Katrina hit the reality television star's home. It was flooded and the entire property was destroyed by the water. She and her family sought refuge in another family's house for a while as her old house was being rebuilt.
Where is Stassi Schroeder now? Currently, the podcast host and Beau own a 3,000-square-foot home that is located in Hollywood Hills. The couple purchased the property at a cost of $1.7 million in January 2020.
Stassi Schroeder breast reduction
In early 2018, the then 29-year-old reality television star revealed that she underwent a breast reduction procedure and shared graphic details about the procedure.
She showed her boss, Lisa, a picture that was taken midway in the reduction procedure. Lisa had asked her to wear tiny outfits during their Pride celebrations. The model declined because she was not comfortable showing her scar tissue.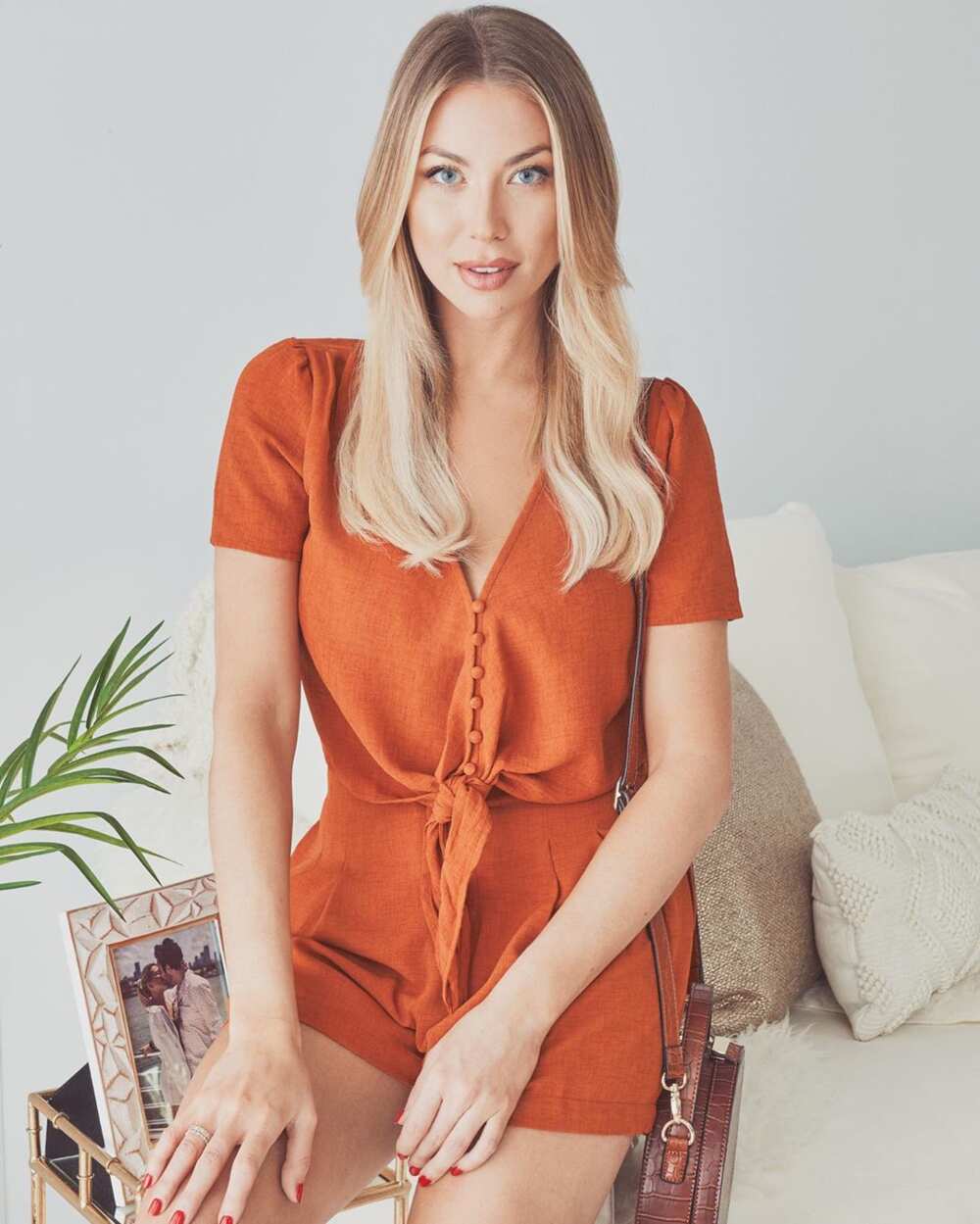 A short while later, the former model posted a picture that gave a glimpse of her breasts from beneath a hoisted T-shirt.
In the caption that accompanied the picture, she reported that undergoing the procedure was one of the best decisions she made. Her fans were proud of her for opening up about her boob reduction procedure.
Social media
The reality television star is active on different social media platforms. She often uses the Stassi Schroeder Instagram account to do brand endorsements as well as to post cute pictures of herself and her fiancé. Currently, the Instagram account has over 1.9m followers.
She is also on Twitter, where she has at least 449.4k followers.
The former model's Facebook account has over 75k followers. Fans and followers can catch updates about her life and new career developments from these social media platforms.
Stassi Schroeder is a 31-year-old podcast host, author, reality television star, former model and entrepreneur who became a household name after starring in the Bravo reality series titled Vanderpump Rules. Currently, she is engaged to Beau Clark with whom she bought a house in Hollywood Hills recently.
Fans across the United States can anticipate to see and interact with Stassi Schroeder during her upcoming Straight Up with Stassi Bougie Bus Tour 2020.
Source: Legit.ng