Jennifer Flavin biography: Who is Sylvester Stallone's wife?
Jennifer Flavin is known to many as Sylvester Stallone's wife. The American celebrity is a former model and currently, she is an entrepreneur. What else is there to know about Stallone's wife?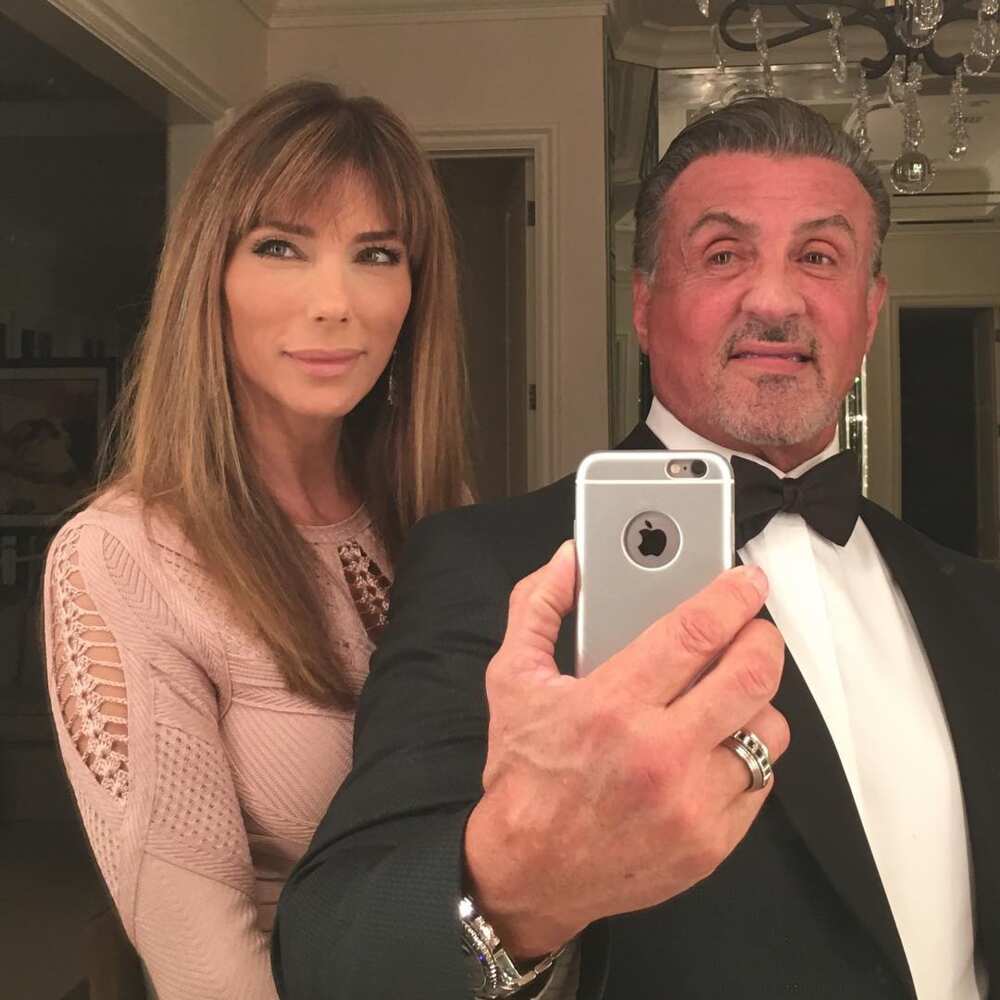 Who is Sylvester Stallone married to? The answer is Jennifer Flavin, an entrepreneur who has a lot to be proud of. The celebrity is the mother of three beautiful daughters, and her biography is definitely worth reading.
Profile summary
Birth name: Jennifer Lee Flavin
Nickname: Jenn
Date of birth: 14 August 1968
Birthplace: Chicago, Illinois, United States of America
Jennifer Flavin age: 51 years old
Birth sign: Leo
Parents: Shirley Mae Knudsen and Donald Hugh Flavin
Siblings: Four brothers and two sisters
Height: 5 feet 9 inches (175 centimetres or 1.75 metres)
Weight: 59 kilograms
Body measurements: 36-24-35 inches
Bra size: 34B
Dress size: 6 (US)
Shoe size: 9 (US)
Figure type: Hourglass
Body type: Slim
Eye colour: Green
Hair colour: Brown
Nationality: American
Ethnicity: Mixed (Irish, Polish, German, Norwegian or Danish, and French-Canadian)
Occupation: Former model and current entrepreneur
Early life and details about Jennifer Flavin family
Sylvester Stallone wife was born on 14 August 1968 in Chicago, Illinois, the United States of America to Shirley Mae Knudsen and Donald Hugh Flavin.
How old is Jennifer Flavin? She is currently 51 years old.
When she was just 11 years old, her father passed on, leaving Shirley with the responsibility of taking care of their children on her own.
Jennifer is the older sister of Julie and Tricia Flavin, who are both actresses. The entrepreneur also has four brothers, namely Tom, Pat, Shannon, and Mitch.
Jenn grew up in San Fernando Valley, California, United States of America. She went to George Ellery Junior High School and later attended El Camino Real Senior High School in Woodland Hills, California.
For her higher education, Jenn studied Oceanography at California State University Northridge.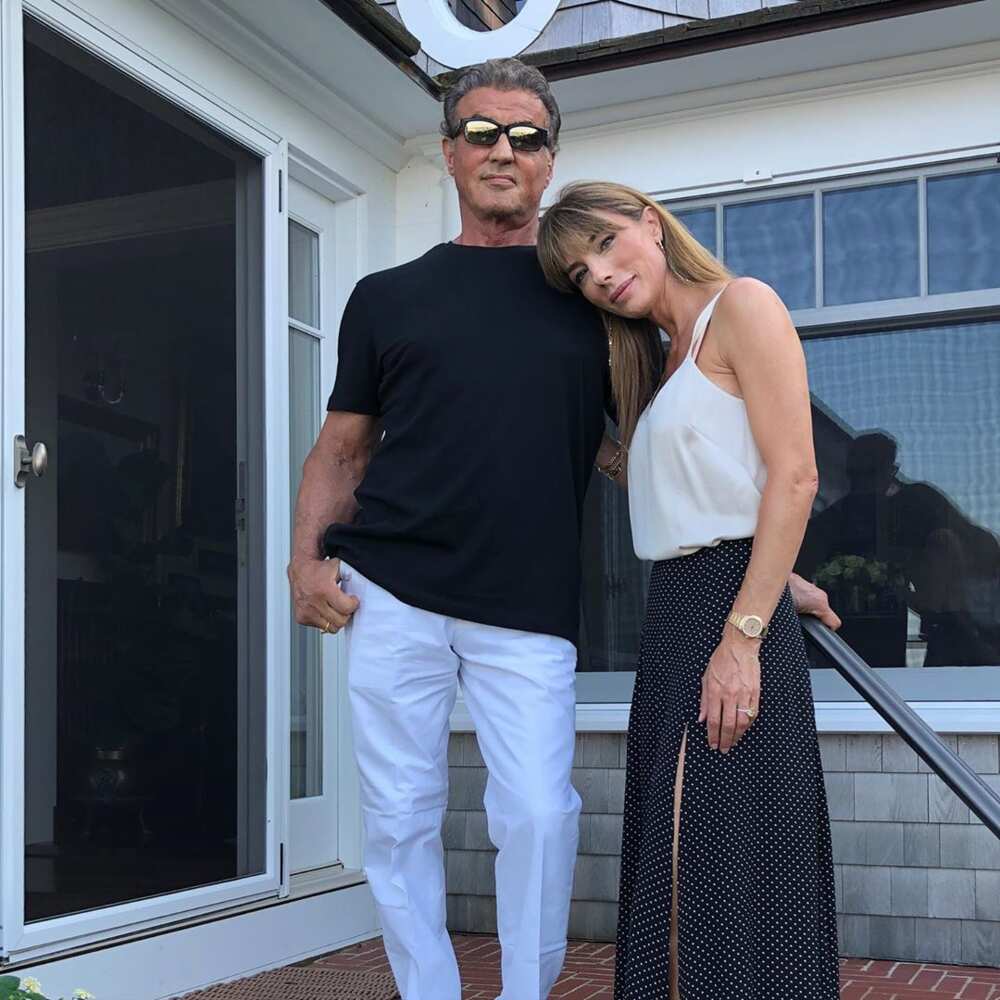 Career
As stated earlier, Jenn's dad died when she was 11 years old. Jenn then decided to pursue modeling in order to financially help her mother, who was left with the responsibility of raising seven children on her own.
She started modeling when she was 19 years old and was signed to Elite Modeling Agency. Her modeling career enabled her to grace the covers of top magazines such as:
Cosmopolitan
Cleo
Celebrity Sleuth
Easyriders
Marie Claire
Playboy
Furthermore, Jennifer Flavin young also appeared in commercials for various brands such as Revlon, A-Tox, Eileen West, Bila, and Firm-a-Face.
She currently boasts of three acting credits:
The No Name Gang (announced)
Rocky V (1990) - starred as a delivery girl
Bar Girls (1990) - she played the role of an escort girl in this film.
She has also starred in various productions as herself. They include TV series, documentaries and TV specials like:
Stallone: Frank, That Is (2020) - this documentary is currently in the post-production phase.
Home & Family (2017-2019)
Entertainment Tonight (2010-2017)
The Talk (2017)
Access Hollywood (2016)
2016 Golden Globe Arrivals Special (2016l)
The 38th Annual Daytime Emmy Awards (2011)
Inferno: The Making of 'The Expendables' (2010)
Late Show with David Letterman (2010)
Kathy Griffin: My Life on the D-List (2007)
The Contender (2005)
Biography (2005)
Good Day Live (2004)
AFI Life Achievement Award: A Tribute to Barbra Streisand (2001)
American Gladiators (1994)
Hollywood Women (1993)
The Grand Opening of Universal Studios New Theme Park Attraction Gala (1990)
The Barbara Walters Summer Special (1988)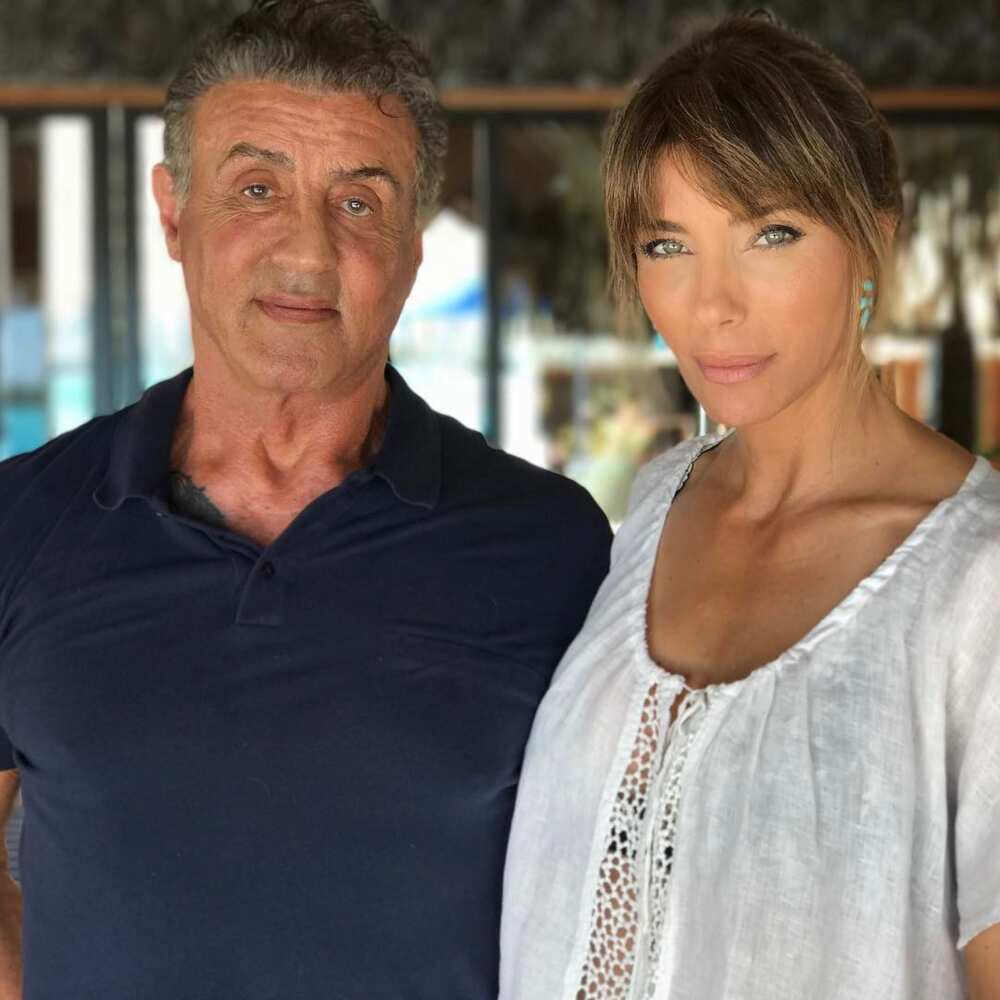 Dating life
Jenn and Stallone met in 1988 at a Beverly Hills restaurant in California. They fell in love and started dating.
The couple has had its own share of problems, one of which led to them breaking up in the '90s. As reported, Sylvester Stallone broke up with her via a 6-page letter that was delivered by FedEx.
Jenn was surprised by the breakup, as she did not see it coming. According to reputable sources, Stallone lied about the reasons for the breakup. Speaking about the breakup, she said:
"It hit me like a ton of bricks. I had no idea this was going to happen. We talked about us having children, about when I was going to get pregnant. We were already picking names, marking down names that he liked and I liked...I was disappointed. You can't just write somebody off in a letter after six years. It's not like I was going to try to beg him to come back to me or anything. I just wanted to talk."
One of Jenn's agents later informed her that the real reason why Stallone broke up with her was that a woman he was having an affair with had gotten pregnant with his baby. The woman's name was Janice Dickinson.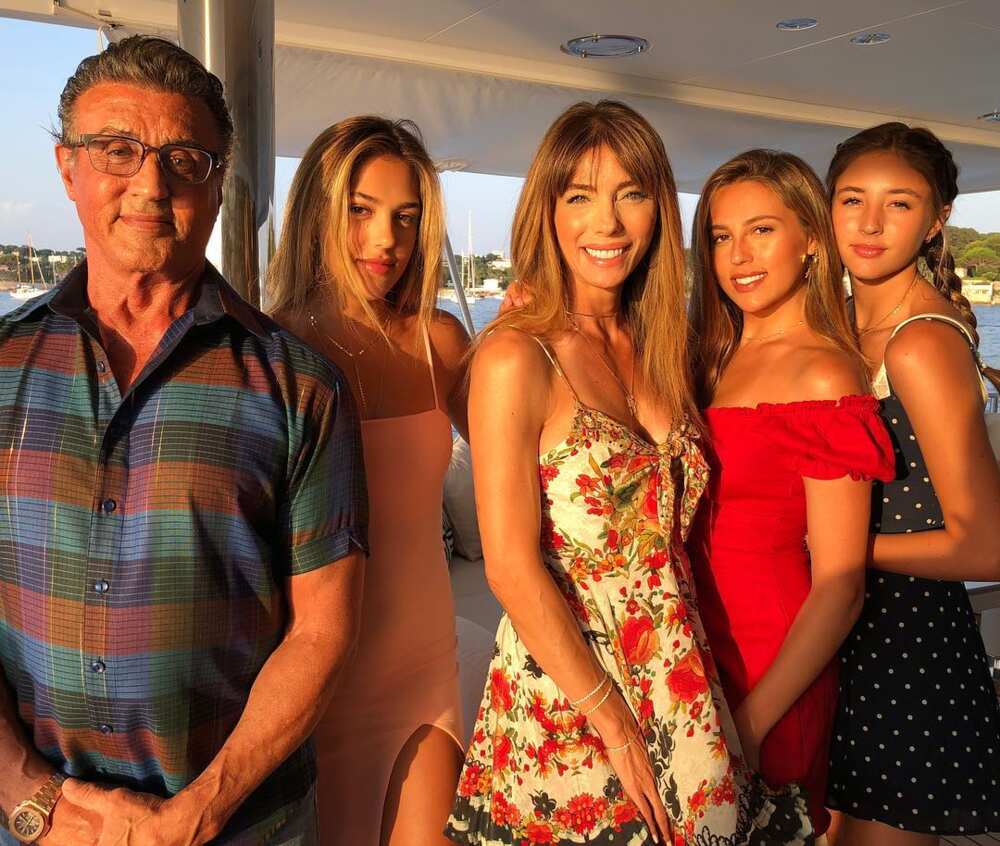 As it later turned out, the baby was not Stallone's. In 1995, Sly and Jennifer got back together and rekindled their romance.
They later got married on 17 May 1997. The Jennifer Flavin wedding ceremony consisted of:
A civil ceremony held at the Dorchester Hotel in London, England
A chapel service held at Blenheim Palace, Oxfordshire
Before meeting Jenn, Stallone had been in two previous marriages. His first marriage lasted ten years. His first wife's name was Sasha Czack, and they got married on 28 December 1974. He allegedly cheated on his wife with Susan Anton, eventually ending the union in 1984.
His second marriage was to Brigitte Nielsen. The union lasted for less than two years.
Sylvester Stallone spouse once admitted to People that she could not escape the rumors about Sylvester's infidelity:
"When we come together, it is wonderful. When we separate, there are no strings attached. That's the way it is. No strings…I'm not naïve about what may go on when I'm not around – he is a 45-year-old man – I can't change the way he is. Still, he's not a cheating dog every day of the week. We spend five out of seven nights together, so I don't know where he'd find the time."
Jennifer Flavin daughters
Who are the children who make up the Sylvester Stallone family?
Jenn and Sylvester Stallone have three kids together. They are all girls. Here is more information about Jennifer Flavin children:
Sophia Rose Stallone: She is the first daughter that the couple had. She was born on 27 August 1996 in South Beach, Miami, Florida.
Sistine Rose Stallone: She is the second born in the family. She was born on 27 June 1998 in Los Angeles.
Scarlett Rose Stallone: She is the last born, born on 25 May 2002 in Los Angeles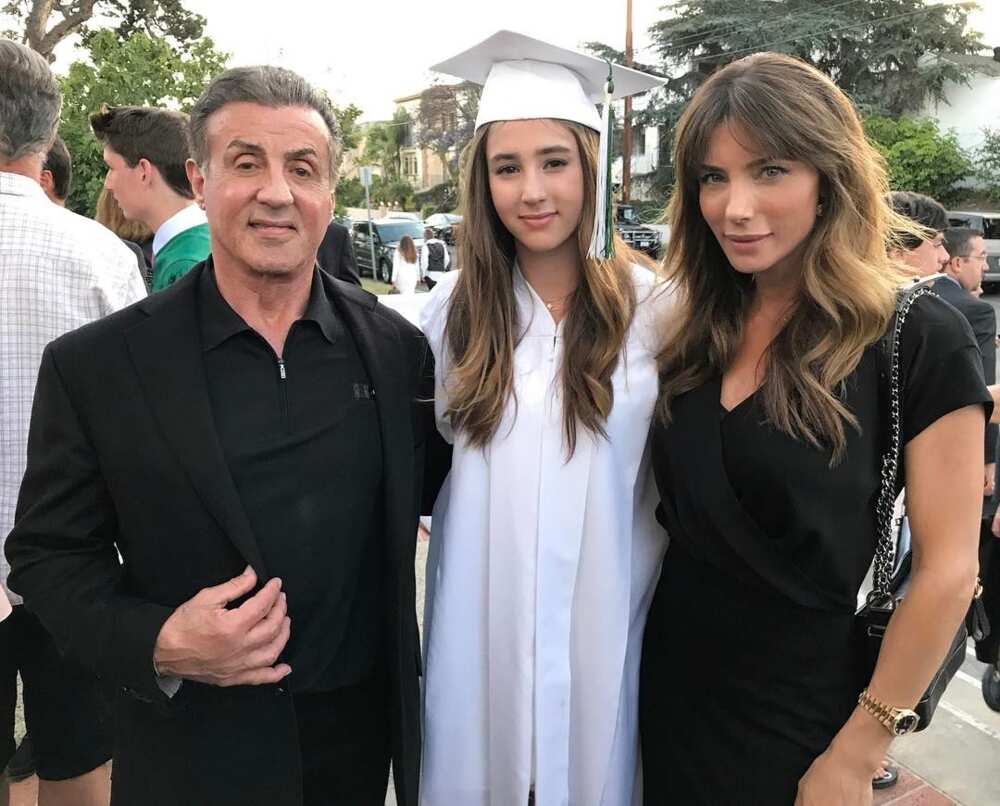 Jennifer Flavin net worth
Stallone wife currently has a net worth of $10 million.
Jennifer Flavin Stallone is the co-founder of Serious Skin Care, a company that sells beauty treatments and cosmetics via the Home Shopping Network.
Jennifer Flavin quotes
I never knew there had to be a system. I always thought that putting one product on your face or taking a pill could change everything.
I'd rather be a great mom than a sexy model.
I have had no plastic surgery on my face.
Social media
Jenn has an Instagram account with 319k followers.
Jennifer Flavin is an entrepreneur with a lot to be proud of. She has a beautiful family that is the envy of many people.
Source: Legit.ng