Rebecca Romijn bio: age, height, net worth, husband, children
If there is one actress whose legacy will live on forever, it is Rebecca Romijn, whose portrayal of Mystique in the X-Men film series will forever be praised. The multi-talented celebrity is not only an actress, but she is also a producer, musician, presenter and former fashion model.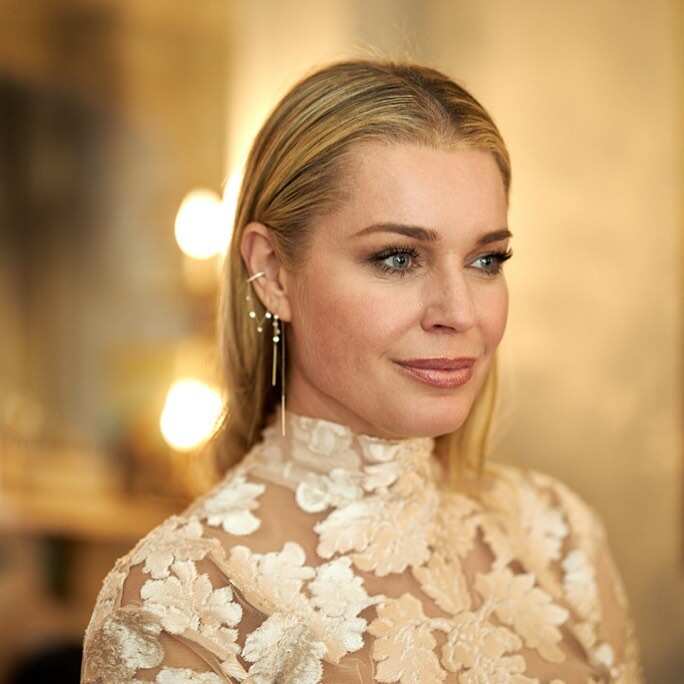 Most people know Rebbecca Romijn as Mystique from X-Men or as Joan from The Punisher. However, do you know about the actress' family background, her age, or even her net worth? Here is a chance for you to learn all these details about the star.
Profile summary
Birth name: Rebecca Alie Romijn
Birthdate: 6th November 1972
Place of birth: Berkeley, California, United States of America
Rebecca Romijn age: 47 years old
Sun sign: Scorpio
Nationality: American
Parents: Jaap Romijn and Elizabeth Kuizenga
Sibling: Tamara Romijn
Height: 5 feet 10 inches (1.78 metres or 178 centimetres)
Weight: 57 kilograms (126 lbs)
Body type: Slim
Body measurements: 35-25-36 inches
Bra size: 34B
Dress size: 4 (US)
Hair colour: Blonde
Eye colour: Blue
Net worth: $20 million
Occupation: Actress, Musician, Producer, Entrepreneur and former Model
Early life and family
Rebecca Alie Romijn was born on 6th November 1972 in Berkeley, California, United States of America. How old is Rebecca Romijn? She is currently 47 years old.
The actress was born to Jaap Romijn, a Dutch-born custom-furniture maker and Elizabeth Kuizenga, an American-born teacher of English with English and Dutch ancestry.
Rebecca's parents divorced when she was seven years old, but they lived across the street from each other. The actress has a younger sister who goes by the name Tamara Romijn.
For her education, Rebecca went to Berkeley High School. While at the school, she was referred to as Jolly Blond Giant due to her towering height.
She then proceeded to the University of California in Santa Cruz, majoring in Music. She was a student at the university from 1990-1991, dropping out to pursue a career in modelling.
While Rebecca was growing up, her parents did not have a lot of money, and the actress shopped at a thrift store called Value Village. To date, the actress still loves thrift shops.
Another fact about the actress' early life is that growing up, she wanted to be a television newscaster. However, the voice lessons she took pointed her towards a career in classical music.
Rebecca Romijn young got her first job when she was 16 years old. The job involved cutting up dead chickens at a gourmet poultry store in her hometown.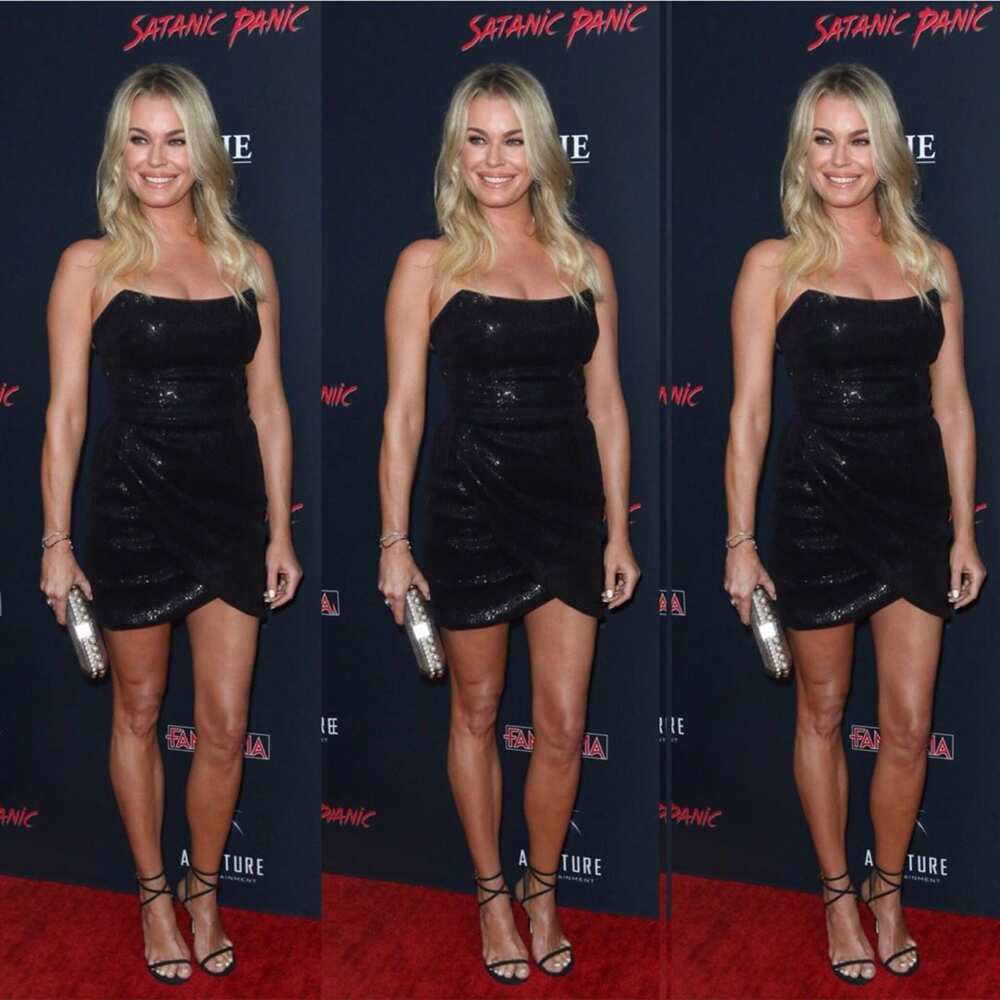 Rebecca Romijn measurements
Rebecca Romijn hot body is the envy of many. The actress weighs 57 kilograms (which roughly translates to 126 lbs).
Her body measures 35-25-36 inches in the bust-waist-hip ratio. Her dress size is 4 in US measurements while her body type is slim. The actress has blonde hair and blue eyes.
Rebecca keeps her body fit through a rigorous stretching and strengthening routine.
How tall is Rebecca Romijn?
Rebecca Romijn height is 5 feet 10 inches (1.78 metres or 178 centimetres).
Career
While she was at the university, Rebecca yearned to travel, and her wishes came true when she met a model scout for a European agency who offered her a contract for some work in Paris.
Rebecca took the job, and soon, what she thought was an easy way to earn money for the summer and to see Europe turned into a full-blown career as she got so many offers while at Paris. This necessitated her dropping out of university in 1991.
Soon, the beauty graced the cover of French Elle and signed a cosmetics contract with Biotherm within a few months.
Rebecca spent two years in Europe before going back to the United States of America. While in the USA, she became the newest model appearing in the 1994 Swimsuit Issue of Sports Illustrated.
The model went on to feature in various editions of Elle, Marie Claire, Cosmopolitan, Allure, Glamour, GQ, Esquire, and Sports Illustrated. Within a decade of her modelling career, Romijn had appeared in various commercials for top brands like Escada, Christian Dior, La Perla, Dillard's, Pantene, and Miller Lite.
She has also represented Victoria's Secret, Bebe, Maybelline, and Tommy Hilfiger. Rebecca has walked the ramp for Anna Molinari, Sonia Rykiel, and Giorgio Armani, joining the ranks of Kate Moss, Naomi Campbell, Cindy Crawford, and Stephanie Seymour.
In no time, Rebecca slowly started making a transition from modelling to acting. In 1997, she was cast in an episode of Friends as Ross's new girlfriend with a pigsty of a house. The actress also hosted MTV's House of Style.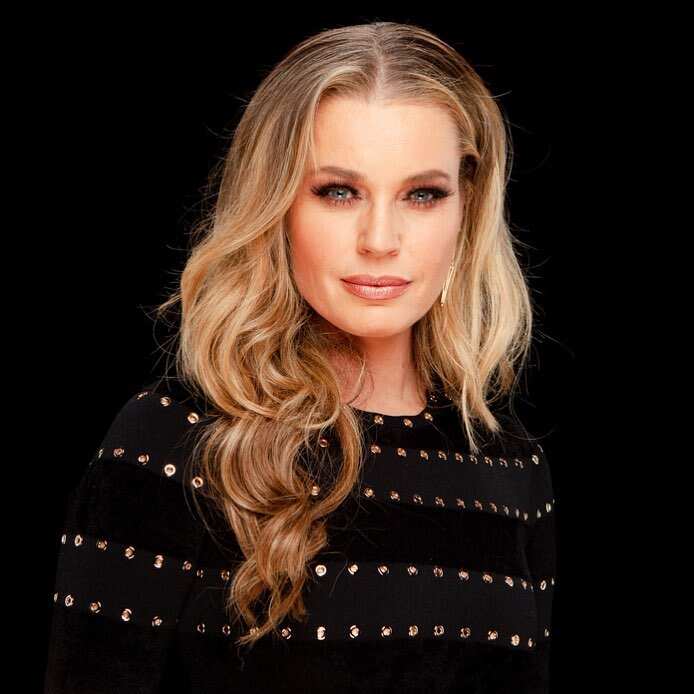 Rebecca Romijn movies and TV shows
Here is a list of all Rebecca Romijn movies, TV shows, and the roles she played in them:
Justice League Dark: Apokolips War - In this sequel to Justice League Dark (2017), Rebecca voices Lois Lane
Flipped (2020) - The actress featured as Tiffany Connelly in the episode titled The Work Is Never Quite Done
Curb Your Enthusiasm (2020) - She played Penelope in the episode titled The Surprise Party
Star Trek: Short Treks (2019) - She acted as Number One in the episodes titled Ask Not and Q&A
The Death and Return of Superman (2019) - Lois Lane (voice)
Batman: Hush (2019) - Lois Lane (voice)
Star Trek: Discovery (2019) - She featured as Number One in three episodes: Such Sweet Sorrow, Part 2, Such Sweet Sorrow, and An Obol for Charon
Satanic Panic (2019) - Danica Ross
Reign of the Supermen (2019) - Lois Lane (voice)
The Death of Superman (2018) - Lois Lane (voice)
Carter (2018) - She portrayed Cassidy Lenox in the episode titled The Ring
The Librarians (2014-2018) - She featured as Eve Baird in 42 episodes of the television series
Love Locks (2017) - Lindsey Wilson
Adventure Time (2015) - Portrayed the Empress in two episodes: Stakes Part 4: The Empress Eyes and Stakes Part 3: Vamps About
Key and Peele (2015) - Acted as Pirate Captian in the episode titled Y'all Ready for This?
Larry Gaye: Renegade Male Flight Attendant (2015) - Sally the Flightpal
The Pro (2014) - Margot
Phantom Halo (2014) - Ms. Rose
Burning Love (2013) - Played Katie in the episodes titled Meet the Families and Proposals
King & Maxwell (2013) - Portrayed Michelle Maxwell in ten episodes of this television series
NTSF:SD:SUV ( 2011-2012) - Acted as Jessie Nichols in 17 episodes of the series
The Producers (2012) - Ulla
Good Deeds (2012) - Heidi
Chuck (2011) - Played Robin Cunnings in the episode titled Chuck Versus the Curse
Possessing Piper Rose (2011) - Joanna Maxwell
X-Men: First Class (2011) - Mystique - Older (uncredited)
The Cleveland Show (2011) - Speaker / Graduate
Special Agent Oso (2011) - Voiced Miss Garcia in the episode titled Lost and Get Found/A View to the Truth
The Con Artist (2010) - Belinda
Worst Wedding DJ Ever (2010)
Eastwick (2009-2010) - Portrayed Roxie Torcoletti in 13 episodes of the show
Ugly Betty (2007-2008) - Acted as Alexis Meade in 33 episodes
Lake City (2008) - Jennifer
Carpoolers (2007) - Acted as Joannifer in the episode titled A Divorce to Remember
Drawn Together (2007) - Voiced Charlotte in one episode, Charlotte's Web of Lies
Pepper Dennis (2006) - Played Pepper Dennis in 13 episodes
X-Men: The Last Stand (2006) - Raven Darkholme / Mystique
Man About Town (2006) - Nina Giamoro
Lies and Alibis (2006) - Lola
Tron 2.0: Killer App (2004) - Was the voice of Mercury in this video game
Godsend (2004) - Jessie Duncan
The Punisher (2004) - Joan
TRON 2.0 (2003) - Voiced Mercury in this video game
X2: X-Men United (2003) - Raven Darkholme / Mystique / Grace
S1m0ne (2002) - Faith (uncredited)
Femme Fatale (2002) - Laure / Lily
Rollerball (2002) - Aurora
Run Ronnie Run (2002) - Rebecca Romijn
X-Men (2000) - Mystique
Jack & Jill (2000) - Played Paris Everett in the episode titled Starstruck
Just Shoot Me! (1999-2000) - Portrayed Adrienne Barker in eight episodes of this television series
Hefner: Unauthorized (1999) - Kimberly Hefner
Austin Powers: The Spy Who Shagged Me (1999) - Rebecca Romijn
Dirty Work (1998) - Bearded Lady
Friends (1997) - Acted as Cheryl in the episode titled The One with the Dirty Girl
New Kids on the Block: Please Don't Go Girl (1988) - Girl 1
Producer credits
According to Rebecca Romijn - IMDb page, the actress has the following producer credits:
Pepper Dennis (2006) - Rebecca co-produced nine episodes of this television series
Wet Dreams (2006) - She was the executive producer of this documentary
Soundtrack credits
The Librarians (1 episode, 2014) - She performed The Battle Hymn of the Republic in the episode titled And the Rise of Chaos and Hark! the Herald Angels Sing in the episode titled And Santa's Midnight Run.
Jimmy Kimmel Live! (2008) - She performed I'm F***ing Ben Affleck in the episode titled Ben Affleck/Mary J. Blige/Cleto Escobedo III.
Pepper Dennis (2006) - The actress performed Takin' Care of Business in the episode titled Hiroshi Watanabe in Bed with Curtis Wilson and Listen to Your Heart in the episode titled Heiress Bridenapped.
Awards and nominations
The actress has three award wins and nine nominations to her name. They include the following:
Academy of Science Fiction, Fantasy & Horror Films, USA
In 2015 and 2016, she was nominated for a Saturn Award under the Best Actress on Television category. This was for her role in The Librarians (2014).
In 2001, she won a Saturn Award under the Best Supporting Actress category for her role in X-Men (2000).
Blockbuster Entertainment Awards
In 2001, Rebecca won a Blockbuster Entertainment Award under the Favorite Supporting Actress - Science Fiction category for her role in X-Men (2000).
Gold Derby Awards
In 2007, she was nominated for a Gold Derby TV Award under the Ensemble of the Year category for Ugly Betty (2006). The nomination was shared with Alan Dale, America Ferrera, Christopher Gorham, Mark Indelicato, Ashley Jensen, Judith Light, Eric Mabius, Becki Newton, Ana Ortiz, Tony Plana, Kevin Sussman, Michael Urie, and Vanessa Williams.
MTV Movie Awards, Mexico
In 2004, the actress was nominated for an MTV Movie Award under the Sexiest She-Villain (Villana más Sexy) category for her role in X2 (2003).
Razzie Awards
In 2003, she was nominated for a Razzie Award under the Worst Supporting Actress category for her role in Rollerball (2002).
Screen Actors Guild Awards
In 2008, she was nominated for a SAG award under the Outstanding Performance by an Ensemble in a Comedy Series category for Ugly Betty (2006). The nomination was shared with other cast members of the show.
Teen Choice Awards
In 2003, she was nominated for a Teen Choice Award under the Choice Movie Actress - Drama/Action Adventure category for her role in X2 (2003).
That same year, she received a Choice Movie Liar nomination for her role in the same movie.
The Stinkers Bad Movie Awards
In 2002, she won a Stinker Award under the Worst Fake Accent: Female category for her roles in Femme Fatale (2002) and Rollerball (2002).
That same year, she was nominated for a Stinker Award under the Worst Actress category for her roles in the same movies.
How much is Rebecca Romijn worth?
According to Celebrity Net Worth, Rebecca Romijn net worth is $20 million.
Apart from acting, Rebecca is also an entrepreneur. She owns a jewelry line named Charlie Dolly (named after her daughters). The line contains casual, everyday wear and many pieces are under $1,000.
Dating history
The actress has been in three public relationships. She has been romantically linked to these men in the past:
John Stamos - Rebecca Romijn and John Stamos met in 1994 at a Victoria's Secret fashion show. They had their first date at Disneyland and got married on 19th September 1998. The two got divorced on 1st March 2005.
John Cusack - John and Rebecca were an item back in 2004.
Rebecca Romijn husband
Is Rebecca Romijn still married? Yes, the actress is currently married to Jerry O'Connell. After two and a half years of dating, Rebecca Romijn and Jerry O'Connell announced their engagement in September 2005.
They got married on 14th July 2007 in Los Angeles at a surprise backyard ceremony attended by 100 family and friends who thought they had been invited to a barbecue.
The couple has two children together.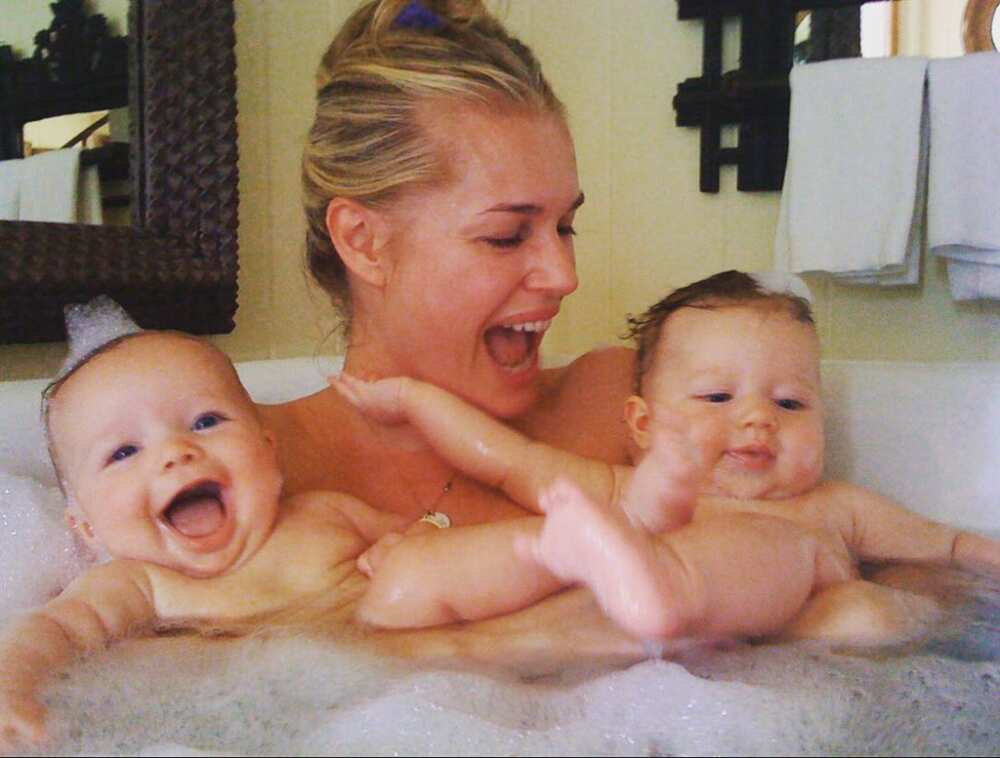 Rebecca Romijn children
On 28th December 2008, Rebecca gave birth to fraternal twins - Dolly Rebecca Rose and Charlie Tamara Tulip. The twins were delivered through C-section. Dolly is named after Dolly Parton, while Charlie is named after Jerry's brother.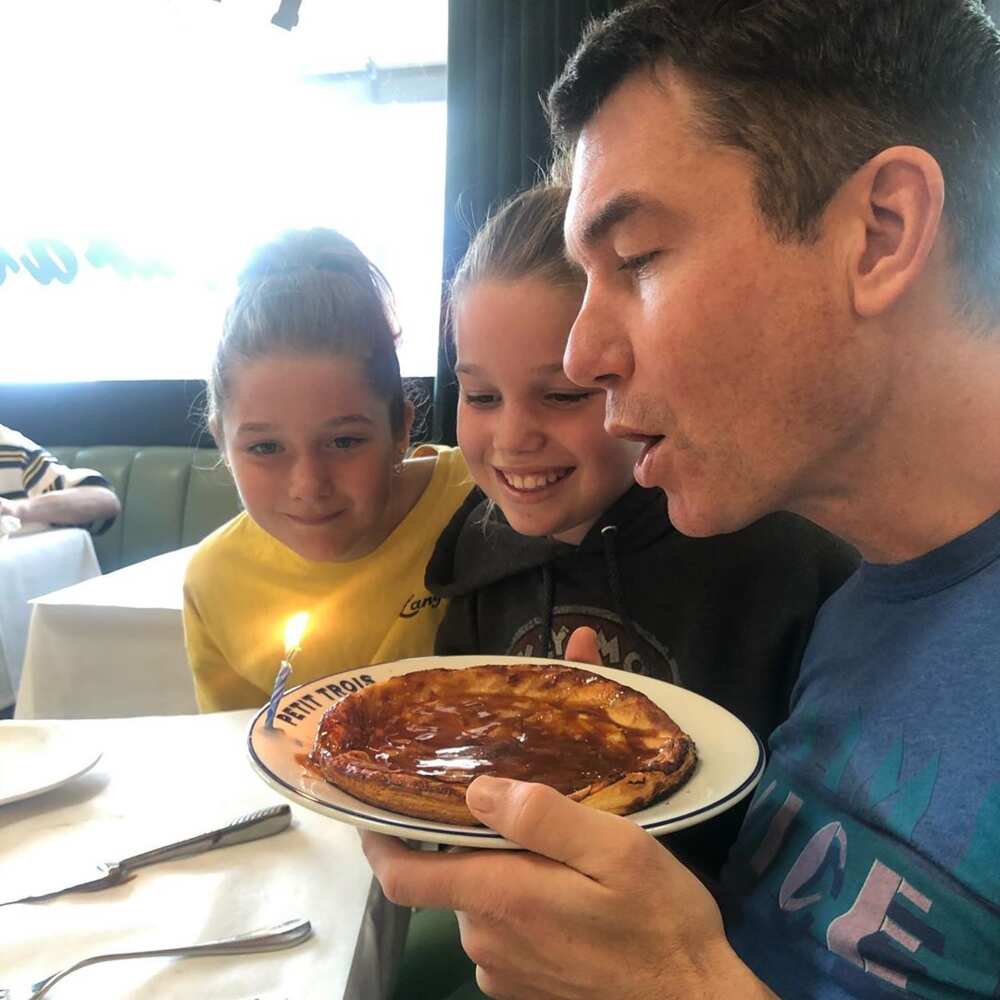 Social media
Rebecca has an Instagram account with 198k followers. She joined Twitter in May 2012 and to date, she boasts of 74.2 k followers. Her Facebook page has over 55k likes and followers as well.
Rebecca Romijn quotes
I'm not for gratuitous nudity, but if there's humor, I don't have a problem.
Luckily, I'm doing other things besides just modelling, because frankly, I'm a little bored with it.
That's true, you don't want to let anybody down and there are millions of people who've been waiting for their favorite characters to be brought to life and you don't want to disappoint
I'm a little top heavy, so I have to pay attention to that area. I think it was from my years of swimming in school when I was a kid and it just overdeveloped my upper body. In fact, when I started modeling, my back was so developed, I could not fit into any dresses.
Hour-long TV is no joke. It tests you as a human being. It makes you a stronger person, but it's really crazy.
I think life throws enough curveballs that you shouldn't make such a big deal out of everything.
I guess I can be a little neurotic sometimes, but can't everybody?
I've been messing around in the studio the last couple of years. But I don't want to worry about being taken seriously as a singer. It just really feels good to do it.
I've become really good at turning down the boring, pretty girl roles, the trophy wife, supermodel, beautiful girlfriend roles. I mean, playing somebody who's perfect holds no allure for me, whatsoever. It's just boring.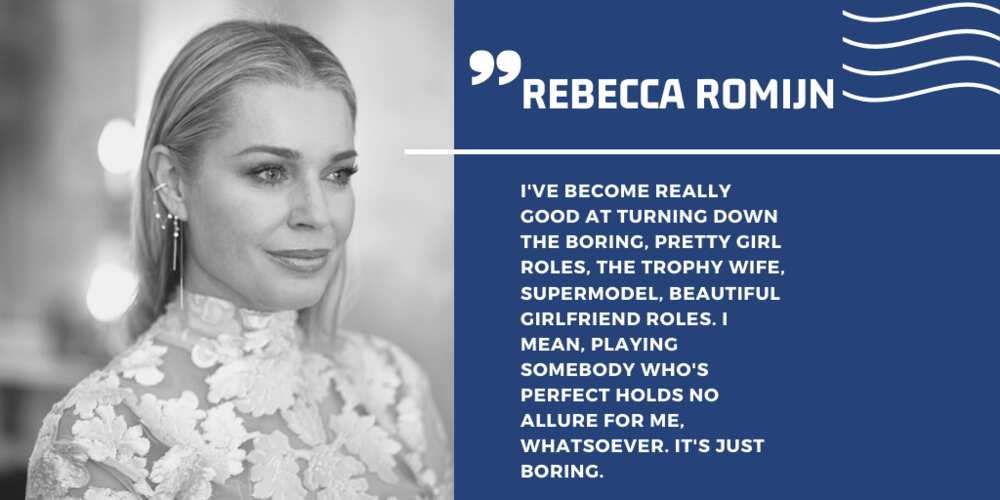 I'm a diligent person, and that came directly from having hardworking parents.
Movie making is really, it's a director's medium, it's not even so much an actor's medium.
I was never a girl who dreamed about what her wedding day would be like, but I've always dreamed about decorating my baby's nursery.
I think to make any relationship work it just takes a tremendous amount of effort and accepting of one another.
Sometimes I'm so tired, I look down at what I'm wearing, and if it's comfortable enough to sleep in, I don't even make it into my pajamas. I'm looking down, and I'm like, 'T-shirt and stretchy pants? Yup, that's fine. It's pajama-y, good night.'
Being a mom makes me feel whole and like I understand the meaning of life.
It's pronounced "romaine", like the lettuce.
I don't know where it's coming from, but I think studios are finally realizing that people want to see girls who can kick butt as well as guys can.
Aging has never been scary to me. I've always admired my mom's lines--she has a beautiful, laughter-filled face. I've always thought that was attractive.
Rebecca Romijn is a talented actress, producer, and former model with a lot to be proud of. Apart from her professional achievements, she is also a proud mother to two beautiful girls.
Source: Legit.ng