Famous Jekyll and Hyde quotes on life and duality of man
The famous novella by Robert Louis Stevenson, Strange Case of Dr Jekyll and Mr Hyde, has for a long time been used as a shorthand for the exhibition of extremely contradictory behavior. The novel, which was originally published in 1886, follows the undertakings of Jekyll and Hyde, the two alter egos of the main character. The main theme of the novella, duality of man, has sparked interest in Jekyll and Hyde quotes.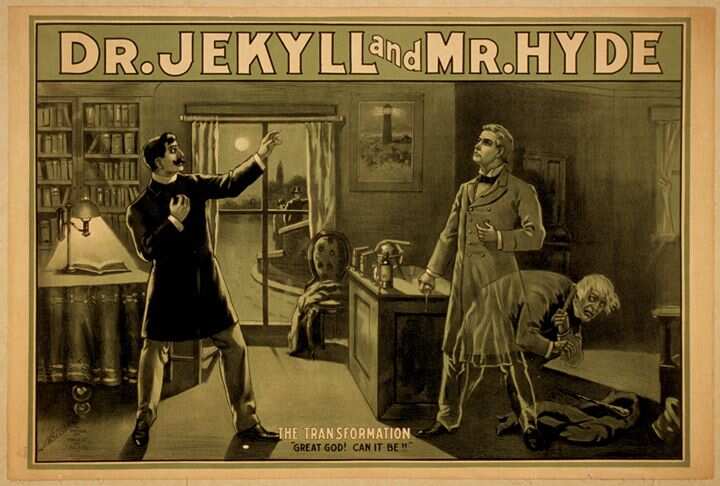 Famous Jekyll and Hyde quotes by character
Dr. Jekyll and Mr Hyde quotes exhibit the wildly different behaviors exhibited by the two alter egos; one good and one bad.
Dr Jekyll quotes
Dr Jekyll is the morally upright, socially acceptable alter ego. Here are his most famous quotes from the book.
"My poor Utterson," said he, "you are unfortunate in such a client. I never saw a man so distressed as you were by my will; unless it were that hide-bound pedant, Lanyon, at what he called my scientific heresies."
"To cast in my lot with Jekyll, was to die to those appetites which I had long secretly indulged and had of late begun to pamper. To cast it in with Hyde, was to die to a thousand interests and aspirations, and to become, at a blow and forever, despised and friendless. The bargain might appear unequal; but there was still another consideration in the scales; for while Jekyll would suffer smartingly in the fires of abstinence, Hyde would be not even conscious of all that he had lost."
"At that time my virtue slumbered; my evil, kept awake by ambition, was alert and swift to seize the occasion; and the thing that was projected was Edward Hyde."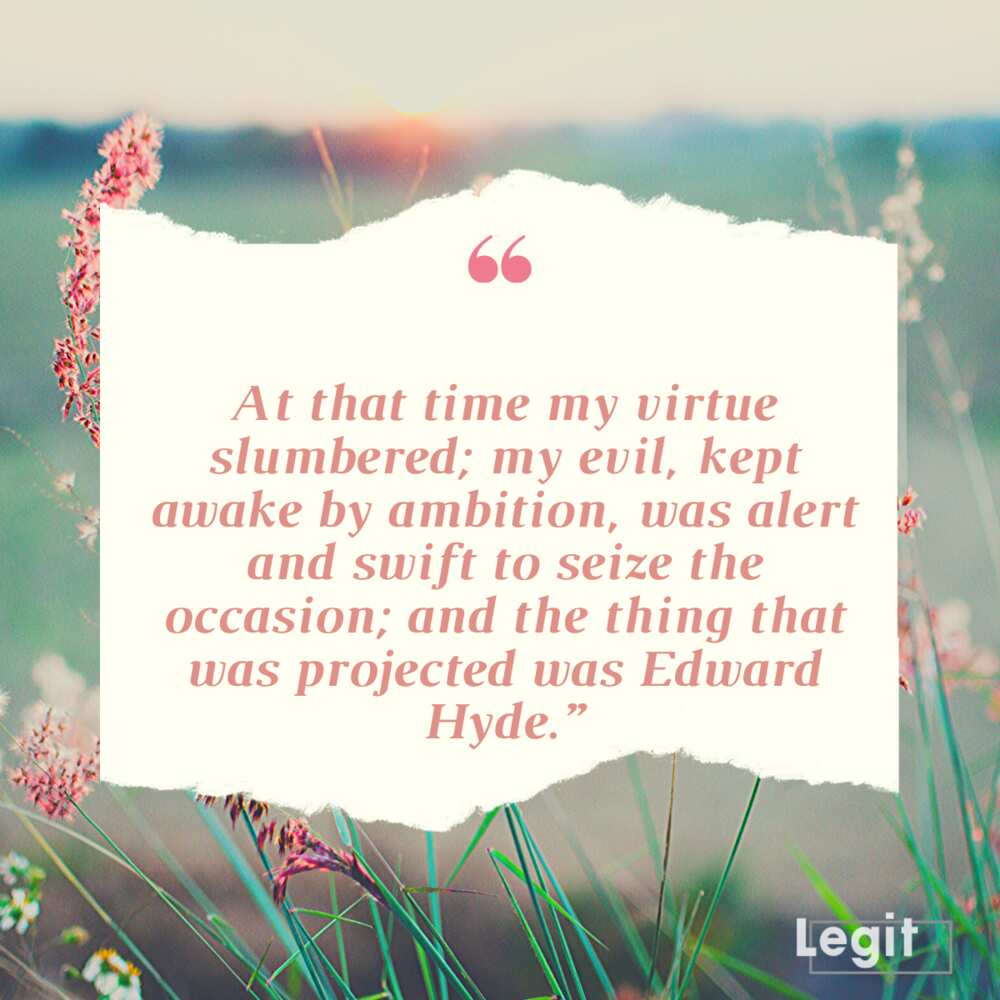 "Utterson, I swear to God," cried the doctor, "I swear to God I will never set eyes on him again. I bind my honour to you that I am done with him in this world. It is all at an end. And indeed he does not want my help; you do not know him as I do; he is safe, he is quite safe; mark my words, he will never more be heard of."
"And indeed the worst of my faults was a certain impatient gaiety of disposition, such as has made the happiness of many, but such as I found it hard to reconcile with my imperious desire to carry my head high, and wear a more than commonly grave countenance before the public."
Mr Hyde quotes
Here are some famous Hyde quotes that exhibit the huge differences between Dr Jekyll and Mr Hyde.
"Under the strain of this continually impending doom and by the sleeplessness to which I now condemned myself, ay, even beyond what I had thought possible to man, I became, in my own person, a creature eaten up and emptied by fever, languidly weak both in body and mind, and solely occupied by one thought: the horror of my other self."
"To cast in it with Hyde was to die a thousand interests and aspirations."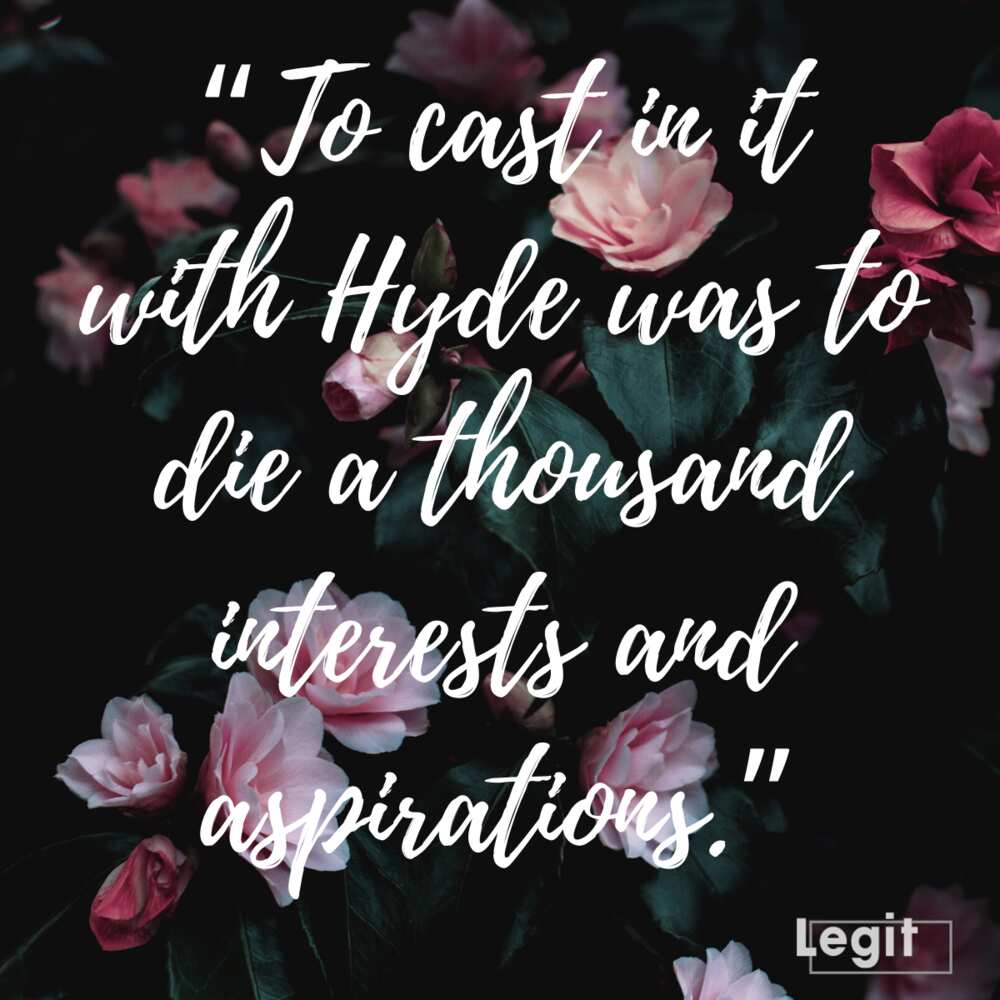 "It was for one minute that I saw him, but the hair stood upon my head like quills. Sir, if that was my master, why had he a mask upon his face?"
"I learned to recognise the thorough and primitive duality of man; I saw that, of the two natures that contended in the field of my consciousness, even if I could rightly be said to be either, it was only because I was radically both."
"Jekyll had more than a father's interest; Hyde had more than a son's indifference."
"If he be Mr. Hyde," he had thought, "I shall be Mr. Seek."
"I sat in the sun on a bench; the animal within me licking the chops of memory; the spiritual side a little drowsed, promising subsequent penitence, but not yet moved to begin."
"If I am the chief of sinners, I am the chief of sufferers also."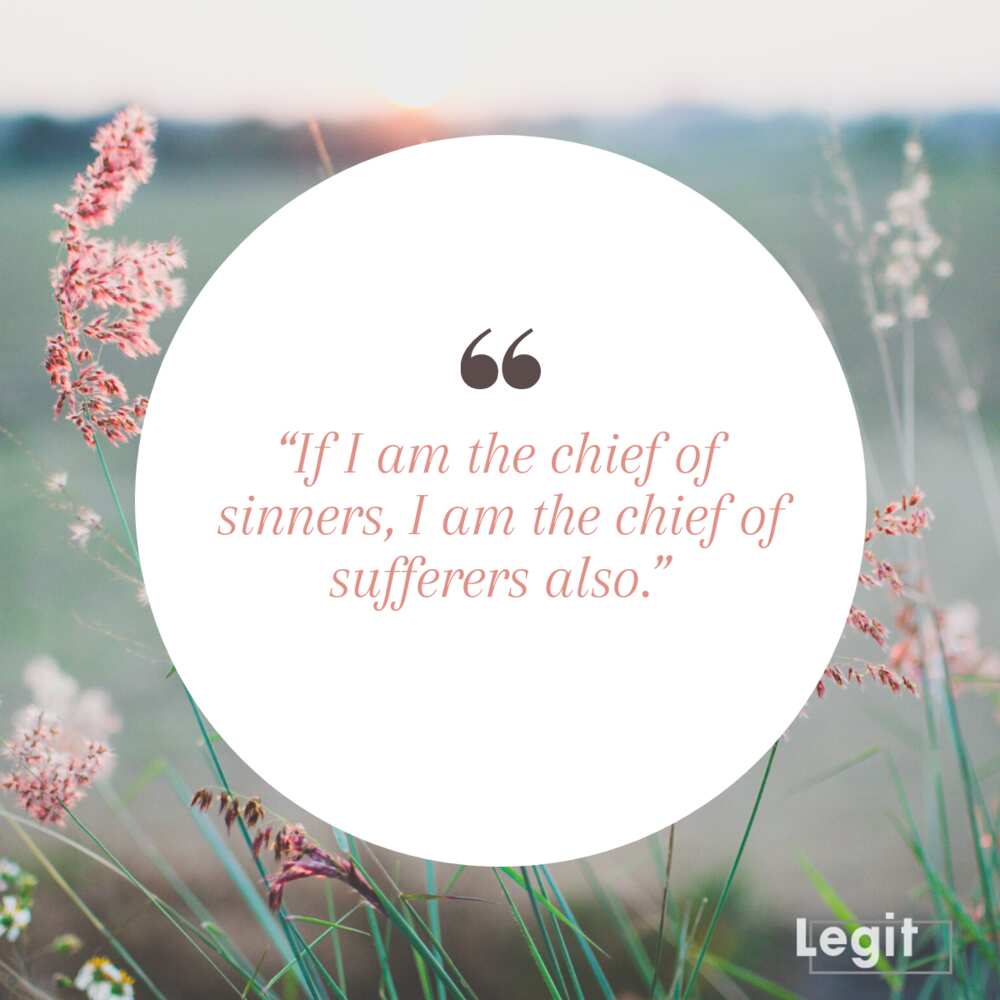 "O my poor old Harry Jekyll, if ever I read Satan's signature upon a face, it is on that of your new friend."
"This was the shocking thing; that the slime of the pit seemed to utter cries and voices; that the amorphous dust gesticulated and sinned; that what was dead, and had no shape, should usurp the offices of life. And this again, that that insurgent horror was knit to him closer than a wife, closer than an eye; lay caged in his flesh, where he heard it mutter and felt it struggle to be born; and at every hour of weakness, and in the confidence of slumber, prevailed against him, and deposed him out of life."
Mr. Gabriel John Utterson quotes
"This is a very strange tale, Poole; this is rather a wild tale my man," said Mr. Utterson, biting his finger. "Suppose it were as you suppose, supposing Dr. Jekyll to have been—well, murdered what could induce the murderer to stay? That won't hold water; it doesn't commend itself to reason."
"But he had an approved tolerance for others; sometimes wondering, almost with envy, at the high pressure of spirits involved in their misdeeds; and in any extremity inclined to help rather than to reprove. "I incline to Cain's heresy," he used to say quaintly: "I let my brother go to the devil in his own way."
"There must be something else," said the perplexed gentleman. "There is something more, if I could find a name for it. God bless me, the man seems hardly human! Something troglodytic, shall we say? or can it be the old story of Dr. Fell? or is it the mere radiance of a foul soul that thus transpires through, and transfigures, its clay continent? The last, I think; for, O my poor old Harry Jekyll, if ever I read Satan's signature upon a face, it is on that of your new friend."
"And the lawyer, scared by the thought, brooded awhile on his own past, groping in all the corners of memory, least by chance some Jack-in-the-Box of an old iniquity should leap to light there. His past was fairly blameless; few men could read the rolls of their life with less apprehension; yet he was humbled to the dust by the many ill things he had done, and raised up again into a sober and fearful gratitude by the many he had come so near to doing yet avoided."
Dr. Hastie Lanyon quotes
"What he told me in the next hour, I cannot bring my mind to set on paper. I saw what I saw, I heard what I heard, and my soul sickened at it; and yet now when that sight has faded from my eyes, I ask myself if I believe it, and I cannot answer. My life is shaken to its roots; sleep has left me; the deadliest terror sits by me at all hours of the day and night; and I feel that my days are numbered, and that I must die; and yet I shall die incredulous."
"O God!" I screamed, and "O God!" again and again; for there before my eyes—pale and shaken, and half fainting, and groping before him with his hands, like a man restored from death—there stood Henry Jekyll!"
"Upon the reading of this letter, I made sure my colleague was insane; but till that was proved beyond the possibility of doubt, I felt bound to do as he requested."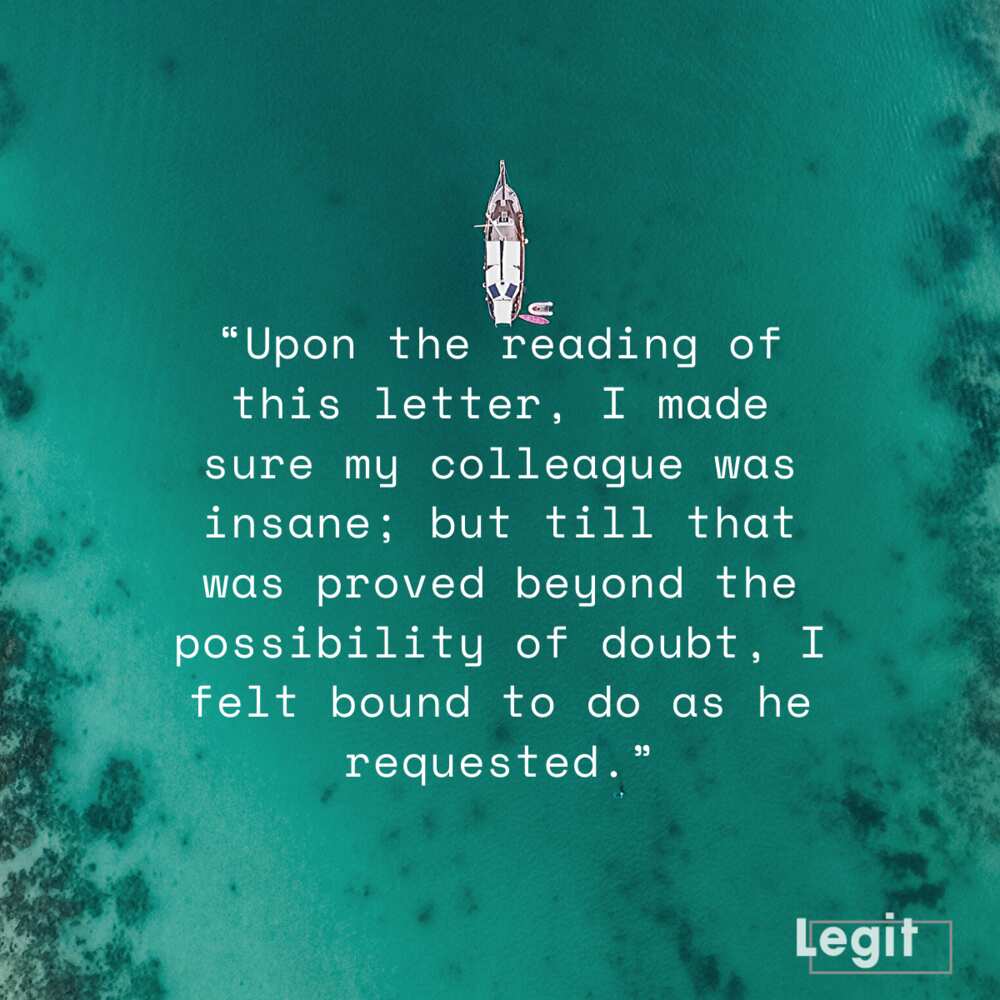 "I have had a shock," he said, "and I shall never recover. It is a question of weeks. Well, life has been pleasant; I liked it; yes, sir, I used to like it. I sometimes think if we knew all, we should be more glad to get away."
"I wish to see or hear no more of Dr. Jekyll," he said in a loud, unsteady voice. "I am quite done with that person; and I beg that you will spare me any allusion to one whom I regard as dead."
Mr. Enfield quotes
"Well, sir, he was like the rest of us; every time he looked at my prisoner, I saw that Sawbones turn sick and white with desire to kill him. I knew what was in his mind, just as he knew what was in mine; and killing being out of the question, we did the next best. We told the man we could and would make such a scandal out of this as should make his name stink from one end of London to the other. If he had any friends or any credit, we undertook that he should lose them."
"But Mr. Enfield only nodded his head very seriously, and walked on once more in silence."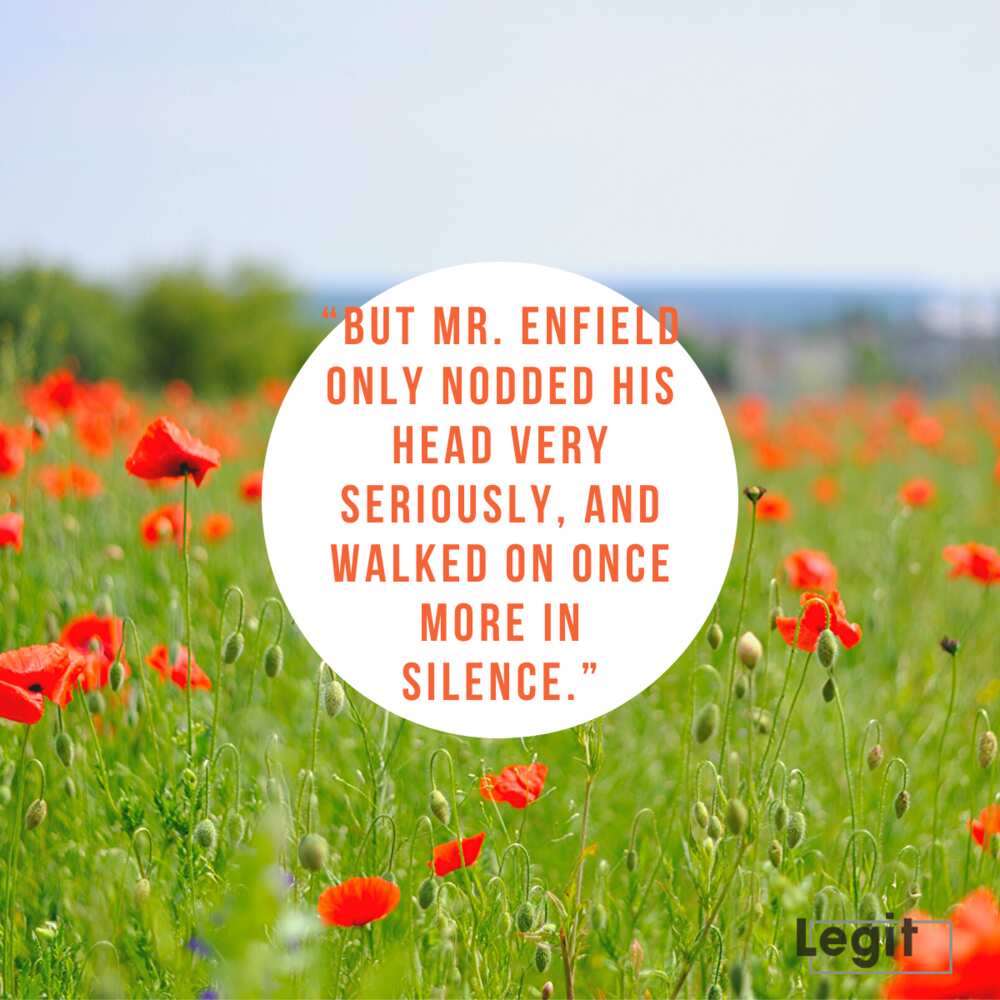 "Yes, it's a bad story. For my man was a fellow that nobody could have to do with, a really damnable man; and the person that drew the cheque is the very pink of the proprieties, celebrated too, and (what makes it worse) one of your fellows who do what they call good."
"I feel very strongly about putting questions; it partakes too much of the style of the day of judgment. You start a question, and it's like starting a stone. You sit quietly on the top of a hill; and away the stone goes, starting others; and presently some bland old bird (the last you would have thought of) is knocked on the head in his own back garden and the family have to change their name. No sir, I make it a rule of mine: the more it looks like Quеer Street, the less I ask."
"The figure was stiff; but the signature was good for more than that if it was only genuine. I took the liberty of pointing out to my gentleman that the whole business looked apocryphal, and that a man does not, in real life, walk into a cellar door at four in the morning and come out with another man's cheque for close upon a hundred pounds."
Mr. Poole quotes
"Quite so, sir,' returned Poole. 'Well, when that masked thing like a monkey jumped from among the chemicals and whipped into the cabinet, it went down my spine like ice. O, I know it's not evidence, Mr. Utterson; I'm book-learned enough for that; but a man has his feelings, and I give you my bible-word it was Mr. Hyde!"
"You know the doctor's ways, sir," replied Poole, "and how he shuts himself up. Well, he's shut up again in the cabinet; and I don't like it, sir—I wish I may die if I like it. Mr. Utterson, sir, I'm afraid."
"Changed? Well, yes, I think so," said the butler. "Have I been twenty years in this man's house, to be deceived about his voice? No, sir; master's made away with; he was made away with eight days ago, when we heard him cry out upon the name of God; and who's in there instead of him, and why it stays there, is a thing that cries to Heaven, Mr. Utterson!"
Dr Jekyll and Mr Hyde quotes organized by theme
Enjoy this collection of more Jekyll and Hyde key quotes organized by theme.
Jekyll and Hyde duality quotes
"It was thus rather the exacting nature of my aspirations than any particular degradation in my faults, that made me what I was, and, with even a deeper trench than in the majority of men, severed in me those provinces of good and ill which divide and compound man's dual nature."
With every day, and from both sides of my intelligence, the moral and the intellectual, I thus drew steadily nearer to that truth, by whose partial discovery I have been doomed to such a dreadful shipwreck: that man is not truly one, but truly two."
"I, for my part, from the nature of my life, advanced infallibly in one direction and in one direction only. It was on the moral side, and in my own person, that I learned to recognise the thorough and primitive duality of man; I saw that, of the two natures that contended in the field of my consciousness, even if I could rightly be said to be either, it was only because I was radically both."
"If each, I told myself, could be housed in separate identities, life would be relieved of all that was unbearable; the unjust might go his way, delivered from the aspirations and remorse of his more upright twin; and the just could walk steadfastly and securely on his upward path, doing the good things in which he found his pleasure, and no longer exposed to disgrace and penitence by the hands of this extraneous evil. It was the curse of mankind that these incongruous faggots were thus bound together—that in the agonised womb of consciousness, these polar twins should be continuously struggling. How, then were they dissociated?"
"And yet when I looked upon that ugly idol in the glass, I was conscious of no repugnance, rather of a leap of welcome. This, too, was myself…This, as I take it, was because all human beings, as we meet them, are commingled out of good and evil."
Dr Jekyll and Mr Hyde key quotes on repression
"Hence it came about that I concealed my pleasures; and that when I reached years of reflection, and began to look round me and take stock of my progress and position in the world, I stood already committed to a profound duplicity of life."
"I do not suppose that, when a drunkard reasons with himself upon his vice, he is once out of five hundred times affected by the dangers that he runs through his brutish, physical insensibility; neither had I, long as I had considered my position, made enough allowance for the complete moral insensibility and insensate readiness to evil, which were the leading characters of Edward Hyde. Yet it was by these that I was punished. My devil had been long caged, he came out roaring."
"If you choose to make capital out of this accident,' said he, `I am naturally helpless. No gentleman but wishes to avoid a scene,' says he. `Name your figure."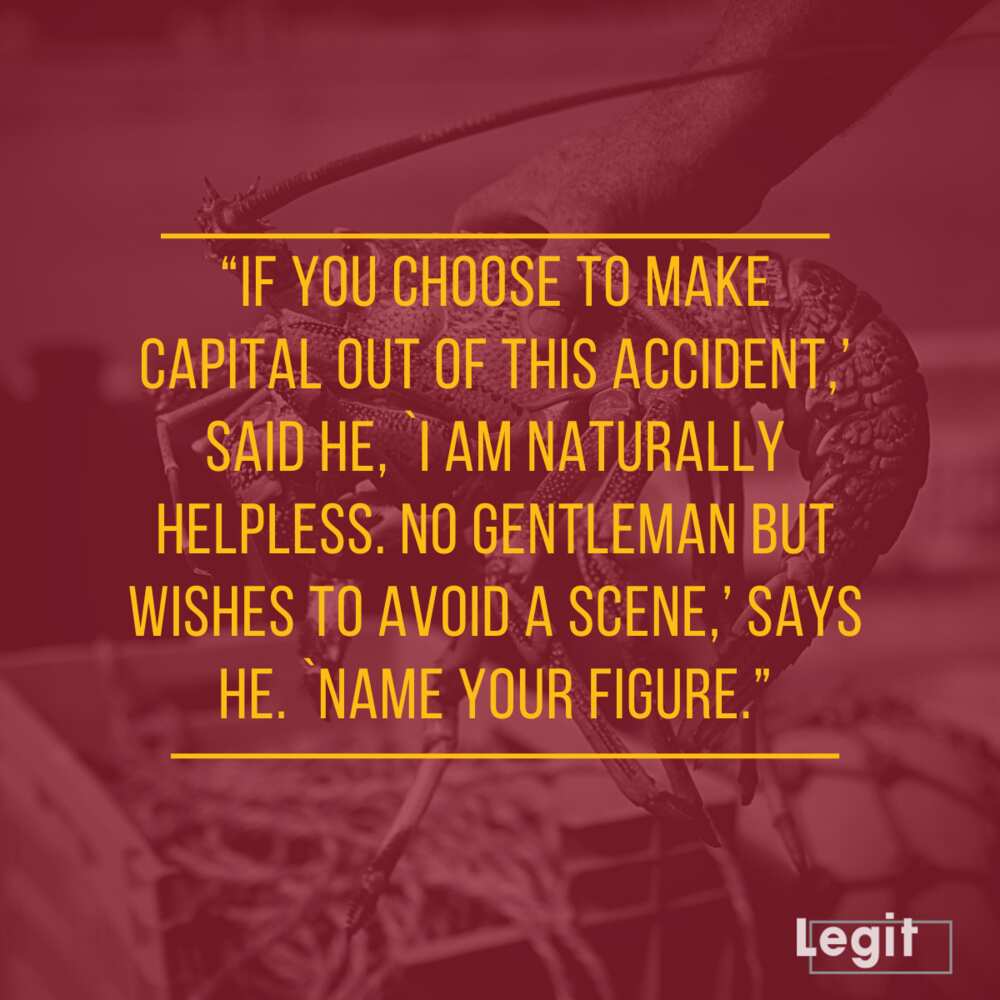 "Hosts loved to detain the dry lawyer, when the light-hearted and loose-tongued had already their foot on the threshold; they liked to sit a while in his unobtrusive company, practising for solitude, sobering their minds in the man's rich silence after the expense and strain of gaiety."
"A great curiosity came on the trustee, to disregard the prohibition and dive at once to the bottom of these mysteries; but professional honour and faith to his dead friend were stringent obligations; and the packet slept in the inmost corner of his private safe."
Rational vs. irrational Dr.Jekyll and Mr.Hyde quotes
"It is well," replied my visitor. "Lanyon, you remember your vows: what follows is under the seal of our profession. And now, you who have so long been bound to the most narrow and material views, you who have denied the virtue of transcendental medicine, you who have derided your superiors—behold!"
"'We had,' was the reply. 'But it is more than ten years since Henry Jekyll became too fanciful for me. He began to go wrong, wrong in mind; and though of course I continue to take an interest in him for old sake's sake, as they say, I see and I have seen devilish little of the man. Such unscientific balderdash,' added the doctor, flushing suddenly purple, 'would have estranged Damon and Pythias.'"
"Five minutes afterwards, if you insist upon an explanation, you will have understood that these arrangements are of capital importance; and that by the neglect of one of them, fantastic as they must appear, you might have charged your conscience with my death or the shipwreck of my reason."
"If he could but once set eyes on him, he thought the mystery would lighten and perhaps roll altogether away, as was the habit of mysterious things when well examined."
"Hitherto it had touched him on the intellectual side alone; but now his imagination also was engaged, or rather enslaved; and as he lay and tossed in the gross darkness of the night and the curtained room, Mr. Enfield's tale went by before his mind in a scroll of lighted pictures."
Jekyll and Hyde setting quotes
"Like rows of smiling saleswomen"
"Pleased the eye of the passenger"
"A blind forehead of discoloured wall"
"It seems scarcely a house"
Have you enjoyed this selection of the most famous Jekyll and Hyde quotes? Hopefully, they have shed some light into what the author of the novella wanted to put across.
Source: Legit.ng