50 get well wishes, quotes and messages for friends and family
Get well wishes are the perfect remedy especially when a family member, friend, or loved one is going through an illness, medical surgery, accident, or recovering from the various causes of pain and injury. As human beings, it is only natural that we wish them quick recovery to show them that we care, love them, and share their pain.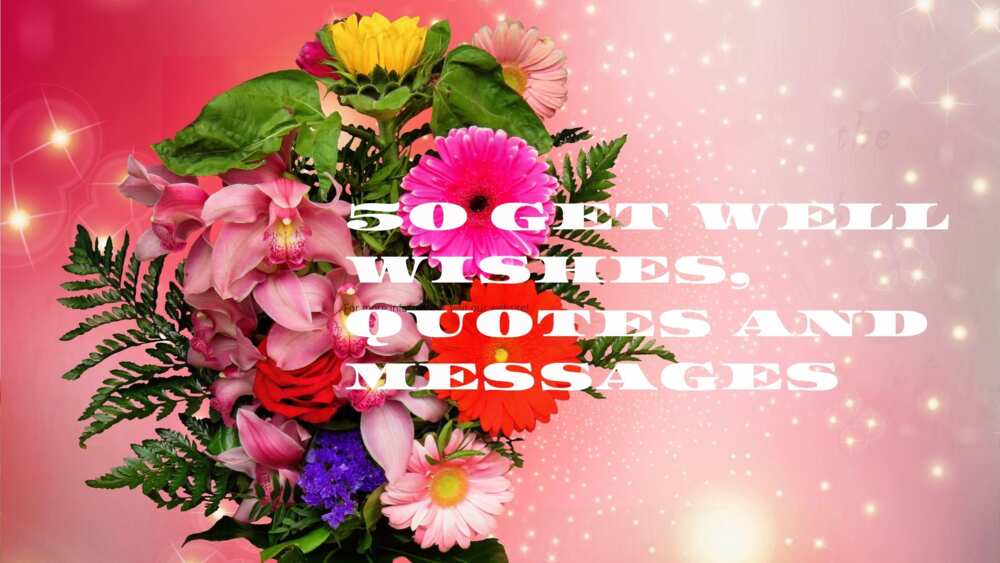 Cheering up someone who is feeling unwell has never been easy. Thanks to the below creative get well soon quotes, wishes, and messages, you can emotionally comfort them as they go through the recovery phase of physical and emotional health. The below 50 inspiring get well wishes are subdivided into numerous categories that perfectly fit the different situations that your loved one might have been going through. Read on as you discover a great combination of words that work as good as medicine to the soul.
Short get well soon card messages
No matter the colour, design, or cost of a get well card, the most significant aspect is the selection of words. Creatively chosen words could last in someone's heart for his or her entire life. In order to achieve that and give hope to your recovering family member, friend, or loved one, you can never go wrong with selecting short and precise, get well card messages.
I pray and hope that you will get well soon: I really miss your beautiful smile.
I know that you are strong and will get well more quickly. Life is pain without my best friend beside me.
Get well soon, dear, and I have a lot of jokes lined up for you for all the minutes I have been missing you.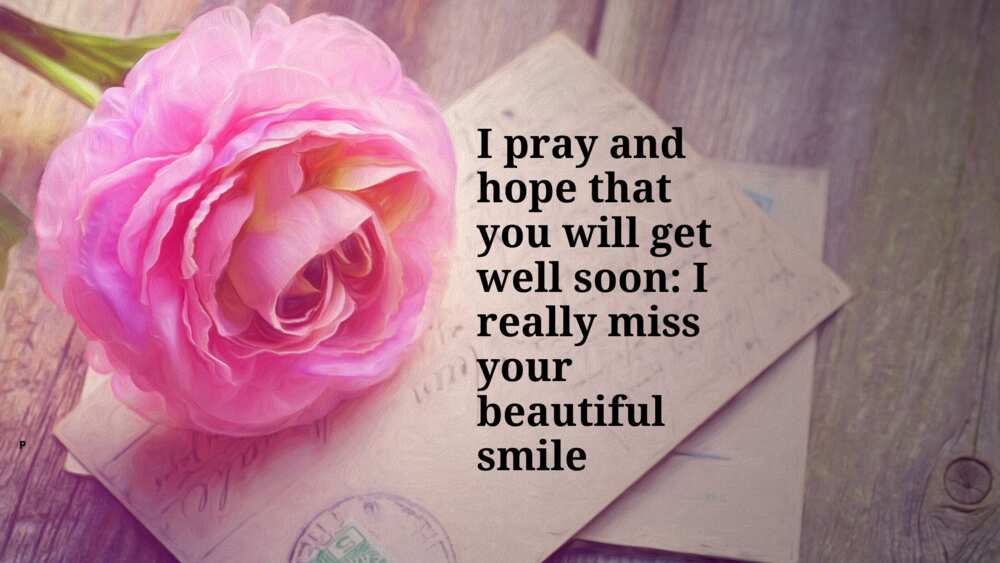 I am looking forward to your full recovery so that we can get back to doing all the things that we loved.
Many loving and caring thoughts are with you as you recover.
Religious get well wishes
Religion is one of the most effective human aspects that is embraced, especially during hard times, such as when a loved one is sick. By selecting perfect religious words, you offer spiritual encouragements to someone through hope and prayer. Try out the following creatively selected religious wishes and be the source of support to your loved ones.
God's speed and divine guidance I send to you as you get on your way to recovery. I wish you the very best. Get well soon.
You are always in my family's thoughts and prayers during your recovery state.
As I kneel and close my eyes to pray every night, it is you that am whispering prayers to God that he might heal you. Get well my beloved one.
Doctors treat, but God heals. Prayer is the most effective medicine that doctors cannot prescribe for. My duty will be to boost your recovery with a steady supply of prayer to get you well soon.
No one knows why sometimes we get to experience such hard times in our lives. The truth is that fate has a bigger plan for us. I believe it is all in the creator's hands. I am praying for you to get well.
Feel better soon message for coworker
As an employee, it is natural that our colleagues may succumb to illness or accidents. Explore the below recovery messages to cheer up your coworker.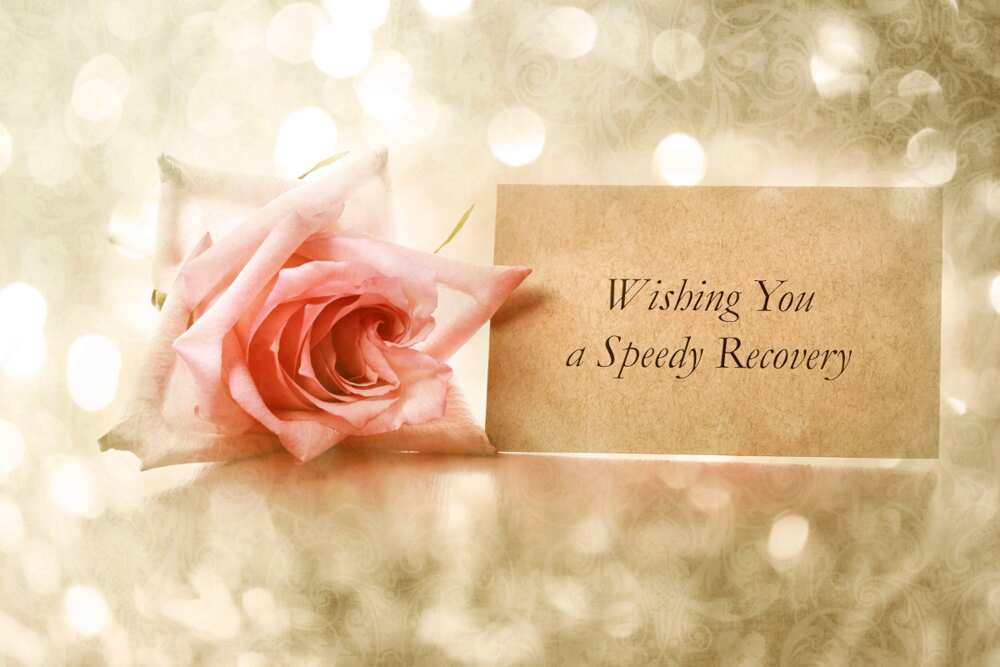 Dear boss, I wish you a quick recovery so that you can join us back to work. We miss your presence and all the motivations, leadership, and advice you offer us.
As the head of the department, I pray that you may feel better soon. I would like you to know that you are in the minds and prayers of all the colleagues back in the office.
There is a void that was left and cannot be filled ever since you got admitted. Feel better soon as work is not the same without you.
Dear coworker, we miss how contagious your positive attitude has always been making our office energies soar. We also miss your warm nature and bubbly personality. Get well soon, coworker.
Getting sick is just a reminder of how fragile we all are. You have had enough of a reminder, now get well soon! Your desk and desktop miss you.
READ ALSO: Best get well soon messages for him
Get well wishes after surgery
What do you say in a get well card after surgery? Get amazing ideas to comfort someone who has just come from the theatrerooms.
Your illness does not define you, your strength and courage do.
May you heal as quick as quicksand and may you recover as fast as lightning.
Sending my warmest hugs and wishes. May you regain your strength and feel better soon.
It is excellent news hearing that your surgery was successful and pain-free. I can't wait to see you back on your two feet.
English men were not wrong when they said, "An apple a day keeps the doctor away." Take lots of fruit.
Get well messages for your girlfriend
If you are a man, you know how sad it is when your girlfriend is far away from you. Use the following get better soon ideas to wish her improved health.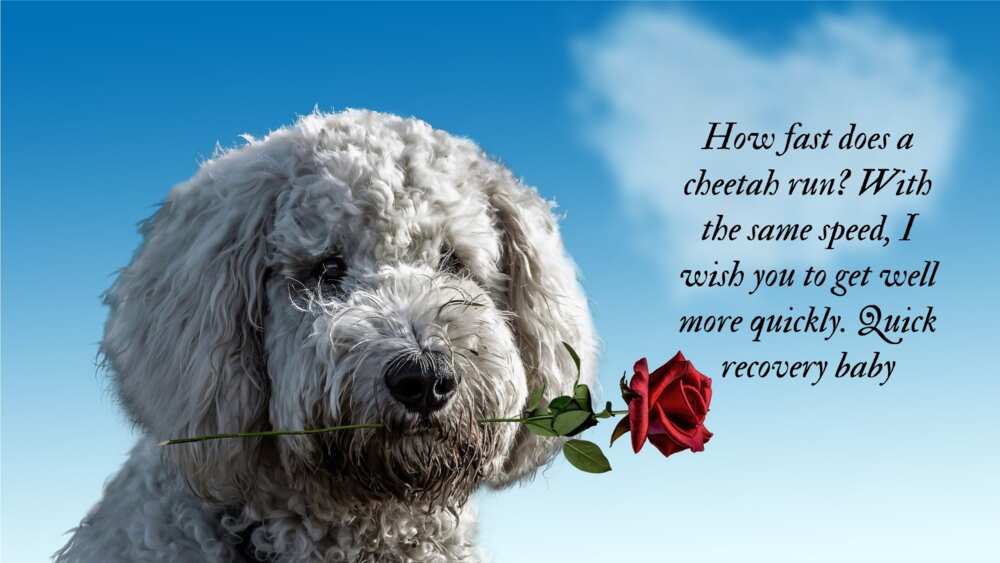 Love is all about being there for your loved one both in sickness and in health. Explore the below ideas for that particular person in your life:
I miss your beautiful smile, I miss your funny jokes, and I miss your presence in the house, get well soon, honey!
How fast does a cheetah run? With the same speed, I wish you to get well more quickly. Quick recovery, baby.
Treatment will only cure your gorgeous body by my love for you will heal your heart and soul. I love you and may you get well soon.
It really breaks my heart to see you in pain. How I wish I had some magical medicine to heal you. Get well more quickly, darling.
If I had a wish, then I would have been your doctor. It would be much better to treat you. Get better soon, love.
Funny get well wishes
Get well soon quotes and recovery quotes can be broadly applied to cheer up the mood and share a great laughter session by exploring the following humorous get well wishes.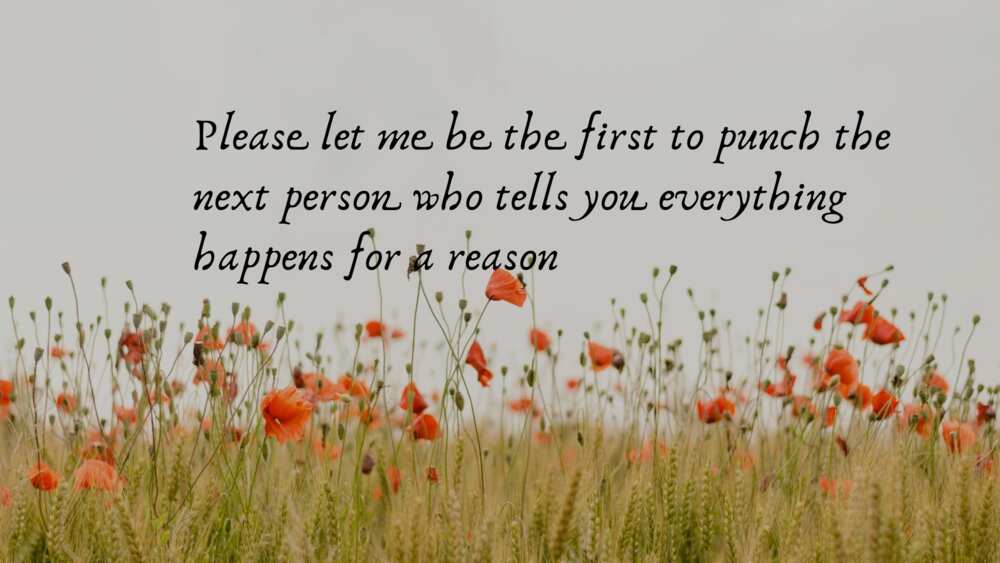 If your immune system were a lawyer, I would have fired it like a week ago! It does not seem to be defending you well enough.
I would have written you something funny in your get well card, but I do not want you to laugh and rip out your stitches.
Please let me be the first to punch the next person who tells you everything happens for a reason.
Now that your surgery has come to an end, I believe that you are fixed and in a steady health condition. I was wondering if you can help me move from my house to the new one this weekend?
Get well soon so that we can make fun of you again without feeling lousy or guilty.
What do you say when someone has cancer?
A get well soon message is the answer. You will only take seconds to type the perfect encouragement message to show your love and support that is vital in the recovery phase of treatment.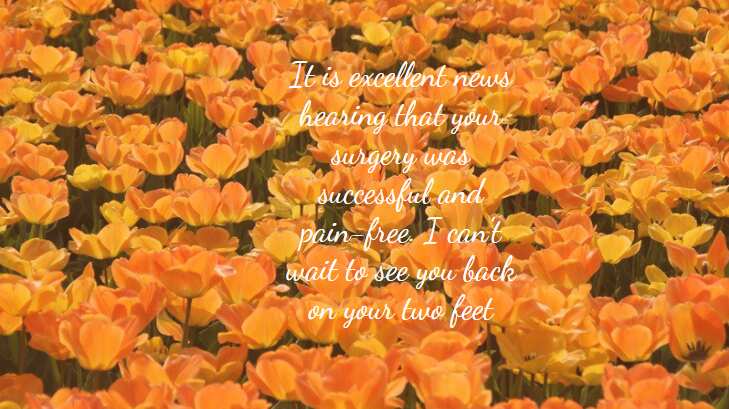 If hugs and kisses could cure, I bet you would have been immune to everything by now! Together we will get through this.
Life is not all about waiting for the storm to pass…life is about learning to dance in the rain.
Strength doesn't come from what you can do; it comes from overcoming the things you once thought you couldn't.
God is watching over you… I know because I asked him to.
I don't know what to say; it does not matter anyway. I am just here to listen, and I will ride the waves along with you till the storm calms.
Feel better quotes for kids
Kids are little angles who require dedicated support, especially during their low moments such as sickness. Make any child feel like the strongest fighter who will kick off the illness out of his/her system with no time.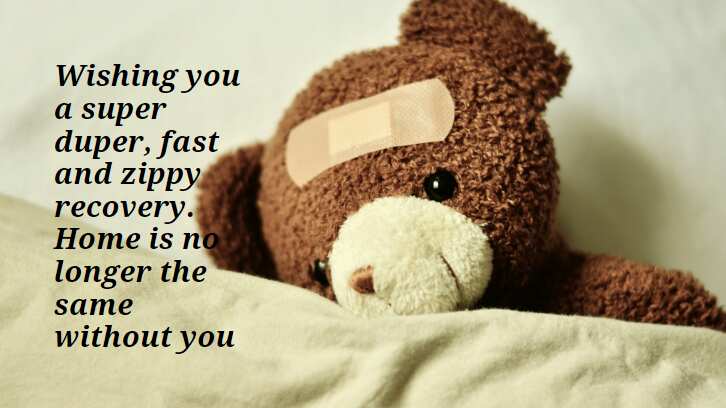 It is so sad to have such a sweetheart, and a good boy/girl like you fall ill. Take care, my little angel, and may you feel better soon.
I hope that you will feel better, really fast. The toys and the dolls are patiently waiting for you to play with them.
I hope that you will feel better soon so that you can return to the swing and the playground.
I wish you all the best as you recover from your sickness. Take this time to relax and recover all the energy you need to bounce back to playing and having fun.
Wishing you a super duper, fast and zippy recovery. Home is no longer the same without you.
You are much stronger than you think you are. May you get well soon!
Romantic get well soon messages
Love is the best medicine that you can ever share with someone ill. Express your love for your significant other as a confirmation of your dedication and bond.
I remember how perfectly you took care of me when I was sick. I guess it's my turn to return the favour.
I know that pills are bitter, and injections are quite painful. If you want the sweetness of my love, then get well soon.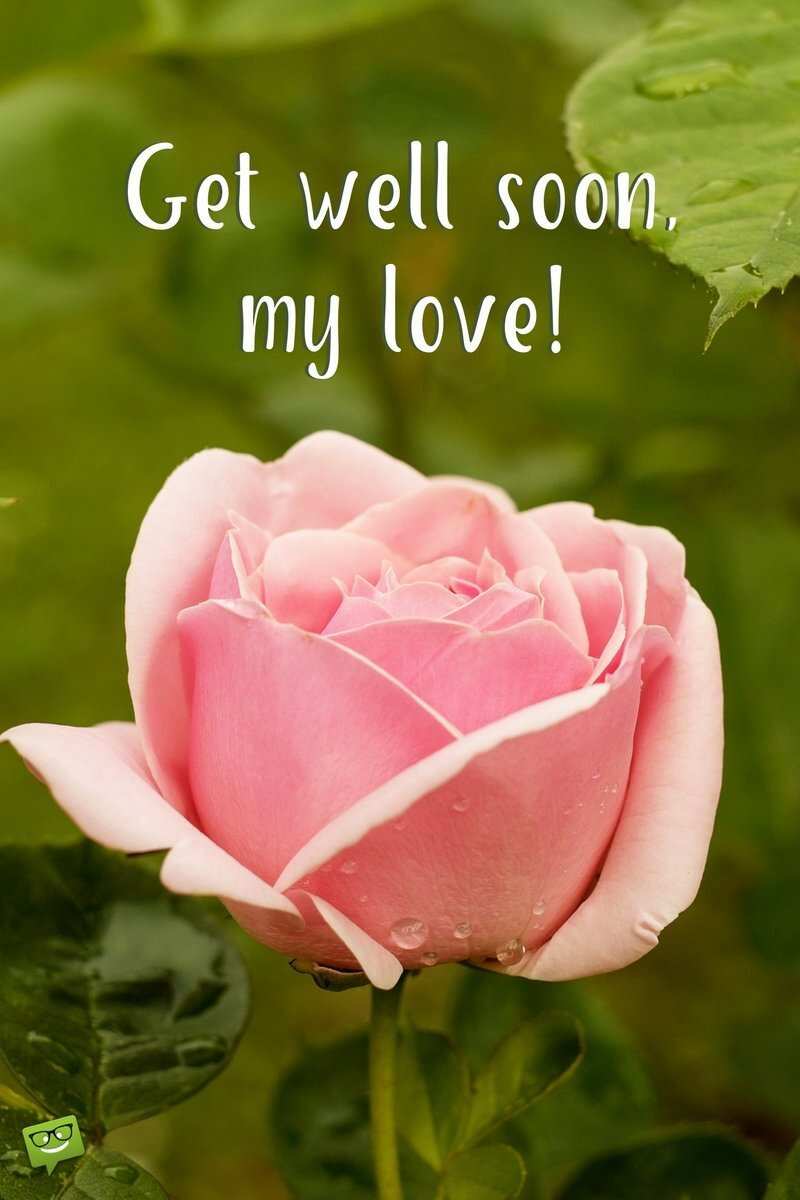 My life is incomplete without you. I just can't do it without my love. Get better soon.
I need your love more than you need medicine. Wishing you quick recovery.
My love for you is stronger than any bacteria or germ. Get well soonest.
The flower of my life is slowly withering every second it misses its sunshine. Get well soon, my dear.
I am so jealous of your flu. It spends more time with you that I do not get enough time with you.
Close your eyes and think of the first day me and you kissed. I hope you are now feeling much better.
I wish I were the bed that you are sleeping on, and I wish I were the nurse who attends to you so that I can see you often. Quick recovery, my love.
I'd rather have bad times with you, than good with someone else. I promise to be by your side just like in our wedding vows. In sickness and in health.
With the right choice of words, get well wishes can be the reason behind someone's quick recovery. Select the perfect message that will cheer up anyone that is in the road to recovery. This could be your coworker, boss, neighbour, friend, sibling, or even your girlfriend.
READ ALSO: 50 birthday wishes for love: best messages and quotes for your lover
Source: Legit.ng